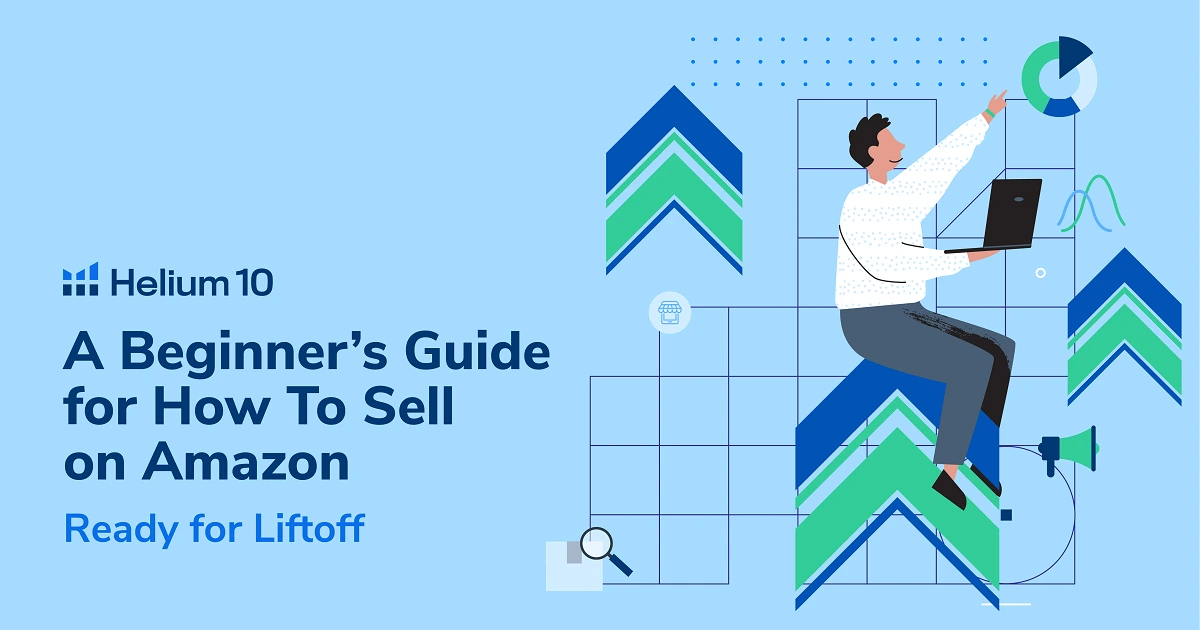 How to Sell on Amazon For Beginners
Let's lay our cards on the table. Most of you have used Amazon at least once in the last week. Whether you're looking for a routine shampoo refill or just another impulse buy to get you through your Friday, you are already aware that Amazon is the largest online retailer in the entire world. As an Amazon customer, it's easy, it's fast, and it has everything.
This is all great but, respectfully, old news. What all too many people are not aware of lies beyond the other side of the curtain. Who is allowed to sell on Amazon? Where do Amazon products actually come from? Can I really make six figures as an Amazon seller, in the comfort of my slippers?
If you've been even remotely interested in starting your own online business, selling on Amazon should be on your radar. We've assembled everything you need to know to be ready for liftoff. No fluff, no get-rich-quick scheming, just the essentials.
The Basics
Full disclosure. The Amazon marketplace does not solely consist of some warehouse in Seattle pumping out products for the entire world. While Amazon fulfillment centers are integral to FBA (fulfillment by Amazon) shipping and storage logistics, most products sold on Amazon are sold by third-party sellers.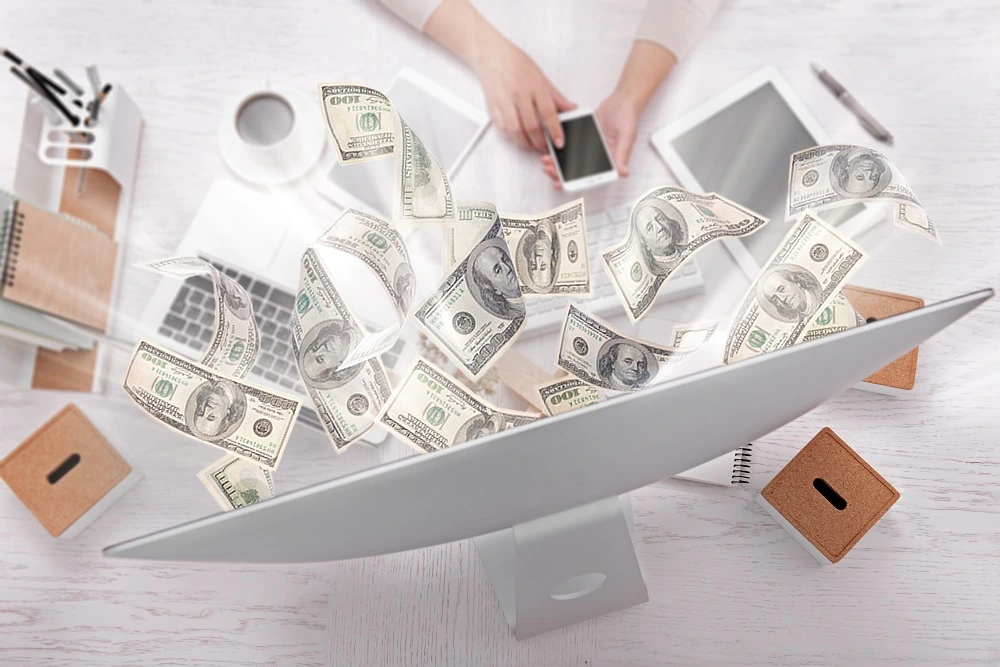 Who Are Third-Party Amazon Sellers?
Simply put, third-party sellers are people like you and I who decided to find a profitable product in demand, have it produced by a supplier, and list it for sale on the Amazon marketplace.
There is no experience prerequisite for starting your Amazon business. A recent college grad looking for a side hustle? A recent retiree looking for a part-time income stream? Amazon is a place where both can, and often do, find success.
There are currently 1.5 million active Amazon sellers in the world, with a projected 500,000+ new sellers joining the market by the end of this year.
Because there are so many new people itching to start their own Amazon store, the e-commerce industry has catered to education and infrastructure over the last several years. The goal is to make life as easy as humanly (and algorithmically) possible for aspiring entrepreneurs.
This includes things like:
Amazon FBA: "Fulfilled by Amazon," a system that allows almost any seller in the world to use Amazon's vast network of storage centers to pack, store, and ship their products. It's hands-off, 21st-century business at its finest.
In-house advertising services: Should you eventually market your own product off-Amazon? Yes. Do you need to when starting out? Not anymore. A robust Amazon PPC (pay-per-click) service allows you to carefully bid on the keywords shoppers are searching for most to get your product to the very top of page one!
An ecosystem of support: Between Amazon seller courses, active social media communities, and free Amazon chrome extensions, you never have to worry about being alone on the journey. Like most things in life, selling on Amazon is more fun with friends.
WHY Are People Flocking To The Amazon Selling Space?
It's a valid question – after all, there is more than one way to make money as an entrepreneur. We've played around in the eBay auction house, freelanced our fingers to the bone on Fiverr, and fearfully traversed the horrors of the Craigslist wasteland. We're well into the 2020s and there is no reason aspiring business owners should have to choose between the financial shackles of brick & mortar and the hazy legitimacy of outdated online marketplaces.
So… Why Amazon?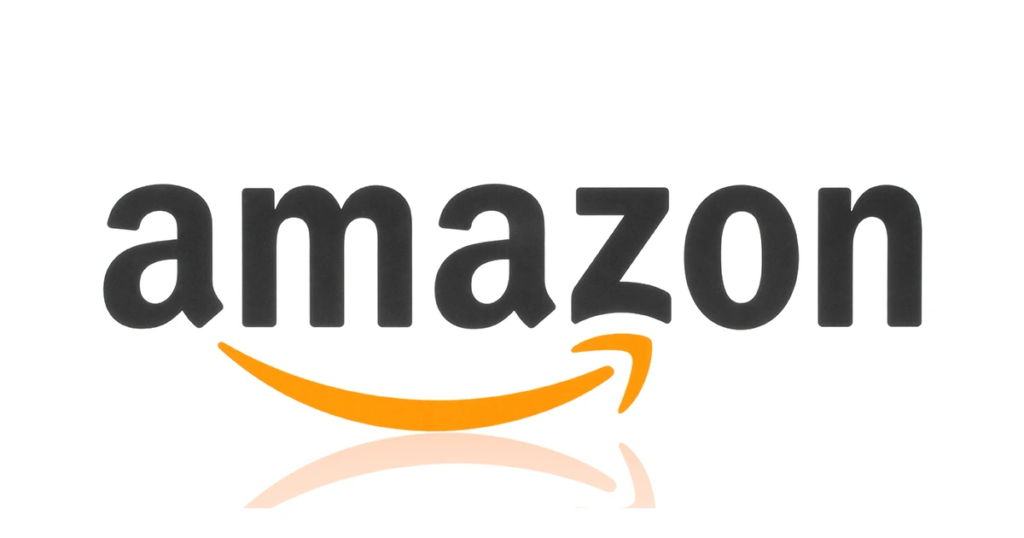 A mobile market. Amazon sellers can run their business from anywhere in the world
A personalized market. Sellers maintain control over both their currencies (time and money)
An established market. Amazon has been around for a while (over 20 years!), allowing sellers to follow in the paths of those who have walked before them. Decades of mass-seller support and the recent emergence of technologically remarkable Amazon FBA seller tools give new sellers the momentum they need to blaze their own trail from the start.
An enforced market. Supported, enforced, and regulated by the largest online marketplace in the world.
The Personal Perspective
I sell on Amazon because…
I'm tired of clocking in every day to spend my life busy working towards someone else's dream rather than my own
I want more time to travel or spend time with family
Maybe… just MAYBE I would like to enjoy my lunch break instead of cramming the usually enjoyable "little things" into stressful tiny things!
The Business Perspective
I sell on Amazon because…
Amazon gives my new business instant access and exposure to millions of online shoppers. There are over 100 million Amazon Prime users in the US alone – a third of the country! Rather than finding a brick & mortar space to drum up interest from scratch, I am opening up an Amazon Seller Central account, and immediately positioned in front of the largest shopping community in the world!
Start-up costs are minimal and Amazon allows me to tap their vast infrastructure of storage and shipping centers
Products on Amazon with the "Prime" badge are already trusted… which means as an (earnest) seller on the platform, I become instantly legitimized. (Don't forget, it's up to you to keep this reputation in check with a killer product and great reviews to back it up)
While it's simple in theory, don't forget that you still need to find the right product to sell, get your inventory sourced from a manufacturer, and create your listing… more on that in a bit.
Sounds Great – Do I Need Anything Special To Start?
That's the beauty of it – Amazon was built for the student fresh-out-of-college looking to create their own brand, the burned-out employee looking for a career change, and the corporate retiree looking for an accessible way to generate a passive income stream.
You do not need formal business experience to sell on Amazon.
If it sounds too good to be true, it probably is…
How much time and money is this going to take?
The blessing (and curse) of answering this question is that it's a spectrum. Selling on Amazon is what you make it. In other words, you get out what you put in. For some, an ideal online business is a 20-hour commitment every week. For others, an ideal commitment is 30 minutes a day and not a second more.
If you are able to put in about 15 hours every week, fully dedicated to your Amazon business, you can expect to get your business completely set up and running in 3-6 months.
Keep in mind that this process is unique for every business. Success varies depending on product category, seasonality, shipping efficiency, manufacturing sourcing costs, and a plethora of additional Amazon selling factors.
How Selling On Amazon Actually Works
There are two primary selling models on Amazon:
FBM (fulfilled by merchant) – The seller handles storage, shipping, and returns. It is up to YOU to get the product to the customer.
Advantages:
Finer inventory control – stock inspections, replenishment schedules… you run the show for the entire customer experience.
More cost-effective (in certain cases) – Selling via the Amazon FBM model helps some businesses cut costs by avoiding costly Amazon FBA fees which are typically charged by Amazon for using their services.
FBA (Fulfilled by Amazon) – Once the seller arranges for the production of their product at a factory, the factory sends the inventory shipments to an Amazon fulfillment center to sort, store, pack, and ship the products to customers on the sellers' behalf.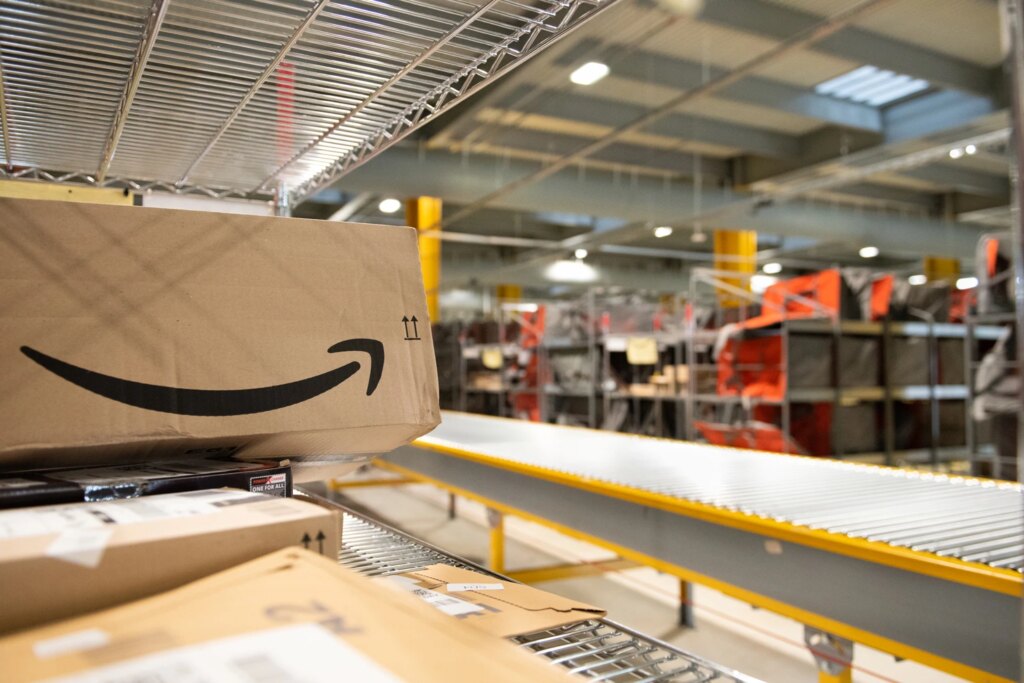 Advantages:
No warehouse, no problem. Don't have the storage space at home to stage your inventory? With Amazon FBA, you focus on building your brand and managing your profit margin. The Amazon warehouse takes care of shipping logistics and customer service returns!
The "Prime" Guarantee – If you are selling your product inventory via Amazon FBA, it is eligible for free two-day (and sometimes one-day) Amazon Prime shipping. Not only is this much more convenient for Amazon shoppers, but over the years, the Prime badge has become synonymous with more trusted products. If you are offering your product with Amazon Prime shipping, there is a good chance that you will be seeing more sales.
Claim the Amazon Buy Box. The Amazon Buy Box is the featured box on the right-hand side of a product page that displays the price and the "add to cart" button. If multiple sellers are selling the same product, they will all be jockeying for control of the Buy Box. A large part of what determines Amazon Buy Box placement is how fast and reliable your products' shipping and delivery is executed. If you're using Amazon FBA, rest easy knowing that your odds of controlling the Buy Box are much higher.

What is Helium 10 and How Does It Help?
For now, let's keep things simple. We want you to focus on the three pillars of Amazon selling that will prove to be most significant along your selling journey.
Finding the best product to sell on Amazon
Sourcing your inventory from the best place
Selling that product in the best way
Sound like a lot of big decisions? They are! Lucky for you, you aren't on your own.

Do I Need To Actually Make My Own Product From Scratch?
Absolutely not. In fact, chances are your product idea already exists (in some form) out there in the wild. You will of course want to find ways to improve and make your version of the product unique. But first, we need to figure out what in the world to sell.
Step one… Helium 10 Amazon product research tools.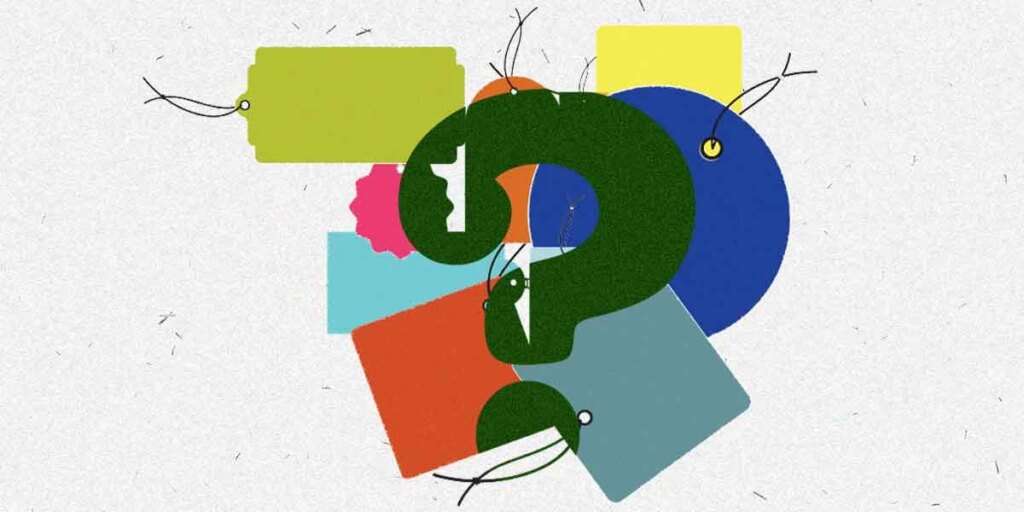 Let's rip the band-aid off quickly. The best products to sell on Amazon are NOT products that perfectly align with your passions and they're NOT necessarily the "dream idea" you've had in your head for years and years. So how do you find the best products to sell on Amazon? By identifying opportunity!
What is opportunity? Your goal as a new Amazon FBA seller should be to find unsaturated markets that showcase high demand but low enough competition that you still keep a chunk of the profit. In other words, "what are shoppers already looking for that not too many sellers are providing for them?"
Helium 10's flagship Amazon product research tool, Black Box, is fine-tuned to help new sellers hunt down profitable product opportunities on Amazon.
A great place to start is the Keywords tab. Here, you input a variety of parameters (which we'll go over below) and Black Box gives you a list of keywords matching those criteria. Keep in mind, when we say "keywords," we're talking about the phrases associated with real products on Amazon. These are the phrases that Amazon shoppers type into the search bar when looking for a product. These are also the phrases that help you show up (or rank) on page one of those very search results.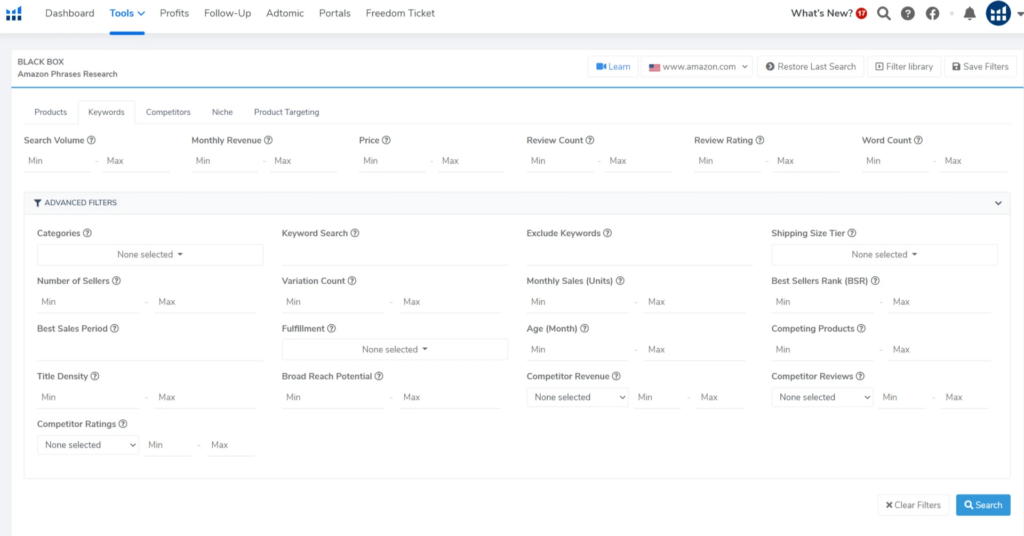 Within Black Box's Keywords Tab, you can set several parameters to help narrow your search to find the keywords (those opportunities we talked about) that will bring you high demand and low competition. These filters include:
Search volume – How many times a given keyword is searched for (by shoppers) in one month

Monthly Revenue – How much money each product is generating per month

Price – How much the product is selling for (what the customer pays)

Hint: a good range to start looking at is $15-50. You don't want your product to be so cheap that you cant make a profit on it but you also don't want your product to be so expensive that it drives potential customers to cheaper alternatives.
Review count – Remember, starting as a new seller, you're coming out of the gate with a grand total of 0 reviews! You shouldn't be targeting a market where the top products are racking up several thousands of reviews. It will be too hard to break in! Start with keeping results limited to a max of 100 reviews – think of this as your weight class!

Competitor Revenue – The minimum amount of revenue competitors are making each month

Example – Inputting "More than 2500" with a minimum field of 5 will tell Black Box: "When I type in a keyword into Amazon, within the top 10 products on Amazon, I am only seeking the top 5 that are making more than 2500 dollars per month."
After you hit "search," Black Box will deliver a list of keywords with your exact criteria!
You can now track down each of these keywords to see if it's a product that you could realistically produce, a product that people are already looking for, and a product that doesn't already have an army of sellers trying to promote their own!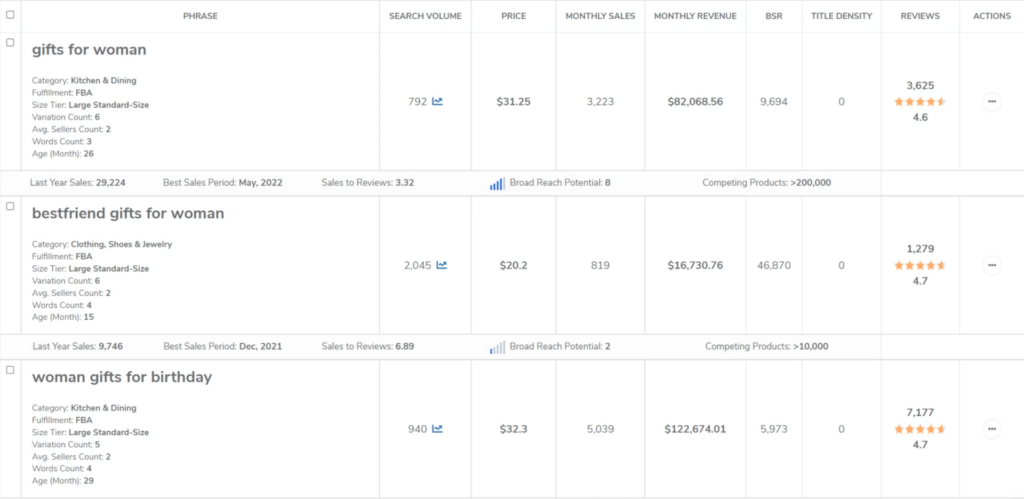 Keep in mind, Black Box is not meant to spit out the GOAT keyword or product that will make you millions instantly. It's a place to get started and add possible winning keyword or product ideas to your brainstorming list.
Don't settle on the first promising keyword or product you find. Gather a list of 10-20 ideas and make an informed decision!
Remember, the best product to sell on Amazon isn't necessarily one that interests you. The best product to sell on Amazon is one that people are already looking for!
Interested In Further Validating Your Product Research?
With Helium 10's free Amazon Chrome Extension you can use quick tools while you're browsing Amazon to glean vital info for your own product decisions. For example, the Profitability Calculator allows you to view the estimated profit margins for any product on Amazon. This tool updates live as you noodle with different Amazon FBA fees and sizing dimensions.
Review Insights gives you an under-the-hood look at any listing's reviews, illuminating new ways to help your product shine where your competitors lose their luster.
I Found My Perfect Product, What Do I Do Now?
Now the rubber meets the road – let's look ahead. After you have chosen the right product to sell on Amazon, you need to figure out how to source it.
So where do you find product manufacturers? A great place to start is Alibaba.com, the most popular product sourcing marketplace in the world. Think of it as "Amazon for Amazon sellers to find suppliers."
Alibaba.com hosts countless products from equally countless manufacturers all around the world. When you search for a product on Alibaba.com, you get important information like:
Price of product
Contact info
Sample info
Factory location
Product detail options
Much more
Make sure to reach out to multiple suppliers. You want to find the best rate as well as a supplier who can communicate well with you (remember, with international businesses there is often a language barrier!)
The goal here is not just to find a factory, but to start the foundation of a relationship that will continue to bear fruit for you down the road.
Remember that Helium 10 Chrome Extension we mentioned earlier? If you're using the Xray tool, you will notice a "Find on Alibaba" button.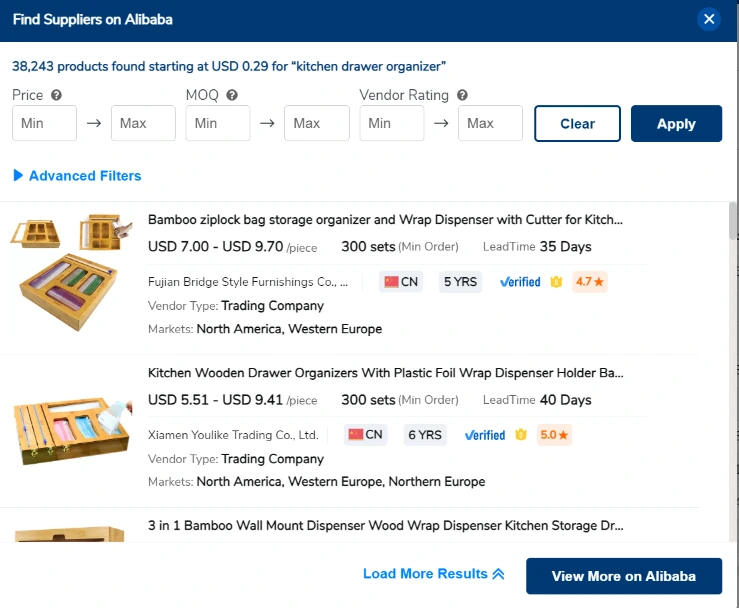 We've conveniently given sellers a way to browse Alibaba's offerings without ever leaving Amazon and (as you can tell) we are very proud of it!
Selling Your Product On Amazon!
After you create your Amazon Seller Central account, you will begin creating your product listing. Your Amazon product listing is the page that shoppers click on to view your images, details, price, and reviews, and eventually click "add to cart."
If it sounds like the most important part of your Amazon store, it's because it is!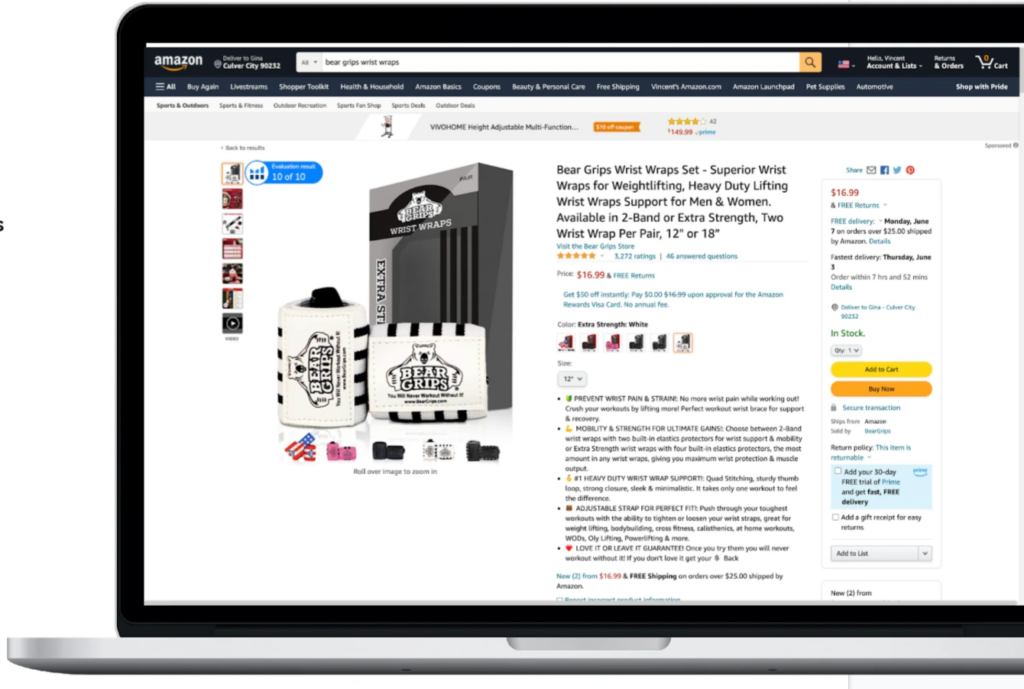 Helium 10's Amazon listing optimization tools all come with features specifically designed to help you create a sales-optimized product listing. Frankenstein takes your (hopefully long and comprehensive) keyword list that you've spent weeks researching and sorts them into multiple easy-to-use formats. From there, Scribbles effectively lays out "Amazon listing guide rails" for you to plug in (and track) all your most important keywords, while naturally massaging them into your title and description.
Since you don't have the opportunity to stand in a physical store and let your natural charm sell your product, your product listing needs to:
Convince shoppers to click on your product and make a purchase. This means your product images, infographics, title, video, and bullet points must all be working together to clearly illustrate the benefits of your product.
Tell your brand story. To be truly successful on Amazon, you need to go beyond being just another faceless seller on the platform. Your logo, product description copy, customer service, and social media messaging, all inform your Amazon customers' perception of your brand. You want to create a distinct emotional connection between your potential customers, your product, and the feeling they get when your product solves their problem. Over time, you'll see those one-time buyers become repeat customers. And that's how you build a loyal following!
Finally, after your listing goes live, you can use Index Checker to validate whether or not you are being indexed on Amazon.
Indexed?
Some things to remember: Your listing needs to index and convert.
When you shop on Amazon, how often do you venture past the first page of search results? If you're like the majority of Amazon shoppers, page two might as well be a myth.
If your product is indexed for a keyword, that means it IS showing up in Amazon search results when someone searches for that keyword. But remember, merely showing up is not enough. The closer you rank towards the top of page one, the more shoppers will see your product (and yes… the more shoppers are likely to buy it.)
What are conversions? This one is easy… sales! You are converting shoppers to customers.
It's Dangerous To Go Alone, Take These…
Of course, everything you just read, while hopefully helpful, is still just the tip of the Amazon selling iceberg. There is a whole world of Amazon PPC advertising, influencer marketing, and multi-product managing to tackle! But that's for another article.
For now, we want to leave you with some of the best seller resources to take advantage of on your Amazon journey.
Freedom Ticket – An A-Z online Amazon seller course designed to take you from know-nothing to certified entrepreneur. The course is led by million-dollar seller and Amazon thought leader Kevin King, who guides you through weekly modules with practical exercises and examples along the way. If there was a college degree for Amazon selling, this is how you get your diploma… except it only takes 10 weeks and costs a fraction of whatever your university charged you.
Project X – For those who want a look at the real-world hands-on experience of picking, sourcing, and selling a new product on Amazon. This Amazon seller YouTube series sees Bradley Sutton and Tim Jordan discover a new Amazon product using Helium 10 tools and then take it from "concept" to profitable business.
A community of experienced and new sellers just like you – Whether it's the Helium 10 Members Facebook Group, Serious Sellers Podcast, or the exclusive Serious Sellers Club, we want hesitant entrepreneurs to feel welcome in this ever-changing industry. Get opinions, brag about milestones, and stay up to date on the latest live events in e-commerce (seriously, they're a blast.)
Entrepreneurship can be a really isolating experience, so it's invaluable to have a family to lean on for both help and inspiration. Remember, almost no one knows what they're doing when they start this wonderfully daunting business venture. The fact that you made it to the end of this article means you already have a huge head start.
Don't lose the momentum, keep exploring, and keep learning!
Frequently Asked Questions
Achieve More Results in Less Time
Accelerate the Growth of Your Business, Brand or Agency
Maximize your results and drive success faster with Helium 10's full suite of Amazon and Walmart solutions.