Amazon Product Photography: A Critical Link to a Successful Listing
Professional Amazon product photography is an often-overlooked missed opportunity for many sellers looking to gain a better BSR and a higher volume of sales. Using and uploading professional product photography can potentially triple your profits from just about any ASIN you add.
Updated on: November 13, 2019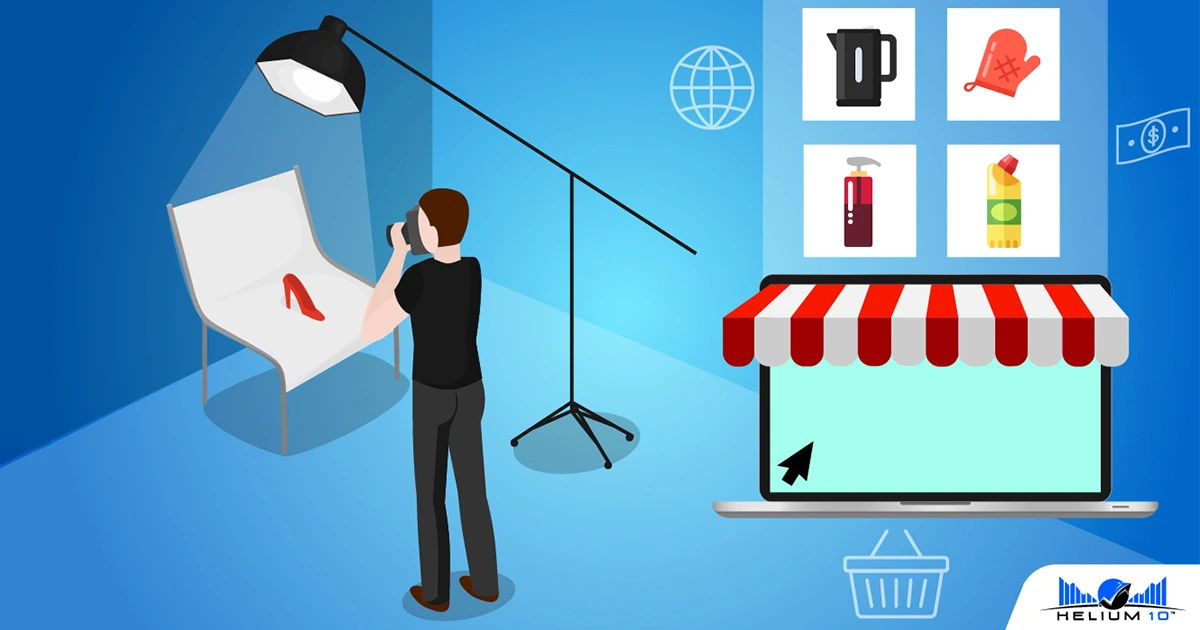 Professional Amazon product photography is an often-overlooked missed opportunity for many sellers looking to gain a better BSR, reduce product returns, and a higher volume of sales. Using and uploading professional product photography can potentially triple your profits from just about any ASIN you add.
When Helium 10 founder and CEO Manny Coats compared his sales in December 2016 with his sales in December 2017, he noticed his sales went from $305,641 in 2016 to $988,663 in 2017. He mostly attributed this increase in sales to replacing his lackluster photos with an effective professional photography setup on his listings.
Why Quality Amazon Product Photography is Essential
Your main product photo acts as a first impression for not just your product, but also your brand on Amazon. When a shopper has narrowed down their choices to just a few options, the photos for each item will communicate something unique about the product.
Your Amazon product photography acts as a like digital sale closer and should provide customers with all the information they need to make a buying decision. Initially, the lead product photo must use a product photography white background setup in high resolution to make the product the main focal point.
According to Seller Central, "You can provide one main product image and up to eight alternate image views for your product listings on Amazon." These alternate photos can include lifestyle product photography that demonstrates how the product is used or close-up shots that provide extra details relating to the item's prominent features.
A product video can occupy one of the eight extra photo slots on your Amazon listing. Inserting 360 product photography (typically rotates your product against a white background) or a grand production promotional video can do wonders in promoting your product and generating more interest in your brand.
Effective Product Photography Should Be Sharable on Social Media
Social sites like Facebook, Instagram, Twitter, Etsy, and Pinterest can become marketing machines for your product if the photos are of high quality and attractive to the eye. If your product photography lighting is poor or the image is low resolution, people may not be as likely to share the product or its brand name with their friends, family, or followers.
Informative Product Photography Help Your Customers Understand Your Product
Lifestyle product photography that shows models demonstrating the product's use(s), variations, and combinations provides a visual explanation of features without having to read the description. Visual buyers will appreciate the ability to see how the product fits into their life rather than trying to imagine it.
Professional Product Photography Provides a Competitive Edge
Having a strong visual presence provides the world with a more powerful perception of your Amazon brand as a whole. Customers tend to be very visual when making their decision to buy a particular product amongst competitors. Having the best Amazon product photography possible will make your product look much more attractive over similar listings and significantly increase the likelihood of customers choosing your item.
Things to Look For in Quality Product Photography Services
While you can certainly create your product photos yourself, we highly recommend using a professional product photography studio that can give you what you need and more to stand out amongst competitors.
Here are some product photography tips to keep in mind when planning your photo shoot:
Check out the competition: Check out the photography used by your most prominent competitors for a starting point.
Use a white background: The main image requires a pure white background to meet Amazon's guidelines.
Shoot your product from all angles and include close-ups of important features: Leave nothing to the imagination so your customers can visualize your product as if it were right in front of them.
Take lifestyle photos: Showcase the product in action and provides customers with an idea of how the product should be used. These photos can be taken in a relevant environment and are most successful when featuring real people using the product as intended.
Create compelling graphics photos: A.K.A. "wow photos," the images feature the product with stylized backgrounds and other graphics effects. These types of photos are the "eye candy" among your set of photos to grab attention.
Beware of Poor Product Photography
There are some common mistakes that sellers tend to make when attempting to produce their own Amazon product photography:
Background not completely white: Poor lighting, lack of proper photo editing software, and the wrong color background are the common culprits for this issue. Not only does this go against Amazon's product image requirements, but it also tends to look unprofessional and unattractive.
Poor angles: Many product photos on Amazon employ unflattering angles of items and don't provide the customer with context on the product's size, features, or usage. Additionally, be sure to have photos that fill up the entire space of the photo, so no long-distance images.
Poorly Photoshopped images: There are a variety of ways in which Photoshop or any photo editing software can leave your product photography looking odd. For example, some product photos have an inaccurate size proportion relative to the environment, which can confuse and potentially upset customers in the future.
Irrelevant lifestyle photos: Lifestyle photos are important, but they won't be very effective if the context of the photos doesn't address the use of the product. For example, if you're selling running shoes, it would be less relevant to showcase someone wearing them at a family get together than to showcase someone wearing them outdoors while running.
Most if not all these common mistakes can be avoided using professional product photography services that specialize in making your Amazon products look their best on your listing page.
Why You Should Outsource Product Photography
Outsourcing your product photography is always a good move as it can produce far better photos for you in shorter time frames and reduce any related stress. Here are some reasons to consider outsourcing your product photography ideas:
Time is money: Photo retouching and manipulation can take hours and hours depending on the quality of the photo taken and your level of expertise.
Inexperienced in photography: If your specialty is not taking photos or retouching, your time would be better spent concentrating on selling more products and marketing.
Lack specific skillset: Much of the work required is done through specialized editing software and a certain level of expertise, which can be difficult to learn in a timely manner if you are busy growing your business.
A better facility renders better photos: Aside from all the inconvenience involved in taking and polishing your own product photos, a quality photography studio will provide you with photos that you might not have been able to produce yourself.
The most important part of outsourcing product photography is finding a trusted company to work with. It can be challenging to find a photography studio that understands e-commerce best practices, provides great photos every time and doesn't drain your bank account in one fell swoop.
As tempting as it is to do everything yourself, you'll save a lot of time, money, and energy by outsourcing your product photography to professionals who know how to make your product look good. Choose to optimize your brand with the best photography available to Amazon sellers today!
Share your Amazon product photography experiences in the comments below!