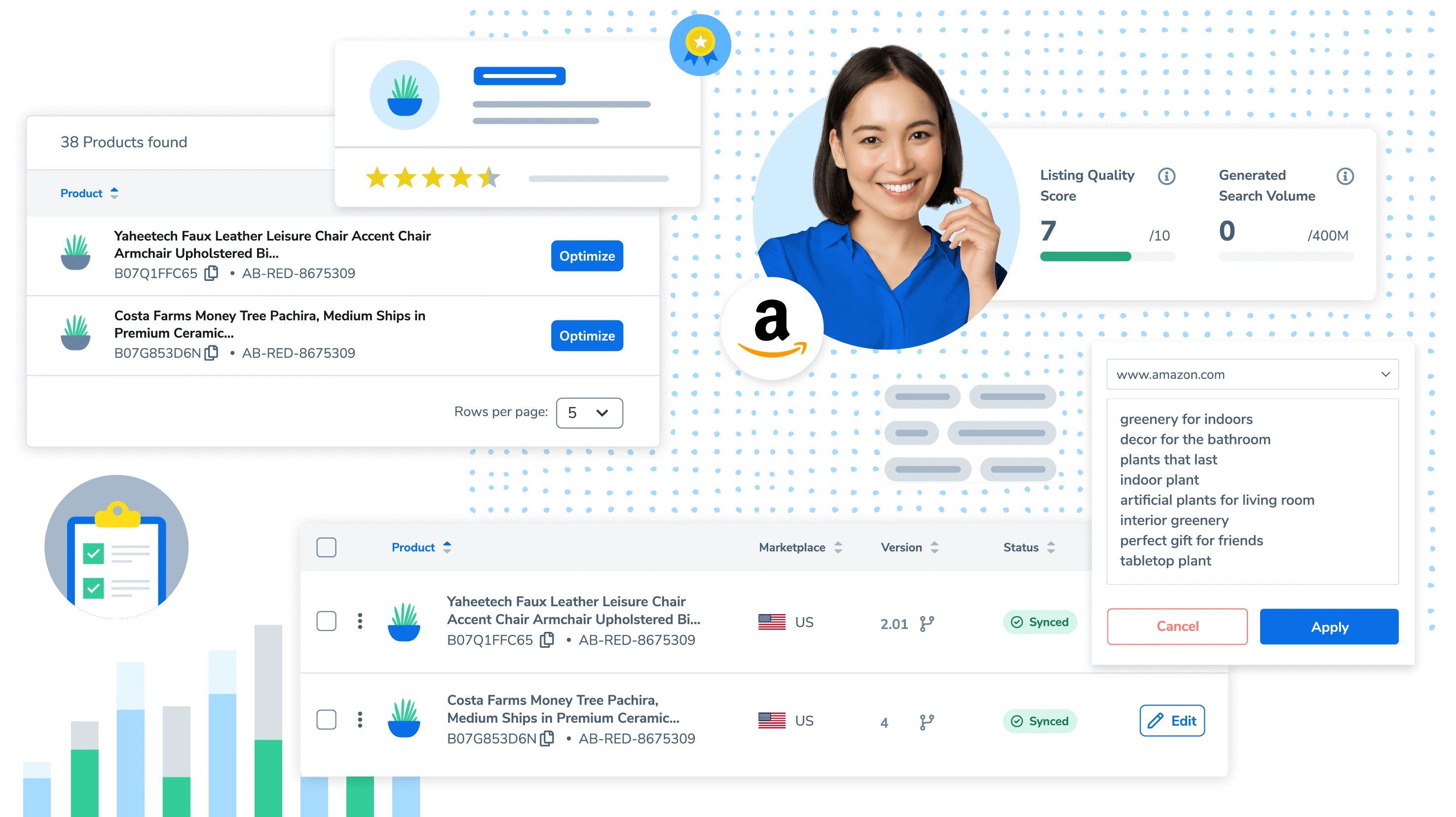 Amazon Product Listing Optimization Tools
Enhance each component of your product listing to maximize sales and boost your ranking within search results
Get Started with Listing Optimization
Find the most relevant and important keywords and phrases instantly
Sign Up
Boost traffic
Maximize SEO potential
Increase conversion rate
FAQs
Amazon product listing optimization is the process of identifying keywords relevant to your product (that people are also searching for), and sculpting your listing in a way that enables your product to rank well in Amazon's search engine for those keywords.
Optimizing a listing means that sellers include their keyword targets within the product listing title, bullet points, description, etc. to improve their ability to rank for those keywords in Amazon's search engine.
Amazon listing optimization is important because it enables your product to be found within Amazon's search engine for search terms that will drive qualified leads to your product.
Sellers can improve their Amazon SEO by utilizing Amazon product listing optimization tools like Listing Builder to naturally weave in keyword targets within their product listing.
Helium 10's Full Suite Pricing
A plan for every seller's experience level
12,441
People signed up last week.
Start Using Helium 10's Listing Optimization Tools Today!
If you'd like to try out our Listing Optimization tools for yourself, sign up for a free trial to check it out today!
Sign Up
The Details
How To Optimize Your Amazon Product Listing for SEO
In order to optimize your product listing for Search Engine Optimization (SEO) purposes, you must first select a set of keywords relevant to your product and weave them throughout the product listing in a natural way. Below you will find a breakdown of the most important sections you should optimize.
How To Find Keywords for Your Amazon Listing
There are multiple ways to find keywords, such as:
Plugging the ASINs of your competing products into a tool like Cerebro to find all of the keywords it ranks for
Conducting exploratory keyword research with Magnet
The key is finding highly searched keywords that are also hyper-relevant to your product listing. If it's not relevant, it's not going to drive sales. And if you're curious whether or not it's relevant, plug the keyword into Amazon's search engine and look at the top ranking results; if they're dramatically different from your product listing, chances are it's not a great keyword target.
How To Add Keywords to Amazon Listing
In your Amazon Seller Central account, click into the product listing and add the keywords you'd like to target into the "Search Terms" area (250 bytes max). You'll want to use tools Listing Analyzer and Listing Builder to optimize other elements of your listing, such as the product title, features, description, etc. which we'll dive into in the following sections.
How To Optimize Your Amazon Product Title
To optimize your Amazon Product Title, you should login to Helium 10's Listing Builder, upload your keyword list for the product as your keyword bank, and try to work in a few of your most important keywords. Keep in mind that the title can only be 250 bytes max, so you want to be descriptive yet concise at the same time. Focus on accurately describing what your product is with the keywords in mind.
How To Add a Product Description on Amazon
To add a product description on Amazon, you must open your Amazon Seller Central account, click into the product listing and add the description into the "Product Description" area (2,000 bytes max).
How To Write a Product Description on Amazon
When writing an Amazon product description, you want to:
Focus on what potential customers care about most with the product (the benefits of it)
Be concise, yet cover everything they need to know about it
Naturally weave keywords into the content (without it coming across as spammy)
Use bullet points and images as needed to explain product features/benefits
How To Add Bullet Points in Your Amazon Description
To add bullet points to your Amazon product description, you must login to Amazon Seller Central, click on "Edit," navigate over to the "Description" tab, and add your bullet points into the "Key Product Features" area.
How To Get Amazon Product Images
Typically when buying products off of Alibaba and selling them on Amazon, you can contact your supplier or manufacturer and request permission to use the images beforehand. With that being said, it's much better to take your own pictures so that you can control the way the product is presented to potential customers.
In regards to image sizes, the image must be at least 1000 pixels in height and width. These images should be in one of the following formats: TIFF (.tif/.tiff), JPEG (.jpeg/.jpg), GIF (.gif), or PNG (.png).
How To Add Images to Your Amazon Description
In order to add images directly into the description, you must be a registered brand and have access to Enhanced Brand Content (EBC). If you aren't a registered brand, you won't have access to this feature and cannot add images into the description.
How To Make Your Products Searchable on Amazon
After you submit your product to Amazon and generate an ASIN, it should be discoverable on the Amazon search engine. 
How To Get Your Product on the First Page of Amazon
To get your product on the first page of Amazon, you must select hyper-relevant keywords to your product and optimize your listing accordingly (product title, description, features, images, etc.). After that, you must generate many positive customer reviews and build up a history of selling that specific product on Amazon.
The Best Amazon Listing Optimization Tools
After you've selected your product and compiled high-demand keywords, it's time to put it all together in one place! Your Amazon product listing is the intersection of data research and online marketing. Whether it's product images, the listing title, featured bullet points, and so on, this is your all-in-one tool to build out a product listing that reaches potential customers and converts!
Frankenstein
Frankenstein turns what would be hours of manual sorting and refining into a few minutes of assisted clean-up. This keyword processing tool helps sellers fine-tune their keyword list by providing bulk options to:
Remove special characters
Remove all phrases starting with a specific word
Remove duplicate words
Remove common words
Remove single words
Bulk-replace one word with another
Much more
Tighty up those mile-long keyword lists with the ultimate Amazon keyword processor & cleaner!
Listing Analyzer
This free Amazon product listing analyzer scores your Amazon listing and helps you determine if it's ready to go live. Analyze your own listing, or analyze your competitors' listing. Analyze everybody until you find a great opportunity to take over the Buy Box!
By simply plugging in an ASIN or URL, the Listing Analyzer delivers insights specifically tailored to Amazon product listing best practices. This includes elements like title character count, length of bullet points, main product image formatting, and highest performing keywords.
Listing Builder
Have the perfect product but don't even know where to begin when it comes to creating your Amazon listing? The Listing Builder is an Amazon product listing tool that gives sellers a step-by-step guide for creating, optimizing and managing listings.
Import your keyword list (with included search volume displays) and get started optimizing so you can rank well and achieve a higher conversion rate with a killer listing!
Scribbles
Scribbles is where you go to take your listing from "killer" to "perfection." This tool is designed to help you determine exact keyword placements within your product listing. After you import your keyword list into Scribbles, they will be sorted by search volume, allowing you to prioritize your content strategy from the start.
But where Scribbles really shines is in its ability to keep up with you.
As you pull from your list and input phrases into your listing, Scribbles color-codes, numbers, and sorts your keyword bank, live. This is an unprecedented amount of control for creating both the front-end and back-end of your product listing.
As a bonus, Scribbles allows you to import existing listings from your Amazon account as well as retrieve drafts of previous listings you've started to create.
---