Amazon Reverse ASIN Lookup Tool
Find Keywords via ASIN
Quickly and easily gauge the most effective keywords to include in your Amazon product listings. Leverage your competitors' keyword ranking strategies to improve your own.
Learn More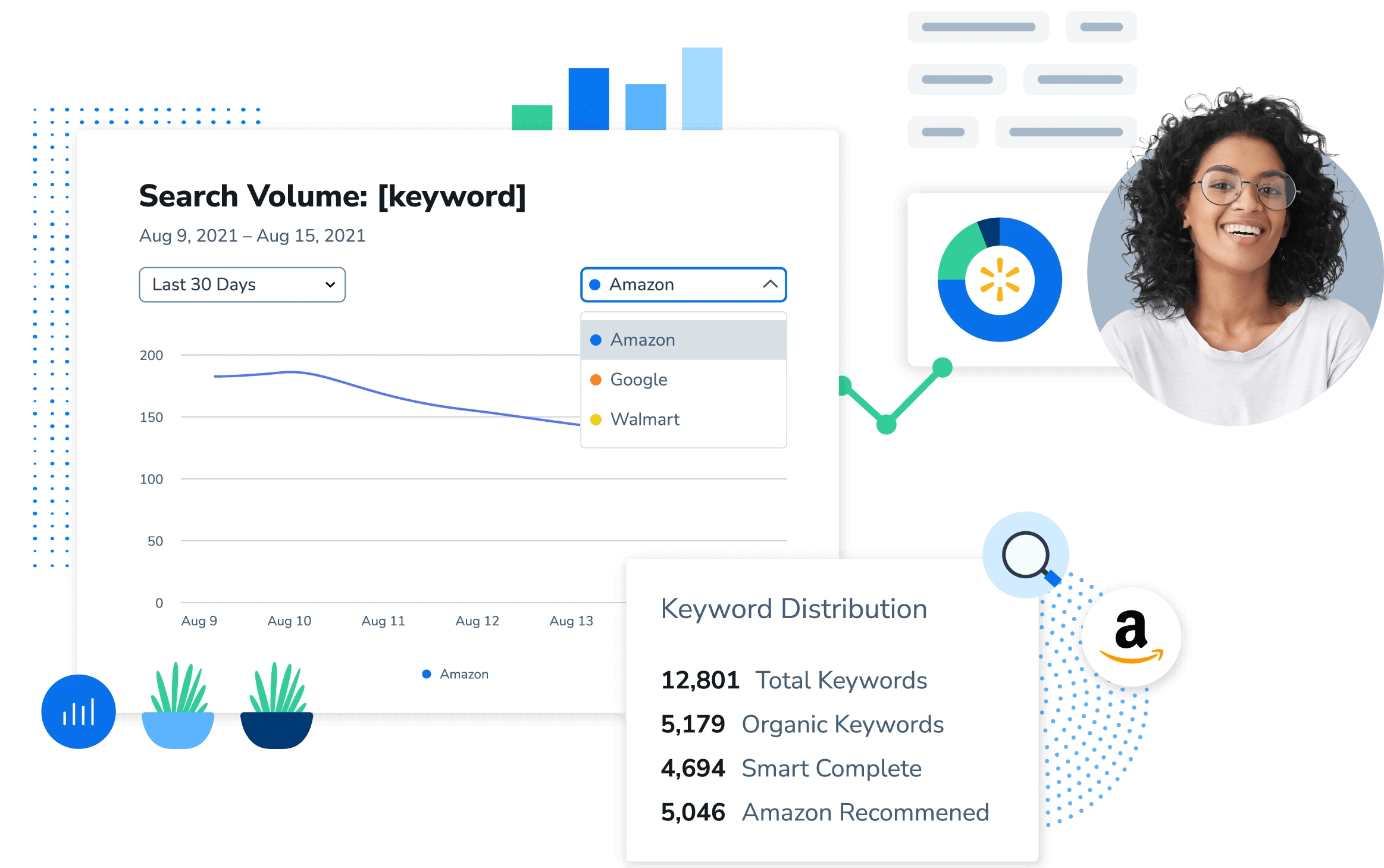 Amazon Keyword Planner
Find Keyword Opportunities
Reveal high-volume, highly-relevant keywords for Amazon and Walmart. Collect traffic-driving keywords that are most relevant to your product listing in order to boost organic traffic and sales.
Learn More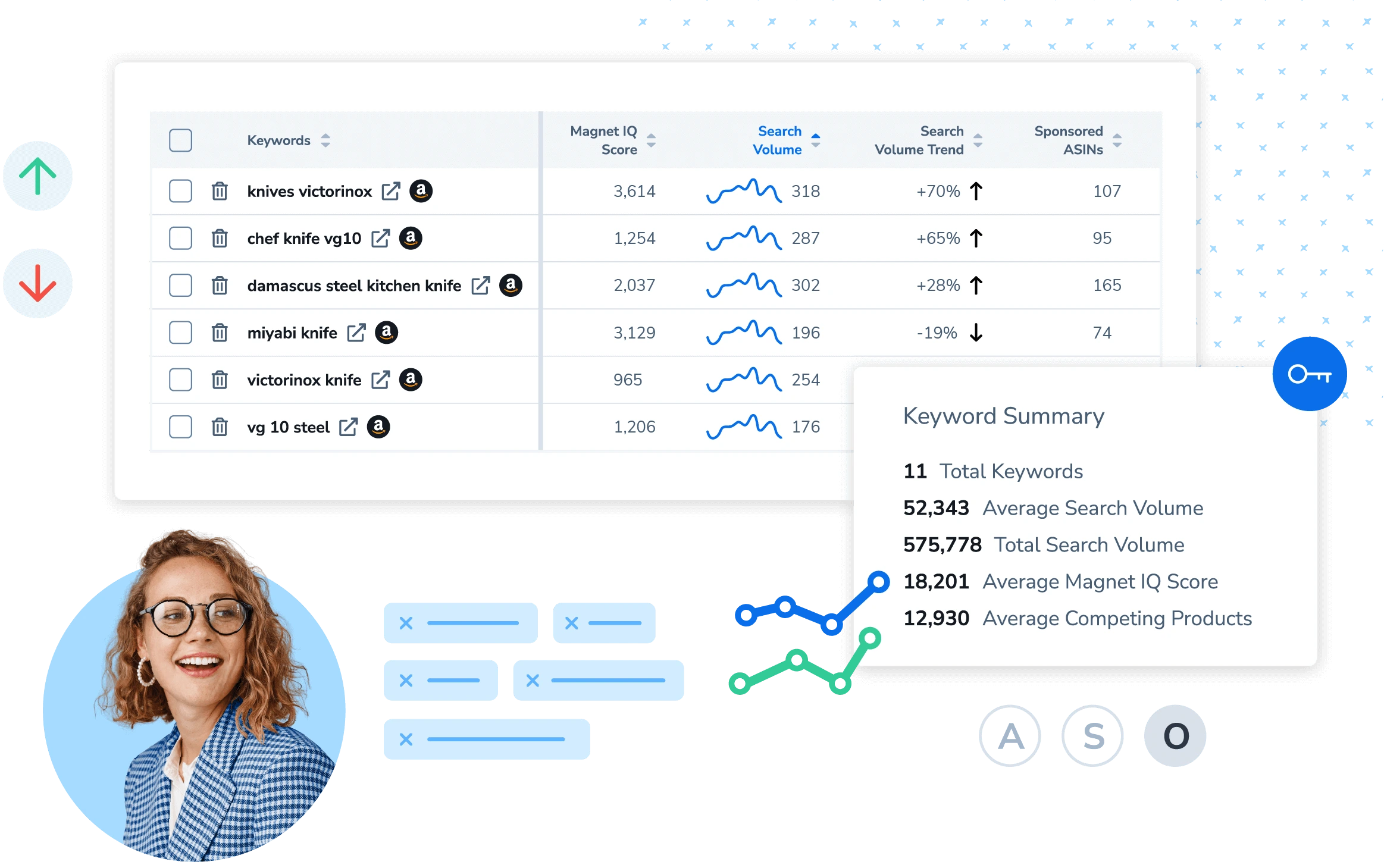 Get Started with Keyword Research
Figure out exactly which keywords your target customers are using to:
Improve your rankings
Craft better product pages and campaigns
Establish a strong brand
Helium 10's Full Suite Pricing
A plan for every seller's experience level
14,933
People signed up last week.
Start Using Helium 10's Keyword Research Tools Today!
If you'd like to try out our Product Research tools for yourself, sign up to check it out today!
Sign Up
The Details
How to Choose Amazon Keywords
The best way to find keywords on Amazon is to use a third-party tool like Helium 10 to:
See what your top competitors' product listings are ranking for (with Cerebro)
Expand keyword combinations (with Magnet)
When researching how to find viable keywords on Amazon, you will quickly discover the best way to do so is through the use of an Amazon keyword research tool. These tools allow users to access data, previously inaccessible through the public Amazon marketplace.
Estimated search volume, competitor rank, and custom metrics (like a dedicated demand/competition ratio) make third-party Amazon keyword research tools a must-have for anyone looking to start their online business. Without keyword research tools, sellers would be left to their own devices to manually enter search queries on Amazon and browse a limited selection of "related" or "frequently searched" phrases.
Step 1
To start off, it's important to understand that for most listings, the majority of sales come from the top 5 to 15 keywords. The easiest way to find these keywords is to perform an audit of your top competitors.
First, decide what related keyword you think is the main keyword for your product. We'll call this a "seed keyword".
Run Xray (a keyword tool part of the Helium 10 Chrome Extension) to see the estimated sales of the top products indexed for that seed keyword. Pay attention to the top three or four only. These are the dominating products.
Step 2
Copy the product identifier numbers (aka ASINs) of those top three to four products and paste them into Cerebro, Helium 10's Amazon keyword research tool. A keyword list will be generated in seconds!
Step 3
When you want to know how to find all the different combinations of a keyword (aka, phrases) that exist on Amazon, Magnet, Helium 10's other keyword tool, can help with that. Using smart filters and studying results for non-English keywords that are being searched for on Amazon! These keywords are mostly ignored by most sellers, which is good news for you. By including them in the backend of your product listing, you instantly get an edge on your competition!
Using Helium 10's Amazon keyword research tools, you unlock the ability to uncover opportunities hidden from your competition. Interested in testing them out for yourself? Sign up for a free Helium 10 account here!
With these keyword research strategies, you've taken the first step towards capturing the eyes (and carts) of your customers.
The Best Amazon Keyword Research Tools
Keywords are phrases that people actively type into Amazon's search engine to find a product they're looking for. If you're unable to identify keywords that are hyper-relevant to your product with a high level of monthly searches and low competition, it's going to be nearly impossible to generate organic sales through Amazon.
Keywords are the basis of a good product listing, and influence how you sculpt the page so that it ranks well within Amazon. Not ready to get in-depth with one of the above tools?
Try our free Amazon keyword research tool to get a glimpse into what these tools have to offer!
Cerebro
Cerebro is the ultimate Amazon ASIN finder/scraper tool; it enables you to easily identify the keywords your direct competitors (for a given product) rank for.
You can enter up to 10 ASINS and Cerebro instantly gives you every top-performing keyword related to them. Insights like word frequency, monthly search volume, number of competing products, and sponsored rank allow you to make product decisions (and later, advertising decisions) based on real shopper behavior!
Where Cerebro goes beyond:
The ability to narrow your search results to only the most relevant data using over a dozen specialized filters
The power to see what's working and what's not for your competitors
Save valuable time with features designed to pinpoint and save high-performing keywords for both Amazon and Walmart marketplaces
Magnet
Magnet is an Amazon keyword planner that packs a serious punch. You can enter up to 200 of your own keywords and Magnet delivers relevant, high-volume keywords to help fine-tune your product listing. This is the tool that will give your Amazon SEO strategy the thrusters it needs to help you reach page 1 of Amazon's search results.
Magnet has the largest database of actionable Amazon and Walmart-related search terms and long-tail keywords on the market.
---