#229 – This Global Amazon Specialist Tells How E-Commerce Sellers Can Expand Their Brands
The influence of e-commerce is global. Amazon has expanded, and the ability to communicate is crucial. A skilled translator is the answer!
Updated on: September 2, 2021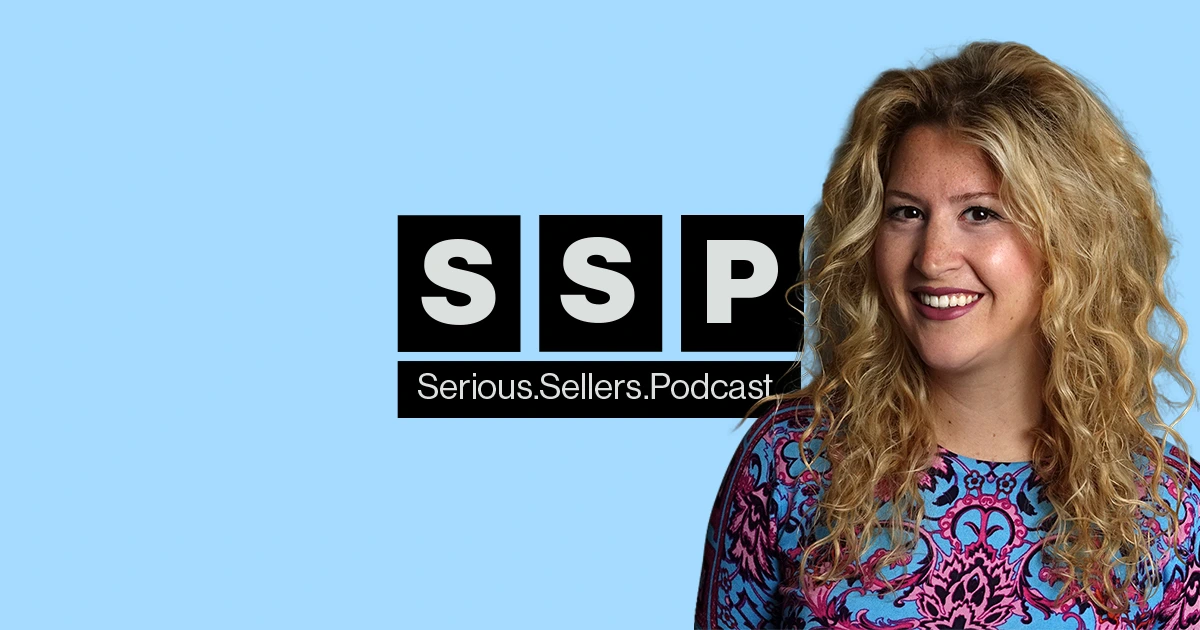 Amazon Netherlands, Amazon Sweden, Amazon Poland; what's next?
As e-commerce continues to explode around the globe, the possibilities to expand your Amazon business have become seemingly endless. There's really only one main thing that might prevent you from getting your product's message to prospective buyers in emerging foreign Amazon markets. That's accurately translating your information into all the different languages.
Today on the Serious Sellers Podcast, Helium 10's Director of Training and Chief Evangelist, Bradley Sutton welcomes Jana Krekic, a certified translator, international speaker, an e-commerce consultant. Jana is also the founder of 7-figure Amazon dedicated translations agency – YLT Translations. She has many years of experience working with highly successful Amazon sellers and is the perfect person to help us understand how to navigate a global e-commerce landscape.
In this episode, Jana talks about important European shipping regulations, what's the best product to sell in the United Arab Emirates, and why Amazon Poland might be the next big thing!
In episode 229 of the Serious Sellers Podcast, Bradley and Jana discuss:
03:15 – Don't Believe the Instagram Photos, Jana is Working Hard
06:50 – Remote Work Has a Big Upside!
08:05 – E-Commerce Can Mean Substantial Freedom
10:25 – Amazon Netherlands is Finally Growing
13:00 – Both Jana and Bradley Give Amazon Poland a Big Thumbs Up
16:40 – Jana's Amazon Europe Business Strategy
18:35 – An Amazon Europe Product Launch
22:00 – Tactics for European Amazon Sellers Expanding to the US
24:00 – Important European Union Shipping Regulations
25:40 – Selling on Amazon in Japan
27:25 – Home Décor Sells Well on Amazon in the UAE
34:00 – Jana's Top Off-Amazon Marketplaces
35:05 – What's the Best Way to Fulfill Non-US Amazon Orders?
38:00 – How to Contact Jana
Enjoy this episode? Be sure to check out our previous episodes for even more content to propel you to Amazon FBA Seller success! And don't forget to "Like" our Facebook page and subscribe to the podcast on iTunes, Google Podcast or wherever you listen to our podcast.
Want to absolutely start crushing it on Amazon? Here are few carefully curated resources to get you started:
Transcript
Bradley Sutton: On today's episode, we're going to talk about the best practices for translating listings as well as the selling potential in over 20 different worldwide marketplaces. Some that I haven't even heard of. How cool is that? Pretty cool, I think.
Bradley Sutton: Are you guys on the app clubhouse? If so, make sure to go search for the club Serious Sellers Podcasts and follow it. And also find me on there and follow me @h10Bradley this Friday, we're going to have our first ever Serious Sellers Podcast after show, or we're going to have a popular podcast guests, Selene Dior, the queen of Instagram marketing. Coming back to answer your questions live. Anything about influencer marketing or growing your Instagram following. You guys can ask her any questions about that. So join us at 11:00 AM on the clubhouse app in our Serious Sellers Podcast club to ask questions. And if you guys like it, we might make this a permanent feature where we bring guests back for live Q and A, just like this.
Bradley Sutton: Hello, everybody, and welcome to another episode of the Serious Sellers Podcast by Helium 10. I am your host Bradley Sutton, and this is the show that's a completely BS free, unscripted and unrehearsed organic conversation about serious strategies for serious sellers of any level in the e-commerce world. And we've got back Jana Krekic.
Jana: It's good to be here. Thanks for inviting me.
Bradley Sutton: Perfect. All right, we're going to be talking about languages here. Jana is in the Amazon world, one of the most foremost, or the most known, I would say I'm trying to make a fancy word. Let me just use a simple word here. I can't even speak English. I'm just trying to speak other languages. The most known person, I would say in our industry about translating Amazon listings, and all that's entailed in it. And we had Jana on the podcast and spent like a year and a half or so ago. It's hard to believe it's been that long, but we wanted it to bring you back to see what's new, what's going on. I mean, since we were on the podcast, there's been new marketplace open in Amazon, a lot of things have changed. I mean, the world has changed, so we're like it's time to bring Jana back and let's just see what's going on. So, first of all, we're just talking right before we got on the podcast here, how you've just spent like last month traveling you and Lazar, who's also a podcast veteran here, right? So like, what was it a month you guys were going around?
Jana: We're actually away for almost two months. It was almost eight weeks. So, we went to Miami, we met up with Cassandra over there. We spent some time with her and then it was like, we were on our way to Puerto Rico. We went to this really cool mastermind. So there was business. And then after like those 10 days were over, it was also pleasure again. And then it was also business. So it was like mix of like business and pleasure. I know my Instagram doesn't look like I do any work at all, but I do tons of it. But I'm just going to– I don't want to have to take like pictures of like, me, my computer on a balcony on the 17th floor and I'm just like– so then we went back to Miami and then we got back home to Europe, to Serbia like a week ago. And we're really happy that we got back in March because like January and February, it was really, really cold. So I'm really happy that we got to not experience winter this year. So even though like, we didn't plan on like traveling, especially in January, it's just going to happen. I didn't know, like how e-commerce is. I mean, when you can travel, it's like, where are you going next week? You're like, no, I'm just like chilling at home. And then you're like, Oh, well, I'm going to like Paris and London on Thursday and Friday sort of. So, we're really, really happy and blessed that we could travel to the States. A lot of people cannot travel, but especially like to Florida, you don't need any PCR. And I mean, it's a whole different world out there. So I was really, really happy that we could go there.
Bradley Sutton: Cool. Cool. Then now neither of you sell on Amazon, right?
Jana: Well, I just started selling on Amazon actually.
Bradley Sutton: Oh, really?
Jana: Yes.
Bradley Sutton: When did you launch your product?
Jana: I didn't launch it yet, but I'm about to launch it, but it's like, I don't want to say anything about it. I don't want to jinx it, but I have a product and it's happening. It's going to happen within the next–
Bradley Sutton: Yeah, that's what I always say. Like, we have a lot of people on here who are not Amazon sellers, but they're kind of like service providers, maybe they they're accountants, or something like that. Like we recently had some insurance agents, people who help Amazon sellers get insurance. That's something now you're going to have to worry about. But anyways, I always ask them, I was like, you deal with so many successful Amazon sellers. Like, doesn't it make you want to sell on Amazon yourself? Is that why you started? Like, were you looking at some of your like your clients are coming to you and then you just look at their success and you're like, why am I not doing this? Or why are you doing it?
Jana: You know what, like I wanted to start selling ever since I've started like wild tea, because I always wanted to like, see and check something and do something on my own product and like experiment. Because when you have clients, like we don't manage anybody's account. And then, I have to reach out and they have to send those numbers and I have to ask them like, hello, could we please use this for this case study? And now we're like, we're working with tons of eight and nine figure sellers. And sometimes they don't want to share their info, and then I was always like, wondering like, well, maybe if I had my product line and I'll be managing my own account that can experiment with everything I want and then they will be so cool.
Bradley Sutton: Yeah. I mean, one of the reasons why I was asking about that is because I think even what you did was similar to what an Amazon seller has the freedom to do. I mean, like you said, you didn't just like go on vacation for two months. You were still talking with your team back home and probably doing some work remotely. Now I remember before used to work for a, an actual company. I remember in our last episode, before you got into what you do now, but like you couldn't, I mean, especially back in the day, you couldn't just go, Hey, company, I'm going to go to the USA for two months and party. And I would like to just work, maybe a couple hours a day or something. I mean, that's not like something that you can do.
Jana: Yeah. I mean, but even if like earlier, if I travel, because we don't have a physical office, a whole team is remote and I could travel. And there were no restrictions for me, in terms of like, I cannot travel today or like next week, because they need to take care of something at the office. I could travel, but it wouldn't make much difference for me where I was, because I was basically working like the whole day, like from morning to evening, I was literally working and I would maybe like go to the beach, like on weekends, I'll have some days off, but it would not mean the same as me traveling right now, because like, now I can decide what I want to work. Of course, we're going to have some meetings. I sit down, like I take calls and I talk to clients of course, but I'm in charge of my own time. And then if I decide that I don't want to work for the next two weeks, I don't have to, but then some things are just going to not happen at a company. Like the company is just going to stay as it is, because I'm still the person that scales the company. I don't expect the company to scale by itself.
Bradley Sutton: If you didn't start YLT translations and you were just an Amazon seller and you had a team, it would be a similar situation. So, that's just another advantage for people who sell on Amazon is it doesn't mean you live laptop lifestyle. Don't listen to the people who try and say that you can't just launch a product and then sit on the beach of the Maldives and do nothing. You've got to be checking in, you've got to have a team, if you're by yourself, I would say, don't go to the Puerto Rico for two months yet if you're just by yourself. But once you've built up like a team and you don't have to be there in the day-to-day operations, like eight hours a day, this is the kind of thing you can do. My point of this whole line of questioning was that this is just one of the benefits when you were working in this industry. Jana is not yet selling on Amazon, but she's still benefiting from that lifestyle because she's this industry and we have the freedom to get programmed by Kevin King, that's in Helium 10 for training you how to sell on Amazon. Well, why did he call it? We didn't name it, Helium 10 didn't name it. Why did Kevin come up with that name? Freedom ticket? Well, when you're doing e-commerce, it can be like your ticket to freedom, sometimes because you're able to do a lot of things that you can't do when working for corporations. Now, let's get into what I wanted you back on the show for is– I want to find out what's going on with translating and things like that. So, first of all, I remember the last time you were on the show. People were excited about the new Amazon Netherlands that was coming out. Now, correct me if I'm wrong, but it's been kind of like a slower rollout or, I mean, Netherlands, people who are selling on Netherlands are not selling as much as the other European marketplaces yet. Right?
Jana: Well, you know what happened? People were very disappointed in the Dutch marketplace last year, because they were not experiencing any sort of sales. I mean, people are getting like 20, 30 sales per month. And I think that they were expecting much more. The problem was that Amazon hadn't, at that point, they hadn't rolled out a PPC for the Dutch marketplace yet. It was a dominant marketplace and people were still buying from that one. And also, people were still used to buying stuff from Amazon.ede from the German, Amazon, like old people from the Netherlands were just, if you're going to buy it from Amazon, I'm just going to buy it from the German, Amazon. And I don't think that people were– they weren't aware that they could actually buy from their own marketplace and Amazon didn't just try, I think, to kind of push the marketplace that hard. But then as soon as they rolled out PPC, which was in December, 2020, people started getting some, like, really, really good results. And it just kind of went through the roof, like with all these sales, like it just got like literally overnight something happened, and people were starting to get more sales, the Dutch marketplace, and now, Amazon is bigger, and it has like 3.8 billion in revenue. Like that's how much, like, people spend over there. It's like twice as big and that's happened like literally in four months.
Bradley Sutton: Okay. Interesting. Interesting. So after that, I don't know. I think it was like six to eight months later. I think the next one was Sweden that opened up, right?
Jana: Yeah, Sweden and they had a terrible, terrible launch. Like, Amazon Sweden was launched and their Amazon web page was in this ridiculous machine translated, like tax was just all over the place. There were like so many horrible mistakes and like all the newspapers, like just making fun of like poorly translated listings and this whole page. Ridiculous. I mean, Amazon did not put a Swedish flag on their whole page. They put the Argentinian flag instead of Swedish flag. I mean, how ridiculous is that? And so like, they have, let's say a rough start, but I mean, people are very interesting in Sweden as a new market base because Sweden has like this very special e-commerce culture. And in 2020, they had close to 10 billion in online sales. And I mean, talking about like Sweden, you have to mention Ikea and H&M, and stuff like that. So, it's like a different e-commerce culture then you would have maybe like in France or Spain or Italy. Right. So people are more– the e-commerce penetration is higher.
Bradley Sutton: Now, for me, this is just my hunch and just my taking the pulse of the industry and my layman's idea of the market. But to me, the exciting one is Poland, you think I'm wrong? Or do you think that Poland has a lot of potential?
Jana: No, absolutely. You're absolutely right. So Poland is number one trending marketplace in Europe. Everybody wants to go to Poland. So, some people want to go to Sweden and some of them want to go to the Netherlands, but we have our returning clients that are like, here's our whole catalog, do it for Poland. They didn't go to the Netherlands. They didn't go to Sweden. Some of them didn't even go to Spain or Italy, but they're like, we want to do this in Polish. And it's been crazy. So I think that Poland is going to be on fire this year. And it's a huge, huge country with a very, very big population. And they have like four thousand only stores in Poland and Allegro, their marketplace is like, it's the leading website in Polish e-commerce, but it's also like one of the top 10 worldwide marketplaces. And it comes right after Shopee and T-mall. And, it means that basically 200 million visitors visit that website, which is crazy.
Bradley Sutton: Do you have a lot of your clients who are getting ready for that kind of like they did for Netherlands, where they're asking you to go ahead and translate their German and English, et cetera, listings?
Jana: Yeah, absolutely. As I said, like, the new clients are like, let's do Germany, France, Spain, Italy, and Poland. Not all of them are doing Sweden. So, when the Netherlands like, popped up as a new marketplace, everybody wanted to go there because it has been a while since Amazon launched the new marketplace in Europe. So people were just like, wow, let's go. It's a new marketplace. Right. And so like, people wanted to expand there. And then after not getting so many sales, all of that enthusiasm kind of like went away and they're like, well, I don't know. And then for Sweden, it was not, the people were not that excited as they were for the Netherlands, because they're like, Oh, well, Sweden is that, it's not, it doesn't that big population. I don't know. But, Poland was definitely like, number one, like literally everybody is excited about Poland. And as I said, like, people who didn't expand anywhere else, except like Germany or Germany and France, they come back to us and they tell us like, look, we have to do a Polish translations. Like, this is what we have to do. So I think that Poland should be– I always recommend, if you asked me like now, and we're like, where should I sell? Like in Europe, for instance, I'll be totally like Germany and Poland, because I think Poland is going to be the next big thing.
Bradley Sutton: Okay. Okay. Interesting. Now, let's just take a step back and take a broader approach. Let me give you a scenario here. Let's say I'm an American seller. I'm somewhat successful on Amazon USA, and now I've decided, you know what, I think it's time to expand to Europe. Do you suggest launching across all, what is it, seven or six platforms now, or do you start in the biggest one Amazon Germany, or do you just do UK and Germany? Like how do you suggest an American seller expand to Europe on Amazon?
Jana: Right. I mean, when talking about like, let's say like worldwide marketplaces, I would always tell American seller to go first to Canada. This is your first market place. Like, if you want to go, because you can like keep English and you just needs French keywords in your backend, this is what it gets indexed. And it's a really cool idea for Canadian listings to only have French top keywords in your backend. And then if you want to go to Europe, a lot of people would absolutely do UK, but nowadays, after Brexit, like UK kind of stands alone and very isolated. So like, I would maybe even not recommend like going to the UK, because if you go to the UK, you're stuck over there. You cannot ship your products. Like, as you could earlier, like you're going to get registered in the UK, you have the inventory and whatever not, and then you can ship to all other European countries. So you cannot do that. And you cannot do that anymore, but you will deal is like, you would have to have the inventory also shipped and sent to the warehouse in Europe, registered for the pen, and then you could ship out like a ship across the whole of Europe. So it's a big of a hassle right now. So I would maybe recommend even just going to Germany and then registering for the pan-European program, and then we'll be able to ship like your products everywhere, because now we have like seven marketplaces and Czech Republic is going to be the eighth marketplace. I don't know when they're going to launch this. It was also like scheduled for like late last year, but it didn't happen. But Czech Republic is also going to be a marketplace because as probably you remember like earlier, when you just had like Germany, France, Spain, Italy, you had to register for VAT in Poland and Czech Republic. So there was probably like a long long-term plan for Amazon to also launch these market places. And Czech Republic has had the biggest growth in e-commerce last year, like the group, or like 16%, which is insane when you compare it to Germany, which only grew seven. So I think Czech Republic should be also a good marketplace. And I would suggest going through Germany and then expanding to the rest of Europe, because by registering in Germany, you have the access to like seven other countries. And it's very, very easy for you to sell across Europe.
Bradley Sutton: Okay. Interesting. Interesting. Now, when somebody approaches you to do a translation, have you ever– for a certain marketplace, have you ever taken a look at the product and you're doing your research? Because I know you guys use Helium 10 to do some keyword research and things like that, but then do you ever say, you know what, this might not be a good product for this market.
Jana: We try to put it, like, we try to put it nicely because I mean, we don't do product research. We don't have any, like a development team that does that, but we have like native translators and we have like team leaders and they're all native people. And they've been into Amazon for a long time. And then we got one client and he wanted to do some t-shirts and on the t-shirt it says like Mr and Mrs., with some picture on it, it was a really stupid picture, whatever. And I've sent that to my team on translators. And literally like three of them told me, like, you know Jana, I don't think this is going to do well in Germany because this is just not what's driven people like, and I was like, well, why not? And she was just like, well, this is just not what a German person would wear.
Bradley Sutton: Here in America, if we're not sure what title might resonate or what main image, what we always suggest using Pickfu. But then one question I always get, Pick Fu doesn't have like a Polish set of customers or a German set or a UK. So how can you do split testing before a listing is active in the European marketplaces? Or can you?
Jana: Well, I mean, it depends on like what you want to compare it. Like, for instance, if you want to compare like a title, stuff like that, like if you want to compare, like, for instance, like you do a new title because we always recommend, like if you want to change something like, do you have to like, change this one variable at a time. You don't change the whole list thing and then you don't know what works, what didn't work. Right.
Bradley Sutton: All right. Quick break from this episode for my BTS, Bradley's 30 seconds tip of the episode, we've been talking about translation here and I wanted to talk about, Jana said that, Hey, you can find some Spanish keywords or other language keywords using Helium 10. So absolutely do that. Make sure to put it in the back end of your listing. If you are looking into the best keywords for your competitors using Magnet, you will find some of these foreign language keywords, put some of those in the backend of your listing, but the ones that you see the most, or the main keyword, like the main single word for your listing, like let's say it was collagen peptides and you found the Spanish word for it and take that seed word and put it as a broad phrase campaign in your PPC. And then, if other words start trending, other words might not have any search volume at all, but maybe Amazon will start showing you for PPC on a broad campaign for that foreign language keyword. As those search volumes increase.
Bradley Sutton: We have a lot of listeners who are in Europe, maybe crushing it in Amazon, Germany, or UK or something. What would be the suggested path for doing market research, even before they come to somebody like you to translate their listing, to see, Hey, is my product viable in the USA?
Jana: You mean, sellers who are expanding from Europe to USA?
Bradley Sutton: Yes. I mean, because I'm assuming that you don't just say, Hey, you're selling in Europe. Great. As soon as you're ready, come to me and I'll translate, you're listening to English. Like somebody should check the market first probably before they make that.
Jana: Yeah. I mean, of course you can use like Helium 10 for that. Like you can get like product ideas. You can see like, what's popular. What's not, but I think a lot of people, so how like that our development teams and then they can see like what's selling, what's not selling at all how big competitors are or not. But like, it's always more difficult of course, to sell on the US market place because competitors are– there's so many more competitors, there are so many more restrictions, like for instance, like a restriction, the US marketplace, like they will take your listing down. If you have like caps lock and bullets, like in Europe, you can still do that. Like caps lock are no problem in bullets and tons of other restrictions, and the reasons they are taking their listings on US, they were probably never going to happen in Europe because Europe is like five years behind all of those restrictions happening with the US marketplace. So if you want to like, get your German or whatever, then you're like, give it to a team like give it to your VA, maybe do some research on your own, like in Helium 10 or similar tools. And then you'll see if it pays off for you to go there because competition is not really, really tough on the US marketplace. I'm not going to say like saturated, but it's very difficult now to go there. And launch is like a successful European seller. If you hadn't done your homework about the product research.
Bradley Sutton: Okay. Okay. Sometimes when we think about translation, people just think it's about your listings and things, but what a lot of people fail to understand is that there's a different countries also have different regulations as far as packaging and things like that. So I'm assuming you guys handle that kind of thing too, but what are the regulations like in Europe? Like your inventory is all from one place. So in Europe it's okay to like maybe have German on your packaging, but you're fulfilling that package to Spain and Italy and other places. Is that okay?
Jana: So the problem now is that the regulation, like, I think this is like pretty new, like probably a couple of weeks old is that all European packages have to have the target language on the package. So, we cannot send your products with an English text in your package to Germany or to Italy. They all have to have different labels like on these languages. And they have to have different texts in their packaging. This is new and this is what you have to change. And that's why we're having like tons of requests for this because the regulations have changed.
Bradley Sutton: Interesting. Yeah. And I know even in America guys, or even in North America, I should say, like certain supplements, you cannot say certain words on the packaging in Canada that you can in the US, like I remember when I was working for like a diet pill company, like, you can't even say diet pill, or something like that. We have to say like weight loss, something. Always check the regulations guys about what you need to put in the packaging.
Jana: I mean, it really depends like from country to country, like, I know that certain things are like allowed in France regarding like beauty products and the ingredients. And you're not allowed to use that like in Germany, because like, sometimes that shampoo you're selling, maybe like one of those ingredients is a prescription drug on the German marketplace and you can totally buy it's really in the UK. And then this is what you're going to get your product banned or restricted, just because of the one ingredient that you think it's also okay. Because you can buy it like in CVS, but like, if you go to Germany, you need a prescription for that.
Bradley Sutton: Yeah. Yeah, exactly. Okay. What have you been doing if anything, for the Japanese market?
Jana: So there's nothing majorly new on for the Japanese marketplace. I think that basically Japanese marketplace at what is at I suppose left like two years ago. Of course you have like another platform in Japan, which is super popular, also like Rakuten. Like you could also be selling on that as well, but when it comes to Amazon, Japan, basically we don't have, you still don't have any tools that have keyword research for Japanese sellers or one to sell there. So you have to do a lot of manual work. You literally have to like manually check your competitors and see what are doing. And also like the most important thing is because you have to translate it to Japanese. You have to have– there are two types of Japanese. Actually, you have like the traditional and you have the one which basically reads like English. So it's like the mix of two. So if you have like keywords, you can have like a traditional Japanese keyword with like Japanese style. And then you can have the same keyword, but written in English, Japanese mattered to say so. This is something you have to really pay attention to. But apart from that, like not much has changed. Like PPC is still pretty cheap. Like clicks are super, super low. And if you have the right product, I would always recommend Japan.
Bradley Sutton: You've talked about a lot of marketplaces so far. What other Amazon marketplaces are you doing work for, or that you've seen some of your clients have success in, because this is maybe we've only talked about half of the, all of the newer marketplaces that are out there on Amazon.
Jana: Yeah. So we do also UAE. We have like, I think like requests for like Sweden and UAE right now are about the same. And really cool thing about UAE is like, if you have a product inside of the home decor category, you should go and try it at UAE. Because like, UAE is a country with a lot of aspects and they like go there. They rented an apartment, they come and go, right. But like the apartments they rent are empty and they need furnishings. They need anything, from the home decor category and Dubai, for instance, like it's very expensive, and the people who would like to get a good bargain. So if we can like offer a couple of those, a couple of DRMS less than what you can get into store. Like people will definitely buy that. And especially, you can leave your listings in English because you're targeting aspects and they don't speak Arabic. Like 90% of the foreigners don't speak Arabic. So you can totally leave the translations. I mean, you don't need translations. You can just leave the text as it is. And I would definitely use American English and American keywords, not British, like British is something for Amazon, Singapore, and Dubai, and like UAE there with their ties and political ties and everything. They're like, very connected to the US and a lot of people work, in Dubai from the US and I think it's a really good opportunity for, as I said, the home decor. And also, like, if you check like the category, it has like a couple of thousands of products. When you compare that to the US market place, they have like over 30,000 products. So there's basically nothing. So I would definitely recommend this category until, a lot of people find out about us and just kind of go and sell home decor, but you wouldn't use it really, really good for that. It's not a big country, but people have really high living standard. And I think people would appreciate a good bargain if they have.
Bradley Sutton: Okay. What about, let's say Amazon Turkey or Israel, or Brazil?
Jana: Well, I'm expecting big things from Amazon Brazil, but I just also think as what they did, like with the Netherlands, I didn't even like, try to just get out and push people into selling their, or even investing in that marketplace because Brazil is a big country, like it's over 200 million people. And also like, Amazon Columbia is expected to open as well. So I think South America should be a very good, potentially very good marketplace, especially for the US sellers. When it comes to Turkey, like when you've had maybe like one requests, like the last two and a half years, and we do like more than 3000 listings now every month. So people don't want to get, like, get involved in Turkish marketplace, Israel. I mean, there's nothing basically like nobody is saying, or mentioning like anything about Amazon Israel. And I mean, there's Amazon, Singapore, but then marketplace is so small, but it's so important to Amazon because this is Amazon's gateway into Southeast Asia. And that's why this marketplace is important for them, but it's not that big. Like, I mean, I would never command like somebody from the States or from Europe, like selling in Singapore. It just doesn't make sense. There are greater opportunities elsewhere than like Singaporean marketplace.
Bradley Sutton: All right. We've been talking strictly about Amazon so far, but what are some marketplaces in Europe or even in the USA that you have experience with anywhere in the world, that, what would you say that the next top five marketplaces that a seller who's already selling on Amazon? I think you'd probably always recommend starting on Amazon first, but if not, let me know, but if you're on Amazon, you're successful in a certain country, Hey, you need to check out bowl, or you need to check out the, I forgot what the one in Dubai is, but the different ones, what are the top five?
Jana: Yeah, it's called Suk.
Bradley Sutton: So, like, what would you say your priority would be for off Amazon marketplaces?
Jana: So for instance, like in Europe, Allegro definitely. That's the biggest marketplace. That's the Polish one. That's like in top 10 worldwide marketplaces. So, and we actually, today, I just got a request from someone to do translations because they want to sell on Allegro they're from the UK. So people are, I think like Poland is now becoming more and more attractive in terms of like e-commerce at all generally not just Amazon, but like, Oh, look, I think that people now, a lot of people just heard about Allegro right now and they're like, wow, they have their own like crazy big marketplace. Let's try something out there. And also I'm really interested in you're like, are we going to get like more request for Allegro, for instance. And then you have a sauce course. It's like one of the largest online fashion retailers in the world.
Bradley Sutton: Interesting. Any others, or what about in America? Like, are all of your European customers pretty much only exclusively selling on like on Amazon USA and Mexico.
Jana: I have to mention, I have to measure a really, really big and important marketplace. It's French marketplace. It's called c-discount, c-discount is pretty, pretty big. Yeah. They're super important. I mean, there are like a lot of like German ones. Of course. I have to mention Zalando. It's a marketplace in Germany and they are like expanded to multiple European market places.
Bradley Sutton: How do you spell that one?
Jana: Zalando.
Bradley Sutton: And how about in America? Like the people who are asking you to translate to English? I mean, obviously I would say 95% is for Amazon USA. But do you see any increases in Walmart or Etsy or things like that?
Jana: Yeah, like a lot of people, like, especially last year because people just want to diversify, so they kind of you're open to new sales– channels that are open to new countries. I mean, just last year, like 40% we got, like, for instance, when it comes to translation and localization and we've got 40% more inquiries than what we usually do. But when it comes to like different market basis, people are going to Walmart, they're going to Etsy, they're going to eBay, like, they're going to– what's the name of it, a Newegg, like, I think it also talked about someone about Newegg. So he's like, a computer like consumer electronics. So, these are like some of the marketplaces out. I remember people going to. They're like a lot of different marketplaces all around the world. And I mean, a lot of people have never heard about it or even went to the website. Everybody knows like asells, Allegro and Zalando. Like, that's like, you really, you don't have like a computer. Like if you don't know about these. It's like, and people really, really buy from these websites. I bought like tons of stuff, like from Zalando, like a couple of years ago. And like Germans, like they just think buy from Zalando. Like this is like, it's like, they're, I don't know, like best buy or something, it's like no brainer. Like I'm buying from Zalando.
Bradley Sutton: Yeah. I highly suggest everybody, don't just get your sales from one Amazon marketplace, expand to other Amazon marketplaces. But after that, Hey, start expanding to these marketplaces that are in local markets that are sometimes even more popular than Amazon. And do some of your clients, do they actually fulfill maybe orders from Amazon or how do they even fulfill orders or do those programs have their own kind of like FBA things?
Jana: No, I mean, see this account doesn't have an FBA to just have like one, like a warehouse and you have to ship your products over there. It's like somewhere like between like merchant and like FBA, it's sort of like, it's kind of, it's different. I mean, the thing is that all these marketplaces, they have a different way of handling things. So I would always suggest like, if you have the capital, you should go to international marketplaces. I mean, everybody can like build a website, like a Shopify website, but takes like tons of money and capital to invest in it to start working properly. Right. So I would like suggest like going to, like Canada or anywhere really want to, because you know the game, you know how it works. It's always going to be the same system. But if you're like Albany expanded to Europe, I will definitely check out, like, let's say in France, I would check out like, C-discount or in Germany, I would check out like Zalando, because you're going to already have like translated listings and all of these platforms, they're much more simple than Amazon in terms of like listings and like, hold up to the station, stuff like that. I mean, let's just look at like Walmart's listings, right. It's kind of pretty simple, very short, like I, they don't have that many, like a big, like the descriptions and it's going to– it's very, very different, but I would suggest like, not sticking to Amazon only. And if you're think you're like, okay, I'm done. I've like, I've expanded, I've done whatever I can on Amazon. Let's just like test other platforms. And if you're already have everything ready in the target language, why not try any other local platform, maybe you'll going to be even more successful there. So I definitely agree that people should like try selling on different platforms in these other countries as well.
Bradley Sutton: Okay, cool. Cool. Now you've been giving us a lot of tips and strategies throughout this whole episode, but now we come to the part of the show we call the TST, or the TST 30-second tip. What's just something about a translation or going in other marketplaces that you can say like 30 seconds or so, that's very valuable, very actionable for our listeners
Jana: For Poland or Sweden, there are no tools, unfortunately, that could help you with the Keyword Research, but you can. I mean, the way what you can do is like you can go to keyword planner, and then you can like, look up the keywords over there, and then you can compare that to what your competitors are doing. And you can do the Xray, it doesn't matter that there's like no tools, but you can do the Xray and you can see like what the keywords are that people are using. And then you can compare it to the keyword planner and you can see what is popular in Amazon and what's not, unfortunately has to be manual, but this is the only way how you can do it.
Bradley Sutton: Okay, cool. Cool. Now, if somebody wants to reach out to you to get more information on anything we've talked about today, or to possibly already use you for some kind of translation, how can they find you on the inter webs out there?
Jana: Sure. Oh, well, first of all, you guys, can like our Facebook page YLT translations.
Bradley Sutton: That's YLT, the letter YLT, right?
Jana: Yeah. It stands for Your Listing Translation. And you can like our page on Facebook. We really have all the up-to-date information about all international marketplaces keywords, and tons of other stuff. So if you were interested that definitely follow us and you could reach out to me, definitely. If you have any questions or, if there's any way I can help you with advice or anything, feel free to reach out to me at Jana. That's [email protected] So it's translations with an S at the end, cause a lot of people just like translation.
Bradley Sutton: Perfect. All right, Jana, thank you so much for joining us today and next year, in 2022, when we reach out to you, who knows now you're going to be not only a successful entrepreneur, but a successful Amazon seller, maybe, as well.
Jana: Yes. Maybe I'll join the podcast as an eight figure seller.
Bradley Sutton: Let's do it. All right, we'll talk to you later.