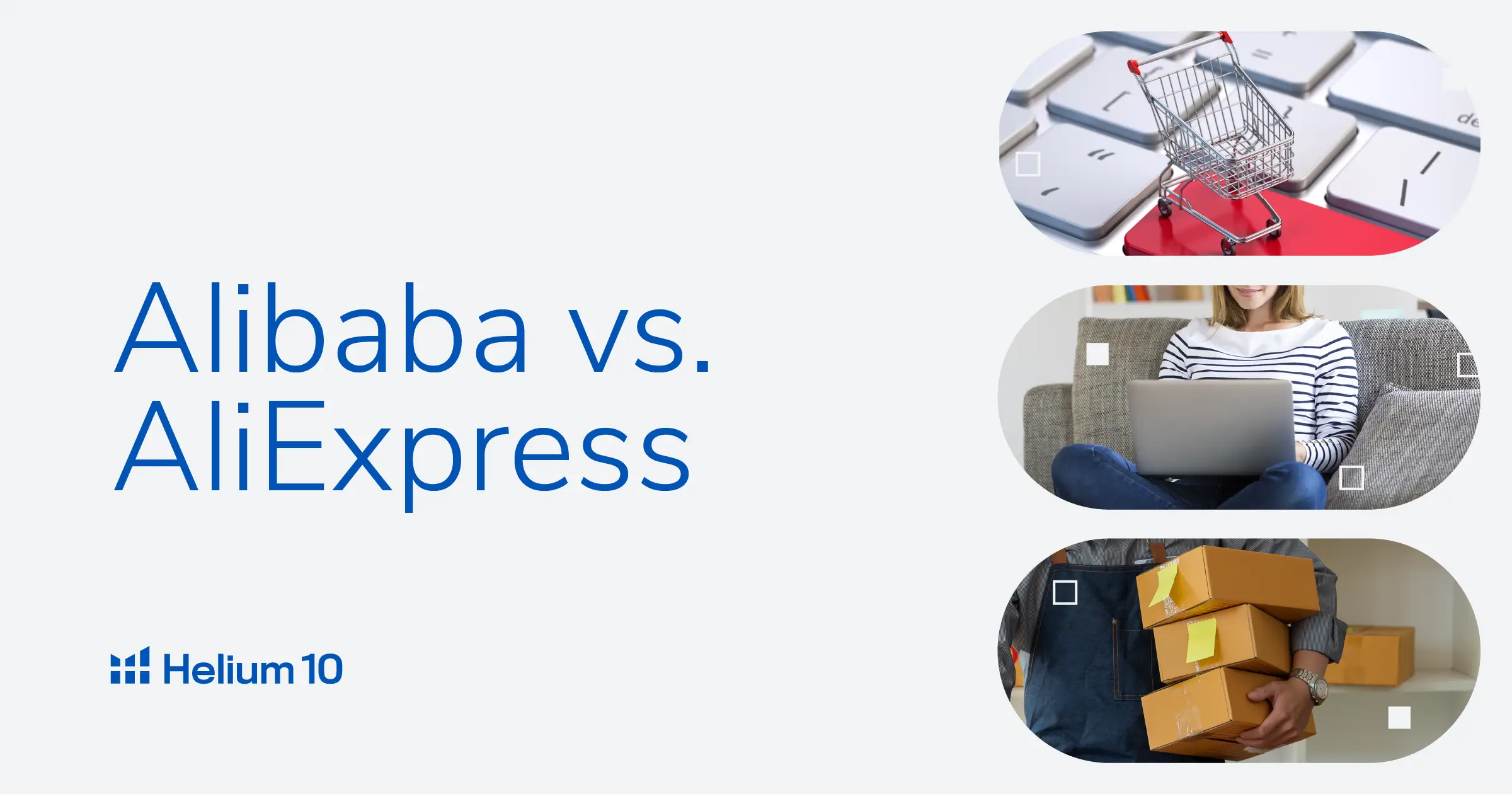 Alibaba vs. AliExpress: Which One Is Best for Amazon Sellers?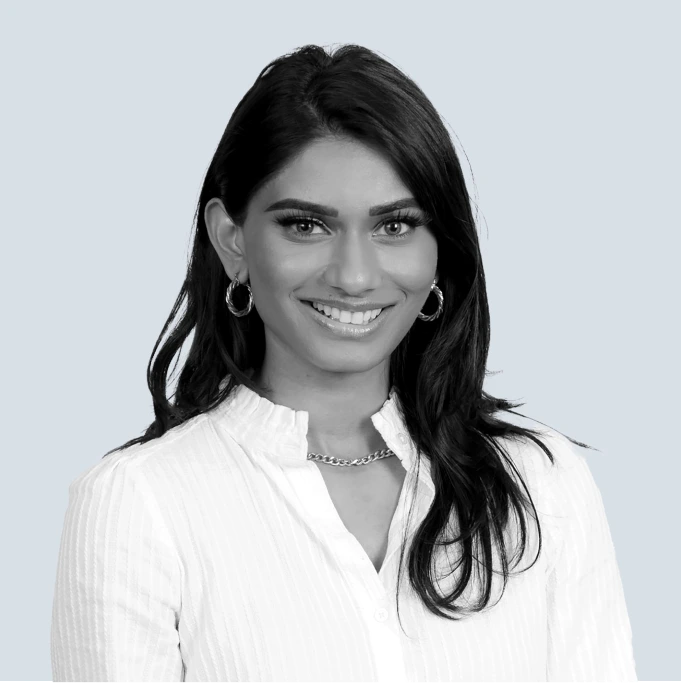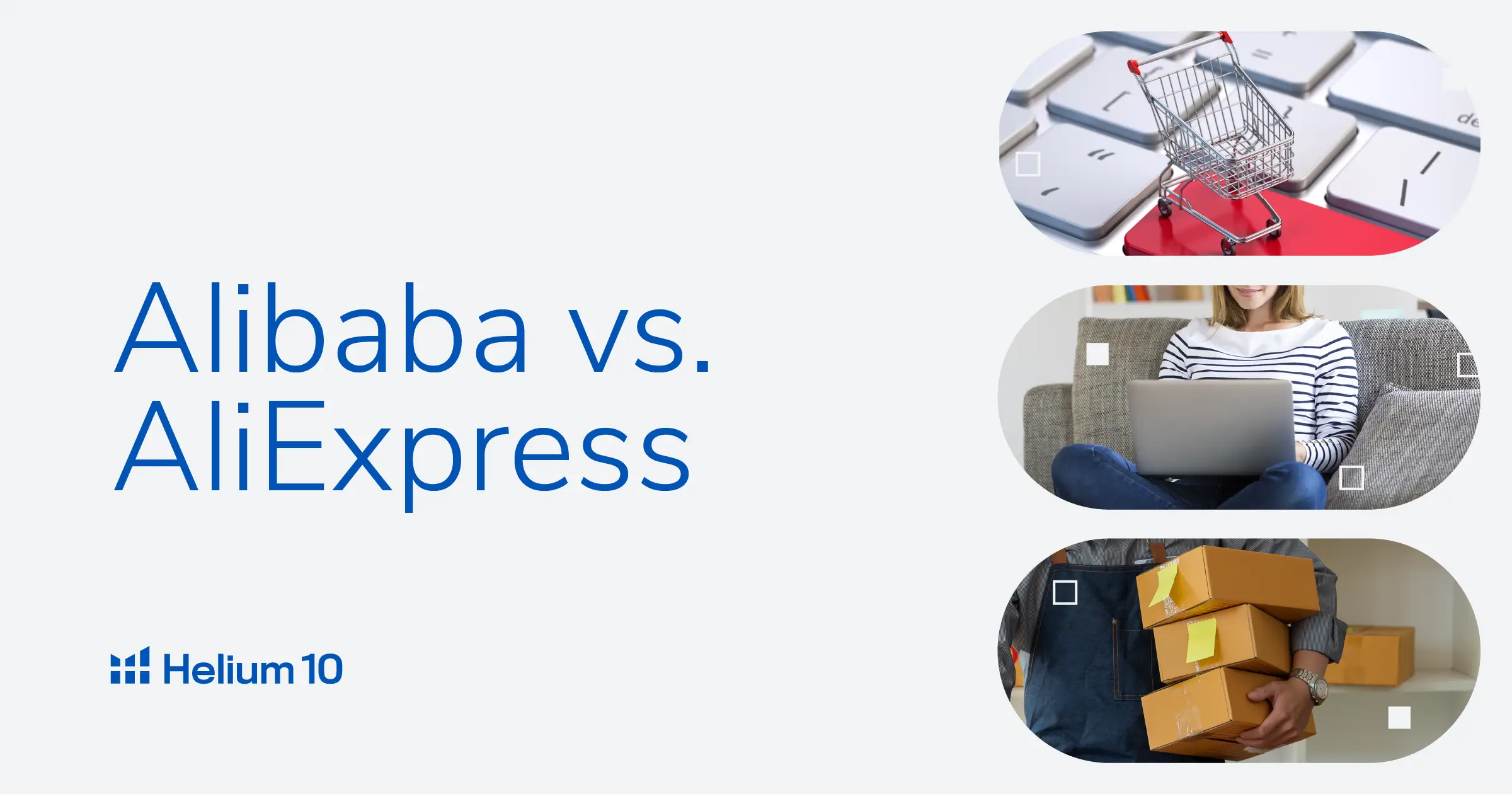 As an Amazon seller, having a high-quality product can mean more raving fans, more reviews, more credibility and increased conversion rates. Which is why sourcing products is an exciting time in your Amazon selling journey because it's the foundation of it all!
Though a multitude of sourcing websites and platforms are available, in your research, you might have realized two industry titans dominate the e-commerce landscape and they are Alibaba and AliExpress.
Both are owned by the Alibaba Group, yet they cater to different needs and business models within the e-commerce sphere.
This comprehensive guide is written for anyone who doesn't understand the difference. We will talk about some key distinctions, analyze the target market, understand product specifics, payment processing options, shipping considerations, customer service experiences, and platform functionalities.
By the end, you'll have a clearer picture of which platform aligns better with your Amazon selling goals.
Key Differences Between Alibaba vs Aliexpress

The first notable difference between Alibaba vs Aliexpress lies in their core functions.
Alibaba.com is primarily a business-to-business (B2B) e-commerce platform. It serves as a global marketplace where businesses can connect and engage in trade, mostly in bulk quantities.
What do I mean by that?
Designed originally for wholesale and industrial transactions, Alibaba hosts an extensive network of suppliers, manufacturers, and exporters from China and other parts of the world and businesses then have the option of selecting from a wide assortment of products, ranging from raw materials to finished goods. Either party can further negotiate prices, terms and specifications that meet their specific requirements until they are happy.
Cleverly enough, the platform also offers a spread of services beyond its marketplace, including financing and logistics to ease international trade, streamline the buying process and mitigate risk for its users.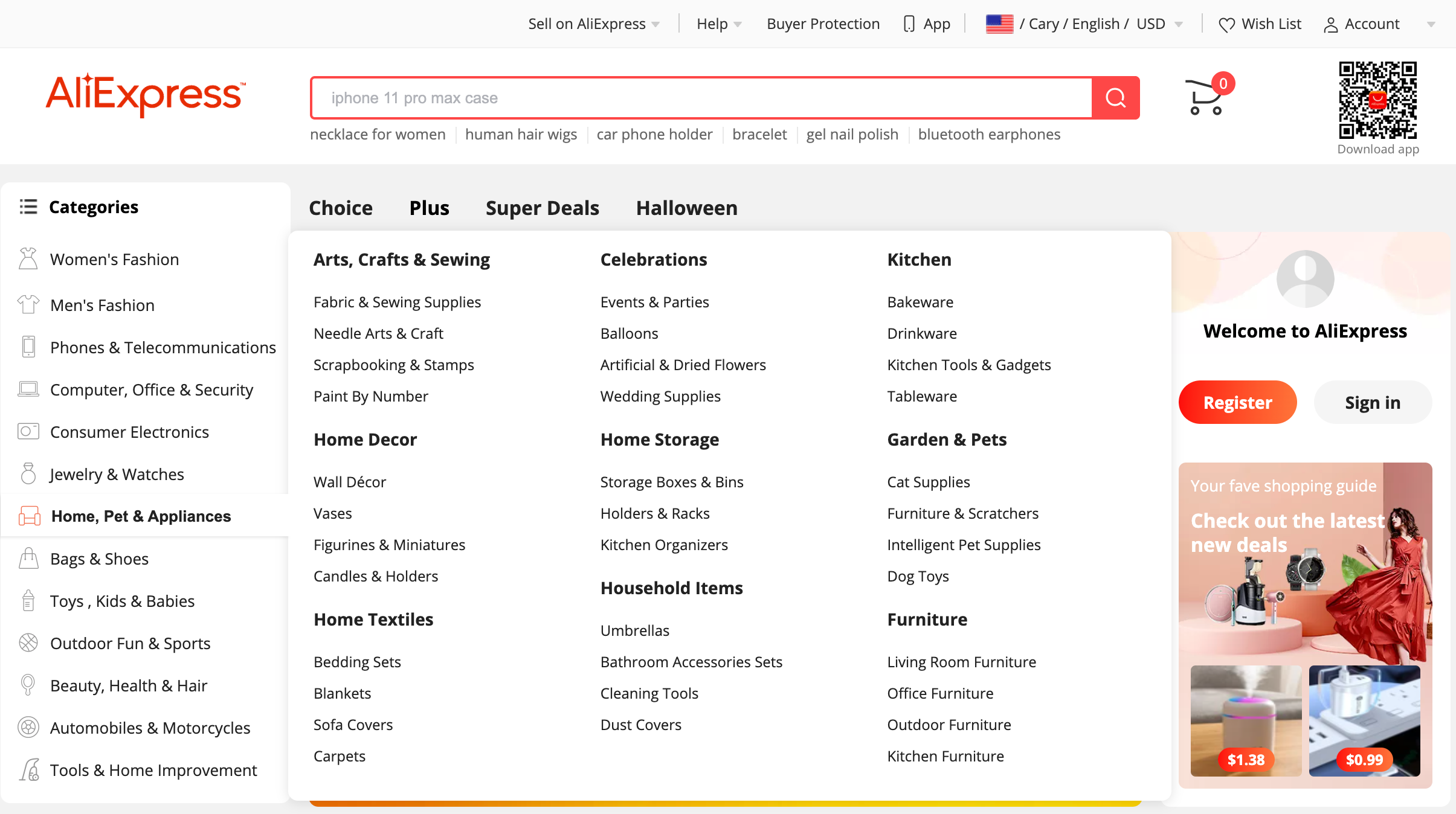 This contrasts with AliExpress which is a business-to-consumer (B2C) and consumer-to-consumer (C2C) online marketplace. Known for retail-level sized shopping more than anything else, AliExpress serves as a good alternative for those seeking affordable goods as well as small and medium-sized businesses.
Aliexpress offers buyer protection for dispute resolution and refunds ensures a safe and reliable shopping experience for consumers, but just bear in mind, which seller you purchase from on both platforms will dictate whether your purchasing experience is a hit or miss.
Choosing Based on Your Target Market
Ultimately, you should strive to choose the platform that aligns with your Amazon selling strategy and target market.
Both platforms support the dropshipping business model, allowing you to sell products without stocking inventory.
While AliExpress is specifically tailored to this model, Alibaba has embraced it as well through its Alibaba Dropshipping Services.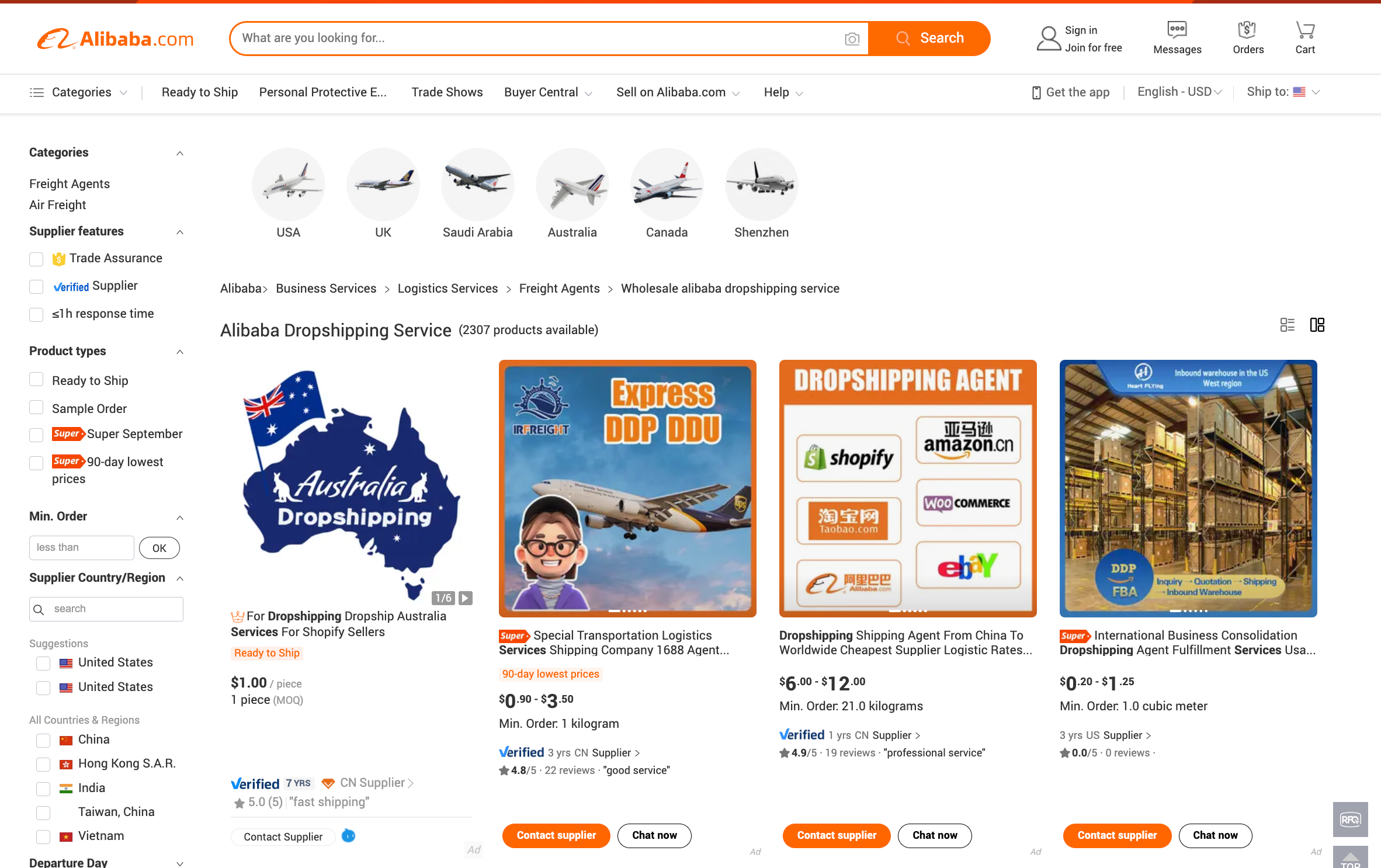 Here, you can find suppliers willing to work with smaller quantities, which can be particularly advantageous for startups or those dealing with small quantities and bulk quantities alike.
(For those unfamiliar, here's a breakdown and step-by-step guide for dropshipping. Bradley actually did a dropshipping case study using Walmart products, clocking in $350,000 in 3 months so it is definitely possible to be profitable with this business model).
If you're looking to source products for private label businesses, Alibaba is a better go-to as it is a hub for serious wholesale buyers. The bigger your order, the more leverage you may have to negotiate prices with suppliers.
Plus, Alibaba offers Trade Assurance to protect your investment until you're satisfied with the product's quality. The Alibaba Trade Assurance program is particularly valuable for those in the ecommerce business where trust and reliability are paramount.
Product Comparison
As for any product-related aspects that can significantly impact your decision:
Options for Buying in Bulk
I've briefly touched on this above, but what's cool about Alibaba is it is renowned for its ability to accommodate significant minimum order quantities (MOQs). Just check out the minimum order quantities for these plastic bottles: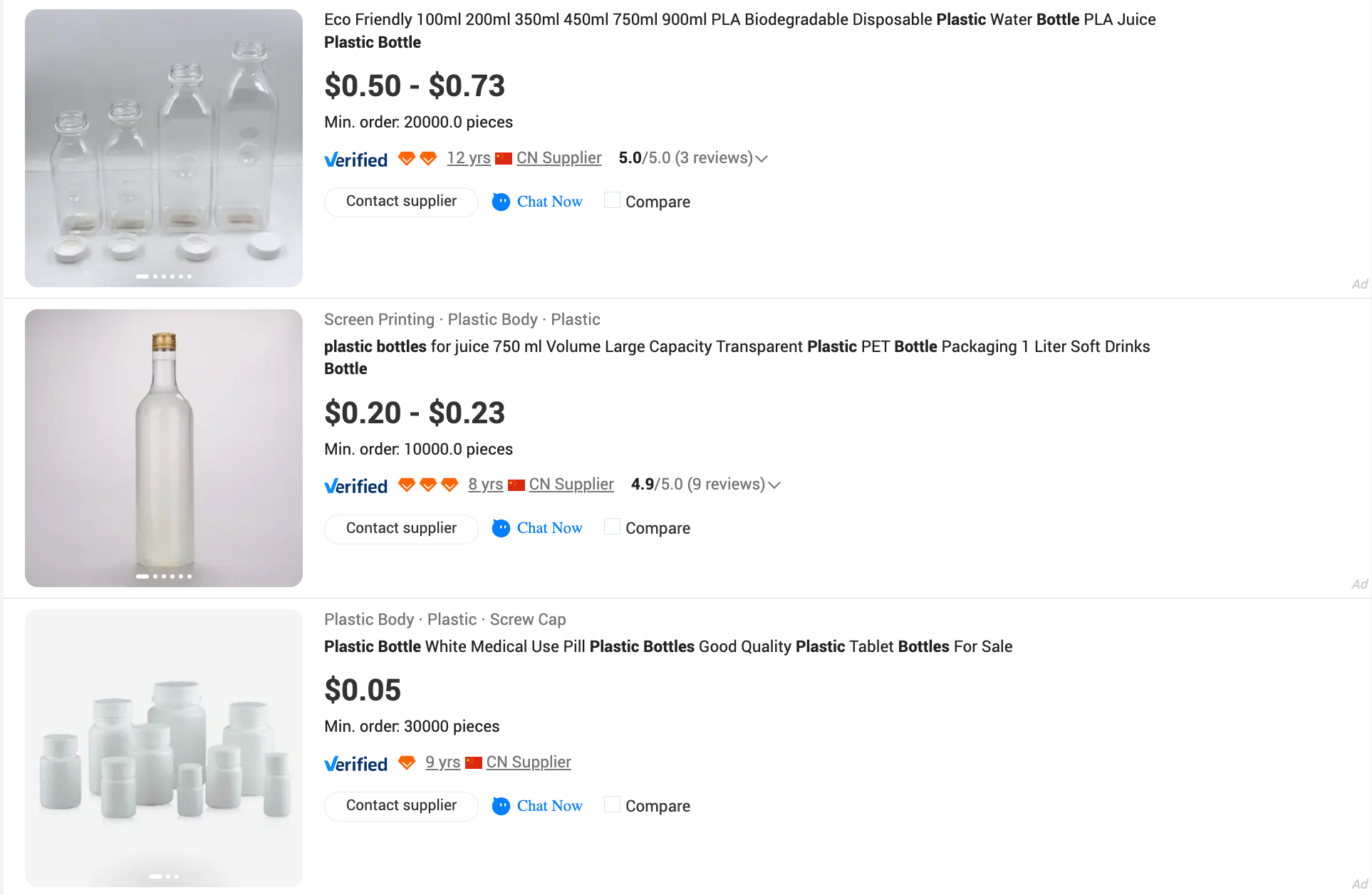 It does not necessarily mean you have to place that many pieces. You could just find a supplier that is okay with a smaller MOQ or use the Contact Supplier option to reach out and see if your parameters are something they are willing to work with anyways.
But this ability to connect directly with Alibaba suppliers is what allows sellers like you and I to quickly get in touch with manufacturers all around the world, establish a line of communication, understand lead times, discuss quantity amounts, and set customization specifications that will start and expand your forays into the e-commerce space.
Establishing a private labeling brand you can exit from or data-supported high demand in a niche signifies a need for regular turnovers of inventory making it that much more important to be in good standing with your suppliers. It is in your best interest to take some time to get to know them, negotiate favorable terms and customization specifications for your bulk orders to (1) incentivize purchases and (2) to retain money in calculations for the bottom line of your business.
Alternatively, AliExpress is definitely more consumer-oriented, though it still provides opportunities for bulk buying. Offering the convenience of sourcing products in smaller quantities, AliExpress is suitable in the case that perhaps you're looking to buy a one-off product, you need to fullfill an order for your dropshipping business (say via Oberlo on Shopify), or you're looking to test the waters without the commitment of massive inventory for your private label business.
Alternatively, AliExpress is definitely more consumer-oriented, though it still provides opportunities for bulk buying. Offering the convenience of sourcing products in smaller quantities, AliExpress is suitable in the case that perhaps you're looking to buy a one-off product, you need to fullfill an order for your dropshipping business (say via Oberlo on Shopify), or you're looking to test the waters without the commitment of massive inventory for your private label business.
AliExpress will allow you to host a diverse range of products in your online store. However, note that due to the nature of AliExpress, it may require extra effort to find suppliers willing to accommodate specific MOQs and your requirements for custom products as well as take more time than consumers would like to receive the product. Long shipping times are unfortunately a given with AliExpress unless you're willing to pay extra to speed up shipment arrival.
I recommend you sit down, write down your intended business model, specific business goals, your budget, and the scale of your operations
Product Costs
Since product costs are typically tied to order quantities, the best way to sum up this section is by reiterating Alibaba's wholesale pricing advantage mostly only applies to those bulk orders we discussed. Their wholesale products are typically associated with lower unit costs compared to AliExpress. However, AliExpress provides competitive prices for smaller quantities so long as you're okay with waiting longer for cheaper shipping options, which can be beneficial for testing new products or catering to a niche market that has more of a padded timeline.
Product Quality
Product quality can vary quite a bit on Alibaba and Aliexpress as the quality of your goods depend on which supplier you opt to go for. Both online marketplaces host a wide range of suppliers, so your best bet is to craft a standard set of messages for your supplier that explain what you are looking for, reach out to several copying and pasting them over before assessing the written responses and information provided to see if it is a good match.
Let's say you wanted to source portable bed rails that help the elderly get up from bed and Review Insights has shown you many people complain about the canes being made from cheap material and being too hard to put together.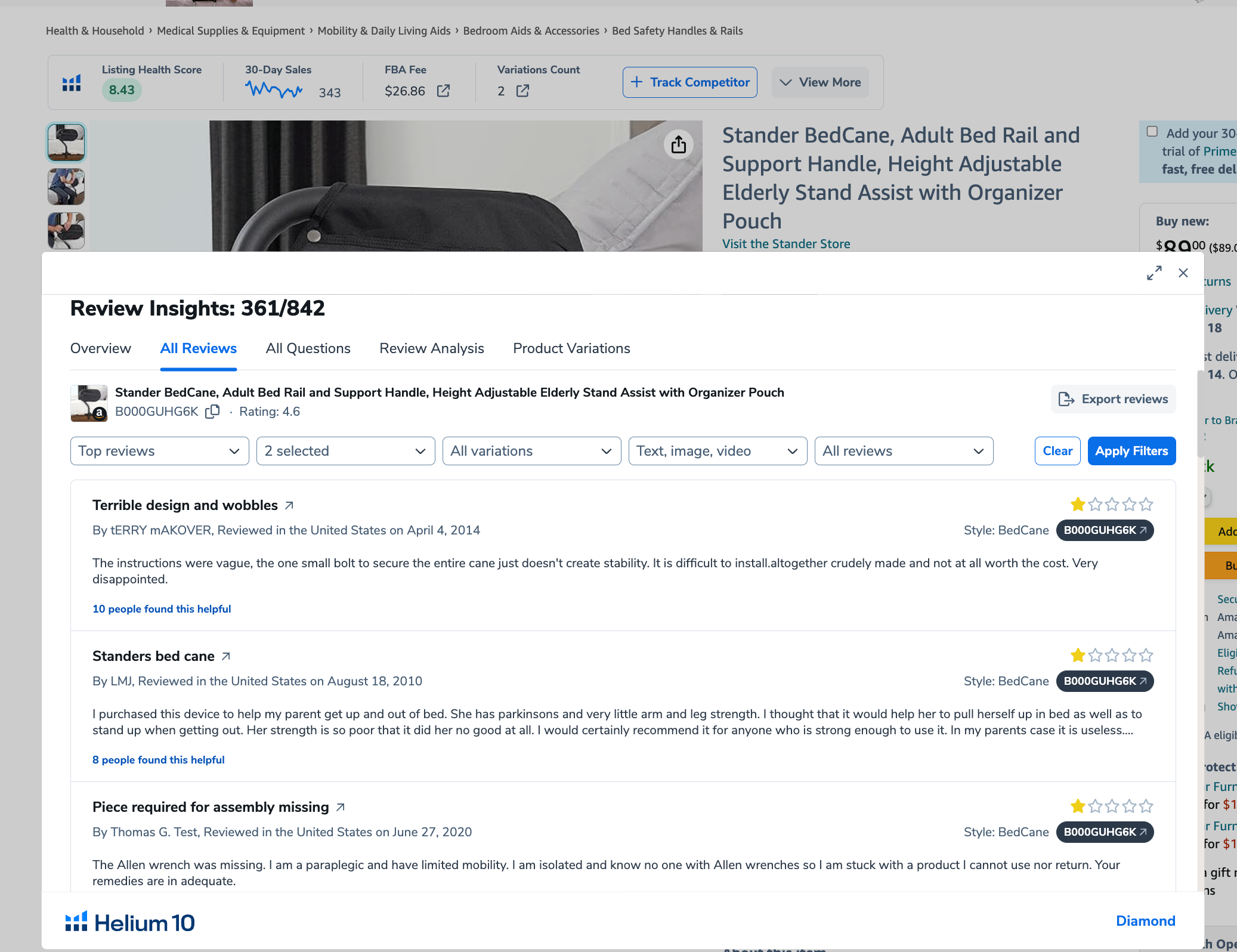 You could start scouting for suppliers on Alibaba by typing in your main keyword.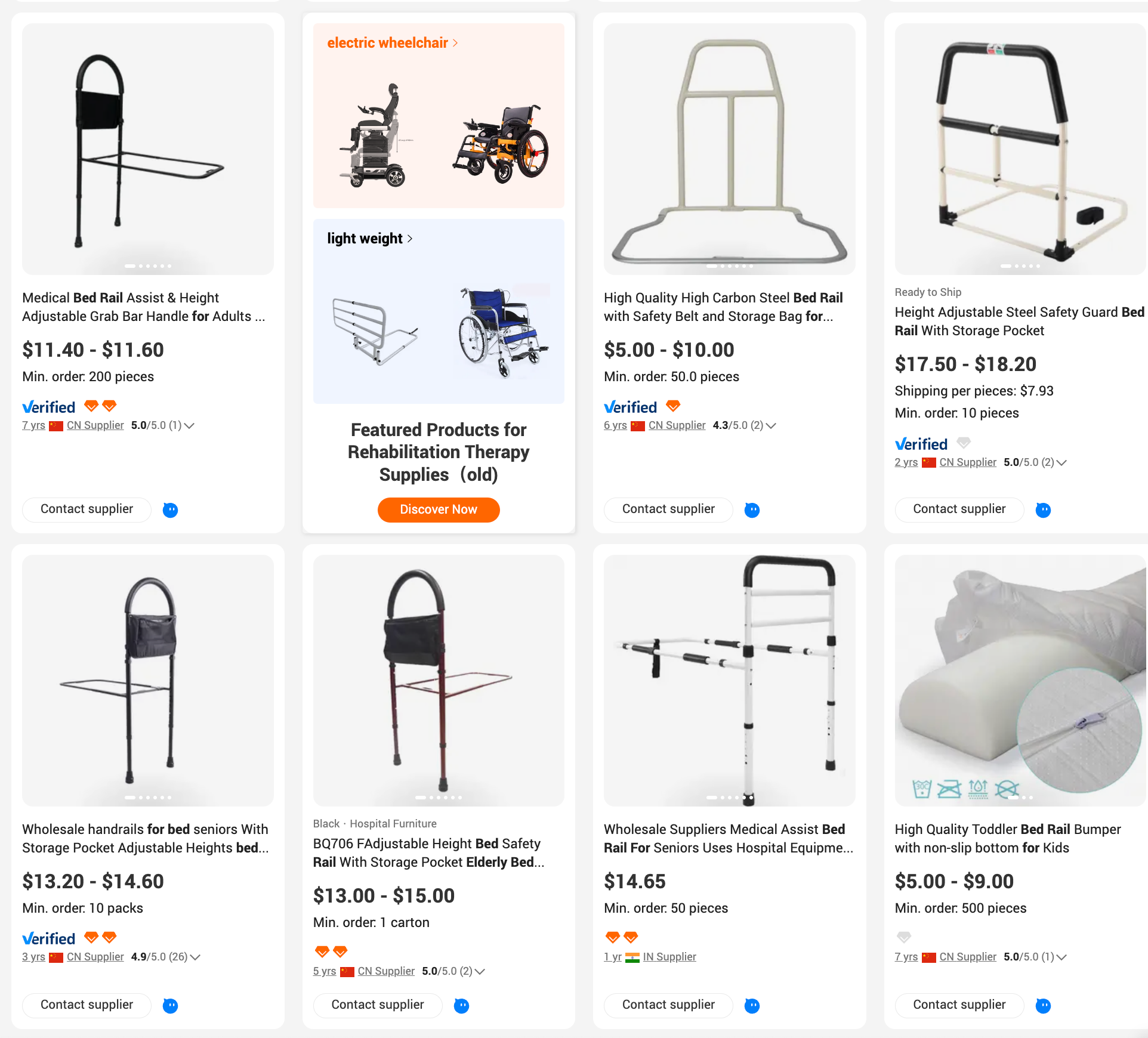 And contact suppliers you are interested in with a concise, but comprehensive stipulations query. Here is an example:
"Hi [supplier name], my name is _____. I am in charge of sourcing products for _____, a company that sells and scales products in the Health & Household niche on Amazon. It's nice to e-meet you! We are looking to source 500 units of portable bed rails. We like [Alibaba listing URL] of yours and wanted to know what materials you offer to create them in. Please provide a catalog of pricing for each material so we can decide what is best. We would also like the canes to be [dimensional information] packaged in [packaging style] with custom branding on packaging and the cane itself. We would also appreciate if you could send us some videos and photos of sample pieces you have and a video showing the layout of the process it takes customers to put it together. Hoping we can soon turn this conversation into a long-term relationship for our new brand. Looking forward to hearing from you soon! Thank you"
From there, go back and forth on pricing, customizations and don't be afraid to use one supplier's response with another.
"I like the material you showed me and I would like to work with you, but another supplier is offering [better material name] for [lowest price offered]. Could you beat that? "
The entire time you are communicating, you should be treating it as an evaluation. Consider how promptly and how well are they able to answer your queries? Does it meet your budget? Is there an aspect where you would have to compromise?
See. Alibaba's focus on B2B transactions often attracts suppliers with a higher commitment to quality control, making it the preferred choice for businesses requiring consistent product quality. However, the ultimate quality control will always be you in the end so be intentional with how you spend your time and energy.
Production Speed
Lead times are variable, but Alibaba is definitely known for its efficiency in production. Thanks to its extensive network of suppliers, businesses receive a broader scope to find customized products that meet their specific requirements. Many of these suppliers are trading companies or manufacturers specializing in bulk production. This can be advantageous for businesses aiming for consistent and reliable quality. If you need products fast, it's the better option.
AliExpress, while quick for small quantities, may not provide the same speed for larger quantities. Catering to a broader audience, including independent sellers, the price range varies quite a bit. While you can find low prices on AliExpress, it's essential to exercise caution. The product quality can be more inconsistent due to the platform's diversity, which includes both reputable suppliers and those less concerned with quality control. However, if you're diligent in your supplier selection and utilize marketing tools to research and vet sellers, you can discover gems that offer excellent products.
Payment Processing Comparison
Payment Method Options
When it comes to payment methods, Alibaba and Aliexpress offer various secure payment methods, including credit cards and online payment systems.
However, I've found in my own payment experiences with suppliers on Alibaba, each can have a preference on means of payment. Some ask for Western Union, others ask for Paypal. I've been requested Payoneer and even done wire transfers.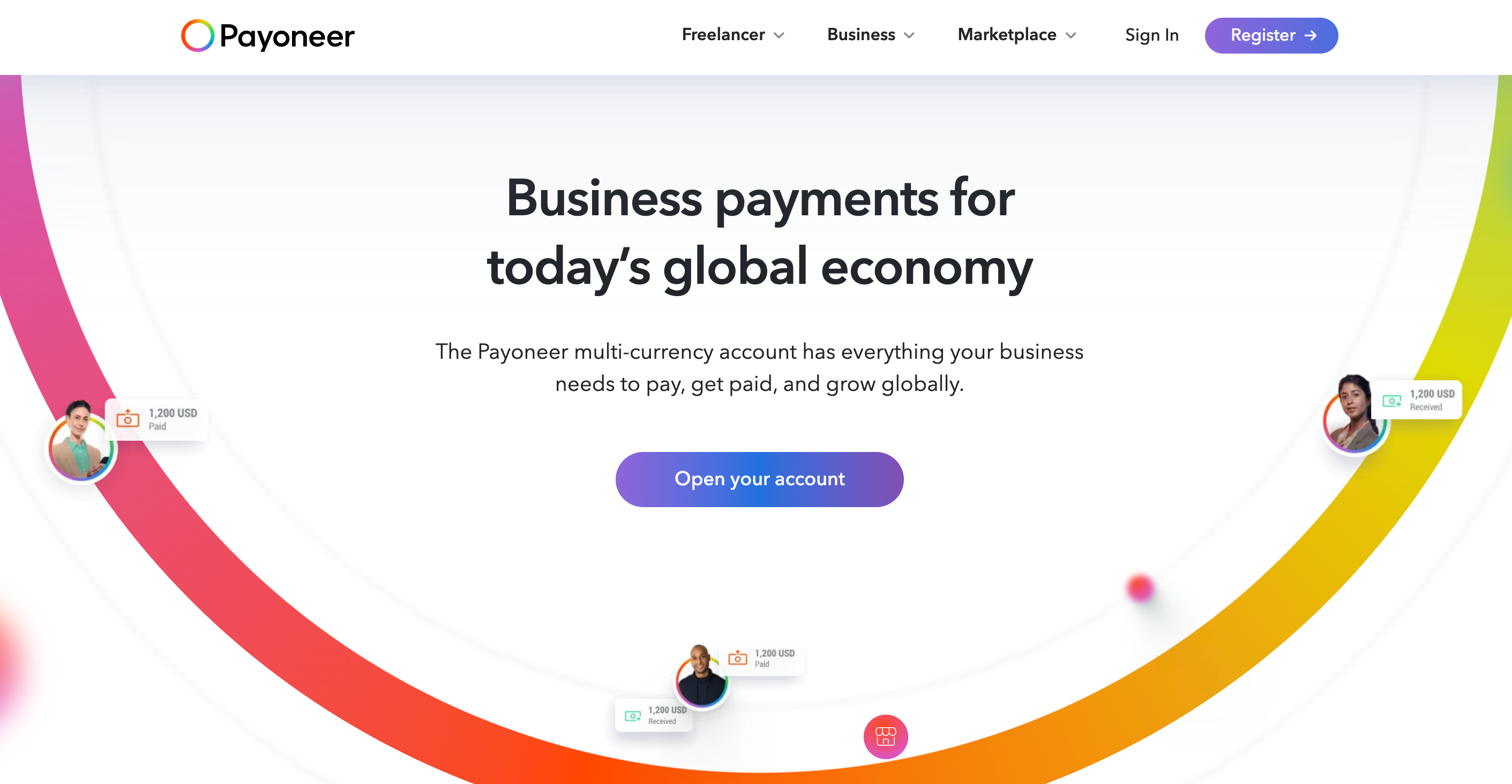 It comes down to what is comfortable for you though paying via Alibaba itself offers extra protection via its Trade Assurance program so if you're just getting started, this is one of the better options for you.
Utilizing the buyer protection and negotiation tools available on both platforms can further enhance your ability to secure high-quality products. Though I say that with caution as you should still invest in pre-shipment inspections to really feel confident about your product sourcing.
AliExpress tends to cater more to individual consumers and may have a broader range of payment options, making it easier for smaller-scale sellers.
Shipping Comparison
Each of these marketplaces have shipping options that can impact the quality and profitability of your products. If your supplier is offering to ship your product for you, don't forego price comparisons because you never know what your lowest cost for logistics will be. Better safe than sorry!
Imagine finding out you could have saved $2 per every unit you ordered on shipping if you had just asked around! Yikes!!
Rest assured, Helium 10 also has some partners inside of our Seller Solutions Hub that you can check out and ask for estimates.
Generally speaking, ocean freight is cheaper than air freight. If you don't know the first thing about freight forwarding, just check out this guide to shipping logistics right here or go to Freedom Ticket by clicking the Learning Hub inside of your Helium 10 account to hear Burak Yolga from Forceget give you a full rundown!
Shipping Fees
Okay. So based on all that that, maybeeee you guessed it. The short answer to this is shipping fees are variable too. They will be dependent on your supplier, what means of shipping you choose, your product type as it will impact custom duties and even the freight forwarder you decide to go with.
A freight forwarder serves as an intermediary within the supply chain, orchestrating the streamlined flow of goods. Their responsibilities encompass tasks such as arranging bookings, managing documentation, facilitating customs clearance, and organizing transportation across a range of modes, including sea, air, rail, and trucking. These professionals may also consolidate shipments, offer warehousing solutions, and handle final-mile deliveries. Their proficiency is a guarantee of smooth shipping and the ability to address any issues that may arise during transit. Businesses place their trust in seasoned freight forwarders for dependable and effective logistics assistance.
The party obligated to cover the costs and charges of the freight forwarder can vary depending on the stipulations of the shipping agreement and the specific Incoterms (International Commercial Terms) agreed upon between the buyer and the seller. Incoterms establish the duties and expenses linked to the transportation and delivery of goods in international trade. The following are some typical scenarios that can be discussed with your freight forwarding company:
Ex-Works (EXW) or Free on Board (FOB): Under these Incoterms, it is the buyer's responsibility to cover the freight forwarder's fees. The seller's obligations cease when the goods are handed over to the carrier at the designated location (EXW) or when the goods are loaded onto the vessel at the departure port
(FOB). Cost and Freight (CFR) or Cost, Insurance, and Freight (CIF): In CFR and CIF terms, it is the seller's responsibility to pay the freight forwarder's charges for transporting the goods to the specified destination port. However, in the case of CIF, the seller is also accountable for securing insurance for the goods during their transit.
Delivered at Place (DAP) or Delivered Duty Paid (DDP): In DAP and DDP terms, the seller is responsible for all transportation costs, which include the fees of the freight forwarder, and also assumes the risk until the goods reach the designated destination (DAP) or the buyer's premises (DDP).
Amazon also offers freight services and they just announced a full end-to-end service at Amazon Accelerate. For more details, listen to Episode 493 of the Serious Sellers Podcast. We also have this FBA Shipping blog for private label shipment information.
Shipping Speed
BUT in the case you are in a bind and you need products to reach Amazon fulfillment centers quickly when comparing the two platforms, Alibaba's established network of suppliers and logistics partners can offer faster shipping options compared to AliExpress, which may prioritize cost-effectiveness over speed.
Customer Service Comparison
Let's shift into the customer service conversation.
Exceptional customer service can be a game-changer for your e-commerce business.
Alibaba, part of the Alibaba Group, distinguishes itself with a more robust business-to-business (B2B) focus. As a result, customer service often aligns with the needs of businesses dealing with bulk orders and seeking to connect with suppliers directly. Alibaba offers various tools and resources to assist users, and you can access support for both buyers and sellers. This is particularly advantageous for those seeking wholesale programs and customized or branded products while navigating the intricacies of minimum order quantity. Many suppliers on Alibaba are well-versed in dealing with businesses and often provide responsive customer service.
The platform also offers access to a comprehensive network of most suppliers across various industries, making it a one-stop destination for bulk buying while considering wholesale prices and Alibaba wholesale options.
Refunds
Both Alibaba and AliExpress have procedures for handling refunds, but the ease and timeliness of refunds can vary. AliExpress is often more consumer-focused, which can result in quicker resolution for smaller disputes. However, Alibaba's dispute resolution process may be more suitable for larger-scale issues.
Responsiveness
The responsiveness of suppliers on both platforms fluctuates. Some AliExpress sellers are highly responsive due to the consumer-oriented nature of the platform. Alibaba suppliers may be more attentive to businesses and bulk buyers. It's essential to communicate your expectations clearly with your chosen suppliers.
Platform Comparison
What bout the platform-related aspects that can influence your decision?
Integrations
On the topic of integrations, you should identify the integrations you need for your Amazon selling venture. Alibaba and AliExpress both offer APIs and integrations with various e-commerce platforms and tools. However, AliExpress may have more readily available integrations for smaller e-commerce businesses.
User Interface
Both, Alibaba and AliExpress, remind me a lot of Amazon. You can break into categories and subcategories, navigate to new listing pages from product detail pages, read information on the stores that sell the products, use filters to narrow in on what you're looking for and more.
To me, the only difference is Alibaba's platform is designed for businesses, offering advanced search features and tools for bulk buyers while AliExpress has a more user-friendly interface catering to individual consumers and dropshippers.
Conclusion
In summary, choosing between Alibaba and AliExpress for your Amazon selling venture hinges on your business model, target market, and specific needs, including minimum order quantity and shipping costs. If you're planning to sell in bulk, work with private label products, and have the infrastructure for large quantities, Alibaba, with its options like Alibaba wholesale, may be your top choice. Conversely, if you're starting small, interested in a dropshipping business, or need quicker shipping times for smaller orders, AliExpress could be the better fit, taking into account custom products, gold supplier options, and the convenience of catering to smaller quantities.
Remember that some sellers even use both platforms strategically, depending on their product offerings and target audience. Whichever path you choose, be sure to conduct thorough research, build strong relationships with suppliers, and prioritize customer satisfaction to thrive in the competitive world of Amazon selling.
Congratulations on beginning your selling journey, my friend and I look forward to hearing of your success!
Achieve More Results in Less Time
Accelerate the Growth of Your Business, Brand or Agency
Maximize your results and drive success faster with Helium 10's full suite of Amazon and Walmart solutions.