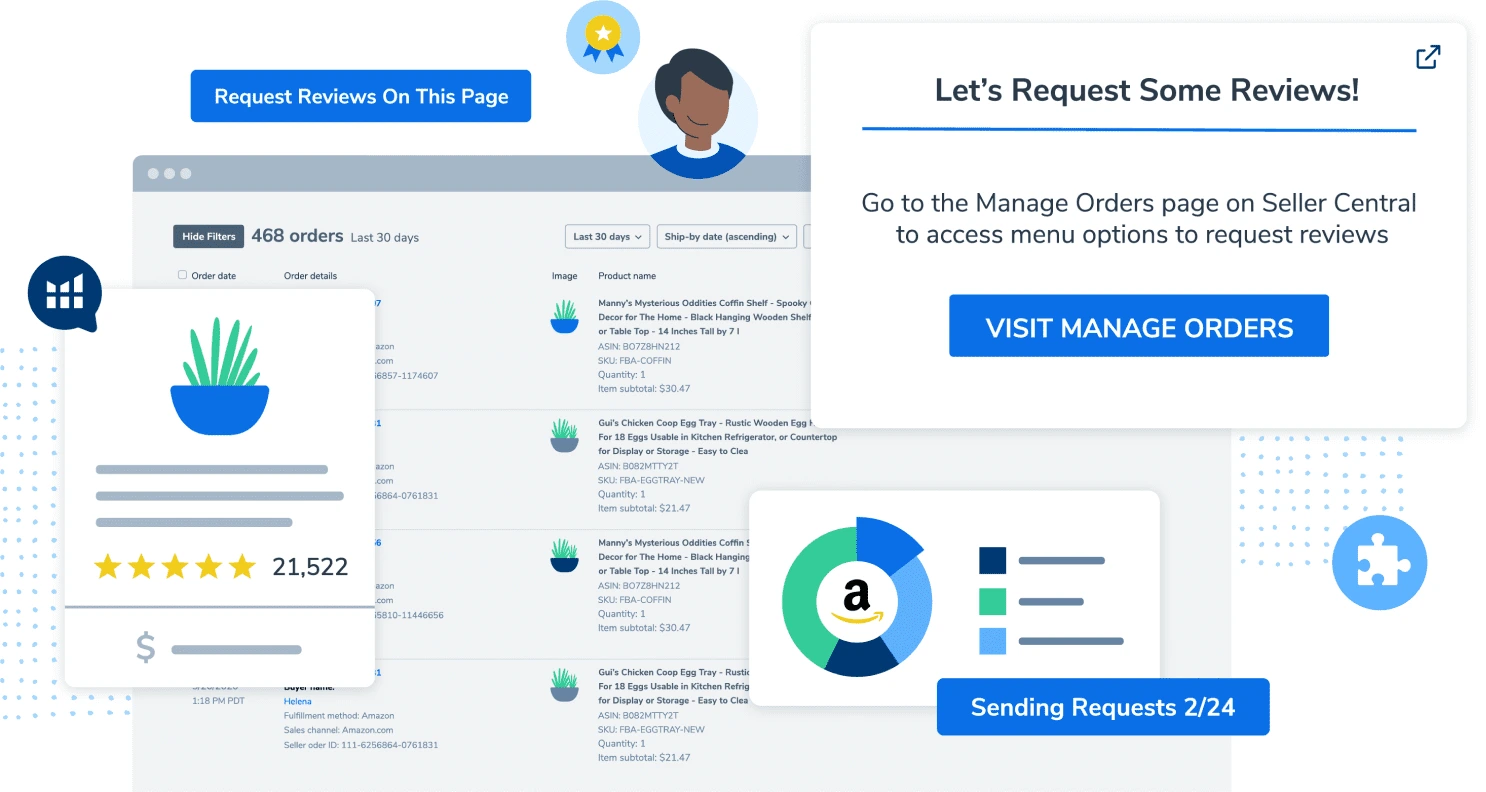 Compatible with: Amazon
Amazon Feedback Software (Seller Assistant)
The path to a better brand reputation starts here.
Benefits of Seller Assistant
Helping You Reach for (And Collect) The Stars
Boost Amazon review probability with a single click through Amazon review automation
An Amazon review tool to increase sales through a more reputable listing
Never worry about staying Amazon TOS compliant again; we've got you covered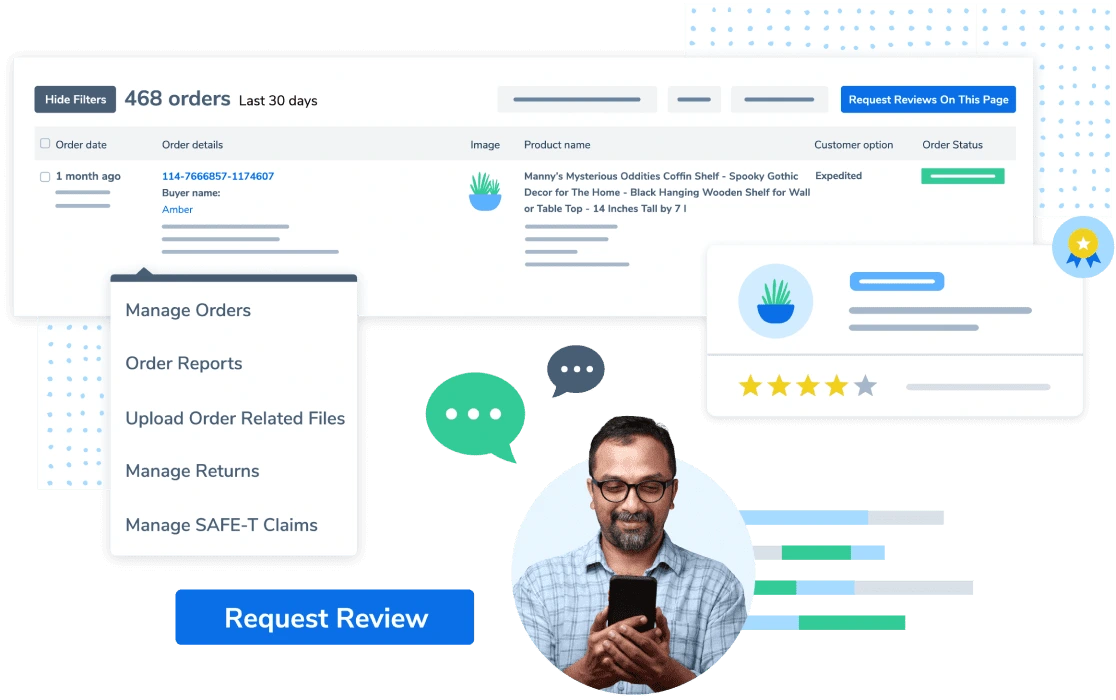 Helium 10's Full Suite Pricing
A plan for every seller's experience level
Get Started with Seller Assistant
Amazon Feedback Software Built to Scale
Sign Up
Custom, bulk review requests
Amazon TOS compliant requests
Accessed via free Chrome extension
Thought Leadership, Tips, and Tricks
Never miss insights into the Amazon selling space by signing up for our email list!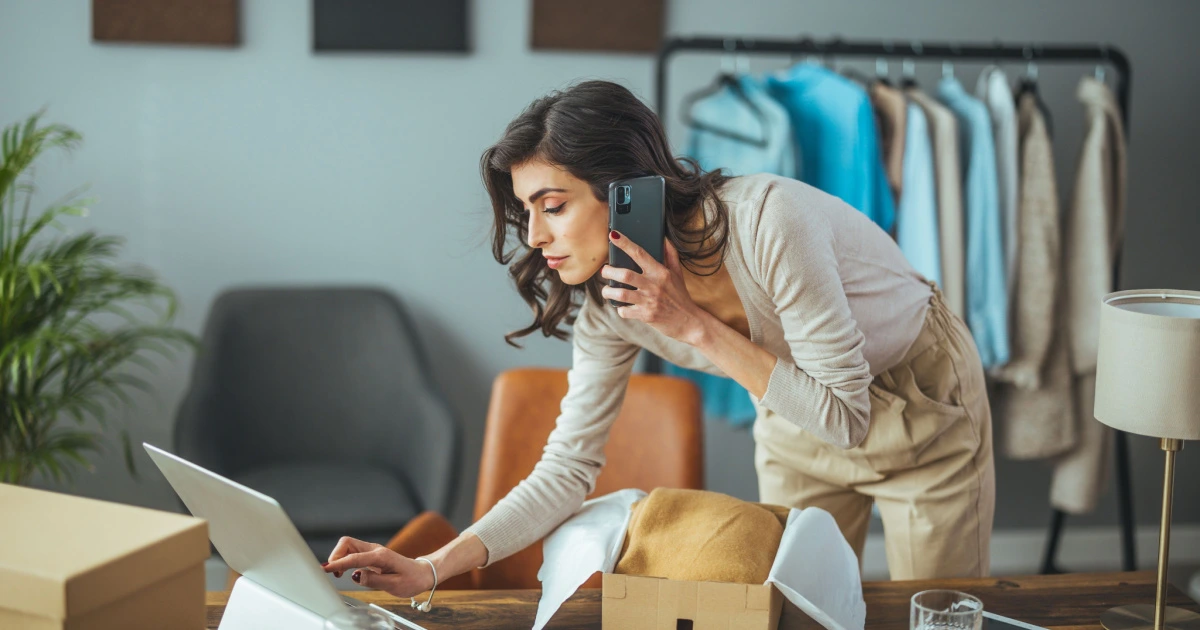 FAQs
Review management is the process by which Amazon sellers request reviews and monitor existing reviews to ensure that there is a healthy rating for their product listing. Getting more Amazon reviews will lead to potential customers trusting their listing and ultimately making a purchase.
You can monitor reviews on Amazon by leveraging Helium 10's free Chrome Extension to export a list of all reviews for a given product and review them based on certain criteria (i.e. low star rating). Using Amazon feedback software like Seller Assistant allows sellers to automate review monitoring and improve Amazon feedback management.
Amazon uses customer feedback to compare competing listings and determine which one should have the Buy Box. Controlling the Amazon Buy Box plays a large part in determining where the listing should rank within Amazon search results. This is simply one of many factors, yet having a plethora of positive product reviews with the help of an Amazon review tool helps you position yourself to win on Amazon.
No – it is prohibited to buy Amazon reviews. If you attempt to buy reviews and Amazon catches you, your account will likely be closed, and it's possible that you might be sued.
Amazon does not send review requests automatically; you have to manually go into Amazon and click on the 'Request a Review' button for each purchase, which can be very time-consuming at scale. However, Helium 10's Amazon review request tool, Seller Assistant, can be used to automate the review request process.
Amazon allows sellers to request one objective review per purchase (via email) on their product listings.
To manually request a review on Amazon, you simply log in to Amazon Seller Central, click on 'Orders,' click on 'Shipped,' click on 'Order Number,' and the Amazon 'Request a Review' button will be in the top right corner of the order. With that said, it's best to automate this process (via Seller Assistant) so that you can focus on other initiatives, as manually requesting Amazon reviews can be very time-consuming.
In order to automate review requests on Amazon, you need a third-party tool like Helium 10's Seller Assistant. After downloading the Helium 10 Chrome Extension, sign in to your Seller Central account, then open the extension and approve its permission requests. With the Seller Assistant extension, you can click on the icon in the menu bar to open a window with a button that takes you to your orders.

On the 'Manage Orders' page in Seller Central, you have the option of either sending requests in bulk or individually. Use the blue button at the top of the list to request reviews on all the eligible orders on the page. To send a review request for an individual order, simply use the available blue button adjacent to that order. If an order is ineligible for a request, the blue button will say 'Request Ineligible.' You can limit which orders receive requests by using the date range drop-down button, then click on Helium 10's blue 'Request Reviews On This Page' button.
You should never be specifically requesting a "positive" or "five-star" review. Make it clear you are only requesting honest feedback from your customers!

With that said, you can sculpt your message to yield more positive results by doing the following:


Keep the message concise
Use a customizable, pre-generated template via Seller Assistant to help personalize your request
Convey an air of positivity and genuine desire to help them
Note that you want to make things right if the product isn't as they expected
Say that it would mean the world to you if they would take a few seconds to write a quick review
If you're running a PPC campaign for a specific product listing, we recommend that this product have at least 25 reviews with at least a 4-star rating. Having reviews will also parlay into Google Search rich results so that potential customers can see the number of reviews and star rating directly in the search results.
The two common ways to spot fake reviews on Amazon include:


Looking for an unnatural distribution of 1-star reviews; if +30% are 1-star reviews, that is likely unnatural.
Reading the reviews to see if they accurately describe your product or are extremely vague and/or mention a competing product.
Provide avid detail in your product description
Ask customers to write feedback
Remove negative feedback when possible
Ensure that you provide the right size/color on time in mint condition
Reach out to negative reviewers and provide a solution (i.e. full refund) to change/remove their review
In order to export your Amazon reviews to Excel (as a CSV file), you must visit the Reviews page from the main menu, apply any filters needed to boil down the list, select 'Export,' and then choose 'CSV' or 'Excel.'
Seller Assistant is a tool that allows you to contact customers and request reviews. It enables you to request multiple reviews at once, helping you streamline/automate this process and ultimately maximize the number of reviews for your product.
To download reviews on Helium 10's Seller Assistant, you should visit the product page you want the reviews for, open the Helium 10 extension, click on 'Review Insights,' click on 'All Reviews,' and click the download button in the top right corner.
Additional Benefits of Helium 10
Solutions for Every Seller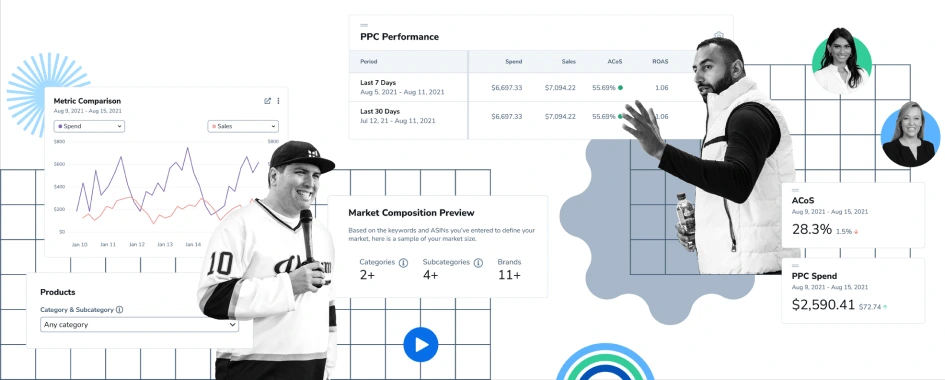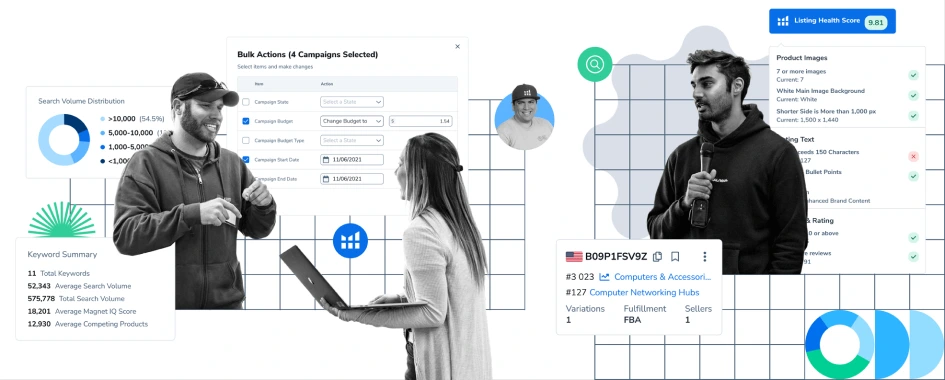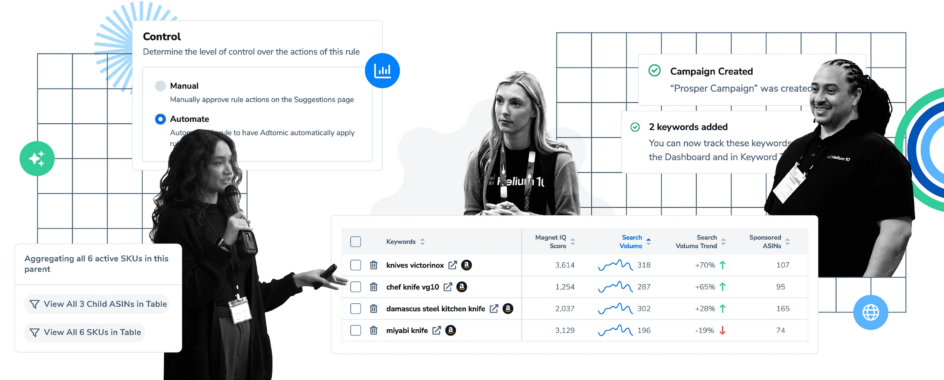 Meet Our In-House Experts
Learn from industry leaders through webinars, courses, podcasts and more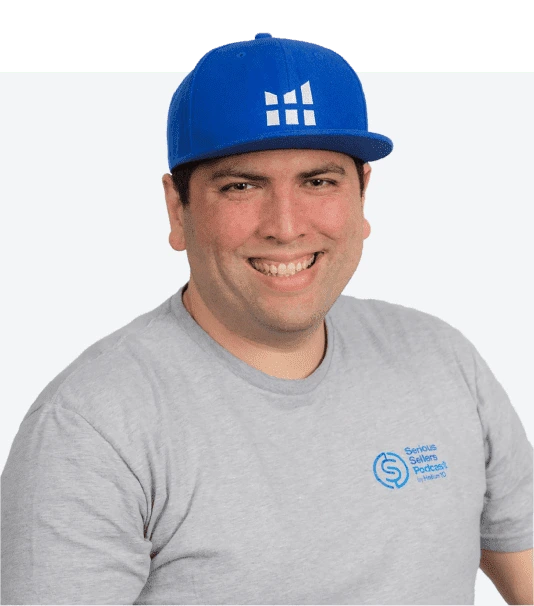 Bradley Sutton
Director of Training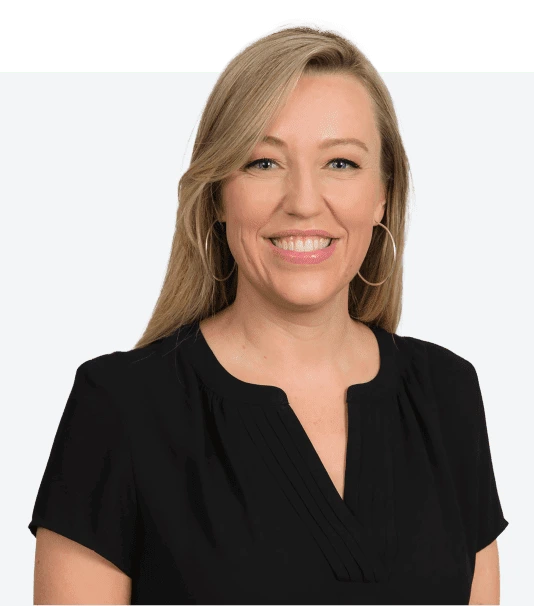 Carrie Miller
Brand Evangelist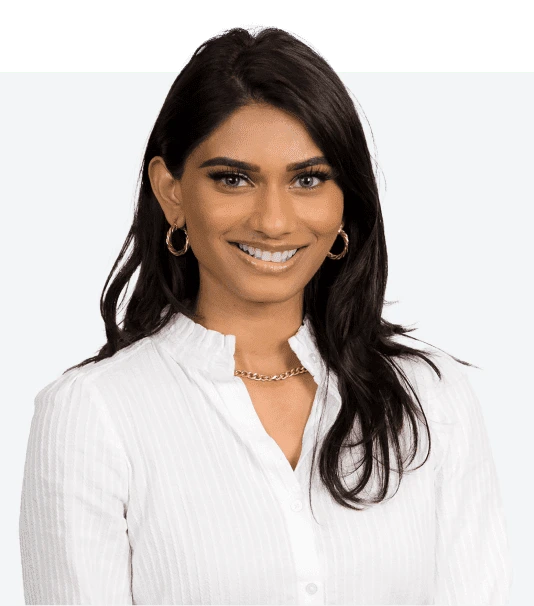 Shivali Patel
Brand Evangelist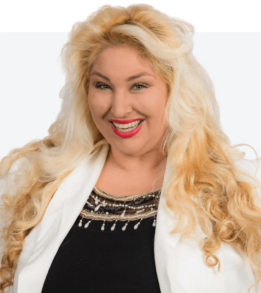 Cassandra Craven
Community Evangelist
12,441
People signed up last week.
Start Using Seller Assistant Today!
If you'd like to try out Seller Assistant for yourself, sign up to check it out online today!
Sign Up
The Details
The Best Customer Feedback Software for Amazon FBA Sellers
Seller Assistant provides sellers with the best Amazon review tool on the market. Gone of the days of manually requesting customer reviews one at a time and constantly tap dancing around Amazon TOS to avoid account suspensions. Like other Helium 10 tools, Seller Assistant takes sellers' biggest pain points, automates them, and simplifies the Amazon review management process. At the end of the day, Seller Assistant helps sellers get more Amazon reviews and, in turn, dramatically boosts brand reputation and product sales.
What Do Amazon Feedback Tools Do?
Seller Assistant streamlines Amazon review requests in a variety of ways, with a focus on saving sellers time and collecting more Amazon reviews with less upfront effort. Sellers can access Seller Assistant through a Chrome extension any time they are logged into their Seller Central account, making it accessible for review requesting on the fly. With a single click, you can request dozens of reviews at once, with capabilities to request reviews for single orders or for all orders in a given past timeframe. Seller Assistant review requests are all Amazon TOS compliant and ensures requests are only sent to customers without external review requests.
Why You Need an Amazon Feedback Software
Social proof. It's the lifeblood of any thriving Amazon business. What is social proof? Think about the last time you were shopping on Amazon and choosing between two or three similar products. If they are virtually the same, are you more likely to purchase the one with more (and higher rated) reviews or the one with fewer stars? Amazon feedback software is an invaluable tool for sellers for two primary reasons. First, it helps save time through review request automation and one-click request batching. Most importantly, Amazon review tools like Seller Assistant help sellers grow their product ratings and reviews while helping them avoid costly TOS violations that can often result in account suspensions.
---