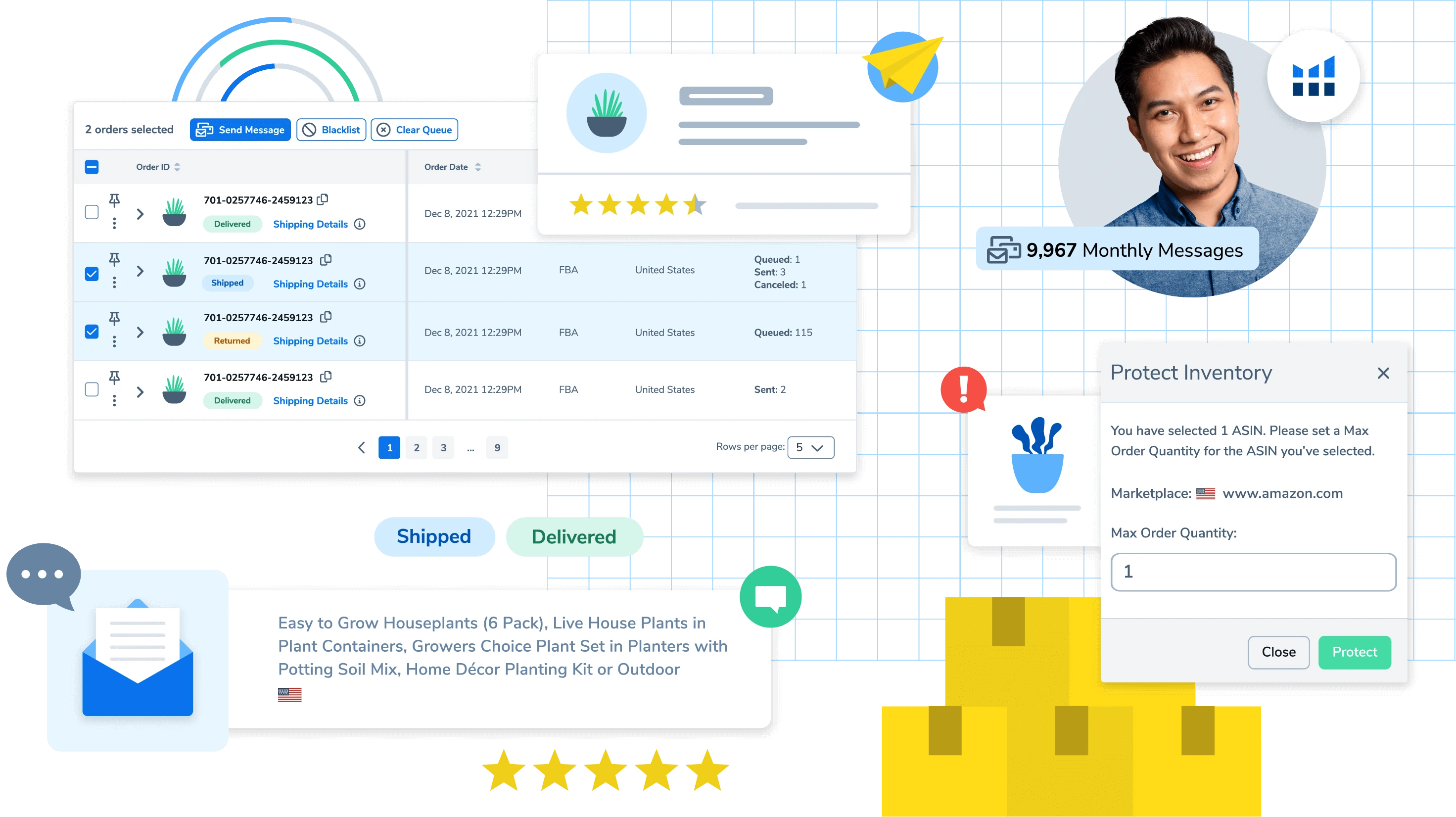 Amazon Operations Tools
Powerful, simple, and effective ways to manage your day-to-day business on Amazon.
Get Started with Operations
Stay one step ahead of your competition at all times
Receive owed reimbursements
Increase your review count
Protect against hijackers
FAQs
Amazon operations tools are tools that enable Amazon sellers to streamline the management of inventory, refunds, review requests, identify fraudulent coupon stackers, and more.
An Amazon operations tool mitigates the amount of time an Amazon seller needs to spend on monotonous (yet necessary) tasks, such as refunds, inventory levels, and reaching out to customers to write reviews on their product listings.
Helium 10's Full Suite Pricing
A plan for every seller's experience level
16,698
People signed up last week.
Start Using Helium 10's Operations Tools Today!
If you'd like to try out our Operations Tools for yourself, sign up for a free trial to check it out today!
Sign Up for Free
The Details
The Best Amazon Operations Tools
If half of learning to fly is researching aerodynamics, the other half is actually hopping in a plane and doing it. These are the Amazon operations tools that keep your business airborne, regardless of the winds that come your way.
Alerts
Where there is competition, there will always be those looking to get ahead using mischievous tactics. Unfortunately, there are bad actors on the Amazon marketplace who will eventually try to rip off your product or unfairly usurp your Buy Box position. With 24/7 brand surveillance and immediate push notifications for suspicious activity, you can take a defensive action in a timely manner with our Amazon fraud detector & alerts tool before it puts your business in a sticky situation.
Follow-up
Considering you may very well be the sole operator, manager, and accountant of your Amazon business, it's safe to say you're a little too busy to be ensuring a personalized customer experience for each and every order. We don't blame you!
Follow-up is an Amazon email marketing automation tool that enables you to conduct customer outreach to bolster your seller reviews, provide additional clarity for your product, and ultimately create repeat customers without having to do it manually. Sellers may choose from a variety of event triggers, email templates, and personalizations so that even if you're not actively involved in every email, each customer notices that personal touch!
Inventory Management
Your product supply is going to seem like it's in dozens of places at once – because it very well could be. It's crucial that you have an Amazon inventory management software to streamline inventory and keep a healthy cash flow.
Inventory Management with Helium 10 allows you to adjust lead times, forecast deliveries, edit your reorder frequency, and receive important updates (regarding Amazon warehouses or your own) all from one dashboard.
Inventory Protector
Unfortunately, there are those on Amazon who don't play by the rules and use fresh product launches like yours to take advantage of holes in your game. Inventory Protector gives you a lock and key to protect your valuable (and finite) inventory levels.
Set max order quantities for all of your products from one, convenient dashboard to prevent shoppers from abusing discount codes.
Refund Genie
Amazon may owe you money, you just have to reach out and grab it! Amazon is a market behemoth but that doesn't make it infallible. Things will always fall through the cracks, including inventory miscalculations and FBA hiccups. Our Amazon refund manager takes what would normally be a complex, manual process of applying for an Amazon refund and turns it into an automated slam dunk.
Refund Genie:
Streamlines the otherwise lengthy Amazon reimbursement process
Automatically checks for different reimbursement reasons
Gives sellers pre-written letter templates to send to Amazon along with your reimbursement request
Allows sellers to receive FBA reimbursement estimates in seconds
Seller Assistant
Request multiple reviews at the same time with our Amazon feedback software. More positive product reviews frequently increase the selling potential of any product on Amazon, regardless of category. We want you to score as many product reviews as possible.
Our Seller Assistant Amazon feedback software effectively removes the need to navigate page after page just to request customer feedback.
Request reviews for any recent order or request feedback for all orders within the last 30 days, all with one button. The best part? Seller Assistant sends review requests using Amazon's pre-generated templates, so your review invitations are always TOS compliant.
---