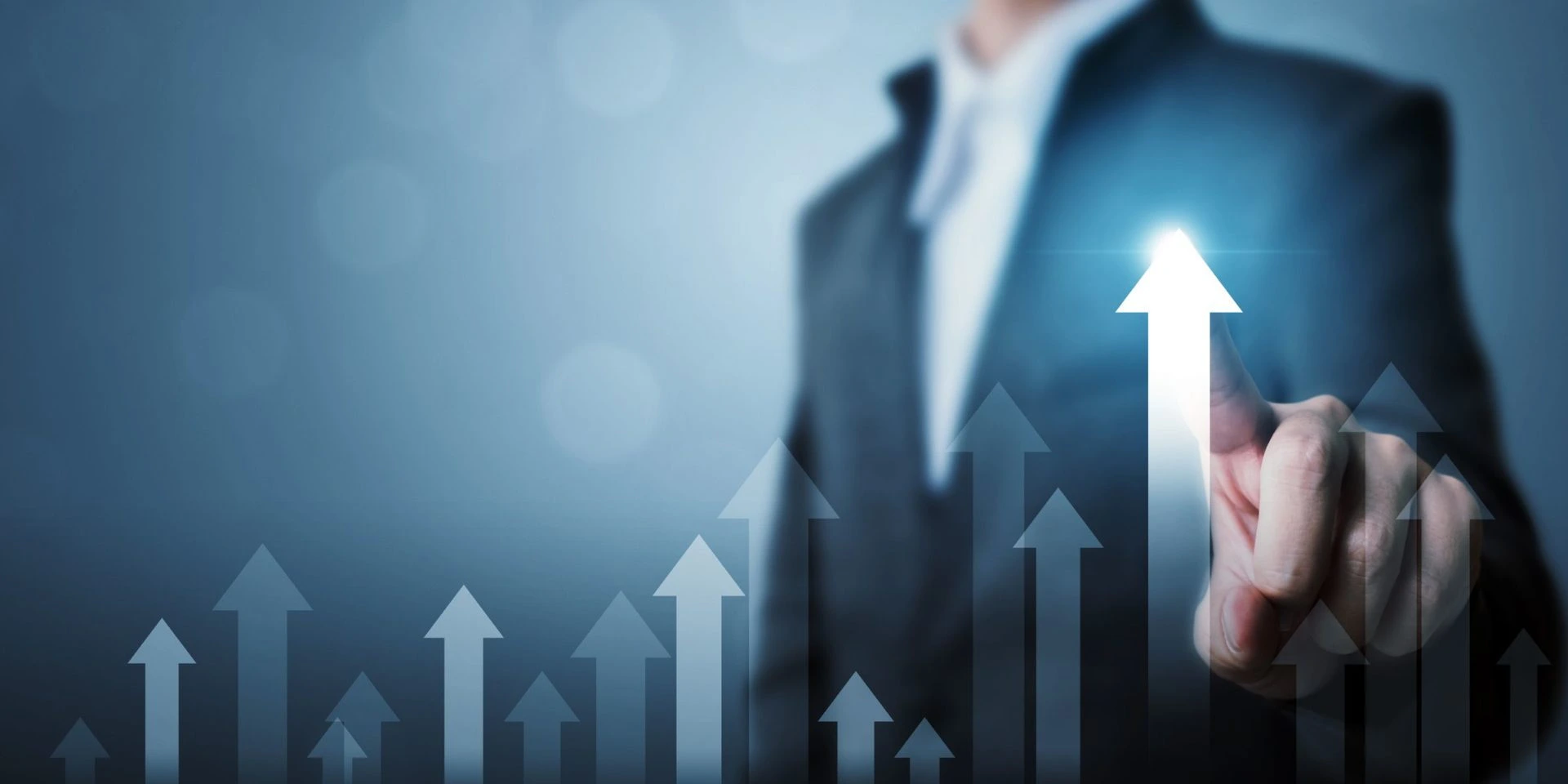 5 Ways to Scale Your Business Faster (and Get Extra Cash) with Helium 10's Alta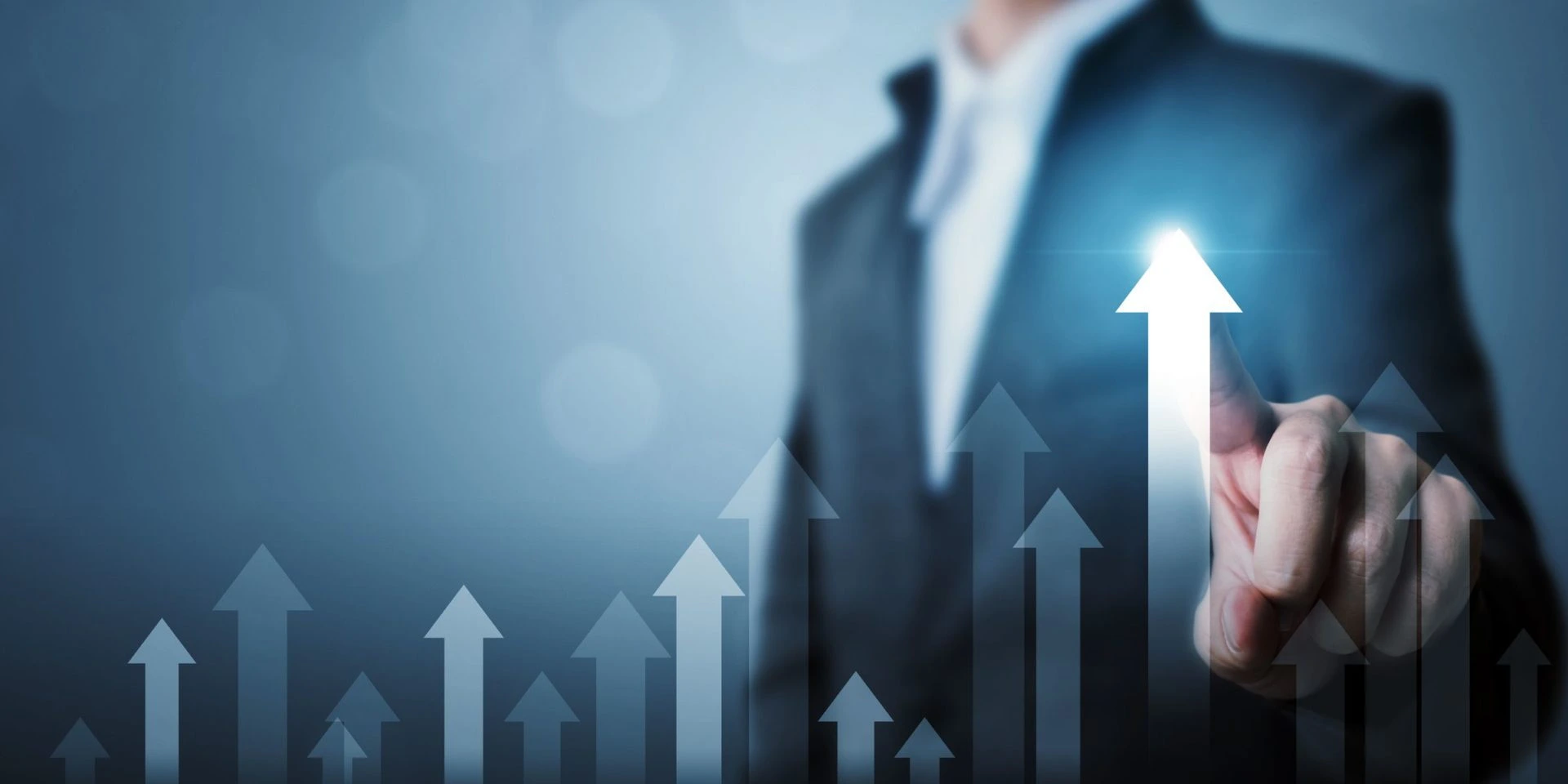 Do you sell on Amazon? Shopify? Another marketplace? If not, are you thinking about it in the near future? Anyone involved in E-commerce, at one point or another, encounters financial obstacles throughout the selling journey.
At Helium 10 our goal is to help you overcome those obstacles.
Before, when sellers like you couldn't see the seasonality of keyword demand, we integrated keyword search volume history into our Black Box, Magnet, and Cerebro tools.
When sellers didn't realize they were losing thousands of dollars due to Amazon changing their package dimensions without telling them, we integrated Alerts so sellers could know in real time if key metrics like dimensions are changed by Amazon (or someone else).
Our work doesn't stop there, however. This time, we're helping sellers with their finances.
See, regardless of what e-commerce platform you sell on, they all have one thing in common.
Money.
I'm going to introduce to you five new ways Helium 10 can help you:
Scale your business even faster
Save money
Grow internationally
Simplify payments
We're excited to announce our launch of a set of brand new financial solutions in partnership with Sellers Funding: Alta, by Helium 10.
Read on to see how Alta can help you.
VAT, GST, and TYT
Do you know what these abbreviations mean and what place they have in the financial world?
Take your time.
Okay, actually only two of those have to do with e-commerce. The third, TYT, actually just means "take your time."
Bad jokes aside, the other two stand for Value Added Tax, and Goods and Service Tax.
If you are living in the USA and have never sold overseas, you might not be familiar with VAT and GST. VAT and GST have been the obstacle that has discouraged many US-based sellers from expanding their businesses to countries like Canada, Germany, UK, France, and more.
If you're one of these sellers, you might not know where to even begin when it comes to how or where to apply for VAT and GSTs, how to pay for the fees, and so on.
This is why we launched the Alta VAT & GST service. It's a complete solution for sellers who want to register, file, and pay for their VAT and GST.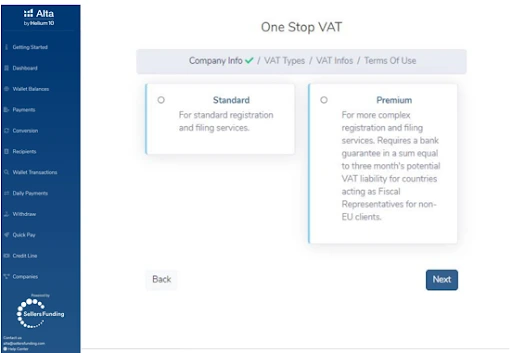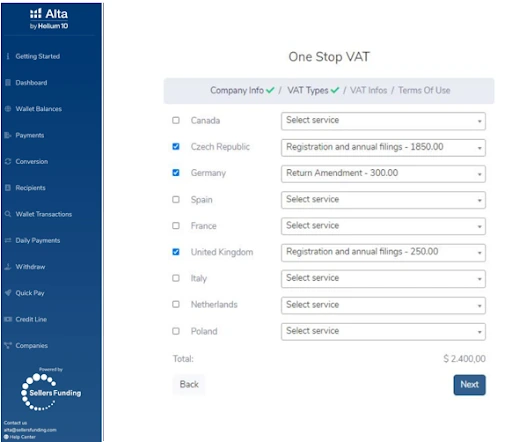 You can already register for your VAT number in multiple countries in Europe – even in countries outside of the six major Amazon marketplaces.
Now, with Alta, you don't need to hire European agents to help you with this process.
Alta will walk you through the VAT/GST registration process and even help with filing and paying for your fees when due.
By the way, for your consideration: Germany and the UK are the largest Amazon marketplaces after the US, and you need to register for VAT to be able to sell in those marketplaces.
Let Alta help you with that.
Skip the foreign bank account
Speaking of the UK, what if you're a UK-based seller who wants to sell in the US, or vice versa?
Concerns you may have had are: if you need a bank account in the foreign country in which you're trying to sell, and/or how to convert your earnings from a foreign bank account to your home country bank account.
Introducing Marketplace Payout, part of the Alta tools.
With Marketplace Payout, you don't have to deal with the confusion of setting up a foreign bank account to receive funds in another country.
Marketplace Payout is 100% free. There are no fees to set up or maintain your Marketplace Payout digital wallet.
The digital wallet works similarly to a virtual bank account. You open up your Alta digital wallet, and then you provide that information to Amazon (in whichever marketplace – UK, US, etc.) as the designated disbursement account.
Not only does this help foreign sellers who might not be able to open up traditional US bank accounts, or US sellers wanting to sell overseas – it could also save you money as well.
Cut down currency conversion fees
Marketplace Payout can also help with your currency conversion fees.
Let's say for example that you're a US-based seller selling in Amazon Canada – unless you have a Canadian bank account, Amazon is likely sending your Canadian dollar earnings to your US bank account. The resulting currency conversion (from CAD to USD) could be costing you up to 4% in fees!
With Alta, you would only be paying 1% for the same thing. This definitely adds up – that's $300/month saved if you make $10k gross per month. Scale up from there – that's a lot of money wasted on conversion fees.
Setting this up is easy too, so don't let that stop you.
I set up Marketplace Payout on one of my case study accounts and it only took me about 5 minutes to connect it in Seller Central, so make sure that after you set up your Alta Digital Wallet, you apply for Marketplace Payout in your dashboard.
Soon, Marketplace Payouts will also be available in the UK. This will be a HUGE help for US-based sellers and sellers around the globe who want to be able to get paid on Amazon UK without opening a UK bank account.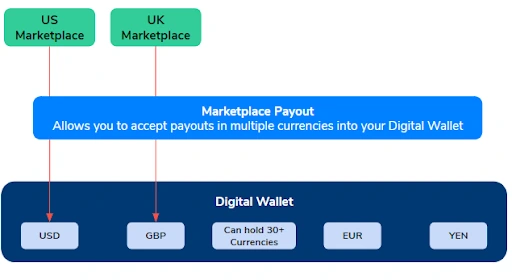 Easily pay your suppliers with Supplier Pay
Speaking of international transactions, how about paying suppliers overseas?
To give a real life example, take a look at this screenshot from the AM PM Podcast Host Tim Jordan's Wechat: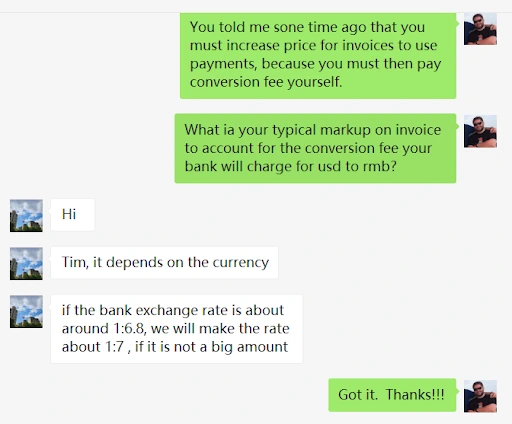 This is a conversation with one of his suppliers in China. You can see the supplier adds a 4% upcharge when quoting Tim a price in USD in order to cover currency conversion costs to Chinese RMB.
Let's calculate how much that potentially could cost an Amazon seller. If your yearly sales are 5 million dollars, you could be paying roughly 2.5 million dollars annually to your suppliers. 4% of 2.5 million is $100,000! That's a BIG chunk of change.
With this in mind, we've developed Supplier Pay. Using your digital wallet, you can send money directly to suppliers in up to 37 different currencies and 200 countries with only a 1% (or less) fee!
In the above 5 million dollar scenario, you would save up to $75,000 dollars a year by paying your supplier with your Alta digital wallet as opposed to sending them wire transfers in US dollars.
Supplier Pay also gives you full visibility on if and when your recipient actually gets the money. No more sleepless nights wondering where your money is after sending a big wire transfer from your bank. Wire transfers, unfortunately, don't give you peace of mind with tracking options like Supplier Pay does.
Supplier Pay isn't just for paying suppliers (misleading as the name sounds). You can pay anyone else you need to such as employees in other countries or shipping services – you can even pay your VAT and GST with Supplier Pay.
I always want to test our new tools out myself before talking about them, so I paid for the latest shipments of Gui's Chicken Coop egg trays (from Project X) using Supplier Pay and can attest firsthand that it is SUPER easy to use.
Get your Amazon payments faster!
I have a question for you current Amazon sellers. How many of you LOVE the fact that you only get paid by Amazon every two weeks? No one? I thought so!
This is one of the most frequent complaints that Amazon sellers have…the fact that you only get your disbursements every other week. How could this be a drawback to your business? After all, biweekly paychecks are pretty standard in the workplace.
Let's say that you have an absolutely killer Black Friday and Cyber Monday, and your sales skyrocket. It wipes out most of your stock. Now, you know you can air freight some product in, so you plan a new order so that you can restock before Christmas.
But what if Black Friday was at the start of your two-week pay period on Amazon? When would you be able to get the cash from all of those sales?
You wouldn't! At least not for almost two and a half weeks.
Unless you had tons of money in your bank account, that means you would not be able to get your new order from your supplier until it's too late, even with express shipping.
For this reason, we've launched Alta Daily Advance.
Get your sales payouts the next day, EVERY day!
For those who qualify, you can get your payouts into your Digital Wallet the next business day after your sales close. In the above scenario, you'd have been able to send the needed money for your new order to your supplier on Monday right after Black Friday, instead of having to wait another two weeks.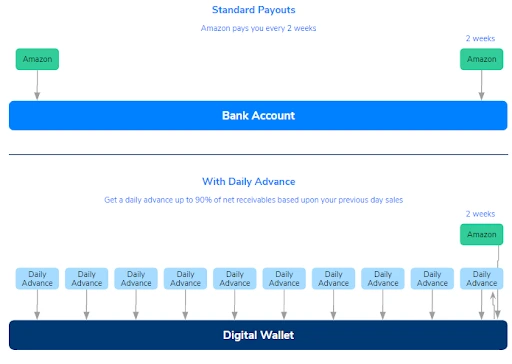 Sound awesome?
This service does come with a small fee of 0.5% to 2%, and you don't have to be a huge seller to qualify. US and UK sellers with gross monthly sales of at least $2,000 over the last 3 months can qualify.
Time is money. Many sellers over the last few weeks have complained about shipping delays when trying to get product to Amazon's warehouses. What used to take two days sometimes takes two weeks or even longer – it's like Q4 shipping delays in summer! Daily Advance is just another way to shave precious time off of your supply chain cycle.
Alta Credit Line – for all your Amazon capital needs
I saved the best for last.
Here's another question: How do you get access to capital when your business needs it? Do you apply for a loan from a bank? Do you ask Mom and Dad? Uncle Richard? Your college roommate?
We're bringing you another solution: the Alta Credit Line. You can get up to $1,000,000 in capital with rapid approval credit lines based on your marketplace performance (not just on Amazon…Shopify too!) .
Just to be transparent, we aren't giving out money like Oprah gives out cars. There is, like any credit application, an approval process. The amount you qualify for will mainly be based on sales determined by connecting to your Amazon or Shopify Account.
This is similar to Amazon's "Amazon Lending" process. If you've borrowed capital through Amazon Lending, the concept is similar with the Alta Line of Credit.
Here's one of the main differences though.
When Amazon Lending tells you that you qualify for $20k, you have to say yes or no, regardless of if I need the full $20k. If you say yes, you are disbursed that entire amount and start paying interest on it from day one.
With Alta, if you qualify for that same $20k, you can choose how much you want to take out at a time. For example, if you only need $5k for a downpayment on a new order, you can take out only $5k from your line of credit. From that day you will only be paying interest on that $5k, not the entirety of $20k.
Then, a month later you need to pay the remaining balance of the invoice. At that time, you can take out another $10k from your line of credit.
You can take out what you need when you need it so that you are not needlessly paying tons of interest on money you didn't want.
Here is a screenshot of my Alta account. I connected it to my Seller Central account and was qualified for $35k. I only needed $5k, so that's all I withdrew, and that's all I am currently making payments and getting charged interest on.

How would a cash infusion transform your business?
Instead of having to wait until you can sell out of your current products and recoup your initial investment, you could expand to other products a lot sooner than planned! Maybe you can avoid a stock cleanout during Prime Day or Black Friday by ordering extra inventory. You could hire creatives for much needed copywriting and product photography work.
The possibilities are endless.
Ready to get your (financial) ducks in a row?
Questions? We want to answer them for you.
Go to www.growithalta.com and sign up for your Alta account for FREE.
If you have questions on rules, qualifications, etc. or any of these topics we discussed, freel free to email [email protected].
Here at Helium 10, we have prided ourselves on being able to give you guys "everything you need to sell on Amazon, and more." This is part of the "and more!"
Did you ever think that you would be running a reverse ASIN lookup on Cerebro to find your competitors' best keywords, and then say, "hmm…you know, I think I want to see if I can get a 1 million dollar credit line, let me just switch to another part of Helium 10 here…"
Selling on Amazon has its shares of financial hurdles that you have to jump through. With Alta by Helium 10, we're knocking down those hurdles so that you can reach your finish line faster.
Achieve More Results in Less Time
Accelerate the Growth of Your Business, Brand or Agency
Maximize your results and drive success faster with Helium 10's full suite of Amazon and Walmart solutions.