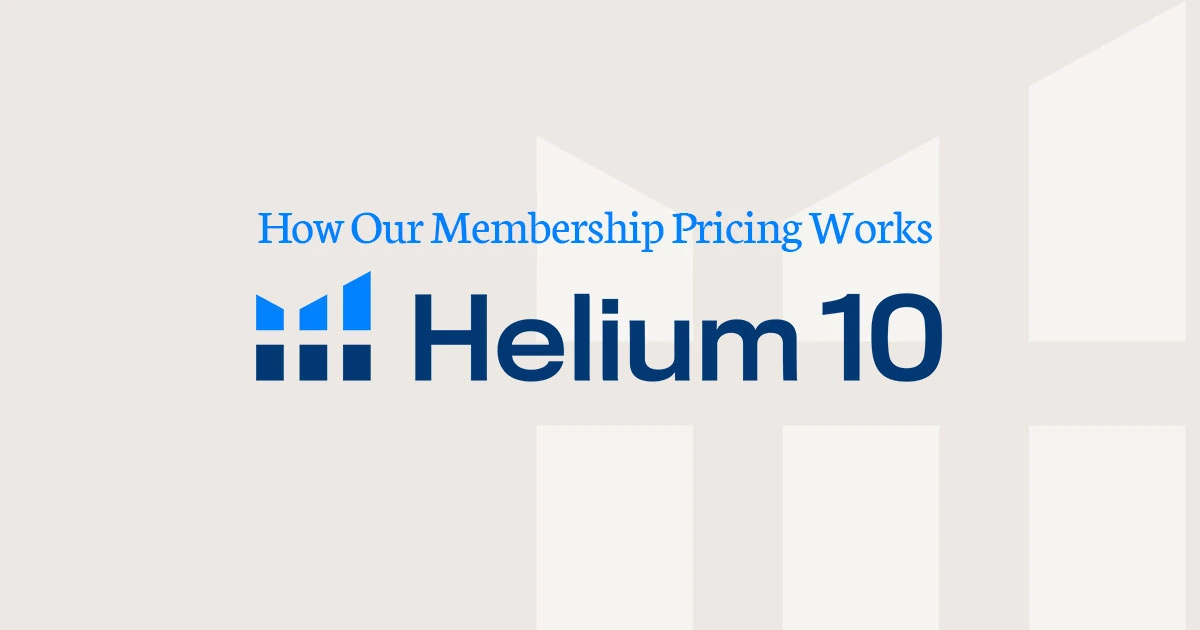 Posted on: February 25, 2019, By: Jonathan Dean
Helium 10 Pricing & Membership Plan Options – How They Work
Helium 10 pricing has been optimized to offer our users more awesome features than ever before with five comprehensive plan types to choose from!
Helium 10 membership pricing has been optimized to offer our users more awesome features than before in five comprehensive plan types! If you are new to Helium 10, welcome! Our goal is to help you find profitable products to sell, create fully optimized listings on Amazon, and increase sales over time with proven, effective e-commerce techniques. Because we are dedicated to helping our members achieve their Amazon selling targets, we offer different tiers of Helium 10 membership pricing to accommodate different budgets and different business goals.
Here is a quick look at our Helium 10 Membership Pricing chart: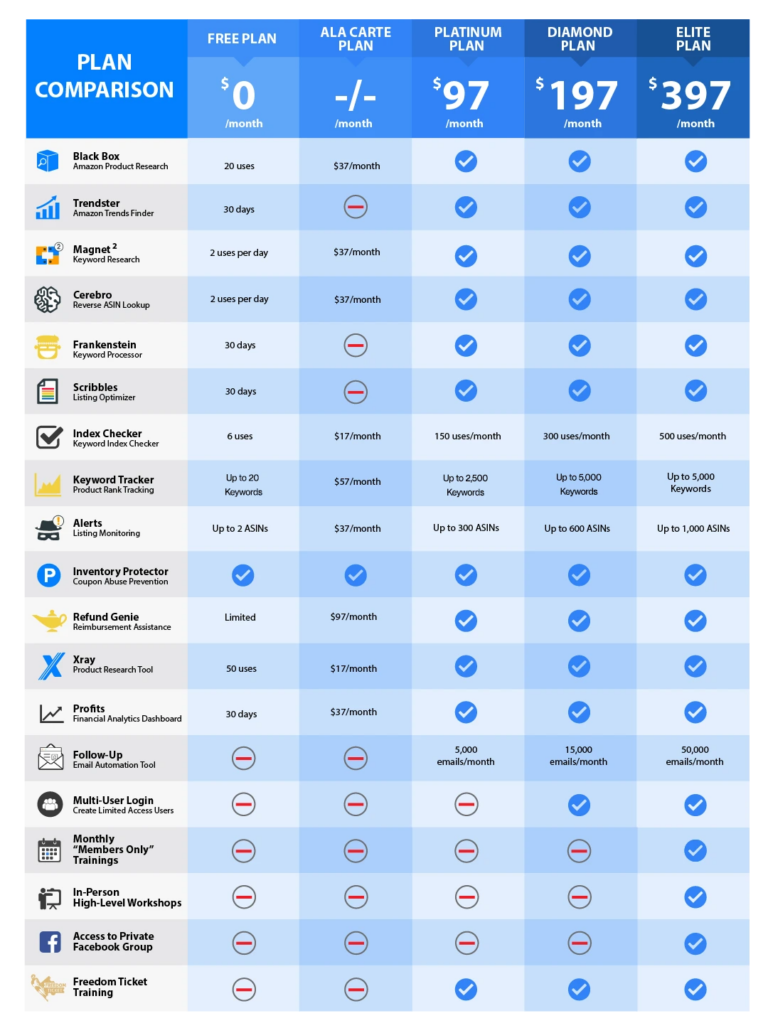 As you can see Helium 10's pricing options are made up of a free subscription plan and four paid plans: A la Carte (starting at $17/month), Platinum ($97/month), Diamond ($197/month) and Elite ($397/month). 
Here is a quick rundown of the membership plans we have available for Amazon sellers:
Free Plan
If you are looking to try out the Helium 10 suite of tools, we offer a free plan that gives new users a taste of what we have to offer. This plan includes:
A La Carte Plans
Just looking to use Helium 10 tools individually? Or perhaps you want to try out the full experience of certain tools? Whatever your needs are, we've got you covered. These individual a la carte plans include:
Platinum Plan – $97 per month
The Platinum Plan is the first of our bundled plans and is a great value because it offers unlimited usage for many of our tools with additional features. This platinum plan includes:
Diamond Plan – $197 per month
The next plan in our tool bundle lineup, the Diamond Plan, expands the features of the Platinum Plan even further. This diamond plan includes:
Elite Plan – $397 per month
The Elite Plan is ideal for super serious Amazon sellers who want to crush it in their respective product niches. Additionally, Helium 10 offers exclusive content to our Elite members, including cutting-edge selling tips, secret winning formulas, and plenty more! This plan includes:
Black Box – Full Access
Trendster – Full Access
Magnet – Full Access
Cerebro – Full Access
Frankenstein – Full Access
Scribbles – Full Access
Index Checker – 300 total uses per month
Keyword Tracker – Track up to 5000 keywords
Alerts – Track up to 600 ASINs
Inventory Protector – Full Access
Refund Genie – Full Access
Xray – Full Access
Profits – Hourly Updates
Followup – 15,000 Monthly Emails
Freedom Ticket – Full Access
Multi-User Login – Add up to 5 users on one account (great for sellers who have employees or VAs that assist with tasks)
BONUS Feature: Monthly Members-Only Webinar
BONUS Feature: In-Person High-Level Workshops
BONUS Feature: Access to Private Facebook Group (speak with Manny Coats, Bradley Sutton, Anthony Lee, Kevin King, and other Elite Helium 10 members)
If you are new to selling on Amazon and want a no-nonsense, A to Z guide to Amazon best practices and how to be successful when first starting out, be sure to check out Freedom Ticket, an exclusive program taught by 7-Figure Amazon selling master Kevin King. Additionally, be sure to take advantage of the powerful tools available with the Helium 10 Chrome extension. Besides the amazing Xray, users can utilize these other great tools:
ASIN Grabber – Easily create a list of your top 100+ competitors for a given keyword
Profitability Calculator – Crunch the numbers on the costs and potential profits of a particular ASIN to get an idea of its financial viability for your next similar private label product.
Inventory Level – Check a competing product's inventory numbers to know when they might run low or run out completely.
Review Downloader – Download all or just specific reviews through intuitive filters to discover competitor weaknesses to improve upon in your own product.
Have any questions about Helium 10 membership pricing? Contact us today!

Latest posts by Jonathan Dean
(see all)