Are You Ready to Meet Four NEW Helium 10 Tools?
Introducing our new Helium 10 Mobile App, Market Tracker, ADS for PPC campaigns, and Portals, your own landing page manager!
Updated on: April 8, 2020
You heard that right. We're launching four NEW tools to broaden our tool suite's capabilities and bring Amazon sellers even more possibilities! Read on to get introduced to our latest additions.
2020 is going to be Helium 10's biggest year yet! We're kicking off Q2 with four exciting additions to our existing (and already cutting-edge) tool suite.
What do we have in store?
First, like many of you have been requesting (and trust us, we heard you), we're finally rolling out a mobile app.
Second, we're implementing a much smarter way to navigate and manage your PPC campaigns (we know how much of a headache the process can be).
Third, we're introducing a way to keep an eye on the bigger picture of your marketplace – we're talking smart tracking that goes beyond single ASINs or keywords.
And finally, we're bringing you a tool that lets you create your own landing pages to allow you to track and capture invaluable customer insights.
Excited yet? We hope so. But that's just the tip of the iceberg. Read on to learn more about what these four new players will bring to the table for you, the ever-intrepid Amazon seller.
Meet our Helium 10 Mobile App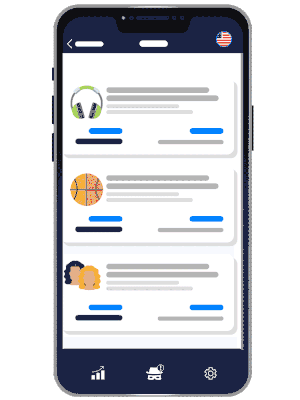 Who is it for?
The mobile app is designed for the Amazon Seller on the go – and we know that makes up a lot of you, whether you're working from home, your mobile office, or on the road to your next seller conference (or Elite Workshop).
What does it do?
Short answer: a lot.
With the H10 Mobile App, you can view your Amazon sales data at a glance – like viewing the Seller Central sales summary in a visually-streamlined user interface.
Organized into "cards," you can view daily, weekly, and monthly sales and profits by units and currency, as well as individual customer orders. Swipe through cards to see this info formatted into handy graphs and tables.
You'll also be able to view notifications from the Helium 10 Alerts tool. In-app features allow you to filter Alerts by type, such as product reviews, category and price changes, and more.
For those of you who have expanded beyond your 'home base' market, the mobile app is multiple-marketplace compatible! If you sell in multiple Amazon marketplaces, you can link your MWS tokens to the app to view all of your data in one place. Profits will be displayed by marketplace, while Alerts will be grouped by continent (Mexico, Canada, and US under one NA group, for example).
At launch, the app will support the NA and EU marketplaces. We will be adding additional marketplaces over time – be sure to let us know which marketplaces you'd like to see next.
The app is available on both the App Store for iOS devices, and on Google Play for Android phones.
Step up your PPC game with the new ADS tool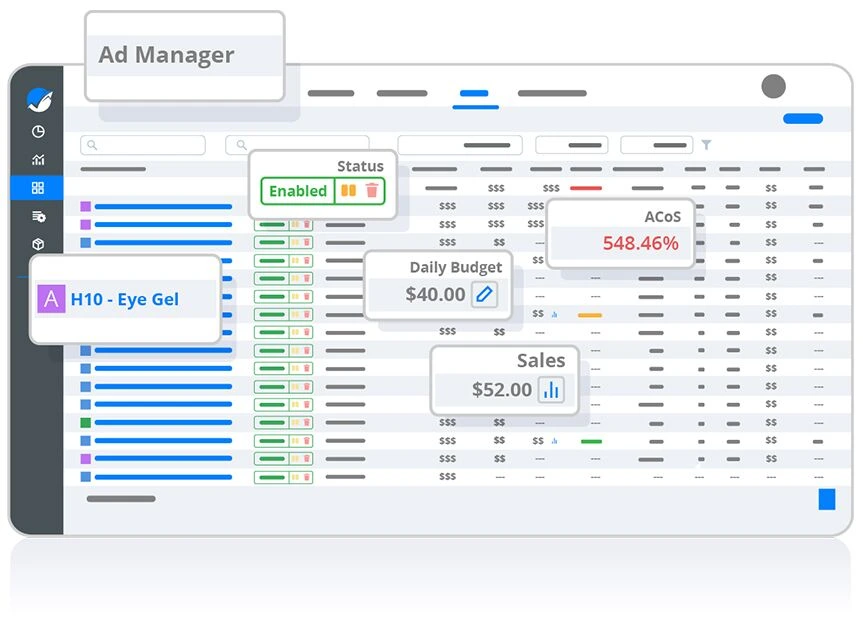 Who is it for?
Helium 10's new ADS tool is designed for sellers who want to cut out the guesswork and get serious about their PPC campaigns.
What does it do?
Well, for starters, it will save you a lot of valuable time wasted on the drudgery of parsing PPC campaign data.
Manually combing through your campaigns to collect and target keywords is a chore. So is setting up your individual campaigns with different sets of keyword rules, bids, budgets, and so on. Yet we're all too aware that running a solid PPC strategy is critical to gaining visibility (and by extension, impressions and sales) amid the marketplace-chaos that is Amazon.
And let's face it, Amazon's PPC campaign user interface can get pretty clunky. By contrast, our ADS UI is designed for ease of use, including detailed breakdowns from high-level Portfolio view to Search Term level – meaning no more downloading bulky Search Term reports! Make informed campaign optimization decisions with relevant data at your fingertips.
The ADS tool will harvest keywords automatically based on search terms, as well as suggest bids for keywords based on your specifications.
The tool also goes beyond simple ACoS and looks at TACoS – the TOTAL advertising cost of sale. TACoS will provide you with a more realistic look at how much of your profits (over both organic and paid sales) are actually being allocated to ad spend.
What better way to access and manage all of this from the ADS dashboard inside the Helium 10 toolsuite? With all of your PPC data conveniently collected in one place, you can create, customize, and manage all of your PPC campaigns directly from the ADS dashboard without having to stumble through the clumsy Amazon PPC UI again.
(P.S.: We cover TACoS in Freedom Ticket).
By the way, ADS is initially going to be available only to Elite-level members. Check out that and other Elite perks here.
Expand your horizons with Market Tracker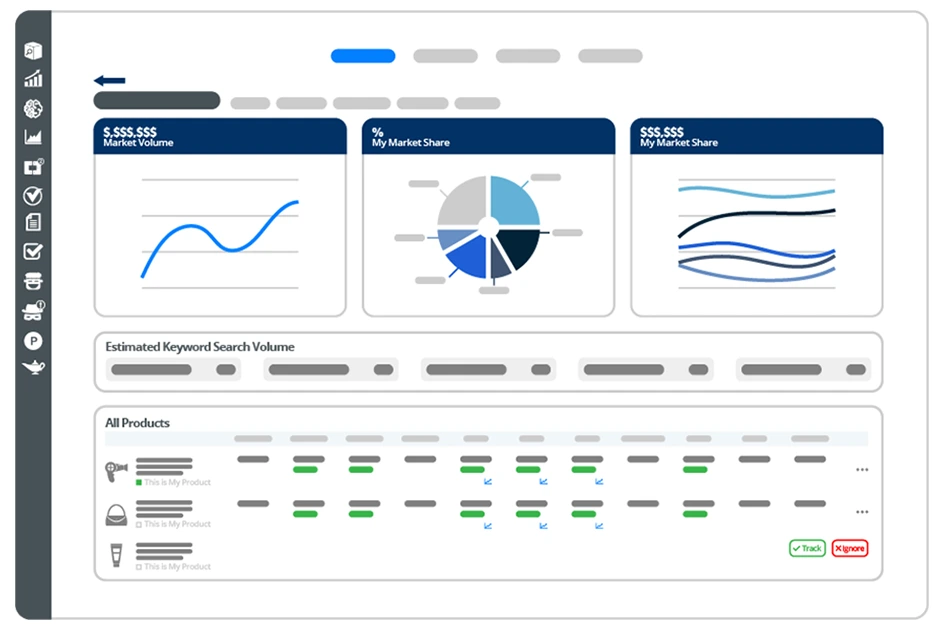 Who is it for?
The new Helium 10 Market Tracker tool is for current Amazon sellers who want to analyze, track, and monitor the 'Markets' they already sell in, so that they can compare their performance relative to others in their space.
(Note that this is intended for existing Amazon sellers – not for new/prospective sellers who are researching product spaces).
What does it do?
Don't be deceived; the new Market Tracker tool isn't just another ASIN-tracking or product research tool (our Black Box tool is, as you know, more than enough for that job).
Market Tracker is a tool for the existing seller who already has at least one product live on Amazon. Use Market Tracker to build and track customized "Markets" so you can keep an eye on the playing field and redirect your strategy as conditions change.
Create a set of rules for each of your personalized Markets, and track multiple ASINs and keyword searches with data aggregated in one place for easy viewing and navigation. Don't know which related products to track? On a daily basis, the Market Tracker tool suggests products to track based on what it predicts is relevant to each of your Markets.
Having an active Market is like having dozens of FBA spies on the ground, infiltrating your competitors' networks. Remain aware of metrics like your competitors' market share, new reviews, sales and pricing trends, and more. And perhaps most importantly, see how your selling performance compares to your competitors, with comprehensive data illustrated in easy-to-decipher charts and graphs.
Use this new opportunity to gain foresight. Market Tracker will be the stepping stone you need to look beyond simple single-ASIN management and really start to understand your product space.
Click here to access the tool now, or find it in your Helium 10 dashboard.
Portals: the new landing page wizard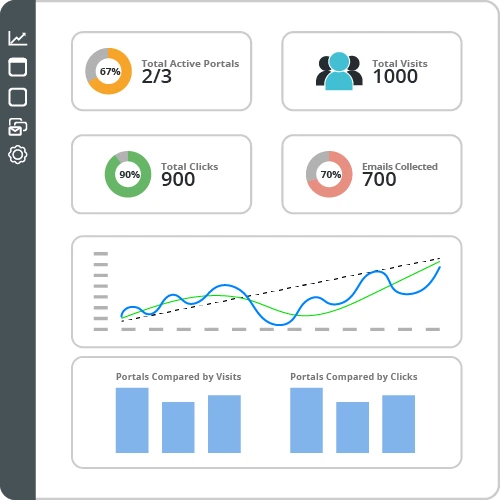 Who is it for?
The new Portals tool is for Amazon Sellers who want to drive outside traffic to their listings, capture customer information, and build brand loyalty.
What does it do?
At its most basic (and it's anything but basic), Portals does exactly what the name says: it creates landing pages that you can use to drive off-Amazon traffic to your listings. That traffic can be directed from your social media ads (with direct pixel integration from Facebook, Instagram, etc.), email marketing lists, sponsored ads from Google, and more.
Think of it as a top-of-the-sales-funnel tool. Portals brings customers to your customizable landing page, captures essential customer data through your installed pixel, and then leads them to your product page on Amazon, an email signup list, and more.
Handy features include customizable templates: you can design the layout of your page using one of our pre-installed templates. Each template is geared towards a specific goal, such as encouraging customers to register their product or sign up for your email marketing list so that you can build different retargeting audiences.
Create richer content on your product landing pages, such as embedded videos from YouTube, Vimeo, and more. 
The Portals tool even includes built-in gem URLs such as two-step URLs found on our gem URL page generator. Now you don't have to manually enter your ASINs into our gems page, as it's included right inside the tool. Even better, the Portals tool allows you to automatically cycle customers through different gem URLs of your choosing, potentially boosting your listing's rankings for those keywords.
Enhance your customer experience, boost your listings' rankings, gather essential customer data, and build remarketing lists to bring your business and brand marketing capabilities to the next level.
Initially, we're rolling out Portals as beta-access only to the first 1,000 Diamond, Platinum, and Elite members who opt-in to use the tool! To secure your access, log into your dashboard and find the tool at the top of the page, or click here.
(If you miss the first-1,000 sign-ups window but attempt to enter Portals, you'll be met with a closed-beta access notice).
Excited? We are too
All four of the new tools will be available to all Platinum, Diamond, and Elite members once released. For details on allowances per tier, see the Helium 10 membership info page.
As you can see, our new tools really focus on an entirely higher level of seller experience and capabilities for all of our new and existing users. These new tools help bring your ambitions beyond the individual product and research stage and into the world of marketing and advertising. We hope with these new tools you can work on building up your brands, fine-tuning your audiences, and ultimately see your business flourish like never before!