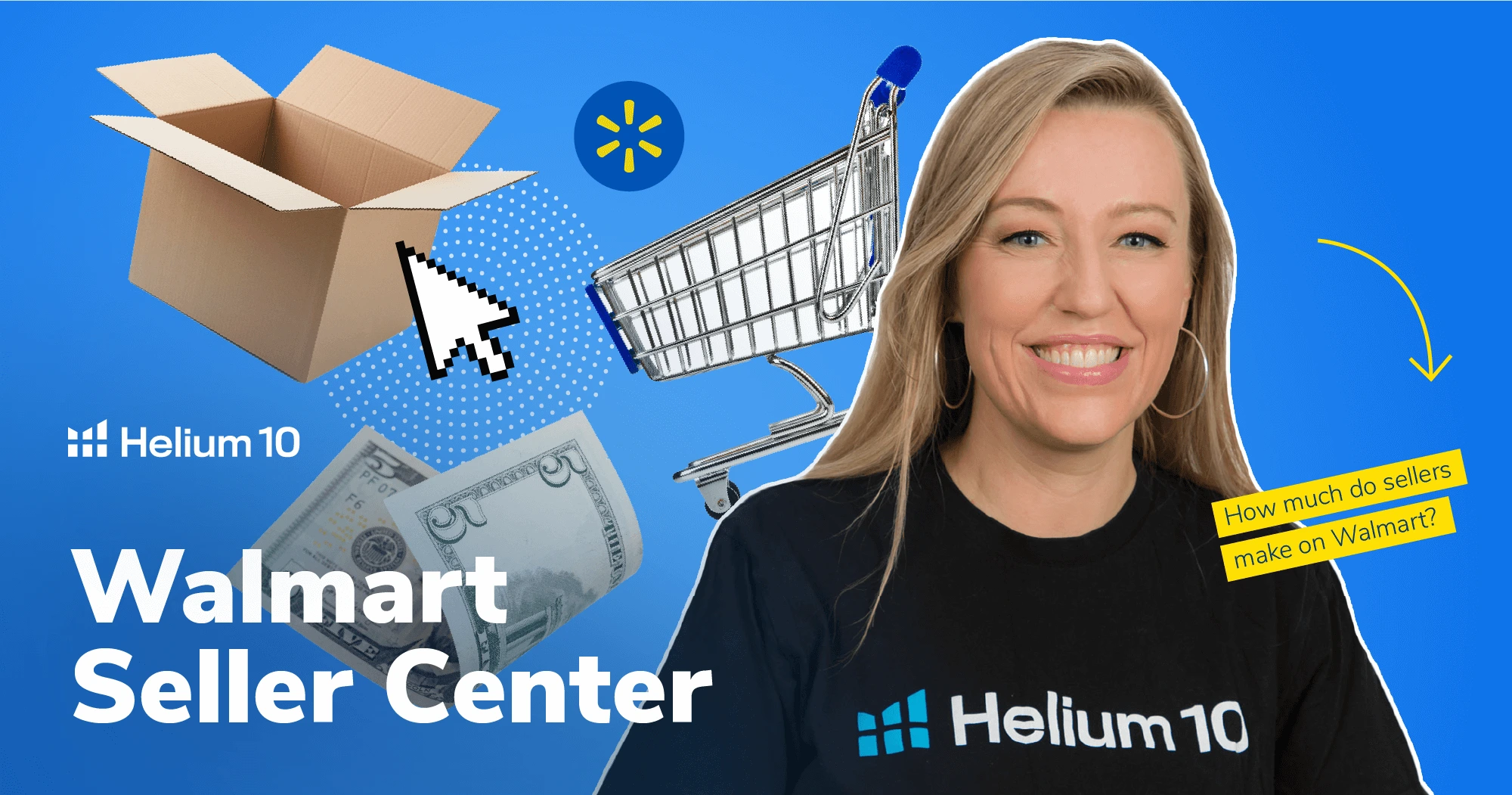 Walmart Seller Center: Everything You Need to Know for Success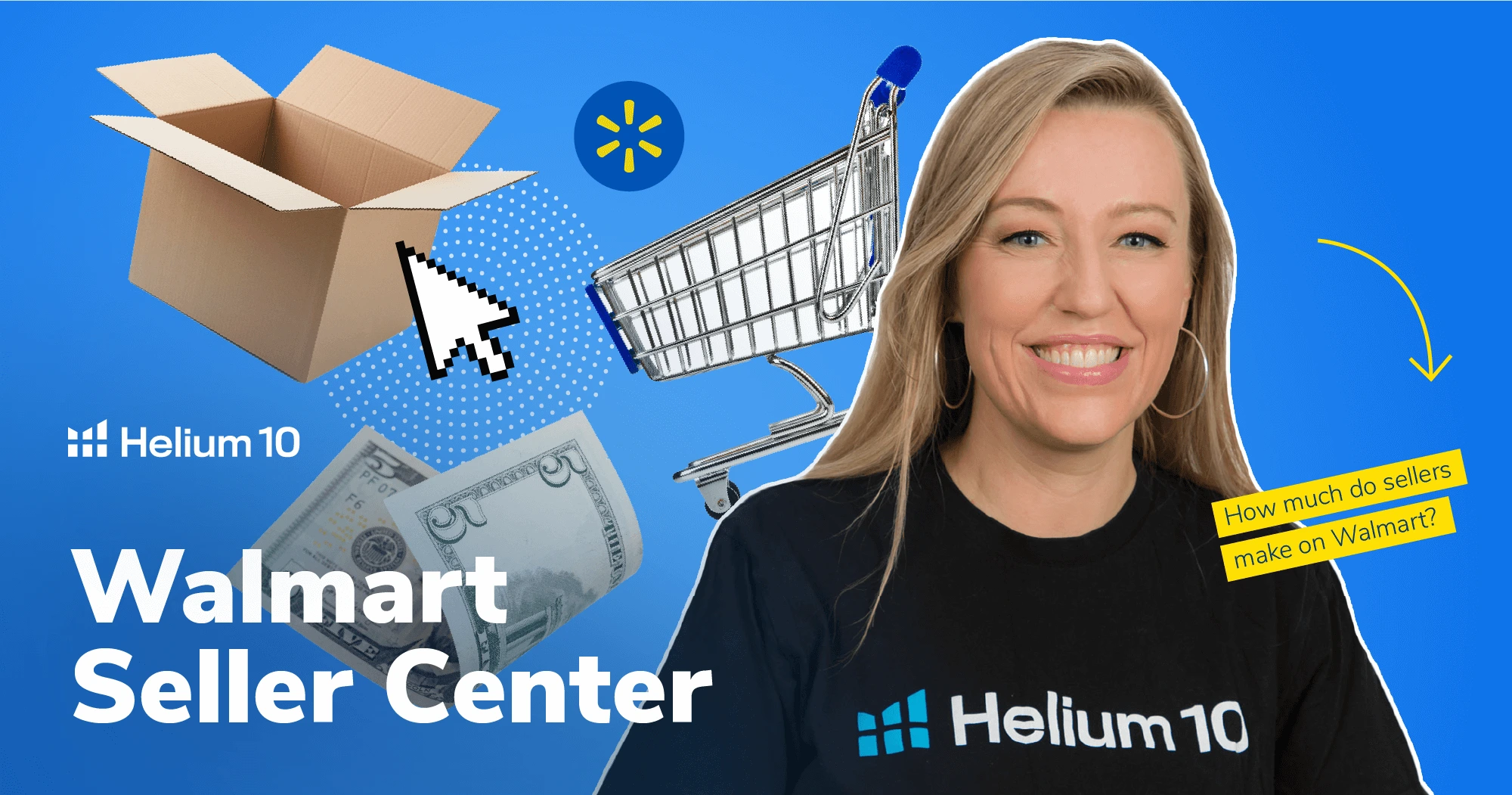 Introduction
Welcome to our comprehensive guide on getting started selling on the Walmart Marketplace! If you're an established seller looking to expand your reach or a professional business seeking to tap into a vast customer base, you've come to the right place. The Walmart Marketplace offers an incredible opportunity to showcase your products alongside the retail giant's first-party offerings on Walmart.com. As one of the world's leading e-commerce platforms, the Walmart Marketplace provides innovative solutions designed to streamline your selling experience and drive growth for brands of all sizes. From efficient catalog management and reliable fulfillment services to cutting-edge pricing strategies and powerful advertising tools, this platform opens the doors to success and profitability. Join us as we delve into the world of the Walmart Marketplace and Walmart Seller Center, exploring its benefits, requirements, tips for success, and everything you need to know to embark on a successful selling journey with Walmart. Let's get started!
General Questions About Walmart Seller Center and Selling on Walmart
What is the Walmart Marketplace?
The Walmart Marketplace is a selling platform for established and professional sellers, offering products that complement the first-party offerings on Walmart.com. The marketplace provides innovative solutions to streamline the selling experience for brands of all sizes. Sellers can confidently list their products on the Walmart Marketplace without worrying about monthly fees or setup costs, allowing them to save and earn more from their sales. With access to a vast built-in audience of 120 million monthly visitors and loyal customers across various categories and channels, sellers can fuel their growth through cutting-edge pricing, catalog management, advertising, fulfillment, returns, and brand management solutions. The onboarding process is designed to be smooth and seamless, enabling sellers to start selling quickly and easily. Furthermore, Walmart Marketplace sellers benefit from Walmart's omnichannel capabilities, with a strong presence both online and in physical stores. Customers can manage returns conveniently either online or in person at Walmart stores, providing enhanced returns experiences that foster customer satisfaction and lead to repeat shoppers.
Outclass Your Competitors
Achieve More Results in Less Time
Maximize your results and drive success faster with Helium 10's full suite of Amazon and Walmart solutions.
Sign Up for Free
Signing Up for Walmart Seller Center
What Are the Different Seller Account Types on Walmart?
There are 1P and 3P types of Walmart Marketplace Sellers. As a 1P seller on Walmart, you'll be responsible for supplying your products in bulk at wholesale prices to Walmart's fulfillment center, where they will be stored and distributed. While Walmart is listed as the seller, your products will be displayed as "sold and shipped by Walmart." The retail giant assumes ownership and takes charge of selling, pricing, optimizing listings, advertising, marketing, and delivering your products. On the other hand, becoming a Walmart 3P seller requires approval and meeting specific business qualifications. As a 3P seller, you'll have maximum control over your product listings and inventory, retaining ownership of your brand and products. Walmart Marketplace serves as a channel for you to list your products, and you can manage everything from listings, pricing, promotions, shipping, and order fulfillment. Opting for the 3P approach offers you the most control and flexibility over your business operations.
Can International Sellers Apply to Sell on Walmart.com?
Exciting news for international sellers looking to join the Walmart marketplace! Walmart is gradually embracing international sellers and has now extended access to its marketplace for sellers from China, India, Hong Kong, the United Kingdom, Canada, Japan, Mexico, Germany, South Korea, Singapore, Taiwan, and Turkey! If you are interested in applying to sell on Walmart.com in any of these countries, you can visit helium10.com/apply-walmart and complete the application process. On the page, you'll find a drop-down menu where you can select your country in the Business phone number section. As Walmart continues to expand its reach, this website will be a valuable resource to stay updated on future countries where Walmart opens up its marketplace.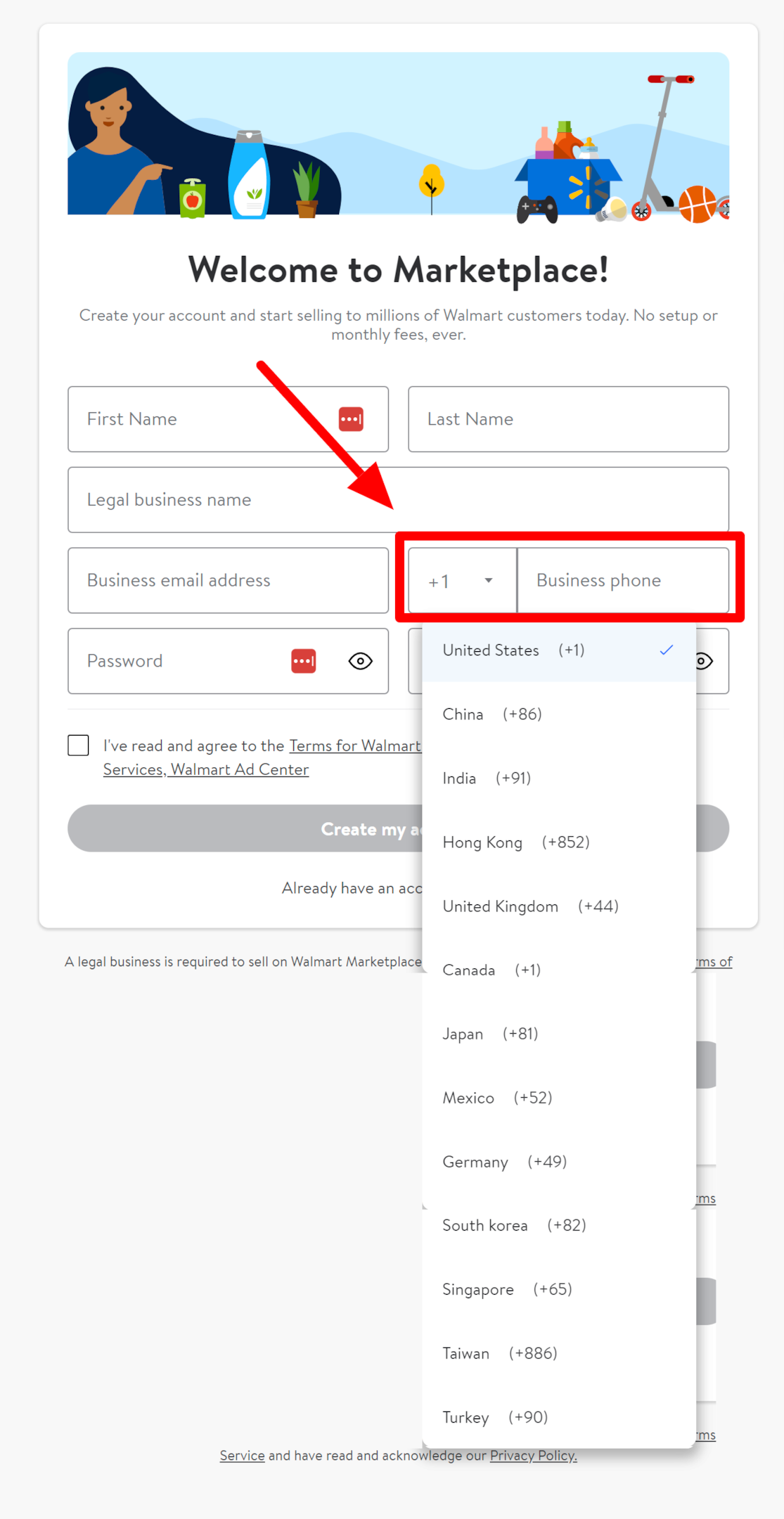 What Are the Requirements to Sell on Walmart.com?
To become a seller on Walmart Marketplace, there are specific minimum qualifications that need to be met. These include providing a valid Business Tax ID(s) or Business License Number (Social Security Number not accepted) and supporting documents that verify your business name and address. Additionally, a history of success in the marketplace or eCommerce is required, demonstrating your ability to effectively sell products online. Your products must also have GTIN/UPC GS1 Company Prefix Numbers for proper identification. It's essential that your catalog complies with Walmart's Prohibited Products Policy, ensuring that you offer products that meet their guidelines and restrictions. Furthermore, you must fulfill orders through Walmart Fulfillment Services (WFS) or have another B2C U.S. warehouse with returns capability to provide efficient and reliable order fulfillment and return services to customers. Meeting these qualifications is crucial to gaining access to Walmart Marketplace and tapping into its vast customer base. (Note: If you are an international seller, you will need to provide information specific to your country that would include information about your business entity, etc.
For more information, check out this blog!
Should I Sell on Walmart?
Starting to sell on the Walmart Marketplace can be a game-changing decision for your business. Online marketplaces have revolutionized consumer expectations, with 70% of shoppers considering them the most convenient way to find better delivery options, a wide selection, and competitive prices, as reported by a Mirkal survey. With online marketplaces contributing around 67% of global eCommerce sales in 2022, as projected by Forrester, they attract valuable repeat customers due to their product range and price transparency. By joining Walmart Marketplace, you have the opportunity to tap into the substantial $40.2 billion in eCommerce sales they drove in 2022, with low setup costs and a built-in customer base. The platform offers excellent perks such as enhanced product visibility, reliable fulfillment services, hassle-free returns, and a strong trust factor, lowering the risks and providing a conducive environment for your business to thrive.
How Do I Apply to Sell on Walmart.com?
If you are interested in selling on Walmart, go to helium10.com/apply-walmart. Then, fill out your basic business information and create a login and password.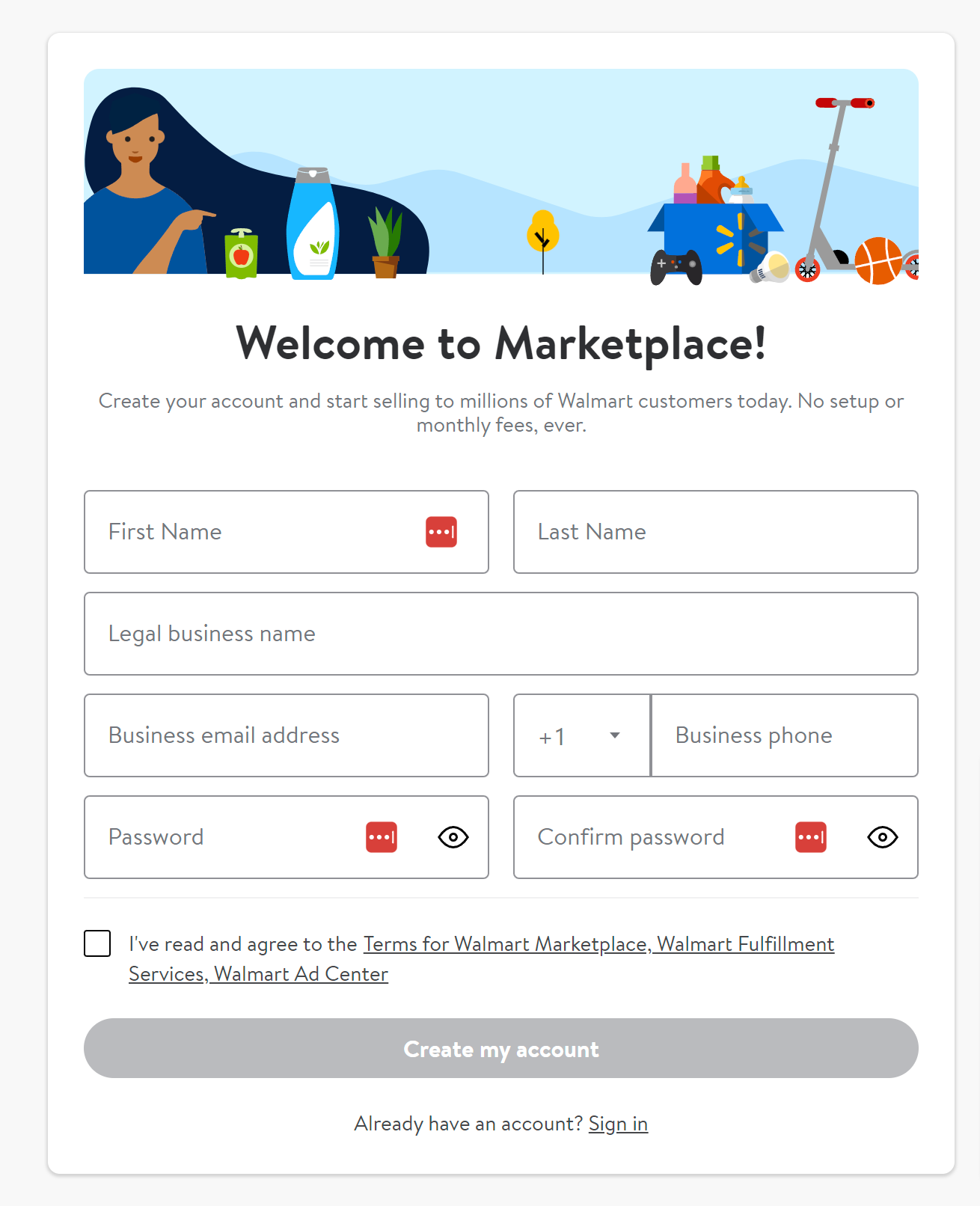 Once you hit submit, you will be logged into your Walmart Seller Central Account. Then, you will need to follow the steps listed in the screenshot below. First, you click "Get Verified."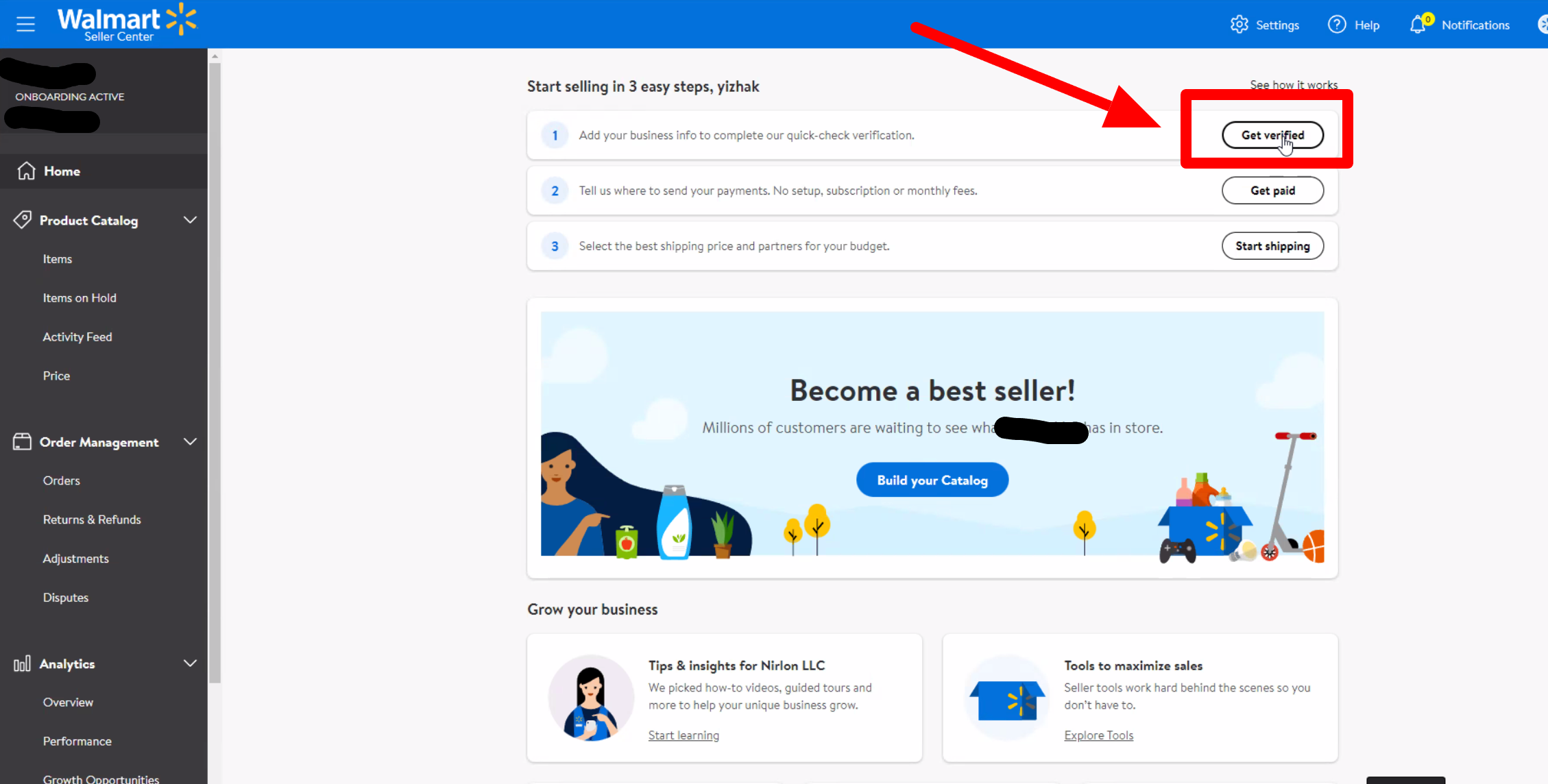 Once you click on get verified, a screen will pop up and you will need to provide the information in the following screenshot: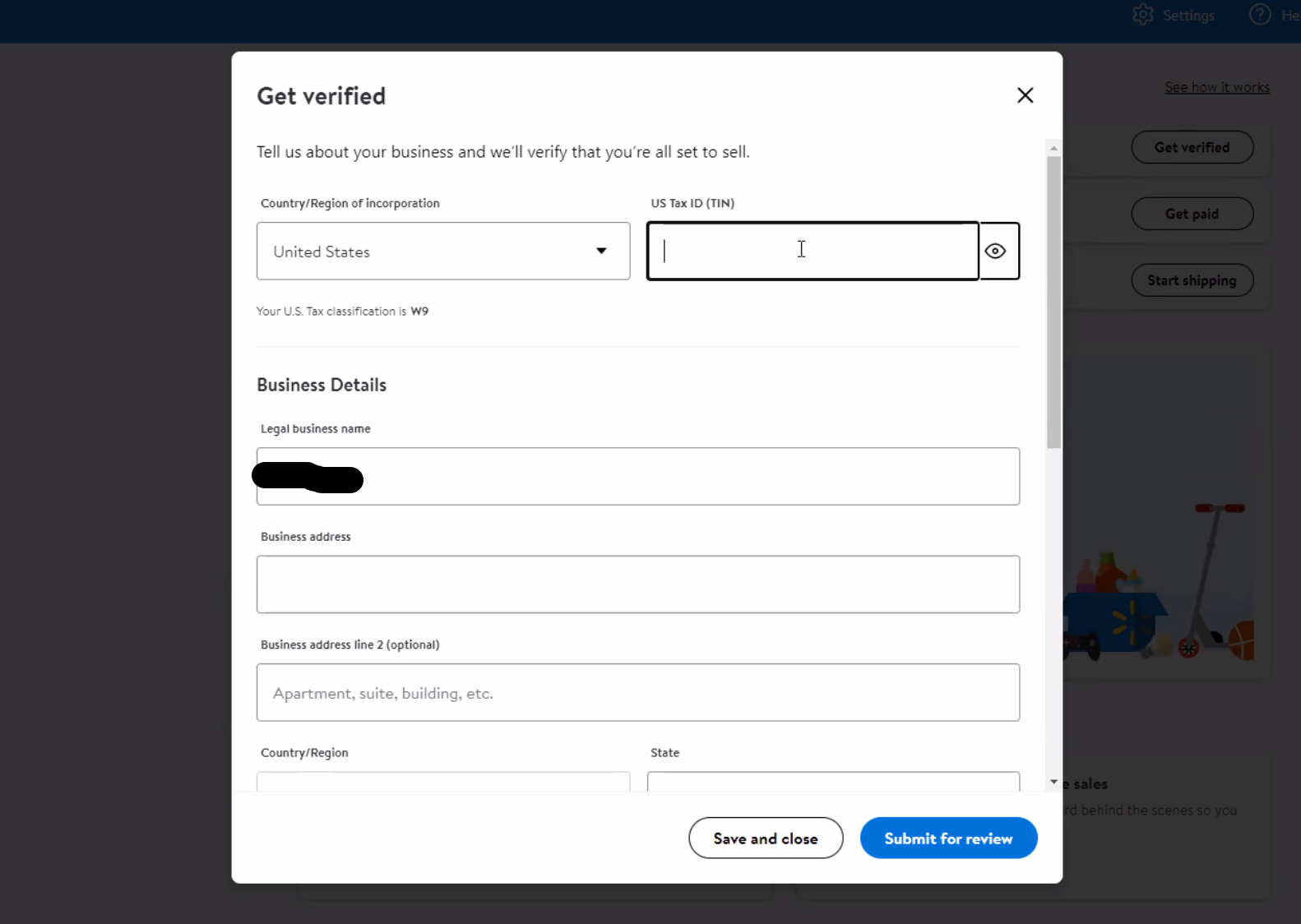 Once Walmart verifies your business, you will be allowed to go onto the next step which is "Get Paid," where you will enter your payment information with either Hyperwallet or Payoneer. After that step is completed, you will be allowed to set up your shipping templates and create your first listings.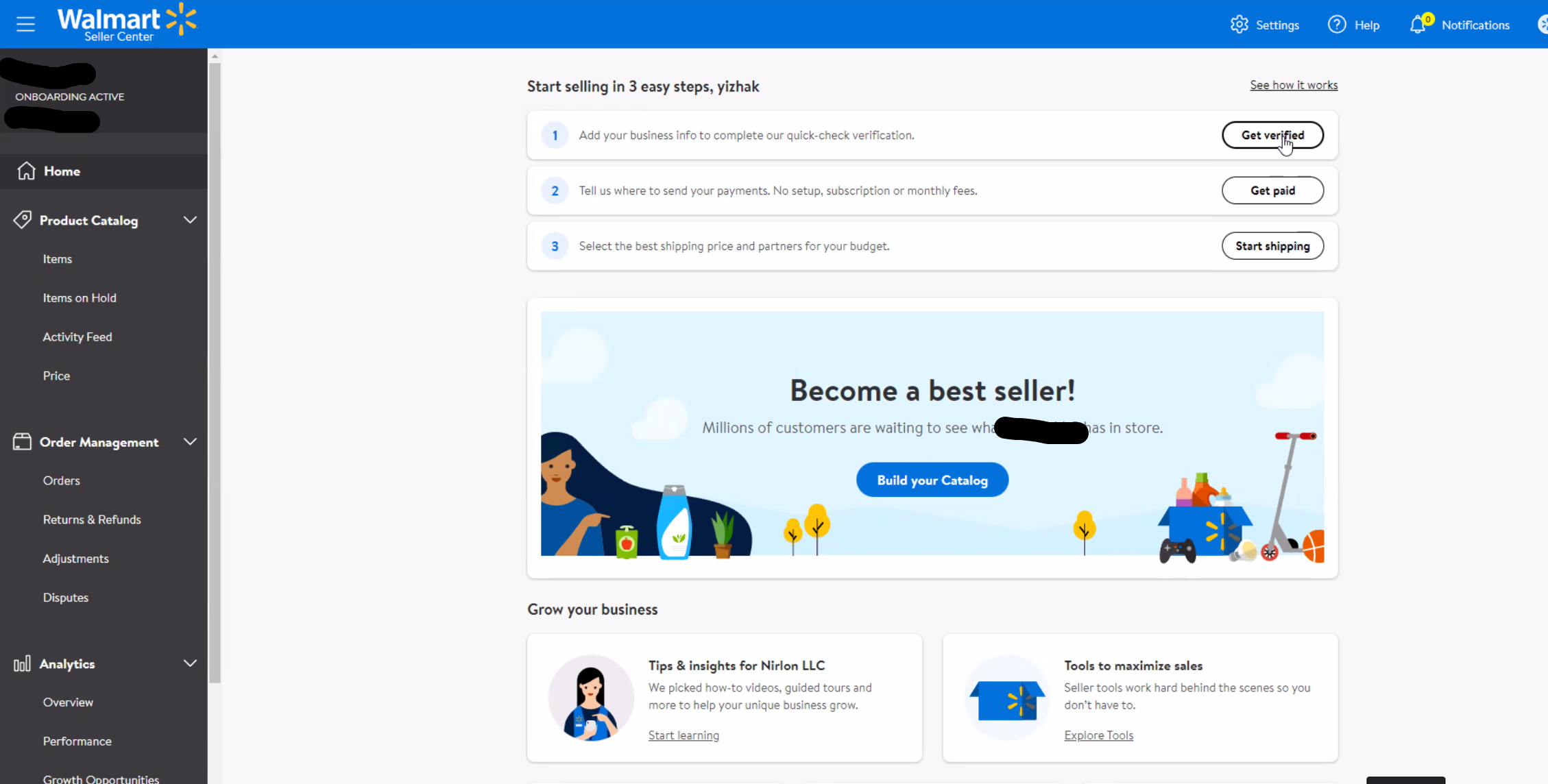 How Long Does It Take to Open a Walmart Seller Account?
The process can take as little as 24 hours and up to weeks or months depending on the information needed to verify your business. If you have everything ready that Walmart requires and you meet all of the minimum qualifications to sell at Walmart, you could potentially be up and running within the week.
How Do I Ensure I Get Approved to Sell on Walmart?
To increase your chances of being accepted as a seller on the Walmart Marketplace, take the following steps: Make sure you have a track record of success in the marketplace or eCommerce world, as Walmart values established and credible sellers who contribute to a diverse product range and a positive shopping experience for customers. Additionally, carefully review Walmart Marketplace's Prohibited Products Policy to ensure none of your items fall into restricted categories, such as hazardous materials, alcohol, certain types of food, offensive products, and more. Failure to comply with these guidelines, even with just one prohibited item in your catalog, could result in the denial of your application. Lastly, provide comprehensive and detailed information about your business during the application process to minimize back-and-forth communication and avoid delays in the review process. By following these steps, you can streamline the application process and improve your chances of gaining approval to sell on Walmart Marketplace.
Why Was My Walmart Seller Account Denied?
There are several potential reasons why your application to Walmart Marketplace might be denied. First, Walmart looks for experienced e-commerce sellers with consistent and steady sales, preferably around $500,000/year or more on platforms like Amazon or other e-commerce marketplaces. Your product catalog must feature unique items that enhance its offerings, avoiding an abundance of similar products. Inconsistent tax or business documentation on your application can also lead to rejection, so ensure all information is accurate. Lack of e-commerce experience may also result in denial; it's best to gain experience on platforms like Amazon, Ebay, or Shopify first. Walmart seeks sellers with a strong customer service track record, evidenced by positive seller account reviews and a pro seller badge. Low product review ratings or a reputation for low-quality products can also hinder acceptance. Finally, having a reliable and efficient fulfillment system, whether through your warehouse or third-party service is crucial to Walmart Marketplace's selection process. To improve your chances of approval, it's advisable to build a strong e-commerce portfolio with a focus on quality products and exceptional customer service.
What Can I Do if My Account Was Denied?
If your account was denied, the first step is to log in to your Walmart seller center account. You created this login when you submitted your application so it will be the same username and login that you used for your application. Then go to the top right-hand corner of your screen and click on "Help." In the dropdown, click "Contact" Support.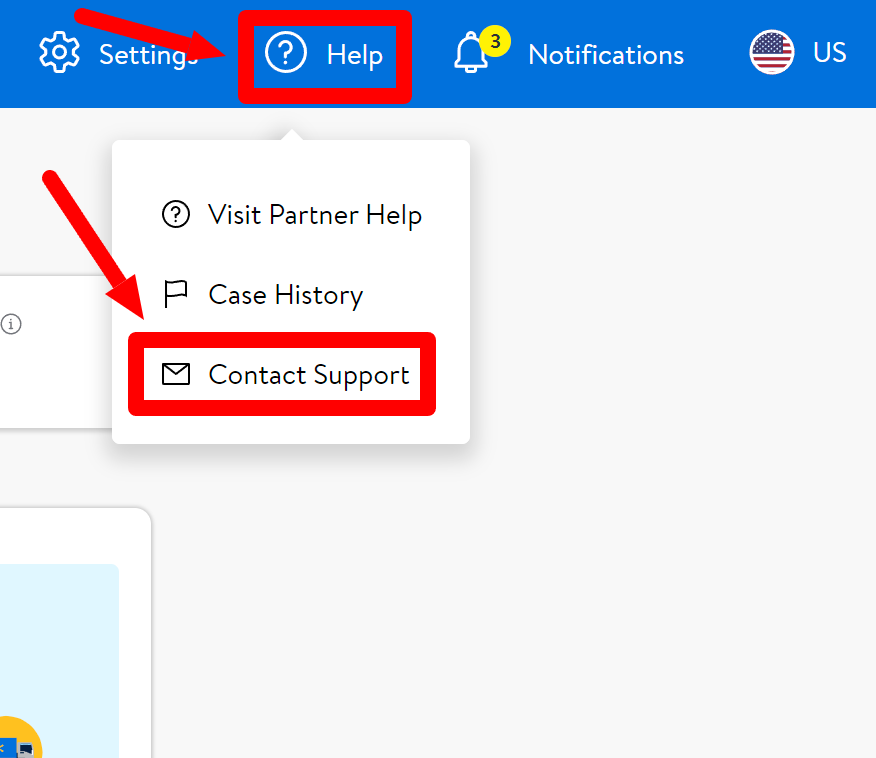 Next, you will choose "Business Verification Questions and Issues."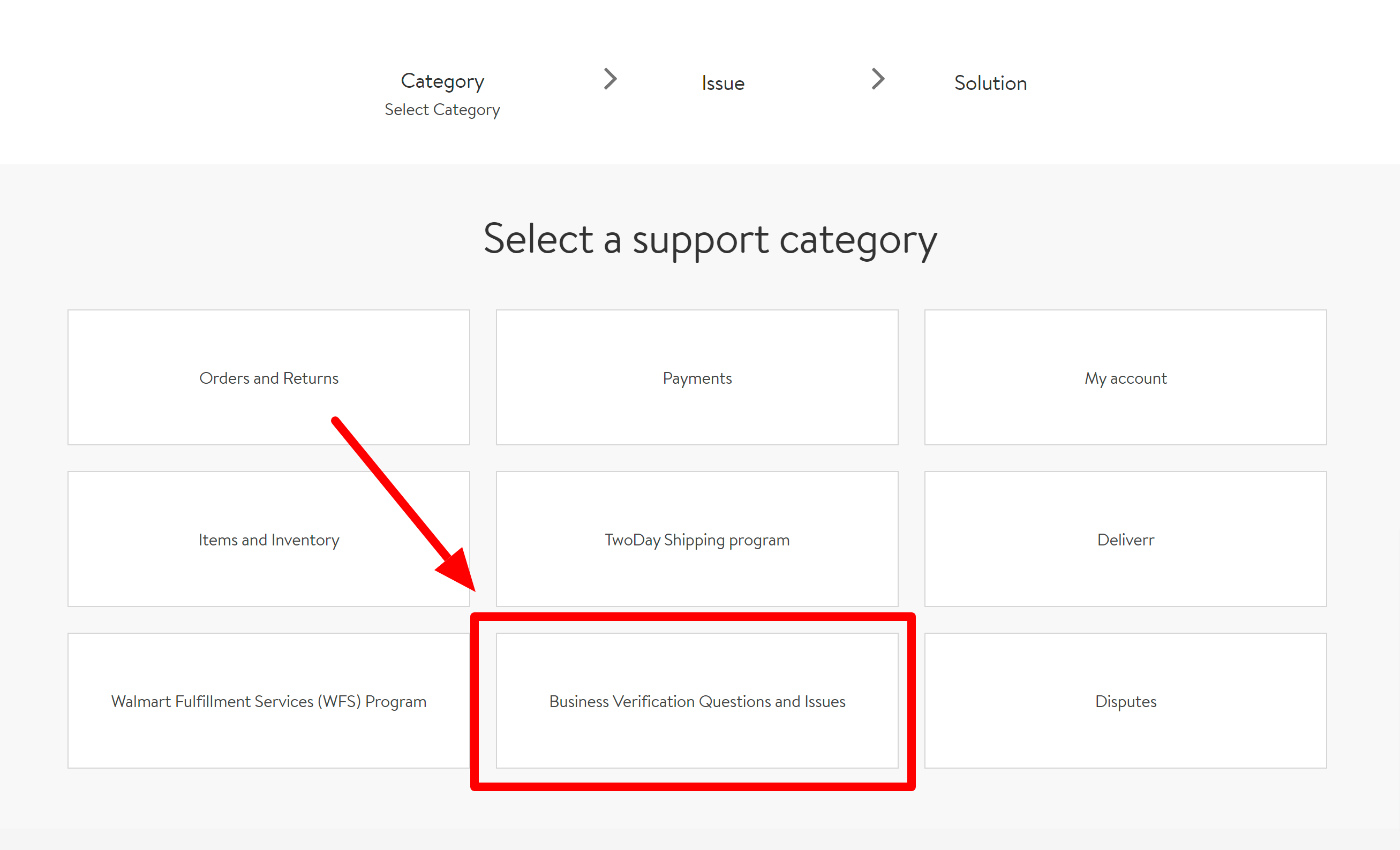 Next, you will choose "Appeal Business Verification Decision."

If your applications had issues with tax information, you can click on "Tax Information Questions and Issues," instead so that you can be taken to the support member who can assist with tax issues. Also, if you haven't heard back from Walmart and you want to verify your status, you can click the last box that says "Verifying Status Update Questions."
Once you have clicked on one of the above options, you will be prompted to open a case via email.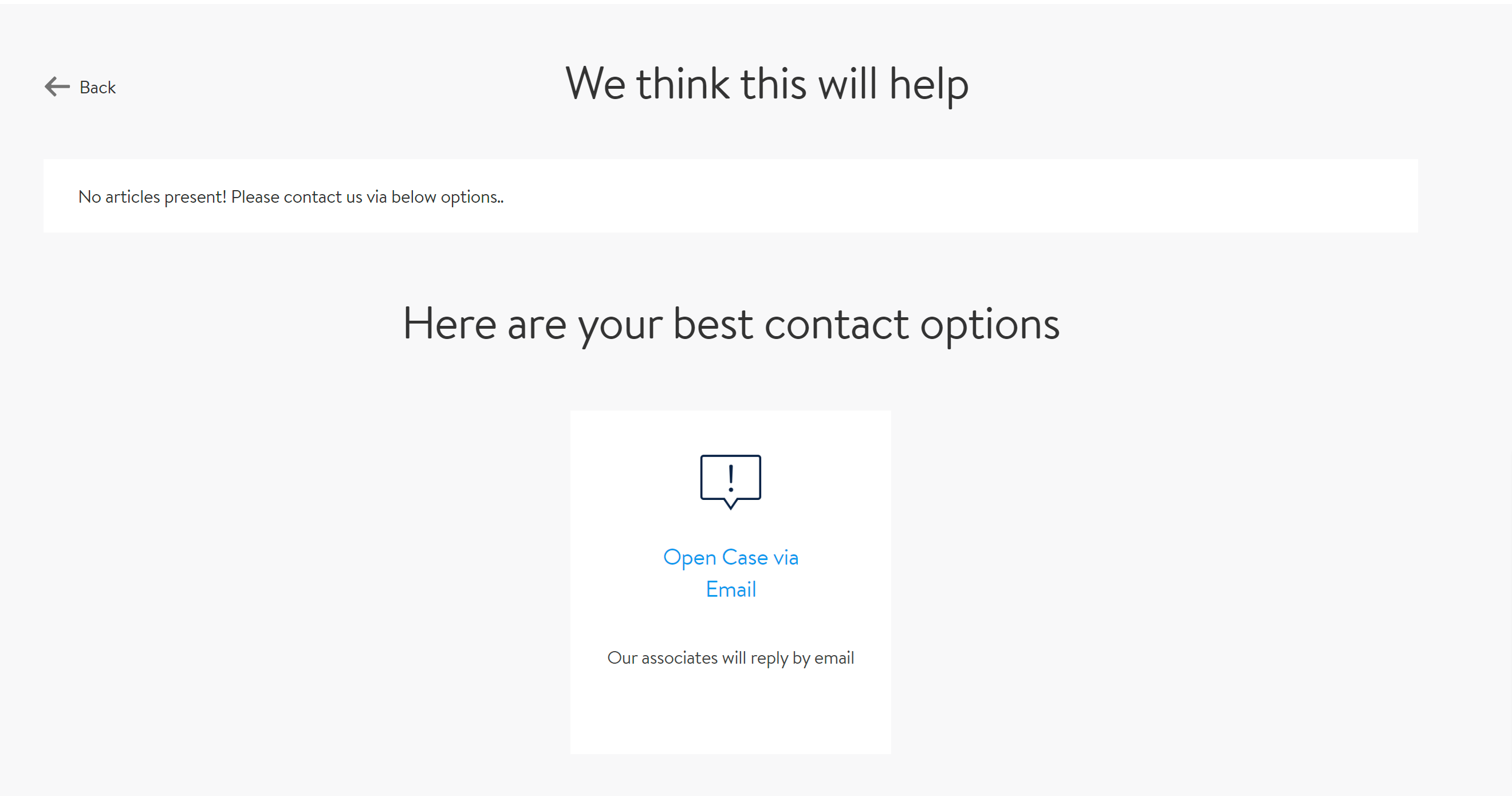 Using Walmart Seller Center
What Is Walmart Seller Center?
Walmart Seller Center is an online platform provided by Walmart to help third-party sellers manage their products and sales on the Walmart Marketplace. It serves as a hub for sellers to upload and manage their product listings, track orders, monitor inventory and access various tools and resources such as the Listing Quality Score provided by Walmart to Optimize their selling experience.
How Do I Log Into My Walmart Seller Account?
To log in to your Walmart Seller Center Account, go to https://seller.walmart.com and enter the login and password information that you created when you applied to sell on the Walmart Marketplace.

How Do I Use Walmart Seller Center?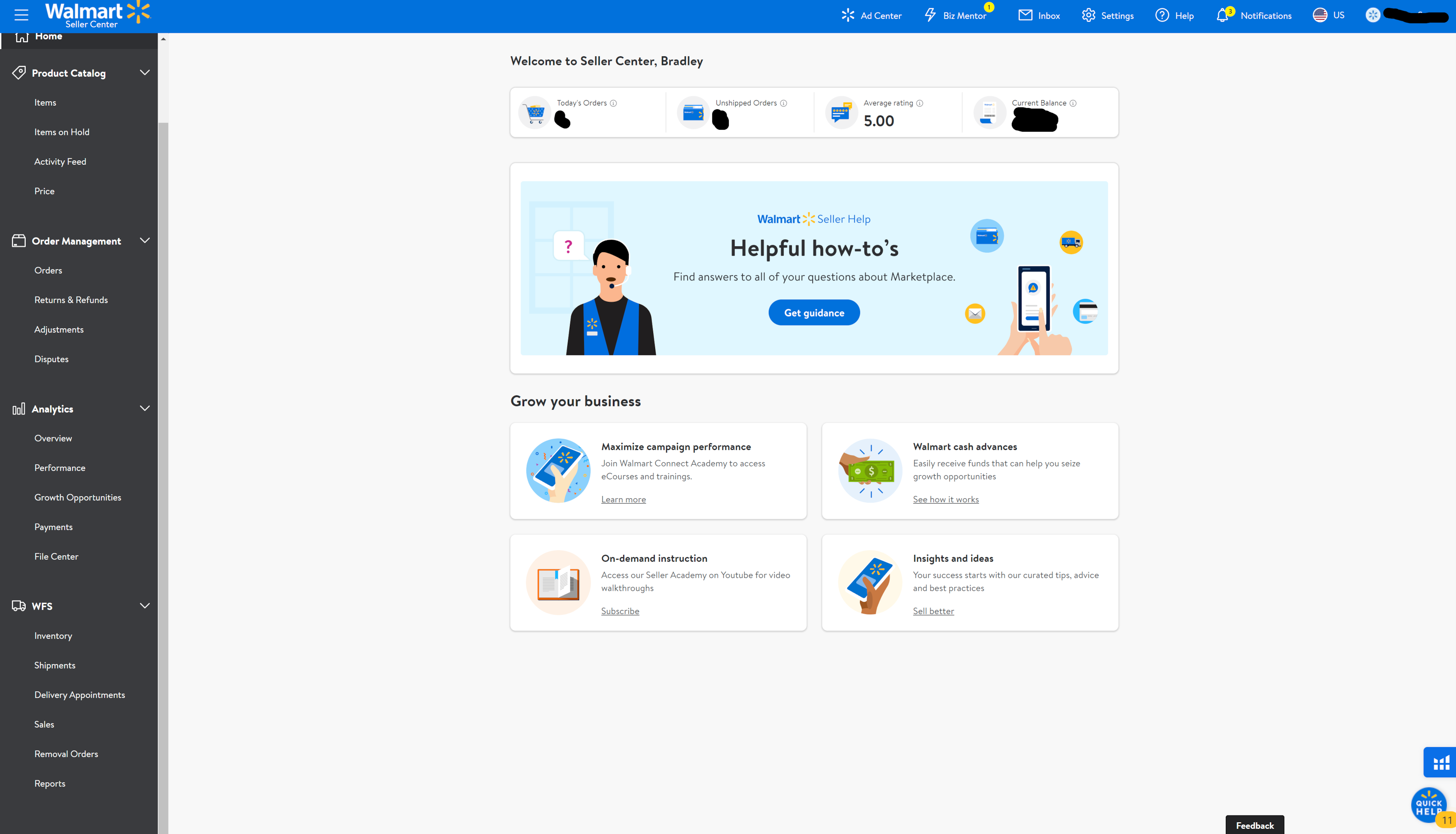 The left hand navigation bar in Walmart Seller Center is where you can go to manage and create all of your listings, manage orders, view business analytics, view your Listing Quality Score, Set Up Walmart Fulfillment Services and so much more.
The navigation bar at the top is where you can access your ad center, view customer messages, get help from seller support or via help articles, view new notifications, and edit your account profile.
How Do I List My Product on Walmart?
To list a product on the Walmart Marketplace, first, you will need to login to Walmart Seller Center. Once you are logged in, look at the left side bar under "Products" and click on "Items."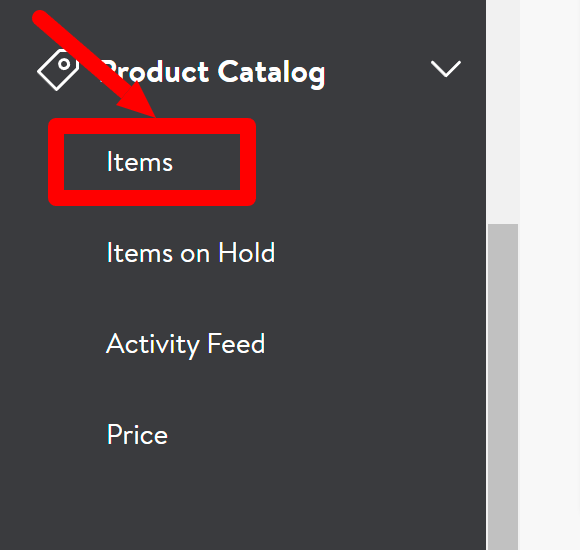 Once you click on items, you will go to the top left of the screen and click where it says, "Manage Items," and you will click on, "Add Items."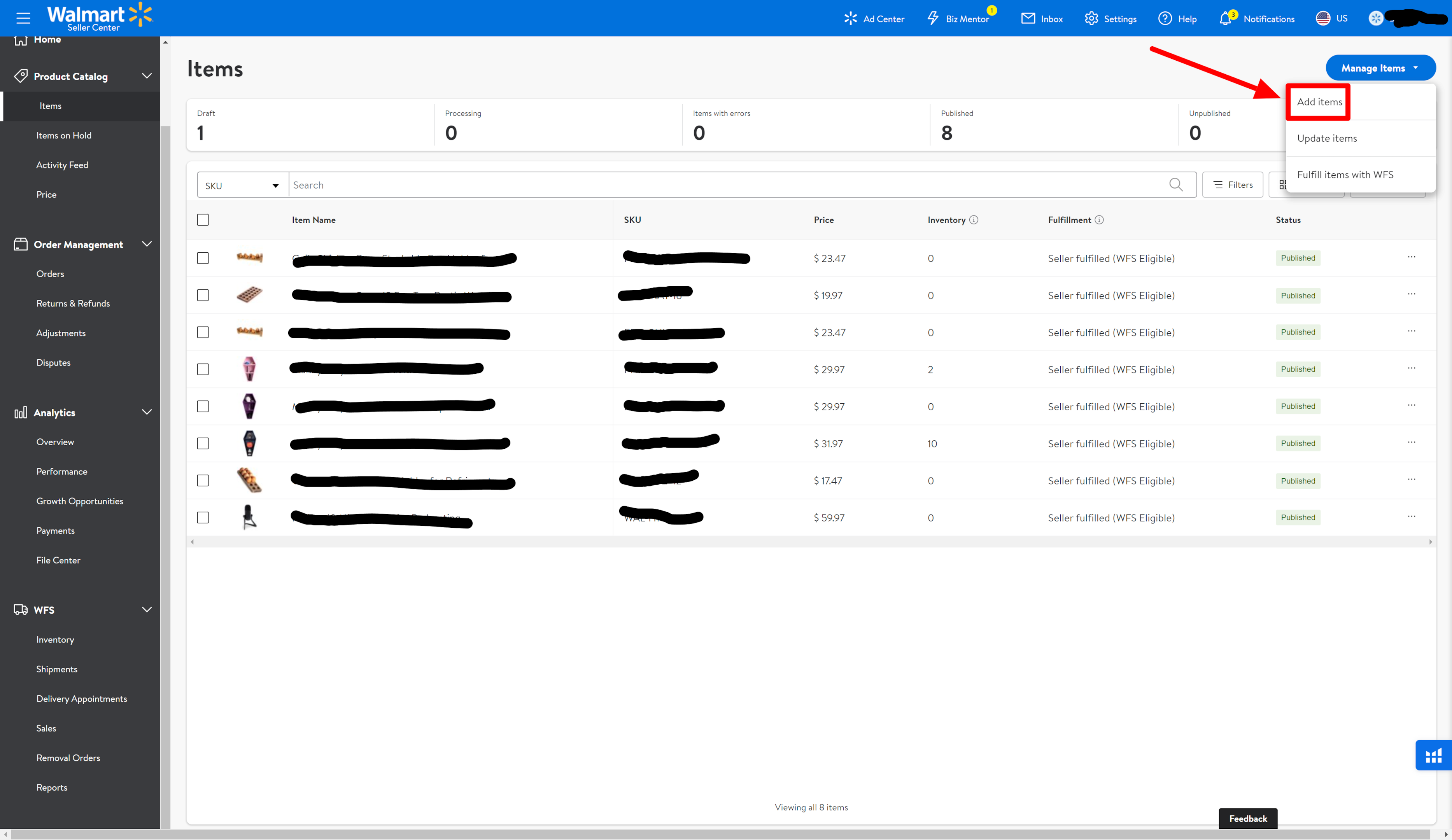 Once you click add items, you can add items in bulk via Walmart Template. Just click where its says, "Walmart Template," and choose the correct template for your product and category. Note: You must use the Walmart Templates if you want to upload variations.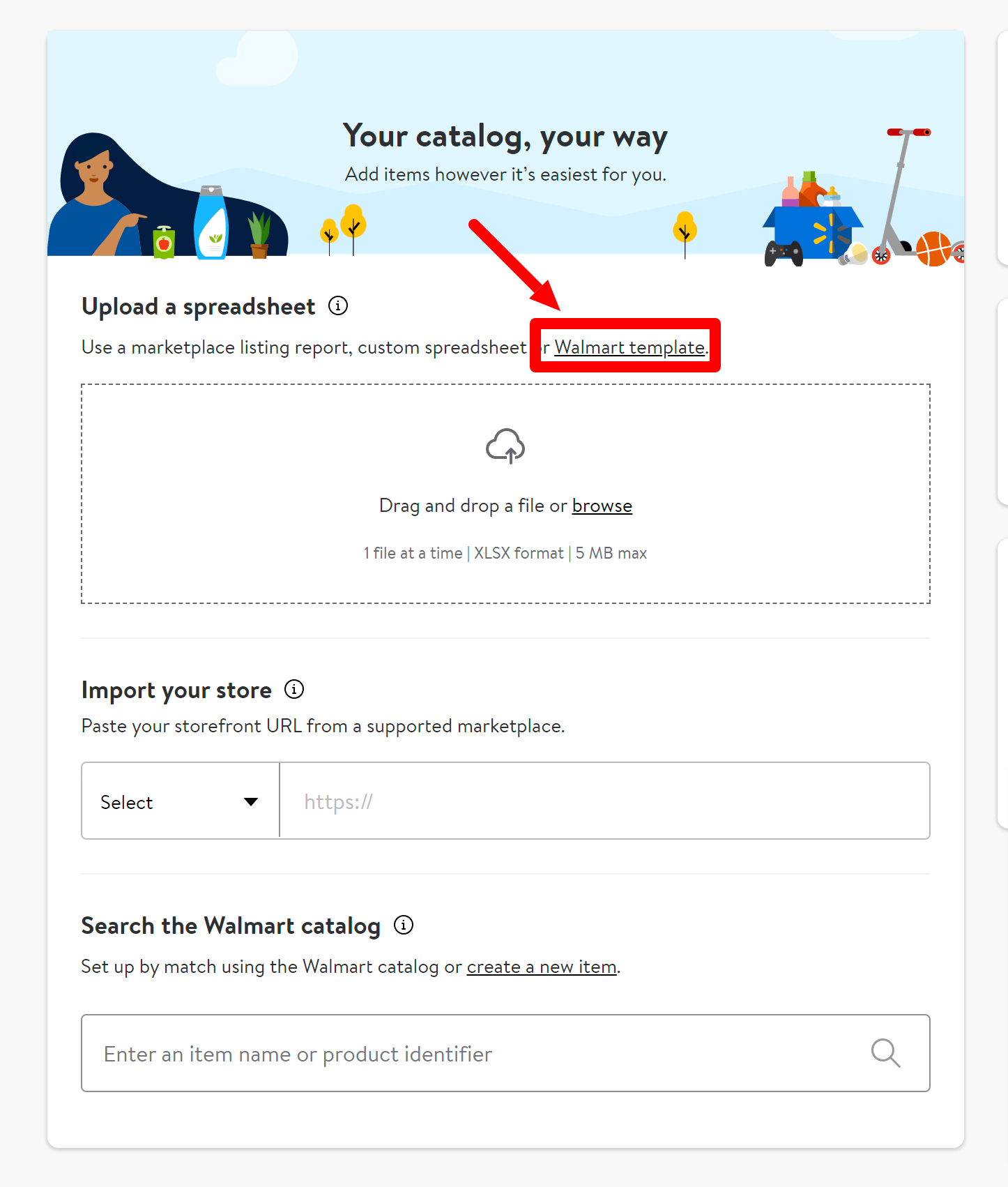 Once you fill out the template with all of the mandatory information, you can upload it on the same page by clicking, "browse," and uploading the saved template from your computer.
You an also upload products by using a url from another marketplace. Check out the screenshot below to see all of the marketplaces that you can import information from to the Walmart Marketplace.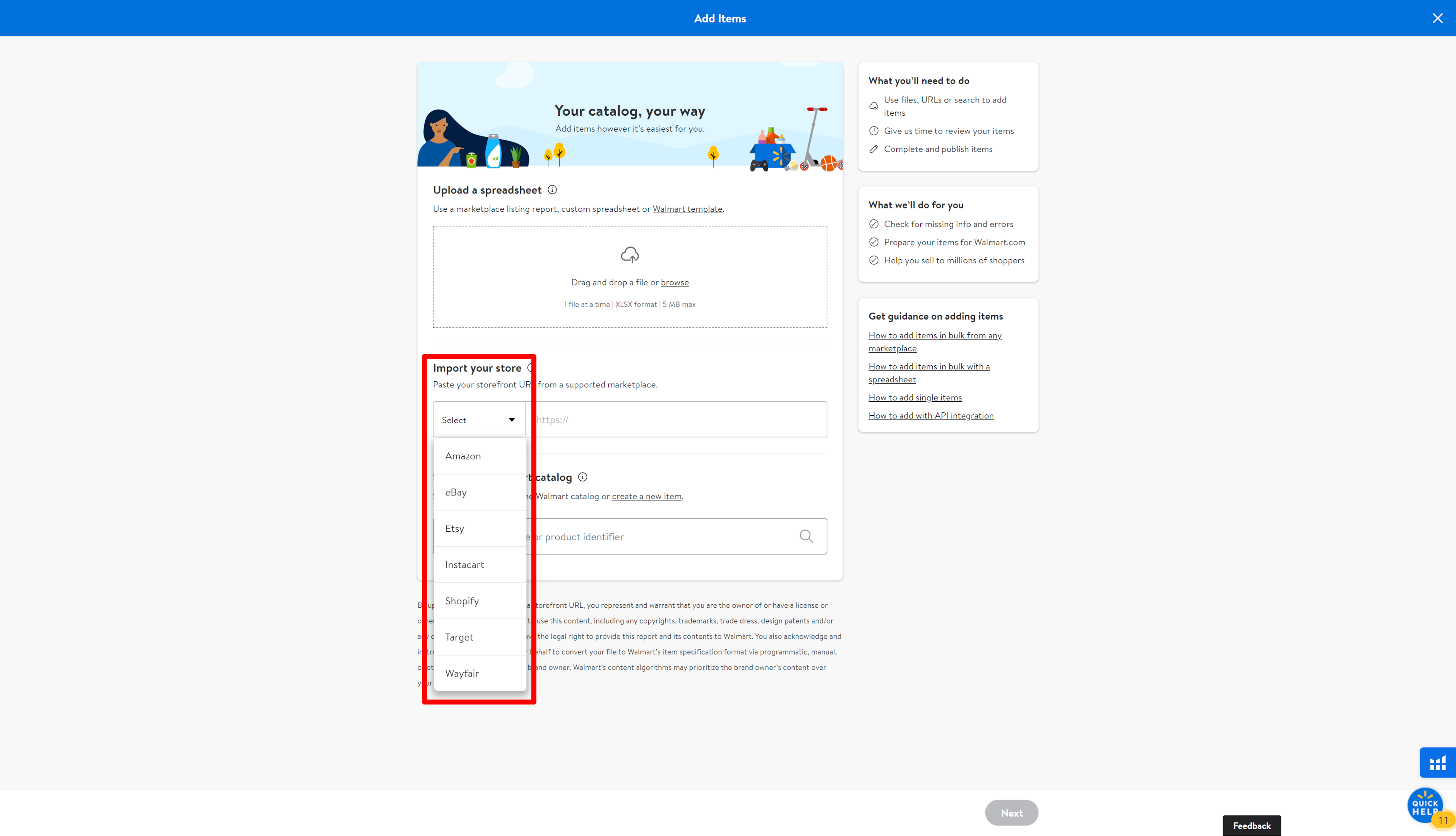 The third option is to upload listings individually by clicking, "create a new item." You can also sell a product already being sold on the Walmart Marketplace by simply entering the item name or UPC code into the search bar to find the product.
Is Walmart Fulfillment Services (WFS) the Same as Fulfillment by Amazon (FBA)?
While both Walmart Fulfillment Services (WFS) and Amazon FBA (Fulfillment by Amazon) are fulfillment solutions provided by two major retail giants, they are not exactly the same. Walmart Fulfillment Services (WFS) is Walmart's equivalent of Amazon FBA, but it operates within the Walmart Marketplace. When you use WFS, your products are available for purchase on Walmart.com and fulfilled through Walmart's logistics network. Both WFS and Amazon FBA charge fees for their fulfillment services. While the fee structures differ, they generally include storage fees, picking and packing fees, and shipping fees. The specific rates may vary based on the size and weight of the products and the location of the fulfillment centers. Both services integrate with their respective marketplaces. When you use WFS, your products are listed on Walmart.com, and when you use Amazon FBA, your products are available on Amazon.com. To use WFS, you need to be a registered seller on the Walmart Marketplace. For Amazon FBA, you need to be an Amazon seller and enroll your products in the FBA program. Both WFS and Amazon FBA aim to simplify fulfillment for sellers, allowing them to focus on their products and marketing while leveraging their specific marketplace's logistics capabilities.
Can Individuals Sell on Walmart's Marketplace?
Only qualified businesses are eligible to sell on the Walmart Marketplace. The selection process involves evaluating various aspects of the seller's business, including their catalog of products, operations, and other business information. As a result, individual sellers who do not meet the criteria of a qualified business may not be able to sell on the Walmart Marketplace. The platform is specifically geared towards businesses that meet Walmart's standards and requirements to ensure a positive shopping experience for customers.
Increase Your Profits and Decrease Your Workload with Diamond
Experience AI-enhanced tools, expanded data limits, time saving automations, and improved integration between your favorite Helium 10 tools.
Is Selling on Walmart Hard?
The difficulty of selling on Walmart depends on various factors and individual experiences. While the process of becoming a Walmart seller and meeting the platform's requirements can involve some challenges, the level of difficulty can vary for each seller. Factors such as product type, competition, pricing, marketing efforts, and fulfillment efficiency play a significant role in determining the ease or difficulty of selling on Walmart. Some sellers find success and profitability on Walmart, leveraging the platform's large customer base and brand recognition, while others may face challenges in standing out among competitors. Adaptability, market research, and effective strategies can play a crucial role in navigating the marketplace and potentially overcoming any difficulties to achieve success as a Walmart seller.
Walmart Seller Center Costs and Profits
How Much Does It Cost to Create a Walmart Seller Account?
There is no cost associated with creating a Walmart Seller Center account. It is free for sellers to sign up and create an account on the platform. You only begin to pay referral fees once you make your first sale.
What Are the Seller Fees for Walmart?
Selling on Walmart Marketplace incurs no setup or monthly fees, and there are no hidden charges for sellers. Instead, sellers pay a referral fee based on a percentage of the total sales price for each completed purchase. The referral fee varies by product category and the fee ranges from 6% to 15%. Walmart Marketplace aims to maintain transparent pricing and competitive commission rates, with the goal of helping marketplace sellers maximize their earnings through reasonable referral fees. For specific referral fee rates, sellers can refer to the guide provided by Walmart here.
Is It Profitable to Sell on Walmart?
The profitability of selling on the Walmart Marketplace as a Walmart Marketplace seller hinges on several factors that need careful consideration. One crucial aspect is the alignment between your brand and products with the platform's customer base. To increase profitability, aim for products in high demand and low competition. However, bear in mind that the Walmart Marketplace's competitive nature might necessitate competitive pricing, so evaluating your margins and pricing strategy is essential.
Additionally, take into account the various fees and costs associated with selling on the Walmart Marketplace, including referral fees, fulfillment expenses, and shipping costs. Balancing these costs with your revenue is vital in determining overall profitability. Successful marketing and visibility efforts, coupled with efficient fulfillment and excellent customer service, can also contribute significantly to your success. While selling on the Walmart Marketplace has proven profitable for many sellers, achieving profitability depends on thorough market research, sound planning, and adapting to the ever-changing dynamics of the e-commerce industry.
How Much Do Sellers Typically Make on Walmart?
The earnings that a Walmart Marketplace seller can typically make on the Walmart Marketplace can vary significantly based on several factors. One of the most crucial factors is the type of products being sold, as products with higher demand and better profit margins tend to generate more substantial returns.
Moreover, the volume of sales directly impacts overall earnings, with higher sales often leading to higher profits. Competitive pricing is also essential, as sellers who can offer attractive prices while maintaining reasonable profit margins are more likely to succeed.
Effective marketing strategies and efforts to increase product visibility can attract more customers, which can positively influence sales and earnings. Additionally, efficient and reliable fulfillment processes contribute to positive customer experiences, leading to better reviews and potential repeat business.
It's important to note that the success and profitability of sellers on the Walmart Marketplace can fluctuate over time due to various factors, including market trends, competitor actions, and changes in Walmart's policies or algorithms. To maximize earnings on Walmart, sellers often engage in continuous optimization, research, and adapt their strategies to stay competitive in the dynamic online marketplace.
How Do I Contact Walmart Seller Support?
To contact Walmart Seller Support, follow these steps:
Log in to your Walmart Seller Center account. If you don't have an account yet, you'll need to sign up as a seller on the Walmart Marketplace. Once you're logged in, go to the top right-hand corner of the screen and click on "Help."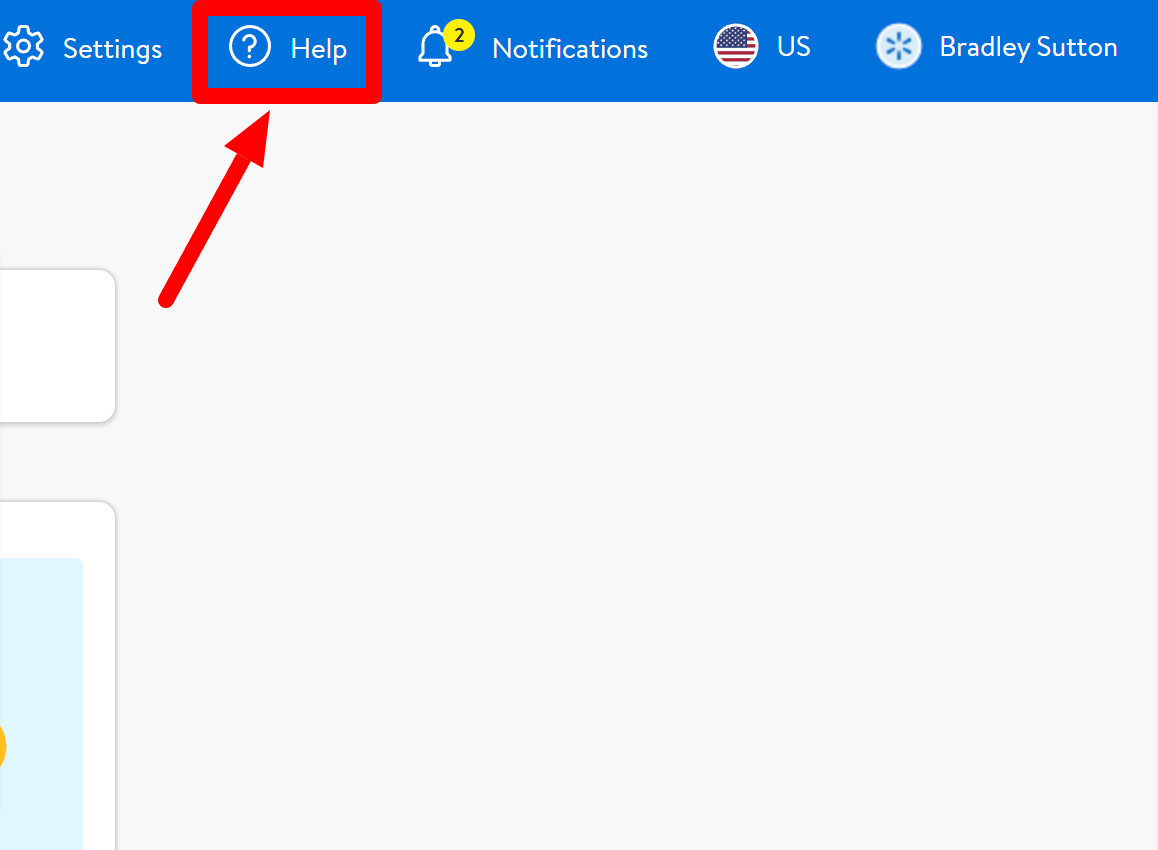 In the dropdown menu, select "Contact Support."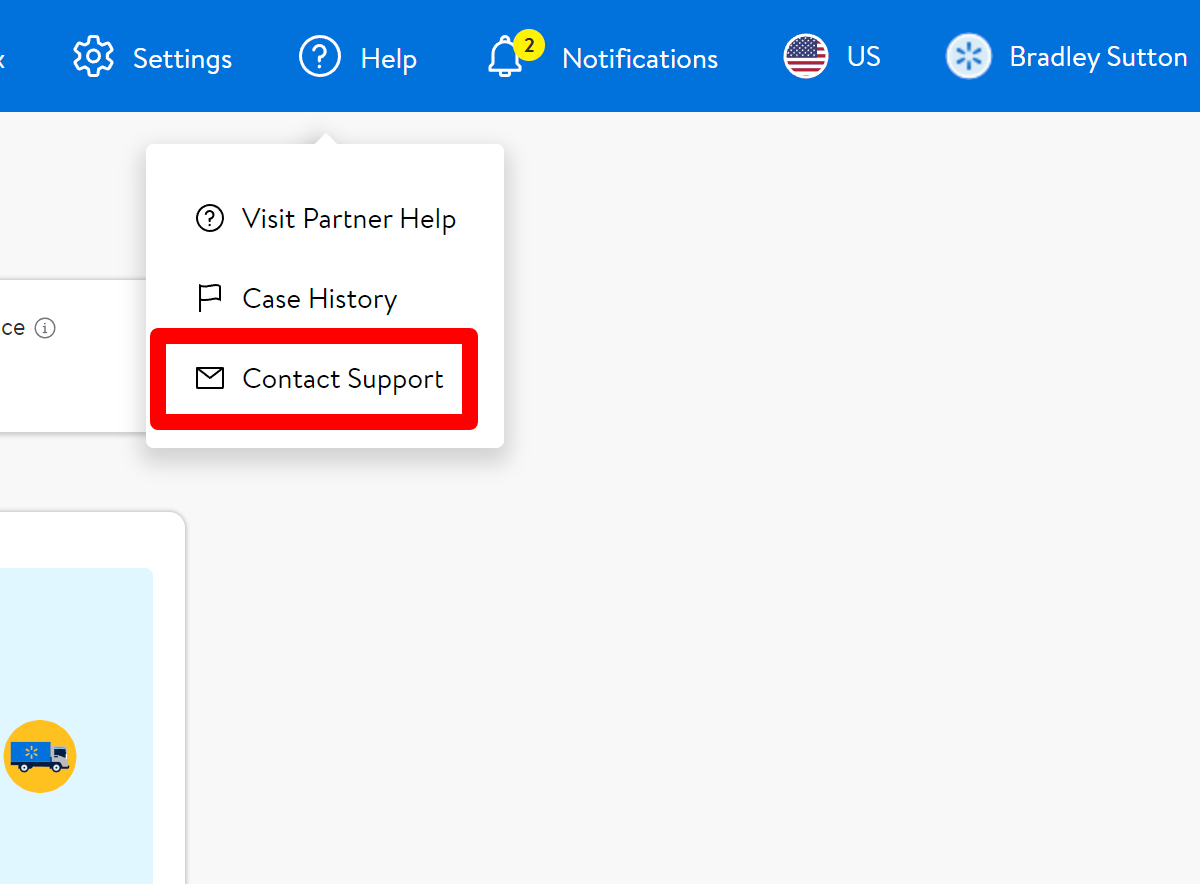 On the "Contact Support" page, you'll be presented with various categories to choose from. Select the category that best matches your issue or question. Examples of categories may include "Orders & Returns," "Items and Inventory," "Walmart Fulfillment Services," "Business Verification Questions and Issues," etc.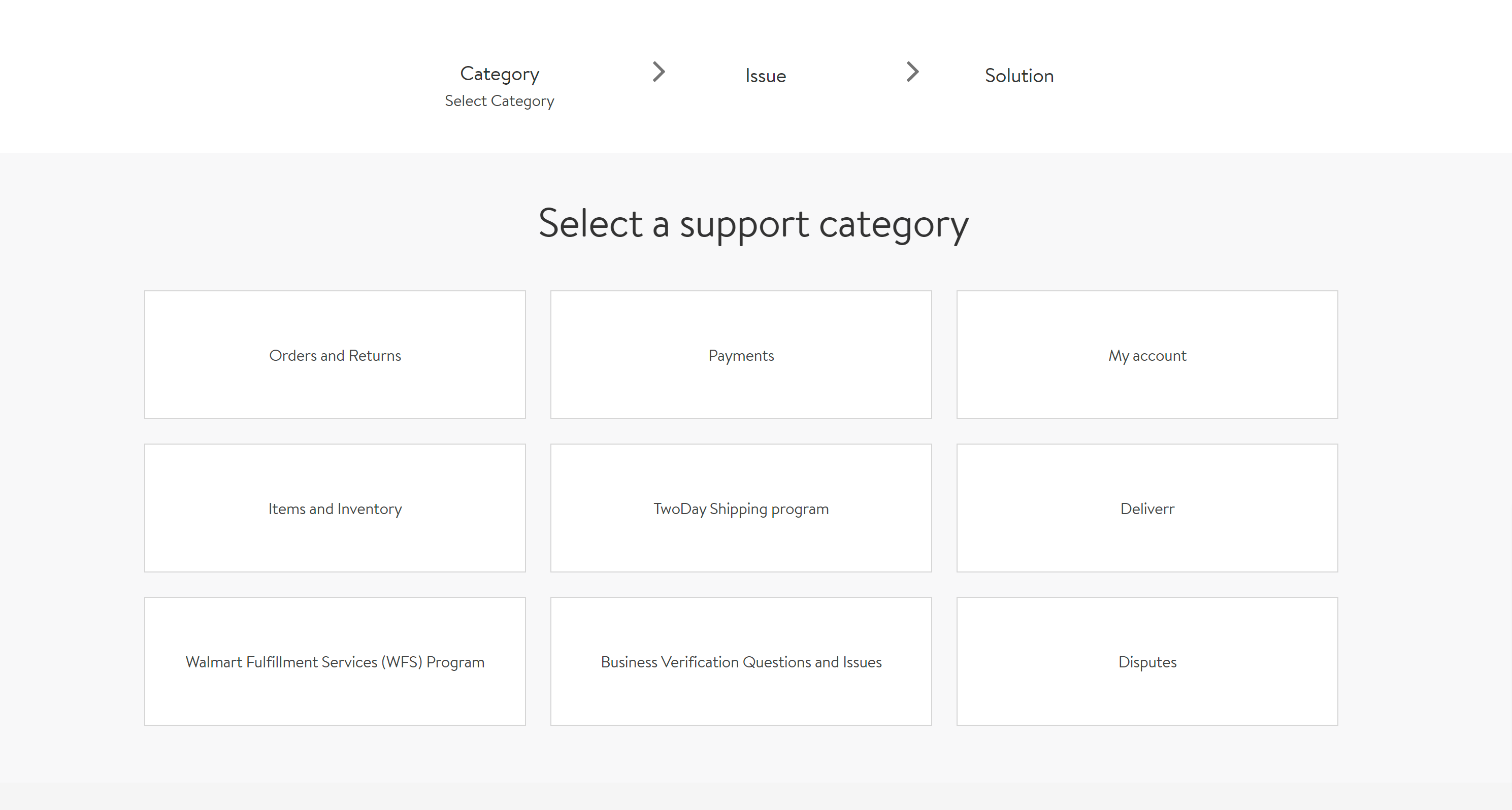 After selecting the appropriate category, you may be asked to select another category to narrow down what you need help with. For example, when we click on the "Items and Inventory," category, we see the following screen: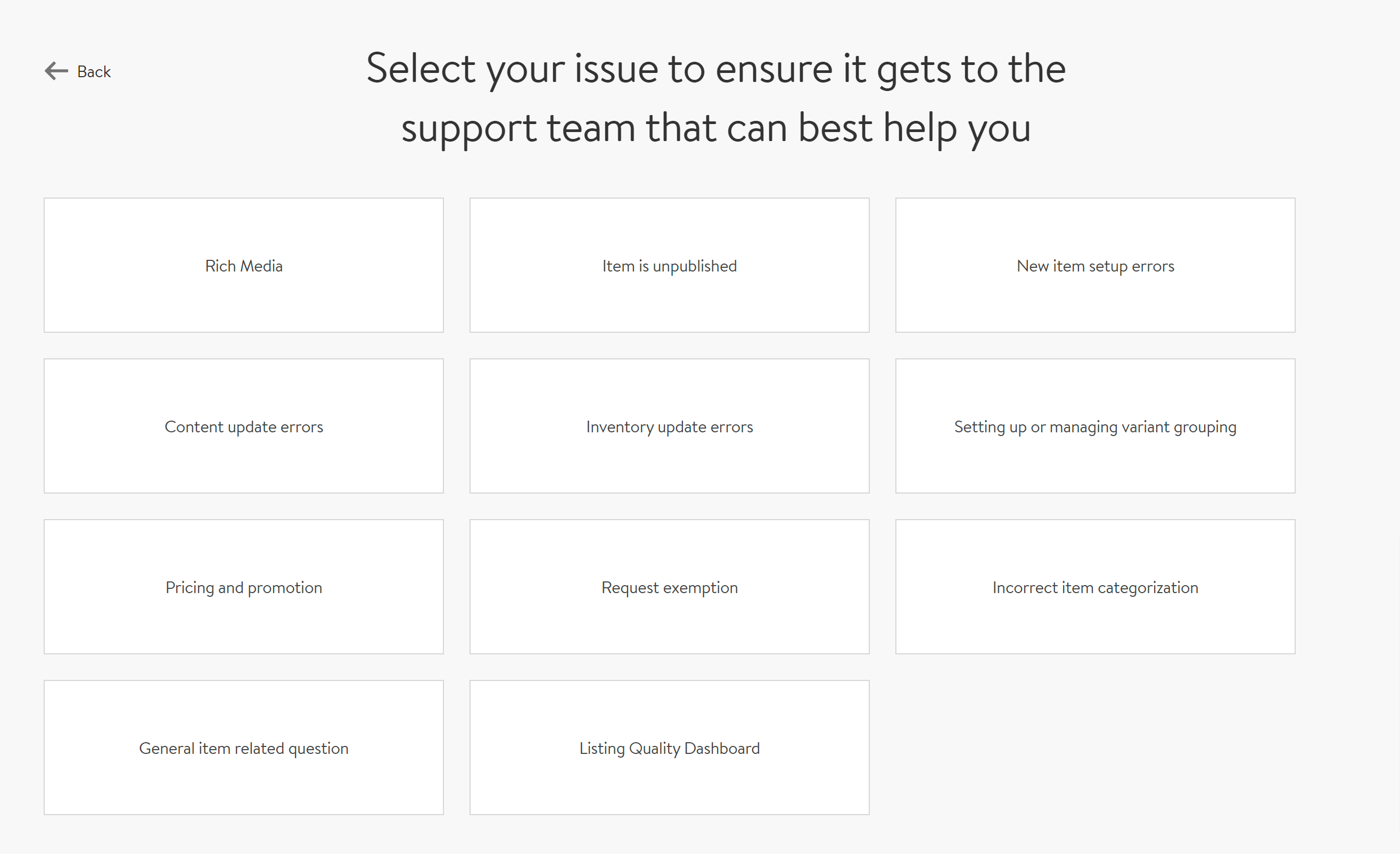 In this case, we chose, "Content update errors and we were taken to the screen below. Depending on the nature of your question or issue, you may be presented with relevant help articles or FAQs like we were presented in the example below. If the articles and/or videos do not answer your question and you need to contact support, go to the bottom of the page where it says, "Did this solve your issue?" and click, No."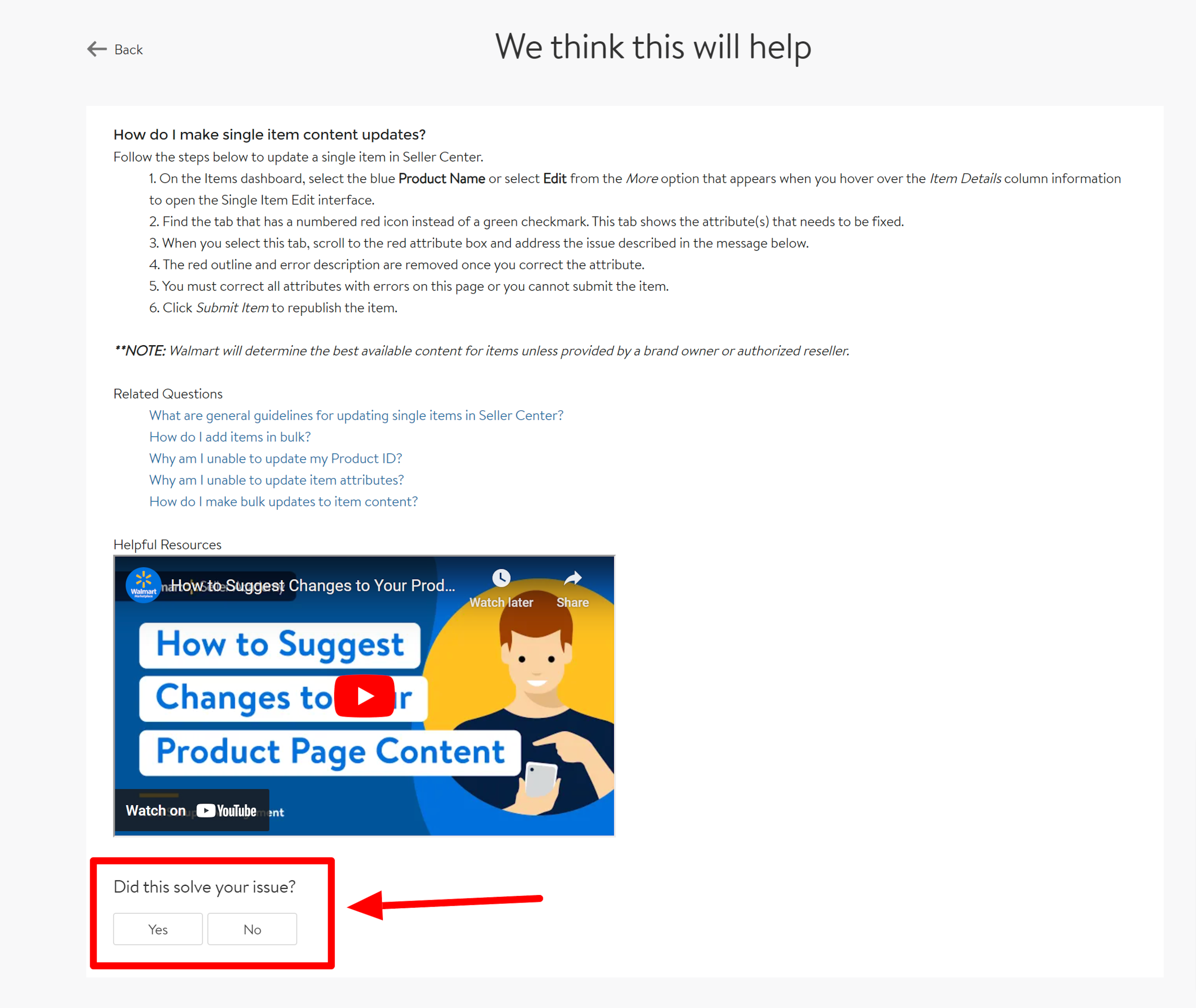 When you click no, a box will pop up at the bottom of the screen on different ways that you can connect to Walmart Support. Select the method of communication that would work best for you. Not all methods may be available depending on time of day that you are looking for support.
If you still need assistance, click on the "Email Us" or "Chat with Us" option to get in touch with Walmart Seller Support. Select the communication method that suits you best.
Once you click on the method of support that you want, you will be prompted to fill out a form with your contact information and a detailed description of your question or issue. Provide as much relevant information as possible to help them understand your inquiry better.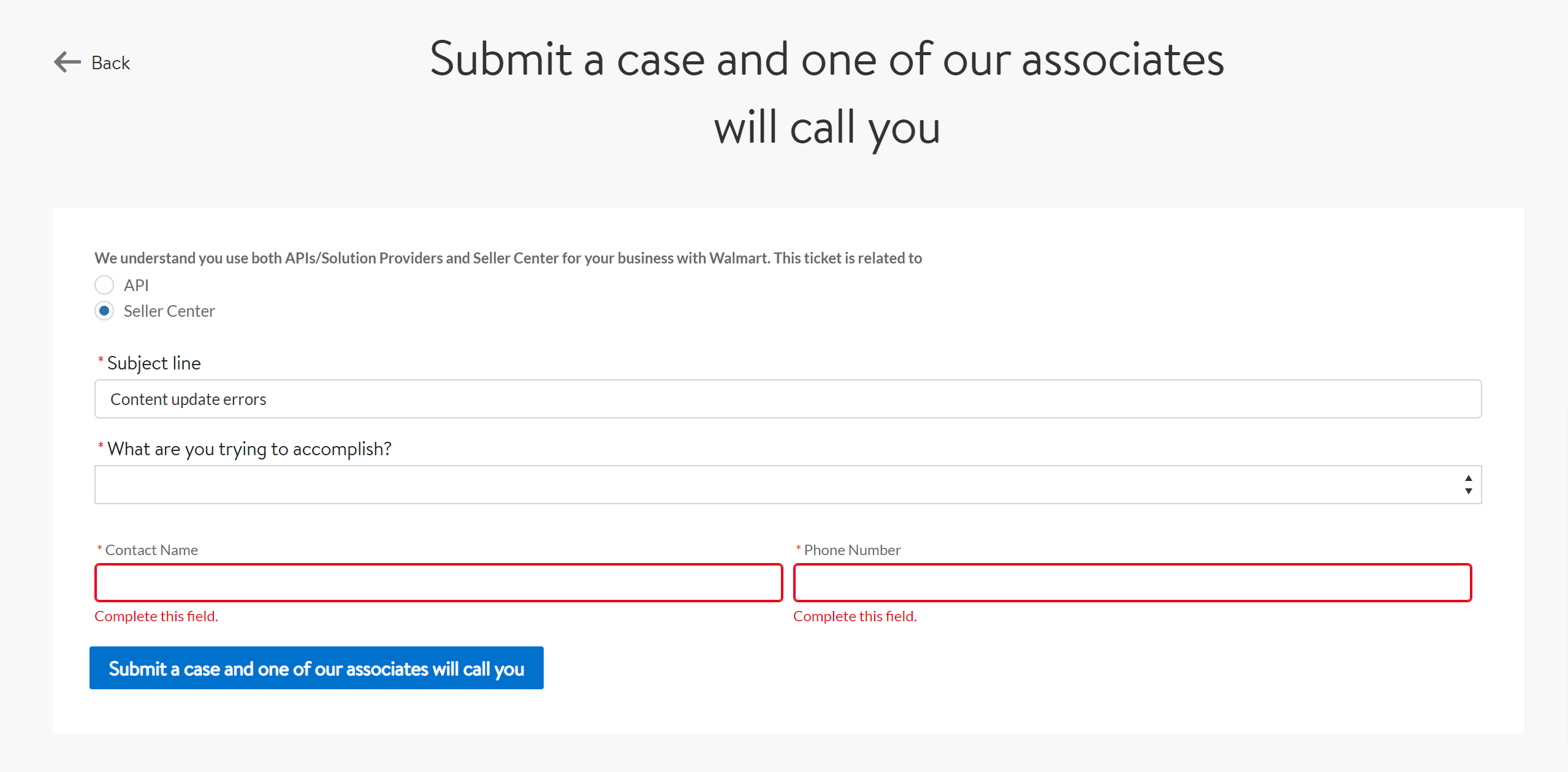 Promoting Your Products on Walmart
How Do I Promote My Listing on Walmart?
Walmart Connect, Walmart's advertising platform, provides a range of pay-per-click advertising solutions to help sellers promote their products on the Walmart Marketplace. Among these options are Walmart Sponsored Products, which allow sellers to participate in a sponsored product advertising program. By bidding on keywords, sellers can have their products prominently displayed in search results and on relevant product pages. Another effective method is through Sponsored Brand Ads, where sellers can create eye-catching banner ads that target specific keywords.
How Does Walmart Advertising Work?
By leveraging Walmart Connect, the Walmart Marketplace's advertising platform, sellers can enhance their products' visibility, attract potential customers, and drive sales within the Walmart Marketplace's active customer base. Advertisers have the flexibility to adjust their campaigns and budgets based on performance and marketing objectives and are charged on a cost-per-click basis. Sellers can set up their campaigns within Walmart Connect or they can use software solutions such as Helium 10's Adtomic that makes it easier to set up and manage campaigns. If you want to learn more about Helium 10's Adtomic for Walmart, go to www.helium10.com and contact customer support to get set up.
What Type of Advertising Does Walmart Use?
Walmart Marketplace offers different advertising solutions that allow brands to effectively connect with their target customers. The key advantage of advertising on Walmart is that you only pay when a customer clicks on your ad, making it a cost-effective option for businesses.
Within Sponsored Search advertising, Walmart provides two types of ads:
Sponsored Products Ads:
Sponsored Products ads are served to customers actively searching for products like yours on Walmart's site or app. These ads appear on prominent, high-traffic spots, including search in the grid, the buy box, and shopping carousels. When a customer clicks on the Sponsored Products ad, they are redirected to your product's dedicated item page. This format is particularly effective in driving potential customers to learn more about your product, increasing the likelihood of conversion.
Search in Grid: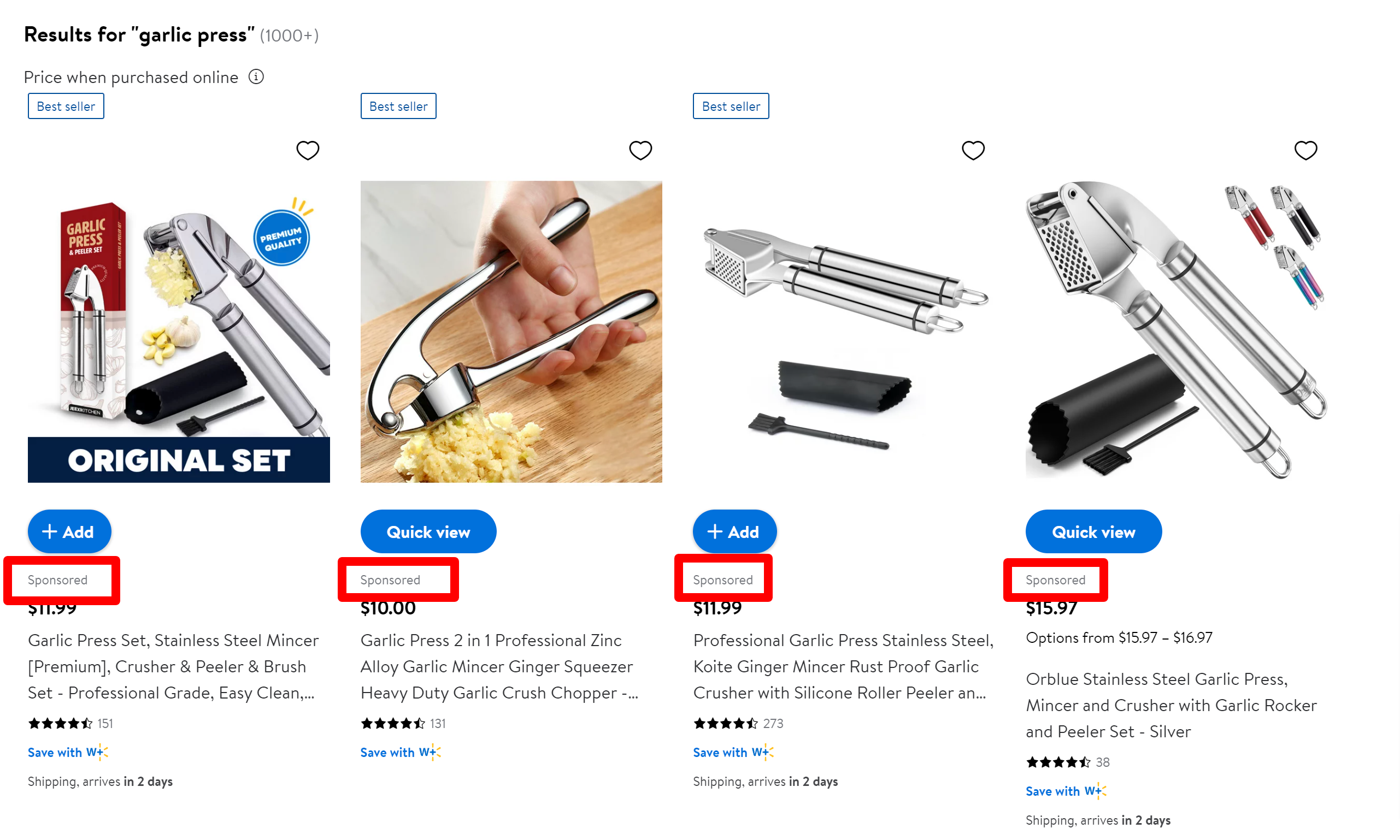 Buy Box: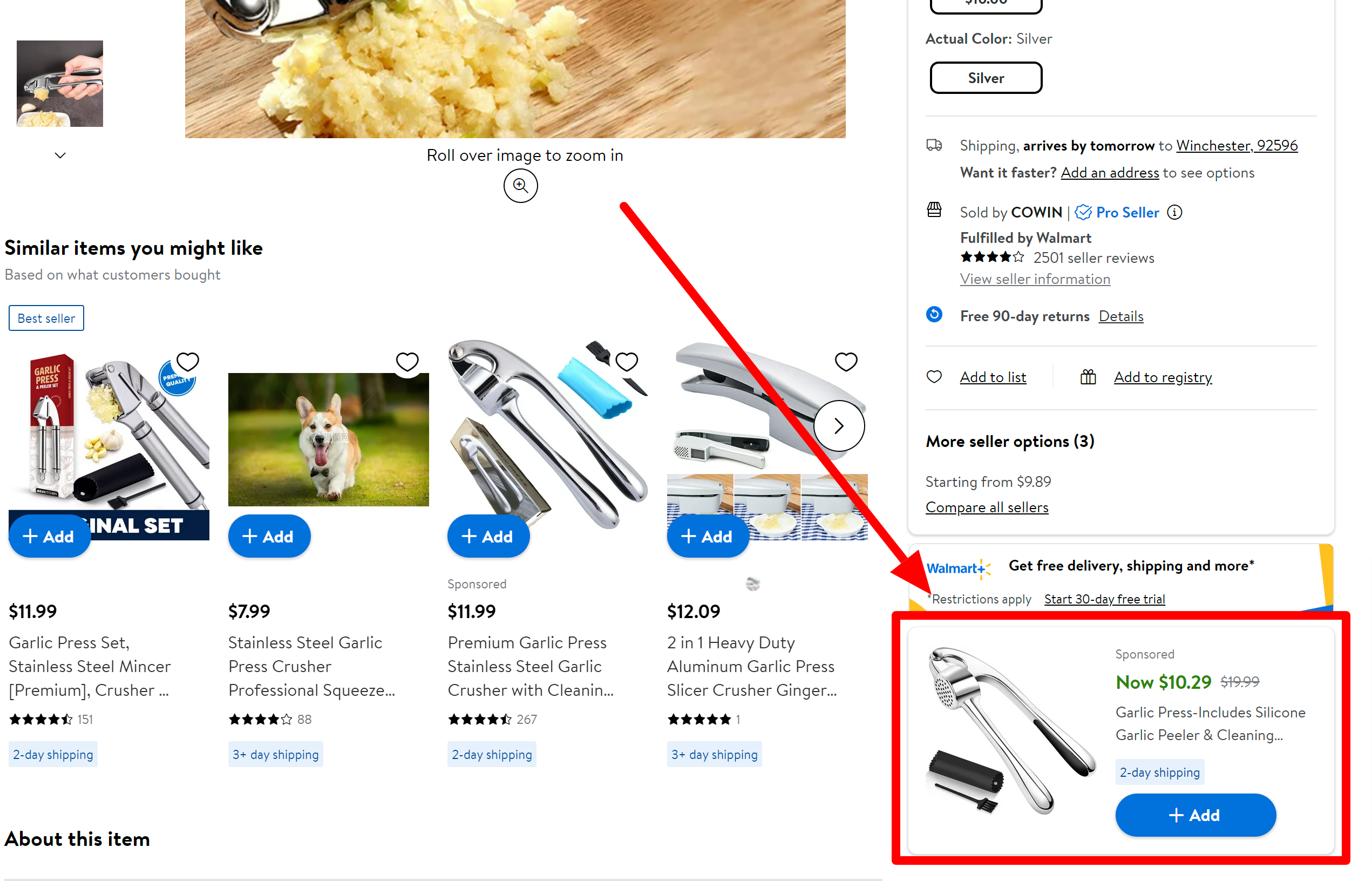 As a Walmart Marketplace seller, you have the opportunity to submit bids for Sponsored Products ads. The ads are selected based on relevancy and bids, where the most relevant product with the highest bid wins the ad placement. To be eligible for selection, your product must meet certain criteria, including being in stock, winning the Buy Box, and being published on the Walmart Marketplace. This ensures that the selected products are readily available for purchase, creating a seamless shopping experience for customers.
Sponsored Brands Ads:
Sponsored Brands ads take advantage of the highest viewability placement on search pages. For Marketplace brand owners registered with the Walmart Brand Portal, this premium advertising option is available. Sponsored Brands showcase your brand logo and products at the top of relevant search results, capturing the attention of potential customers right from the start of their shopping journey.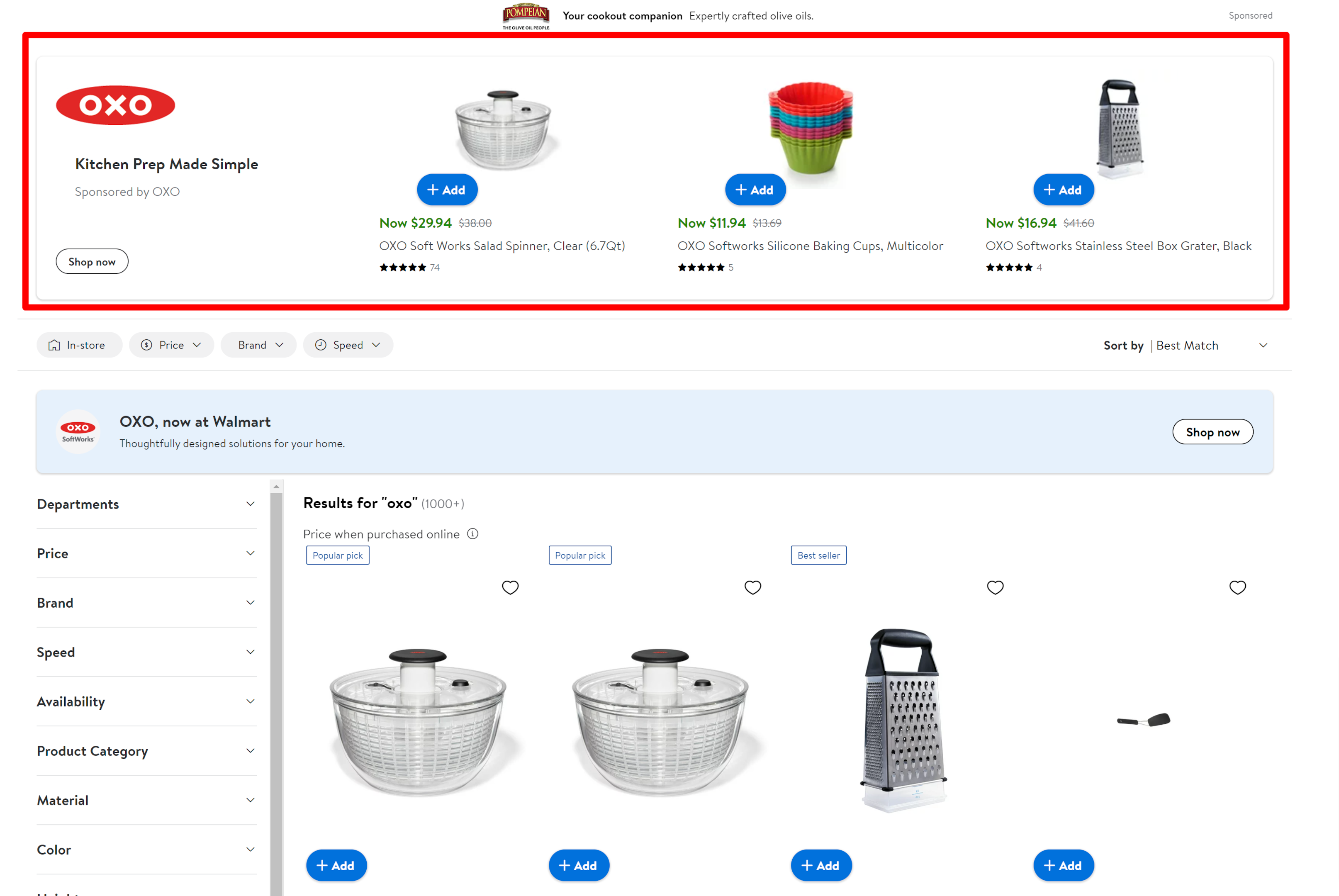 The Sponsored Brands ad includes your brand logo, a custom headline, and up to four advertised items with direct shoppable links. This format is designed to enhance brand visibility and encourage product discovery, thereby increasing brand awareness and conversions. It proves especially beneficial for smaller brands, new brands, and those introducing new products that may not have gained significant organic search rankings on Walmart yet.
Moreover, Sponsored Brands is an effective tool for launching new or seasonal items, promoting products with modest search rankings, and boosting the performance of higher-priced items. It empowers sellers to reach their target audience and make a meaningful impact on their sales and brand exposure.
To access Sponsored Brands, Marketplace sellers need to meet specific criteria. They must be brand owners and meet geographical requirements, being based in the United States, China, Hong Kong, the United Kingdom, or pre-approved sellers in India. Additionally, they must be registered as rights owners with the United States Patent and Trademark Office and successfully onboarded to Walmart's Brand Portal—an intellectual property rights management platform.
Walmart Marketplace provides a comprehensive suite of advertising solutions through Sponsored Search advertising, including Sponsored Products and Sponsored Brands. These solutions enable brands to effectively connect with Walmart's vast customer base, increase brand visibility, and drive product discovery, ultimately leading to higher conversions and business growth. By leveraging Sponsored Products ads, sellers can target customers actively searching for relevant products, ensuring maximum exposure and increased sales potential. Additionally, Sponsored Brands elevate the brand presence and offer a prime position in search results, fostering brand loyalty and customer engagement.
Increase Your Profits and Decrease Your Workload with Diamond
Experience AI-enhanced tools, expanded data limits, time saving automations, and improved integration between your favorite Helium 10 tools.
How Much Does It Cost to Advertise a Product in Walmart?
The cost to advertise on the Walmart Marketplace as a third-party seller can vary widely depending on several factors, including the type of advertising campaign, the competitiveness of the product category, and the bid amounts set by the seller.
Conclusion
In conclusion, selling on the Walmart Marketplace opens up a world of opportunities for established sellers and professional businesses alike. With its vast built-in audience and diverse customer base of 120 million monthly visitors, the platform offers unparalleled exposure to your products. Walmart's innovative solutions, such as Walmart Sponsored Products, Display Ads, and Performance Ads, empower sellers to promote their listings effectively and reach their target audience. Whether you're looking to expand your reach, increase profitability, or tap into the trust and credibility associated with the Walmart brand, the Walmart Marketplace provides a conducive environment to thrive and succeed. As you embark on your selling journey with Walmart, remember to optimize your product listings, provide exceptional customer service, and stay updated on the latest marketplace trends. By leveraging the tools and resources available on Walmart Seller Center, you can maximize your sales potential and achieve long-term success on this dynamic e-commerce platform. Welcome to the world of Walmart Marketplace, where endless possibilities await your business. Happy selling!
FAQs
Frequently Asked Questions
Currently, the Walmart Marketplace does not have a Walmart Seller Central App for Sellers. There is an app for Walmart customers to shop and purchase products.
When a product has the best seller badge on the Walmart Marketplace, it means that that product is a top seller within that category.
A Walmart 3P (Third-Party) Seller is an independent business or individual that sells products on Walmart's online marketplace, Walmart.com, but is not directly owned or operated by Walmart. In the context of e-commerce, the term "3P" refers to the three parties involved in the transaction: the marketplace (Walmart), the seller (third-party), and the customer.
As a 3P seller, businesses or individuals can list their products on Walmart's online platform, reach a broad customer base, and handle their own inventory, pricing, fulfillment, and customer service. These sellers are responsible for managing their product listings, and shipping processes, and providing customer support.
Walmart's 3P marketplace allows sellers to expand their reach and leverage the popularity of the Walmart brand to attract customers. It also offers customers a wide selection of products from various sellers beyond Walmart's own inventory.
Being a Walmart 3P seller can be advantageous for businesses looking to tap into Walmart's large customer base and benefit from the visibility and credibility associated with the Walmart brand. However, it also requires sellers to comply with Walmart's policies and standards to maintain a positive seller performance and ensure a positive shopping experience for customers.
The Pro Seller Badge on the Walmart Marketplace offers several benefits to sellers. Firstly, it boosts exposure by providing eye-catching tags that increase the visibility of their offers. Additionally, the badge enhances search visibility as customers can filter search results to display only items from Pro Sellers. This recognition helps build buyer confidence, as the badge signals that these sellers consistently provide great shopping experiences, with on-time delivery and free returns. The trust established through the badge can drive conversion rates, leading to increased sales for Pro Sellers on the platform.
Achieve More Results in Less Time
Accelerate the Growth of Your Business, Brand or Agency
Maximize your results and drive success faster with Helium 10's full suite of Amazon and Walmart solutions.