Selling on Walmart vs Amazon
Check out our comparison of selling on Walmart vs Amazon to get the full breakdown of what might best fit your business's needs!
Updated on: December 20, 2022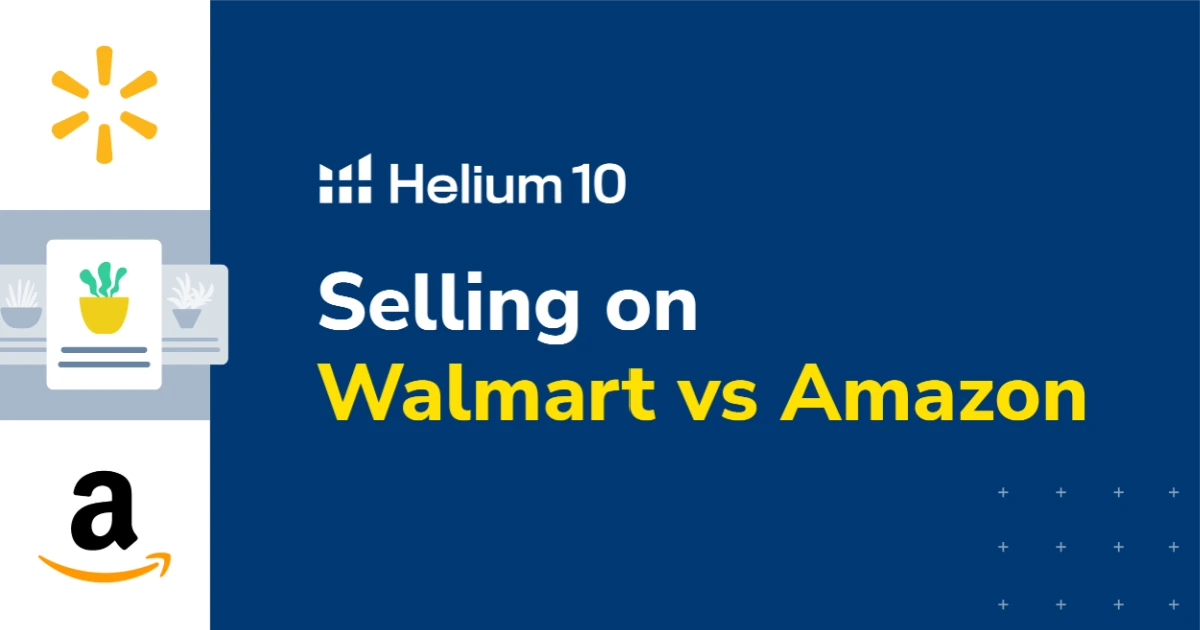 In this article, we are going to discuss how to sell on Walmart vs. Amazon. More specifically, we will show the major similarities and differences, pros and cons between selling on Amazon vs Walmart.
Can You Sell on both Walmart and Amazon?
There is no need to choose between selling on Walmart or Amazon because you can sell on both e-commerce platforms! In fact, according to a recent Helium 10 survey, 48% of Amazon sellers believe that Walmart is important for their overall growth and are considering expanding their e-commerce business to Walmart in 2022. Something that must be noted is that both marketplaces will penalize you if you list the same product at a different price on a different marketplace. So, as long as you keep the prices the same, selling on both marketplaces is a great idea to expand your customer reach and increase your sales!
The next biggest question is whether or not there is any opportunity in the Walmart marketplace. First of all, Walmart is the second largest online marketplace after Amazon with 120,000,000 unique monthly visitors. This means that there are millions of people that can potentially see your product every month on Walmart that may not currently be exposed to your product. In a recent survey, 17% of Amazon sellers were making $10,000 or more per month on Walmart and 5% of Amazon sellers reported selling $50,000 or more per month on Walmart. If earning an additional $10k or more/month sounds good to you, then selling on Walmart might be a good next move to expand your business.
Differences in Selling on Walmart vs Amazon
Selling on Amazon vs Walmart has some differences that should be noted so that sellers who want to sell on both platforms can be set up for success. For the most part, if you have been selling on Amazon or other e-commerce platforms, the transition to Walmart will not be very difficult because the same basic principles apply. However, it is important for even the most experienced sellers to understand some of the differences of selling on Walmart vs Amazon so that you can maximize your selling potential on the Walmart platform.
Business Requirements/ Application Requirements
One of the biggest differences between selling on Walmart vs Amazon is that Walmart is looking for more experienced sellers while Amazon allows sellers of any level to join and sell on Amazon.com. Walmart looks for more established brands that show a high and consistent amount of sales per year. It is also more challenging for international sellers to start selling on Walmart as they require a physical location in the United States, along with a W8 or W9 form in order to apply. Overall, the application and business requirements are much more stringent. However, if you meet the requirements and are able to start selling on Walmart, it could be a great opportunity to expand your business.
Competition
Competition is another major difference between Walmart and Amazon. Over the years Amazon has grown to be a very competitive marketplace with savvy sellers who have established themselves on the marketplace. Experienced sellers on Amazon have a variety of strategies that help them to get ranked at the top and make lots of sales. The PPC (pay-per-click) cost is much higher as well making it challenging for smaller sellers to compete with larger sellers. On Walmart, the competition is not this high yet and it is more reminiscent of Amazon 6 or 7 years ago. The PPC cost is much lower and it's a lot easier to get ranked even in more competitive niches. The low competition on Walmart makes it a great time for sellers to get in and establish themselves at the top of the ranks on Walmart.
Fees
On Amazon, sellers must pay a fee of $39.99 per month in order to sell on the marketplace. Meanwhile, Walmart does not charge sellers a monthly fee. Walmart sellers will only pay referral fees once they sell products. Referral fees and fulfillment fees are very similar and can vary based on the product. For a more detailed breakdown of the fees click here.
Traffic per Month
Walmart has 120,000,000 unique monthly visitors while Amazon.com has 200,000,000 unique monthly visitors. In regards to traffic, there is a difference but ultimately, there is not a huge difference. In addition to the lower number of unique monthly visitors, Walmart also has fewer sellers. There are around 100,000 sellers on Walmart and around 1.9 million sellers on Amazon. If you look at the amount of traffic vs sellers, you can see the potential to get a lot more views on your listing on Walmart.
Walmart offers in-store pickup
An advantage that Walmart has over Amazon is that they offer in-store pick up which is not available on Amazon because they currently do not have brick-and-mortar stores. Offering in-store pick-up gives Walmart an advantage over the impulse shopper that needs their order ASAP.
Potential to be invited to sell in Walmart stores
Products that are successful on the Walmart online platform have the potential to be invited to sell in Walmart stores across the country. This could be a great opportunity for sellers to grow exponentially by expanding to brick and mortar.
Ranking and SEO – Walmart listing quality, fulfillment, and conversion Amz SEO and conversion
Ranking and SEO are very similar with a few important differences. Both marketplaces allow for ranking based on conversion rates, but Walmart has a stronger focus on content and their listing quality score rating while Amazon puts more importance on SEO. The Listing Quality score combines content, shipping speed, price, and ratings all into one score. A high listing quality score along with a good conversion rate will ensure a product will reach the top ranks. A score of 80% or above is recommended for your listing quality score so that you can rank on Walmart. Amazon is more SEO-focused which is why you will often see lots of keyword stuffing in the title, bullets, and description of an Amazon listing.
Similarities in Selling on Walmart vs Amazon
There are also quite a few similarities between selling on Walmart vs Amazon, which does help to make the transition from Amazon to Walmart much easier.
Fulfillment Services & Shipping to Customers
The first similarity is that both Walmart and Amazon offer fulfillment services. Walmart Fulfillment Services (WFS) is the Walmart version of FBA that allows sellers to send their inventory to Walmart warehouses and Walmart ships the products out to customers on your behalf. Customers who are a member of Walmart + can get products fulfilled by WFS shipped to them either next day or two-day shipping for free much like a Prime membership allows customers to get free next day or two-day shipping from FBA warehouses. Both Amazon and Walmart also give free shipping when customers meet order minimums of $25 on Amazon and $35 on Walmart.
Listing Optimization
Although the actual structure of listings on Amazon and Walmart are different, there are quite a few similarities in listing optimization that apply to both. First, photos are very important on both marketplaces and require clear product photos, excellent infographics with selling features, and size measurement photos. Most customers on both platforms look at only the photos to make their purchasing decisions so optimized images are important on both platforms. Second, it's important to include important keywords in your listing copy for SEO purposes on both platforms so that customers can find your product. Finally, Walmart has Rich Media content while Amazon has A+ content which helps to enhance the listings to give customers more photos, selling points, and important information so that they add your product to the cart. All three of these components contribute to a fully optimized listing that is more likely to convert which as we mentioned before fuels rank on both platforms.
Existing traffic/marketplaces
Another similarity between Walmart and Amazon is that they both have existing traffic on the marketplaces. Walmart has about 120 million unique visitors every month while Amazon has about 200 million unique visitors every month. This means that sellers on Walmart and Amazon can make sales by either organically ranking on important keywords or utilizing pay-per-click (PPC) advertising to capture new customers and sales.
Customer-centric focus
Both Walmart and Amazon have a very customer-centric focus. In other words, they both want to make sure that customers receive products with low cost or free expedited shipping. Both platforms also want to make sure that the products are high-quality so that they can reduce returns. It's also important in both marketplaces that third-party sellers are delivering the highest quality customer service to make sure that customers who purchase their products are happy with the products themselves. Sellers that do not provide top-quality products and top-quality customer service usually get flagged and sometimes suspended on both platforms.
Conversion fuels ranking
On both Walmart and Amazon, conversion is extremely important for ranking. Without conversion, your product will not rank organically at all. It is really important to make sure that your listings are compelling enough with great images and content to convert so that your products can rise to the top ranks on both Walmart and Amazon.
Pros of Selling on Walmart
Although many people are not familiar with selling on Walmart, there are a lot of pros to selling on Walmart that might incentivize e-commerce sellers to start selling their products on Walmart's marketplace along with other marketplaces.
Seller Fees
The monthly seller fee on Amazon doesn't really break the bank, but it's always helpful not to have to pay an additional fee. It's definitely a nice perk that the $39.99/month pro seller fee doesn't exist on the Walmart platform. At Walmart, you only pay referral fees and fulfillment fees (similar to Amazon) only when you make a sale. This can be helpful when you are first transitioning over to Walmart because you can set up your account without having to pay any fees.
Less competition
Walmart may have less traffic than Amazon, but the great news is that there's a lot less competition. There are about 1.9 million sellers on the Amazon platform and a little over 100,000 sellers on Walmart. If you look at the number of sellers on Walmart compared to the traffic, you can see that you have a lot more potential to have more customers view your listing. Less competition for an in-demand product can put you in a really good position to sell a lot more at a lower cost than you could on Amazon.
Reach a new customer base
Walmart has an entire customer base with loyal customers who might not otherwise see your products if they are only listed on Amazon or another platform. There are millions of Walmart + customers that are potential customers that you now have the opportunity to reach when putting your products on Walmart.com.
Pros of Selling on Amazon
More traffic and potentially higher sales
Amazon has millions more in traffic per month than Walmart which means that there is a lot of potential to sell more products. Amazon is also the leader in online shopping which makes it a go-to for a vast majority of online shoppers.
International expansion
Currently, the Walmart marketplace only allows you to sell in the US, and for some select sellers, Canada. Amazon has markets all over the world with a vast network of fulfillment centers making worldwide domination within reach for 3rd party sellers. Amazon has put processes into place to make it easier for many sellers to complete all of the requirements for selling products in countries around the world.
Cons of Selling on Walmart
Selling on Walmart is currently a great opportunity for e-commerce sellers, but that doesn't mean that there aren't any challenges in selling on the marketplace. As mentioned above, there is a smaller number of unique visitors to Walmart.com every month, but there are also a few more challenges that can be considered cons of selling on Walmart.
Limited fulfillment services
Although Walmart fulfillment is ramping up quickly with new warehouses all over the country, they still do not have near the number of warehouses that Amazon currently has in their possession. Walmart is using the back of many Walmart stores to help with fulfillment which is helpful but still not at the same level as Amazon. In addition, there seem to be hiccups in checking in inventory at warehouses, but this should all be worked out over time as Walmart refines its fulfillment processes.
Walmart Seller Central
Walmart Seller Central is not too difficult to learn, but it does have bugs from time to time which makes it harder to update listing copy, attributes, photos, etc. It's also sometimes hard to access the send inventory and manage inventory tabs to send in inventory and manage inventory. A solution that most sellers use to get around these issues is to sign in incognito which usually solves the problem. However, sellers may still find themselves creating a good number of help support tickets to deal with bug issues.
Cons of Selling on Amazon
Selling on the Amazon marketplace has been a great opportunity for so many e-commerce sellers to start selling their products online in a marketplace that already has customer traffic. Over the years, word has gotten out about this great opportunity which has led to the Amazon marketplace becoming a bit more competitive.
It is definitely more expensive than a few years ago to launch a new product and often sellers only break even on their first shipment of product so that they can do their best to rank their product organically. PPC costs have also risen and they only keep increasing because of the extra competition in the marketplace. Overall, the biggest con of selling on Amazon is the high competition that not only has reduced profit margins, but also has increased the price to start selling new products on the market.
Reminder: You don't have to choose one or the other
As you can see, there are many similarities, differences, pros, and cons between selling on Amazon vs Walmart. The great news is that you don't have to choose between selling on one marketplace or another. In fact, it is recommended to sell on both marketplaces to expand your customer reach and increase sales. The differences and cons can be learned and worked through and will be well worth the effort.
Frequently Asked Questions
Everything for your business on Amazon.
Find out more about our products by signing up or speaking with one of our
Customer Success representatives today. With us in your corner, you can enjoy
more sales and increased engagement from your Amazon business.
Chat with a Support Specialist