Walmart Guide to SEO and Product Listing Optimization
This is your comprehensive seller guide on how to sell on Walmart.com. Learn the importance of an optimized product listing and how to track your Listing Quality Score properly to crush the competition.
Originally published on: January 3, 2023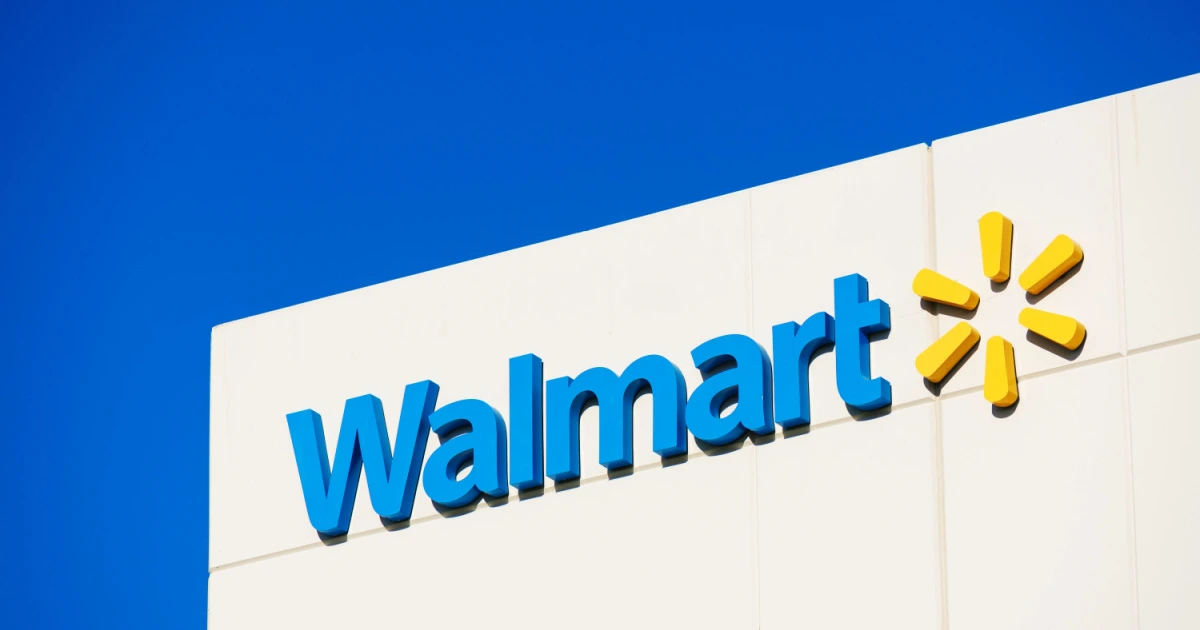 Just like many other online platforms, SEO plays an important role in the visibility of your products to your ideal customers on Walmart.com. Walmart SEO is very important for visibility but there are more factors involved in listing optimization and SEO on Walmart than just keywords. It's important to add important keywords to your listing but choosing the right Product Type, filling in all applicable attributes, and having a high Listing Quality Score (LQS) are also very important components of SEO on Walmart.com. The better you can optimize in all of these areas, the more visibility your listings will have on the Walmart Marketplace. 
Part 1: Product Type and Attributes
Product Type 
The most important part of SEO on Walmart.com is making sure that you are in the right product type. When you create your first listing and choose your product category, Walmart automatically chooses a "product type" for your product. The product type will determine the keywords that your product can index because each product type has a list of queries associated with it. If a keyword you want to rank for is not associated with that product type, you will not be able to rank for that keyword. 
It's important that your product is listed in the correct product type because being in the correct category/product type will allow your product to get more visibility. If your item is listed in the wrong product type, your product might not be showing up at all for relevant keywords and potential customers will not see your listing. In order to rank for the most relevant keywords possible, it's important to be in the correct product type. 
One way to check to see if you're in the correct product type is to look at your competitor's listings. You can check your competitor's category paths to see what category they are in to make sure that you are on the right track for your product type. In the photo below, you can see our category path in the top left corner of the listing. Our exact product type is "Floating Shelves" so you can see that this category path is very similar to the actual product type name. Checking your competitor's listings will give you a good idea of whether or not you are in the best product type. If you are unsure, you can do A/B tests of product types to see which product type allows your product to index for more keywords.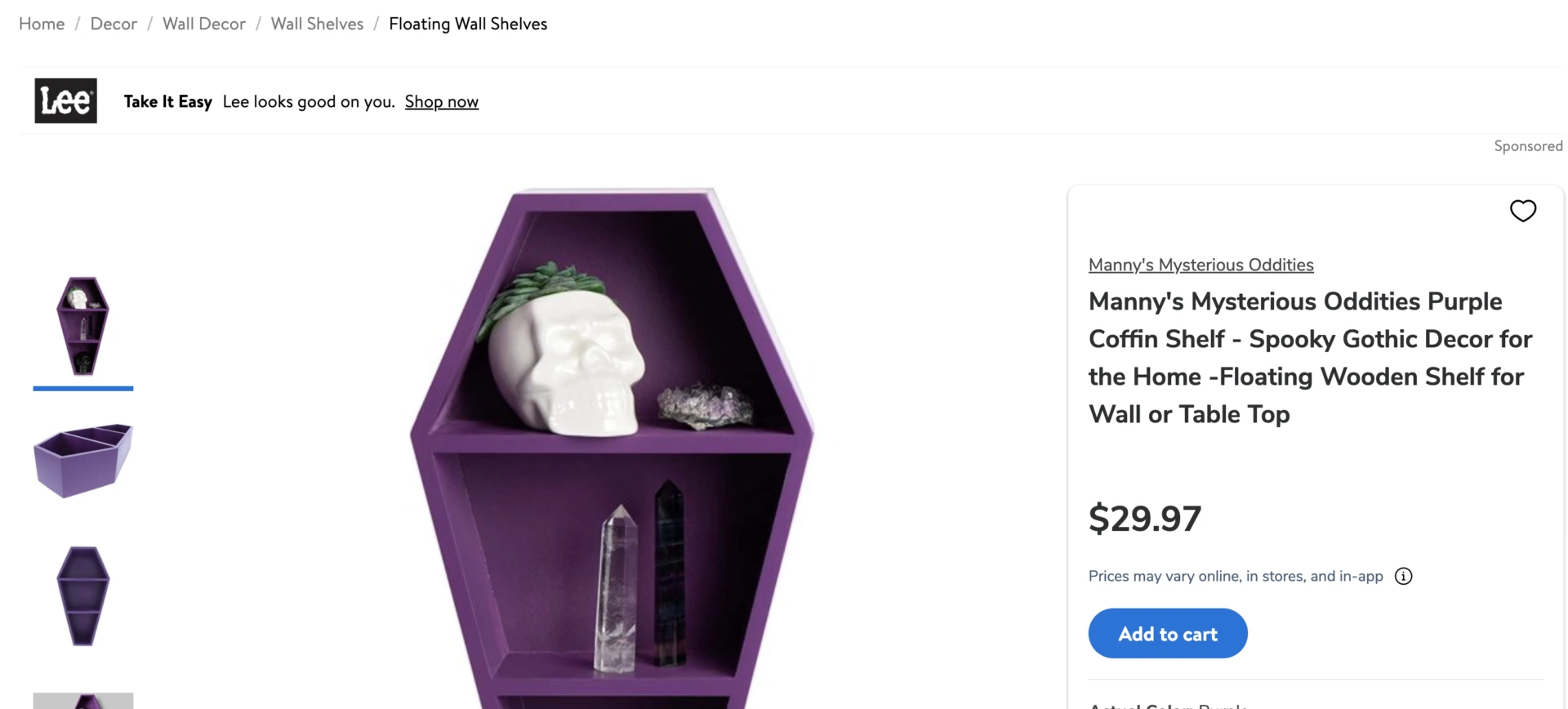 To view which product type your item has been placed in you can go to the Growth Opportunities Tab on Seller Center and you will see a box where it says "Product Type." If you check your product type and it's not accurate to your product then you can click on "report issue." Once you click on report issue, it will give you a list of potential new product types and you can choose the most accurate. If you don't find a good match, you can open up a ticket and ask them to change your product type. When you open up your ticket, you will want to be as specific as possible to make sure that you change to the product type that is the best fit. 

Attributes
Attributes are very important because they allow Walmart to categorize your product further and place them on the proper digital "shelf." There are different required attributes for each category and it's important to fill out as many relevant attributes as possible to get more visibility. For example, if you are selling a product with a color that can be named in a few different ways, make sure to name all of the color shades to make sure that you are visible for those colors. For example, teal, aqua, and turquoise can all be listed as attributes of a product that is teal. The more attributes you can fill out for your product (whether they are required or not) the more visibility your product will get. 
Walmart.com is constantly changing and adding attributes so to keep on top of your attributes, you can log in to Walmart Seller Center and go to the Growth Opportunities tab. Walmart will flag any products that are missing attributes in this section and you can easily upload those attributes. If you have multiple of the same item, a quicker way to update attributes is to do a flat file upload with the new attributes added.
---
If you want to learn how to create and upload flat files, you can check out Freedom Ticket 3.0 Walmart when you log in to your Helium 10 account for a complete walk-through! 
---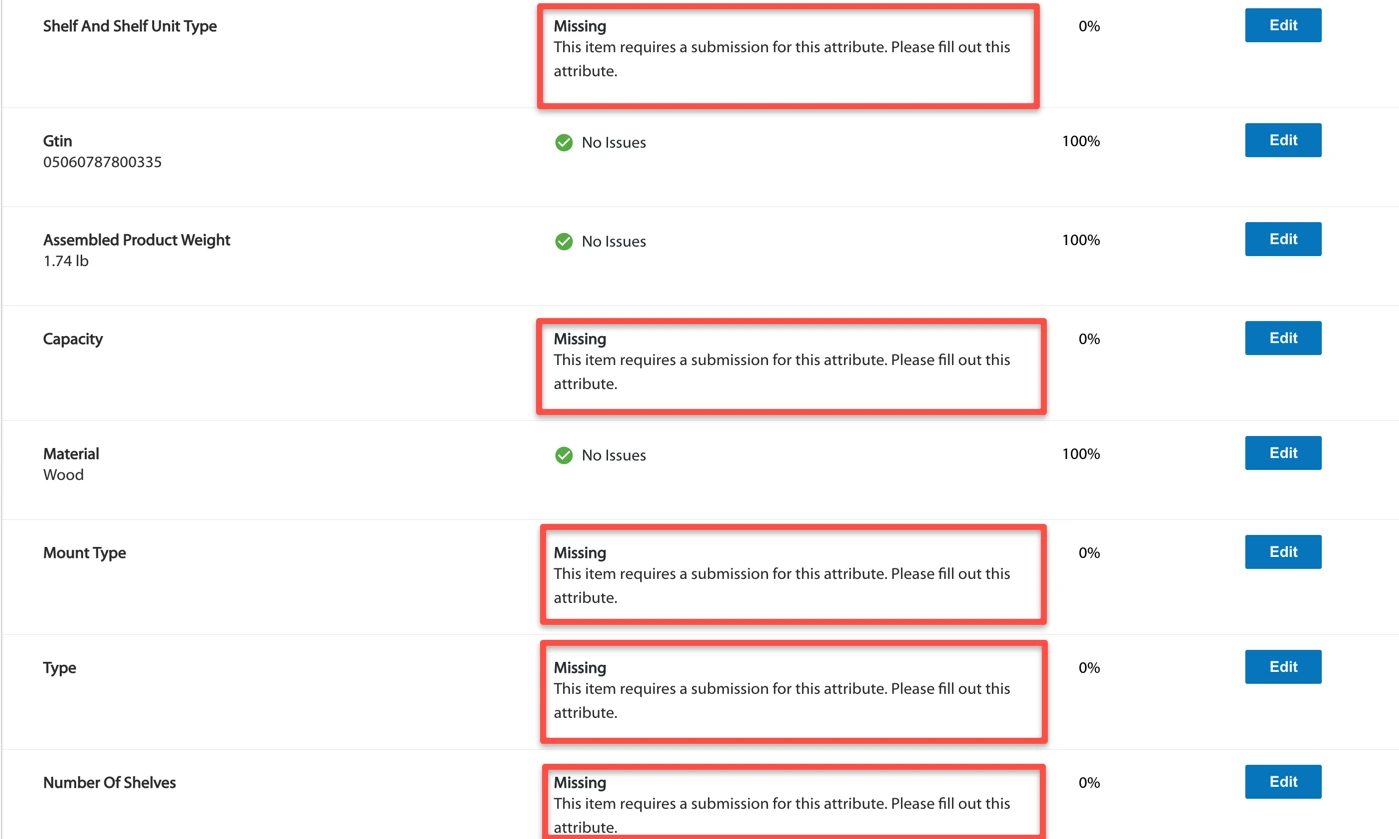 Part 2: Finding Relevant Keywords for Your Listing 
Finding the most relevant keywords and writing them in your title, description, and key features are also important for an optimized listing. In order for Walmart to view your listing as more relevant to certain search terms, it's important to write those keywords into the copy. It is also important to use Walmart tools to find Walmart-specific keywords. Some sellers think that they can be successful just by using the same keywords that they use on Amazon and this simply is not the case. Amazon customers search more long tail keywords while Walmart customers tend to search more generally and then use filters to narrow down their searches. 
The best way to start finding relevant keywords is by doing a reverse Product ID search on Walmart on your competitor's products that are selling well. The best way to do this is to search your main keyword on Walmart and select the listings with the highest number of sales to do a reverse Product ID search. 
The first step to doing a reverse product ID search is to pull the Xray Chrome Extension and sort by Walmart revenue. Look at products with the highest revenue because they tend to be the products with the best keyword strategy.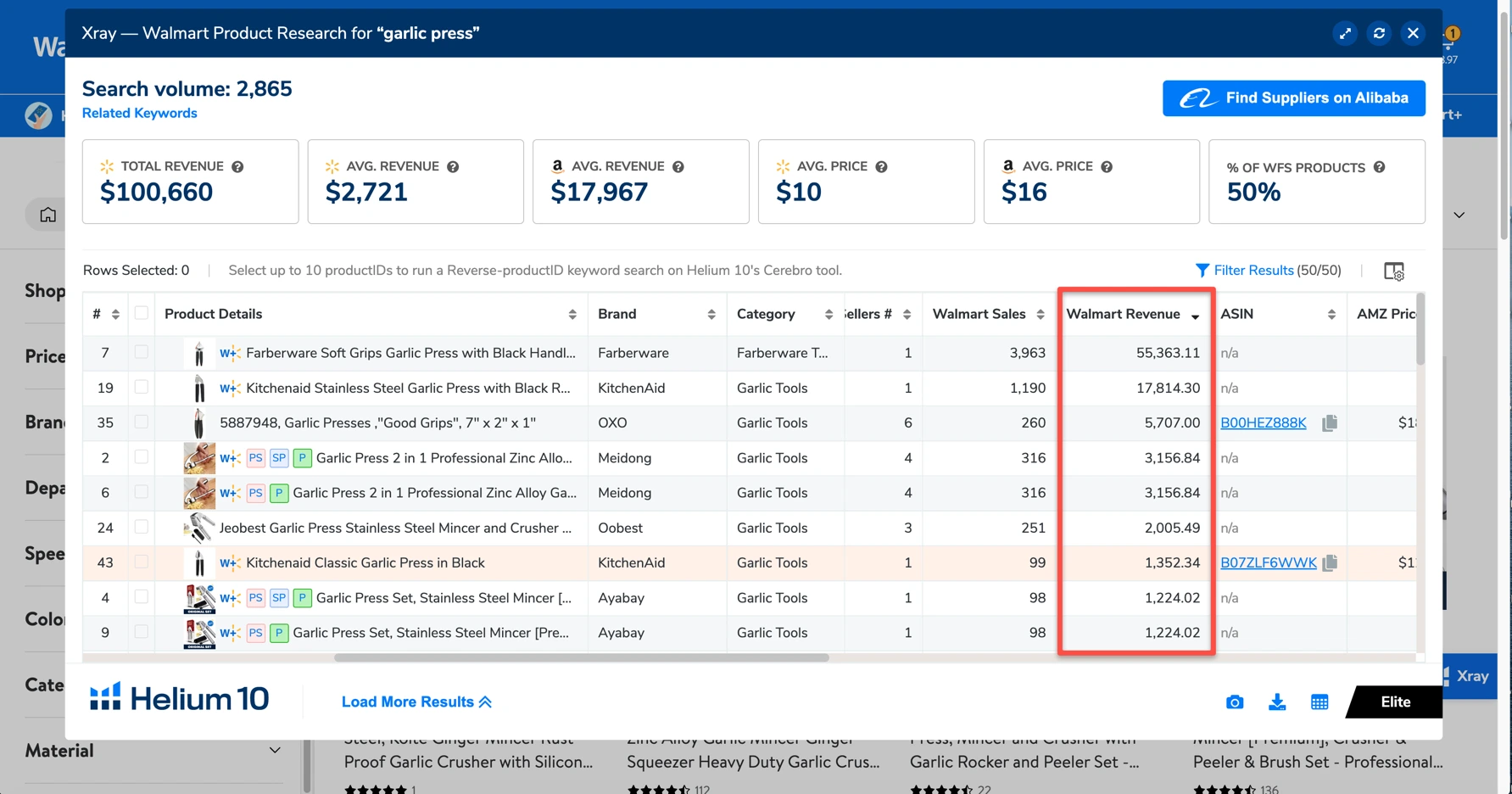 Next, check off all of the listings that you want to do a reverse Product ID search for and then click on "Run Cerebro" and you will be taken to Cerebro.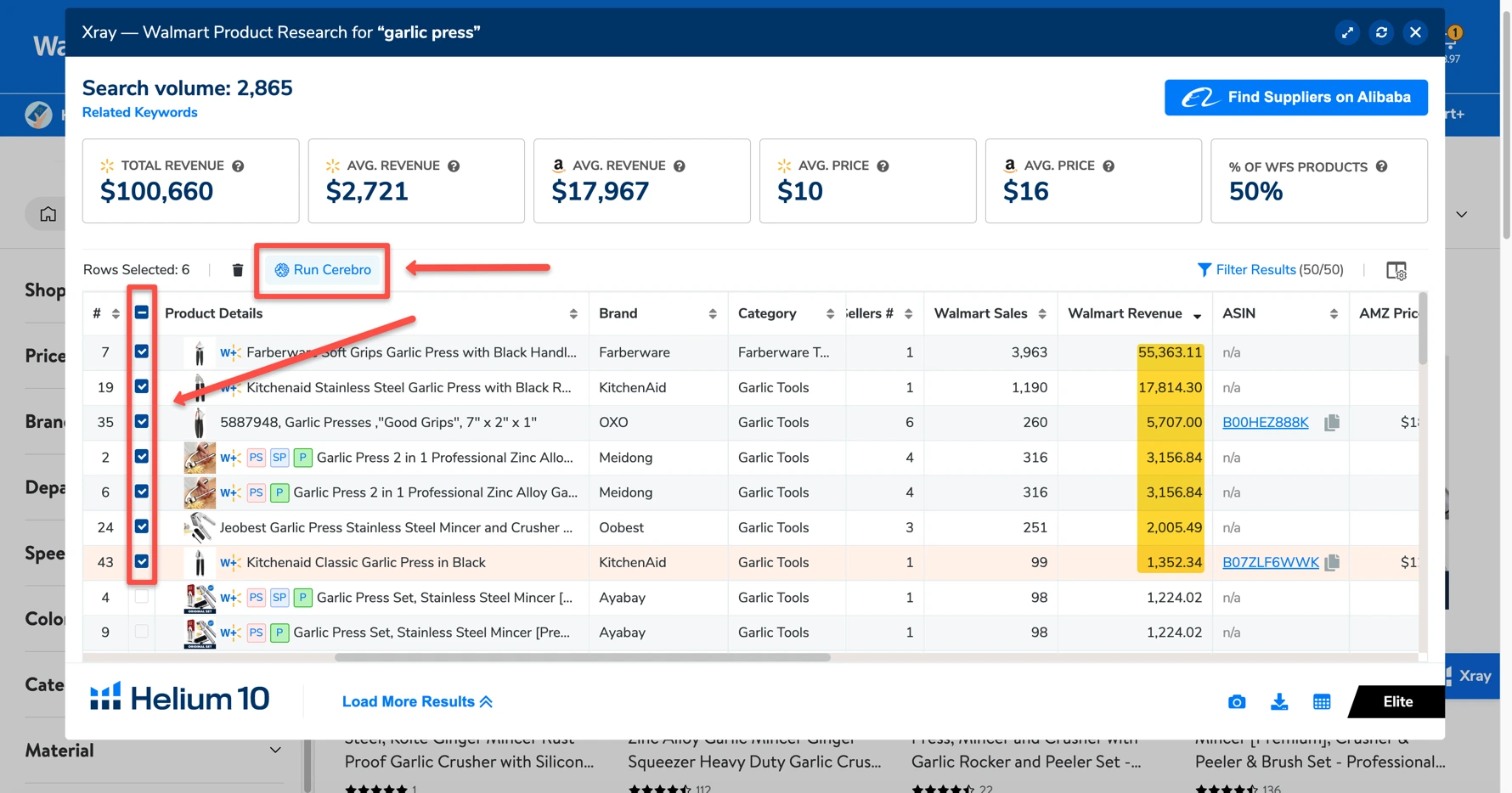 Once you're in Cerebro, you will see that the Product IDs are automatically populated for you and all you have to do is click "Get Keywords"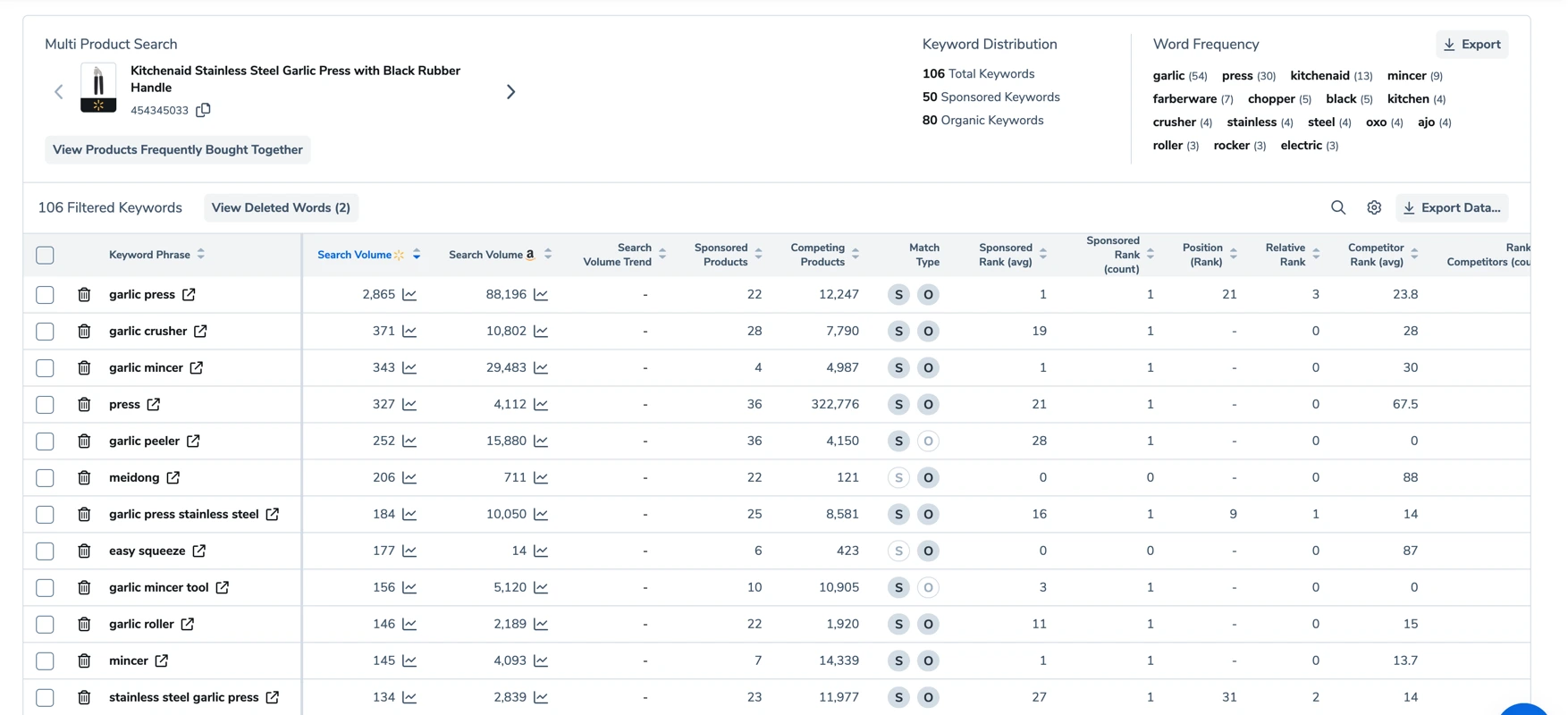 You can also use Magnet to find related keywords by searching keywords and Magnet will produce a list of related keywords that you can consider for your listing.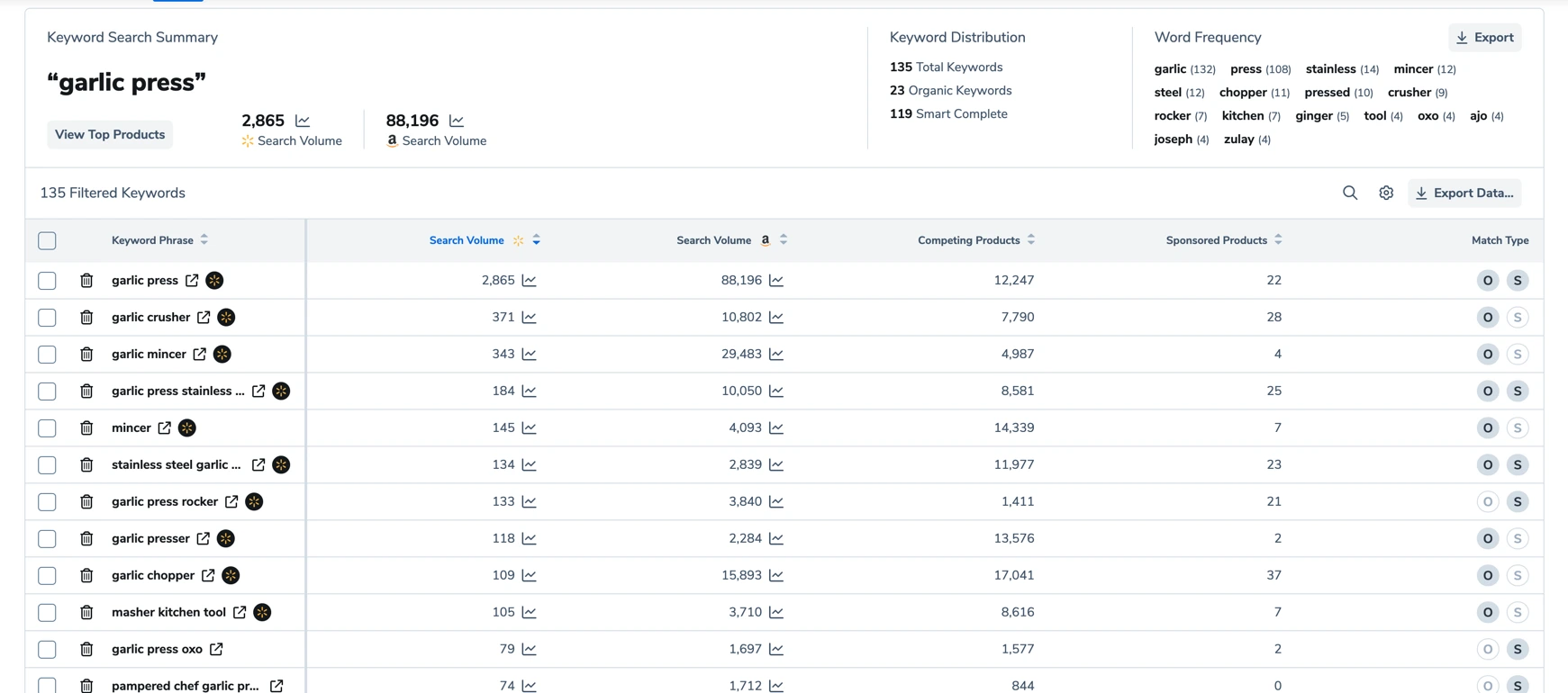 Overall, it's recommended to take your top 5-20 keywords and make sure to write them into your listing. Your most important keyword phrases should always be written into your title. In this example of garlic press, you would write "garlic press" into your title. 
Part 3: Optimizing Listing Images
Images are an important part of SEO because they are one of the main components that will convince a customer to buy your product. Sales conversions will get you a better ranking to displaying high-quality images on your Walmart Listing can potentially help you get a higher ranking.
Your Walmart listing images should tell a story about the product that you are selling so that once a person is done looking through your images, they will know whether or not they should buy your product. If a person is unsure about your product because your images are not telling a clear story and showing the value, you risk losing the sale to all of the competitors that are listing right under your product images before they can even read your description.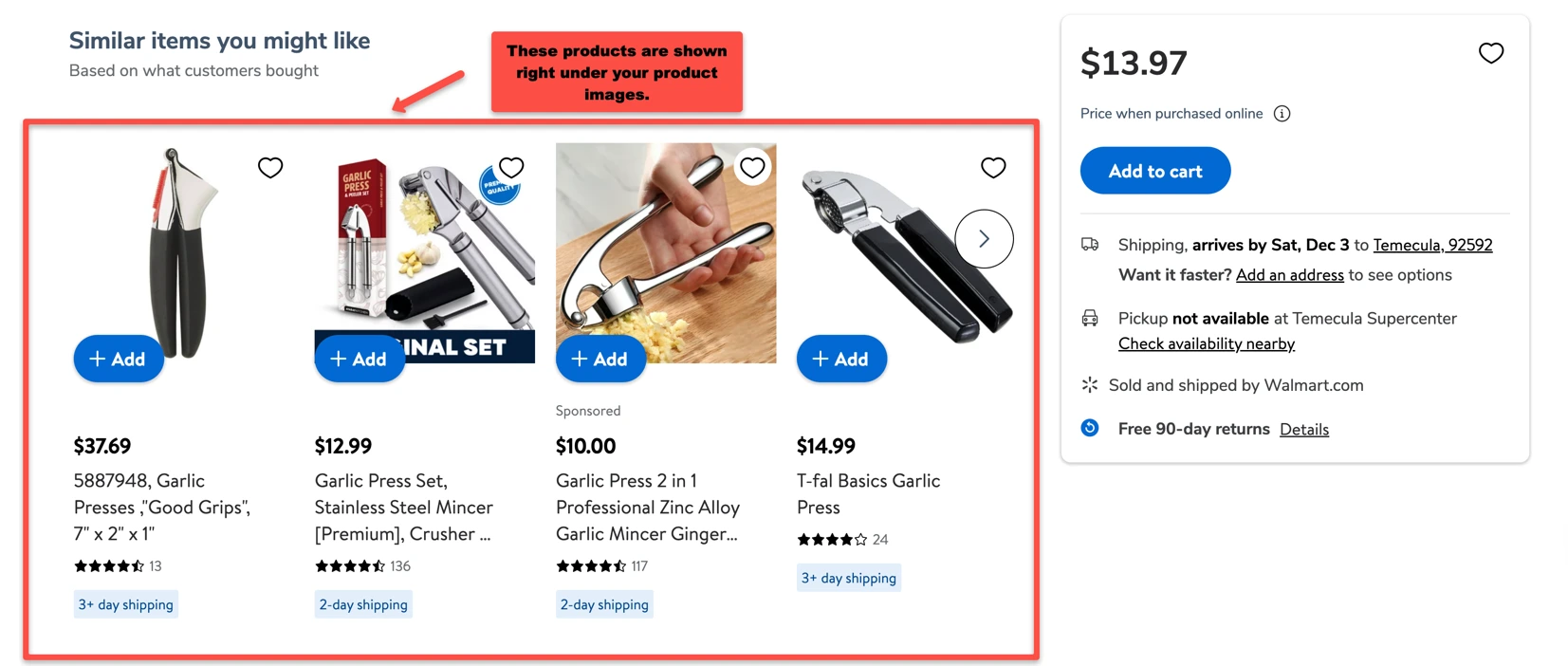 Images on Walmart are pretty much the same on Amazon- here is a guide on the best images to utilize in your listing. This guide will walk you through the different types of images that you can create for your product. On Walmart.com, you don't have a limit on the number of images you can upload so you can potentially showcase your product with all of the different image types mentioned as long as they amplify your product and are applicable. 
Part 4:  Writing an Optimized Listing
Once you have your list of keywords, it's time to start writing your listing. There are a lot of sellers who think it's okay to just copy your Amazon listing straight over to Walmart. You can do this but you definitely don't want to do this if you want to rank well and get better visibility on Walmart. A poorly structured Walmart listing can lead to a low Listing Quality Score (LQS) which can affect your product's rank. According to Walmart's knowledge base, the way you write your listing can also have an effect on how you show up in search engines like Google, Bing, or Yahoo.
In this section, we will show you how to write a listing that is optimized for Walmart.  
Title
When writing your product title, there is a specific structure that Walmart wants sellers to follow. They want sellers to avoid keyword stuffing, write in important attributes, and be clear and concise to optimize for SEO and customers. The key attributes that should be included in the title are those that customers are most likely to type in the search bar when looking for your product. If a customer is likely to search for a certain size or color, you should include this information in the title. 
A basic Walmart title structure:
Brand + Item Name + Model Name (if applicable) + Style (if applicable) + Key Attribute + Pac Count (if applicable) + Size (if applicable)
Description
According to Walmart, they want sellers to write descriptions that are clear, relevant, useful, and easy for customers to understand. They don't want a lot of fluffy language or use of generalities, but rather they want sellers to be informative and help customers make an informed decision on their purchase. In this section, avoid sales-type language and outline the facts about your product. The Walmart guidelines mention that they want a minimum of 150 characters for this section but the length of the description requirements varies based on the category. For a more exact description length requirement for your product, check out your listing quality score to see if your description needs to be shorter or longer. 
Key Features
Key Features is where you can be a bit more of a salesperson. This is the section where you write the most important benefits and features of your product. When writing these features, you will want to start with the most important feature and then go to the least important to try to grab your customer's attention. An example of a key feature would be something like "extra cushion for added support," or "waterproof speaker for outdoor use." You can also mention age ranges, dimensions, and other specifics about your product in this section. You can add between 3-10 key features to your listing and each feature should be no longer than 80 characters (spaces included) per feature.  
Listing Quality Score (LQS)
Walmart has created a listing quality score to help sellers to create listings that will be more appealing to customers based on their content, offer, speed of delivery, and reviews. Each section of the listing quality score has a different weight. It's important to make sure that you have at least an overall score of 80% to stay competitive. If you don't have a very good score, you can add and edit all of the information Walmart flags for you in this section. In the image below you can see the overall score of the listing. You can also see the tabs below where Walmart will flag items that need to be edited or updated. This listing quality score makes it easy for sellers to know exactly what to do to rank better to become more visible overall to their ideal customers.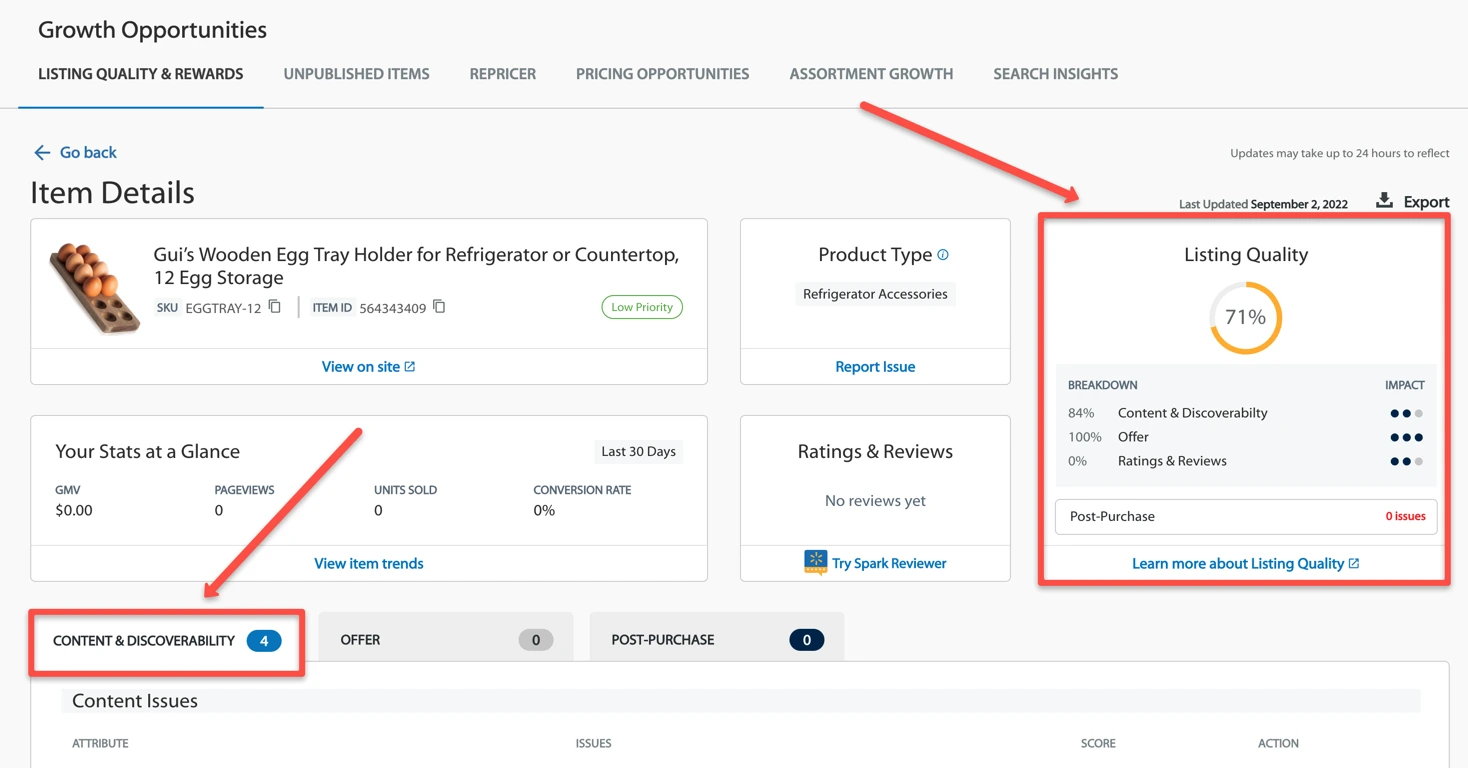 Listing Quality Score (LQS) Breakdown
Content and Discoverability
In this section, Walmart will provide suggestions for your listing based on its set guidelines. You might get suggestions to add a specific attribute to your title, descriptions, or key features such as the size or color of your item. There is also a list of attributes associated with your category that will be flagged if you have not filled them out. Make sure to follow the content guidelines outlined by Walmart that we covered above as best as you can so that you can get a high score in this area. Fill out as many attributes as possible to increase your visibility and potential for ranking. 
Offer
The offer score is based on price, shipping speed, and published and in-stock status. 
Walmart is consistently scanning the internet to make sure that you are offering the best price on its website. If your product is offered on other sites at a lower price, this will negatively impact your listing quality score. 
Shipping speed is another very important component of the offer score. Walmart wants customers to receive fast and reliable shipping, so the faster you are able to fulfill your items, the higher this score will be. Walmart Fulfillment Services (WFS) is probably the best way to get fast and efficient shipping for Walmart customers. When you enroll, it boosts your LQS score and your rank overall. 
The published and in-stock portion of your offer score is based on your product's availability and in stock over the last 7 days. 
If you make sure to stay on top of the price, shipping speed, and inventory status, your offer score should be very high which will in effect help with your ranking on Walmart. 
Reviews & Ratings
The reviews and ratings score is based on the number and quality of the reviews of your product. If you are having trouble getting reviews for your product, a great way to get reviews is to apply for Review Syndication so that you can transfer product reviews from your website to Walmart.com. Once you have some reviews you will see a big jump in your overall score.
Something else that isn't necessarily part of your listing quality score but is still listed on the same page is "Post Purchase." Walmart consistently checks for delivery defects, cancellation rates, and return rates. It will flag you if there are any issues and it's important to correct any of these ongoing issues so that your account does not get suspended. 
Part 5: Rich Media
The last part of creating a fully optimized listing is utilizing rich media content on Walmart. It is very similar to A+ content on Amazon with a few major differences. The first major difference is that you have to find a place to host rich media content yourself. Most agencies will charge per SKU and per type of rich media so it can get quite pricy if you have a lot of SKUs. If you need rich media hosting, you can contact sellcord.co, blueryse.com, or ecomcreativeteam.com and inquire about getting started. 
The second major difference in rich media vs A+ content is that they only have one video and a 360 view available. In the past, they have had more modules. They may roll out more content modules in 2023. 
Conclusion
Overall, creating an optimized listing isn't difficult but it is important to understand what Walmart requires in order to rank and be successful on Walmart. This guide is a great resource and starting point for creating successful Walmart listings.
Everything for your business on Amazon.
Find out more about our products by signing up or speaking with one of our
Customer Success representatives today. With us in your corner, you can enjoy
more sales and increased engagement from your Amazon business.
Chat with a Support Specialist