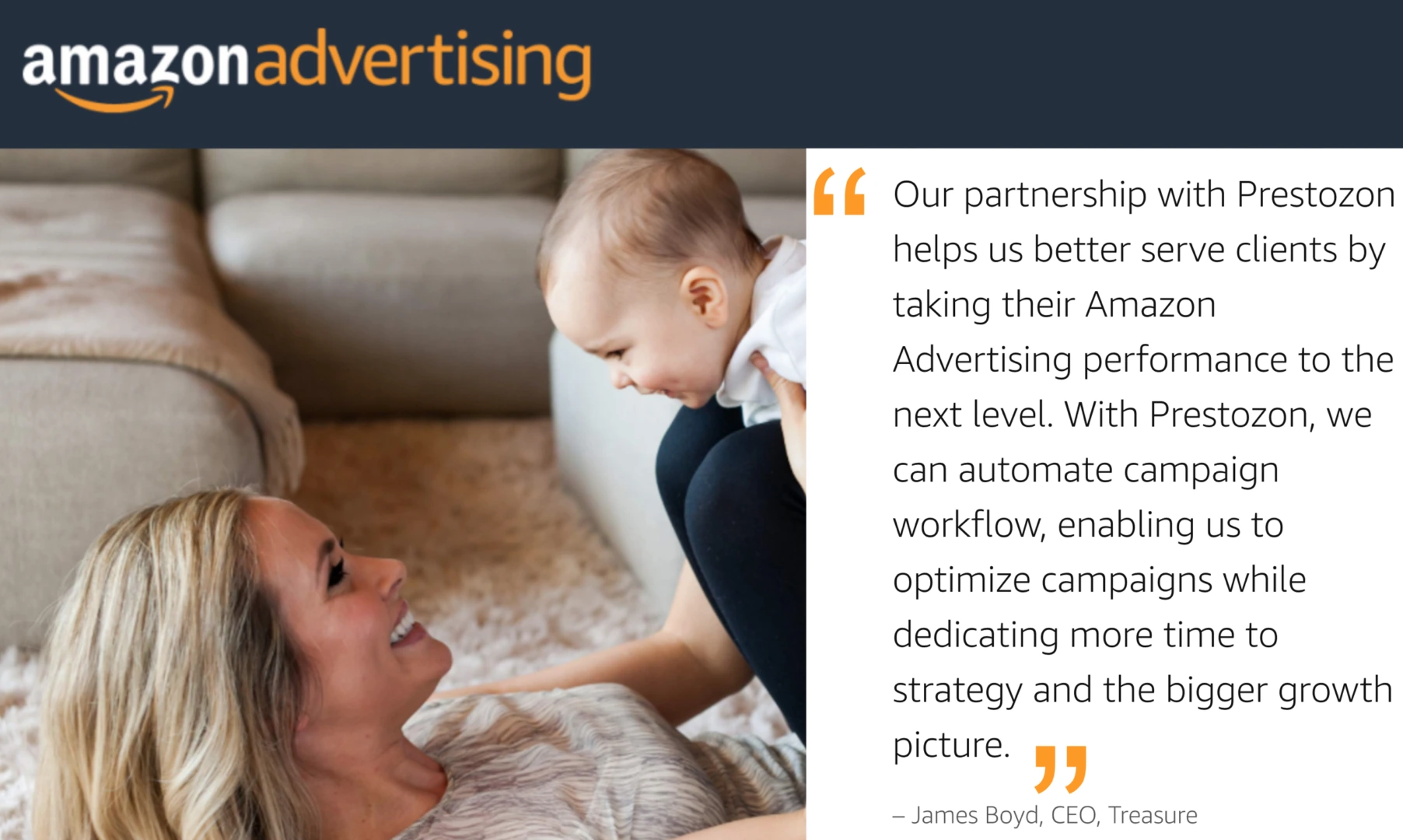 How an agency and automation platform joined forces to find success for a maternity brand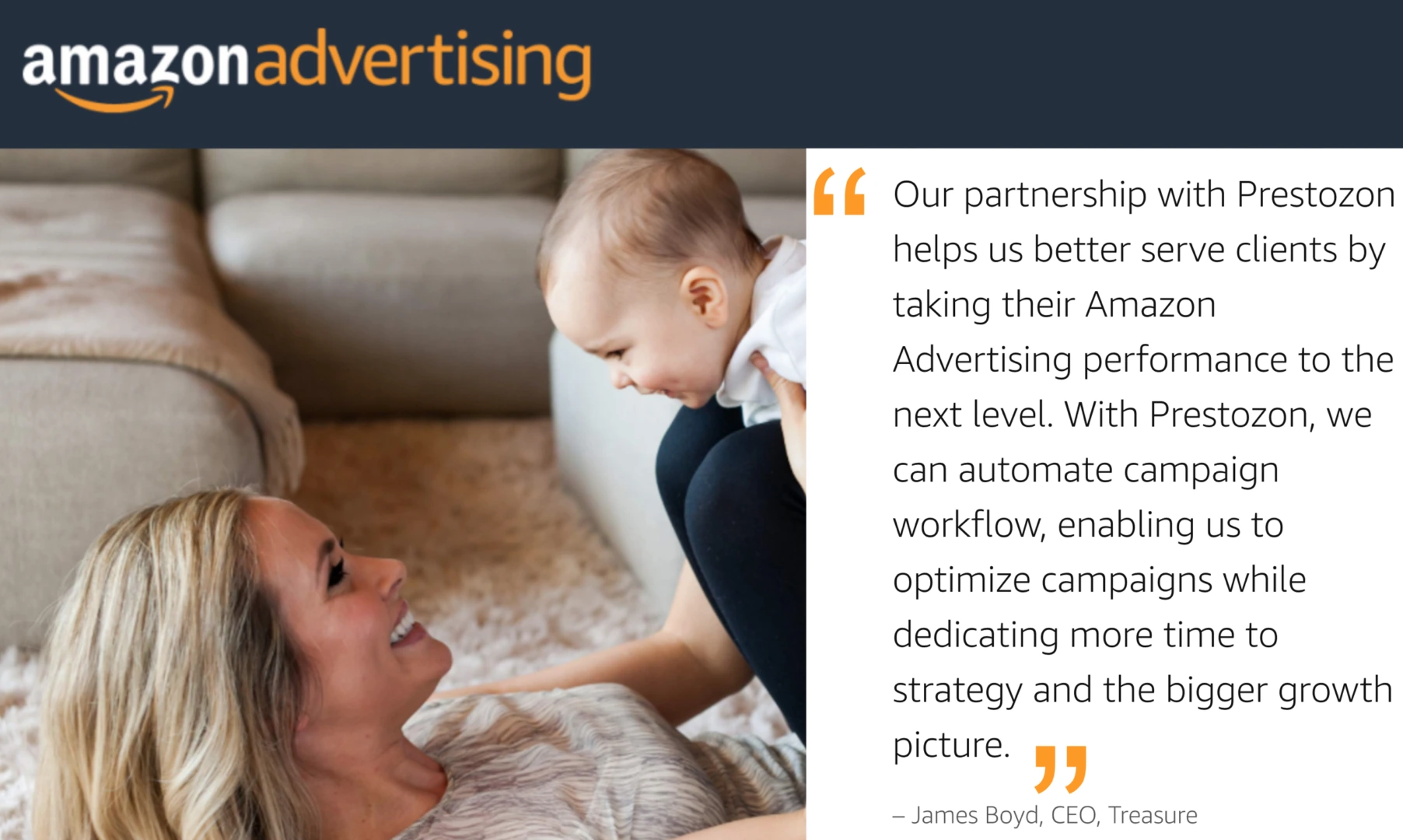 This Case Study originally appeared on Amazon Advertising
The company
Simple Wishes is business owned and operated by four sisters. The company strives to provide new mothers with comfortable, convenient, and versatile nursing products. Its Amazon listings include nursing bras, pumping bras, and related accessories—all of which are created to empower women to confidently support their new families and themselves. The company began advertising on Amazon in 2015, enlisting e-commerce marketing agency Treasure to help maximize the channel opportunity by helping to drive sales and increase brand awareness.
The partnership: Agency + automation platform
With a mission to help grow companies like Simple Wishes, Treasure joined forces with automation platform Prestozon. Built on top of the Amazon Advertising API, Prestozon empowers the agency with more effective campaign management capabilities through advanced automation features and tools.
Our partnership with Prestozon helps us better serve clients by taking their Amazon Advertising performance to the next level. With Prestozon, we can automate campaign workflow, enabling us to optimize campaigns while dedicating more time to strategy and the bigger growth picture.

– James Boyd, CEO, Treasure
The solution: Brand + agency + automation platform
On Amazon, Simple Wishes was focused on product and brand development. After defining the business goals, including accelerating the brand's growth while maintaining a healthy advertising cost of sales (ACOS), the company left the campaign strategy and execution to Treasure.
We knew we wanted to grow our Amazon business, but we weren't sure how to accomplish that ourselves. That's where Treasure came in. The agency team had the insight and skill set to strategically manage and grow our Amazon advertising.

– Elesha Nelson, Marketing and Business Development, Simple Wishes
Treasure centered its attention on the Sponsored Products campaign plan based on those high-level brand goals. The agency opted for a keyword strategy to ensure the brand's ads appeared for all relevant search terms. This would allow it to drive more traffic and grow sales across product listings. That said, the process of determining which keywords to begin with and measuring their success was no small task, requiring continual competitive and categorical research across Amazon.

That's where Prestozon came into play. The combination of search term reports and automated bid and keyword suggestions available through Prestozon's interface enabled Treasure to zero in on ACOS targets quickly with a three-party strategy: (1) decreasing bids for keywords above the ACOS goal, (2) increasing bids for those below the ACOS goal, (3) and pausing those that were unsuccessful.
The result
Within the first month of partnering with Treasure and Prestozon, Simple Wishes witnessed better performance from its advertising efforts than ever before. Most recently, after achieving a 15% ACOS in 2018, the brand increased its ad spend leading a 45% increase in year-over-year sales attributed to advertising between January and August of 2019. And by the end of that same period, it achieved a 20.35% ACOS with over 19 million impressions served.
The key to our success with Amazon Advertising is working with a partner who understands both how to grow our business effectively and manage our campaigns efficiently. The growth rates that Simple Wishes has experienced from Amazon Advertising is a direct result of our partnership with Treasure and their partnership with Prestozon.

– Elesha Nelson, Marketing and Business Development, Simple Wishes
Achieve More Results in Less Time
Accelerate the Growth of Your Business, Brand or Agency
Maximize your results and drive success faster with Helium 10's full suite of Amazon and Walmart solutions.