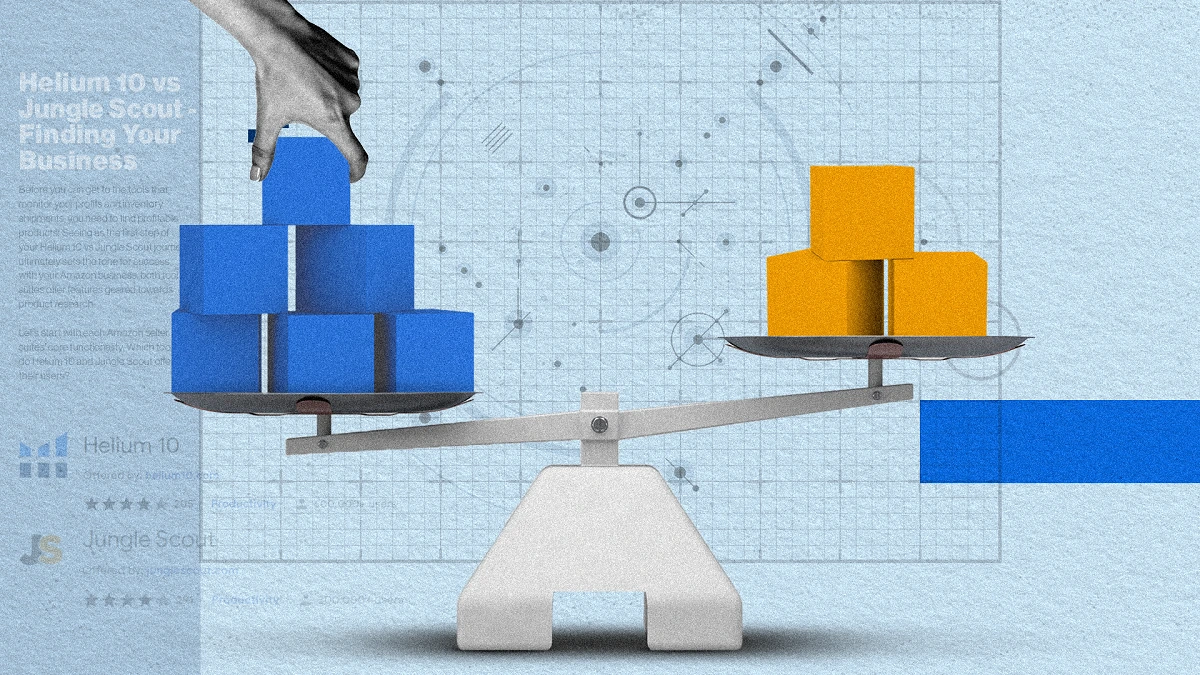 Helium 10 vs Jungle Scout: In-Depth Analysis of Tools & Features

Before you can get to the tools that monitor your profits and inventory shipments, you need to find profitable products! Seeing as the first step of your Helium 10 vs Jungle Scout journey ultimately sets the tone for success with your Amazon business, both tool suites offer features geared towards product research.
Let's start with each Amazon seller tool suites' core functionality. Which tools do Helium 10 and Jungle Scout offer their users?
Helium 10 vs Jungle Scout: Data Accuracy
Every decision you make along your selling journey is (or should be) backed by reputable data. While you are unlikely to be led far stray by either Helium 10 or Jungle Scout, you should still always be prioritizing accuracy as much as possible.
On average, Helium 10 estimates 38.2% of product sales perfectly correct (with 0 errors), where Jungle Scout estimates 29.5% perfectly correct (with 0 errors), making Helium 10 almost 10% more accurate than Jungle Scout.
Even when Helium 10 closely misses the mark, it's by a narrower margin. Helium 10 gives an estimation within 22 units above or below actual sales. Jungle Scout's margin of error is 35 above or below. While a margin of error difference of 13 may not seem like much on its own, multiplied out by thousands (or hundreds of thousands) of sales, little margins quickly become big margins. This is precisely why it's so important to be… precise!
Product Research – Helium 10 vs Jungle Scout
The goal of these product research tools is to turn what would normally be hours of tedious product research into just a couple of clicks.
Helium 10 – Black Box
With over a 2 billion product-fueled database, Black Box remains the e-commerce standard for the all-in-one Amazon product research tool. This Amazon research tool allows users to search for Amazon products via product category, estimated monthly sales revenue, price, weight, review rating, number of images, amount of sellers, and more.
Black Box also offers additional functionality in the form of extra search tabs. The Keywords Tab allows users to search for high-performing keywords that match their custom criteria.
The Competitors Tab allows users to enter in a product ASIN and instantly access the top competing products ranking for similar keywords associated with the ASIN you entered.
Would you rather see a simplified performance overview of a certain keyword family of products? The Niche Tab within Black Box has you covered.
Black Box also has exclusive filtering capabilities that no other Amazon seller tool has, allowing you to laser focus your Amazon product research. For example, want to see any keyword on Amazon that is searched for at least 5000 times a month, and whose top 10 organic results have at least 5 products that have under 150 reviews, and 6 products that are generating 10,000 dollars of revenue? You can do that with a click of a button!
Black Box is available in 12 countries.
Look & Feel
Search Filters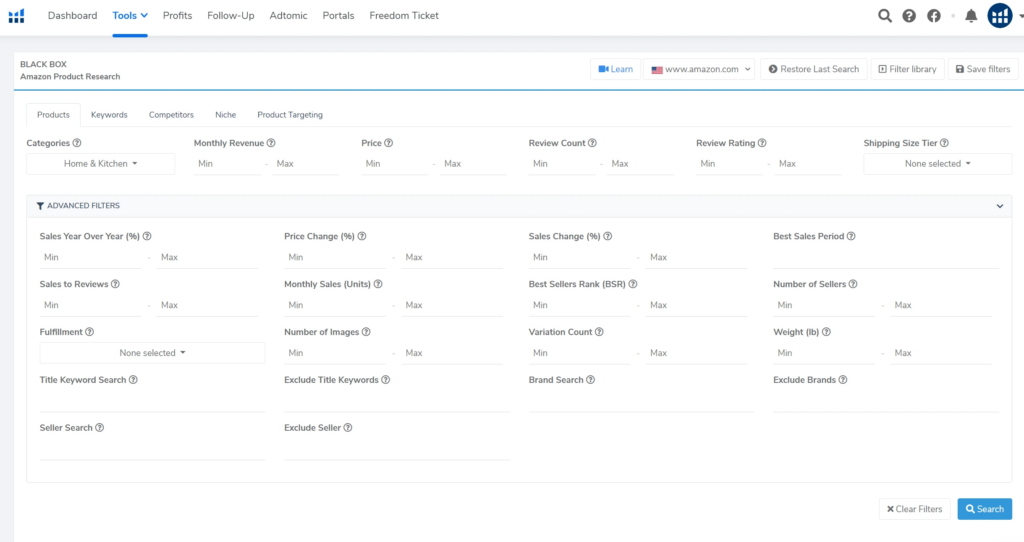 Results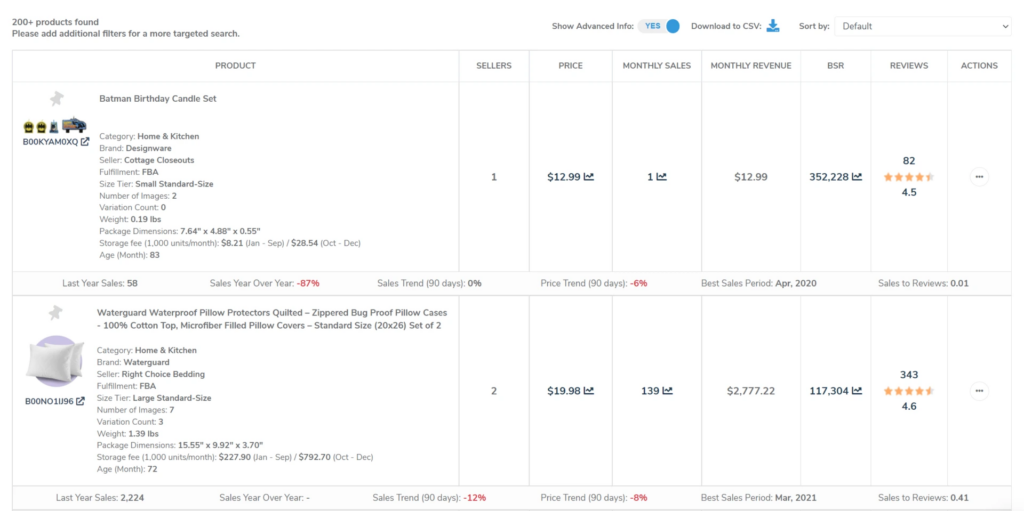 Jungle Scout – Product Database
Jungle Scout was the first to the market for this type of research tool! With over 475 million products in its library, Product Database functions largely the same as Helium 10's Black Box. Search for product opportunities by search volume, Amazon seller type, estimated sales, and more all within one convenient dashboard.
Although Jungle Scout's product database isn't quite as robust as Helium 10's, they do offer a few nice bonus metrics and filters such as the Listing Quality Score and the "min/max net" filter.
Product Database is available in 10 countries.
Look & Feel
Search Filters

Product Database search results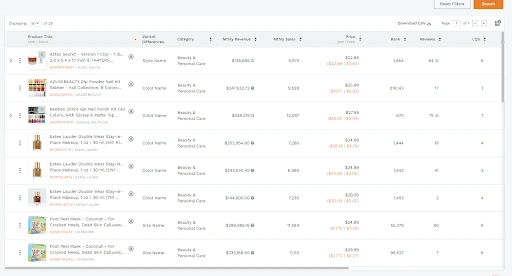 It's worth noting Jungle Scout splits their Amazon product research tool up differently than Helium 10.
For example, Jungle Scout has a tool called Opportunity Finder that allows users to input a category or set of data (such as search volume) to research niches (keyword umbrellas) and how likely they are to be successful in the current market. This Amazon FBA tool even includes an "average units sold history" to give your product research added context.
Within Helium 10, these functions of Jungle Scout's Opportunity Finder are simply found within Black Box's Keywords Tab that we talked about earlier. Although Black Box's keywords tab does not include an "average units sold history," it does include several additional filtering capabilities. The ability to search by min/max title density and competitor reviews
Product Validation – Chrome Extensions

Helium 10 and Jungle Scout both offer their own browser extensions including much of the same data in clean user interfaces. Both browser extensions offer extensive looks at product search results pages directly on Amazon. This includes important product validation data such as:
Monthly sales
Average revenue
Average price
Average Best Sellers Rank
Estimated Amazon FBA fees
Number of sellers
More
Look & Feel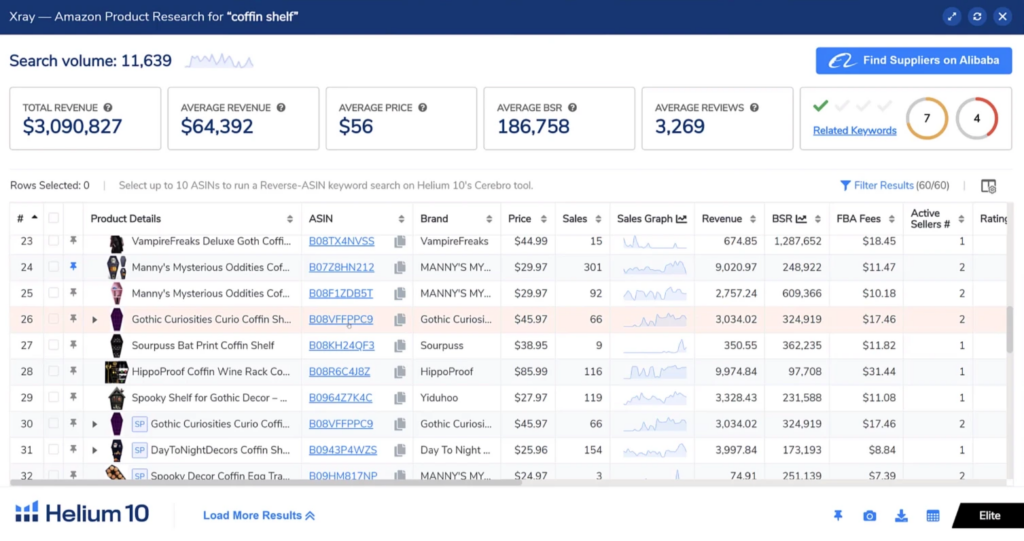 Another Helium 10 stand out is the inclusion of the Profitability Calculator. This interactive calculator can be used on any Amazon product page and gives users the ability to not only view estimated, profit-centric data but the ability to plug and play with their own numbers to see how it affects their bottom line.
What about researching product reviews in bulk? Don't worry, both Helium 10 and Jungle Scout allow you to download product reviews to an excel file. However, Helium 10's Review Insights includes functionality to break down reviews by product variations and allows users to display top phrases mentioned in all reviews.
Finally, Helium 10's Demand Analyzer can be used on Shopify, Etsy, Pinterest, and Alibaba to extract keywords and compare product search volume to Amazon.
A bonus to cap it all off? Helium 10 Xray can be used on Walmart.com!
Both chrome extensions come with live widgets that display on Amazon. Both show visual graphs displaying monthly sales, dimensions, and price history for any given product.
Helium 10's historical graph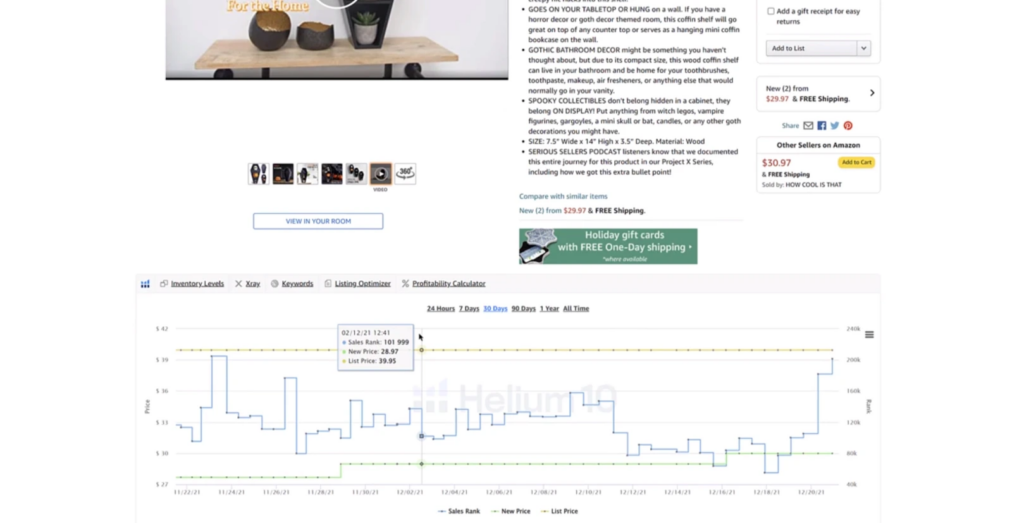 Jungle Scout's Historical graph
Finding a Supplier: Helium 10 vs Jungle Scout
Once you have found the product idea you want to sell on Amazon, you'll need to find a manufacturer to produce it. Vetting, negotiating with, and choosing a supplier is one of the most impactful decisions you will make when it comes to your Amazon business. Both for cost and for relationship building. You can bet Helium 10 and Jungle Scout have tools to help you along the way.
Jungle Scout offers their Supplier Database. This handy Amazon FBA tool allows users to search by product, company, supplier, or ASIN to put sellers in touch with the right product sourcing expert.
Conversely, the Helium 10 Supplier Finder is a feature embedded straight into the Chrome Extension. This button simply links straight to Alibaba, the internet's largest product sourcing marketplace.
When it comes to finding suppliers, this one comes down to the journey rather than the destination. Helium 10 and Jungle Scout use different databases to ultimately help Amazon sellers reach the same goal.
Trend Finding Tools
One place Jungle Scout has a tool that Helium 10 does not is with the Category Trends tool.
Using Jungle Scout's Category Trends, users can research which category is best-suited to attach to their new Amazon product. This Amazon seller tool lets you browse the top 100 products of each parent and sub-category by best sellers rank (BSR). It also lets you view this data historically over the last three days.
While Helium 10 doesn't have its own version of this tool, its tool suite can still functionally give you the same data. To find it you would use the Black Box tool and run a search, filtering results only from BSR 1-100.
Helium 10 also offers Trendster, an easy-to-pick-up tool that allows users to directly compare Amazon BSR trends with Google Trends for further insight.
Listing Research: Helium 10 vs Jungle Scout
As an Amazon seller, your Amazon product listing strategy comes down to more than just your listing. Before you construct a winning product page for your brand, it's crucial to learn exactly what makes a good listing… good. Fortunately, both Amazon tool suites have features that address this.
The Helium 10 Listing Analyzer allows sellers to get an in-depth look at any Amazon listing's health by entering in any ASIN (or ASINs, plural.) Listing Analyzer grades Amazon product pages based on factors such as capitalization of bullet points, the inclusion of product video, number of reviews, and more.
It also gives you a "market analysis", comparing the ASIN you searched to the market average sales, price, revenue, BSR, review/ratings. The tool does a wonderful job of illustrating a holistic view of any given Amazon listing in the context of the entire marketplace, not just individually. Additionally, Listing Analyzer includes a keyword analysis feature that gives sellers access to how many keywords the product listing currently has in the top 10 (including search volume).
The best part? Listing Analyzer allows users to input more than one ASIN to directly compare multiple listings within the tool.
Look & Feel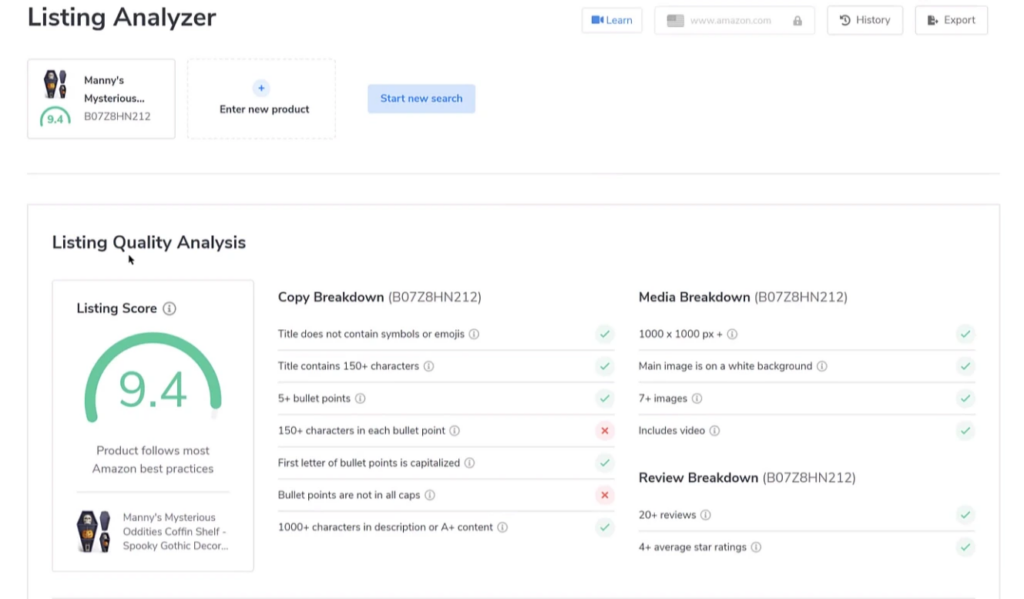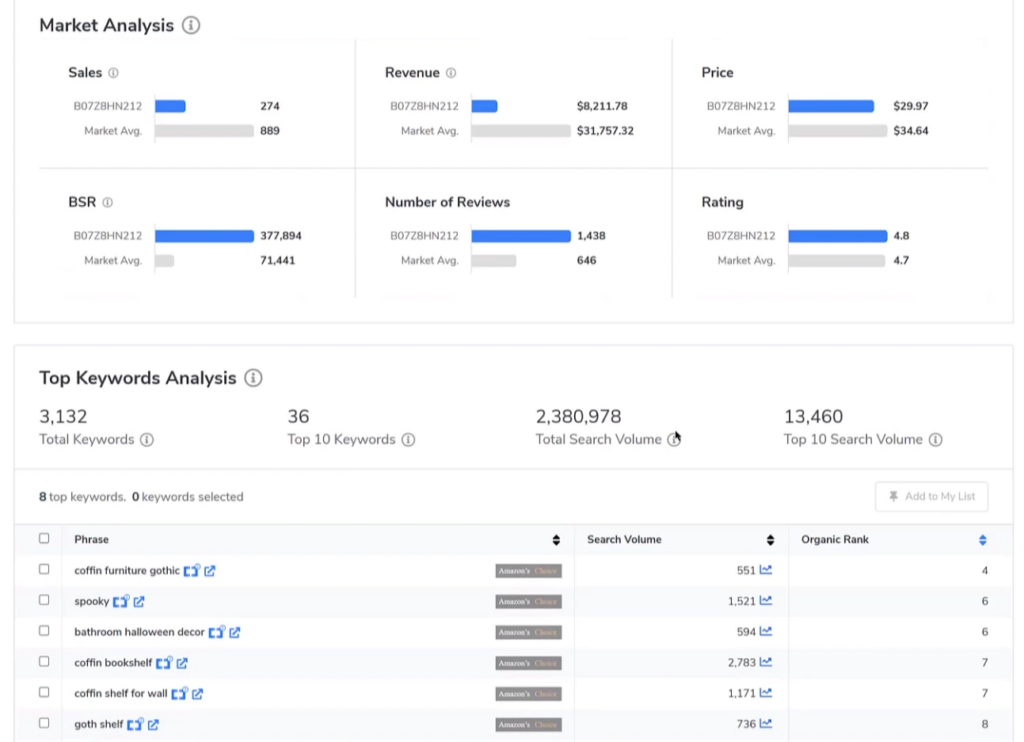 On the other side of the coin lives the Jungle Scout Listing Grader. This tool allows users to input any single ASIN and receive a grade based on listing title character count, number of product features, description character count, along with the number & resolution of product images. The Listing Grader is great for a high-level look at any one product listing but comes up short with the inability to directly compare multiple ASINs simultaneously.
Look & Feel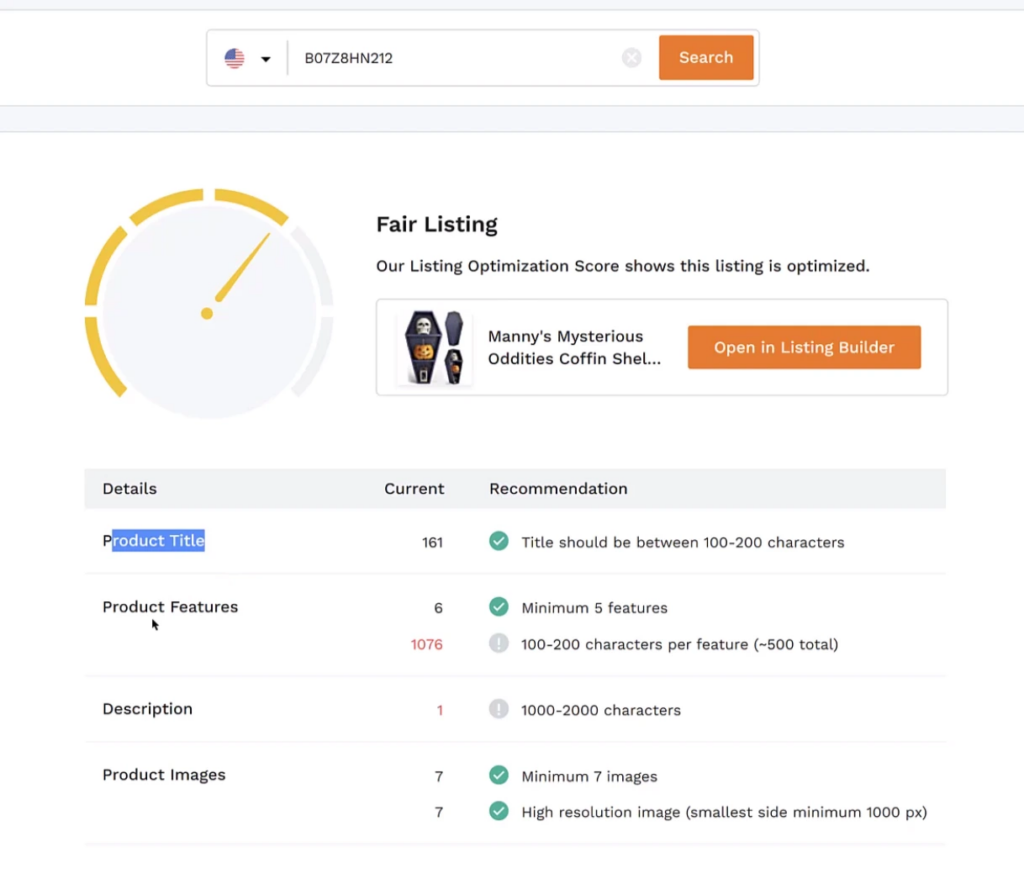 Keyword Research
It's perhaps the most important component in determining new product success in the Amazon marketplace. Keyword research is where new sellers will attempt to find high-traffic (popular), low-competition keywords shoppers are searching for on Amazon.
Helium 10 and Jungle Scout both offer comprehensive keyword research tools that pull from vast libraries of Amazon search data. It's important to note, like many of the tools we are comparing, both Helium 10's and Jungle Scout's keyword research tools include many of the same data features to help sellers display keyword search volume, current ranking, and search trends. We are going to focus on the ways that the two tools differ.
Helium 10 – Cerebro
First, Helium 10's Cerebro. Cerebro is one of Helium 10's most used tools and continues to be the gold standard for Amazon keyword research tools. Aside from offering a visually organized dashboard and at-a-glance metrics, this keyword research tool brings a few unique features to the table.
Cerebro includes "Amazon Recommended" keywords. These are keyword suggestions that come directly from Amazon. Amazon Recommended keywords are phrases that Amazon wants you to advertise for if you were selling a relevant product to that phrase. This is invaluable information "straight from the horse's mouth" and not something included in Jungle Scout's keyword research tool.
While using Cerebro, users may also notice something called a Cerebro IQ Score. This is a custom Helium 10 score that directly compares search volume to the number of competing products (for any given keyword) all in one metric. While Jungle Scout doesn't have this, they do include both these data columns separately (search volume and number of competitors) so you can still glean the same information. Helium 10 has simply assembled these metrics into one score for convenience.
Lastly, Cerebro includes an ASIN search history, so if you need to remember which ASINs you've recently searched or want to pull up the results from research you did months ago to compare to today, the tool automatically stores them for you. This is a feature that remains to be seen with Jungle Scout's tool.
Look & Feel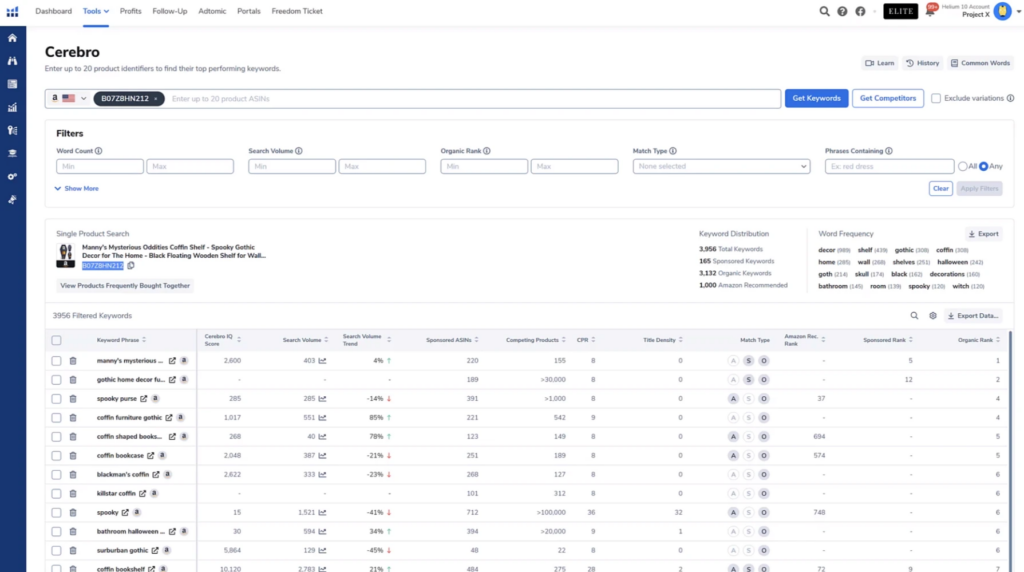 Jungle Scout – Keyword Scout
Cerebro's Jungle Scout counterpart is Keyword Scout. This tool includes a few handy features of its own that should not be overlooked. The "PPC Bid" column estimates the median cost of an exact match PPC ad. An "Ease to Rank" column provides a simplified "easy/moderate/hard" rating for each keyword. The "Recommended Promotions" estimates the number of daily promotions required to reach a top 3 ranking in 7-14 days.
Look & Feel
Not only do Helium 10's Cerebro and Magnet work in 12 international Amazon marketplaces (including Australia and Japan), but they also function on Walmart.com.
When it comes to Amazon keyword research, Helium 10 remains the superior Jungle Scout alternative and deepest toolset available.
Achieve More Results in Less Time
Accelerate the Growth of Your Business, Brand or Agency
Maximize your results and drive success faster with Helium 10's full suite of Amazon and Walmart solutions.