Which Amazon Product Variations are Selling Best?
Though Amazon assigns the same BSR for every product variation, this tool helps uncover one reliable sign of a top selling product variation!
Originally published on: October 7, 2022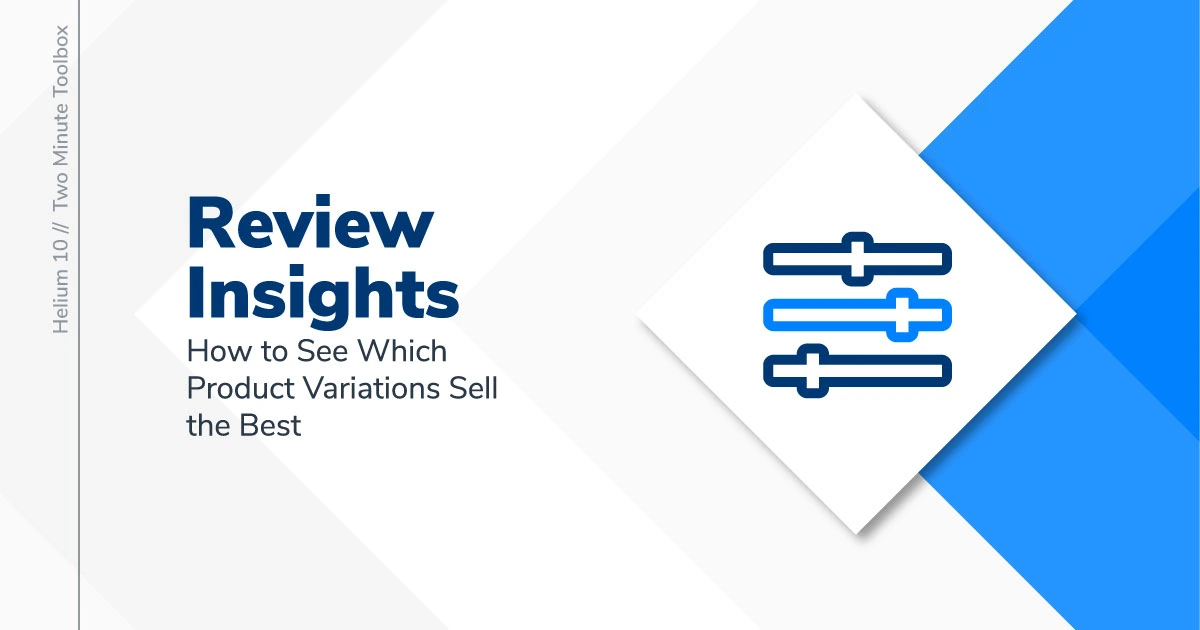 You're using Helium 10 and have been scouring Amazon with the free Amazon Chrome Extension. Now you're getting valuable sales data and ranking information everywhere you look. The longer you sell on Amazon, you'll notice: data is going to help you make some of the most important product decisions for your growing brand.
If you've been using Amazon seller tools, like our Amazon keyword research tool for example (whether that be ours or someone else's), you also may have noticed something puzzling about product variations.
Sales estimates for a given product are all the same for every variation!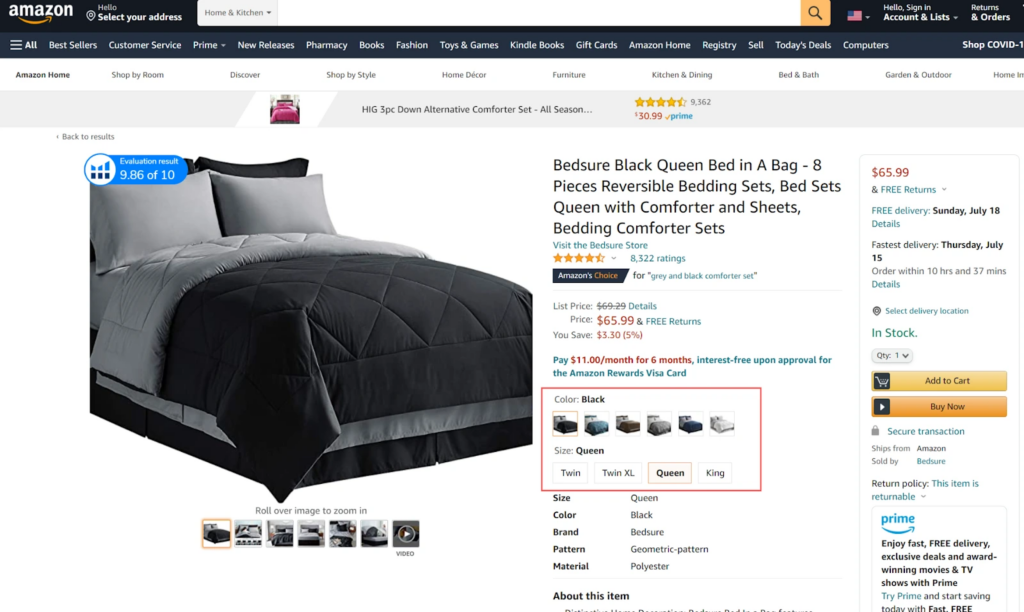 Here's What You May See When Looking for Amazon Product Variation Sales Estimates…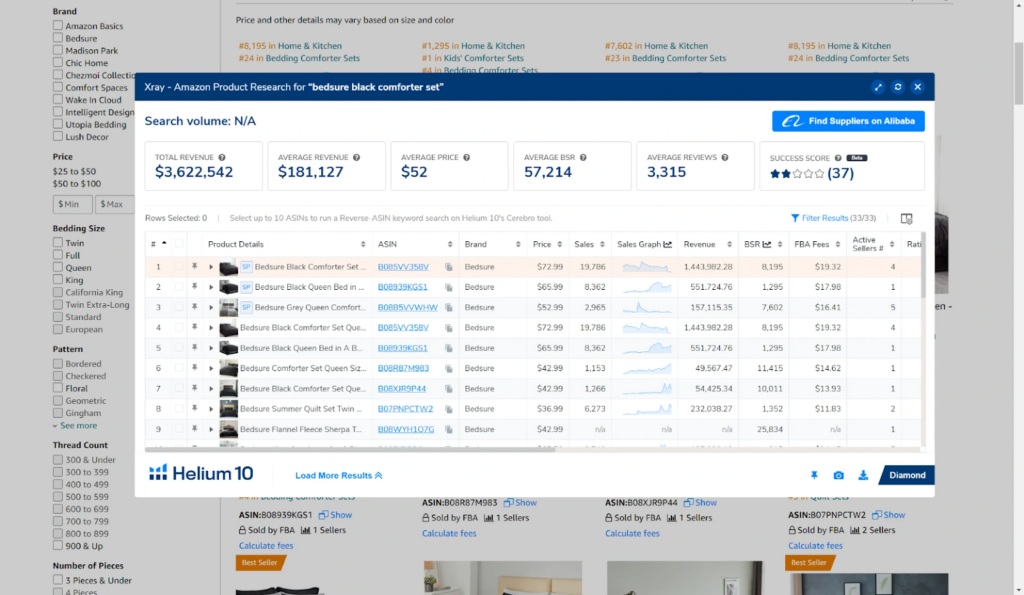 With Xray (part of the Helium 10 Chrome Extension), you can view product details for any product on Amazon. This includes estimated monthly sales, visual sales graphs, estimated monthly revenue, BSR, estimated fees, and a ton more.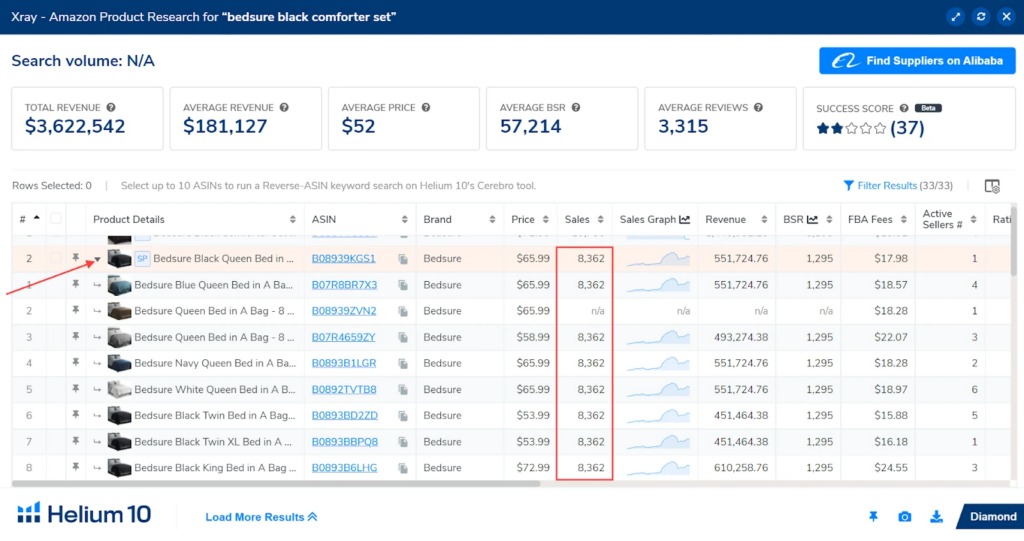 Next to any product in Xray, you can click the dropdown arrow to the left of the product's image to view all variations. As you can see, the estimated sales are all identical!
So why do sales numbers look the same, even though these are technically different products? Every single one can't be selling the same exact amount… right?
The answer: Amazon assigns the same BSR (Best Sellers Rank) to a product listing and all of its child variations. So, when you're using a Helium 10 tool (or any other Amazon seller tool, for that matter), you're seeing the sales estimation for not one product alone but for ALL sizes, colors, or variations of that product together.
Fortunately, with the tool Review Insights (you guessed it…. included in the Helium 10 Chrome Extension), there is still a way to investigate which Amazon product variations are selling the best.
How to Hone in on Specific Product Variation Sales
On any single product page (one with multiple variations), open up Review Insights from the Helium 10 Chrome Extension. After selecting your date range (the last three months should be sufficient), click Extract Reviews.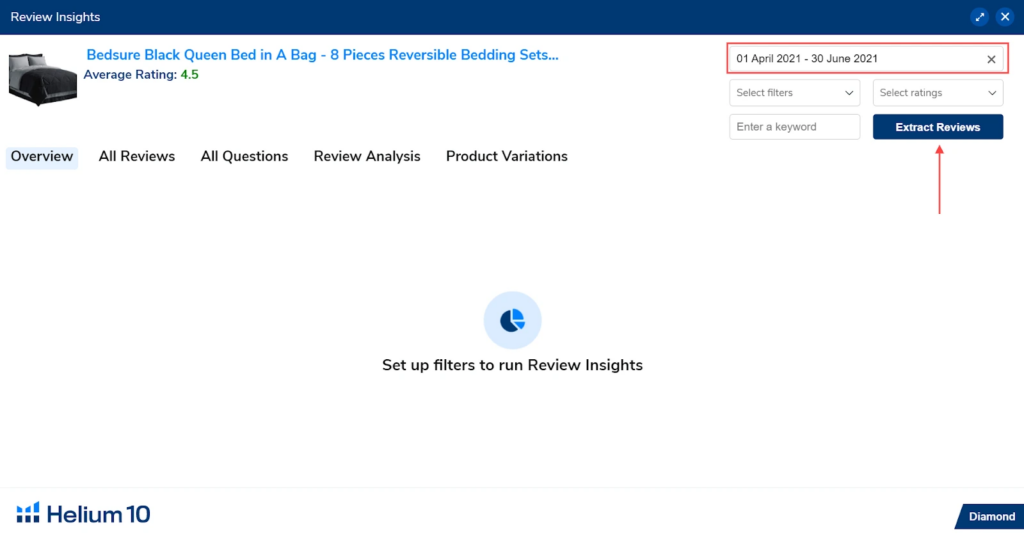 Under the Product Variations tab, you will see every Amazon product variation ASIN and their respective review count.
What can we deduce from the list?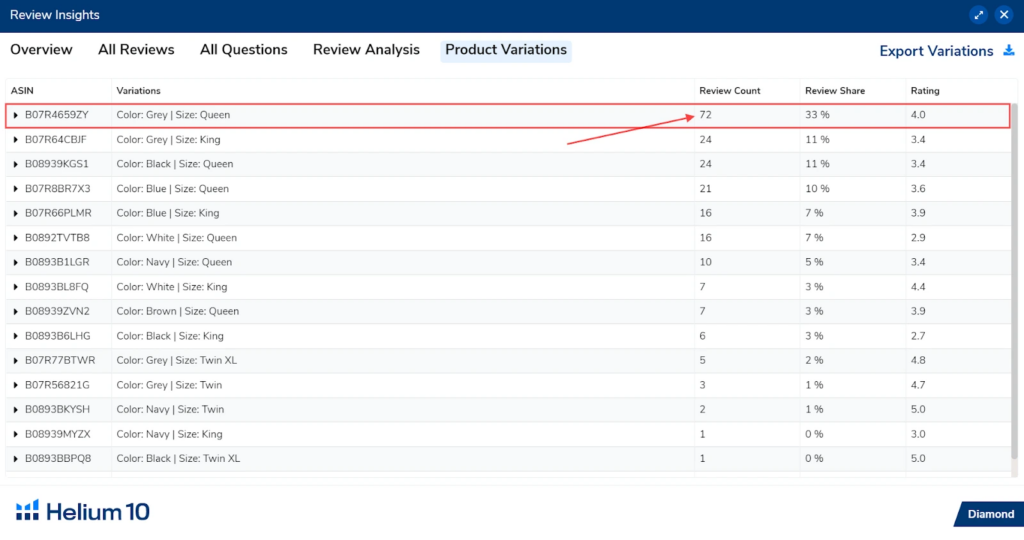 Typically, for any product with multiple variations, there will be one or two that dominate the listing's review count. In the above example, we can see the "Color: Grey, Size: Queen" variant of this product has one-third of all product reviews! In fact, the top three ASINs of this list, together, account for over 50% of reviews.
While it is far from an exact science, using staggering review count numbers, more often than not, points to a variation that is selling very well.
Until Amazon gives us all more access to more specific data, this is the best way to glimpse valuable product variation performance.
Remember, where there's smoke (loads of reviews), there's fire (sales!)
New to Helium 10? Be sure to check out our blog for up-to-date information on the e-commerce industry! Helium 10 offers all-in-one suite of tools for e-commerce sellers, like our free Amazon keyword research tool!
Frequently Asked Questions
Everything for your business on Amazon.
Find out more about our products by signing up or speaking with one of our
Customer Success representatives today. With us in your corner, you can enjoy
more sales and increased engagement from your Amazon business.
Chat with a Support Specialist