Xray: The Ultimate Sneak-Peak Amazon Product Research Tool
Xray is Helium 10's ultimate sneak-peek Amazon product research tool that reveals data estimates in sales volume, trends, and product selling viability.
Updated on: March 3, 2022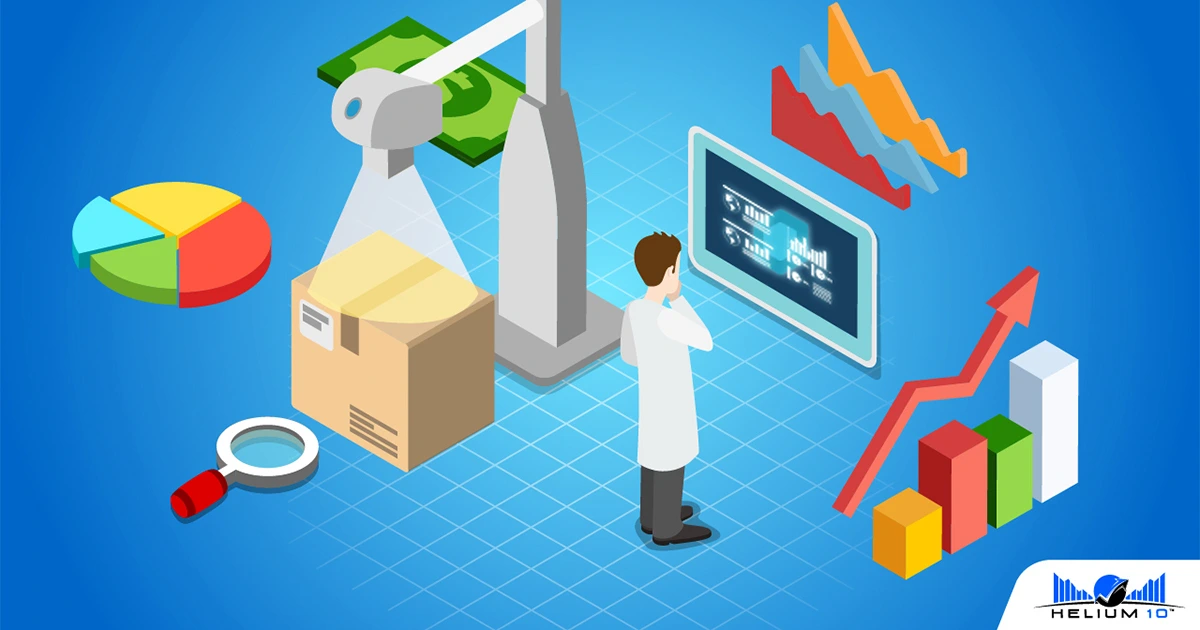 Xray by Helium 10 is by far the most comprehensive Amazon product research tool in existence that partners well with our Black Box tool and provides the hidden data on the products you are looking to sell on Amazon.
Xray can be used through the Helium 10 website as stand-alone software or added using the Helium 10 Chrome extension.
Our last blog introduced and outlined some of Xray's key features. While all the features contribute to the data pulled for the product of interest, the Success Score is one of particular interest. This score tallies up the metrics of any given product and provides a viability score of how difficult it would be to succeed in selling that product.
Before we dive in to understand the features better and how they affect the Success Score, let's dial back for a quick review of Helium 10's powerful Amazon product search tool with ninja abilities.
Helium 10's Ninja Amazon Product Research Tool
Xray is a tool that uses Amazon to identify products and aggregate the most current data estimates on them.
Using the Xray Chrome extension to open the tool and hovering over a given product will give you access to all its Xray features, and consequently, a large cache of information on it within each category.
Sneak-peak product research can be performed on as many products as sellers want. The Xray Success Score box is also movable and transparent so the Amazon page can be viewed through it at all times.
What Goes Into Xray's Success Score?
Across the top of the Xray window are broader categories. These metric columns present a much more detailed picture of the product being researched.
These categories appear as the following in Xray:
Total Revenue
Average Revenue
Average BSR
Average Price
Average Reviews
Success Score
All six overarching categories present an overview of the products and sellers who offer them on the displayed page in this effective Amazon product research tool.
In the chart below, we explain what each category represents and how that affects the products' Success Score, if at all.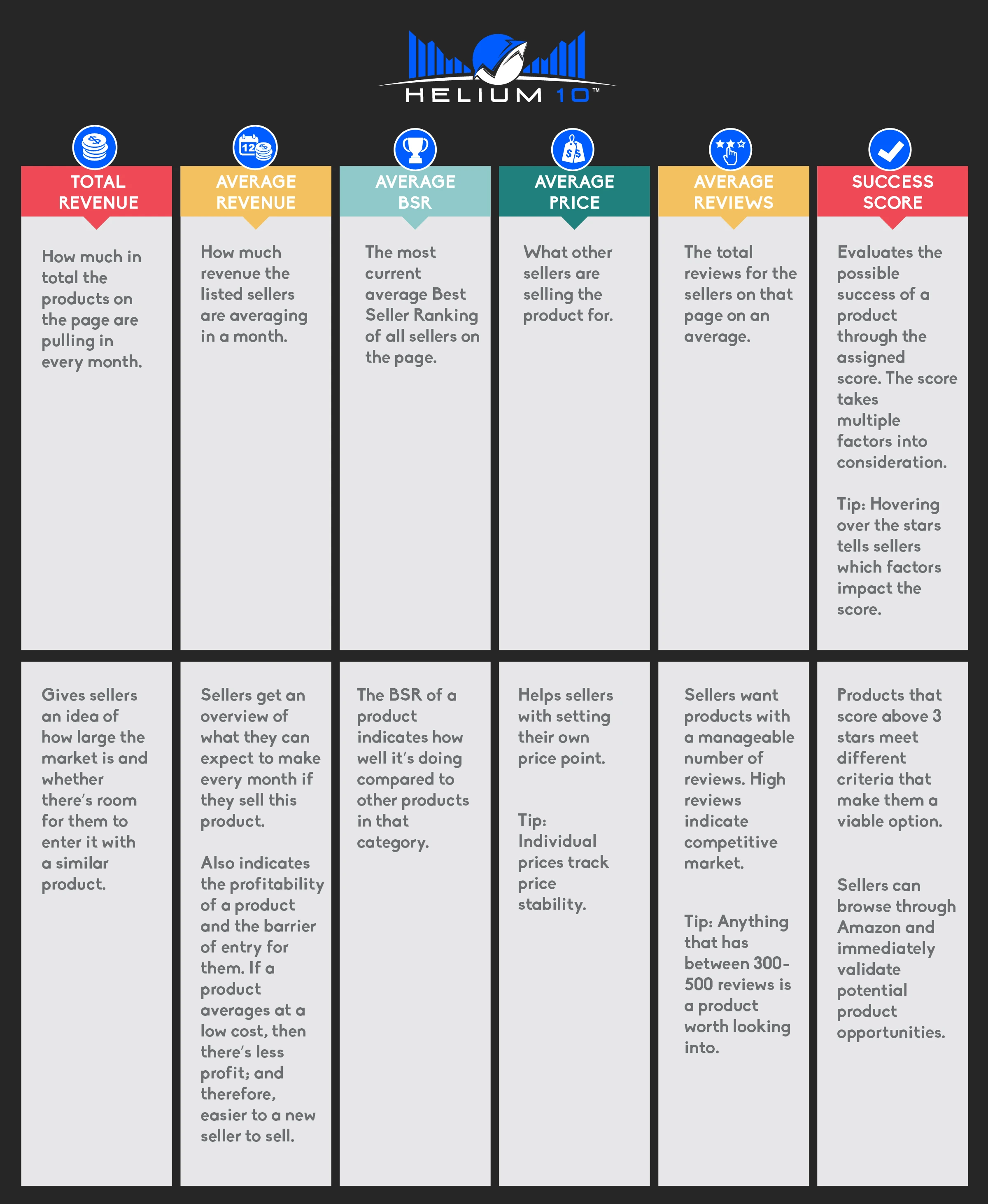 With the big picture in mind, let's break down the different Xray categories to see how sellers can benefit from them and how they may affect the Success Score:

The Xray features relative to the Success Score of various products give sellers enough data to make an informed decision about the product they choose to sell AND have a baseline model for their Amazon business.
---
Have more questions about Xray and the Success Score? Let us know what's on your mind in the comments!
If you're not a Helium 10 member yet and you sell on Amazon, what's holding you back?
SIGN UP HERE TODAY TO START ACCELERATING YOUR AMAZON BUSINESS
Get more Helium 10 updates by giving us a "Like" on our Facebook page: https://www.facebook.com/Helium10Software/
Want to absolutely start crushing it on Amazon and make more money? Follow these steps for helpful resources to get started:
Get the Ultimate Resource Guide from Manny Coats for tools and services that he uses everyday to dominate on Amazon!
New to Selling on Amazon? Freedom Ticket offers the best tips, tricks, and strategies for beginners just starting out!
CLICK HERE TO SIGN UP FOR FREEDOM TICKET
Trying to Find a New Product?
Get the most powerful Amazon product research tool in Black Box, available only at Helium 10!
Want to Verify Your Product Idea?
Use Xray in our Chrome extension to check how lucrative your next product idea is with over a dozen metrics of data!
GET THE HELIUM 10 CHROME EXTENSION
The Ultimate Software Tool Suite for Amazon Sellers! Get more Helium 10 tools that can help you to optimize your listings and increase sales for a low price!
CLICK HERE TO GET STARTED TODAY
Protect Your Amazon Brand with a Trademark!
Protecting your brand from hijackers is vital. SellerTradmarks.com provides a streamlined process for obtaining a trademark for your business and shielding your products from fraud!
CLICK HERE TO GET YOUR TRADEMARK
Ready to Get Serious About Your Amazon FBA game?
The Helium 10 Elite offers cutting edge training for advanced Amazon sellers who are ready to grow their business and take it to the next level.
CLICK HERE TO JOIN THE HELIUM 10 ELITE
Does Amazon Owe YOU Money? Find Out for FREE!
If you have been selling for over a year on Amazon, you may be owed money for lost or damaged inventory and not even know it. Get a FREE report to see how much you're owed!