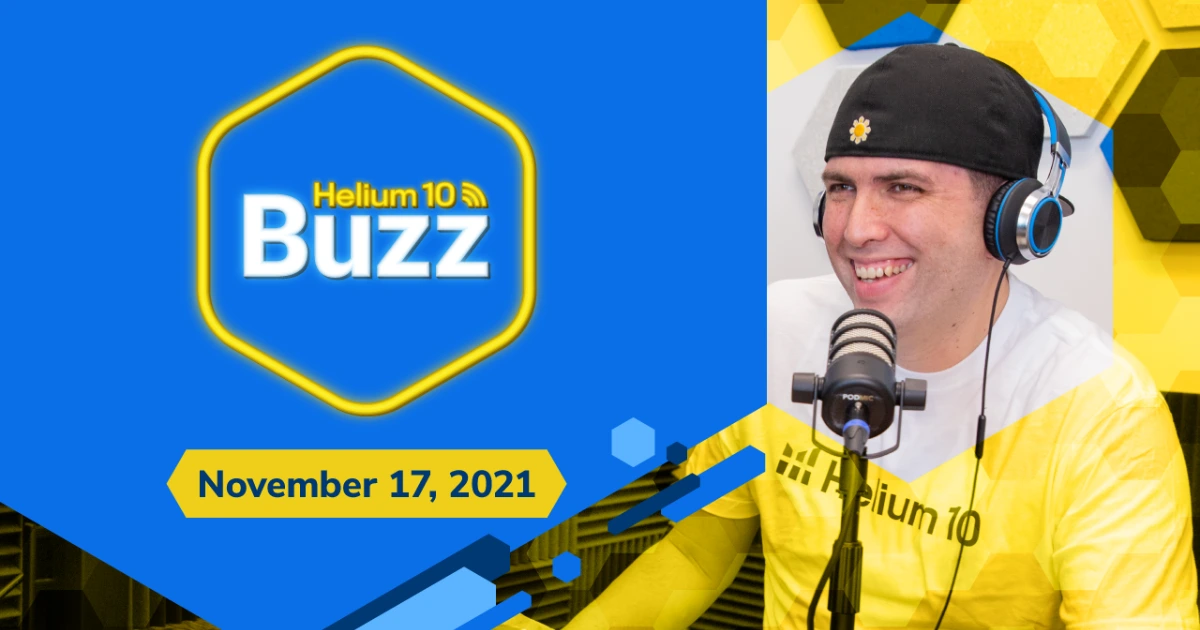 Helium 10 Buzz 11/17/21: Black Friday, New Amazon Seller Data, Follow-Up, How To Get Subject Matter Back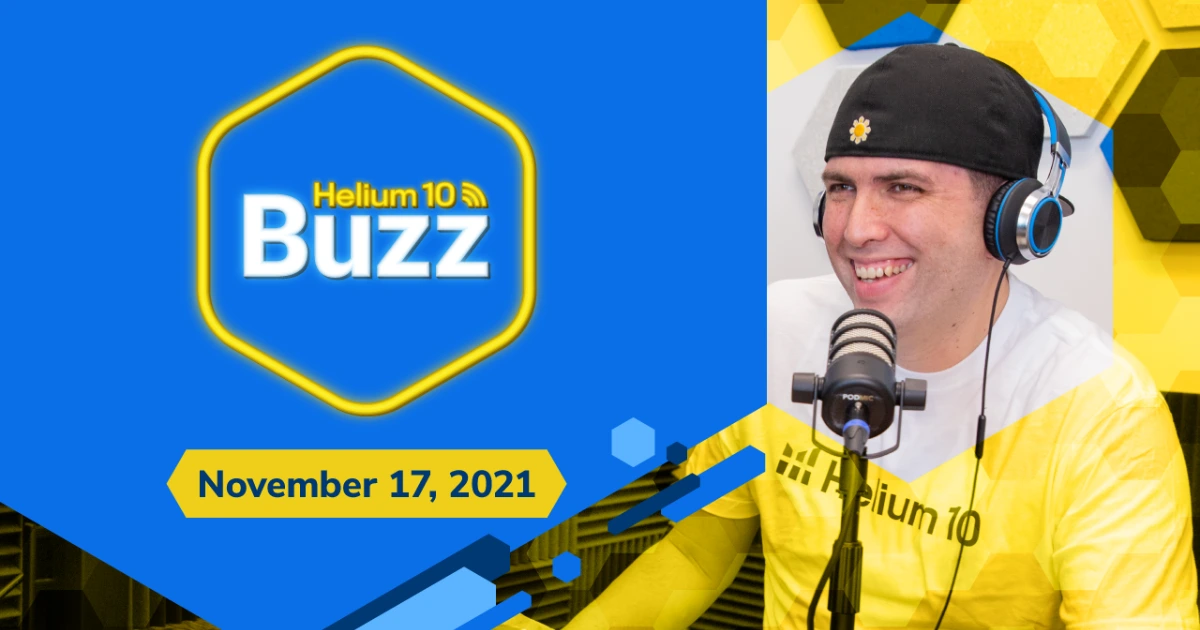 In this week's episode, we'll be talking about a variety of topics including early Black Friday deals, competition on the different online marketplaces, Amazon's brand referral bonus program, using Amazon global logistics, an interview with the product manager of Helium 10's Follow Up tool, and a mind-blowing ProTraining tip on how to add subject matter to your listing using Helium 10's new tool!
In episode 1 of the Helium 10 Buzz, Bradley talks about:
01:50 – News On Early Black Friday Deals
02:30 – Marketplace Competitions Are Heating Up!
04:00 – Are You Taking Advantage Of The Brand Referral Bonus Program?
05:00 – Faster Shipping Times With Amazon Global Logistics?
08:00 – Amazon Seller Fees Increased For US Sellers?
10:20 – Interview With The Product Manager For Follow Up
19:00 – ProTraining Tip Of The Week: How To Add Subject Matter To Your Listing
Transcript
Bradley Sutton:
Hello guys, and welcome to the very first episode of the Helium 10 Buzz. All right. What is the Helium 10 Buzz? This is going to be a new weekly show that we're going to be doing where we're going to go over the top. Amazon Walmart e-commerce news stories of the last week or so. We're going to have industry interviews, interviews with our product managers here at Helium 10, talking about what's new with some of their tools, interviews with the average Joe's and the average Sally's out there. You Helium 10 members out there. We're also going to have interviews with different influencers out there or service providers to see what's new in their world. And every week we're also going to have the Helium 10 Pro Training Tip of The Week. So today we have stories that range from Amazon's Black Friday opening to an interview with Alex and what is new with our Follow-Up tool.
Bradley Sutton:
We're going to have a Helium 10 tip on how to add subject matter to your listings if it's been taken away from you by Amazon. So make sure to stay to the end. This is only going to go for about 15 to 20 minutes or so. So we hope to give you guys some valuable information on this. Now let's go ahead and hop into this right now with our news stories. All right, here we go. The very first news story that we're going to be talking about today is Black Friday. All right. So this is actually, if you look on amazon.com right now on the main page, you'll actually see some early Black Friday deals already active and you see a lot of buzz. I was looking at the Helium 10 Chrome Extension. You can see lots of BSR fluctuation on these new ones.
Bradley Sutton:
So my question is to you guys out there are, do any of you have early Black Friday deals, active or deals of the day on your account? How are they doing so far? If you're listening to this on the podcast, let us know on my Instagram @h10bradley, where we talk about the podcast. I would love to know how Black Friday is going for you. Do you have any active right now? Any campaigns? Do you have any campaigns that are going live on the real Black Friday next week? And also if you're just a consumer out there, start checking it out because I already saw some pretty crazy deals out there for Black Friday. All right. Story. Number two, it's about marketplace competition. Now, this is a story from digital commerce, 360. And in this article, it was entitled Marketplaces, Offer Sellers New Tools, Services, and Incentives as Competition Heats Up.
Bradley Sutton:
It noted how the online marketplaces are introducing new tools, better terms, and wider opportunities for sellers. As they look to broaden the number of merchants who sell goods on their platform. The article went on to show how retailers that they interviewed are really kind of expressing this desire to sell on multiple platforms, 24% of the ones that this company, digital e-commerce interviewed. They said that they are going to increase the number of marketplaces in which they sell goods. Does that apply to you? Are you only selling on Amazon right now? If so, are you going to be planning to sell on other platforms? That article went on to interview different people that we know Norm Farrar another person who wears hats all the time was interviewed in that article. And there was different quotes talking about how Walmart is expected to be kind of like the main recipient of this marketplace expansion.
Bradley Sutton:
So make sure to check out that article. The link is in the notes below. The next article we're talking about is actually directly from Seller Central. They sent out a reminder and it was about the brand referral bonus. This is something launched a few months ago by them and what this is, here's what the article says. It says thousands of brands are already taken advantage of the new brand referral bonus program with some earning thousands of dollars in bonuses in a single month. It went on to say brands who direct traffic from their off Amazon marketing campaigns to their Amazon listings can earn a bonus averaging 10% of product sales on promoted products and any products of their brand the customer purchased purchases in the following two weeks, the bonuses provided as a credit to their seller referral fees. So it looks like this reminder came out because a lot of sellers have taken advantage of this referral bonus program.
Bradley Sutton:
My question to you out there is have you taken advantage of this? Are you sending outside traffic and getting this 10% reward? How much money have you made from it? Would you like Helium 10 to maybe provide some content a little bit more on how this referral bonus program works? Another article, this is taken from the Seattle Times and it's entitled Amazon takes this war to get products to our door on the high season. Now there's a couple interesting points in this article. All right, now we all know right off the shipping delays that we have. I have a product right now that is a huge seller in Q4. I thought I had ordered in well more than enough time. I had it ordered like an early summer. It got to the port in September, guys, we are in November now, and I still do not have this product in my warehouse. It's just been sitting on the water for a long time. So we all know about this.
Bradley Sutton:
Now, what struck me interesting about this article was there's this article or there's this company called Attarian, where they sell these humidifiers called hOmelabs. Now they said that they were being quoted $25,000 or more for a shipping container of their products from factories in China. And that same shipment, they said typically cost them $3,000. Now here's where this article gets interesting. It said Amazon got in touch and offered to put the dehumidifiers on cargo ships that are chartered across the, for significantly lower fee. The CEO of this D dehumidifier company says, Hey, was a huge relief. Amazon brought the goods to port, and then we arranged to truck them from there to our US warehouses.
Bradley Sutton:
Now, that, I don't know if you guys caught that, that's where I was like, wait a minute. That's weird. We know about Amazon global logistics, right? Where Amazon can go ahead and handle the logistics of your products. It can handle the logistics and they will take it from your factory in China, all the way to the Amazon warehouses. Now, maybe I'm just not too much, not too experienced with this because I've never used Amazon logistics, but this was the first time where I heard where they'll just take it to the port for you, and then you can pick it up yourself and take it to your own warehouses. I had never heard that before. So my question is do out there is this just, have I just been living under a rock? Or have you guys out there been approached by have you been approached by Amazon offering to pick up your and ship your products without having to take it all the way to Amazon?
Bradley Sutton:
Those of you who are doing the Amazon Global Logistics, where you do go all the way to Amazon have you seen maybe a faster shipping times as opposed to if you were not using Amazon Global Logistics? All right. So those are the main articles that we had for today. One more article that I wanted to bring out that just kind of came out today in Seller Central, it was about an increase in the fees for Amazon Sellers. Now, I want to bring this out because there was already a little bit of some misconception that they came up about it. But whenever Amazon has, this kind of increase in fees, they always drop some major golden nuggets as far as information about, you know, number of sellers and what's been going on. So these are some of the approach that I took from this article that came out in your seller central dashboard today.
Bradley Sutton:
They started by saying, Hey, US-based sellers, all right, this is not just selling an Amazon USA, but the sellers who are in the Amazon United States of America. It says US-based sellers sold more than 3.8 billion products or seven 7,400 products per minute in Amazon stores alone. And says, we welcome more than 200,000 new third-party sellers to our us store up 45% from the previous year. Wow, that's crazy. While the number of Amazon sellers who surpass $1 million in sales, what does that mean? Seven-figure sellers, right? Grew by nearly 15%. That's really great to hear. How many of those are you out there? How many of you crossed the seven-figure threshold out there?
Bradley Sutton:
The article went on to say, since the start of the pandemic, we've more than doubled our us fulfillment capacity. We've hired more than 600,000 people. We've opened more than 350 new fulfillment centers. Sortation centers, regional hubs, and we're hiring a and 50,000 more people across our US fulfillment network. I don't know about you, but I have not been having personally a lot of those inventory storage issues that I had a few months ago. I know some of you are, so hopefully, these will get fixed across the board, but it's definitely encouraging to hear that they've opened up so much capacity, which is probably going to result in less of these inventory restrictions. Now, again, they went on to say how there's sometimes about a 10% to 15% increase in Amazon fees. Now, remember, this is where there is confusion. This does not mean that your 15% commission fee is increasing like 20%. Some people were scared about that.
Bradley Sutton:
This is only that like the pick and pack fee for your FBA products like Ford, for example, what's going to happen in January. And this happens every year, by the way, a small standard item that weighs 12 to 16 ounces that before was $3.32, it's now $3.59. Some are not even that much. Let's say you have a large standard three-pound item, like our coffin shelf, right? If we were paying $5.68 For the fulfillment of that, it's now going to be a whopping $5.79, 11 cents difference. All right. So again there are some new changes to your fees, make sure you know about them. They're on your seller central dashboard, and these go into effect in January of next year. All right. At this time, now we are going to go ahead and invite to the stage here, Alex from our Helium 10 Product Team, Alex, how's it going?
Alex:
It's going great. Glad to be on with you Bradley
Bradley Sutton:
Alex, can you tell everybody, I mean, you're a familiar face out there, but we might have some new viewers and listeners here who don't know your face or your voice. So what do you do here at Helion 10?
Alex:
Yes. So I am a Product Manager on our Product Team. So my main focus is on our Portals, Marketing tools. So that's our Landing Pages, Barcode Labels, which is a newer feature that's in beta now, your Product Inserts, QR code, Short-links. And then I also work on our Follow-Up, which is your Email Automation and Automating Review Requests.
Bradley Sutton:
Okay. Let's talk a little bit more about Follow-Up today. I think that's one of out of all the tools that we have launched that you're responsible for, that was, our oldest one. And it's probably the one that really affects all sellers. Remember guys for Follow-Up, it's not just about product reviews. It's about seller feedback. So if you are a private label seller, you're probably concerned about Follow-Up because, Hey, you want to get product reviews and that's very important. So every private label seller should have Follow-Up activated, but if you're an arbitrage seller or a wholesale seller or a shipping seller, you also want to use Follow-Up because you're not may be concerned about reviews, but what do those kinds of sellers want to increase? Alex?
Alex:
Exactly. So I think you nailed it. Those are the two big buckets that we focus on. So improving your product, review, or rating count and maybe not just the count too there's different strategies you can apply and follow up to potentially optimize for the rating itself. So you know, different kind of things, filters you can apply or methodologies to try to get a higher five-star rating on your product. So that's, that's the one bucket you mentioned, which is, you know, getting a higher product rating count and then celebrating as well. Right. when you automate Amazon's Review Requests, that's not just Product Review, that's your Seller Account Review as well which you can automate both of those actions in the same Amazon email template using Follow-up. So it's really any third-party seller that wants to do either of those two things.
Alex:
And then you can also use Follow-Up to automate custom messages. So if there's other you know, cases that you need to be proactively messaging buyers, you can also do that by creating a custom email template and automating that to go out to your buyer using Follow-Up. And, and really, I think anyone can use Follow-Up. Obviously, you know, if you're using as more of a time-saver, the more orders you have, the more interactions you have with your buyers the more time it's going to save for you but really any third-party seller on Amazon should be looking to utilize an email automation tool, like Follow-Up.
Bradley Sutton:
Yep, absolutely. And it's within terms of service. I mean, you could take anything that's within, in terms of service and try and twist it and do something bad and you shouldn't do it guys, but the way that we have structured it is within terms of service. And especially if you're using the requests, a review, and feedback that is actually triggering the Amazon Request Review, where it doesn't even allow you to do something that would be against a terms of service. Unless of course, you're trying to send that to people may be that you left a 50% discount to, or something like that. But anyway, that's a side topic there. Now, one of the beauties about Follow-Up is it's kind of like set it and forget it. You know, I set up this automation and in perpetuity, where we're like in continuity, whatever, it just keeps, it keeps working. So like, for example, me personally, I have not probably opened up Follow-Up in like five or six months because I already set up my automations. I never have to worry about it. So for somebody like me, who maybe hasn't gone into Follow-Up lately, what are some new features may be that you've released in the last few months or so?
Alex:
Yeah, I think the two that are important to highlight answer kind of two different questions. So one is, is the compliance that you mentioned so abiding by Amazon's Terms of Service and their Communication Guidelines. That's always something that we hear from sellers that they're very aware of, of, you know, and cautious of violating those. So one of the features that we added is our compliance checklist. So when you're creating an automation in Follow-Up, you'll actually see a little rundown of the few different things that we're going to check for to ensure that you are being compliant. The main one, for example, would be, you know, are you going to request to review more than once for a product in an order? And the answer is always no. But we do a few things to check for that.
Alex:
Mainly we check, have you sent that already? And if you have in any mechanism we'll cancel it, the subsequent requests. So if you've requested it in Amazon, if you request it with a different tool, if you've requested it multiple times and Follow-Up only one is going to go out, so we're going to ensure of that. And there's a few other items on that compliance checklist that we're looking for to ensure your compliance. Now, like you said, there's always, you know, edge cases where people can try to sidestep or you know, tow the kind of gray area of compliance. But we're always adding ways to try to ensure that you are doing that you know, dotting your E's dotting, your I's crossing your T's, right. And then the other thing that we've added in Follow-Up answers the question of, how is Follow-Up automating messages and review requests based on my orders?
Alex:
It is a little bit of a Black Box when you set it and forget it, there are users that want to understand exactly how it's working behind the curtain, right? And so what we've done to kind of peel that back is we've added the ability to drill down into all of the dashboard statistics. And what that will do is actually drill down to those statistics on the orders page with a bunch of new advanced filtering that you can apply as well. So if you want to see show me all of the review requests for this particular automation that I've set up that were sent out on November 14th, you can drill down to that exact data, see the orders, see the requests, see the status of all of those and find it much easier and quicker by just drilling down into that or applying those filters on the orders page.
Bradley Sutton:
Okay, excellent. So, Alex, thank you so much for joining us. We'll have you back in a few months, maybe we can talk Portals or one of your other tools at that time.
Alex:
Let's do it. Thanks for having me see you later.
Bradley Sutton:
All right, guys. Another thing that we're going to be doing weekly here is have a Pro Training Tip Of The Week. You know, sometimes this might be about an Amazon strategy that you're wondering about. Sometimes it might be about a Helium 10 tool. This one that we're going to have this week is about both. All right. So, as you're going to see, you know, you might not have subject matter anymore in the back end of your list. And we're going to show you what that looks like. And then we're going to show you if you're a Supercharge Your Brand member, you have access to a tool, and the ability to now overwrite that even if Amazon has taken away your subject matter. So if you're listening to this on the podcast, you're not gonna be able to visualize a lot of them, that we're showing here. But go ahead and you know, take a listen so you can understand what is available, then maybe switch back to YouTube so you can actually see it in action.
Bradley Sutton:
So here's the pro training tip of the week. I'm about to show you guys something that blew my mind when I discovered it. And I hope it blows your mind too, as you guys have probably heard from different trainings that Kevin King and I have done one of the most important parts historically of an Amazon listing is the subject matter. As a matter of fact, next to the title, it is the second or third most important field in a listing in order to get Indexed. And as far as how Amazon views relevancy as well to a listing now what's happened though in a lot of listings is it's disappeared. Let me first show you how it looks when it is in Amazon.
Bradley Sutton:
So you can see if your listing hasn't all right, let me go in here to Inventory and Manage Inventory. And I'm going to show you a listing. That definitely has it. It's our egg tray. I'm going to hit edit right here. And then as you're going to see, once I go to the keyword section up here, you'll see I've got subject matter, right? Like three lines of subject matter. Sometimes it's three, sometimes it's four, sometimes it's five. And here's a search terms that being said, take a look at the coffin shelf under the same field of keywords. You see I'm in the same place here, keywords here on egg tray keywords here on coffin shelf. What's missing. There is no subject matter. Now here's the thing. It's still kind of exists in the backend. Every time I've tried this, it has worked. It still exists in the backend, the field, right?
Bradley Sutton:
But you have no way to up update it here. Well, here comes listing builder. What you can do, you can add whatever subject matter you want. I would say at least three lines up to 50 characters. Only 50 characters is what you want to use here and do three. You can try up to five, all right, try up to five. But if you make it right here in listing builder, and then you sync it to Amazon, guess what? It will work. I have tested this time after time after time. And it works every time where I put in a keyword that is in nowhere in this listing and I am not searchable. I'm not index for it. I put it in subject matter. I hit sync to Amazon. 30 minutes later, I run Index Checker. Index Checker is our tool that allows you to see if you are indexed or not are searchable.
Bradley Sutton:
And sure enough, I go from a no to a yes I am indexed. So that works every single time for me guys. Of course, it's not going to work for like forbidding keywords or things you're not supposed to put, but if you want to get some extra, super, super great high search volume keywords, or maybe some of your misspellings or your Spanish words that you don't want to put in your front end, and you have no room in your search terms, put it in listing builder, in your subject matter, add like at least two or three lines and then sync it. And you're not going to see it. All right. It's not like it's going to show up like this egg tray were all of a sudden subject matter here is going to be here. It might look like it didn't work because it's still going to look like this, but it really does work.
Bradley Sutton:
You just can't see it here, but you are going to be able to see it in your listing. So, guys, that is like. I hope you can comprehend how amazing that is because subject matter is so important for putting like maybe a couple of your most important keywords there, as well as other keywords that you want to make sure your indexed for, that you haven't been able to put anywhere else in your listing. If you're just editing your listing in seller central, you're not going to be able to use subject matter in a lot of those listings where Amazon took it away. But as of now, as of when I'm recording this video at the end of 2021, it still is working. So keep trying it, add it in Listing Builder, sync it to your listing and get that extra juicy real estate that has a lot of that ranked juice. We call it that keyword rank juice so that you can get a leg up on your competition.
Bradley Sutton:
I hope you enjoyed this new program again, every week, we're going to bring you the latest news. We're going to bring you the latest interviews. We're going to bring you the latest tips of the week. Let us know what you think about that subject matter tip. Have you used that yet? Are you a Member and have actually tested that to work on the subject matter on a word that you were not indexed for, if you're a Supercharge Your Brand Member, make sure to try that brand new tool at Listing Builder out as soon as possible so that you can get that you know, keyword rank juice. So guys, thank you so much for tuning in and we'll see you guys next week on the Helium 10 Buzz. See you guys later.
---
Enjoy this episode? Be sure to check out our previous episodes for even more content to propel you to Amazon FBA Seller success! And don't forget to "Like" our Facebook page and subscribe to the podcast on iTunes, Spotify, or wherever you listen to our podcast.
Get snippets from all episodes by following Bradley on Instagram at @H10bradley
Want to absolutely start crushing it on Amazon? Here are few carefully curated resources to get you started:
Achieve More Results in Less Time
Accelerate the Growth of Your Business, Brand or Agency
Maximize your results and drive success faster with Helium 10's full suite of Amazon and Walmart solutions.