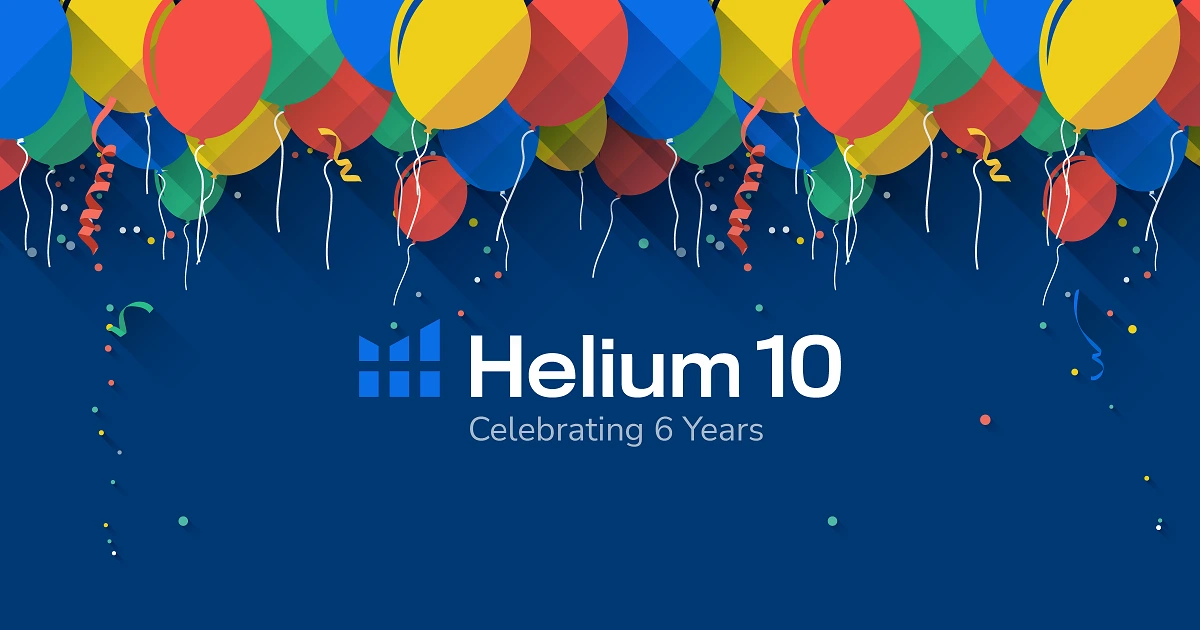 Helium 10 is Turning 6: Here's Half a Dozen Reasons To Celebrate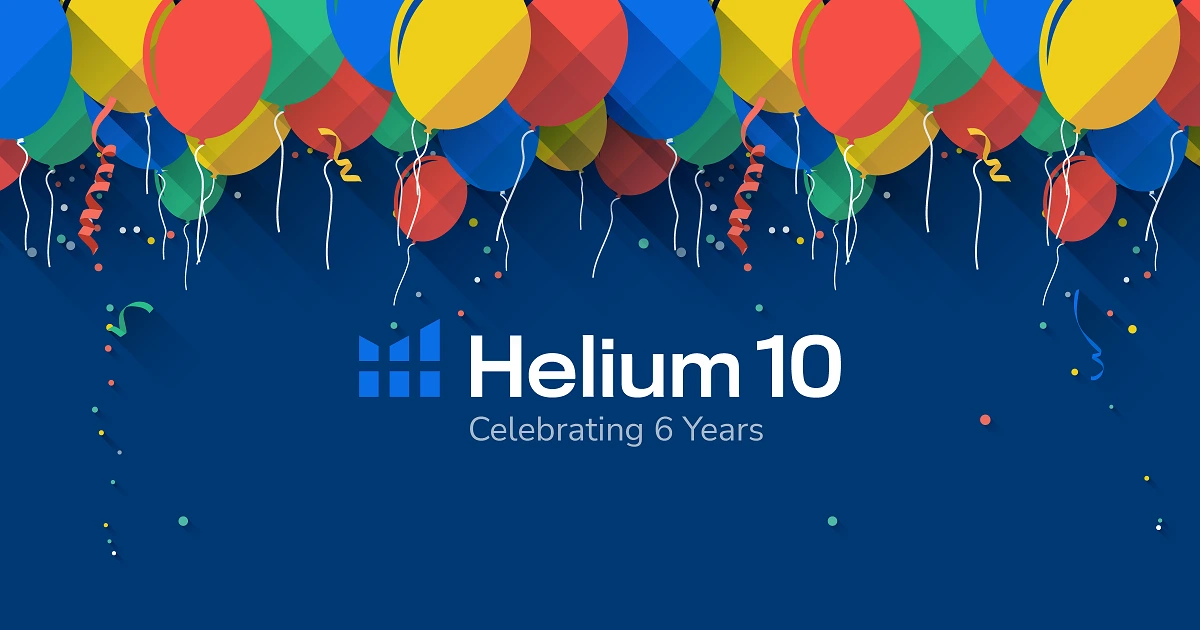 It's our birthday! We are celebrating the big SIX this year. We've grown a lot thanks to our amazing Helium 10 community, and so have our products and tools. From product research to inventory management, our tools and resources for marketplace expansion are designed to empower entrepreneurs at all stages. Helium 10's initiatives are inspired by YOU.
With that in mind, here are some accomplishments that we are celebrating this year!
Drum roll, please…
ONE More Marketplace
Helium 10 was first to market with the release of tools and resources for Walmart.com, making access to data and insights for sellers looking to strategically expand their businesses across multiple marketplaces widely available.
That's ONE small step for man, one giant leap for mankind. Did we all forget that Jeff Bezos went to space last year?.. In a cowboy hat?
We did the same thing, but with Walmart!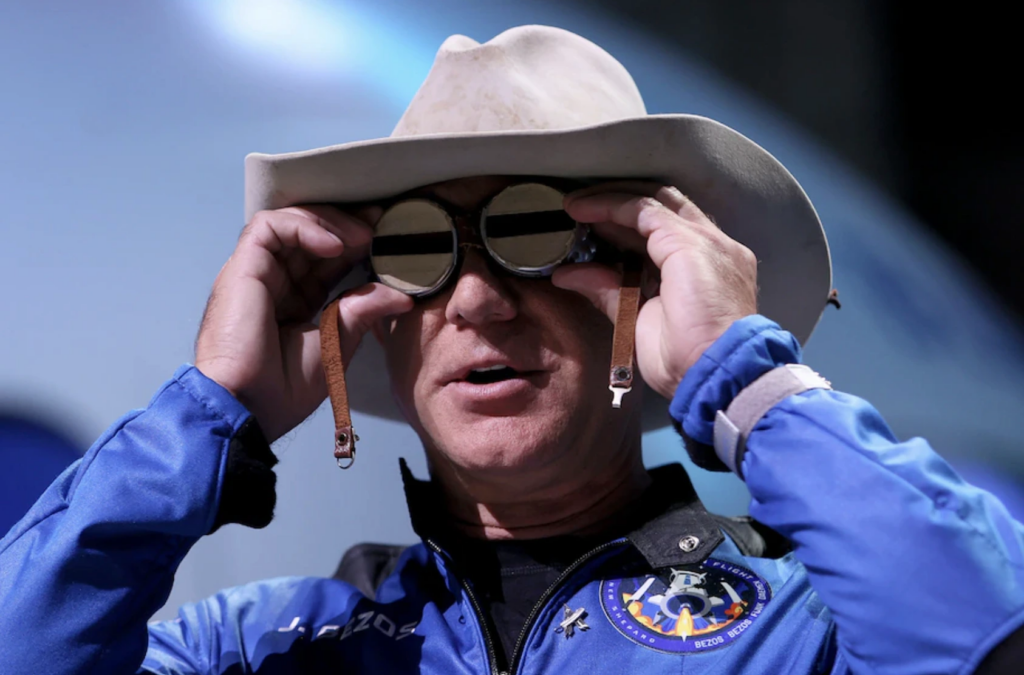 "Walmart.com is a massive opportunity for e-commerce merchants, but many have little to zero guidance on how to excel in the space. Helium 10 is democratizing online marketplaces with this expansion, allowing our sellers to level up their businesses with ease and providing them with product analytics, insights, and opportunities to grow profitability"- Bradley Sutton, Helium 10's Chief Evangelist and Director of Training
TWO…Million Members
We reached a new milestone! Our community continues to grow as we have over two million Helium 10 members. We proudly reached this threshold following the continuous release of innovative new tools for product research and inventory management, along with resources for marketplace expansion to empower entrepreneurs at all stages.
THREE Incredible Seller Resources
Expanding upon our founding as a community-based resource to empower e-commerce sellers, Helium 10 continues to build upon its legacy by delivering new video resources designed for varying stages of e-commerce selling.
FBA Quickstart is our latest 6-episode series for entrepreneurs new to Amazon. Learn the basics of how to sell on Amazon from Helium 10 Experts on our Youtube Channel.
Freedom Ticket is the premier Amazon FBA course on the market. Whether you're a beginner just starting out or an experienced private label seller, this course will give you knowledge other Amazon FBA courses won't tell you.
Project W is our 12-episode video case study showing existing Walmart.com merchants and Amazon sellers how to expand their businesses into Walmart.com's marketplace.
Episodes include "How to Get Approved to Sell on Walmart Marketplace," "How to Organically Rank Your Products on Walmart," "How to Advertise on Walmart," and more.
FOUR More Languages
Helium 10 is a Mr. Worldwide kind of community and we keep on growing! Our international expansion initiative came from recognizing that e-commerce is global and so is our community.
We made our Serious Sellers Podcast and social media networking groups more inclusive. Our long-time trusted resources for Amazon sellers bring together industry experts and the latest tactics and trends now in Spanish and German. In addition, we launched new Facebook groups for both countries to further connect its members abroad.
Also, our Chrome Extension, with over 700k downloads, is now available in Mandarin, in addition to its existing languages including Spanish, German, Italian, and English.
FIVE New Cool Tools
Selling on Amazon shouldn't feel like pinning the tail on the donkey. With Helium 10 tools, there is no guesswork. We developed these tools with you in mind!
Pinterest Trend Finder is a tool to help private label sellers extract trending Pinterest data to inform product research and uncover potential new opportunities that have not yet made their way to the Amazon marketplace.
Inventory Heat Maps offers a visual solution where sellers can track and manage their FBA inventory at Amazon warehouses across the county. The Heat Maps analytics tool equips merchants with accurate data to better plan their product launch and shipment strategies, ensuring their customers are offered the fastest delivery time possible.
Keyword Tracker was designed for sellers to track the rank of organic and sponsored keywords with expanded functionality for Walmart.com's marketplace. It's time to spread your wings and start selling on Walmart.com! We gotcha.
Listing Analyzer helps users get a broad, top-level view of their current or potential competitors' listings simultaneously. The Listing Analyzer allows sellers to analyze a single ASIN listing or analyze up to 10 ASINs as a group of listings.
Anomaly Tracker was developed specifically to detect the abnormalities that may affect your indexing capabilities. An Amazon anomaly is a rare phenomenon where your consistently ranking product keyword(s) quickly start unranking and in some cases disappear altogether.
SIX Years Old!!
We know, we look great for our age and we only keep getting better! Helium 10 has accomplished so much in such a short time. We are proud of how far we've come as a platform. Thanks for growing with us. Watching you flourish as e-commerce sellers is why we do what we do.
…We're not crying! You're crying!
So, What's Next?..
Two Words… Sell + Scale
In an effort to bring our community of industry experts of growing and established sellers together, Helium 10 is hosting the inaugural Sell + Scale Summit this fall! This will be a space where cutting-edge e-commerce strategies and unparalleled networking opportunities intersect to provide three days of breakthrough value for attendees. The e-commerce industry conference will focus on private-label selling and brand-building, with educational tracks for both new and experienced sellers.
Sell + Scale Summit will feature serial-entrepreneur Gary Vaynerchuk as the keynote speaker. The conference will be held at the Virgin Hotel in Las Vegas, Nevada from September 20 to 22, 2022. We can't wait to see you there!
To learn more and register for Sell + Scale Summit, visit: https://www.sellandscalesummit.com
Achieve More Results in Less Time
Accelerate the Growth of Your Business, Brand or Agency
Maximize your results and drive success faster with Helium 10's full suite of Amazon and Walmart solutions.