Amazon Sponsored Brands Creation: Simplified Campaign Setup at Scale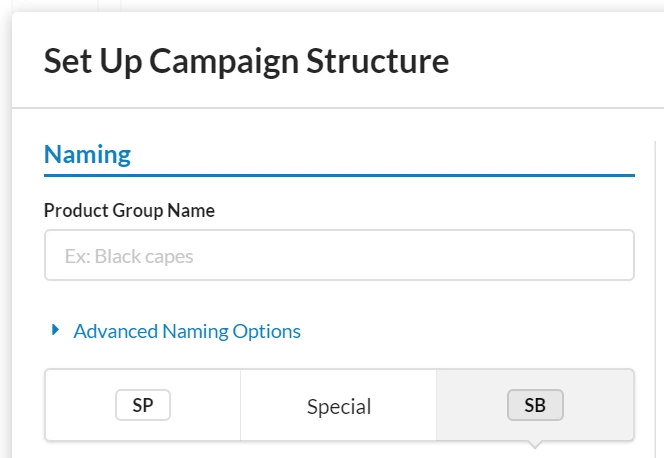 Prestozon is proud to be one of the first Amazon advertising platforms to support the creation of Amazon Sponsored Brand ad campaigns outside of Amazon's Seller Central and AMS.

We have been testing this feature in partnership with a select group of our Prestozon Preferred Agency Partners, and now are excited to release this feature to all Prestozon users.

This blog post will explore the new feature in Prestozon as well as the benefits of using Sponsored Brands and tips to get the most of them.
~~~
Before we dive in, if you need a refresher on Sponsored Brands campaigns (formerly Headline Search Ads), check out this article on 3 Steps to Getting Started with Amazon Brand Registry, or this article on Brand Registry Details + What's Needed To Sign-Up + Get Verified.

This is what a Sponsored Brands ad looks like in the wild:

If you have existing Sponsored Brand campaigns, you may be interested in this article on 7 actions you can take to improve Sponsored Brands campaign performance.
~~~
The New Sponsored Brands Campaign Creation Feature

Previously the only way to create Amazon Sponsored Brands campaigns was to create them in Amazon's interface. Today, that changes. Agencies and advertisers will now have the ability to create new Sponsored Brands campaigns via Prestozon's integration with the Amazon Advertising API. Prestozon is using this API to offer users the ability to create Sponsored Brands campaigns in the Prestozon 1-Click Campaign Setup tool.

It's a simple change with a big impact. As long as you have a Registered Brand with Amazon, you'll be able to see the new Sponsored Brands tab in Prestozon's 1-Click Setup tool, below.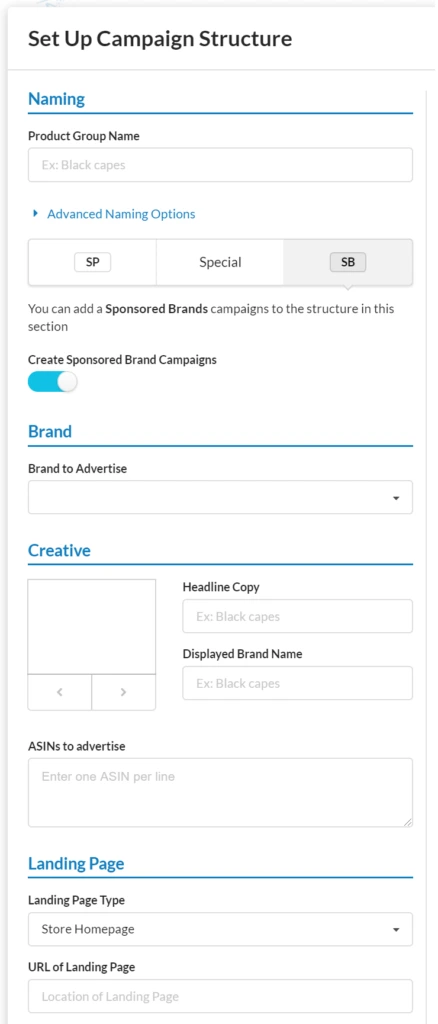 Toggling the SB tab on and completing it will create both Sponsored Products and Sponsored Brands campaigns, as well as a full Rules setup that is optimized for Search Term Isolation. For more background information about how Prestozon 1-Click Campaign Setup works, see this article.

Early Results from Agencies
Prestozon has been beta testing this feature with several close partners, and early responses have been very positive. Tyler Allgaier, CEO of Pitted Labs ad agency, was one of the original beta testers. From the perspective of his agency, "Prestozon's 1-Click Sponsored Brand Campaign setup could not have come at a better time. Amazon's hyper-competitive and rapid-paced advertising environment requires agencies like us to quickly and effectively create campaigns that are in line with our client's marketing initiatives."

Allgaier shared that the time savings from the new campaign creation tool have been particularly helpful. "We are now able to spend more time focusing on the important high-level strategy instead of "in the trenches" creating campaigns manually."

~~~

Feature Benefits – Why Create Sponsored Brands Campaigns with Prestozon?

Use Prestozon's "Easy" Button – No need to leave Prestozon's cozy interface to go create Sponsored Brands campaigns in Amazon. It's now easier for both agencies and advertisers to use they tool they are already comfortable with – Prestozon – to save time and the costs of context switching.

Simplified Interface + Campaign Setup Flow Compared to Amazon – Staying on the easy theme, since we know how much our users value Prestozon's 1 Click Campaign Setup for either launching new campaigns or restructuring existing campaigns, we wanted to simplify your Sponsored Brand campaign setup.  By integrating the new Sponsored Brands feature into 1 Click Setup, we enable you to quickly create campaigns at scale.
Faster Campaign Creation + Optimization – The impact for larger advertisers and Amazon advertising agencies is significant as this feature is indispensable for faster campaign creation and optimization. Once your campaigns are created using Prestozon's 1 Click Campaign Setup,  use Prestozon's powerful Analytics to quickly search, view and analyze the impact of your Sponsored Brands campaigns.

Sponsored Brands vs Sponsored Products – With Prestozon analytics, you can compare and analyze Sponsored Brands vs Sponsored Products to have a holistic view of your performance across these key Amazon ad types.  
Sponsored Brands Key Advertising Metrics Analysis – View Prestozon's analytics charts for Sponsored Brands campaigns to show performance over time and filter based on your key metrics (ACoS, Sales, Spend, Clicks, CTR, CPC, Orders, CVR, Impressions) using the same filtering and sorting capabilities as Sponsored Products campaigns. This new feature makes Sponsored Brands campaigns easier and faster to manage freeing up time to focus on campaign strategy.
Why Run Sponsored Brands Ads?

What about Amazon Sponsored Brands ads in general – what are the benefits? In discussions with advertisers who run Sponsored Brands ads, we hear that there are solid benefits of using Sponsored Brands campaigns in conjunction with Sponsored Products campaigns. The two ad types serve different purposes, so when used together advertisers can increase their search results for keywords they care about by having additional placements for those keywords. For example, if you are a brand owner, you want to make sure you dominate the results when a customer searches on your brand.
Sponsored Brands also gives more flexibility of where the buyer lands after clicking the ad than Sponsored Products does. This is because brands can customize the landing experience of shoppers by linking to their product store. Amazon has shared that the ROI when linking to a store vs a product page is 22% higher. Finally, Sponsored Brands campaigns can also be optimized against different objectives, for example ACoS, increasing detail page views, and driving traffic to store page.
Drop us a line!
We hope you enjoy this new feature! We'd love to hear from you how the Sponsored Brands campaign creation tool is helping your business. Drop us a line at [email protected]