Amazon Private Labels Expected to Grow Dramatically in 2018
Amazon private labels have been growing steadily over the past few years, and look to begin taking over considerable market share in many categories. Can your private label business compete with Amazon's brands? Here are a few ways to ensure you can compete and still achieve top page ranking.
Updated on: November 13, 2019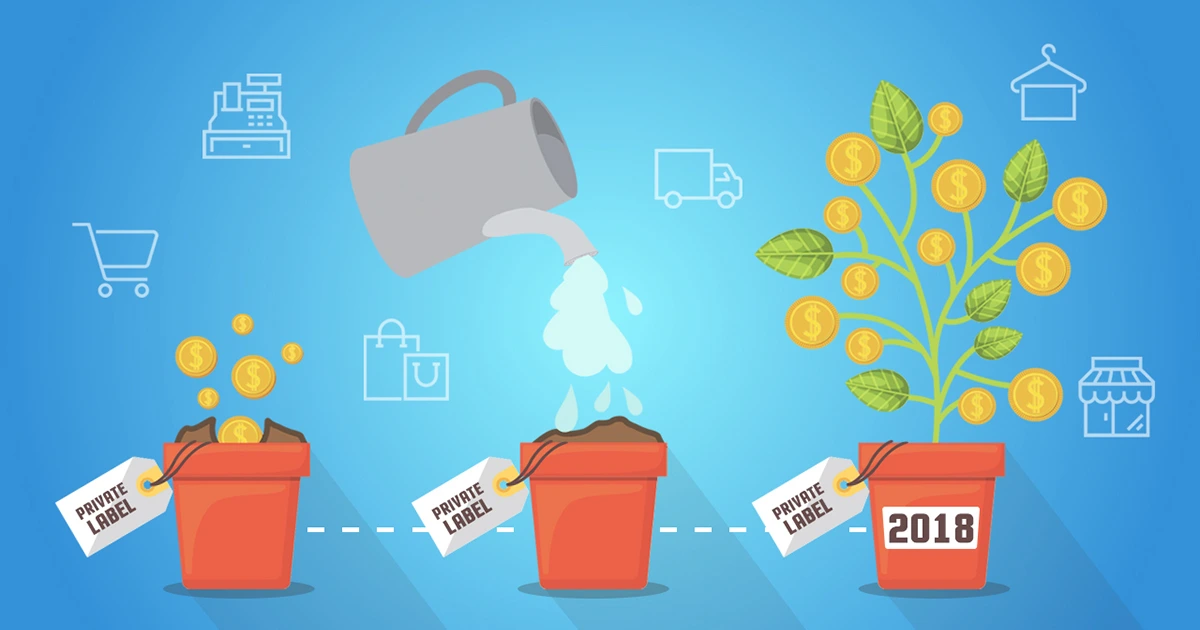 For well over a decade, sellers have enjoyed using Amazon as a platform to get their products into customer' hands, and cash into their bank accounts. However, as an ambitious entity, Amazon private labels are expanding rapidly.
This expansion begs the question: are you competing with other sellers? Or are you competing with Amazon itself?
2018 might just be the year when Amazon private labels come out in force, potentially making it more difficult for third-party sellers to compete. Don't panic just yet as there are some things you can do to overcome this obstacle.
What Is a Private Label Product?
A private label product is typically one manufactured by a third-party manufacturer, but the product is sold under the seller's brand name.

For example, If you've been to Costco, you might be familiar with its private label, Kirkland. Target has a few of its own, including "Up & Up" and "Cat & Jack." Perhaps the most popular private label is "Great Value" by Walmart. In the retail world, these are usually referred to as the "store brand." However, these items are in fact manufactured by other companies that may make a similar product, but in turn, they put the retailer's name on the label instead of their own.
The Facts on Amazon Private Labels
Most are probably familiar with Amazon private label products: AmazonBasics, Amazon Essentials, and Amazon Elements. However, many of Amazon's private label products have a different brand name created for specific categories. Recently, Amazon has become more transparent by explicitly labeling their private label products with the words "Our Brand" for clarity.
L2, a research firm that studies brand digital performance, recently identified 41 private label brands associated with Amazon. About 29 of these private label brands are in the apparel space, which includes denim, activewear, swimwear, and shoes.
This robust resume of products shows us that Amazon is highly invested in the apparel space and will most likely continue to attempt domination in that market.
Interestingly, many of Amazon's private labels have just shown up over the past few months. Amazon aimed to capitalize on the 2017 holiday season, for which the e-commerce giant defined as "record-breaking" in sales, though exact numbers have not yet been released.
Amazon Private Labels are Exploding
There are many reasons why Amazon is expected to grow its private labels dramatically in 2018. Consider the following factors:
Amazon's purchase of Whole Foods in August 2017: Whole Foods had its own private label "365" when the health food retailer was purchased by Amazon in the summer of 2017. The acquisition gave Amazon plenty of room to play with private labels, enabling the online retail giant to master the game.
The growth of Amazon's private labels in the last two years: An October report from the firm One Click Retail noted that Amazon made $210 million from AmazonBasics in the first half of 2017 alone. The Amazon Echo brought in $120 million, and Fire TV followed close behind at $110 million. Perhaps even more significant is the diversification of Amazon's private labels. For example, Lark & Ro, one of Amazon's newer brands for women's clothing, brought in a cool $1.9 million. It might not seem like much compared to Amazon's primary private labels, but it represents a strong Amazon presence in the apparel space.
Amazon's recent furniture brand launches: In the past, furniture seemed like the one category Amazon wouldn't touch, yet here we are. According to Morgan Stanley, Amazon has a 17 percent market share of home furnishings. What this represents is Amazon's fearlessness in tackling industries outside of its norm.
The soil has been prepared, and Amazon's roots are deep in the ground. According to SunTrust Robinson Humphrey, Amazon's private label sales can be expected to exceed $20 billion by 2022.
How Amazon's Private Label Expansion Will Affect Sellers
The dramatic growth that Amazon's private label brands are expected to see in 2018 will affect sellers in various ways.
How Amazon's private labels will affect sellers individually strongly depends on the scale of the seller's online presence and the types of products sold.
In other words, someone who is selling books will be affected differently by someone who is selling clothing. Also, sellers with larger volumes will be affected differently from those with smaller volumes.
For example, large brands like Nike will be affected in interesting ways. Amazon has been working with factories that produce various clothing lines with a very similar quality to Nike. Even if shoppers look up a specific Nike sweater, they're likely to run into a recommendation for a different brand—Amazon's. Customers that would rather save a buck than buy products directly from Nike will have a choice to make.
Smaller brands might seem less affected by Amazon's continuous private label expansion, but they are not immune. Some more minor names have reported that Amazon is working with their suppliers to create similar products. This situation means that smaller brands could be in direct competition with Amazon when selling a particular product.
Amazon owns all the data that its sellers put into its database year after year. Will Amazon use this data to favor its own private labels over other brands? What about smaller brands?
There's no way to be sure, but it's always good to be prepared.
Can Smaller Brands Compete with Amazon Private Labels?
The short answer is yes, but it's important to understand what elements you want to leverage to come out on top:
Rise in Search Ranking: Almost 55 percent of product searches are done directly on Amazon, so where does your product rank? Signing up for tools like the Helium10 software suite can offer you opportunities to optimize your listings for ranking higher in Amazon's organic search and for your desired keywords.
Utilize Consumer Data: Amazon may be able to pump out more products at lower prices, but it struggles with adding the personal touch that smaller sellers can. Personalize your customers' experience by sending them promotional offers, discounts, and combos as a way of thanking them for their business. Another great way to keep customers is to invest in nice packaging with a personalized note to raise your product's perceived value.
Brand Website: There's no place like homepage, especially for impressing customers. Make an effort to improve your website's content, and make navigating your site as user-friendly as possible. Captivating your audience with a fantastic shopping experience can grow customer loyalty more rapidly than generic brands offered by others, including Amazon.
Bonus Tip: Akimbo's a podcast by Seth Godin, renowned marketing expert and author of 18 books to date. The idea is to stand out in the marketplace with a "creating vs. competing" focus. If your products have a unique touch that only you produce, you will most likely attract more happy and loyal customers.
Have you noticed the rising competition from Amazon private labels? Has it affected your business? Let us know in the comments below!