Helium 10 Buzz 11/9/22: Amazon/Snapchat Collab | Walmart+ vs. Prime | New Small Business Report
In this episode, we cover the latest news on Amazon and Walmart, get actionable tips from a Serious Sellers Club member, and learn why there are no sales estimates for certain products.
Originally published on: November 9, 2022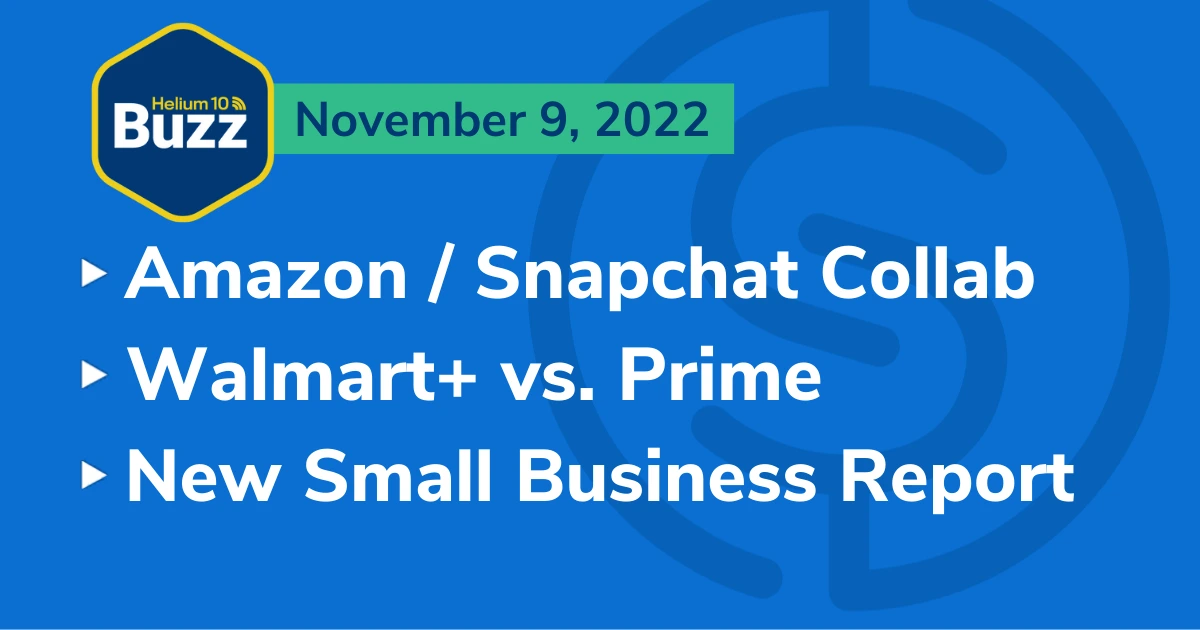 We're back with another episode of the Weekly Buzz with Helium 10's Chief Brand Evangelist, Bradley Sutton. Every week, we cover the latest breaking news in the Amazon, Walmart, and E-commerce space, interview someone you need to hear from, and provide a training tip for the week.

Snap has landed a notable new partner for its augmented reality-powered Virtual Try-On shopping experience with today's news that Amazon will now offer Snapchat users the ability to digitally try on eyewear styles from a range of popular brands.
https://techcrunch.com/2022/11/02/snap-and-amazon-partner-on-ar-shopping-in-the-snapchat-app-initially-for-eyewear/

Amazon Prime and Walmart+ are going head-to-head and taking different approaches to grow their subscriber bases.
https://www.insiderintelligence.com/content/amazon-prime-walmart-go-head-to-head-new-subscribers
Amazon is quietly beginning to offer its transportation and logistics network as a service to third-party merchants, businesses, and direct-to-consumer brands in India, tapping its large delivery chain to drive revenue in the key overseas market as the e-commerce group attempts to replicate a model it has been testing in the U.S. for several months.
https://techcrunch.com/2022/11/07/amazon-quietly-opens-its-logistics-network-to-third-party-merchants-in-india/

A new report shows how Amazon is providing opportunities, tools, and services to help nearly 500,000 selling partners in the U.S. reach hundreds of millions of customers around the world.
https://www.aboutamazon.com/news/small-business/a-new-report-shows-how-amazon-is-powering-the-growth-of-small-businesses-and-brands
Our show continues with Lem Turner's interview with a Serious Seller Club Member, Jason McLellan from VitaCup. Then followed by our Pro Training tip of the week from Shivali, where she explains why you're getting "not applicable or N/A" on the sales estimates portion inside the Chrome Extension. Lastly, Bradley closes this episode with some workarounds if you don't get sales estimates and a quick invitation to join us next week for November's Bigger Better Launch webinar!
In this episode of the Helium 10 Weekly Buzz on SSP, Bradley talks about:
01:08 – Snapchat x Amazon
03:20 – Prime vs. Plus
05:08 – Amazon India
06:15 – Product Attributes
07:50 – SBE Report
10:30 – Interview with
16:00 – Pro Training Tip: 
20:45 – Register For November's Bigger Better Launch Webinar
---
Enjoy this episode? Be sure to check out our previous episodes for even more content to propel you to Amazon FBA Seller success! And don't forget to "Like" our Facebook page and subscribe to the podcast on iTunes, Spotify, or wherever you listen to our podcast.
Get snippets from all episodes by following us on Instagram at @SeriousSellersPodcast
Want to absolutely start crushing it on Amazon? Here are few carefully curated resources to get you started:
Accelerate Efficiency with Insights Dashboard
The all-in-one customizable dashboard for sellers and brands, designed to accelerate decision making through the centralization of data, insights, and action. A bird's-eye view of your business with personalized suggestions to unlock growth.
Learn More about Insights Dashboard