Straight From The Source: May 2022 Supply Chain Updates
Keep up to date with the latest supply chain news with Kian! Here is what you need to know and what you need to DO to stay on top of it!
Updated on: July 11, 2022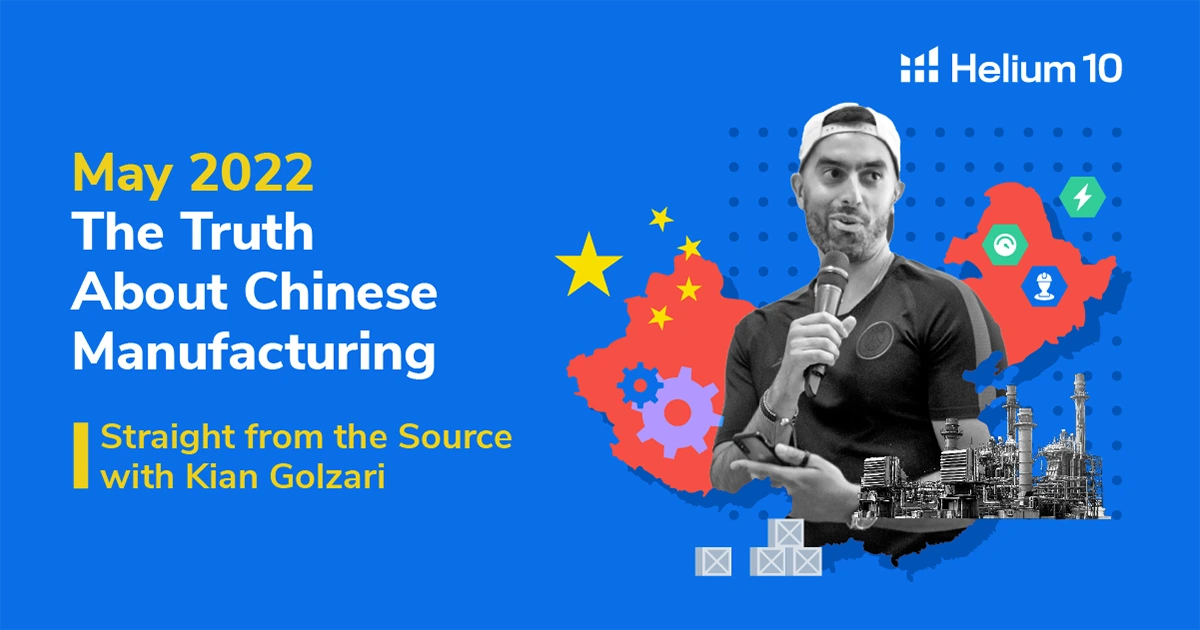 In the past two years, so many things have happened that affected us on a global scale – these things caused a lot of uncertainty for everyone, including China's manufacturing industry.
Now that we are slowly getting back to how it used to be, I wanted to go in-depth about the real and current situations in China that many of us do not see from the outside.
I had the privilege of interviewing three of my favorite Chinese suppliers, who I have been working with for many years. They have given me some valuable insights straight from the source.
Below are some highlights of the topics we discussed, but if you want to know more, check out the full video here!
What is the current analysis of China's manufacturing industry?
Many things have become unstable for manufacturing.
Labor costs, materials costs, salary level, shipping/transportation, and delivery time frequently change from one state to another.
Travel restrictions make it more difficult for suppliers to confirm order details.
What improvements in your supply chain have you looked into?
Cut cost from the materials or from a part of a product.
Make the design of a product more simple to reduce costs.
Use recycled materials as an alternative.
From the manufacturer's perspective, where can customers make improvements in their supply chain?
You can opt to ship your goods at a later time when the costs have gone down.
Participating in factory and office tours through and being transparent when communicating via online messaging apps help give a clear picture of each other's capabilities.
The first step in using more sustainable materials
Look for official certifications that a factory is using sustainable materials
Ask your manufacturer to use recycled materials
For 15 steps on making your brand more eco-friendly check out this video
The cost difference between recycled and regular materials
Normally this is between 20%-30% more expensive
But this is only on the material cost, the final cost of goods may only increase 10% because labor is normally the highest cost of the product, depending on what it is.
How much did the labor cost go up?
In 2009, a worker's average payment was $100/month – Now it's around $1,000/month.
Only people over 40 years old are willing to work in factories.
Young men rather work in the service industry as they think working in factories does not give them freedom and often causes them to become ashamed of the line of work altogether. When it is more difficult to find new workers, labor costs increase.
How do you price your items when the costs keep changing?
It is very important to have a long-term relationship with a supplier.
Consider sharing price increase concerns with your manufacturer. If you have a good relationship, they may even shoulder the increase if it's in their capability.
Strategies to work better with customers
Use Alibaba to find new customers
Communicate with customers via Zoom
As a manufacturer, what was the impact of the Canton Fair not being on?
The questions customers ask online have become more simple
It has become more difficult to place orders when done online, unlike when meeting face-to-face.
Customers are not able to see your products, licenses, and factory in person
What is the best way of communication with suppliers?
When communicating long-distance, the specific app you use typically won't make a huge difference. Fae-to-face communication is always best.
This will allow you to determine if both parties are being transparent
If placing a small order, it's fine to do so online. However, if you're a big customer, a face-to-face meeting is very important.
What's your insight on sourcing outside of China?
Sourcing outside of China may allow you to save money but it will not save you time.
When sourcing from China, everything is in one place, from raw materials to packaging – it has a complete industrial chain.
Sourcing from China is a lot faster than sourcing from other countries.
What are the technological improvements in production?
Factories are trying to use less labor and are now using automated robots and machinery.
Everything has become computerized
In sewing, for example, many factories are using aerial computerized sewing machines
Where do you see the Chinese manufacturing industry in 5 years?
China's products will not be cheap and will lean towards more expensive brands.
Simple products will be manufactured by other countries.
China will focus on more creative and technology-based products.
Everything for your business on Amazon.
Find out more about our products by signing up or speaking with one of our
Customer Success representatives today. With us in your corner, you can enjoy
more sales and increased engagement from your Amazon business.
Chat with a Support Specialist