Megathon in Review: 16 Livestream Hours of Everything Amazon
Miss the MEGA Amazon webinar extravaganza? See what training and round table topics we covered with over 40 guests and 16 CONTINUOUS hours of livestreaming!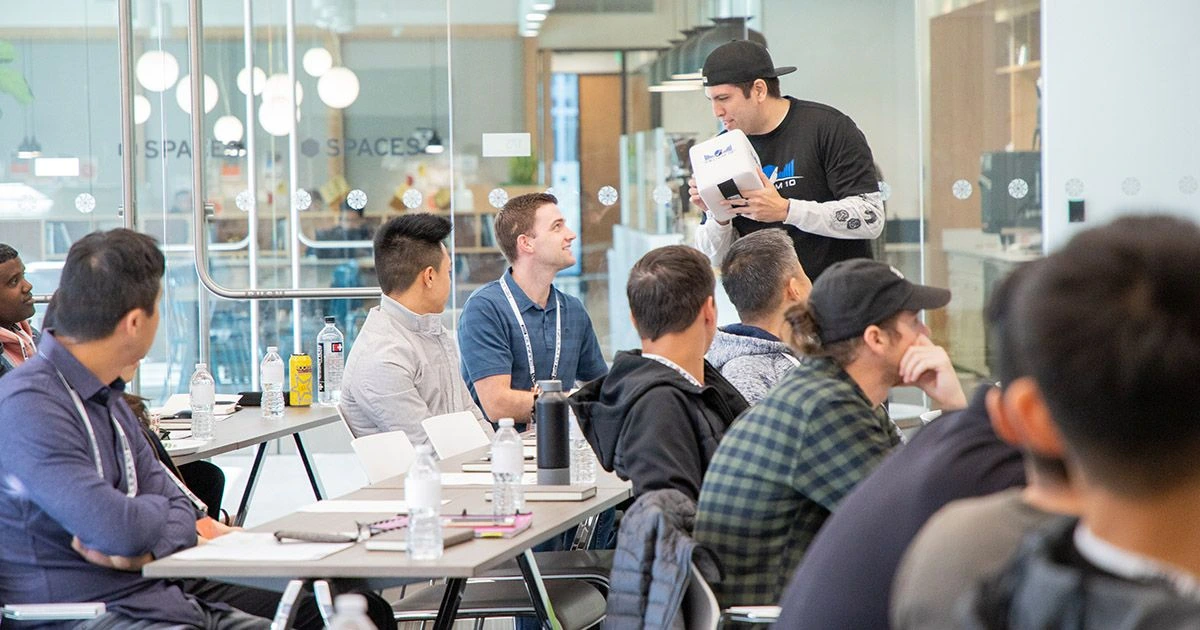 On April 30th we hosted our longest ever livestream! Our 16-hour-long marathon saw over 40 guests, all of whom brought their specialized expertise to the table to talk about everything Amazon and ecommerce.
Hosted by your favorite Helium 10 personality, Bradley Sutton, we ran our MEGAthon NONSTOP from 6 am PST to 11:59 pm PST – talk about high energy (and a whole lot of crossed fingers that the internet wouldn't go down – which it did at some point, more on that later)!
If you missed it, you can still stream part of the event on this page for a limited time.
Here were some of the happenings worth mentioning:
Over 40 guests attended: industry leaders, sellers, topic experts, entrepreneurs
Multilingual sessions to include non-English-speaking sellers and provide insight into non-US markets
Topics covered everything from marketing to operations to logistics – and more (see below)
Some silliness to liven up the day included our "WTF Amazon" videos and Eric the Trainer's noontime workouts and health coaching tidbits
With 16 continuous hours of content, we had no shortage of material covered, which included topics like:
General product sourcing tips
Product sourcing in India
Product launch strategies
Intellectual property: patents and trademarks
Product licensing
Facebook marketing and audience building
Translating listing content into other languages for foreign marketplaces
Life as a momapreneur
Shipping and logistics
Wholesaling
Instagram influencers and marketing
Chatbots and messenger funnels
Crazy entrepreneur stories
Project X updates (or Project X: The Epilogue)
Kevin King's 2020 strategies
And more!
Did we mention we organized this value-packed extravaganza COMPLETELY remotely – and in only five days from conception to reality? That's right, only Helium 10 could organize an event this big during Stay at Home 2020. Social distancing wasn't an issue here, even during Eric the Trainer's midday workout session.
We owe it to our guests for their time, too – every single guest we invited was happy to make an appearance. And we didn't even get to all of the guests we wanted, so if you're wondering, yes, we ARE planning on another Megathon in the future.
(By the way, the Guinness Book of World Records says the longest livestream so far has been Hulu's 161-hour long livestream, and the internet says Twitch personality LosPollosTV hit just shy of 200 hours this past April, so … is this our next challenge?)
Read on to see the highlights of April 2020's Megathon, and hopefully you'll catch us at our next event!
Lifestyle: personal stories, moms and entrepreneurship, and more
Cara Sayer and Sharon Even spoke about being a "momapreneur" and the challenges and strategies that come with the job. A good portion of our audience are moms who start businesses from their own homes, and Cara and Sharon delivered some great advice on the unique lifestyle being a mom and entrepreneur brings.

One of our favorite features was Bashar Katou's crazy story about being kidnapped – not once, but TWICE in his life. Yet he's selling successfully on Amazon today. I guess anyone really CAN do this, can't they?
Bilingual discussions
We were excited to have a few bilingual segments with sellers and industry leaders!
Our German segment featured Kristina Mertens from Sermondo and Nicklas Spelmeyer, a seller selling on Amazon.de. Both discussed some of the ins and outs of selling on Amazon.de, in Europe, and some differences non-European sellers could expect if trying to break into the European Amazon Marketplaces.
Our Polish segment had our affiliate team manager Michael Radzieszewski and UK seller Norbert Adutis discussing some of the logistics of selling on Amazon.uk, and how sales have been affected by COVID-19.
Our Spanish session welcomed Aleksejs Leal and Johanna Sanchez to discuss selling on Amazon Spain and Latin American countries. Amazon.mx is one of the many international Amazon marketplaces that many sellers have yet to explore opportunities in.
Finally, our Korean segment introduced Simon Suh our Marketing Messaging Specialist, Sean Chang from Kreassive (featured in Project X), and Paul Park of AmazonBreakers to talk about 3PL warehouse management and brand management. Sean Chang also shared some inspiring stories about his early Amazon struggles, and Paul Park brought insight as a newer but successful Amazon seller.
Product related: shipping and logistics, sourcing, intellectual property, research and more
We welcomed several familiar faces to discuss different product-related topics. Paul Miller talked product licensing (aka how to sell a licensed product of a character from a series you didn't create) and the benefits Amazon extends to you. He also discussed the differences in developing items under a license from a business perspective, such as charging a premium for licensed goods, product credibility, and more.
You probably recognize Anita Mar and Rich Goldstein from our Serious Sellers Podcasts. Both of them are very familiar with patent and trademark laws, and how and why Amazon sellers need to protect their intellectual property. They also cover how to do trademark research on your competitors so you can be best equipped in a dispute. They've advised countless sellers on their businesses and remain a top resource.
Of course, Tim Jordan was back with some Project X follow up, as well as some good old product research bread and butter.
Listing related: optimization, photography, language translation, et cetera
Saddam and Lailama Hasan are from Canada-based Amazon optimization company AMZ One Step. They help sellers with product launches, ranking, optimization, and more.
Lailama brought some strategies about product photography, emphasizing the importance of investing time and money in quality images – because people read with their eyes (and have attention spans of a few seconds).
Saddam talked about copy – how to balance optimization that makes Amazon's bots happy with coherent, readable copy that appeals to humans. This is one of the eternal struggles of Amazon sellers writing their listings. (I think it's universally clear that you should avoid keyword stuffing, though).
Marketing related: PPC, Instagram, Facebook, YouTube, and so on
You might recognize some of our names from previous Serious Sellers Podcasts, or even from a past Elite Workshop. Selene Dior, a young entrepreneur with her own apparel brand, discussed Instagram and influencer marketing strategies. She got started on Instagram; it remains a very viable channel for marketing outside of Amazon.
Wilfried Ligthart was at our last Elite Workshop. He dove into some strategies for Facebook marketing and building an audience. Facebook has one of the most sophisticated audience targeting and building platforms, combined with the fact that it's still the most used social media platform in the world with over two billion users and counting.
Successful Amazon sellers and YouTube content creators Trevin Peterson, Tamara Tee, and Samer Brax talked YouTube strategies.
Chatbot (Manychat) funnels are an up and coming trend, so Michelle Barnum Smith touched on how to implement these for acquisition and audience building.
I think the only main social media platform we missed was Twitter – any Twitter wizards out there?
Breaking it up with some fun
All work and no play makes Helium 10 a dull host. And we're anything but dull.
We broke up the shenanigans with a few doses of our "WTF Amazon" videos where we challenged our employees to figure out the functions of weird "mystery" products snagged off of Amazon. Our favorite was a … pimple popping simulation kit. No, we can't make this stuff up.
Here's a couple of our other WTF Amazon videos, if you need a quick laugh.
We also had the insanely energetic Eric the Trainer on our show for a noon time training session. Hopefully some of you followed along with us as Eric led us on a high intensity workout with Bradley and two of our affiliate managers Sean Elias and Michelle McLean!
Eric the Trainer is a celebrity trainer based in Hollywood, California. He works with a lot of big names in the entertainment industry, so it was great for him to take a break from that space to give all of us in quarantine an energy boost!
And life isn't without a few hiccups. Bradley's internet went down for an hour towards the end – but luckily Brock Johnson and Helium 10 Product Manager Barcus Patty were there to keep the conversation going while Bradley's ISP put him in time out.
Miss out?
You can check out a lot of our guests' stories and insights on our Serious Sellers Podcast episodes – click here to have a listen.
We're so grateful to have had all of our guests enthusiastically join us for April 2020's MEGAthon! We're overwhelmed by our guests' eagerness to contribute such valuable and educational content for our knowledge-hungry viewers. We really felt all the love and community our Amazon sellers shared.
If you missed out this time, look out for some of the highlights posted on our social media channels. And as we mentioned, due to the overwhelming success of our first Megathon, we're looking forward to putting together a second one soon …
But in the meanwhile, check out our guests' podcasts and feel free to reach out to those guests who have their own businesses. Tell them you heard about them from Helium 10's Megathon!