Helium 10 Employee Spotlight – Behind the Scenes
Want to know more about the people behind your favorite e-commerce software company? Here's our new Employee Spotlight series!
Updated on: August 9, 2022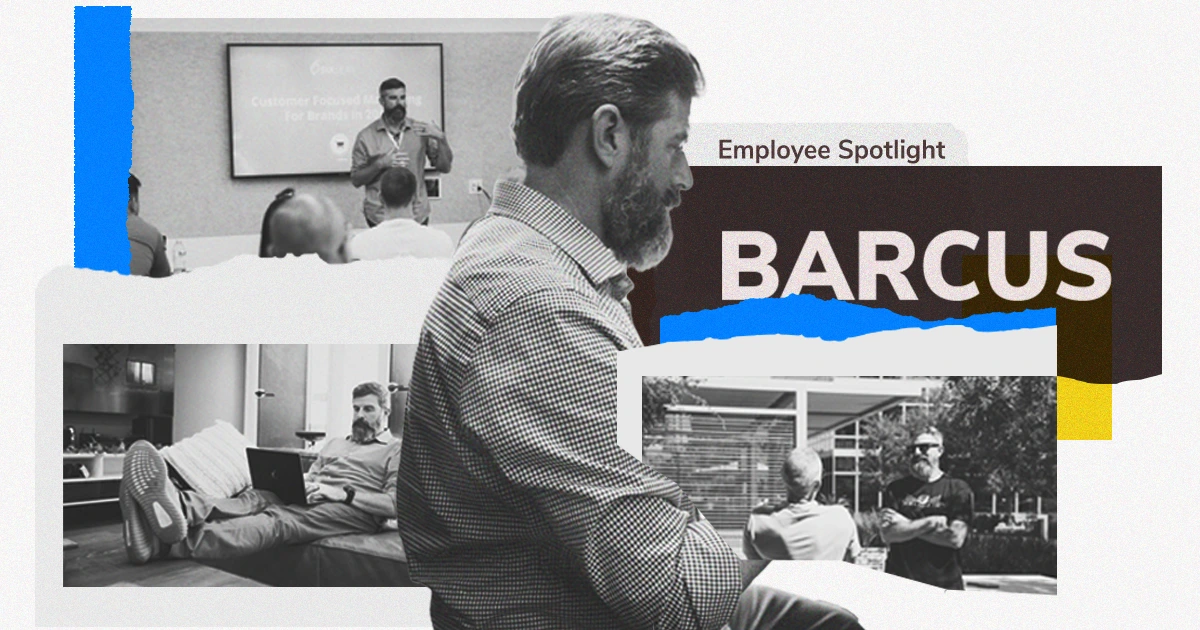 Welcome to our new series: Employee Spotlight!
In each installment of this ongoing series, we'll take a few moments to help you get to know the faces behind Helium 10.
In this first episode, we'll find out a little more about Barcus Patty, a Helium 10 Brand Evangelist.
Some quick facts:
Official job title: Brand Evangelist
Has been with Helium 10 since July 2019
Married for 5 years (in May) to Bethany Gaal Patty
Barcus has 3 children with a baby boy due in May.
Barcus is a craftsman and a budding inventor
Born in Greenville, Texas, and and raised in Texas and California
He's a fan of the latest in tech, e-commerce industry, fast cars, and loves to read.
Finding His Way to E-Commerce
Like many, Barcus found his way to e-commerce and selling on Amazon after working in another field. In his case, it was "working the swarm" as an insurance adjuster, traveling around the country.
It was a good friend who made him aware of the world of possibilities open to those selling on Amazon. That was back in 2015, and after hearing about what was involved in selling online through Fulfillment by Amazon (FBA), Barcus says that it, "blew his mind."
When he saw what his good friend was making each month, it really piqued his interest. Like many, he got his start by looking at an online course, then found an interesting category, and almost immediately, started selling on Amazon.
Jumping in with both feet, Barcus started working in the online commerce SaaS, (Software as a Service) field. A little over five years later, Barcus accepted an offer from Helium 10 and became a part of our rapidly growing team.
What does he like about the online selling model?
Barcus says that, "E-commerce is fascinating. It moves quickly, whether you're on Amazon or Shopify, things are constantly changing."
He's a Family Man
To see his posts on facebook, it's clear that Barcus is obviously a proud father. He has 3 children and is married to Bethany Gaal Patty, his wife of nearly five years. They also have a baby boy due in May.
He met Bethany just before she entered law school, and after a challenging exercise in long-distance relationship management, they decided to get married. Now, Bethany is an intellectual property attorney with her own practice and because of that, the couple's professional circles often overlap.
Barcus says that the overlap is a big help to both of them. They're able to bounce ideas off of each other, and sort through work related puzzles from different perspectives.
Working at Home (Together)
Most of us have been navigating what it means to work from home during the pandemic. Add children and a partner working in the same way, and it's either a recipe for disaster or a great family building exercise.
He enjoys the freedom and flexibility that working from home offers, but admits there are ups and downs. No two days are exactly the same.
Barcus says that between watching Charlotte (just four years old) together with his wife, and tackling the occasional home repair emergency, a "normal" work day just doesn't exist.
"I Might Not Be the Best Person for This Job"
Barcus originally started as a Product Manager for Helium 10 and said that "It was a really fun role." He admits that "I was never formally trained as a product manager before coming to Helium 10 and quickly realized like I might not be the best person for this job."
After openly discussing his concerns with Helium 10 management, Barcus says that he was grateful that the conversation immediately focused on how he could find professional happiness and best support Helium 10's customer base.
Now, in his new role as a brand evangelist for Helium 10, he feels fortunate to be able to connect with our customers as an e-commerce liaison between the users of Helium 10's software tools and the company itself.
A Handmade Desk Sealed the Deal
Barcus himself says, "I'm a pretty big DIY guy." He loves making things for his home. He says that, "a couple of years ago I made my wife some barn doors for her office, the sliding ones, and she loves them." Like a lot of crafters, he's his own worst critic. "I think that I need to redo them, you know, break them all down and redo them again."
There's one project that he's happy with though. When Bethany graduated law school, he built her a desk. Barcus says "That's the one thing that I wouldn't want to change, which is rare."
He's also a car guy, saying he's a fan of "anything that goes fast, actually."
He just got a 3d printer, and is running tests now to try to calibrate it, but is interested in investigating opportunities to sell printed things online.
Nightstand Reading – An Entrepreneur's Classic and a Harvard Study
Like many with an entrepreneurial mindset, he has a few books on his night stand. Even though he says, "The Four-Hour Workweek," by Tim Ferris has taken some punches lately from those in the e-commerce world, he still feels like it was a guidepost on his own path.
Another favorite was "The Triumphs of Excellence," by George E. Vaillant. It details the results of a Harvard University study that follows the longest longitudinal investigation of human development ever undertaken. The focus was on how our lives continue to evolve in our later years, and often become more fulfilling than before.
Good news for all of us well out of our millennial years.
The Four Levels of Detail – A Deep Nerd Dive
"I like to call them nerd dives," Barcus says. "There's a documentary on Disney Plus called "The Imagineering Story." It's about the mechanics of building Disney as a business." Barcus says that "the one thing that really stuck in my head, they talk about this thing called the four levels of detail."
Here's the way Barcus explains the four levels of detail at Disney:
"It's like, you walk into the park and you see kind of everything. There's this horizon, you see rides going, there are hills, mountains, and palm trees."
"Then you take a step further and you are looking at these buildings on your main street. You're looking at the buildings and everyone walking around. Maybe there's a candy shop or coffee shop and you can smell the popcorn being made and you can hear people talking." 
"Now, take things one step forward, and you're standing in front of this door, and you can tell it's a very high quality wooden door that's been painted a couple of times. You can see the details in the windows and you can see what kind of brick used and how it's laid."
"The fourth and last level of detail brings your focus all the way down to the door knob. It's clear that it's made out of brass. It has a little bit of corrosion on it. When you touch it, it's cold."
Barcus says, "That always stuck in my head. The idea of looking at your product and imagining, what are your product's four levels of detail. I think that it helps a seller try to understand how customers might look at your product."
From Disney to E-Commerce
On October 16, 1923, Walt Disney and his brother Roy founded the Disney Brothers Cartoon Studio in Hollywood, California. Almost a hundred years later, Barcus Patty is channeling Disney wisdom for Helium 10 and working hard to help Amazon sellers crush it in e-commerce.
Sounds like a brand evangelist to me.