Does Company Culture Drive Customer Experience?
Company culture can have a real impact on customer experience. A culture of care creates superior products, service and support.
Updated on: February 6, 2020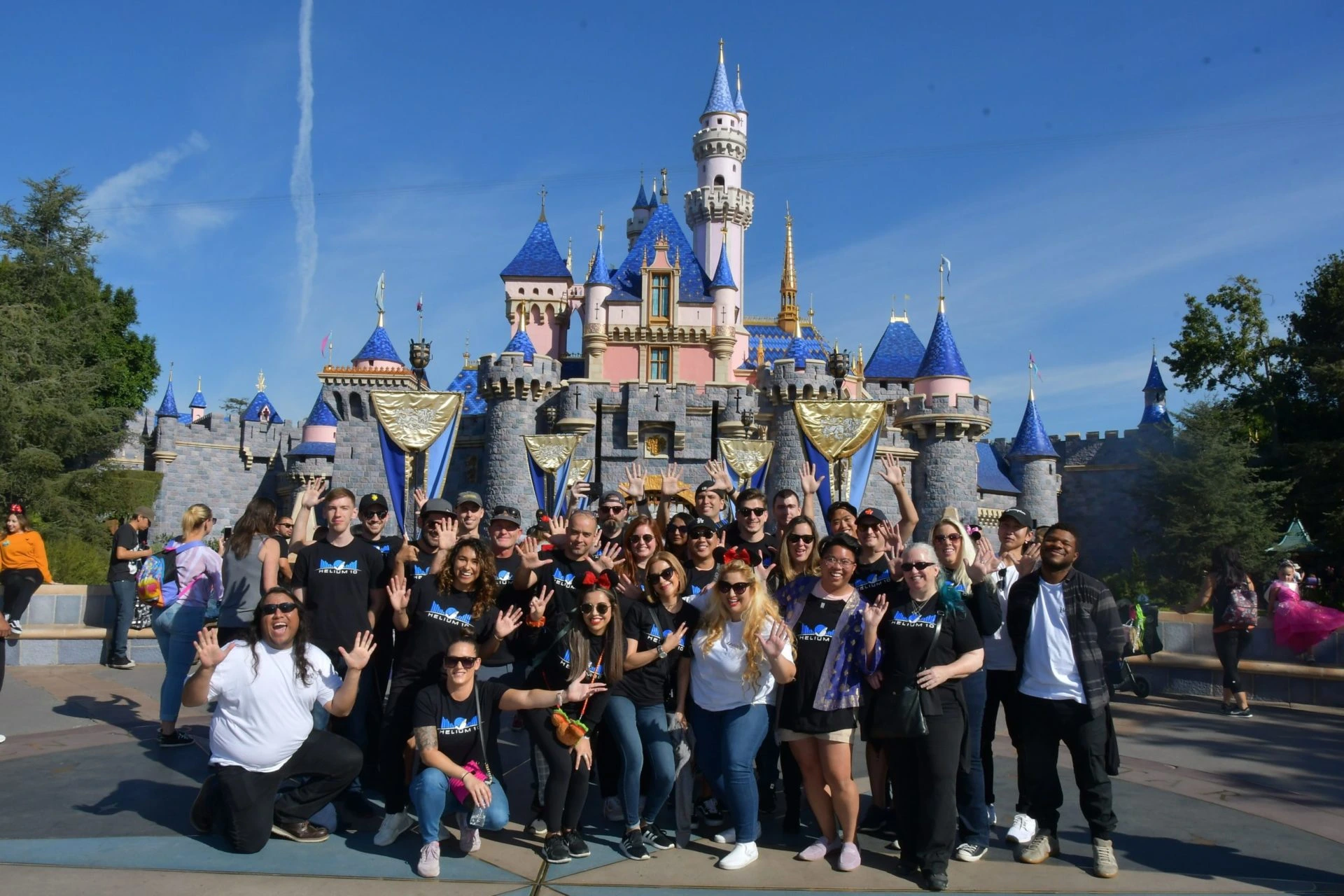 I had never really known what this thing called "culture" was supposed to be. I had heard of it before, but it always seemed like an elusive concept that didn't apply to my work situation.

I remember thought leaders harping on the importance of building culture. What does that even mean? Do you forcefully steer the direction of culture in your company? Or does it happen organically? Is it something designed by the owners/founders, or a specific and designated architect?

Without thinking about it, I am sure I unwittingly experienced different "cultures" at every place I have worked. However, if asked to recall what I thought those were, I am not sure I could point out anything in particular. Maybe a feeling? Maybe my vision of the future? My vision of the company's future?

Again. Questions.

The concept of culture finally became clear to me recently. Almost like the autofocus of a camera, or an "aha" moment. This light switch instance occurred literally at the most magical place on Earth; Disneyland.

Clarity & Wisdom of Mickey Mouse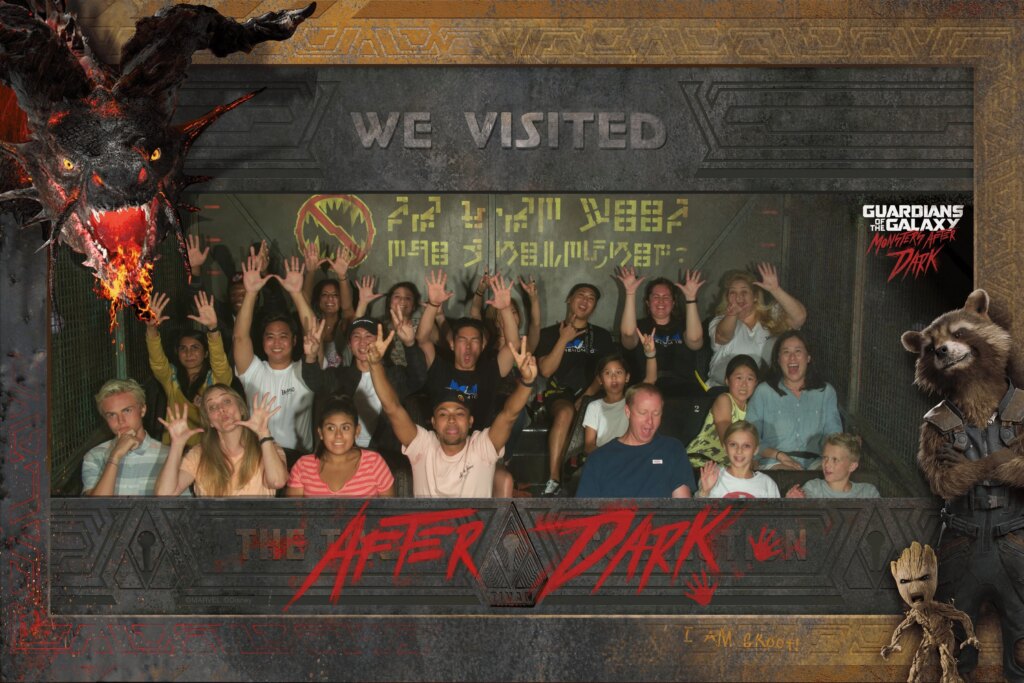 Recently Helium 10 decided to treat all of the employees at their Irvine California location to a trip to Disneyland Anaheim. This was to celebrate some internal wins, or reaching some big goals, or maybe just because (this is not out of the ordinary for the owners, Manny and Gui).

As you could naturally imagine, everyone was excited. We were excited because we got to go to a pretty elaborate theme park, for free.
We were also excited because we were able to spend a day not thinking about work tasks while hanging out with our peers, many of whom we've developed deep bonds with. And, not in the least, we were excited because this was all happening during normal work hours!

Amidst the laughter and camaraderie, I did have the clarity of mind to pay attention to my surroundings. I noticed the attentive care with which the costumed Disney employees paid every movement and reaction. I noticed the smile and charm exhibited by every vendor, custodian and ride attendant.

This reminded me of my old restaurant job. Our general manager was intrigued by the way Disneyland trained their employees. Every position, no matter which one, was treated as integral to the mission, and as such were instructed to always treat guests in a certain way.

Seeing it in action was awe-inspiring. And around the time that I witnessed street sweepers take a break from cleaning to perform trash can drum act, it all "clicked."

This was their culture. A culture where the employees all exuded warmth and kindness, seemingly because they liked their job and what they were doing.
A culture that appeared to foster joy and fun. A culture that encouraged employees to actually care that their guests were experiencing joy and having fun.

With company culture in such a clear focus now, I took the time to reflect on my own experience. I could see, us, Helium 10, being HERE, at Disneyland…this is indicative of OUR culture.

No, our mission obviously isn't to bring happiness to the hearts of the masses (although we do hope our tools make sellers happy). But it is clear that our culture involves embracing creativity, friendship, and lighthearted fun.

More importantly, our culture involves genuine care for our customers, making sure that the tools we create are the best they can be to serve them. Much like a chef-run kitchen, we are an engineer-run software company. We create marketing around our tools, not tools to fit what we can market.

There's a lot to be proud of in that statement. And that is the culture I have experienced here at Helium 10. Aside from the company's care for customers, they care about me, about all the employees. That creates a hell of a positive work environment. One I'm truly happy to be a part of.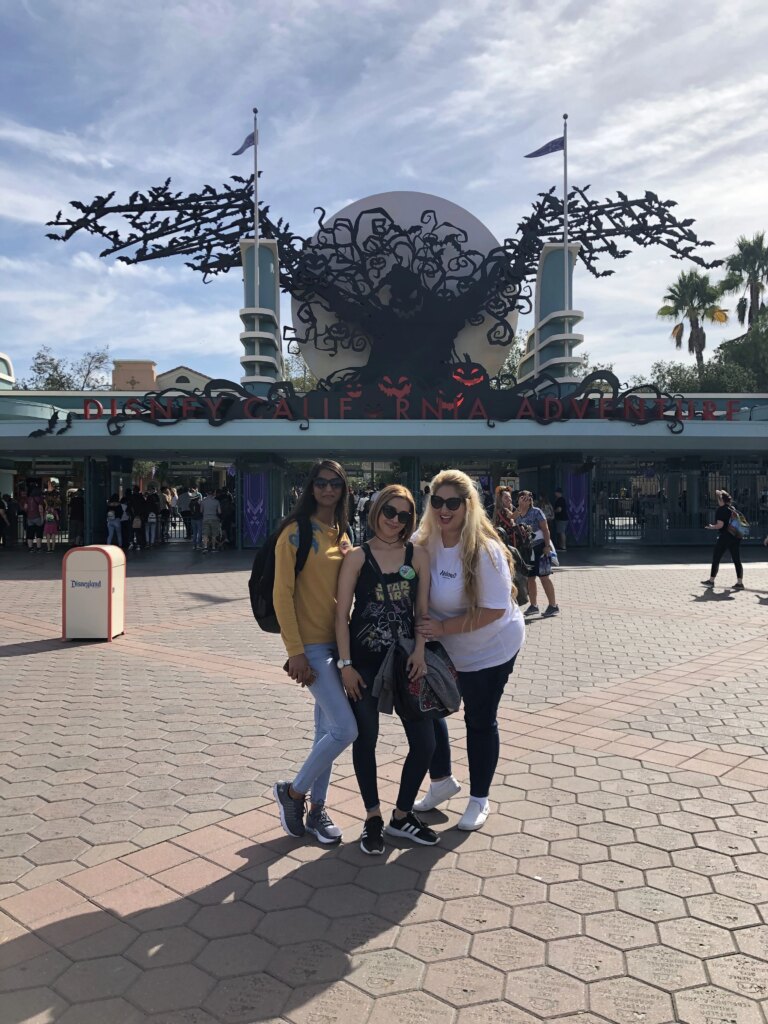 Oga's Cantina

I'll return now to my rumination while exploring the Happiest Place on Earth. For the early part of our day trip to Disney, I kind of followed the largest pack of co-workers (there were around 40 at the park I think) but departed in the late morning to attend a smaller group of ours' reservation in Star Wars World.

We stood in the line wrapped around another building to see the famed "Oga's Cantina" and experience interstellar cocktails (yes, it was still morning, but it wasn't a workday). We finally made it inside, corralled around a table (standing room only).

I'm not sure if it was the Starbuck's caffeine buzz or the Jedi Mind Tricks doing all this fuzzy woo-woo feeling, but it felt nice.
I felt as if I may have found a place where I fit in. And that is good for Helium 10, for our customers, and most importantly, for me.
It was an awesome mixture of company representation. We had an executive, a director, two managers, a member of the product and engineering team, three writers and a couple of affiliate managers. Each of us with our own, very different goals and plans for our futures with Helium 10.

Seeing the company from so many different perspectives really made me appreciate what we do more. Not just because I could see everyone's dedication to their work and our customers, but also I could see why they were motivated to do a good job.

This isn't just about me and my experience with Helium 10, however. As I mentioned, we took on the Disney trip with the whole team…and that team included my content writers.
I've asked them to share their perspectives as well.
From Kai…
I'll admit that I had my apprehensions about Helium 10's work culture when I first started. My initial impression was that the work environment looked fun as heck – meaning, surely, it had to be too good to be true, right?

I'm sure some of you working standard day jobs have experienced that before. Your first interview clouds your judgment because you're so focused on nailing the interview and impressing your would-be manager.
Everything seems like bunnies and rainbows because you're just glad that there are job opportunities panning out (and you're most likely interviewing because you need a new job in the first place, whether it's a recent layoff, an unfortunate slew of unemployment, or, like me, a need to move on from the toxic work culture in which I was currently marooned).

A few months in and I was still suspicious. Helium 10's founders Manny and Gui liked to regularly treat us with company-wide events – barbecues, catering, lunches, silly challenges, the like.
Recently, however, we hit a pretty impressive internal milestone/goal, so the founders treated everyone to a day at Disneyland, here in sunny ol' Southern California.

Now, while I myself am not a "Disney fan" by any means (though I do have an Annual Pass, obligatorily procured at the behest of my girlfriend), there are some things about it I certainly enjoy.

A couple of the Disney characters are dear to my heart: Winnie the Pooh from my childhood – he's essentially me, always chilling out and eating every sweet treat in sight.
And Moana, both for that proud islander blood, and her merging traditional cultural legacies with healthy social progress – I could write a whole essay on that.

The food is great, too. Gone are the days of overpriced subpar food – to be replaced now with overpriced tasty food (at least you get what you're paying for, right?) since everything in the Happiest Place on Earth carries a Disney Tax.

Now I might sound boring because I'm not a rides person. I don't enjoy waiting in long lines for the thrill of having my corporeal form thrown around by mechanical monoliths. (I do enjoy the mellow rides that are more about looking at elaborate sets, though – Haunted Mansion and Indiana Jones come to mind).
I consider myself a social omnivert, biased towards introversion. I love people and company, but more importantly, I love the QUALITY company.
I don't like to socialize for the sake of social energy; rather, I like to socialize in order to form meaningful bonds with people. I dig under the surface to get their backstories, what makes them tick.

This means I'm much more partial to small groups rather than large parties. It's a part of my 'host' personality (and probably my Filipino upbringing) too – I feel responsible for making sure everyone in a group is enjoying themselves and each other's company.

Seems counterintuitive to try doing that in a park that sees probably tens of thousands of attendees a day. It gets pretty claustrophobic there at times, especially when trying to swim upstream against a flood of triplet-stroller-wielding angry parents shoving their way into a meet-and-greet line with Queen Elsa.

Before this turns into a snarky TripAdvisor post, however, my point here is that, when done right, Disneyland is actually an ideal backdrop for bonding with acquaintances. And that's what our Helium 10 team did across the board.

Some, like Anthony, bonded with a dozen others over fizzy drinks amid the din of Olga's Cantina, where a droid up on stage served as DJ, dropping galaxy-famous beats.
Others roamed Disney's California Adventure in packs, beer in hand, as they skipped from one wild ride to another (you couldn't pay me enough to get on the ferris wheel with the swinging baskets).

For most of the day, we were free to wander as we pleased, and that was most conducive for getting to know our fellow Helium 10ers.

The funny thing about an open office is, though it's meant to promote productivity and open up channels of communication, I think it can often have the opposite effect.
When we work, we work hard, and we get such bad tunnel vision on our projects that we either ignore those around us or end up too distracted by the goings-on.

Here at Disneyland, the hustle and bustle became a sort of entertaining white noise, and I found myself spending time with smaller groups. I got to learn a lot about some of my coworkers whom I'd known for months now, people who had sat across from me day after day and whom I didn't know anything about beyond what they wore and what they typically ate for lunch.

I might be tangenting now, but traditional Orange County work culture does seem to carry a degree of superficiality with it. Perhaps that's a reflection of greater OC culture in general.
I value the rare moments, like those at Disneyland, where I can actually sit down with my coworkers and gain some insight into their real selves, rather than the personalities we wear at the office. I don't think you get that opportunity in a lot of workplaces.

This leads me full circle. Because at the end of the day, I think people can cultivate a greater synergy with their coworkers if they know them beyond their office personality. When we genuinely care about each other as humans and not just as Employee #XYZ, we do better for each other.

I know it's kind of ironic to talk about being a statistic at Disneyland, which I'm sure employs thousands of "cast members" at any one time – and I mean no disrespect to them because everyone's role matters.

It's the same principle at Helium 10, at a Fortune 500 company, at a mom and pop, or at Disneyland. Everyone's role contributes to the quality and efficiency of the final product, whatever that may be.

And, at dinner that day, when we sat down at two long tables out on the patio of Catal, overlooking Downtown Disney, I realized that the fact I could weather through 12 grueling hours of hiking around the parks in 90F heat meant that I do indeed enjoy the company of my fellow Helium 10 colleagues.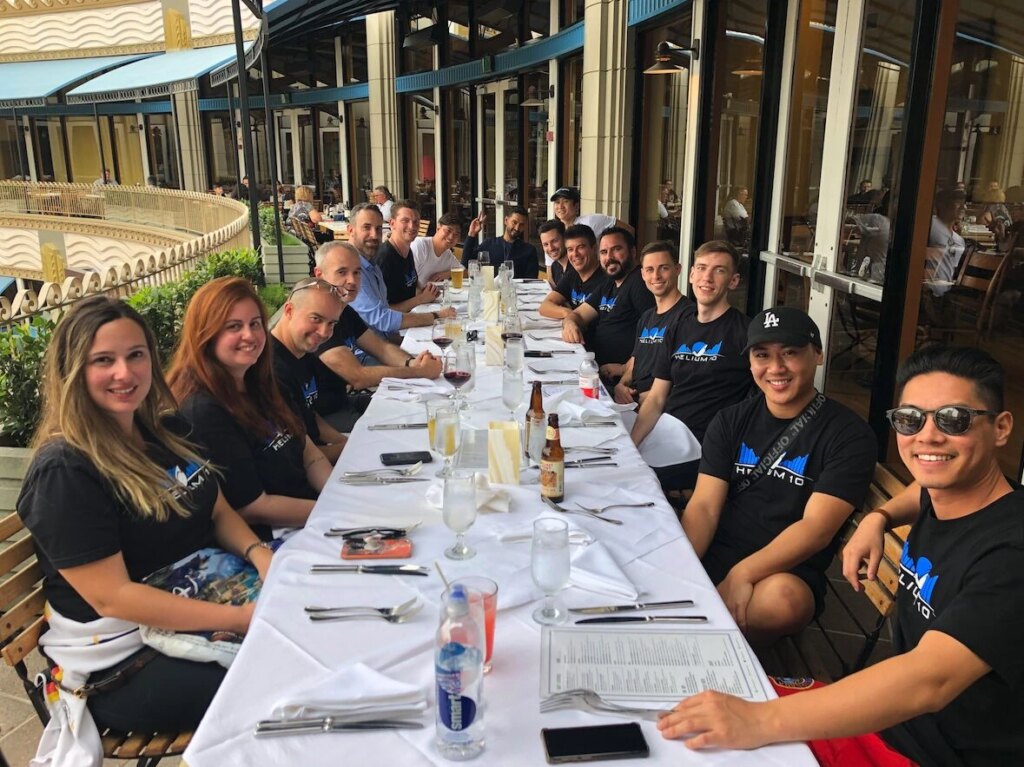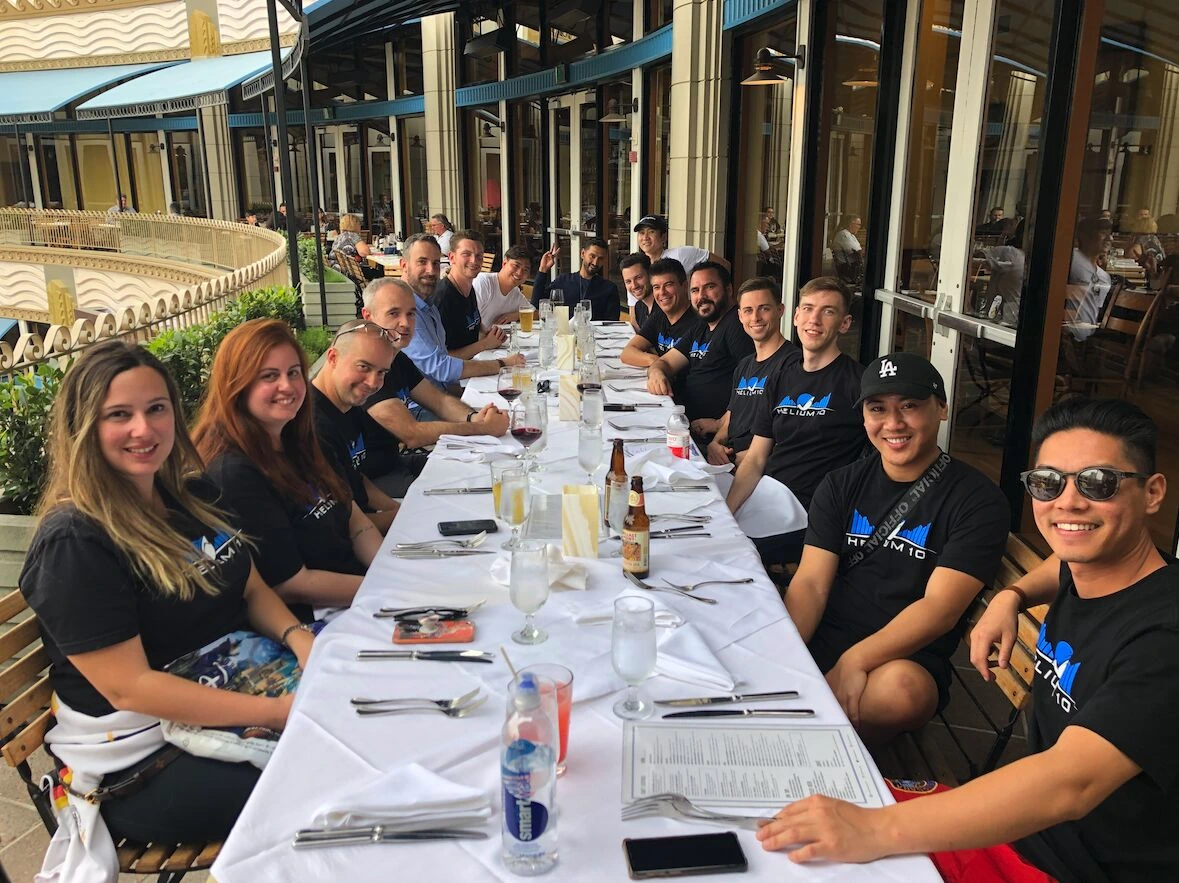 And, from Chuck…
I'm an old guy.

I don't feel that way, but it's an honest numerical fact.

I'm also a former pro hockey player, and currently enjoy ultra trail running, surfing, skateboarding, and rock climbing.  

So, I'm not that old.

Still, when I came into the Helium 10 offices the very first time for my job interview, it was with two distinct sentiments swirling around my brain.

First, in an odd quasi-parental way, I was proud of Helium 10 for making an overture to me in the first place. I was slightly outside of the normal southern California tech industry demographics.

I've seen my hoped-for role being filled in print media, television and movies by overachieving post-slacker wonder-kids who 5 years down the road will be snapping up all the available loft space from San Francisco to Seattle.

I was admittedly something of an outlier.

Second, as I took a quick peek through the decidedly hip, orange county office space that Helium 10 had recently moved to, I saw good looking young people sitting on big comfy bean-bag chairs playing video games on an enormous flat screen tv.

It was a scene right out of central casting.

Later, standing at my desk (proof that an old hockey/skater dog can in fact, learn new tricks) I watched a parade of eclectic would-be job applicants ring our door chime, then make their way to a chair in our large, light-filled boardroom.

Feeling as if I was in on an amazing secret that they might soon understand, occasionally it was I that answered the door and welcomed my potential teammates.

And there really is no better word.

One of the best things about playing a team sport (at any level) is the way that when done correctly, it creates an energy that you really can't duplicate any other way.

When I was coaching junior A hockey in Canada, I described it as creating a micro-society that functioned at an ultra-high level. One that encouraged its citizens to be brave, take chances and celebrate collective success while gaining strength and confidence from the atmosphere of support, trust, and encouragement.  

I reminded everyone I came into contact with to be sure to take the time to appreciate the experience because it had a sell-by date. I repeatedly said that they probably wouldn't have a chance to duplicate the feeling, certainly not afterward in their working careers, wherever that might lead. 

I was wrong.

A few months ago, the owners treated the office to a day at Disneyland to reward us for an accomplished goal.

I could wax poetically about the extent of their thoughtful generosity because they really didn't miss anything.  Meal passes, parking validation, a flexible schedule that allowed for a balance of team bonding and for the introverts among us, a chance to slow down and recharge; they thought of everything.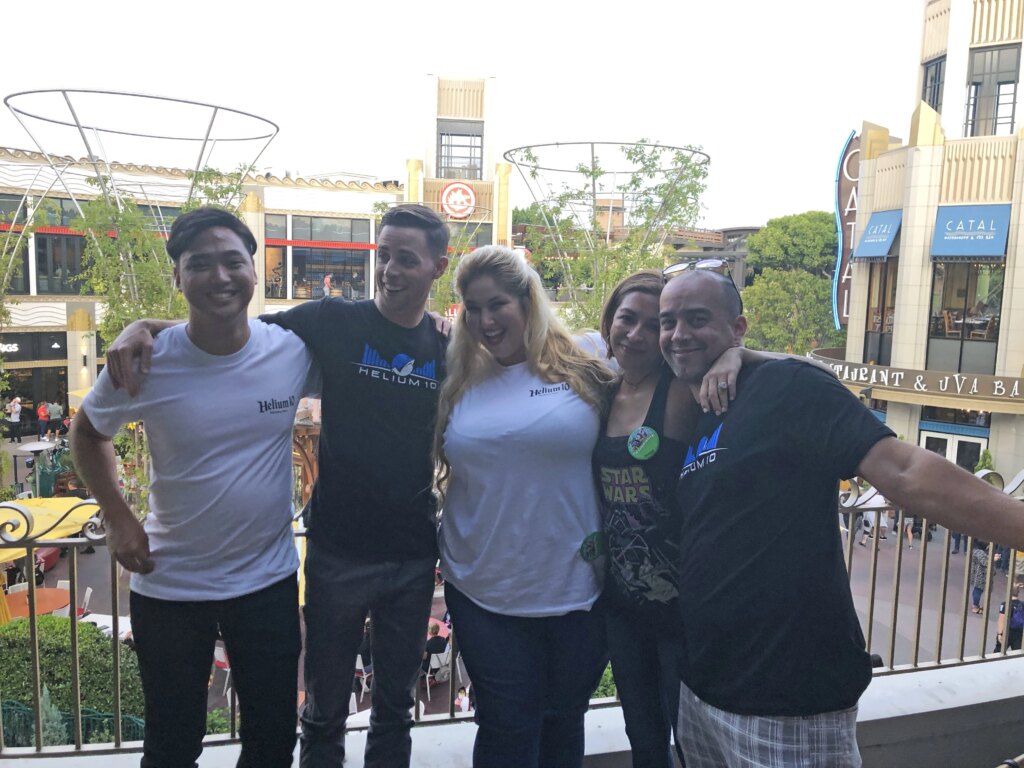 It's popular for high-achieving offices these days to speak of work-life balance. Put a ping-pong table in the common space, make sure the cocktail cart does a lap of the office on Fridays; that's all pretty easy to do.

What's harder to do is the emotional heavy lifting that helps establish a bond between each and every employee (I have a hard time even typing that word, a teammate is closer, and family, closer still). 

A couple of months ago my 23-year-old son came from Vancouver Island where he's going to school, to visit the office. 

After spending a few hours in the office he said to me, "Pop, I can tell everyone really cares about each other in this office, you are so lucky!"

And I am.

And Now It's Time To Say Goodbye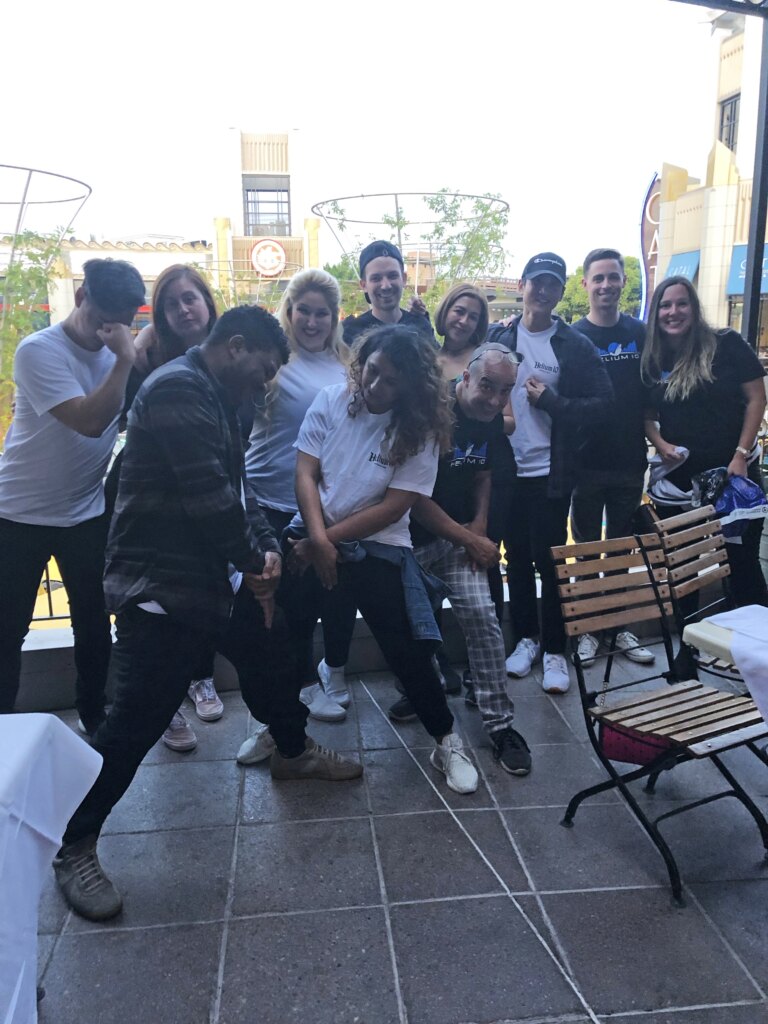 If you finished that in your head with "to all our company…" then I've done my job.
I hope our perspectives offer you an insight into what company culture means, both in general and to us here at Helium 10. But, you may be asking, why is that important?
Why should I care?
My hope is that it will become abundantly clear that company culture has a LOT to do with the quality of a product. What I mean by that is, employees need to enjoy their work and feel as if they are contributing in a meaningful way in order to create great products and services.
In the book Smarter Faster Better by Charles Duhigg, the author talks about a study done on over 200 investment firms over the course of something like 10 or 15 years.
They lumped all the firms into three groups; engineering-focused, superstar focused and culture focused.
The engineer focused group hired people with strong technical skills and focused on producing the best products and services possible.
The superstar focused group hired only superstars with stellar resumes and proven track records. They focused on marketing and sales primarily.
The culture focused group primarily spent time trying to create a happy and productive work environment. They focused much more on employee happiness and building a culture much like a family.
At the end of the study, while some groups performed incredibly in some areas, overall the largest gains were made from the culture focused group. Even when they used outdated marketing and less innovative technologies, these companies outperformed everyone over the long-term.
While Helium 10 is far from a financial institution, the lesson from this study is clear; happy employees, creating in a safe environment where they feel cared for, produce the best experience for their customers long term.