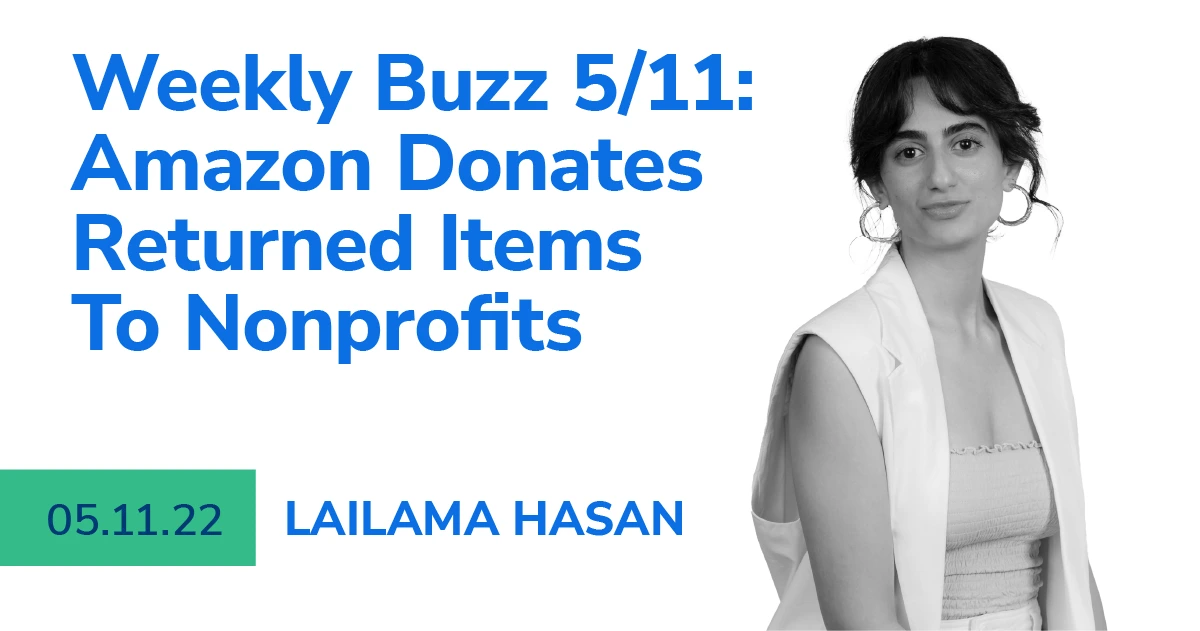 Helium 10 Buzz 5/11/22: Amazon Donates Returned Items To Nonprofits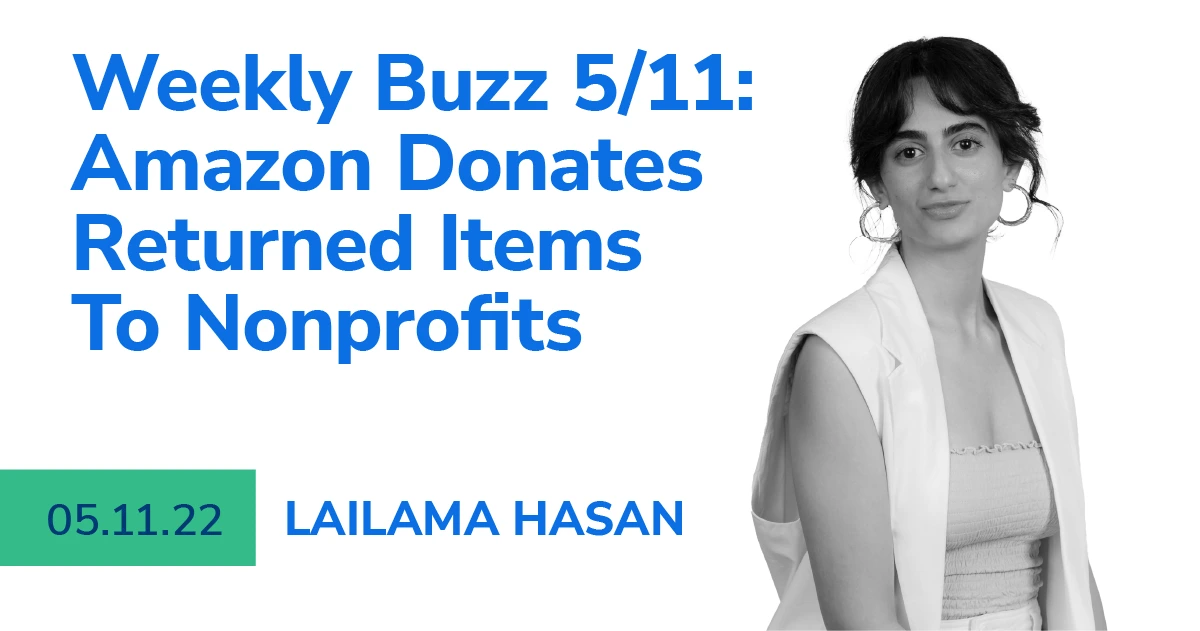 We're back with another episode of the Weekly Buzz with Helium 10's Brand Evangelist, Lailama Hasan. Every week, we cover the latest breaking news in the Amazon and E-commerce space, interview someone you need to hear from, and provide a training tip for the week.

Amazon gives 100 million customer returns a second life by donating to communities around the world.

Effective May 23, 2022, Amazon will be changing the way sellers manage buyer-initiated order cancelations for seller-fulfilled orders.

In 2021, retail mobile commerce sales exceeded $359 billion in sales and are expected to double by 2025. Moreover, Shopify's analysis of last year's Black Friday/Cyber Monday period confirms that mobile is (still) king.

We also speak with Helium 10's product manager, Rachel Fusco, to discuss the newest exciting updates for Helium 10's product research tools like Black Box.
Helium 10's Chief Brand Evangelist, Bradley Sutton, closes out the episode by diving into how the Pinterest Trend Finder inside Helium 10 can help you find your next successful private-label product.
In this episode of the Helium 10 Weekly Buzz, Lailama talks about:
00:54 – Some Good in Customer Returns
02:00 – Changes to the Buyer-Initiated Order Cancellation Process
03:15 – According to Shopify Mobile is (still) King
04:00 – What Is The Future of Black Box?
06:30 – Diving Into The Pinterest Trend Finder
15:30 – Join Us For Our Monthly Product Launch Webinar
Transcript
Lailama:
Hello everyone, and welcome to another episode of the Helium 10 Weekly Buzz. My name is Lailama Hasan and this is a show where we get you familiar with the latest news in the Amazon and eCommerce space interview people in the industry that you need to hear from and provide a Pro Training Tip of the Week that will give you serious strategies for serious sellers of any level in the Amazon, Walmart and eCommerce world. Let us see what's buzzing this week. So today we will talk about a feel good piece from Amazon customer returns, amongst other breaking news pieces. Talk to a product manager about the future of Black Box here at Helium 10 and announce something brand new that you will not want to miss at the very end.
Lailama:
So be sure to stick around. Let's get started first. I figured why not start with a feel good piece in my opinion, it's always nice to get some good news, right? So if you weren't aware before Amazon has a partnership with good 360, a nonprofit that facilitates the donation of unsellable goods to those who need the most. Through this FBA donations, as in customer returns that have been given a second life have impacted over 11 million lives and communities across the US and Canada. There's one such story of a single mother and three children residing in Bakersfield, California, who were able to furnish a new home, thanks to these donations. And another were assorted essential goods in Clayton County, Georgia, helped more than 300 people where 18.6% of residents live below the poverty line.
Lailama:
Every item returned to Amazon is inspected and resold as new or real state for sale if it meets their standards in the case, it does not. This is what happens to them. Up next seller central has responded. Many sellers had provided feedback that they wanted a better process to manage buyer cancellation requests without searching for them in the Buyer-Seller messaging tool, as they can easily get lost with multiple at the same time resulting in product returns and refunds. Effective since yesterday, if you use seller, central notifications are no longer sent through Buyer-Seller messaging and cancellations now appear in a banner on the manage orders page for each buyer initiated cancellation. If you use order reports to process orders, you can enable the buyer requested cancel field to see cancellation requests in your order reports. As for the changes. If you use APIs, you can view the buyer cancellation request through your own systems by using the List Order items API.
Lailama:
Once you import, you can continue to cancel orders through API feeds on Seller Central or with a file upload. You will still continue to receive email notifications for all buyer initiated order cancellation requests. Last but not the least a recent analysis of Shopify has showcased 47% of their new Shopify store signs take place on mobile devices. Many Shopify apps, such as Juni have seen double digit percentage of admin sessions on mobile. What this means is, it is thoroughly crucial for your business and brand presence is optimized for mobile users. Create responsive designs, ensure core features are available, proper imaging and listing, and cater to an easy setup. Now that's all the breaking news we have for you today. Let's move on to our next segment. Our interview of the week is with a Product Manager here at Helium 10. Her name is Rachel Fusco, and she's going to be talking to you about the future of Black Box, our awesome product research tool, which pulls from over 2 billion data points. Hi, Rachel, how is it going?
Rachel:
Great. Thanks for having me.
Lailama:
Thank you so much for joining us. Now I have some questions for you now let's start by talking about some of your responsibilities here at Helium 10.
Rachel:
Yeah, absolutely. So I'm one of our senior product managers. My tools that I, you know, am kind of in day in, day out, are going to be Cerebro, Magnet, Black Box, Keyword Tracker, a lot of the favorites when it comes to those keyword product research and tracking tools.
Lailama:
Okay, Rachel. Now, do you have any new features that you can share with us?
Rachel:
I do. So right now we're working on an additional feature within Black Box that allows our users to start to find products. In addition to the tried and true filter method, we're also kind of playing with a little bit of a narrative based approach. And what I mean by that is a user is kind of met with a bit of a storyline where maybe there's certain markets they're trying to break into or you know, certain price ranges that are most valuable to them or maybe fit their budget at the time. And so we're hoping that allowing users to kind of fill out a story will one, be a little bit of a fun way to find new products, but also two, hopefully, teach some of our newer sellers a little bit about the strategy and thought process that goes into what makes a product, a good product for you as a seller.
Lailama:
I know that it's gonna help a lot of new sellers because that's exactly what people think about and the things that help people out when they're starting out. Right. Now, are there any other things you would like to mention Rachel
Rachel:
Now just to kind of tease it, we do have two big changes coming to both Cerebro and Listing Analyzer next week. And so I know at the end of this, you're gonna talk about our you know, something that we have coming up at Helium 10. So I won't wanna say too much, but at the very end, I think Lailama will tell you guys more about how to find out new features for next week.
Lailama:
Well, thank you so much, Rachel, for taking out the time, it's been an absolute pleasure having you on to share your knowledge and talk about a tool that is used and impacts thousands of sellers across the globe.
Rachel:
Thank you so much.
Lailama:
All right, with that, I'm going to switch gears and show you an exert from Bradley, where he discusses, how exactly you can use Pinterest Trends Finder, another way to conduct product research.
Bradley Sutton:
In this video, I'm gonna show you guys a new way using Helium 10 that you can find potential product opportunity and ideas. This time extracting data from Pinterest Trends. This is a new tool that we have right on our dashboard. And the reason we made this tool is we've been talking about since Project X, that you can somehow or you can sometimes spot upcoming trends that aren't even on Amazon yet on Pinterest. Right? Cuz you know, remember, think about it. If somebody has an idea, they can just pin it on Pinterest, right. As opposed to there's a new idea, it doesn't get on Amazon right away. You know it take, it might take 3, 4, 5, 6 months to develop a product, right? So sometimes Pinterest trends can kind of like get ahead, start on. What's going to trend on Amazon. Right?
Bradley Sutton:
So let's get into how to use this tool. Now where you can find it is that you can actually scroll down halfway on your dashboard. And then you'll see under the research, a keyword widget here, a new What's Trending on Pinterest. And so this is kind of like think of it as a slot machine. All right. You're kind of like rolling the slot machine. And I'm gonna hit refresh here and it runs so red and black aesthetic. That might not seem very interesting to me. By the way you might be wondering where in the world are we getting these keywords? Well, what we've been able to do is extract all of the keywords from Pinterest Trends and the Pinterest Trends, search volumes for it. And we could see what's the most on the increase the last week, the last two weeks, the last three weeks.
Bradley Sutton:
And so we're trying to show that here in this. So I probably could look at that, but let me just refresh again, see what comes up, tapered square nails. I don't know what that is, but you know, could be on Amazon. How would I know if it's on Amazon, well, watch this. Let me go open in Pinterest. All right. It's gonna show me this Pinterest Trends, tapered square nails. You can see. Wow. It is increasing. Look at that, this increase in searches for Pinterest or for tapered square nails. And what I could do is I can actually hit here the Demand Analyzer. And let me just see, is there any search volume for such a thing on Amazon? Not yet. I'm not sure if there's, this is just not interesting but look at these tapered square nail tips, 5,000 search volume.
Bradley Sutton:
So I could go in and see, you know, what kind of products are showing up there? Let's just keep going here. Refresh nail colors, a lot of nail things on Pinterest, Christmas dinner table. All right. So I'm recording this video, right during the Christmas time. And so this obviously was something trending last week, white ombre nails. All right. So here's the next thing here? Dark Academia, what the heck is that? Let's go ahead and open it up in Pinterest Trends, Dark Academia. I see a slight increase here. So we picked up on that. How could I use this? Well, I would assume that there's no search volume on this in Amazon. I'm just curious. Pretty sure, but let's just take a look here. Okay. All right guys, look at that.
Bradley Sutton:
That shows you how little I know. This is why we trust the data, not your own mind because I figured that this wouldn't have any interest. I don't even know what this word means, but look at this Dark Academia clothing, Dark Academia room decor. All right. So this is all of a sudden now where I can just start getting into ideas. Let's just look at this top products that are showing up on Amazon for Dark Academia. This pulled up Black Box niche. This is like just like a search on Amazon and then I could ready. See the data here. Let's see tapered jeans we've got here. My I Hero Academia. Now, if I were to look at this keyword on, in Black Box by clicking, see all top products, it would show me some of these top sellers here. Let me go back to the dashboard.
Bradley Sutton:
If you notice here Dark Academia showed up here. It's gonna automatically populate in this research a keyword, and then I can hit search here. And then it's going to show me some of these top keywords relating that have Dark Academia in it. Dark academia, clothing, Dark Academia room decor. Let's just take a look more on Magnet. Some of these keywords that opens up Magnet, and by the way, you guys, that's not new. I hope you guys have been using this research keyword feature where it allows you to get this data here without even having to go to Magnet. But I wanna dive a little bit deeper in here. Let's just look do an advanced search here and show phrases that contain Dark Academia, hit apply.
Bradley Sutton:
And then I can see here, let me just sort by Search Volume and I can see those ones, Dark Academia, clothing, Dark Academia, aesthetic clothing. I really don't like doing clothing, but this room decor looks interesting. So maybe I'll dive into this and this is what product research is, guys. It's just going down rabbit trails, right? I still don't know what Dark Academia means. I know what My Hero Academia is. It's a great anyway, eh, but there's some interesting things on here is posters. What else do we have here? I like this. I like seeing something where there's some products here dominating, but then as I scroll down, it's already completely different products that show that maybe it's not dominated by, you know, one seller or by one exact type of product. So I could just run Xray on here and see some of the sales. Just take a look.
Bradley Sutton:
Okay. I mean, look at some of this stuff, this stuff is selling like 10, 20 a day. Look at these. These are selling like a hundred units a day. That's crazy. $103,000 of this vintage wall kit. Right? So I think I'm kind of strain away from that original keyword of Dark Academia, but we're just going down a rabbit trail here, guys. So watch this. I'm gonna hit this. I'm gonna run keyword search. This is going to run Cerebro for all of the keywords that this is ranking for. And I'm especially curious to see what in the world. It are the keywords that are driving 4,000 up to 4,000 sales. All right. So let's run Cerebro here. And let me see, Hey, search volume of at least 1000. And let's say where the organic rank is between 1 and 10 and let's apply these filters and then take a look at this where this is ranking high for. Now, all of a sudden I have other potential product ideas, vintage room decor, collage kit for wall aesthetics.
Bradley Sutton:
Now again, where did all of this come from? This all came from me, just spitting the wheel here on this Pinterest Trend Finder. I ended up on Dark Academia, which I thought was a nothing keyword. And then using the Demand Analyzer I found, wow, there actually is some demand on Amazon. What I'd probably wanna do is I'll probably wanna go back to Pinterest because that's where the demand, you know, where I found the demand and I'd wanna see what kind of products are actually being pinned or what kind of images to get an idea. That just was one spin. And I got that now. You're not going to get an amazing product idea with every spin. I mean, there's gonna be a lot of probably celebrities or cookbooks or recipes or things that maybe, you know, you can't really apply to Amazon, but this is a great way to find what is trending on Pinterest.
Bradley Sutton:
People always say, Hey, is it too late to find opportunity on Amazon or new product ideas? No, it's not too late. There are so many different ways you don't just have to use Black Box. You don't just have to be scrolling on Amazon. Sometimes you can get inspiration off of Amazon. And that's why we developed this Pinterest trend finder, right? So get into your account guys, spin the wheel here, and see what comes up. And even if it looks like something that might not necessarily be something you think is a product you can sell on Amazon, like maybe it has to do with recipes or something like that, still dive into it because there's always something related to it. Like if it's a recipe for a certain kind of dish, well, maybe that dish is trending. Is there a certain kind of cookware that you need in order to make that dish or something to present that dish? So dive into these niches and these sub niches like Dark Academia that you maybe didn't even know existed and see if there's different products that you can find and research that you might be able to sell on.
Lailama:
Again, guys, it's neat just to be able to use Pinterest Trends Finder, because sometimes by the time you're sourcing a product, you feel has sufficient demand and low enough competition, and it arrives on the market. You are walking into a completely different market. With this, you can find something that has yet to build momentum as we are about to close out this week's episode. I want to wrap up with that one last exciting announcement. I mentioned at the beginning of this episode, and that is a brand new monthly series we are launching for our sellers to discover the latest product releases from Helium 10. You spoke, and we listened based on your valuable feedback. We're launching new features faster than ever to build your business and take your brand to the next level. Join us for our Monthly Product Webinar, Bigger, Better Launch taking place on Thursday, May 19th at 11 AM PST.
Lailama:
You wouldn't wanna miss this. It includes new features to level up your business and expand its tool capabilities exciting updates from our product team and new and improved seller resources, as well as Helium 10 updates you will definitely want to know. I highly encourage you to register today and mark your calendar on May 19th at 11:00 AM PST, go to helium10.com/launch to register now. And that is it for this week's episode of the Weekly Buzz. We'll catch you next time on the Weekly Buzz.
---
Enjoy this episode? Be sure to check out our previous episodes for even more content to propel you to Amazon FBA Seller success! And don't forget to "Like" our Facebook page and subscribe to the podcast on iTunes, Spotify, or wherever you listen to our podcast.
Get snippets from all episodes by following Bradley on Instagram at @H10bradley
Want to absolutely start crushing it on Amazon? Here are few carefully curated resources to get you started:
Achieve More Results in Less Time
Accelerate the Growth of Your Business, Brand or Agency
Maximize your results and drive success faster with Helium 10's full suite of Amazon and Walmart solutions.