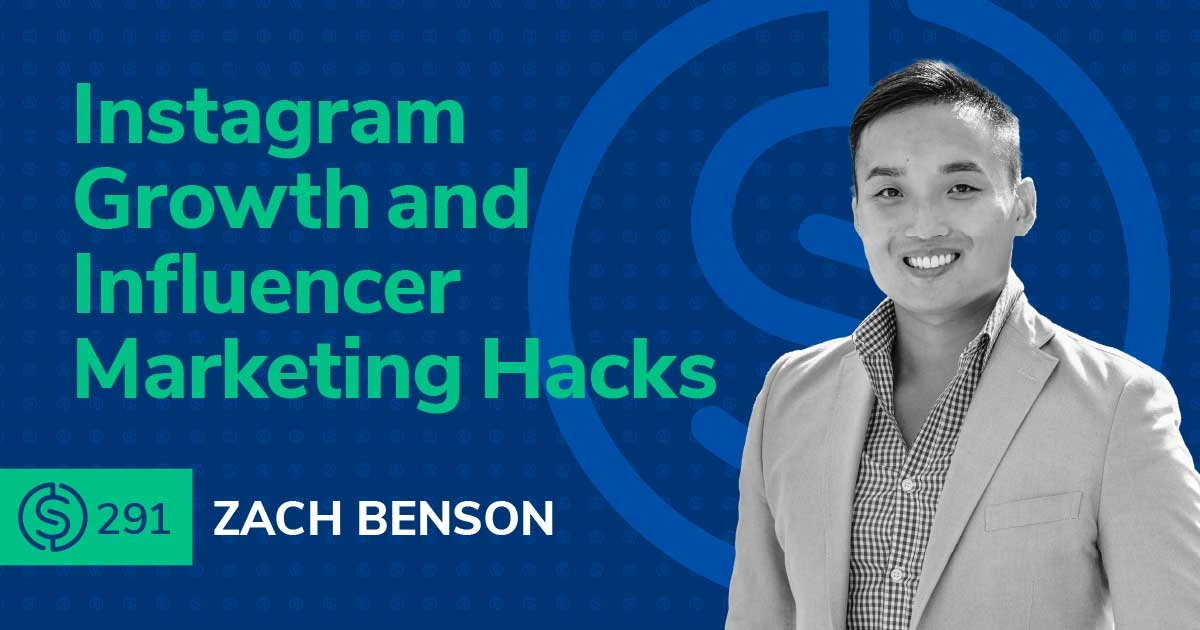 #291 – Instagram Growth and Influencer Marketing Hacks – Zach Benson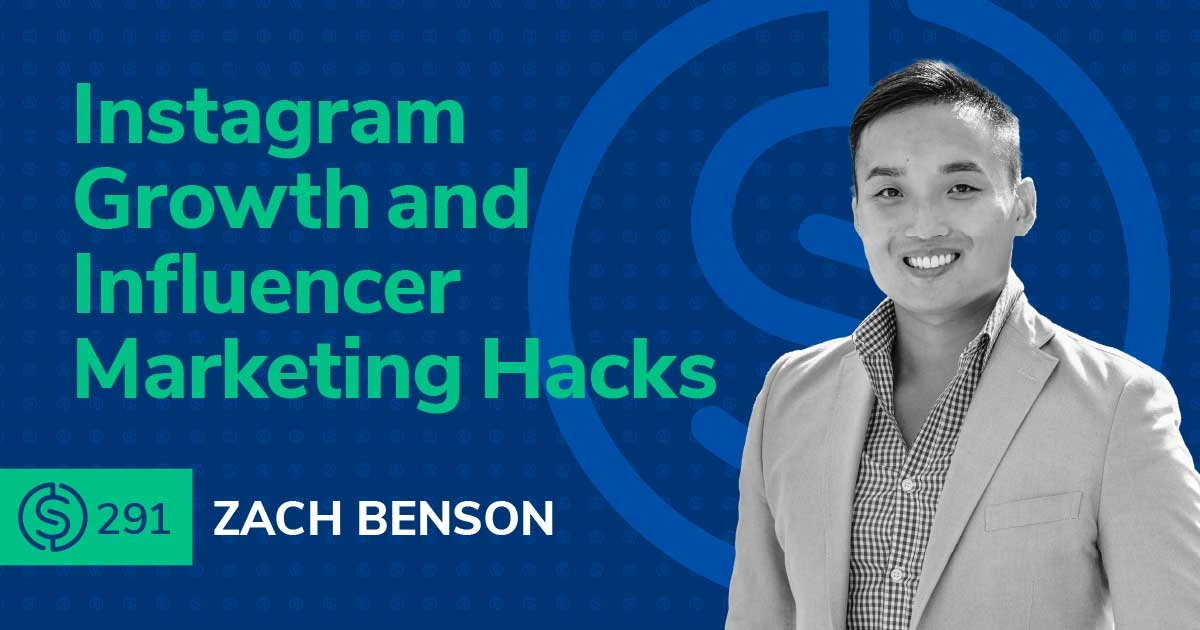 What are Amazon sellers looking for if they want to do influencer marketing? Today's guest has all the answers! Bradley welcomes social media marketing expert, Zach Benson as they explore various topics around the best hacks for social media and influencer marketing for Amazon brand owners.
Zach also shares his "influencer level" travel hacks that you can use on your next vacation. This and so much more so make sure to listen to the very end!
In episode 291 of the Serious Sellers Podcast, Bradley and Zach discuss:
00:55 – Zach's Backstory
02:14 – So You Think You Can Dance Stint And Making 6-Digits Teaching Dance
05:30 – Finding Your Fire And Passion As An Entrepreneur
12:20 – Travel Tips From An Instagram Influencer
16:15 – How To Build A Following For Your Brand On Instagram
22:00 – Manual Actions On Social Media Platforms Reward You
24:50 – What Are Amazon Sellers Looking For When They Do Influencer Marketing?
31:00 – More Quick-Hitting Travel and Social Media Hacks From Zach
34:30 – Meet Zach Benson At The In-Person Helium 10 Elite Training
Transcript
Bradley Sutton:
Today, we've got somebody on the show who's going to have a very inspiring rag to riches story. And he's going to give us tips and tricks on things from travel hacks to Instagram marketing and we're even going to find out live on the show together that we were both on the same season of a reality TV show. How cool is that? Pretty cool I think.
Bradley Sutton:
Hello everybody and welcome to another episode of this Serious Sellers Podcast by Helium 10. I am your host Bradley Sutton, and this is the show that's a completely BS-free, unscripted, and unrehearsed organic conversation about serious strategies for serious sellers of any level in the Amazon, Walmart, and more world. So we've got a world traveler here speaking of the world here, Zach. Zach, how's it going?
Zach:
What's up, Brad? Good to be here, excited to be here. Thanks for having me.
Bradley Sutton:
All right. Well thank you for coming on and I know a little bit about you. You're gonna be speaking at the Elite workshop coming up but before we get into that, I wanted to find out more about your unique superhero origin story because I've seen little bits and pieces here and there. And so I just want to fill in the blank so where were you born and raised?
Zach:
I'm actually born in Busan, South Korea, and then adopted by my parents in Iowa. So I pretty much grew up in Iowa lived there most of my life and then caught the travel bug started you know traveling a lot, lived in Spain, Mexico, found my birth mother in Korea, and now I'm actually living in Seoul.
Bradley Sutton:
Oh, wow. That is so cool. Do you speak Korean then?
Zach:
Yeah, well actually my Spanish is better than my Korean because I lived in Spain and Mexico for several years, but yeah, I do speak some Korean now it's not fluent pretty good though.
Bradley Sutton:
That's pretty cool. Like I'm an addict to Korean drama and I actually speak Spanish myself and so it's kind of funny sometimes some of the words, you know, like when you're in Mexico, you say way, like a way like that means something, but and then drama was, they're always saying that it's pretty funny. Some of the words do not translate, very good across but that's pretty cool. So now you actually were on TV for a little bit. What show was that?
Zach:
So you think you can dance, so it's sort of like American Idol but for dancers and I was a season 10 participant on the show and I listened several times, so each season I made it a little bit for very the competition I never won, but I made it to the top 100 and basically leverage that brand, the name of the show, and everything, and taught dance all over the world, 75 different countries, and also made a multiple six-figure just teaching dance at mom and pop studios every single week. So, it was pretty cool but let's take you guys kind of way back like in part of my story was like, I had the speech impediment, right? So here I was this Asian kid growing up in the middle of Iowa you know one, I looked different too.
Zach:
I spoke different right? I had a speech impediment, I couldn't say the letter R until I was like in my twenties. So, I never thought I'd be doing like a podcast, traveling, teaching, and speaking at events like your guys coming up and traveling the world and doing this. I was a pretty shy guy, but dance really changed my life. It kind of became my fire and I found my voice through it. There is something that I was finally good at that I could express myself with because at that time I felt like it couldn't really talk and my speech therapist was like, if you quit my classes you'll never be able to say the letter R, you won't amount too much, and no one will be able to understand you. And I was like seven when I heard this and so I believed those lies and stuff pretty much my whole life, but then dance opened up everything.
Bradley Sutton:
How did you discover? You know, I mean some people, well their parents stick them in dance classes from the age of three, and then it's like they kind of grew up with it but it sounded like you kind of discovered this a little bit later on in life.
Zach:
I think we all have like natural talents, and abilities, and skills, and strengths, and also weaknesses. Some of us like, for me like I was a better freestyler, right? I could just simply listen to the music, and react, and move, and create my own moves, and do my own thing. Other dancers are more like, kind of like choreography people, like kind of copycat or so they can copy whatever someone else does just like that right? And pick it up and do it to too. So it wasn't until later, like I was around 15 when my friend gifted me a break dance DVD, how to break dance by Mike Garcia and I just watched it fell in love with it and kept practicing and practicing and working and working and eventually started traveling with it became pretty good at it. We won battles and competitions and eventually made it onto the TV show "So you think you can dance". So it took, 10 years of really hard work but then I finally made it.
Bradley Sutton:
Yeah, no, that's cool. I think if I heard you correctly, you called it like kind of discovering your fire or something. Now, one of the things that came up when I Googled you and the first time that our mutual friend Corey mentioned you, it was actually a Ted talk that you gave where you talked a little bit about everybody needs to discover their fire I'm not sure exactly how you called it and how dance was it for you. Can you talk a little bit about that? Because I think for entrepreneurs, it's important to have that fire or motivation, otherwise you're not really gonna be successful.
Zach:
Yeah. That purpose, that fire, like whatever makes your heart sing and it makes you feel alive day in, day out, something like super excited about and passionate about it. And I think it like we have it's like life is ebb and flow. Like sometimes we feel super excited other times we don't feel as passionate and so it's kind of like a roller coaster like a lot of these like ups and downs of life and stuff just happens. But I feel like when people finally have like figure it out, something that they just really enjoy and brings them happiness and it just doesn't feel like work. And don't feel stress and you don't feel like a lot of negative energy, I think that's one step closer to finding like your fire and passion and I think whatever you do, right?
Zach:
You can do it and it might be something that you just like to do and enjoy doing for a little bit. And it might be just to pay the bills or it's like making a lot of money. But I think like I hear from a lot of these entrepreneurs now that have exited their companies for millions and millions of dollars, like their maybe good at like building Amazon stores and growing and scaling it. But now it's like, they're at a point in life where it's like, okay, what really matters? What do I need to be content in life? What truly makes me happy and makes my heart sing? And I think it constantly changes.
Bradley Sutton:
Now here's a question like for you, your motivation, your fire was danced, and then you actually turn that into an income. Like you said, you were making big money, doing dance around the world and that's amazing. Now sometimes, I'm just assuming here but sometimes maybe what is really a big motivation or the fire for somebody might not always result in monetary, it might not be a job it might be something else, might be art, maybe that really fires their motivation. But can your motivation or your fire be something that maybe not makes you money, but still makes you successful or helps you in your entrepreneurial career? Do you really need to do something–does your fire need to be something that you're actually working at and have that be your principal job? Or what's your philosophy on that?
Zach:
So dance was like my vehicle, right? It was just what I used because I was good at it and good enough at it to teach it and do it all over the world and make some money out of it. But what I realized, my true passion, my big passion is teaching. Teaching is my passion, I just love encouraging others, building them up, teaching them things, empowering them to do like what they never thought was possible. And with dance, like again I never won that TV show I just made it to top 100 but I was good enough or just a little bit better than the rest of the people, and I found my niche right? And so it was basically teaching mom and pop Studios, I was Midwest, Minnesota, Nebraska, Iowa, in the countryside, giving them a fun experience saying, Hey, you know, I participate on.
Zach:
So you think the dance, how would you like to bring that experience to your studio? I'll put your kids through the audition process, the freestyle, they'll do all these different styles, and we'll make a whole mastermind experience out of it. And so it was really something just fun and cool and something different. And, I did it across all age groups, 5-8, 9-12, 13+, 10 students minimum per class, 50 students per person for the 90 minute or 2 hour class gave $5 to $10 to the studio. And 30, 40 kids showed up each age group and that's how I was able to with that do that 4 hour, 6 hour work week and still make money a lot of money and have fun while doing it. So I think, we're all good at some different things, but digging deeper like really deep and figuring out like what we're truly passionate and we just continue to do those things. So now I'm teaching people about social media, marketing growth, and monetization. So I'm still traveling online, I'm still speaking on big stages but the reason I do that is because I'm really passionate about people. Life is about people and building yourself and helping them accomplish their goals this is my mission in life.
Bradley Sutton:
I mean I totally agree like I can't say that Amazon or things like that was my passion before I mean it was actually kind of like dancing a Zumba, Zumba fitness was what I was doing I was traveling the world kind of like doing the same thing you were doing masterclasses all over the place. And you know, I'd never did dance or anything before and now I'm doing something that someone would think is completely different. But if you think about it, my passion still is the same. Yes, of course I love to dance an d the endorphins that one gets, and I love losing 70 pounds for being a Sumo wrestler to being a dancer. But, for me I think the bigger motivation was the helping people changing people's lives and just seeing a positive reaction.
Bradley Sutton:
And in that sense, what I'm doing now is almost identical. You know, it's not different like at face value dancing compared to being a podcaster and an educator in the Amazon space. But you know, the stuff that we're working on here at Helium 10 is like literally changing people's lives, maybe they're not losing weight like my Zumba students were, but they're being able to quit their jobs. And so that, I think what you just said is very applicable to me that was my passion, I found it. And I made this new job, my passion and for you entrepreneurs out there, listen to what Zach said. Maybe you didn't grow up thinking that you're going to be an Amazon seller, but if you have something that you're passionate about, you can tie that into your entrepreneurial career. Now, you mentioned something else and I was looking at your website and before we get into some like Instagram strategies and different things something that blew me away on your website was, it says you've stayed for 550 plus nights for free at hotels. So I got to know about this cause I love travel myself.
Zach:
My life is travel. Pre COVID, another country, another culture every single week. So I was here in the Maldives, you know.
Bradley Sutton:
My favorite spot in the world right there.
Zach:
Scuba diving, surfing back and forth, grease all over the road and I basically figure out what I cracked the code and now it's over 700 something nights for free. Some of these hotels are anywhere from $10-20,000 all the way up to $50,000 a night and it's crazy like you're rubbing shoulders and meeting Kings and Queens actual like royalty in this countries and it's all thanks to Instagram. And, I guess one of the things that I learned with dancing and pursuing my dance and making that a successful business is the art of cold outreach, and relationship building, and peak interest. And so I kind of mastered the art of just cold email and outreach and I learned that it's a numbers game and if you're able to offer enough value, and give freely, and at the same time make that person feel loved, respected, and intrigued, right?
Zach:
Compliment them, take an interest in their life, take an interest in that hotel. Hey, I like this, this and that about your hotel. Me and my friends would love to stay, promote it, create all this content for you and then post it on all of your Instagram pages, what can you do in exchange for your best available suite. Breakfast, lunch and dinner would be nice, spa experiences would be great. Like we can offer the following rght? And it's really just like a irresistible offer, like type value stack of different things that we could do to promote their hotel and help them get seen, known, and heard everywhere on Instagram.
Bradley Sutton:
Wow. So have you ever stayed at my two favorite spots which other Conrad and the Waldorf Astoria there in Maldives?
Zach:
Yeah. So I know those two hotels they're amazing, super great. So on my last trip, I was working with a scuba spot. So it was like four levels, we had unlimited spa massages every day. We did up to four or five scuba dives a day if you wanted. And then another couple that joined the trip actually just came from the Waldorf Astoria and I've never personally stayed there but I have several friends including you like they just say amazing, amazing things like you get picked up on a yacht I think, at the airport, they drop you off at the hotel and it's just beautiful. It's one of the newer hotels I've been going to the Maldives since 5,6 years ago. They have over 3000 islands and new hotels popping up all the time, think Ritz Carlton just create a new hotel, a lot of cool stuff happened in over there.
Bradley Sutton:
Cool. Now you mentioned about doing this via Instagram. Now, I'm assuming, you can't come in with like 50 followers and say, Hey, give me a free $10,000 a night suite. And this is kind of like where it ties into to entrepreneurs and Amazon sellers is maybe not everybody wants to build their personal Instagram profile up I definitely want to because in my space I kind of want to get the message out there but for an Amazon seller, I think they're more interested in just like, Hey, I'm building, I'm trying to build a brand here. How can I build some more Instagram awareness for my brand. So I'm assuming you might talk about that a little bit in the Elite workshop but just what are some tips in general that you can give, Hey, I'm Joe, Amazon seller I've got a few products, I've got this brand, I want to get the word out there on Instagram. How do I build my following? And then how do I leverage it to actually help me?
Zach:
So super excited to talk about this now. Like what a lot of Amazon people come to us for is, just like you said right? They're like, okay, if we can figure out a way to drive some outside traffic, you know, Amazon really loves that. So we're helping a lot of people like grow on their Instagram accounts, drive traffic, and create a brand on Instagram. Now, some of the growth tactics and tactics and strategies wow. So Instagram 2021, wow going into 2022, the algorithms have changed a lot right? Now, before I think back in the good old days when I first started, we were growing people's accounts several thousand followers per day, and it was crazy. And we could just back in the day, just post and grow. And then you went through the follow unfollow phase, the automation phase. Now, if you use any sort of tools and automation your account can get compromised and shut down.
Zach:
So, if you guys are using any sort of app or later third party tool or something like follow unfollow that it's automated, stop using it because your account could get deleted. So there's a lot of do's and don'ts right? So I'm just touching very quickly on the don't. Don't this thing, don't do these things. So no automation, you don't want to constantly change your profile, picture your name of your Instagram account, you don't want to be liking and commenting outside of your niche and industry, you don't want to be following people outside if you're missing industry there's like a hundreds of don't dos. Those are just a few of them that when you're actually doing them, compound to big negative results. Now, if you want to try to grow on Instagram 2021, there's really 3 ways to grow right?
Zach:
Number one, I mean, content is king like with great, awesome content comes more growth. Now, one strategy that we still use today and that still works is repost strategy and utilizing repost hub accounts. So let's say that you have some type of health product or beauty product. What we do is we repost other beauty creators content onto our hub page which could be like all about beauty or you know, beauty secrets. And this page is what's called a hubpage because essentially what you're doing is reposting all of these creators pages posts on your page, giving them credit, and making it go viral with using the right hashtags and engagement groups. And so, that strategy is a strategy that one of the strategies that we still use today is we use other creators content influencers, repost it on our page, give them credit, use a few hashtags and get other people in the same niche and industry to like and comment on that post several times throughout the day and it still hits the algorithms and it can help you go viral.
Bradley Sutton:
Okay. Now, what about how Facebook and Instagram are so like connected more than ever. So like let's say, do you always suggest linking your Instagram with like a Facebook fan page or some Facebook profile, and then when you post to one to always post the same to other? Or do you keep them segregated and then post platform specific content on each one?
Zach:
That's a good question. So each platform's a little bit different. Like I would say, like right now, Instagram and TikTok, TikTok are kind of being more alike but as far as like Facebook and Instagram, the Facebook algorithm like let's say that you have like amazing posts and it's getting a lot of reactions and engagement and you made that post like a couple of years ago. And you know how Facebook shows you like anniversary or reminds you of posts and things that you did from like a year ago or 2 years ago, they show these old memories. So, kind of like how the Facebook algorithm works is even if you go ahead and comment and reply to some old comments on that post from two years ago or a few years ago and if you get enough comments and engagement it creates a boosts that posts back up on people's feed.
Zach:
And it's like you just posted today and so that's like a trick that I use for Facebook. If I have like a banger of a post where it's just amazing that got tons of engagement and it's a really good story and it creates all these emotions and feelings and stuff. Sometimes I go comment on other people's comments left on that post that I didn't get a chance to at that time and I boost that post up again. But to answer your question, like I would say, we don't use any apps or tools to post on all platforms, we're doing it manually. And I think when you do stuff manually and you spend a lot of time on these apps, like the social media platform rewards you for hundreds of manual actions that you do every single day. So that's why I created an Instagram and that's why we just do that, have people do that all day every day. But let's say that you're trying to post on LinkedIn you can't post some of the same content that you're doing on Instagram on LinkedIn. Some could work, but it's totally different audience, totally different algorithms so it really depends on the platform, you have to figure out what works for each platform.
Bradley Sutton:
Okay. Makes sense. Now, I know your agency also helps humongous brands and celebrities out there, but do you also have any like actual brands who sell on Amazon who have linked up with you to get some strategy together for their social media campaigns?
Zach:
Yeah. A lot these brands are trying to build up something to sell eventually. So a lot of them reach out to us for like PR help, like get them like full blown features and articles, press, build up your social media is because the more people that know you, the bigger numbers you can sell for. Because when you're seen, known, and heard everywhere online, and you have social media numbers to back it up, that's what everybody is checking. And it's part like brand plays strategy, but it still works to this day because everybody's focused on the numbers. So we work with a wide range of different clients from E-commerce, Amazon, luxury hotels, entrepreneurs, everybody just wants to grow.
Bradley Sutton:
Yeah. So now, like that being said, I assume that you don't have to mention names or specific things or anything Can you remember one of your clients where you can just to get people excited about the potential where maybe they didn't have an Instagram strategy in place and then they poked up with you and then they went from zero to X number of followers or they grew their brand this much, or they noticed attribution, went from this to this? Like is there any statistics or anything that would get people excited to help them understand the correlation between good marketing in social media and your Amazon business?
Zach:
Yeah, for sure. Well, I'm sort of newer to the Amazon space because I just started I spoke at Philly where Asia in 2019 and started meeting all of these awesome sellers and getting into this world, I would say most of the people that come to us now they're trying to work with big influencers and get these influencers and these celebrities to create amazing content, user-generated content, and drive traffic to their store. So it's partially brand play but it's something that I wanted to get into more. So I just recently stumbled upon it and I'm like, okay, this is making a lot of sense because a lot of these companies, they're like looking for outside traffic. And now that we have over 220 million network on social media and TikTok and all these platforms, a lot more brands and people are starting to hire us just for influencer distribution and growth. So, this is just the beginning, this is something new for us.
Bradley Sutton:
Yeah, that's actually cool. You know, some people I think what you said is important, like maybe it's not always just humongous brands who are reaching out to people like you to try and increase all, actually a lot of the bigger brands probably they've already got their own, you know, full social media teams and everything, but it's more mom and pops who are just getting started, but instead of maybe starting with their own full campaign, they might start with influencer marketing. So is that something that you help people, connect them with influencer marketing and help them get viral that way?
Zach:
Yeah. And I would say a majority of these Amazon brands do actually have some social media presence. It's just very low, and a lot of the times not always it's just not that good. So we're coming in, optimizing it, helping them create better content, make improving the engagement, getting micro-macro and celebrity type influencers to make the page look good and promote it and usually that's where we start.
Bradley Sutton:
Okay, excellent. Now, what's just some general strategy about finding the right, I think, I've had people talk about that before but I still get that question like, Hey, there's micro-influencers, there's huge influencers, there's people with huge followings, but they might be not really relevant and they're not gonna do anything for my brand. Like what's the easy wins? If I'm looking for my first influencer, should I always go micro at the beginning? Or how do I know if a big influencer is really relevant to my niche?
Zach:
It's a numbers game it's a hit or miss but I think the most important thing that you have to remember going into this is that it is a brand play it's social credibility is street cred right? So the more people that you can have singing your praises when you're around or not around the better, and the more content that you can use from these influencers and posts on your website for social proof, the better. So a good starting point is I would choose like a couple of micro influencers, like people that have around 5,000 to 25,000 followers, plus give them some free products, compliment them, do your research on them, make them feel special, loved, and respected, send them a gift package and start the relationship there. And for some of these celebrities and stuff, and these household names, it takes a lot more to get them to say yes a lot of relationship, capital connections, money, and in free product, because a lot of them are so used to getting free things.
Zach:
They're like, well, why do I actually have to pay for this when I can just get it for free? So it's a lot of negotiation and psychology with them and just making them feel like, okay, this is worth it. Plus this person has a big brand, plus they not really know how to monetize and they can teach me some things and maybe even help me create another revenue stream. And they've been there and done that and so I think it's just kind of helping them understand the value of your offer and making it make sense to them.
Bradley Sutton:
Okay. Yeah, absolutely. Now we do something on the show we call that the TST 30-second tip. So before we get into that where you just give us some quick hitting strategies about maybe travel hacks or Instagram marketing strategies. While you were talking, I actually went on YouTube because this is crazy. I mean, it's kind of like crazy how we met,and how we both love the Maldives and stuff I just realized I was on Season 10 of So you think you can dance. In a way, I wasn't a contestant but what happened was that when I was doing the Zumba and they had something like international dance day or something where they told everybody to submit videos to them, and then they aired the videos and so you could see me for like 20 seconds or something, or 10 seconds on an episode of so you think you can dance. And I just checked on YouTube right now and literally it is Season 10, so we were on the same season. Like, what are the odds.
Bradley Sutton:
That is so crazy right now. Because I looked at the date I posted it and I'm like, wait a minute, Season 10, when was this 2013 started them? I was like, oh my goodness, this is Season 10. So that's pretty crazy.
Zach:
All I'm saying is when we go to the Maldives, we're going to have a dance party.
Bradley Sutton:
All right now, like I said we like giving some quickening. I mean, you've been talking about some strategies throughout this, but what are some things maybe we can do like 1 or 2 each. A couple travel hacks, and then maybe a couple Instagram hacks, something you can say like 30, 40 seconds each, and let's just drop some value to knowledge bombs to all the listeners out there.
Zach:
Yeah, so travel hack, hotel hack right? So I pretty much live in hotels so really helps just by being like super kind and nice and complimenting somebody in the first 30 seconds that you see them, interact with them. So as soon as I get to a hotel and check in, I always smile, greet them with a smile, compliment them and then I ask them if they have any upgrades available and just being nice and being kind and greeting someone with a smile goes a long way and normally I always get upgraded for free. So, it's something simple but a lot of the times people just don't ask and don't do Instagram. So a lot of people, they just simply DM people, direct message people, try to send them a message, but then they never get answered right? Because I mean, we all get so many notifications, emails, texts, every single day. So actually what I do when I want to connect with somebody as I actually just like maybe 4 or 5 of their photos over the course of a couple of days leave a genuine comment. And then I actually strike up a conversation with them in the comment section and then bring it to the DMS or do a phone call because unless you have a blue check mark and you're verified and you have a lot of followers, you're probably never going to get your DM answered.
Bradley Sutton:
So there's one travel hack and one Instagram hack, maybe just one more. It could be of either thing or maybe it could be something completely unrelated. I know you're a man of many talents out there.
Zach:
Yeah. Like another travel hack that I like to do and this kind of goes in the value stack is wherever I'm traveling to. I try to find like reach out to local photographers and creators and connect with them before I go to the hotel. Because I know that all the hotels want content, and want fresh content, and want to work with influencers. So I have my VA gather list of all of these different creators, figure out the best price, the best content, best deal, and normally just pay their hourly rate and it can be planned, right? If you go to Thailand, it could be anywhere from $25 to $40 an hour, sometimes more depending on their level of expertise, but just by hiring them for a few hours, I'm able to give this content to these hotels. And a lot of times sometimes I'm able to get these hotels for free just by content exchange.
Bradley Sutton:
Wow, that's awesome. All right well, we mentioned earlier you're going to be speaking a lot more in-depth and the more advanced strategies at the in-person workshop we're going to have November the 18th in Irvine, California. So if anybody's interested, come out, meet Zach in person may be challenged into a battle dance battle. If you're brave enough sign up guys for the Elite. I mean usually the Elite workshops are I think they're like 6 or $700, but if you're an elite member it's free to attend. So an Elite member is only $397 a month so make sure guys if you want to try it out for a couple of months just to be able to come in person to meet him. And actually Kevin King is going to be out there in person as well, go to h10.me/elite and make sure to upgrade your Helium 10 account, and then you'll get info on how you can attend in person there. Now, if people can't make it there but they do want to reach out to you how can they find you on the interwebs to maybe contract your agency or find out more about your pretty incredible life?
Zach:
Yeah well, it's been fun guys. Thank you for your time, you can connect with me on Facebook, Instagram, Zach Vacay, Zach Benson is my name and Assistagram.com is my company. So we'd love to talk to you. How do you spell that? A S S I S T A G R A M, assistagram.com and my Instagram account is Zach Vacay. So if I don't hear from you soon, then hopefully I see you soon or even in the Maldives because we're doing something really cool in the Maldives in March. So, hope to see you soon.
Bradley Sutton:
All right, well, I hope I can get there. I don't need an excuse to go to the Maldives, but I'm always looking for one to get there. I love it there. So Zack, thanks a lot we'll see you in a little bit when you come out here and then again, hopefully in the Maldives and wish the best.
Zach:
Great. Thank you so much for having me.
---
Enjoy this episode? Be sure to check out our previous episodes for even more content to propel you to Amazon FBA Seller success! And don't forget to "Like" our Facebook page and subscribe to the podcast on iTunes, Spotify, or wherever you listen to our podcast.
Get snippets from all episodes by following Bradley on Instagram at @H10bradley
Want to absolutely start crushing it on Amazon? Here are few carefully curated resources to get you started:
Freedom Ticket: Taught by Amazon thought leader Kevin King, get A-Z Amazon strategies and techniques for establishing and solidifying your business.
Helium 10: 30+ software tools to boost your entire sales pipeline from product research to customer communication and Amazon refund automation. Make running a successful Amazon or Walmart business easier with better data and insights. See what our customers have to say.
Helium 10 Chrome Extension: Verify your Amazon product idea and validate how lucrative it can be with over a dozen data metrics and profitability estimation.
SellerTradmarks.com: Trademarks are vital for protecting your Amazon brand from hijackers, and sellertrademarks.com provides a streamlined process for helping you get one.
Achieve More Results in Less Time
Accelerate the Growth of Your Business, Brand or Agency
Maximize your results and drive success faster with Helium 10's full suite of Amazon and Walmart solutions.