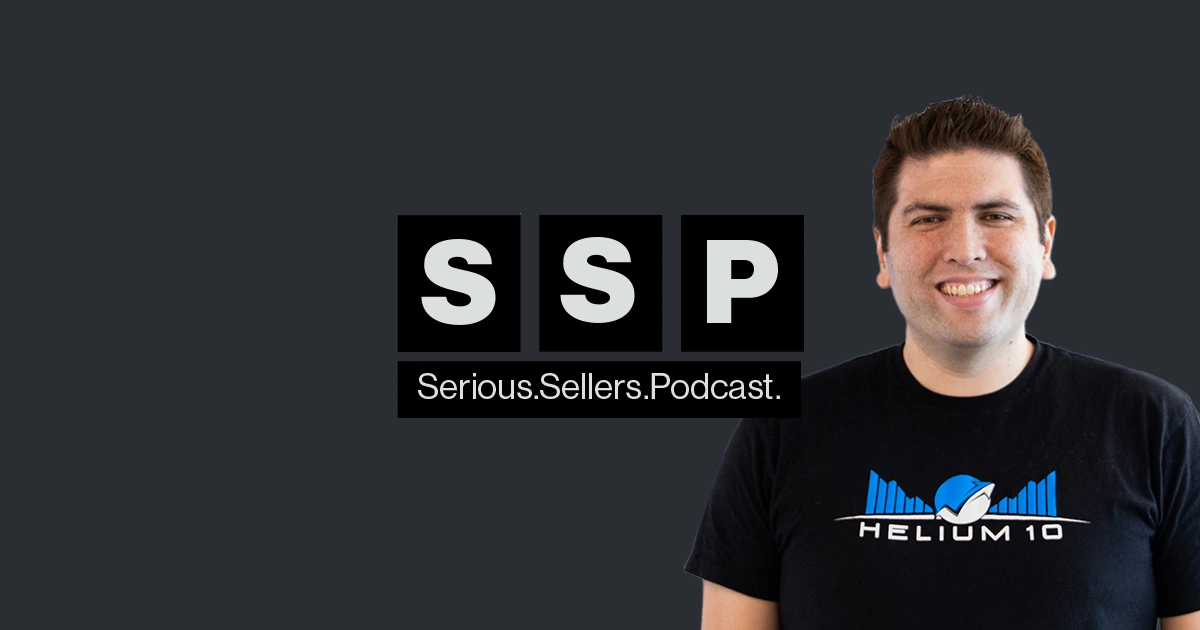 #118 – Here's a fresh look at Amazon Photography, Selling Internationally, Our Review Downloader Tool and Helium 10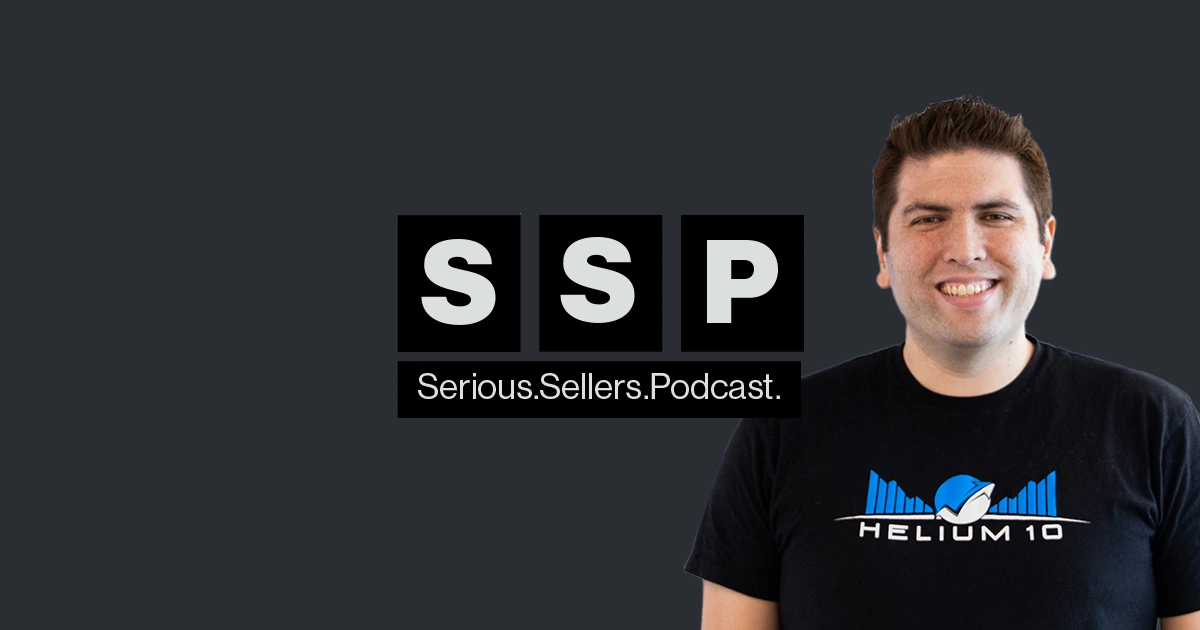 Whether it's eCommerce investigative journalism, stories of the Amazon selling ecosystem or a behind the scenes look at Helium 10, we constantly strive to bring you content of the highest quality.
Today, on the Serious Seller Podcast, Helium 10's Director of Training and Customer Success, Bradley Sutton presents another "Best of Blogs" episode.
Listen in and you'll learn a little bit about the inner workings of Helium 10 as a company. You'll also hear why getting Amazon photography right is so important, how to put your "miner's" hat on and dig for crucial data using our Review Downloader tool and finally, important tactics for scaling your brand to sell internationally in 180 countries with Amazon's 14 worldwide markets.
In episode 118, Bradley presents another "Best Of" edition of the Serious Sellers Podcast:
01:20 – Imagery Comes First
02:30 – An Amazon Product Image Checklist
04:00 – Selling Your Amazon Product Around the World
05:00 – Pay Attention to Societal Differences
06:00 – You Can't Forget About Taxes
07:40 – Data Science is Hot Right Now
09:00 – Review Downloader Uncovers the Information You Need
10:00 – A Quick Walk-Through of the Tool
11:15 – Behind the Scenes at Helium 10
12:30 – Elite Workshops Bring the Amazon Tribe Together
13:45 – Don't Forget to Donate Socks
Enjoy this episode? Be sure to check out our previous episodes for even more content to propel you to Amazon FBA Seller success! And don't forget to "Like" our Facebook page and subscribe to the podcast on iTunes, Google Play or wherever you listen to our podcast.
Want to absolutely start crushing it on Amazon? Here are few carefully curated resources to get you started:
Transcript
Bradley: In today's Best of Podcasts episode that was filmed live and on-location at the White Label Expo in Las Vegas, we're going to go over things like product photography, how to go data mining, and how to scale your brand internationally in a 180 countries. How cool is that? Pretty cool, I think.
Bradley: Hello everybody and welcome to another episode of the Serious Sellers Podcast by Helium 10. I am your host, Bradley Sutton, and this is the show that's a completely BS free discussion with serious strategies for serious sellers of any level in the eCommerce world. And today we've got the third installment of the Helium 10's Best of Podcasts series that features our written blog post. Whether it's e-commerce, investigative journalism, stories of the Amazon selling ecosystem or a behind-the-scenes look at Helium 10, we constantly strive to bring you the content of the highest quality. We are proud of the content our team at Helium 10 creates on a regular basis, but we also have the opportunity to feature guest posts from some of the smartest people out there in the eCommerce world. Here's a selection of some of your favorites from the last month and the first one is from one of our own content writers. In the blog entitled "Amazon Product Photography: The Ultimate Image Guide, Matt Sky makes the case that the imagery is the most important part of an Amazon listing.
Matt: Getting Amazon product photography right is the first step towards profits. Understanding how to maximize your product images and Amazon product listing is an important part of selling on Amazon. Your main image is really your customers' first and often most important product identifier. Not every customer will extensively read your description and wonderfully created verbiage, clever product description and product title. Most of the time, a customer will look at the product photos, skim through the benefits, and read a customer review or two and then click the Buy box. Having quality photos will improve your listing in a number of important ways. High-quality images have benefits beyond just increasing sales. It's really a description in its own right, helping a customer confirm that their search has found the key features they're looking for. Now, this means better conversion rates and quality product reviews for your listing.
Matt: Listings that include polished high-quality photos can avoid negative reviews and maximize sales. Also, high-quality images serve as a product identifier and provide valuable information to prospective buyers on the many key features of what you're selling, such as does it come in variations, does it come in colors, does it come in sizes, et cetera. How can you make sure your Amazon product photos are as effective as possible? You can do a number of things to give your listing the maximum impact when it comes to images. Among those things to optimize, for example, make sure you're using a pure white background with high-quality photos, isn't just a good selling technique. Amazon seller central guidelines require that main image have a pure white background. When selling, this is a necessity¾no beige, no off-white: pure white.
Matt: Being sure to include key features and led photos to augment your product description will impress the customer and increase your sales. Give your potential customers different views of your products. Make sure to photograph your product from different angles. The potential customers can really understand what they're buying. If possible, get a product video or do a 360-degree photo.
Matt: The key to product photography is to make sure it's on point with your brand, serving as a tool to help potential customers see the benefits of what you're offering. The idea is to find that sweet spot between exciting your customer about the product and making sure it's actually helping enhance your description because just getting the sale won't matter if the customer comes back and writes a review with one star saying that they wish they could do zero stars and scaring off potential customers.
Bradley: Our next post by Jana Krekic entitled "Eight Things to Consider when Taking Your Amazon Business International Pursues the Question of Expanding to International Marketplaces."
Jana: If you've been selling successfully on Amazon in a single marketplace, chances are you're thinking about going international with your business. Marketing your products internationally will open the doors to a massive amount of potential customers backed with the trust of Amazon's brand. Amazon currently has 14 worldwide marketplaces which reach over 180 countries via a network of 175 fulfillment centers. By leveraging this network to sell your products, you drastically lower the cost of expansion while potentially greatly increasing your sales. Keep in mind, however, that the overall business mindset and regulations will be different in each marketplace. That will affect your business structure, profit margins, product guarantees and compliance, tax payments, and other things, which all seemed so easy in your home country.
Jana: You'll need to research each market thoroughly, understand how Amazon works in that market, how to sell your product in that market, and how to navigate the potential minefield of regulations. Then, there's societal differences. It's vitally important to understand that just because your product sold well in one market, that doesn't automatically mean it will do so in another. A golf ball company once unsuccessfully tried to sell packages of four balls in Japan. It later discovered the reasons why: the pronunciation of the Japanese word "four" sounds like the word "death," and items in packages of four are unpopular in Japan. What about shipping? Shipping internationally while selling on Amazon requires you to carefully consider your options for fulfillment and create an efficient shipping plan, a feat of skillful sailing indeed. When you're dealing with volume, international shipping can get expensive fast. If you need to hire an international shipping carrier to get a product from the country where the inventory is stored to where the order was placed, be sure to accommodate for extra time as well as customs and duties fees.
Jana: Selling internationally on Amazon requires you to conform with not only all the Amazon global selling requirements but also all the local regulations and compliance for your product. One of the most important things to consider when expanding internationally on Amazon is the need to register your business with the appropriate government tax agency. Then, you'll have to determine your tax obligations based on your market. Is it a sales tax? Is it the VAT? The VAT in particular can be very complex to deal with, and the government agencies collecting it can be very aggressive. Here, you may want to consult an expert, so you can avoid horror stories like being hit with an enormous tax bill, fines, or worse. Once you're ready to start selling in your new marketplace, it's time to optimize your listing for a foreign market. Next, you're going to want to have the listing translated into a new language. When it's time to get your listing translated for any Amazon global marketplace, you want someone who understands Amazon sellers, is experienced optimizing international listings, and can research winning keywords for your product in the language of its new marketplace. Selling internationally on Amazon is a potentially lucrative opportunity for your brand or products. Before taking your business international, be sure to complete your due diligence to make sure it will be profitable. Carefully consider all the things discussed above and make sure your brand or product is meeting any necessary Amazon global selling requirements. With the right preparation, selling internationally on Amazon will allow you to scale, expand, and profit like never before.
Bradley: Next up, a blog post from Chuck Kessler titled "Stop Guessing: Use Amazon Reviews to See Your Future" tells how Helium 10's Review Downloader will allow you to quickly collect data from Amazon's customer reviews in one export to conduct a competitor analysis.
Chuck: Data science is hot. A quick look at the available data science jobs on LinkedIn and Indeed will show you what I mean. If you're a data scientist, and you have an active pulse, you're hiring material. Maybe you're a professional sports team manager employing data scientists to find a way to get the team's payroll under the salary cap or a traffic flow engineer trying to decide how long before we need to pave all of the Southern California. In either case, data is king. Why are reviews so crucial to an Amazon seller? Whether it's someone who is thrilled or disappointed with a purchase, it's emotion that is going to cause someone to take the time to write a review.
Chuck: The buyers in the middle, for whom the product was just okay, are not really going to give you the emotional data that you require to make the connection you need, but buyers who leave reviews will. Every discussion of a product launch involves the question of how to get reviews. It's a simple fact. You're not going to gain traction on Amazon without a stream of positive reviews, but this article is going to look at reviews from the other side of the table. This post will focus on how to mine your competitors' reviews for the data you need to succeed and thrive on Amazon. What exactly is data mining? Data mining is the process of finding patterns within large data sets, often in combination with machine learning, statistics, and database systems in order to predict the outcome. Fortunately for you, Helium 10 has the best data-mining tool out there. It's called Review Downloader, and it's available as a Chrome extension here. Review Downloader allows you to quickly collect your competitor's customer reviews in one quick export to uncover valuable customer insights that help you strategically position your product. The way I'm going to put this data to use is in conducting broad market research. This is how you can use Amazon product reviews to do competitor analysis. There's really nothing better than having an understanding of precisely what customers are looking for in a particular niche and how happy or unhappy they are with a competitor's product. Let's say, I was looking to buy a new French press coffee maker. On Amazon's site 2,393 Amazon buyers have taken the time to write a review about a specific product that I'm interested in, and the overall score is almost five stars. How do we see what customers like about the product?
Chuck: Simple. Just open the Helium 10 Chrome extension and select the Review Downloader tab. At that point, you can choose a time period. Then, let's filter for only five-star reviews to get a more precise idea in the buyer's own words about what they absolutely love about the product. Afterwards, by selecting the Analysis tab, we can look at the key phrases that show up most often in those reviews. In the case of this French press coffee maker, the word hot came up in most of the top-ranking phrases. I'm cheating a little bit because I know what I like about this style of French press, but it seems I'm not alone. Buyers love the fact that because of the double-wall stainless steel construction, the coffee stays hot. We can also go in the other direction to look more closely at one- or two-star reviews to see a product's problems and then later improve upon them with our own version of that product. One thing is certain: When it comes to eCommerce and selling on Amazon, more information is always better that way you'll know what your competitors are up to. More importantly, you'll have a clear understanding of what matters so much to the customers in you're selling niche that they're willing to take the time out of their busy day to write a letter about it. How cool is that?
Bradley: In our last piece of content, we're going to give you a closeup look at Helium 10, behind the software, the algorithms, and the tools is a tightknit group of committed individuals who are really only interested in one thing at the end of the day: How to offer our customers the very best experience possible.
Kai: We've got a mutually beneficial relationship, you and us. You grow, we grow and vice versa. It's the direct proportion rule of Helium 10. 2019 was a big year for all of us as we released our new handy-dandy Follow-up tool. In case you're out of the loop, it's a tool that automates your follow-up and customer service emails to your customers so that you don't have to manually email them individually, create flows and campaigns based off of specific triggers and criteria you designate. Also, we released the updated data-packed Amazon selling course Freedom Ticket featuring the knowledgeable entrepreneur Kevin King.
Kai: We made a bit of a grand tour in 2019 over the year we got to hit Vegas during Prosper Show and Seller Con, visit an Amazon fulfillment center in Southern California, and host not only four Elite workshops but also an insane amount of thought leaders and influencers in the Amazon space. Attending Prosper Show and Seller Con in 2019 was a great way for us to connect with our audience and to get to know all of you on a deeper level. We also got to reach out and make new Helium 10 fans as we hosted talks and some fun at con parties. Don't forget our Elite workshops. A newly launched 2019 initiative, our quarterly Elite workshops brought together the most ambitious independent Amazon sellers in the field for a day full of lectures, discussions and networking. Headed by experienced sellers, marketers and thought leaders in the eCommerce space, people came from all over and outside of the country to gather in sunny Southern California.
Kai: We were excited to have been nominated by the OCC register as one of the top 50 workplaces in Orange County, California, and in case you didn't hear, Helium 10 was voted number one in three categories for the 2019 seller poll. The categories were: Number one software company, obviously; Number one Facebook group; and number one podcast. We also love to give back. Helium 10 strives to be part of the framework of the community and give back to those in need in Orange County and the Inland Empire. This past year, we're proud to say we participated in quarterly social outreach events including feeding the homeless, providing clothing to job seeking veterans, and food and toy drives. We also ran our own drives with a sock drive for the homeless. Socks are one of the top needed items for shelters, by the way, so donate; and we adopted a family for the holidays to whom we donated gifts and gift cards. In 2020, we hope to ramp up our community participation and find more ways to give back.
Kai: Life is good here at Helium 10 where a family through and through. This past year we moved into our new space, a space that facilitates creativity, collaboration, and hard work. We care about our family because happy and healthy workers means putting out a good quality product and always going the extra mile to take care of you. This year, Helium 10 introduced more innovative work-life balance policies to help keep us thriving, including work-from-home days and a month-long sabbatical for the longtime employees. You're part of our family, and we're grateful that you've been with us for as long as you have, some of you since the very start. It's a fresh new year and a fresh new decade, and we'll be here with you to help you reach your 2020 goals and beyond. Good luck and keep crushing it.
Bradley: That was just a small sampling of the blog posts that we've had over the last month. Don't forget, guys, you can get more valuable information if you go directly to our blogs at (www.helium10.com/blog). Thank you for listening and we'll see you on the next episode. Quick note, guys, don't forget that regardless where you are listening to this podcast, whether it's on your iPhone or on Stitcher or Spotify, that you hit the subscribe button so you can be notified every time we drop a new episode.
Achieve More Results in Less Time
Accelerate the Growth of Your Business, Brand or Agency
Maximize your results and drive success faster with Helium 10's full suite of Amazon and Walmart solutions.