#449 – Amazon Seller did $100K in a week on TikTok Shop?!
In this episode, Sharon and Elizabeth are back for the third time on the show. They talked about TikTok Shop, Wedding Planning, and updates on their businesses.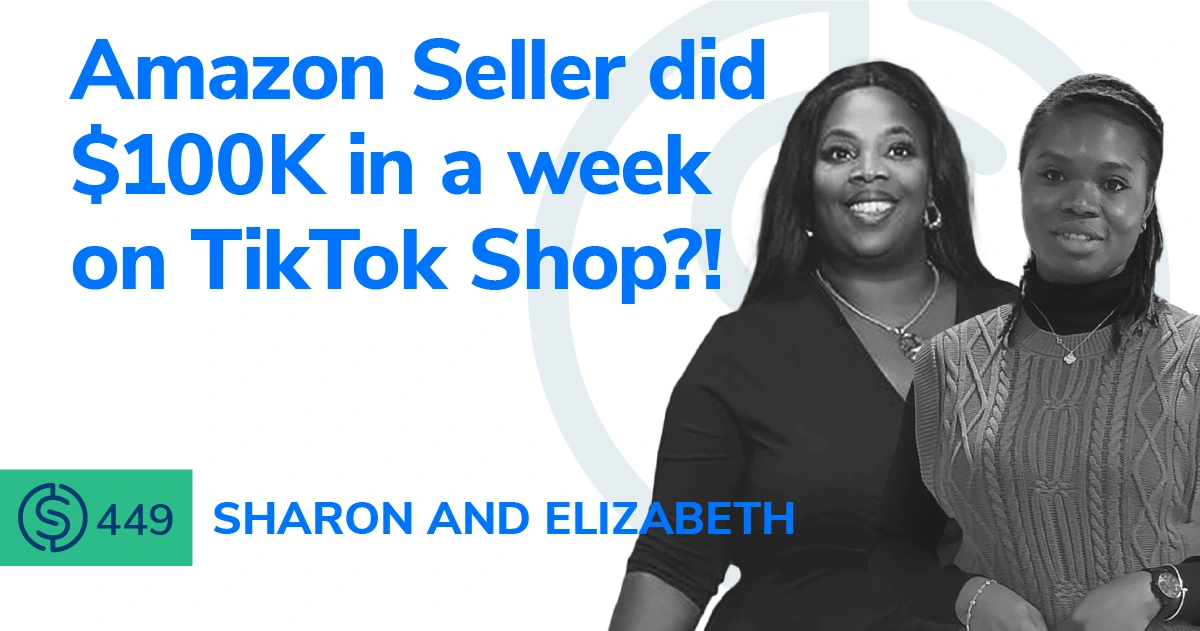 Video of the episode at the bottom
In episode #449 of the Serious Sellers Podcast, Bradley, Sharon, and Elizabeth chat about all they have been up to, including massively successful TikTok Shop campaigns, and even starting side hustles like wedding planning businesses!
Despite her success, Sharon has been struggling with motivation to focus on her Amazon business. However, instead of giving up, she has been exploring the idea of starting a new business venture after her time with Amazon. In addition, Sharon's Amazon brand was making an impressive $1.7 million in 2022 while running on autopilot.
In episode 449 of the Serious Sellers Podcast, Bradley, Sharon, and Elizabeth discuss:
02:57 – What Are Elizabeth And Sharon Up To These Days?
04:15 – Joining Amazon's Black Business Accelerator
05:56 – Losing Motivation To Focus On Her Amazon Business
09:16 – Starting A New Business After Amazon
12:15 – Still Making $1.7 million in 2022 While On Autopilot
12:56 – Building Her Brand In TikTok Shop
17:05 – Getting A Million Views On TikTok
22:18 – Close To $6 Million In Sales In 2022
22:48 – Using Amazon Skills For A New Business Venture
35:26 – Healthy Habits & Hobbies Outside The Business Grind
41:46 – Elizabeth's 60-Second Tip
Transcript
Bradley Sutton:
Today, we've got two of my favorite guests back on the show, and they're gonna talk about a lot of things they've been up to, such as starting brand new offline businesses, and also being able to have a TikTok shop that did a hundred thousand dollars worth of sales in less than two weeks. How cool is that? Pretty cool I think.
Bradley Sutton:
You wanna know what keywords are driving the most sales for listings on Amazon. To do that, you need to know what highly searched for keywords the product is ranking for maybe at the top of page one. You can actually find that out in seconds by using helium ten's keyword research tool, Cerebro. Now, that's just one of the many, many functions that make this tool my favorite tool in the whole suite, and it's the most powerful keyword research tool ever created for e-commerce sellers. For more information, go to h10.me/cerebro, h10.me/cerebro. Don't pay full price. Use our podcast discount code SSP10. Hello everybody and welcome to another episode of the Serious Sellers Podcast by Helium 10. I am your host, Bradley Sutton, and this is the show that's a completely BS free, unscripted, and unrehearsed organic conversation about serious strategies for serious sellers of any level in the e-commerce world. And we've got a couple serious sellers back here on the show. I think this is like their third time. And two of my favorite guests we have here on the podcast, Elizabeth and Sharon, the dynamic duo. I'm not gonna say who's Batman and who's Robin? They're both Batman and Batwoman. We'll just say like, you're the top of the top, both of you. No, no, Robins here. But anyways welcome back to the show. It's great to have you guys back.
Sharon:
Thank you so much for having us, Bradley.
Bradley Sutton:
Awesome. Awesome. Now we're not gonna go completely into their backstory, guys, because they've been on the show before. So write this down. If you guys have never heard of them before, they've got, you know, some really inspiring stories. Their first episode was episode 206. So find out how they were able to 30x their income of what they were making in Nigeria before moving to the States and before selling on Amazon. And then check out episode 317. You can do that h10.me/317. And then you can find out how since that first episode, they were able to scale their sales from 1.7 to 6.4 million in 2021. So now I don't know what they've been doing completely over the last few months. We keep in contact a little bit here or there, but I'm gonna find out with you guys how their 2022 was and what's going on here in 2023.
Bradley Sutton:
So first of all right before we started talking, I had to stop Elizabeth. I'm like, she started telling Sharon about something. I was like, no, no, no, I wanna record this. I want to hear about this, you know, live from you. So the first thing I'm gonna ask you, Elizabeth, is you mentioned that you are part of the black-owned business program at Amazon. I actually, you didn't know about this, but I had a podcast episode all about that. But can you tell me, like, what kind of benefits do you get from being part of that, that program?
Elizabeth:
So I do have an account manager that has manages 10 other accounts, including mine. Nine other accounts are including mine. So it's more like a personal approach to account management that Amazon is offering. Small business owners, black business owners. I do have calls within every week to kind of go over my accounts, help you know, point me in the right direction, you know, talk about strategies on how to scale my business and stuff like that. We just started having these calls three weeks ago and it's been so helpful, to be honest. So if you have the opportunity to register your business as a small black-owned business, you should definitely take that advantage because I know this type of personalized account management, Amazon charge premium fee for those and for them to give us for free is unbelievable. My account manager, I just believe is like maybe the one of the best, I don't know.
Bradley Sutton:
Can you gimme an example of something that maybe you or he was able to help for you or you did as being part of this program that maybe, like before you wouldn't have been able to, to do it, can you give like, maybe one example?
Elizabeth:
Well, mostly, but some of my products are like in the bachelorette party decoration niche. And I do have a lot of issues with like adults flagging and stuff like that. He'll tell me, you know what, just call, just gimme a call. Like, I have this number basically on speed dial.
Bradley Sutton:
Phone number. You can actually click get him. Oh wow.
Elizabeth:
I'm not reaching to any what do you call it again? Selling support extension. Nothing like directed to him. I'm like, Hey, you know, I have this issue. I'm like, hold on Elizabeth, let me hop on this. It's gonna hook in like an internet ticket for me. And that's like over, like, I cannot under read that.
Sharon:
Wow. That's amazing.
Bradley Sutton:
Sharon's about to sign up right now.
Sharon:
Not adults, but keeps betting the adult flag. So I would definitely love that.
Elizabeth:
Yeah. And you know, he called me up, I was like, cause mine did expired cuz I registered like two years ago. It did expire, but at that point I wasn't getting like, no personnel follow up, nothing. So I was like, you know what, maybe it's not just for me. He called me and told me, Hey, I'm going to send you a link to register directly free of child three years license for the small business certificate. Like, he did that all for me. So like, I don't know, maybe they, yeah. I'm definitely going to hook you up. It's really cool.
Sharon:
All right. I like it. Now let's switch back to Sharon. We keep things real here on the show, and I remember, I, I don't know if it was last year or sometime you were telling me that, that there there were times last year where maybe you were neglecting a little bit or maybe your Amazon business or not as motivated as before. Am I just completely confused or was that you?
Sharon:
That was me. Absolutely.
Bradley Sutton:
Let's talk about that. Vecause this is real.
Sharon:
So from the second half of last year, I just started getting like bored pretty much of Amazon. I do a lot of PPP C coaching personal students come around and I do, I teach PPC in my PPC clinic. So I have small meetings, it's like a small group where I just like meet with students and then check their PPC account. We meet every week, right? So I just started getting bored and in September I'm like, okay, maybe it's this PPC clinic that's overwhelming me maybe. So I told other students do not renew because it's usually like monthly. I took the whole of September of and half of October. By the second week of October I resumed PPC clinic, but I was just still not motivated. And then I have been trying to sell one of my brands, actually, I don't know if you remember from our last meeting, so maybe that was part of it. I don't know what was the problem, but I had all these I can't accounts tied together in the same seller, central account, all those brands. Oh. And I was trying to sell one of those because I figured it, it had grown to a point whereby I didn't feel like I could grow it any further by myself. So, so
Bradley Sutton:
You're talking about one, you have one seller central account, and then you had started your own multiple brands, different private label brands.
Sharon:
And then two of the brands, we are doing much better than the other three brands. And it has gotten to a point where I believe that this brand had so much potential, it would be better off if I just sell it out that one brand so I can focus on one and sell the other one, which was good. I already connected with somebody I met, I think I met a company through the Helium 10 marketplace or something like that, forgotten what it's called. And we were already working, but unfortunately the buyer or wherever they said they were gonna, they would need it with the seller central account. I'm like, no, that's not gonna happen because I have all the brands and then Elizabeth or like Sharon, they want seller central account, open a new seller central account and migrate this brand before you sell.
Sharon:
I'm like, why didn't I think of that? So I started that process and it was just being a headache because this was a product that was selling a lot. So I had thousands of inventory in my old seller center account. I didn't wanna pull it because that would mean stopping sales and stopping revenue. So I had to wait to sell it true. And not other products were selling somewhere slow, somewhere fast. And I was trying to move to the new one and I ran out of stuff as the bestseller and just everything was going on at the same time with me just being done with Amazon that September, October. Then in November I just started a new business altogether. And that even then made, that was more interesting to me like,
Bradley Sutton:
Like an offline business, right?
Sharon:
Totally offline. Yeah. Like event the corridor, I'm an event designer, you know, it's, I just started a luxury event rental business in November.
Bradley Sutton:
So like you use the money you've been accumulating from Amazon and then now you were able to start another business because you had this capital. I like it.
Sharon:
So I moved the capital that I had, I was using to, I would've used to like build my Amazon business. I move, and if you know about the luxury rental business, it needs a lot of upfront capital. So I put a lot of funds out of Amazon to just start this new business. And that again, took all my time and all whatnot. So as a matter of fact, only in the last two weeks did I finally, I think I should take a look back on Amazon and I'm just trying to get back into the grind.
Bradley Sutton:
I mean, you have like maybe virtual assistance or staff who are like managing inventory and things like that and Oh yeah.
Sharon:
I did not shut down my Amazon business because at the end of the day, Amazon was then like, my job. Sure. And then this new business was my side gig. Does that make sense? You know how we still have to go to work even though you don't like the work, but you need the money. So, of course I continued managing my Amazon, but I would not do the extra stuff that we needed to do that put us above. I was like, I would go a week. I would not log to seller central, for example. I would only go there to check, do I need to send in more inventory for something. If there was any customer service thing, my VA team would handle it and all they would just message me.So I was not doing, so from September up to now, I've not been doing anything above and beyond. I have not taken any classes like to educate myself listening to any podcasts. I've not been active in any Facebook group as much. I have just been more focused on the wedding design business.
Bradley Sutton:
How's that business going?
Sharon:
Actually, it's going good. Basically, some of our Instagram posts and I was like, oh, that looks so cute.
Elizabeth:
Doing a good job, Sharon.
Sharon:
So, but in the last two weeks, I kind of feel like I just suddenly had space in my head come back to Amazon.
Bradley Sutton:
Did you ever finish that migration of that one brand out? Or It's still in, so you're still waiting to deplete the inventory from one?
Sharon:
I'm still waiting to deplete the inventory from there. Okay. And all the best sellers have been depleted, so that's good.
Bradley Sutton:
So did you start on the new account, the replenishment of the best seller? I thought you like, just let it run out or something completely. Okay, that's good. Yeah.
Sharon:
So immediately I opened a new account. The next order I created, I sent it to the new account.
Bradley Sutton:
Okay, cool. Cool. What did you end your 2022 in sales, would you say roughly?
Sharon:
Funny enough, it was almost the same or slightly higher than 2021. I think I ended with about 1.7.
Bradley Sutton:
1.7 million. Okay. And then even that's with it almost being on autopilot for like the second part of the year.
Sharon:
Yes, and in 2021 I had a Covid product that was really helping.
Bradley Sutton:
Ah, okay. Okay. And then without that, so that must mean you had some other products that, that increased in sales. Cause obviously that Covid product wasn't doing well last year. Okay. Really cool. All Alright. Elizabeth's falling asleep over there. So we gotta pair some attention.
Sharon:
All over the place?
Bradley Sutton:
Elizabeth, did you start some side hustles too or what was your 2022 like?
Elizabeth:
2022 no side hustle. It was all Amazon. Amazon by itself for me was like a lot, just because I have a lot of multiple brands multiple brands that I'm dealing with. I think about four different brands. So I was mostly growing out more brands within the Amazon space last year and this year I'm looking more into like the off Amazon part of the business actually, TikTok, which that's another story for another day. But yeah.
Bradley Sutton:
So, for those you know who haven't heard your other episodes. You've been very successful in getting like sometimes like viral products and you get inspired by TikTok originally. Did you also have some of that last year as well? Were you, or what was it last year or was it the year before where you had a, a few products that just like did crazy numbers, like a million dollars in a month or something like that?
Elizabeth:
Yeah, yeah. That was two years ago. And also last year same thing happened, of course. I wouldn't say back to back, but it can happen like maybe twice a year. I could find those kind of products on TikTok or on Instagram. That would do crazy numbers. But of course like anything that's viral, it has like a peak and then oof it slows down cuz every other person can see that product. You know what I mean? On Helium 10, thanks to you guys anyways. Thanks. But no thanks.
Bradley Sutton:
Okay. Well, but being the first to it, you know, still, you know, you get the most reviews and, and there's, there's something to be said about being the first now. You mentioned other marketplaces. So what marketplaces are you selling on now total?
Elizabeth:
TikTok.
Bradley Sutton:
So the TikTok shop?
Sharon:
I never completed my TikTok shop.
Bradley Sutton:
TikTok shop. Now how do is TikTok shop, is it its own marketplace or is it like pulling from Shopify or something? Nope,
Elizabeth:
It's own marketplace. Oh yeah, you should definitely try it out. So last year I found out that TikTok did have a shop in marketplace, but that wasn't in the US it was in just Indonesia and the UK. And when I heard about that, I'm like, that's really interesting. I tried to open a TikTok shop in the uk, which I did. It was very hard. But yeah, I found a way around it and I did I put in my product the first day I got a sale, I was so excited. I was like, yay, this, you know, seemed nice. But to be honest, the reason why I did open the UK one was just to kind of get ahead of the trend, kind of understand it, digest it. And so when it comes to the US I'm like already a pro in it. I'm not trying to find, oh, what am I supposed to do here? You know what I mean? So that was the reason. And unfortunately for me, I then quickly realize that with TikTok you can only ship within that marketplace country. Like the country. Exactly. So you can ship from the US to the UK, you can ship from China to the UK, you have to be in the UK to ship to the customers that purchased your items, if that makes sense. Okay.
Bradley Sutton:
Yep. Yep.
Elizabeth:
So I had to cancel that order and I'm like, you know what, okay, maybe this is not for me. But, you know, and then when I got the invite to that the US marketplace was open on I think they were doing like the better stage. I got the invite, I was like, you know what, I've been waiting for this. I got that email, I believe at midnight. I was about to go to bed actually. And then my husband just saw me, you know, cuz I was so hyper when it comes to things like this. He saw me pick up my laptop and I run, I started doing, I was like, babe, this could wait tomorrow. I'm like, Uhuh, I don't want them to change their mind.
Bradley Sutton:
Yeah. Wow.
Elizabeth:
But wait, long story short we started posting, I posted a lot of items. Well, I've moved all my items on there.
Bradley Sutton:
Hold on though. Like, until then, did you already have a TikTok account for your brand that you were just like posting content to? So it's not like, oh, that you just randomly got this invites because you had a already a TikTok account and they're like, Hey, do you want to join this program for TikTok shop?
Elizabeth:
I had a TikTok business account.
Bradley Sutton:
Yes.
Elizabeth:
Registered
Bradley Sutton:
For, for just one of your brands? Or was it like one account that you used for to promote all of your brands?
Elizabeth:
No, one of my brands. Okay. That's my main brand. Okay. So when I did get that, I was like, oh wow, that's cool. You know, so I put in all my products that I know that bestsellers and then there's this TikTok live and you know, stuff like that. I started posting videos and boom, one of my video went viral.
Bradley Sutton:
You yourself or did you hire like an influencer or what?
Elizabeth:
To me, cuz I have UGCs, I don't know. Maybe that's another topic.
Bradley Sutton:
I like all these topics.
Elizabeth:
I don't have UGC content creators that I work with. Almost like my sister do almost like a mini agency that she does like a UGC content creators. She's also a UGC content creator and she has like group of friends that do the same thing. And then you produce content for e-commerce business and stuff like that.
Bradley Sutton:
So then you took some UGC that you created and then you, you posted it to your account? And then it like linked to the TikTok shop. And then you said one of these videos went viral. So what, what does going viral mean? Like how many views or whatever did it get
Elizabeth:
It was crazy. It went like 3 million views. Wow. And yeah I'm just recalling.
Bradley Sutton:
No ads. It was all organic.
Elizabeth:
Organic. And I'm just recovering from the sales and everything else. And that's why you saw me on that vacation. Cause I had to run away for the weekend cause it was so crazy. Anyways. and unfortunately, unfortunately for me, I could only get 200 orders maximum a day because you have to be on like a probation period. And during those probation period, you can't, they're not gonna give you more than 200 orders a day. So I was selling out on my 200 space before I wake up in the morning. Can you beat that on TikTok?
Bradley Sutton:
It's okay. How, how is it set up? So like you get a sale there, like how, what is the fulfillment? Like is it pulling from your warehouse or you, you're doing it yourself or you're tying it to your Amazon inventory?
Elizabeth:
So for me, I was fulfilling myself at the time because I did not expect for it to go viral. You know what I mean?
Bradley Sutton:
So every day you're doing 200 shipments from your house?
Elizabeth:
Yeah.
Bradley Sutton:
Or should I say your husband is he helping?
Elizabeth:
Was like a whole family thing. My husband, my kid, my two year old, she was stopping the stuff and the being taking it to the UPN and stuff like that. So it was really crazy. So imagine posting something three days prior and then on the fourth days, like boom, 200 orders before you wake up. When I saw it, I was like, is this a glitch? You know what I mean? It was crazy. And then all my inventory ran out of, I think we sold about 2,500 units of the item until I ran out of inventory. And when I did the momentum, of course load down because when they click on the product, it's saying sold out. And you can't click from Amazon. It's not allowed. You have to fulfill from the warehouse that is tied to your store. So how it works. When you upload the video you can link like a little icon to the video. So once when they watch the video, they just click on that link and then just purchase the item like right from the video literally. So it's the, the conversion rate is still a little low obviously. Cause with 3 million views and selling 2,500 units is still relatively slow.
Bradley Sutton:
What was the retail price of the product?
Elizabeth:
It was $32.99. And guess what? I charged shipping with $5.
Bradley Sutton:
Okay So, that's like almost a hundred thousand dollars, including shipping a worth of.
Elizabeth:
Oh my gosh, Bradley.
Bradley Sutton:
Ah, my goodness. Sharon, look at all the, you see Sharon, are are you re are you feeling revitalized about e-commerce yet Sharon?
Sharon:
I'm on my second screen right now, I'm on TikTok shop.
Bradley Sutton:
Accepting that beta invite, I hope.
Elizabeth:
Now it's not invite only. You can just go on there, join
Sharon:
The email, I could not find it. I just went on Google and I'm literally on seller us.tiktok.com and right now I'm verifying my business information. I ain't no joking.
Bradley Sutton:
You see, guys, I apologize. I forgot where you live. Sharon. But the Texas In Texas, yeah. I apologize to the wedding community there. You might be a little bit late in some of your wedding supplies. Cause Sharon is now revitalized in, in e-commerce with the black business program and now with TikTok shop. Okay. Wow. All right. That, that's pretty cool, Elizabeth. So like what did you and your 2022 sales about?
Elizabeth:
It was close to 6 million for sure.
Bradley Sutton:
Alright. Close to 6 million. And, and so that's on Amazon. And then probably, you know, not much, you know, TikTok I know is new for you. Yeah. Are there other market places that you are on? Like were you selling on Shopify or Walmart or anything like that? Yeah, there
Elizabeth:
There was not left coming from those medium to be honest. 99.99% was from Amazon.
Sharon:
Yeah, me too.
Bradley Sutton:
Okay. All right. All right. Let's go back to Sharon here. If you, if I can take you away from your TikTok registration. Talk to me about how you decided on the business, because I think this, this is what you did last year is something that is on the, a lot of seller's minds. You know, they, they get a lot of money from Amazon. They're like, Hey, I could just put it all back into Amazon. I could start other businesses. I could do like Bradley and do like sports cards and NFTs and things like that. But I think a lot of people, you know are intrigued by starting their own offline business. So like what, was it something you've always wanted to do or did you just do some like research and to businesses or how did you come?
Sharon:
I always loved events planning. Not just event, but wedding planning and party planning and just everything. Parties, I love parties, but the fun for me ends when the party starts, my social battery is like this. I don't go to parties. I enjoy planning it. And then I wanna sit down and watch you guys enjoy the party.
Bradley Sutton:
Okay.
Sharon:
At that point, my social battery is just off. So in my church, I'm very active in my church. All the youngsters that are getting married is always, Hey, aunt Sharon, my wedding, we're planning this person's wedding. So I've always been doing that and stuff. And then last year one of my youngsters friends reached out to me. She was like, Hey auntie, I'm getting married. I'm like, congratulations. Thinking she was inviting me. She was like, yeah, well you're gonna plan this. I'm like, no, I do not plan weddings anymore. Because in 2017 I was actually the official wedding planner for her brother. I'm like, I do not plan weddings anymore. I do not have time. Amazon is taking all my time. She was like, oh no, I see you're planning my wedding. You know, and we got talking. I'm like, okay, here's what I can do for you.
Sharon:
I can coordinate. Just pay me to coordinate. But for the planning itself, don't pay me just go planning. But if you need any help along the way, I'll do it. As long as it doesn't involve me physically doing someone. So in getting that, I started getting excited again in about weddings when I'm discussing with her. And just the whole planning really got me excited. And that was when I was able to pinpoint it, like, wait a minute. It's really not every part of wedding planning that I love. It's just a design part. I don't care what your dress looks like. I don't wanna follow you to your dress rehersal. I don't wanna go taste the food with you. I don't care. I just wanna know what a food looks like when it's plated. I don't care if it's gonna be chicken or fish.
Sharon:
I don't care if it's sweet. I don't care if it's too soft or too hard or whatever. I just care about the presentation. And that was when I'm like, this is the part that really interest me. And then when we got to the part of planning had decor and renting of luxury furniture, it was a new I did not, I was not aware. I guess I was, but I just did not know the, how it was about that part. Like, wait, I can actually niche this down to the part that I really do care about. And then I just told him and her fiance, I'm like, guys, look, I can sauce this inventory. Would you guys give me the job to provide a luxury furniture for your wedding?
Bradley Sutton:
So she was the fist official customer for your new wedding.
Sharon:
I guarantee you that you would see it in January. Your wedding is in April. In January you would have it because of my experience with China shipping and all that, it was so much easier for me.
Bradley Sutton:
So this is stuff that are you reusing it or you rental buying it just for one event? So rental. Okay. I was about to say, yeah, that would be kind of expensive to, so rental expensive. Cause So then did you have to get a warehouse for this style ?
Sharon:
I still have a warehouse now.
Bradley Sutton:
You didn't have it for Amazon before?
Sharon:
My Amazon, I was using my garage other, now I finally just got a space. But for my Amazon, I was using my garage. But for the wedding business events, the locks is the name. It's I got a warehouse because the first container that came was a 40 foot container and then some less than container here.
Bradley Sutton:
40 foot container of wedding supplies.
Sharon:
Think about your dining chairs. And I have two, 240 of those. Just think about that.
Bradley Sutton:
You invested a couple dollars into this. Wow. Okay. Now, now did you set up the business? Like did you use like the LLC from your Amazon business? Did you set up a completely separate entity?
Sharon:
Separate entity? I up a brand new LLC straight up to SO. Uhhuh, just so that I have all those set out right from the beginning. I literally registered with IWA and went to get accredited as an accredited event designer. So I'm just doing everything.
Bradley Sutton:
And then like did, did you hire employees? You just doing it with your, your family for right now or? Oh,
Sharon:
Right. Ah, my kids are too small. They can leave to finger. So when we do have events, I have, I, they're not employees, they're like contractors because the last event I did, I had 12 people working. I cannot afford that for full-time staff. Yeah, they're contractors. I bought a box truck, and then the one,
Bradley Sutton:
How much did the box truck cost? I'm trying to buy one myself.
Sharon:
It's a very old one.
Bradley Sutton:
No, that's my style. Like I want an old one.
Sharon:
Okay. Okay. I actually got it off of Facebook Marketplace.
Bradley Sutton:
How much?
Sharon:
I got it out of Facebook Marketplace, it was 6,500, but it needed some repairs. So everything came out about 10,000. So it's an old box truck. But it is working.
Bradley Sutton:
Are you gonna put like some fancy logo on the side?
Sharon:
Not yet. I've just had a lot going on, but I plan too.
Bradley Sutton:
So let's say things go as planned. You continue to build it up for this year. Like what would you say, what do you think you would profit from this business for this year? L like this, this wedding business
Sharon:
Versus Amazon or on its own?
Bradley Sutton:
No. Just by itself not on its own.
Sharon:
Honestly, I don't even know how to calculate that. Just because of the capital investor. Yeah, because remember furniture is upfront capital. So I don't how to calculate.
Bradley Sutton:
How much gross revenue then? Like what are doing a month, like how many event, yeah.
Sharon:
Hopefully it gets better. But as of right now, I think I'm maybe about 70-80,000, I don't know.
Bradley Sutton:
70, $80,000 you've, you've done so far? Yeah, in a couple, a few months. Okay. Hey, that's some good revenue there. So, so guys out there you know, once you get into Amazon, that doesn't mean that, oh, my whole life is revolves on Amazon. Oh no. So some, some people, hey, some, some people are and that's, that's totally fine. But, but for those of you who, who have like a itch to do something different, well yeah. That's one way you can use your, your Amazon money is go with your passion, you know, so that's something that Sharon's been passionate about for a while. And yeah, it's always cool to make money about what your passions are, and that's another
Sharon:
What you can do for ree. You can make money of. That's my mantra.
Bradley Sutton:
Alright. Going back to Elizabeth now how many videos did it take until that one went viral? Like, is it one out of 100 go viral, one out of 10, one out of 50? What would you say?
Elizabeth:
So, I honestly think TikTok portioning videos that are linked to product that are from TikTok shop my own opinion. But it was a third video that I posted that did, went viral.
Bradley Sutton:
Oh, good grief. Wow. That was pretty fast. Now what is do's? Cut pn orders that go through the shop.
Elizabeth:
So right now they have a lot of promotions going on that they offer both the sellers and also the buyers for the sellers. I believe there's zero fee for the first 90 days. That's for the sellers, right. And then for the buyers, they're giving them a 30% discount for their first order and also all shipping.
Bradley Sutton:
Hold on. So that $33 that you got plus shipping, TikTok was not taking a percentage from there?
Elizabeth:
No.
Bradley Sutton:
Oh my goodness. Sharo is even faster now. Registering right there.
Elizabeth:
They were not checking. And just because say like the product that I have on Amazon that is selling for $32 on TikTok, it's like the first order that they make, they only paying $20, $21
Bradley Sutton:
Oh, is TikTok subsidizing you? Or that's coming out of, so it's not like you are only getting $20. Wow, okay. Yeah. My goodness. I wish Amazon would do that. Okay.
Elizabeth:
To somebody from TikTok and the person was telling me that TikTok did, am I saying this meaning not, okay, so let's just scratch out.
Bradley Sutton:
This is fascinating to me. Now, now here's a question. That product that went viral or the video, let me rephrase that. The product that was in the video that went viral, do you also sell that on Amazon? Did you see any increases on your Amazon sales for that product after that TikTok video, even though it was going to TikTok shop? So then probably it's sold out. So then what people are doing is like, oh, let me see if this is on Amazon. So how did that, how, like, were you the only seller of it? Did you have competition at the time that this video went viral on Amazon? Did you have competition for it?
Elizabeth:
There's a lot of competition.
Bradley Sutton:
So, how was it that they were still buying your product? Like were they searching by the brand, do you think?
Elizabeth:
So it's on my TikTok page and on my TikTok bio, I do have the link tree that has all my products on there. So they just go in there, click and buy.
Bradley Sutton:
So how much would you say it increased on Amazon? Like what were you doing before the video went viral? Like, you know, like hundred orders a day, 50 orders a day, and then how much was it after? So that, you know that, oh, it must have been from this period.
Elizabeth:
It was almost like 30% lift. And so for sure.
Bradley Sutton:
Interesting. So how long is this probation period going to last for, for you where you have that limit of 200?
Elizabeth:
It's 60 days. Okay. Painfully so, but they do have an exception when you sell certain amount of units and then you have a certain amount of ship through rates, tracking rates and stuff like that. Then you can request for early access to like the full thing.
Bradley Sutton:
Okay. Yeah. What are you using to fulfill the orders? Like me at my warehouse here or my house? I use stamps.com. Like do you have like a thermal label printer? And are you using a, a software in order to, to print like the addresses and everything? Or are you buying the postage directly from TikTok? How does that work?
Elizabeth:
So initially I was buying from I was using my Shipo, but I just switched to like the TikTok shipping thing method. Okay.
Bradley Sutton:
So it's kinda like how Amazon works if you're fulfilling your own. You can buy it at a slightly discounted rate, the Yeah. The shipping and then print out the labels. Okay. Yeah. I'm assuming, you know, you and your, your husband do not want to be, you know, shipping 300 products a day. So what's your like, longer term plan as you scale this TikTok out for fulfillment? Like, are you opening a warehouse? Are you gonna use a three pl or are you gonna just keep doing it yourself with that two year old to work?
Elizabeth:
At the moment, we do have a big garage. It fits like a eight car garage that we have over here. So the thing is, you know, we had to pull a lot of inventory out of Amazon to be honest to the house, just so we have enough units to, to fulfill. And so we're just putting things in place. I do have one person that you come, I think six hours a day now to help with you know, just getting everything organized and in preparation for the next video that might go viral. You know what I mean? So I do have one person coming to help with fulfillment, cuz that's going to take a lot of time away from Amazon and I don't want that.
Bradley Sutton:
Yeah. Okay. Alright. Last two questions for Sharon now. Something that we're doing, we're doing more this year. My theme of the podcast is also about like mental and physical health I think is important for entrepreneurs. Like, actually today is, is the one year anniversary from when I died for like 10 minutes and had my heart attack. So like, that's why like this year's my anniversay guys.
Sharon:
A year ago already.
Bradley Sutton:
Yeah, a year ago today. Like, exactly like, I even did a, it's crazy. I was looking back and like, I remember like, I was doing a, I did a webinar that day and I had no, I have no remembrance of doing that webinar. I remember like when I woke up after being in the hospital, I was like, oh man, I remember I was supposed to do a webinar. I must have let the company down because I wasn't available for it. And I look on YouTube, I'm like, there is me. I was like, I was like, that's not me. I don't remember this at all. Wow. But anyway, so, so, so Sharon, you know, like I'm sh you know, I I think I think part of what you were talking about, I think actually probably was good for your mental health. You know, you're getting burnt out on Amazon, just so like you were able to go into doing something you know, to doing something else that, that gave you fulfillment. What else do you do for like, hobbies or maybe physical habits you know, special supplements. I don't know what, whatever you want to talk about. Let me know.
Sharon:
So I am very active in church. I'm not a very social person like miss traveler right here. But, I'm very active in church and that's pretty much what I do. I'm really close friends with my husband. We have a good relationship and we are both home buddies. We don't go out. So I wish you could see where I am right now in this office. By the way, we just closed on this house. So in this office, this is my section and that's his section and we'll go to work from here.
Bradley Sutton:
What about physical health then? Because the, I think your situation's very similar to me and, and my problem was, especially when we were remote, I'm here. I mean, this is my office, this is my podcast studio, but it's in my house. And like I, there was times where I don't get up, I don't go to the gym or I don't do anything because I'm just like, Hey, this is so comfortable, I'm just gonna stay my desk.
Sharon:
Actually one of the things that encouraged me to start this business, because my husband, when I started my husband, I was like, this is very physical. Like, are you gonna be able to do it? Because guys, I was weighing over 300 pounds.
Bradley Sutton:
Oh wow.
Sharon:
So I said I was gonna do it and like I said, I took the course. I plant so many things, and part of the things I plan in order to be successful in this business was I had a gastric bypass.
Bradley Sutton:
Okay.
Sharon:
On February 13th, I had gastric bypass. So it's almost three months now and I've lost almost 50 pounds.
Bradley Sutton:
Wow. Very nice. Congratulations.
Sharon:
I haven't been doing exercise though, but I'll get there. I plan to actually, because now that my body, my muscles have been used to carrying around so much fat and now they don't have that, so they're gonna go to sleep and they will get weak.
Bradley Sutton:
So now you're gonna be carrying around dining tables and chairs and stuff.
Sharon:
No, but for real though, I have to now actively challenge my muscle by going to the gym. Yeah. Otherwise, even though you look smaller, you're gonna be weaker. So I just learned that. So now you gotta tell them. So don't go to sleep. And actively train you now. So that's the way I'm going to, but to be honest, that alone has really helped me mentally and just physically and, and because I have so much more energy than I had before.
Bradley Sutton:
Oh, that, yeah. I need that back. You know, I've probably gained like 60 pounds in the last three years, so I'm definitely the last year I've been working on getting that off. That's alright. Excellent. Excellent. Very nice. Elizabeth same question to you. Sounds like you're into travel from Sharon, making fun of you. Where did you go last weekend for like your de-stressing after that TikTok hundred thousand dollars?
Elizabeth:
Well, I just had to splodge and it put over Vita trip. It was nice. Just a three day trip Mexico. It was nice.
Bradley Sutton:
Next time you wanna do that, let me know. My parents have a house in Malan, which is very near, or this kinda like, not near, but like, so you can stay in our house over there.
Elizabeth:
That's pretty cool. Yeah. Putto Vita was really nice. Weather was wonderful. We had like a really stressful weekend and then we decided to treat ourself on like a private, you know, little yacht moment.
Bradley Sutton:
I thought she was gonna say private jet. I was like, whoa. Okay. Elizabeth is really next level. Yeah. We took a private jet to Mexico. Okay. No private yacht. That's just as good now. See us is cool. I like using splurge.
Elizabeth:
Yeah. It was like, I was, I was just putting the back of my mind. I'm like, yeah, TikTok pay for this. Tiktok pay
Bradley Sutton:
Yeah, exactly.
Elizabeth:
So yeah, so yeah, you know, we like to travel and for us, you know, this business has really given us the opportunity to have that kind of lifestyle that we travel at least once every three months for sure. You know, and I know without, you know, having this type of I wouldn't call Amazon a passive income, to be honest with you, because we do put in a lot of work, especially when you get to a certain level of sales, I would say. So, yeah, so travel is my thing. We are foodies. We like to explore when it comes to food and stuff. So yeah, that's what we do for fun. I do go to the gym once in a while, although I have slats for the past couple of weeks. But I think I'm gonna get back in there because mentally for me, when I drop the kids off from school, I just head straight to the gym and then that's how my days get started.
Bradley Sutton:
I like it. I like it. All right. And now last one for you Elizabeth you're a 30-second tip of the day or 60-second tip. It could be about Amazon, it could be about PPC could be about TikTok, product research, TikTok shop, whatever. What would you say is, is your strategy for everybody out there?
Elizabeth:
Keep posting that content because you never know. Cuz in the beginning for me having the TikTok store, I mean the TikTok what do you call it again?
Sharon:
Shop
Elizabeth:
Not the shop. The, the account was just for posting product. It wasn't even about the sale. Yeah. But the consistency from my posting was what gave me like, the initial edge of joining TikTok shop. And that's what, you know,
Bradley Sutton:
What is your consistency or what's your cadence?
Elizabeth:
So I do post every day for sure. I post every day.
Bradley Sutton:
How many followers do you have now?
Elizabeth:
I have about 5,600 followers. It's not a last one, you know,
Bradley Sutton:
So, so from an account that only has 5,600 followers, that was the account where you had that 3 million views? Okay. Interesting. Wow. I like it. Yeah. All right. Well ladies, it's always great to have you on the show. Very inspiring stories. I always get a lot of, you know, Facebook or Instagram dms with, you know, people are like, oh, wow, that was so inspiring. So like, you know, just know that, you know, keep on doing what you're doing because you're inspiring a lot of people out there. And it's inspiring me. Like I can't lose 50 pounds in, in three months. I wish I could. I I used to back in the day, I could do that when I was younger, but, but those days are gone. But by the next time, here's my pledge. By the next time Sharon I have you on, I should be able to say hopefully I've lost like another 40 or 50 pounds, so, okay.
Sharon:
Hopefully, I'll get more.
Bradley Sutton:
I'll try and get you here. Yeah, I love it.
Sharon:
Still have a lot to do.
Bradley Sutton:
And then Elizabeth I think, you know, you're well on the way to eight figures your first eight figure year. So look forward, look forward to that this year. So, so guys, I hope to see you soon. You know, one of our Elite workshops, you know, maybe in May if you guys can come out here, and then if anybody's getting married in Texas, do you have like a website we can out your new business, Sharon.
Sharon:
Actually, eventsdlux.com.
Bradley Sutton:
I love it. I love it. All right, so if you're in Texas and you want to really have a luck, luxurious wedding. Hit up Sharon, although she might take some time getting back to you because now she's going back to TikTok and Amazon.
Sharon:
Yeah. Thank you Bradley.
Bradley Sutton:
All right, well thank you so much and we'll be seeing you soon.
Elizabeth:
Thank you.
---
Enjoy this episode? Be sure to check out our previous episodes for even more content to propel you to Amazon FBA Seller success! And don't forget to "Like" our Facebook page and subscribe to the podcast on iTunes, Spotify, or wherever you listen to our podcast.
Get snippets from all episodes by following us on Instagram at @SeriousSellersPodcast
Want to absolutely start crushing it on Amazon? Here are few carefully curated resources to get you started:
Accelerate Efficiency with Insights Dashboard
The all-in-one customizable dashboard for sellers and brands, designed to accelerate decision making through the centralization of data, insights, and action. A bird's-eye view of your business with personalized suggestions to unlock growth.
Learn More about Insights Dashboard