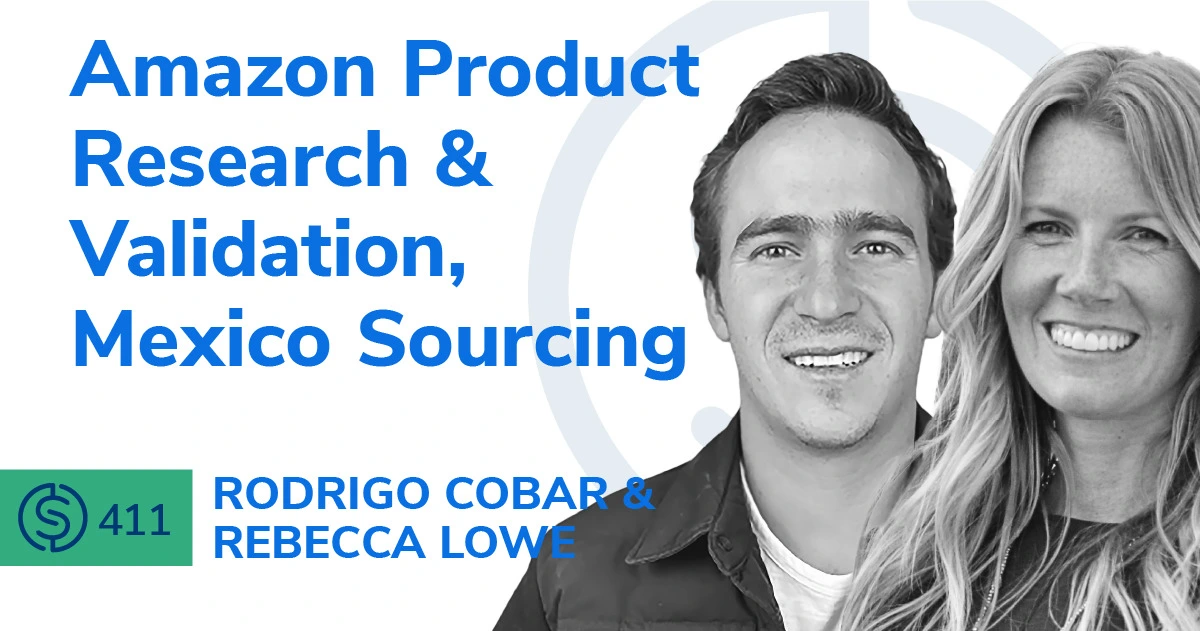 #411 – Amazon Product Research & Validation, Mexico Sourcing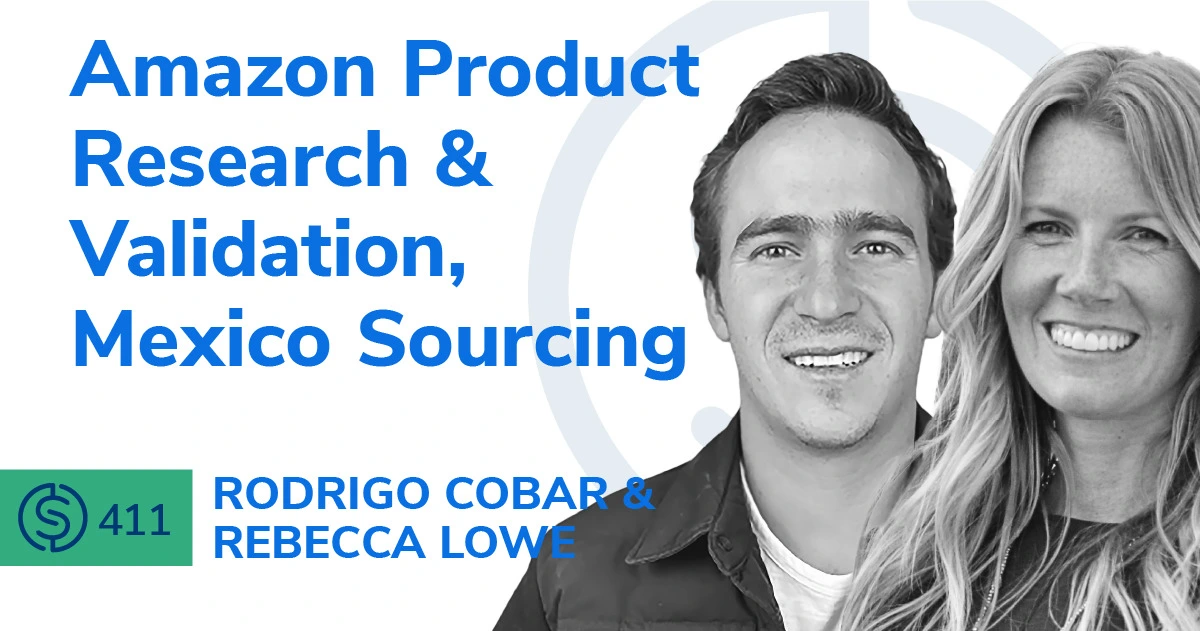 Today, we spoke with Rodrigo Cobar from Mexico City and Rebecca Lowe from Salt Lake City, Utah. They are 6-7 figure sellers in the Helium 10 Elite group. We talk about their backstories and what strategies they use to sell hundreds of millions of dollars on Amazon. Some of their strategies include how to be successful selling in the supplement space, how to validate and launch your Amazon product, how to source your products in Mexico, and more! We also tackle actionable strategies from Bradley and our guests about marketing products backed by an influencer or influencers and vice versa.
In episode 411 of the Serious Sellers Podcast, Bradley, Rodrigo, and Rebecca discuss:
02:00 – Rodrigo Cobar's Backstory
04:50 – $1.2 Million In Sales This 2022
05:00 – Rebecca Lowe's Backstory
08:00 – $800,000 In Sales This 2022
08:38 – Selling In The Supplement Space
11:00 –  Building A Successful Amazon Brand From Scratch
12:00 – How Rebecca Validated & Launched Her Product
18:30 – Selling 100 Units A Day With A Listing That Is Not Good
21:00 – Finding Great Potential For Listing Improvement
22:00 – The Power Of Influencers And Brand Recognition
24:00 – Rodrigo's Product Launch techniques
26:15 – His Biggest Failures In 2022
26:45 – Finding Suppliers & Manufacturing In Mexico And Shipping Times
31:30 – Rebecca's Product Research & Launch Strategies
35:00 – A Product Validation Strategy From Bradley
38:00 – Rodrigo's 60-Second Tip
39:22 – Rebecca's 60-Second Tip
40:15 – Rodrigo's Goals For 2023
41:55 – Rebecca's Goals For 2023
Transcript
Bradley Sutton:
Today, we've got a couple of sellers on here who are what I like to call Average Joes and Sallys just regular sellers who are crushing it on Amazon. And we're gonna learn some of their unique strategies about like sourcing in Mexico, finding product ideas on Etsy, and doing a hundred units a day on an absolutely terrible listing. How cool is that? Pretty cool I think.
Bradley Sutton:
Are you a six, seven, or eight figure seller and wanna network in a private mastermind group with other experienced sellers? Or maybe you want to take advantage of monthly advanced training sessions with Kevin King, an expert guest. Do you want to come to our quarterly in-person all-day training at Helium 10 headquarters? Or do you want the widest access to the Helium 10 set of tools for all of these things the Elite program might be for you? For more information on Helium 10 Elite, go to h10.me/elite. Hello everybody, and welcome to another episode of the Serious Seller's Podcast by Helium 10. I am your host Bradley Sutton, and this is the show that's a completely BS-free unscripted, and unrehearsed organic conversation about serious strategies for serious sellers of any level in the e-commerce world. We've got a couple sellers here from different parts of the world, I think, I'm not even sure where you guys are at. First of all, Rodrigo, where are you located?
Rodrigo:
Mexico City.
Bradley Sutton:
Mexico City. All right. And Rebecca?
Rebecca:
Salt Lake City.
Bradley Sutton:
So two cities, like literally with a city in the name Mexico. And I always say this, whenever I hear somebody from Salt Lake, and you guys have heard me say this many times, it kind of is ironic since we have somebody from Mexico City, but some of my best Mexican food is in Salt Lake City which you would never imagine. But Red Iguana, they don't pay me for these announcements, but I just love that food at Red Iguana so much that guys go out there. But anyways, let's just get into your backstory. This is the first time both of you who have ever come on our podcast. I've met either you guys or some of your partners through the Elite community. And so I just know a little bit about your Amazon backstories and it was interesting enough. I'll say, Hey, let, let's just talk about more about your stories to let everybody know what's going on and how you've achieved your levels of success. But let's start with Rodrigo first. Were you born and raised in Mexico?
Rodrigo:
Yes, that's correct. Born and raised in Mexico City.
Bradley Sutton:
And what was your university major like, what were you, what were you, what did you study? Industrial
Rodrigo:
Design.
Bradley Sutton:
Industrial design. So how did somebody in Mexico City studying industrial design end up in the e-commerce world?
Rodrigo:
Well, I always like technology, also like the design. And I think getting into marketplaces having these skills helps a lot to grow the business. I consider myself tech-savvy. I started selling in marketplaces about eight years ago, and I just felt–
Bradley Sutton:
Where did you start? Mercado Libre or Amazon, or where?
Rodrigo:
Correct. Mercado Libre.
Bradley Sutton:
Now, in those days, what was Mercado Libre like? Were you mainly doing like, resale of existing brands? Like not a private label, or what, what did you do?
Rodrigo:
Private label. Obviously, the market was pretty really small. This concept of FBA and sending products to fulfillment wasn't an option. So it was pretty much just every sale you have to print a label. I packed my myself and just keep kept growing little by little.
Bradley Sutton:
Are you still selling on Mercado Libre or you're just all Amazon now?
Rodrigo:
All Amazon.
Bradley Sutton:
Why did you stop? Just too difficult, like not enough volume to sustain it or what?
Rodrigo:
We changed the market. I started selling stuff in Mexico. Then I realized that the US was a bigger market, with bigger opportunities. So I just used Amazon US for now.
Bradley Sutton:
Okay. Alright. Now let, let's just fast-forward to the end of the story. Like you the businesses that you're involved with, I'm not sure if that's multiple or not, but, but which year has been your best year? Like, like is we're, we're at the end of 2022. Now is this year your highest in sales? Was it last year? Was it another year?
Rodrigo:
Yeah, for sure. This year 2022.
Bradley Sutton:
What do you think you're gonna end at approximately in sales?
Rodrigo:
In sales? Probably around 1.2 million.
Bradley Sutton:
1.2 million. Okay. Excellent. We'll get back to you. I like finding the beginning of the journey, and the end of the journey, and then we fill in the gaps in the middle to see how you got to where you're now. Rebecca, what about you? Born and raised in Utah?
Rebecca:
No originally Chicago. So, and then moved to Aspen, Colorado when I was 12, and then went to the University of Utah and kind of moved around.
Bradley Sutton:
Yep. Utah Utes. Right. Okay. Yep. And then what did you study there at Utah
Rebecca:
Political Science and Spanish
Bradley Sutton:
I guess we could just go ahead and do this on the Spanish podcast, but actually Rodrigo you should join our Serious Sellers Podcast en Espanol with Adriana. We'll have you on there too. So that's even farther away from Amazon. So how, how did somebody studying that end up in the e-commerce world?
Rebecca:
So I worked for a little out after college in different jobs, and then I was a stay-at-home mom for the past 15 years. Then I started selling on Etsy, which is kind of where I started. Cause I love making things.
Bradley Sutton:
Okay. So you were, at the time, you were still a stay-at-home mom when you had the idea about selling on Etsy?
Rebecca:
Yeah, my baby.
Bradley Sutton:
And was it like, as your kids got older, you're getting bored? They didn't need too much. Okay. I feel you. Like my kids are, are all graduated too, so I know about that stage. Yeah. So was it something that you just like, were good at already for Etsy? Or like how in the world did you pick what you were going to start with on Etsy?
Rebecca:
I think it was, well, I remember it was because I thought my house is small. I had three kids, I can't make a mess. So I started to learn Adobe Illustrator. I took some courses. I thought I love design. I can kind of teach myself and learn design and it's all on my laptop. I can close it up when I'm done and I'm kind of, so, yeah.
Bradley Sutton:
Now fast forward for you too, to the end of your story. Is this also your best year to date, or, or did you do better during the pandemic, what was your best year?
Rebecca:
So this kind of tying with my best year in 2020 which was on Etsy. So I just switched last year over to Amazon.
Bradley Sutton:
So are you still doing both or did you just completely stop Etsy now? Just focus on Amazon.
Rebecca:
I still have my shop and I still sell like, a couple of my best sellers, but I don't have the time to do both so much. So I'm kind of phasing out Etsy. And it's taken in a real backseat, but yeah.
Bradley Sutton:
And then roughly what do you think you're gonna end this year in gross sales?
Rebecca:
I was hoping to be a little higher. I talked to you about this the other day, Bradley, but I'm about–
Bradley Sutton:
Already for you, like, you can have a meeting with me like yesterday and I would've forgotten it already. So that's why this is not the like I say, everybody like these are unrehearsed. Well, even if I knew things, I would've forgotten them. So I'm still learning about it for the first time cause of my bad memory. Go ahead.
Rebecca:
So I'm gonna probably finish about 800,000.
Bradley Sutton:
Okay. So you two are on very similar levels here. So now let's go back to Rodrigo is your own brand in the supplement or is completely kind of like a different category than this?
Rodrigo:
Completely different.
Bradley Sutton:
So tell me, how was that like being on Amazon for a few years and in a completely different category, was learning about supplements, was it just the same, like you used all of the same techniques and things, or was it almost like learning how to sell on a different platform when you got into supplements?
Rodrigo:
Okay. Well, when I started working, there was a problem with a listing, but we managed to resolve it pretty quickly. I can't tell specifics about the problem, but I had to learn about sure, the supplement facts and read all these compliance documents just checking everything matched and it was okay. And yeah, that was a the bigger bigger difference.
Bradley Sutton:
Yeah. Yeah. That's definitely true. I've been in the supplements space and obviously selling coffin shelves, we don't have to worry about nutrition facts and things like that. And so there's a lot more compliance that somebody has to do. What about PPC costs? Would it be safe to say that your PPC is a lot more expensive on the supplement side, like your cost per click? Or are you guys even running PPC?
Rodrigo:
We are just starting to use PPC because actually Dr. Salamon, he's an influencer. He has over 8 million followers in social media around YouTube, TikTok, and Instagram. So most of the sales and the traffic are organic, a hundred percent organic.
Bradley Sutton:
Okay. So that's very interesting. Sometimes people think, oh, supplements is kind of like phone cases you never should sell in supplements, but, but there are different times where the competition doesn't matter. Like if you are an influencer yourself or you have a close friend who uses your product and is an influencer it doesn't matter that everybody has 5,000 reviews, let's just say in your main keyword. Like if I were trying to sell coffin shelves and everybody already had 5,000 reviews, it would be impossible for me to start selling coffin shelves or collagen peptides. But if my brand has a lot of following and I have a lot of off-Amazon traffic now I can almost sell in any category I want because I'm still gonna have sellers now moving to Rebecca, it's completely the opposite for you. You started from zero, right? I would assume that you're not a famous TikTok celebrity or something, right?
Rebecca:
Unfortunately not. No.
Bradley Sutton:
Unfortunately not. So tell me how it was to build a brand from scratch. Did you have such a following on Etsy where you start when you started on Amazon? Like it wasn't starting from scratch? Or did you basically start a brand from scratch on Amazon?
Rebecca:
No, I completely switched cuz I was selling yard signs on Etsy that we're doing really well. And that was like a covid thing. So I just thought, I've gotta get on Amazon cuz of FBA and it makes it so much easier. So I started totally from scratch, but my secret was selling something that wasn't on Amazon already that I knew was selling well elsewhere. So I felt like, and it was already an existing category and a large enough one that people were kind of shopping in that category. And so I knew if my product was different and appealing.
Bradley Sutton:
How did you find it in the first place?
Rebecca:
I found it on Etsy and then I started seeing it in different places, like Target and different places. And I thought, man, I can't believe this isn't on Amazon.
Bradley Sutton:
How did you validate that? That's obviously the way we did the coffin shelf and egg trays we founded like on Etsy and Pinterest. But then, our next step, and this is not the only step, but there was nobody with coffin shelf necessarily on Amazon. So we couldn't do the traditional validation like, let's see what keywords are driving their sales, and let's make sure that people would want a wooden egg tray instead of plastic. So like, we did these test listings and things, but what about you? Like, did you already see the search volume for some of those keywords? Just no products were fulfilling it? Or did you do test listing, or did you just jump in and say, Hey, I know this is gonna
Rebecca:
Work. I just kind of jumped in. I knew, I just felt like it would work. Cause I liked it and maybe that's not always the best measure, but, and I also saw it was a best seller on Etsy, which is usually a good brand or badge to have. So I just kind of jumped in and went for it.
Bradley Sutton:
Okay. When did you launch this? Like, what are, are we talking about 2021? This year?
Rebecca:
I launched it in may of 2021. And it was pretty slow. I'd say it was like 5 to 10 a day. And I was like, okay.
Bradley Sutton:
And this was your first product on Amazon?
Rebecca:
It was my third probably. Yeah.
Bradley Sutton:
You're, how are the other two doing?
Rebecca:
One, I still sell and it does really well. That was my second product. My first product is just kind of it was bad.
Bradley Sutton:
That's important to know because guys, yeah, guess what? That's how it is sometimes in your first part. I always say there's no failure on Amazon like the first time because maybe you'll lose some money, it's possible, but you're not gonna lose too much unless you did something really, really dumb or bad. Right. But even if you break even or lose money and you say, you know what? I can't go forward with this. The learning experience in itself is invaluable. And so that's why you're not, you're never a loser on Amazon. And so it gave you probably the power or the knowledge to launch that second and third product.
Rebecca:
I totally agree with that. Yeah.
Bradley Sutton:
Now, of the 800,000 or 900,000, whatever you're gonna end up with this year your number one seller, what percentage of that sales does it take up?
Rebecca:
I bet that's 70% of my sales.
Bradley Sutton:
Okay. So 70%. So talk to me about, was this the third product that you launched. Are we still talking about the same thing or is it a different product?
Rebecca:
Sorry, yeah, that was the third product.
Bradley Sutton:
Okay. So talk to me about, obviously, you're not getting 70% of your sales from something that's still only selling five or 10 units a day. So, tell me about since last year, how did you scale that product up to be able to have it do almost half a million by itself?
Rebecca:
Yeah, I mean it like a lot of, I did a lot of mistakes. I made a lot of mistakes. Like, you don't wanna, I ran outta stock because about January of this last year of, so almost a year ago it just blew up. It started selling like 60 a day and then 70 a day and then 80. And it just was like, oh my gosh, I can't
Bradley Sutton:
Believe that without you doing it. Like, did you ever attribute it, like did you just get to page one for a certain keyword? Did somebody talk about it in social media? Like where did that come from?
Rebecca:
Yeah, so I noticed I started getting a lot of social media, like influencers just posting about it. So I would always, like when I found it, I would then post it. I thank them and I kind of developed a couple of relationships with some of the women that were posting about it. But yeah, it just kind of organically took off and did better and better. And then I got back in stock and I was still the only one selling it for a good few months. So it was really great for that. And it just like built momentum from it.
Bradley Sutton:
So basically for some keywords, you were the only product that matched what people searching for was looking for.
Rebecca:
Exactly. Yeah.
Bradley Sutton:
Okay. Now what happened when all of a sudden now other competitors started showing up, I would assume even trying to undercut you on price and stuff, like how much did this eat into your, your sales for
Rebecca:
A while or nothing? Cuz I had, I think so many reviews with 800 reviews and I think too with influencers like Rodrigo was talking about, I think like that when someone recommends it that they trust, it's like they don't even look around at other people, but now other competitors are getting more reviews and getting posted about and all of those things. So I'm definitely noticing a drop cuz I was on track to do a million or a little over within these this year. But it's definitely dropping now. So I'm trying to figure out that next step.
Bradley Sutton:
PPC cost going up.
Rebecca:
PPC cost is going up. All of that. So I'm trying to just figure out, I hired a guy to help me with my ads and I ended up taking my ads back cuz I was doing better with them than he was. oS I'm just trying to figure out how to stay on top of it and not drop my price too much.
Bradley Sutton:
Yeah. Got it, got it. Now switching back to Rodrigo as we've been talking I'm looking at that one product I saw, obviously, you're doing great on this as far as it's selling like, looks like 80 to 120 units a day every day. But correct, this listening is not good, Rodrigo, come on, you're making me look bad here as a Helium 10 elite user. Like this is, I think you guys could be doing even better. Now, this is what's amazing to me because, and this is why guys, it is so important to have that brand and recognition. Like I said, I work in supplements before I work for a brand where it's a household name because they're on infomercials and everything, and the reviews because diet products, I mean, this is actually pretty good that you guys have four stars, but it was also a diet product that I was selling.
Bradley Sutton:
And usually, diet products have bad reviews on Amazon because people expect, Hey, I'm gonna take this pill. I'm gonna look like a model within two weeks and doesn't happen, doesn't work that way. So they leave bad reviews. But we had like two and a half stars, but guess what you would think that two and a half stars is like a kiss of death on Amazon, but for us, not did it didn't matter because people couldn't care less about their reviews. They already knew about us from being in Walmart stores and being on TV and stuff. So they're just going to Amazon to find our product and getting it, and we were doing sales. Now you guys though, you actually have like four-star reviews, which is good, but your listing is so bare that I bet a good majority of your sales, like probably 80% or more is kind of like branded sales like sales coming from your customers who are already looking about your product, but you actually have the chance to compete out there because you have such brand recognition.
Bradley Sutton:
I'm looking, and Rebecca, what would you say is something that they are not doing that great here on this listing?
Rebecca:
No bullet points, Rodrigo.
Bradley Sutton:
Like, almost no bullet points. So, I mean, this is fine, but we can't knock somebody who's selling a hundred units a day. But this is what gets me excited is when I see a listing that is selling a hundred units a day, but there's room to improve I just ran Cerebro right now on your list and I can see like where you're getting a lot of sales from. And first of all, this is great because some of your top keywords here are Spanish keywords like we have here. So pills to lose weight fast, 12,000 search volume, right? This is in Amazon USA, there is a keyword that has a 12,000 search volume and you guys are ranked number one. And then look at all of these branded keywords. Obviously, everybody is searching for this product coming from since the doctor is an influencer, but almost all of these products that you are getting your sales from, almost every single one is a branded one.
Bradley Sutton:
Now, some of these, you guys have some movement on like anti-sugar cravings. So you guys are obviously indexed for keywords like this, but there are only maybe four, three or four keywords if that, that you are on the top 15 from that is just what I would call like a generic, non-branded keyword. So if you were to build your listing out and start looking at the com people competitors, and what are the non-branded keywords that they're getting sales from, I think Rodrigo, you guys could potentially double your sales because you, you've already scaled to 4,000 reviews here and it's four stars, which is just mind-boggling for a diet pill. Yeah, but what do you think? You don't even need me, but I was about to say, let's work together on this. You knowing what you do from your own business and Helium 10, don't you think you could maybe add some more keywords to the index for and potentially get some more sales?
Rodrigo:
Yes, of course. I think the opportunity is gigantic. We have, there's a lot of room to improve
Bradley Sutton:
Just in general guys out there, maybe there's somebody, maybe you're in the supplement category or you're in another category and you have zero influencers, like talking about your product or zero offsite traffic, but you have scaled to 100 units a day because you're, you're conquering keywords and PPC and stuff. Now, think if you added what Rodrigo and his team have done on the influencer side, you could double it. See, Rodrigo is in the opposite boat. He, he's not doing anything yet on the organic side and trying to get more traction on Amazon. Almost all of their sales are coming from off Amazon or the interest there, brand awareness. And they're doing a hundred a day. And imagine now if he starts conquering the organic side, probably doing 200 a day easily. But the rest of you guys who are listening, I'd say it's more common for you to be very focused on Amazon and you're selling a hundred units a day that way, but you haven't started taking the outside traffic.
Bradley Sutton:
So this more than anything should illustrate to everybody out there. How powerful, having influencers talking about your product or a strong social media presence, strong brand winners. You guys saw, these are kind of like the listings I would make fun of on my listing optimization things where I'm like, oh, look at this, they hardly have any bullet points and things like that, but look what they've been able to achieve. So those of you who are crushing it, think about how much you can achieve now with brand attribution and stuff. Now, one thing I would suggest to you, Rodrigo, is the outside traffic. Have you been using Amazon attribution at all for the traffic?
Rodrigo:
Yes, of course. Yeah.
Bradley Sutton:
Okay. So then have you been monitoring, like, are you, now, are you getting like the 10% brand referral bonus on some of this traffic that's coming off of Amazon?
Rodrigo:
Yeah, yeah.
Bradley Sutton:
See that's killer. like if you're getting a lot of outside traffic, imagine guys getting all these sales and instead of paying Amazon 15% commission, you're only paying them 5% because Amazon is giving you 10% back. That's crazy. So you guys are just crushing it on this. Now about your own brand have you launched any products this year?
Rodrigo:
Yeah, a bunch of them
Bradley Sutton:
So what 2022 is the way that people launch Amazon products is different than in previous years. maybe it wasn't for you, but for a lot of us, we're having to do different things cuz of Amazon terms of service changes and things. What has been your strategy for launching products on your own brand and not the supplement one?
Rodrigo:
Okay. we'll do keyword research. Just have good look at competitors' keyword searches with two years of history, see if it's growing, see the review count of competitors, the listing quality basically the market. Just analyze the market.
Bradley Sutton:
Okay. And then now, now you choose your top keywords and then, and then what's your strategy then for getting to page one for those keywords? Is it, is it pretty much only PPC or are you trying to do Google ads or anything like that?
Rodrigo:
Mainly PPC and some, sometimes just creating a video and also using sponsored brands. But yeah, mainly it's just PPC to get the one.
Bradley Sutton:
Okay. Now talk about maybe something that didn't work out for you this year. Like what's your biggest failure? In your brand or in the supplement brand that you're working for? Like, something that, that you made a huge mistake. Maybe it was an accident or maybe it was just because you didn't know any better, but sometimes we only talk about our wins. But what's something terrible that happened to you in, in 20 22?
Rodrigo:
Well, 2022 was, I'm gonna for this point I'm gonna talk about my business. We launched about probably 15 products, of which we have two successful ones. The other ones we have to just liquidate them and just, yeah, some of them were terrible.
Bradley Sutton:
Now that you look back, like, can you pinpoint what went wrong? Like maybe you didn't validate enough or it just like, got too competitive or what was the reason for failure on those other products?
Rodrigo:
Probably I'd say quality issues and bad reviews. When you get really bad reviews, like when you get to three stars in a clothing product per se it's really, really hard to get a sale, even if you do hard discounts. Yeah. 60% off, 70% off. You just don't have any social proof.
Bradley Sutton:
So then what, is there anything you could have done differently? Like, did you maybe not tested enough or have an inspection or, or pretty much on the, on those, there was almost nothing you could have you could have done differently if you had to. A replay,
Rodrigo:
Well probably have better quality control. All the products we sell are made in Mexico, so
Bradley Sutton:
Oh, okay.
Rodrigo:
We could have just gone to the factory, check all the products.
Bradley Sutton:
How did you find that? That's an interesting topic in, in itself. How did you find Mexican factories? Are you using a website or you just use your connections or what?
Rodrigo:
Yeah, basically connections. I've been working for, before I started my Amazon business three years ago in the middle of Covid we worked, I had a business of a clothing brand. We had seven stores in Mexico and the pandemic just came to crash the business. So we have a lot of factories and suppliers. So yeah, so instead of selling in Mexico, in retail, we started sending and sending and selling in the US.
Bradley Sutton:
Okay. Now, from the moment your shipments leave your Mexican factory, talk to me about the process. Like how long? I know if I send something from my Chinese factory maybe takes like about one week to get on a boat and then maybe two and a half to three weeks to get to California and then like another week, week and a half to like get to Amazon warehouses. So between a month and a half, two months under nice circumstances I can have stuff in, but like, how about from a Mexican factory to Amazon USA Warehouse?
Rodrigo:
Okay, so once the products are ready, impact and you have the packing list, everything, the fastest shipment you can have probably would be two weeks. Well, you could, you could have it done in one week, but we have like a medium shipment time, lead time, and it's two weeks from factory to FBA to Amazon's fulfillment center.
Bradley Sutton:
Two weeks only.
Rodrigo:
Yeah.
Bradley Sutton:
Wow. Wow. That must be nice. Does it qualify for NAFTA or like are you charged customs duties for import at all? Or like, I don't know how this works. I've never imported from Mexico before.
Rodrigo:
It depends. When the product is a hundred percent made in Mexico, it qualifies and you don't pay any taxes. But if the product it's made from materials imported from China, it it'll pay, it would pay taxes. Well, customs.
Bradley Sutton:
So how about yours? Are yours made in Mexico all or?
Rodrigo:
I'd say 80% are hundred percent made in Mexico and 20% are like with material mix. So it doesn't qualify. Yeah.
Bradley Sutton:
So maybe you could get it made cheaper in China, but because of the taxes and also because of the time, it's probably much better to produce in Mexico for you.
Rodrigo:
Yeah, for sure. I have also experience in China, but I'd rather have the production in Mexico, you can go, you can get to know people. I feel that you have much much better control since the Covid.
Bradley Sutton:
Now you mentioned like clothing what other there are some things, of course, I would just off the top of my head, think like ceramic things would also be great in Mexico, but maybe not electronics, I'm just randomly thinking. But what are some of the other materials that a product can be made of where you're like, you know what, probably you should definitely, somebody should definitely consider Mexico manufacturing?
Rodrigo:
Well the manufacturer in general in Mexico, it's growing. I think it's a it's a good opportunity to search for suppliers. Unfortunately, there's like no page like Alibaba where you just can just type and search and find, but yep, if you dedicate and you do the research, you'll find for sure good suppliers and I think it's a great option.
Bradley Sutton:
Excellent, excellent. Now Rebecca, what about you? Are you mainly made in China? Or where are you manufacturing?
Rebecca:
Yeah, mine are all in China. All my products.
Bradley Sutton:
Now, what about you? Have you launched any more products this year? What's been your strategy? Is it similar to Rodrigo, like mainly just relying on PPC, or are you doing outside traffic or anything like that?
Rebecca:
Mainly PPC. I'm sticking with the strategy of finding things that are selling well other places but aren't on Amazon.
Bradley Sutton:
Other places in like other marketplaces, like or what do you mean by other places?
Rebecca:
Like Etsy or other stores that I see online.
Bradley Sutton:
So, so talk to me about that process that's interesting. I think I do that too, but you'd probably do it a little bit differently. So I mean, do you purposely go and say, I'm gonna sit down and just look at other websites and just browse for products, or are you only looking at like, hey, maybe you're on other websites because the daily life you're looking to, you're shopping and you're just keeping your eye open or what's your process like?
Rebecca:
Both. I feel like I'm constantly doing it and I, it's something, it's part of the Amazon process that I really like is finding new products. I feel like I'm always like, oh my gosh, this would be great. And I have a huge list. So, but it is, it's partly cuz I think I am a natural shopper, and so I like browsing and looking at things. And then also with kids and everything going on, I feel like I'm always shopping for something. So I'm always looking.
Bradley Sutton:
Let's talk. How does it work? Give me a scenario like you're looking for back-to-school supplies for your kids a couple of months ago. Yeah. and what something catches your eye and then you just write it down or like, like talk to me about how, how
Rebecca:
You do it. Yeah. It catches my eye. I'm like, oh, I haven't seen that before. And then I look to Amazon, is it on Amazon? Can I find it on Amazon? And then if I can't find it on Amazon, can I find it somewhere else? Can I visit other places? And then with Etsy, it's hard to know search volume, but I've noticed that sometimes if I look on the Etsy app on my phone, it'll say like, five people bought this in the last 24 hours, or 20 people bought it in the last 24. So I can kind of give me like a sense of is it selling or not? Because some things I'm like really excited about, but I'm like, oh, it doesn't look like this seller has any sales or there's nobody's buying it. So I have to like, restrain myself. Cause that was a mistake I've made this year too, is launching something that I really liked and thought was great, but clearly nobody else didn't do that.
Bradley Sutton:
So then in retrospect, just like I was asking Rodrigo, what would you have done differently in that situation? Or what should you have done differently?
Rebecca:
So I've come across that now as I make sure I can back up like, and say, nope, I'm pretty sure this is selling. Or another thing is I'll look at reviews and it'll say, I'm so glad this is back in stock. And so I'm like, okay, they ran out of stock. Like that's things like that like this is a good sign. Yeah. So I don't just launch what I like or think. Well, so I try.
Bradley Sutton:
Did you watch Project X?
Rebecca:
Yeah, I watched some of it with the coffin shelf.
Bradley Sutton:
So, so then did you remember how we did you know what I said to the PPC test listing thing?
Rebecca:
Oh no.
Bradley Sutton:
Okay, so I'm talking to everybody who's listening, but I'm also talking to you, I love your strategy that that's a great strategy to like look off because when you're looking at other websites in Pinterest, you're looking at Etsy, these trends sometimes TikTok, whatever. Yeah. Sometimes are months ahead of Amazon. Yeah. Because unless you're Rodrigo who can make a product in two weeks and get it to Amazon because he's manufacturing it in Mexico? For the rest of the people, like, those who are making it in China, it takes like two, or three months to actually have an idea and to actually get it to Amazon. So sometimes you see, you see these trends or something interesting to yourself or, or on a website, and you're like, wait a minute, I can't really Cerebro some listings on Amazon to see what keywords are driving their sales.
Bradley Sutton:
I can't look at search volume because there's nothing it's not on Amazon. So what you could do, especially if you found these by definition from other websites is buy three or four of them or five from Etsy, from macys.com or wherever you see, see this product, and then you just make a kind of crap listing for it like purposely crap, like bad image maybe only three bullet points like Rodrigo has maybe whatever it is. Like you, you're not trying to make some beautiful listing, right? You purposely wanna make it a crapless scene and then put a super high price. Like let's say you think this product or on the other website, the product's like 23 bucks, 24 bucks, I'd put the price like $64, $75, like something outrageous, right?
Bradley Sutton:
And then what you do is you kind of figure out what keywords you think you would search for this, or what keywords people are searching on Etsy for it. It could be a search VO or a keyword with search volume already on Amazon. And then you do, like you pick five or six or seven or 10 maximum 10 of these keywords, and then you make a PPC, exact manual campaign, like super high bid like $5 or $6, just whatever it takes to get to the top of the page. And then this is what you're looking for. You're looking for clicks, right? If you're getting clicks on a crap listing that's priced three x what it should be, there's gotta be byron's head. Like if I saw something, I'm like, I would never buy that in a million years.
Bradley Sutton:
I would never even click on that. So the fact that there's clicks that is stage one of validation where it's like, hey, I'm getting some proof of concept here that people could be interested because if they would click on this, on this terrible picture, main image, and terrible price, then maybe they would buy it. And then the second where it's like, okay, I have got to make this yesterday, is if you actually get purchases, and that's what happened with like the coffin shelf and the egg tray we listed at like, something ridiculous price. I remember the egg tray we listed for like 70 bucks and then we like sold out in a week at that. That's when you get excited and it's like, Hey, now I have proof of concept here. This is not just my own idea. Because sometimes you're right but sometimes you could be wrong, like, like, like you said you were, and then this might lose you some money, but it saves a lot more money buying four or five units and then losing the sales on that as opposed to investing in 500 units and then you're, you're kind of stuck with it sleeping product. You following me on this one?
Rodrigo:
Love it. Love it.
Bradley Sutton:
So I want you to do that the next time you're ready to launch a product. I'm gonna try it now. Going back to Rodrigo, like, let's just talk about, we have something we call the 60-second tip. Some strategies that you've been doing on your business or maybe it's the way you guys launched on Amazon from Instagram. Like it could be about any strategy you want, but what is something unique? you already talked about some of your unique things like manufacturing in Mexico and things like that, but what are some unique things that have been working for you that is some advice for sellers out there?
Rodrigo:
Well, first I would say do the research. The research is really important. Unless you are selling on other platforms and you'll already have some success, doing the product research is really, really important. Also getting the right supplier getting all the samples right. Quality control checking the product is just what you imagine what you want, what you intend to sell. Also create social media, and do some effort to drive organic traffic. And Helium 10 for sure is a great, great tool that it's been helping me a lot for all these years. It shows really important data, information sales, and I think it's just unique and it's the best.
Bradley Sutton:
Excellent. What about you, Rebecca? What's your strategy for us? Like what kind of things are you doing that's unique that you think that you can give people some advice out there?
Rebecca:
Mine would be, I guess, simple, but along with the social media is when I could find somebody posting about my knot. Cuz sometimes Amazon says like, check this out, like, on my listing, and it'll give me a link to video or something. I'll just send them a message on Instagram thanking them and saying like, I'm a mom and a woman entrepreneur as well, and I've kind of built some relationships. And now some of those influencers, when I get a new product, they'll say, oh, send me your new product and we'll post about that too. And it's just been a great way to get things going.
Bradley Sutton:
Love it. Love it. All right. Goals for next year. So if I bring you guys back end of next year, if you come back on the podcast, what's your goal to be able to tell me about this brand and your own brand? Let's put you on record saying something that, hey, you want to be able to achieve something for next year.
Rodrigo:
Okay. well for next year, first, yeah. We are currently working on improving the listing. We're we have A+ Content premium. We are gonna do more bullet points per descriptions, et cetera, et cetera. Excellent. And we, we know the opportunity that we have with the listing the only on the organic side so the BSR it's really high. So there's a lot of opportunity to grab the market of Amazon. So we are, that's why we're implementing PPC So we want to rank in more keywords so yeah, for sure next year we could grow 50% or 60%. The brand has a lot of potentials.
Bradley Sutton:
I like it. 50%. You guys heard it here first. We're bringing him back and we're gonna check his seller central. Did he make it, did he improve on it? Remember, remember you Dr. Solomon already did a one-on-one with me as an Elite member. you can do one-on-one consultations with me. So next month, if you ask him, maybe you can take it instead of him. And then let's work on this exact listing together and let's see what we can knock out in a 20-minute call. But yeah. All right. You heard her here, 50% increase for next year for that one. How about you, Rebecca? Is next year the year you hit seven figures? Yeah,
Rebecca:
I definitely have another new product that I'm really excited about. It has higher margins. I'm really excited to launch that and yes, for sure, that's my goal.
Bradley Sutton:
Awesome, awesome. And same thing with you. I know we talked on one of these, one-on-ones. I wanna see some of your ideas and let's pick your next product together after, after looking at some of those, because I don't shop much anymore outside of Amazon, so I, I don't see much on Etsy and things like that, but I wanna see your process and let's pick your next winner together.
Rebecca:
Okay. Sounds great.
Bradley Sutton:
All right, guys. Well, I appreciate you being on here. sometimes people come on here and totally find where they're maybe an agency or, or consultant and, and I'll ask them to, to give their contact information and things like that because they wanna get more clients, and that's totally fine. I'm always gonna invite people like that. But I really appreciate people like you guys who are just regular seller. I call them average Joe and average Sally here, or maybe I should say average Jose, average Rodrigo it's gotta think of a more Spanish name here. Average Joe and average Sallys, who are just regular Amazon sellers who have no hidden agendas. You guys aren't trying to get clients or anything, but you take your time out of the day to share your experiences. And let me make fun of you a little bit here and there and you guys I just want to know your inspirations to a lot of the people who, who listen to the podcast, who are the same, they're just average of Joe's and Sally's trying to make a living on Amazon. And I appreciate you being willing to share your wins and losses and let's see what happened at the end of 2023 for you guys.
Rebecca:
Sounds good. Thanks so much.
---
Enjoy this episode? Be sure to check out our previous episodes for even more content to propel you to Amazon FBA Seller success! And don't forget to "Like" our Facebook page and subscribe to the podcast on iTunes, Spotify, or wherever you listen to our podcast.
Get snippets from all episodes by following us on Instagram at @SeriousSellersPodcast
Want to absolutely start crushing it on Amazon? Here are few carefully curated resources to get you started:
Achieve More Results in Less Time
Accelerate the Growth of Your Business, Brand or Agency
Maximize your results and drive success faster with Helium 10's full suite of Amazon and Walmart solutions.