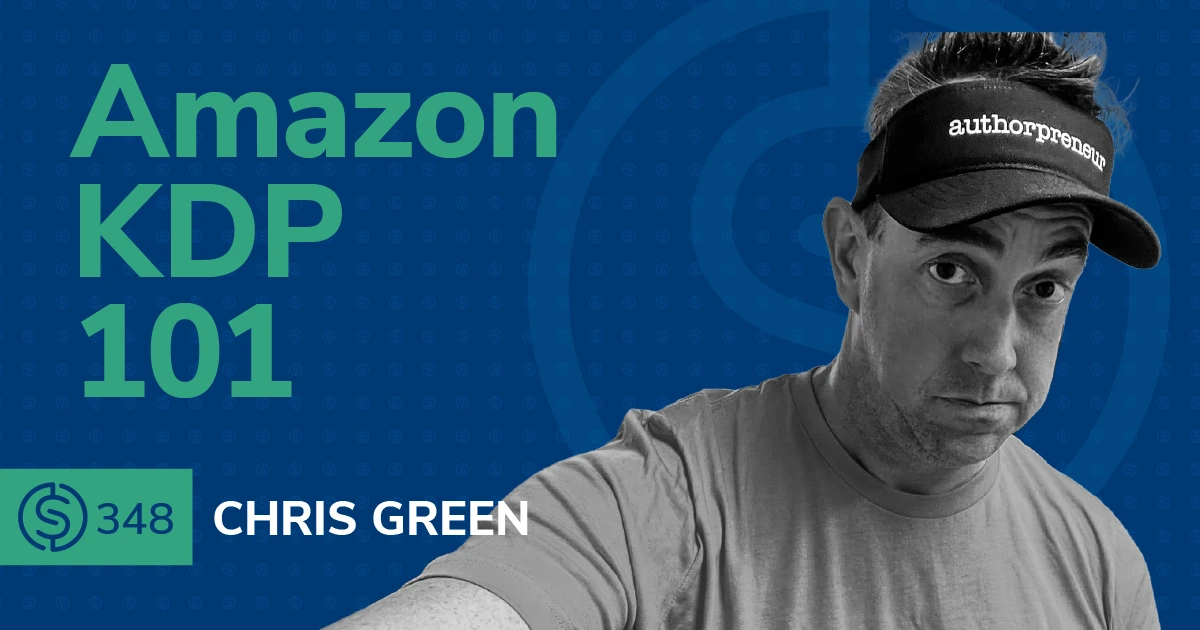 #348 – Amazon KDP 101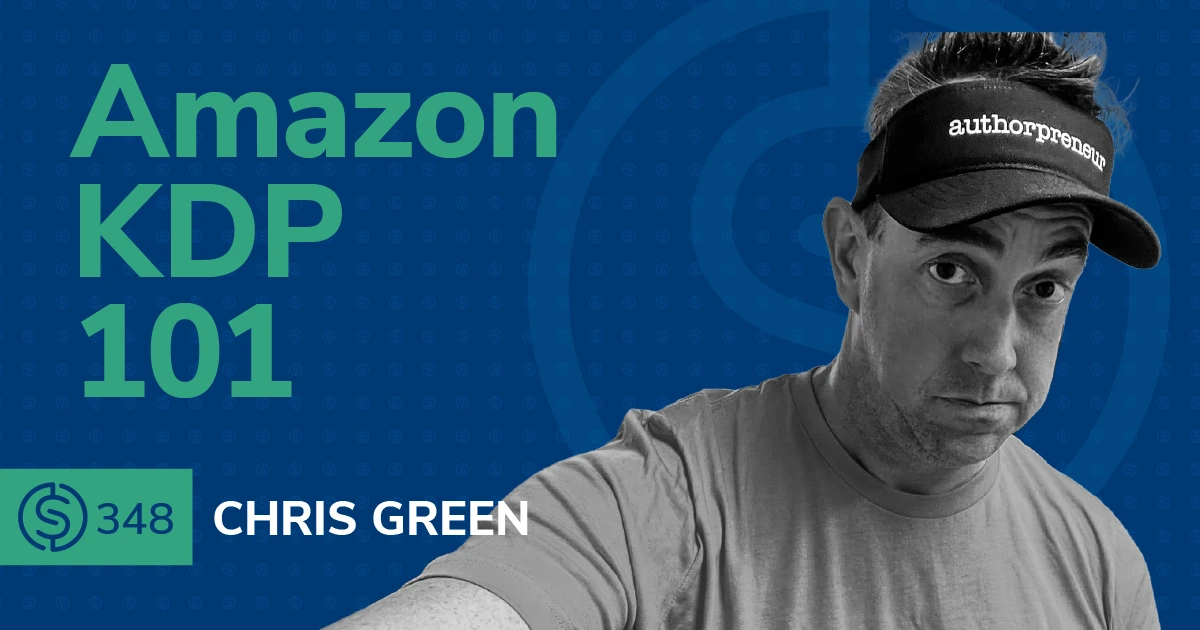 The are plenty of opportunities inside the Amazon space. Most people think about selling a private label brand via FBA, but there are other opportunities that many people are not aware of. Today, we'll talk to Chris Green about Amazon Kindle Direct Publishing on the basics, the tricks of the trade, and how to take advantage of it for creative marketing, branding, and bundling it with your current Amazon products. Listen to the very end for more KDP strategies and how to get Chris' new book about this for free!
In episode 348 of the Serious Sellers Podcast, Bradley and Chris discuss:
03:00 – What Is Amazon KDP?
05:30 – Using KDP For Branding And Creative Marketing
07:25 – How To Get Started In KDP
09:30 – Publishing Options For Your Books
10:30 – Build Credibility As A Published Author
12:00 – Why Do You Want To Write A Book?
13:15 – How To Find A Subject For Your Books?
19:45 – How To Use Helium 10 For KDP?
22:45 – Subject Ideas For Different Books In KDP
27:20 – Testing Speed Is A KDP Advantage
29:40 – Creative Ideas On How To Use The Books For Marketing
34:45 – Bundling Your KDP Books To An Amazon Product
40:30 – The Free Kindle Bait And How It's Powerful
41:10 – How To Get A Copy Of Chris' Book For Free
43:00 – Chris' Quick-Hitting 30-Second Tips
45:15 – How To Get In Touch With Chris Green
46:00 – Meet Chris At The Sell And Scale Summit 
Transcript
Bradley Sutton:
Today, we're gonna talk about how newbies to Amazon or even experience Private Label sellers, and everyone in between can take advantage of Amazon KDP. How cool is that? Pretty cool I think.
Bradley Sutton:
Want to enter in an Amazon keyword and then within seconds get up to thousands of potentially related keywords that you could research, then you need Magnet by Helium 10. For more information, go to h10.me/magnet. Magnet works in most Amazon marketplaces, including USA, Mexico, Australia, Germany, UK, India, and much more. Hello everybody, and welcome to another episode of the Serious Sellers Podcast by Helium 10. I am your host Bradley Sutton, and this is the show that's a completely BS-free unscripted, and unrehearsed, organic conversation about serious strategies for serious sellers of any level in the Amazon or Walmart world. And we've got somebody who's been a serious seller for years. Chris Green, back in the house, how's it going?
Chris:
Bradley, it's going well, man, like yes, serious sellers. Yeah. And there's so many ways to seriously sell. And I think I've kind of done all of them. I don't know if there's that I haven't done yet. Which I don't know, gives me a pretty good perspective on probably like the best where I kind of fit in is kind of helping people kind of get started and kind of like focus in on where they can probably find the most success is maybe the best way to phrase it.
Bradley Sutton:
Now, you know, in the past, you know, you've been on the show a couple of times, so guys, if you wanna get his full backstory, my assistant wrote down here that your original episode was episode 54 on the podcast. So you guys can check that out and then it came back and we talked mainly about merch by Amazon the last time. And that was episode 183, a couple of years ago, but now we're back. And I wanted to like– I'm sure we'll talk about a lot of different things, but I wanted to focus today on KDP because you know, one of the questions I get a lot is I wanna do Private Label. I don't have enough money to start, or I don't wanna do Private Label. You know, what are some other ways that I can take advantage of Amazon?
Bradley Sutton:
And, and I like you, I personally have done a lot of different you know, ways of selling on Amazon. I've done merch I've done arbitrage, wholesale, Private Label, et cetera. The one that I haven't done is KDP. And I kind of know what it is, you know, you and I have talked about in this show, but I was like, Hey, you know what, it's 2022 KDP is something that Private Label sellers can do and they can do KDP on the side. It's something that people can just do. It's something that people can do to help them get started in Private Label or other forms of selling. So, let's talk about what it is again, first of all, for those who don't know. And then, and then like, you know, who can do it, who can't do it and what are the regulations and whatnot. So just first of all, what, what does it stand for again, for those who are just brand new to this field, and what's a two minute pitch on what KDP is.
Chris:
Well, only two minutes to pitch. Wow. Like, I do feel like Amazon.
Bradley Sutton:
Just the elevator phase. One to the floor, like 20 right now. And then, and then we'll, and then we'll get back into it.
Chris:
Yeah. We'll go like zero to a hundred real quick. Well, KDP is simple, you know, the first easy part stands for Kindle Direct publishing. I don't like the name because it's not exclusively Kindle. Of course, it's Kindle, which is digital and eBooks and, and all that stuff. But they've also brought in paperbacks and hardbacks. It used to be under something called to create space. People have heard of create space, but now it's all under one it's completely free to use. It's completely free to have an account. There's not even a waiting period or an application like with merch by Amazon who can do this. Anyone can do this anywhere in the world with $0 to start. And in my opinion, the most powerful of all the Amazon platforms because of the print on demand aspect. So there's no money involved. You don't have to buy inventory.
Chris:
You have products available on Amazon books. Of course, these are paperback or hardback books. Prime eligible print on demand on Amazon international marketplaces. So basically for people who are sellers, that means you have a product page on multiple Amazon marketplaces that's Prime-eligible that when it sells, Amazon's gonna print it and ship it and handle customer service similar to the FBA model. But you don't have to buy the inventory. You don't have to send anything in, you don't have to deal with returns. There's none of that. And when it sells, Amazon does all the work and gives you money, gives you a royalty based on the price that you set. So, you know, your royalty before you even have a product page up there. And when like Private Label sellers and wholesale sellers hear about this, they're like, wait a minute. I would pay a lot of money for a product page that I didn't have to do anything for, and when it's sold, I got money.
Chris:
I'm like, yeah, exactly. But it's free. I think because it's free people discount it or they hear, oh, it's books. I can't write a book. You know, I think of Steven King and Harry Potter. And I'm like, no, not those kinds of books. You can have a notebook for the Serious Sellers Podcast. It's a notebook. Say, Hey guys, get your notebook out because today's guest write it down is Chris Green. And this is the date. This is the episode number. And you just take notes. Now you can take notes in some other notebook, of course, but Hey, wouldn't it be nice to have a Serious Sellers Podcast branded notebook and you could sell it at cost. That might be a type of book that you're not looking to make money on, but for branding for having like affiliate links, but having links to the podcast, links back to helium 10, all these different things.
Chris:
Yeah. That'd be a nice, easy way and you could give it away. You could send it to people as a gift, like in very inexpensive, like Amazon, this is not a profit center for Amazon, from authors. So as an author, I can buy my own books at cost. The cost is extremely low. I'll give you an example. This book, my newest book, it's 458 pages. It's black and white, and I give away all the secrets here. If I had my local printing company print that they would charge me $70 to print it. I can order my own book from Amazon for less than $7, less than $7. Now I sell this book on Amazon for $200. Right. And I've given these away to people as gifts. And they're like, Chris, that's like so nice. You need a $200 gift. And I'm like, yeah, but like I gave you $7, right?
Chris:
And I say that for the leverage that you're able to to do with these books, because you have the margin built-in, when you have margin built into a product, now you have options and opportunities to do some creative marketing. And for me, it's just so perfect because I love the creative aspect of it. I love the creative marketing options that you have. There are so many ways to use it, which I again is I think another thing that trips people up, cause they're like, well, how would I use it? I'm like, well, I dunno, depends on what you're trying to do. Are you trying to make money with books? Are you trying to use them as a lead magnet? Are you trying to establish credibility in a niche? Are you trying to find a complimentary product for something that you're selling through wholesale or Private Label? There's so many different ways that you can use self-publishing through KDP. And I think once people kinda had that first click, they're like, oh, okay. I see there's an opportunity here. Then they have to kinda get that second click. Okay. What exactly am I gonna use this for?
Bradley Sutton:
You mentioned about, you know, there's no application, you know, I remember way, way, way, way back in the, I know it's a little bit different now, you know, like merch by Amazon, it was like a pain in the neck sometimes to get approved there and people now, I mentioned Walmart, you know, sometimes it takes months to get approved on Walmart. Now, what exactly is the process for getting an account? And now, it's not a Seller Central Account. It's like a, it's like a Vendor Central Account, isn't it? Talk us through the process on how we can get started.
Chris:
It's more similar to Vendor Central and Seller Central, although it's not technically either one of 'em. So you just go to KDP stands for Kindle Direct Publishing, kdp.amazon.com. I've been on it for so long back in 2011, I published my first book. And I just used my buyer's account by accident kind of thing. You can certainly use a fresh new account if you want, if you don't wanna tie an existing seller account or buyer account to it, the only reason you may want to do that is if you plan on giving access to somebody else. Although I don't, I don't recommend doing that. A lot of people think, oh, I'll get a VA to upload, you know, a bunch of different coloring books. Yeah. Technically you could do that. I don't recommend it. Just because if your VA screws up your virtual assistant, like someone else, if they screw up, you screw up. Right. It's not a, "oh, my VA uploaded that. I'm sorry." It's like, no, you uploaded copyrighted material and now your accounts are terminated. So I don't recommend doing that, but you can certainly use any account. I use my buyer's account. I don't plan on selling my account, but it's completely free. There's no waiting. You could upload a book if you want.
Bradley Sutton:
And there's no, like, you know, with Seller Central, I don't even know what it is now, like $39 a month or something like that. Is there a monthly fee?
Chris:
No monthly fee. Completely free. Like you literally can't lose money no matter what happens. If you sell something, Amazon's gonna print it and send you money. So there's never like a buy inventory and like, wait to get paid or buy inventory, you have to, hopefully, it sells kind of thing. There's none of that. Like you, I guess it's too good to be true kind of model, especially when you come from buying inventory, retail arbitrage, and minimum order quantities. Yeah. Yeah, no, there's none of that. You could upload a book and it never sells. And you're like, Hey, that was a good learning experience. I up, I created something that nobody wanted. Okay, good to know. And then you use that information to make something else. And so, I mean, there's so many benefits and like, I can't even think of like any negatives to this. Other than the distraction for somebody.
Bradley Sutton:
What are the options that you have for publishing? You have, you know, like you said, you have a regular paperback, I guess that you can do. And then I'm assuming you have the online Kindle that where it syncs with people who have Kindle devices. Are those the only two or what are the options there?
Chris:
You, you also have hardbacks, so you have the paperback, hardback, and Kindle. And for the physical books, you have the option for black and white or color. So there's a few different options. The color gets a little bit more expensive. You know, which makes sense. But having the Kindle version as well, I think a lot of people stop at the Kindle version because they think it's easy, it's digital, it's a PDF. But to me, the massive benefits that you get are by having the physical version, whether it's paperback or hardback, paperback is the lowest cost, which gives you the most kind of margin to play with, if you want to kind of position it that way. But just having that physical book, having something you can hold up in an ad. Being able to tell somebody, yeah, I'm a published author on Amazon.
Chris:
Like that gets people's attention. That gives you instant credibility. Now that's whether your book is good or not, which I'm not a fan of, I want you to make good books, right? Like I want you to actually be an expert to kind of establish expertise in a niche. But so many people you're gonna get their attention. I mean, imagine going to a conference and saying, "Hey, you need somebody to speak about this because I'm a published author. I've like literally published a book about it." "Hey yes we do. Yes. Please come be a speaker." Like it opens doors just by existing. Now you can certainly spend a little bit of money and buy books and autograph them and send them to people and try to get their attention that way. But you don't need to do that. Just being published.
Chris:
You can post on social media. Hey guys, I'm a published author. Here's my book on Amazon. People can go look and be like, yes. Instead of saying, buy my book from my own website, like, eh, you know, it doesn't have the same, wait a minute. This is on Amazon. It's prime eligible. It's got reviews that I trust instead of like reviews on your own website kind of thing, you know? And of course, I mean, now I'm gonna get way, way too off track. But if I get a five star review, you know what I'm doing, I'm screen capping that I'm sharing it. Like it's instant marketing material, right? Like, "oh, someone gave this book five stars and I get it for $9 off Amazon. Let me see what that's all about." Like, there's so many benefits. Like I say the, the first question I would go back to people would say like, well, why do you wanna publish a book? Right?
Chris:
Because not everybody should publish a book. I don't want people to be distracted by this. And I like give up spending time on Private Label and wholesale. And if that's really where they should be spending their time. So first, why do you wanna write a book? Do you wanna write a book to make money? Do you wanna write a book to establish yourself as an expert in a niche? Do you wanna just do it as a kind of challenge? Like, "Hey, I've always wanted to write a book and like, let me see how, how easy this is." I think a lot of Private Label sellers are missing the opportunity to make complimentary type products. For example, recipe books, if you're selling in the kitchen category, there are so many kind of ways that you can differentiate yourself. And especially if you're a seller and you don't want copycat, you know, piggyback on your listing, bundle your own book with it. Now you're exclusive. Now nobody can jump on that unless they have your book. And honestly, I'd sell my book to them if they wanted to jump on the listing, but I'd sell it at a profit.
Bradley Sutton:
What about that person? Who's like I mentioned it, earlier's like, "Hey, I wanna get some money together, you know, because I do wanna get in private boy, Hey, I don't have 3, 4, 5, 6, $7,000 yet. And I have time, I'm not in a hurry." Maybe it'll take me a year or something, but the next, you know, so make sense. Okay, let's do KDP, but like you said, the average person thinks books and things like that. It's like, oh, I'm not a writer. You know, like, or, you know, I can write a little bit, but I'm not an actual author. How do you go about picking a subject that you would write about? Like what do you research? How do you know, what should you do? And then how do you market that to get eyeballs on it?
Chris:
That's like the biggest– I don't know, you didn't intentionally do this. I know because we didn't plan any of this, but that's like the softball question for this book. Right?
Bradley Sutton:
Okay.
Chris:
So back in 2014, I wrote online arbitrage and it was designed to be a course. And because I'd published, you know, a few years ago, I was like, you know what, let me try and publish this as this course, as a book, I like, I can put unlisted, you know, YouTube videos in here. I could put like, you know, things, you can only get if you have the book. And like, that was intentional. I was like, let me see how that works. I didn't know how I was gonna price it when I started. But I ended up pricing at $300. I included access to me a one hour phone call where we would cover Kea. This is 2014 Keepa. Right? Keepa is a lot more advanced now. And I got a big fat check from Amazon for all the royalties from that book, because a $300 book is gonna give you actual royalties.
Chris:
Now a $10 book is not gonna give you a bunch of royalties. Now that was probably one of the most lucrative things that I've done through Amazon is the work that I put into that, to the, you know, kind of the profit and revenue generated from that book. And a lot of people been asking me, they're like, can you kind of give us a guide exactly how you did that? So I was like, you're fine. I'll finally do it. And as I was doing that, like that, that process is actually kind of easy. If you understand KDP, which is, again, there's not a difficult, complicated platform. And you say, okay, I'm gonna put unlisted content in here that you can only get. So it's like, instead of buying a course of you to me or a skill share or somewhere else, just buy the book off of Amazon, it's got password-protected videos.
Chris:
It's got QR codes linked to exclusive content. It's got downloadable assets. You can, you know, only people who buy the book can join the members, only Facebook group, things like that. But as I was writing, it was like, what? This isn't gonna help people, they don't know how to make a course this, and you don't know how to make a course. Like, well, what are you gonna make a course on? And then I find people are like, I don't know. I'm not that good at anything. And it's like, well, you actually are good at something, but you don't realize that what you're good at is actually valuable to other people because you simply enjoy it. You simply really like that topic and you do it for free. So you don't think you should get paid for it. So I had to backtrack all of these things, help people say, okay, this is who I am.
Chris:
This is what I feel I'm good at. This is how I can take what I'm good at and turn it into an online course. This is how I can take that online course and market it as something that will either make or save people, money, which to me is the easiest way to market something. Like if you're able to do something at home, you can brew your own beer. If you can grow your own weed, guess what? You can save money right? Now, I don't promote making money like a sell alcohol or become a drug dealer. Like none of that, right? Yeah. But save money, especially as this stuff becomes legalized right now, we're talking about all legalized stuff. You know, if you're in a state that's not legal, sorry, I'm in Massachusetts. It's super legal here. You can save money.
Chris:
So, people, you get their attention, right? Because if you've never been a marketer, then you're like, well, how do I get people's attention? And I go through social media, how to search for people who are tagging your topic, how to engage with them, how to join a community. That's why the book is so big because it was just gonna be like, if you just wanna know how to take online course content and publish it as a book, that's just a couple pages. Right. But the whole thing where someone who doesn't have any exposure, experience in this, if they go through the book, they'll be like, okay, I get the whole picture, which is why it ended up being such a bigger topic. You know, than just how to publish course content as a book. Cause if you're not a course grader, right?
Chris:
I've seen all the hangups that people have, have, have stumbled on to why they don't get started in what I consider the most lucrative, the most potential upside, the lowest downside, the most economically. So it just hits the right points on everything if people can kind of turn that corner and be like, you know what? I am good at something. I may not be the best, but I'm good enough at something that I can help someone else. And you go to the 80-20 theory of marketing. Yeah. Not everybody's gonna pay you to help, but some people will, and you can use social media to get attention and market yourself, put yourself out there, content marketing, I call it more education marketing. Like I would just teach people how to brew their own beer for free on a YouTube video.
Chris:
And the people that wanna learn more who are super thankful and appreciative. They're gonna join your mailing list. They're gonna join your Facebook group. And some of those people are gonna buy your book. They're gonna buy your book and not even read it just because they feel thankful. That's what humans do that let reciprocity thing. Like, man, I got so much outta this podcast. Like I want to go sign up for Helium 10. Like I want to go buy Chris Green's books because we give, give, give it's just the way the humans work. And once you realize that about marketing, then all you have to do is like help people and helping people's the most marketable thing on planet. And I think if people remember, you're not selling to everybody, you're selling to people to have the problem that your book, your product solves, then you don't feel like this, like skeezy used car salesman where you're just trying to get people to buy your stuff.
Chris:
It's like, no, if you don't have this problem, please don't buy my book. I don't want your money. Right. And it's on Amazon. Right? So it gives them, it removes that friction of like, oh, well, if I, what if I don't like it, I gotta deal with like return process. Like, no, you don't like it. Just tell Amazon, they'll probably just tell you to keep it and give you your money back. Right. And guess what, here's the secret as the author, because I'm giving you both sides of this behind the scenes. Royalties are non-refundable. So, anybody that buys the book, I get paid either way, but I'm able to give them the confidence to be like, Hey, if you want your money back, just send it back to Amazon. Like I don't, I don't want it now. I can't give back the royalty because the way the system works and if they return it to Amazon, Amazon will sell it as a used copy, which I would not earn royalties on.
Chris:
So it all kind of evens out. There's no like money laundering or anything going on. But it gives that customer peace of mind. And you know, if you can remove as much friction as possible, a one click checkout to get a physical product in the mail versus going to an online course and all that, like, forget it, man. Like, make it simple. And then again, none of this is exclusive. You can do this, you can sell it on you to me, you can sell it on your own website. You can give free access. I upload all the exact same content in my Facebook group. Now it's a member's only Facebook group, right. It's not just free for everybody. But I mean, I would give away most of the course for free as content marketing right
Bradley Sutton:
Now. Now while he was talking guys right now, just to show you guys how I don't wanna say easy, but how uncomplicated is to do research? You know, I know sometimes, you know, people are thinking like, well, can I use Helium 10 for this? Now there are some things that you can't use Helium 10 with KDP. Like, you know since it's not a seller central account, you can't, for example, have follow up emails, you know, like our Follow-Up program that sends out the Amazon Automatic Review or we don't have Profits you know, our accounting that you can do. But what I did, I ran Xray on the pages where it's all books. We have estimated sales, you know how accurate it is. I can't compare it cuz I can compare Xray to my Private Label products.
Bradley Sutton:
Oh, man. It's within 10%, you know, but we do have estimations on it. I ran Cerebro on Chris's book that he's holding up. I could see where he's ranking on page one for what keywords on that. So that works. Another thing I just did is I ran in Black Box guys. So I ran Black Box for keywords and I put it in the what I did here was I said, Hey show me something at least 3000 search volume, but out of the top 10 products that appear at least seven of them have less than 50 reviews. I I'm going like super deep here. I was like, let me start with something super deep, right off the bat. And there's just random stuff on here. I saw one that where is this mom I want, oh no.
Bradley Sutton:
"What I Love About Mom" a keyword phrase, it's searched for 3,600 times and you look on it. And so there's some, there's some regular books there, but there's some KDP stuff there and it's not like that's one book that somebody's just searching for. Hey, show me the book about What I Love About Mom. There's multiple books about this kind of subject and it's relatively new, but there's thousands of people searching for it. So there's an idea on how you can get started. The last one I did, this was all in like the last three minutes guys. I did this just to show you how easy it is. We have a new tool that I probably Chris doesn't even know about on our main dashboard. We have this it's called the Pinterest Trend Finder. What we did is we take all of the Pinterest Trends, like search volumes.
Bradley Sutton:
And then we show what are the ones that are trending up in the last one to four weeks. And a lot of times, you know, some Private Label sellers get frustrated, cause like, ah, this is, I can't make a product on this, but there's a lot of like recipes and foods and different things like that, that show up. So I ran the spin, the wheel here and our trend finder and like the third one I landed on was roasted asparagus. All right. So somehow on Pinterest, that's trending. So me personally, like I'm not an expert on this. I wouldn't do it, but maybe I was like, you know what, I'm gonna take a few hours and I'm gonna research like some top recipes on how to roast asparagus. I know it's trending right now. Let me throw together a, you know, I don't know, 2020 recipe book on this, that that's trending. So guys, I did this in like three minutes here. So, so I'm not saying everybody go exactly and write roasted asparagus Kindle books, but it just shows you that you've got a lot of data in front of you that you can use to do what Chris was just talking about the last few minutes.
Chris:
Well, I think what we haven't kind of touched on is the different types of books you can publish with KBP and that's, what's given a lot of people cause I get, not everybody can write a 450 page textbook. Right? I understand that. Well I take it back. I think people can, I don't wanna limit people, but you can publish anything. And when I say anything, this isn't like any story, any genre, this is you can write notebooks and coloring books and journals and recipe books. And the minimum page count is 24, right? Which is 12 pieces of paper, right? That's not very much right. Anybody can kind of do that. And people have found success in the coloring book niche and people have found success in the journals and people are using like a specific journal as kind of a lead magnet, or they're making a couple of bucks off the journal, but that journal, they're actually demonstrating how to use that journal.
Chris:
They've actually, this is maybe a better way to help people kind of identify something, make something you want, right. Do you have a journal? You're like, I get buying these gratitude journals and they're not exactly what I want. Great. Make your own and then make content about how you use it and why you use it that way. And then people who are like, Hey, that makes a lot of sense. And they can just join your community and they can buy your books of KDP off Amazon. And it's kind of using it this way, instead of like I don't know how many people are gonna make big books specifically through KDP through the royalty system, right. To do that. You have to sell either a ton of books or sell high price books. Which you can do and you can certainly do both.
Chris:
But that's gonna take if you're not a marketer, you know, if, well, I mean, this is Serious Sellers Podcast. So people are using, they have all the same advertising tools. You can advertise at an ASIN level. So once you know your royalty, you know how much you can spend on your ads to make a profit without there's no limits to inventory. It's just always in stock basically. There are so many different ways that people can find success with KDP. And I think it makes sense to kind of help people kinda realize, wait a minute, I can make coloring books. I can make recipe books. I can make journals. I can make notebooks, people making mileage logbooks. I didn't know. That was a thing. Like I remember that I used to have a company car.
Chris:
I was like, yeah, keep track of our mileage. Now the company I worked for was like super laid back. They were like, just actually take 10% off for personal miles. Other than that, just go out to the odometer and put it in 90% are company miles. But some of them, they keep track. You have to write down the miles when you get in the car and you take off the miles. If you stop and go to Walmart or something like, so they have these mileage logbooks and you could make this whole thing. And I would market it as how to save money on your taxes by keeping accurate mileage logs. Right. And instead, it's like here, buy my mileage logbook. Like why, why do I need that? Well, because you can save money by being more accurate. And Hey, while you're here, let me tell you about these other things that you can do and the types of maintenance that you can write off and you know, the best lease structured.
Chris:
I don't know. I'm just making this stuff up. But if you're in that niche serve the whole niche. Don't just be like, oh, people are Googling mileage logbooks. I'm gonna make those because that's kinda like, I think there's a dividing line there. And I know a lot of people come from Amazon. They're very, you know, data-driven and analytics. They're looking for like, what's the opportunity. I don't care what the product is. Where's the opportunity. I'm not a fan of that. That's not saying it. You know if people are really good at that and they should keep doing that, I'm personally not a fan of that. Because if I'm not interested in it, I just don't care, man. Like you tell me, this roast of asparagus books are trending. Like I ain't gonna make that. Cause I just don't care.
Chris:
You know what I mean? It's not like I'm down on it's that I'm like, no, that's a distraction because over here are things that I care about that need to be spending time on. And I think it's a common thing in the Amazon world where we all have so many opportunities around us all the time, right? Like there's no limit to how many Private Label products you can make. There's no limit to how many wholesalers you can contact or maybe it makes more sense to stop at the Walmart clearance on the way out and do some retail arbitrage. There's no limit. You have to eventually stop and say, no, I'm not going into Walmart. I know it's on clearance. I know I can make a thousand dollars in an hour if I go in there, but I'm not because I need to focus on my Private Label business.
Chris:
So that's where I don't want people to get distracted. And you can certainly if that's your thing, look at what's trending. And this is probably what the cooler parts that people miss about KDP is you can the speed at which you can test something, right? So Pinterest, you know, these recipes are trending. You can upload that book today, right? Like you can use Fiverr and you can use someone on your team to research these things, put 'em into a word document. It doesn't have to be the most beautifully formatted book you've ever seen. Just needs to exist. And you can get up on Amazon and Hey, nobody bought it. Huh? Okay, no problem. You didn't spend any money, but you're able to test so fast instead of saying, Hey, how long it's gonna take us to get that recipe book done.
Chris:
You gotta order 'em from China. Or like have them vanity printed in the US and then send 'em to FBA. By that time it's not even trending anymore. With KDP, you could be testing it. They used to like approve books in like under 24 hours. It's taking a little longer now you can test super fast and the bonus you can test super cheap. You don't have to spend money. You can test this stuff out and you can use the books. I mean, you know, all the rules about like you can't put you know, contact us, you know, like marketing material in your FBA inventory and stuff like that. Unless it's like part of the packaging. Well, guess what? I put a QR code on the cover, right? Like, I have calls to action. You can actually scan this from the Amazon product page.
Chris:
You don't even have to like buy the book to scan this code off the front. And you know, I have calls to action here about get updates from my book, joining this community, all of these different things. So you can test and get these things up super quick. And it's not just like a useless exercise. Like if anybody buys it, it's like, oh, okay, now they're gonna come back to your community. You can't do that with any other platform on Amazon, right? So what are books? I want people to kind of like really focus. Like this is a product on Amazon and what people are buying is whatever they get access to the content and whatever they get access to through the printed pages of a book. Now, if you could sell a six month subscription to Helium 10 as a book, you could make it at cost.
Chris:
You could be like, Hey, instead of if you want to go through this and we got a chapter about Black Box, and we got a chapter about this, we've got a chapter about this, and it's not a profit center for Helium 10. Right? Cause your profit center is gonna be through subscriptions. But now you have a physical product you can give away at conferences, right? Like to give up business card with a code on the back, nobody cares. You give them a book that's on Amazon for $49.95. They're gonna be like, wow, thanks, Bradley. That's like, that's like really nice of you in, you know, in your mind. You're like, dude, that only cost us like $4. And like, yeah. And we hope that like enough people sign up, like it that's gonna be a profit center because you want to help people. It's a different way that you can help people, you know, different people and it's not exclusive.
Chris:
Right. You could do that at conferences. You could do something else that if someone doesn't want the book, actually, because my books are so big, I'm kind of cautious to give them away. Like if someone's traveling, cause I'm like, Hey if you don't want this, because it's like big and heavy, you only travel with like a carry-on. No problem. I'll just mail you one kind of thing. So you don't have to like force them on people. They're just so many options. I mean, this is like, what I love to do is just kind of come up with like creative ideas for different people, cuz everybody's different. They have different kind of plans for what they wanna do with the book and different kind of knowledge, everybody's different. And I've yet to find somebody like the claim that I make that I've not had anybody, you know, able to make me back down off it is.
Chris:
I believe everybody can have a six figure passive business. Right? And I, I ain't making no two comma million dollar promises, but I do believe that everybody is good enough at something that if they package it up into a consumable purchasable product on Amazon and do some basic marketing that they can make a hundred grand at home. But they're not selling books. They're selling information. They're basically selling an online course. But what my book teaches is how to turn that online course, turn that information into a physical product. Cuz people love physical products. People love opening stuff when they get home. Get home-like, oh it's Amazon package sweet. I don't even know what I ordered, but you're excited cuz it's something new versus here's you know, access to the members-only area and watch the videos at your convenience. They love physical products and you're able to be a physical product seller on Amazon without spending a dime and you're selling information.
Chris:
So you can sell over and over and over again, which is another thing I put in the book where people get confused by like, Hey, I wanna make extra money. And they think you make money by trading time for money, like an hourly wage kind of mentality, which I get, I used to have it. I still fight with it. Instead of saying, look, I'm gonna spend many hours making a digital asset, a passive income asset that I can sell over and over it. I can sell a thousand copies this today and I don't have to ship. I don't have to spend any money. Amazon can ship thou. They can, Amazon can print and ship a thousand copies of my book in a day. That's unbelievable power that we have that we did not have access to. Yeah, not that long ago. And I frequently go back to the example from the Incredibles movie where they say like, when everybody's super than no one is and it's like, people would love to be the only person with an iPhone.
Chris:
Right. Imagine 2006, you have the iPhone, you're a king, right. A 5g iPhone in 2006, you're the king of the world. Right? You have access to information that nobody else has, but now everybody's a 5g iPhone everybody's ah, who cares? Yeah. But it's, you know, it's not the pro model. You know, like we lose sight of the power that we have because I think it's built into humans somewhere to where we compare so much. We're like, oh, we can all do this. And I think we use that almost as an excuse to be like, oh, well someone else, dude, someone else knows, knows more about KDP than I do, but they keep it themselves. Who cares? Someone else is better at everything, but you have to put yourself out there and realize people. Some people wanna learn KDP from me instead of from someone else.
Chris:
Some people wanna learn social media marketing from Gary Vee. And some people are like, no, I wanna learn from someone else. Instead of saying no, but like this person's better. Who cares? It doesn't matter. If you can connect with people on the internet, you can find a hundred fans, a thousand fans, that's a full-time business to where you can do what you like every single day and make six figures. There's a lot, most of the country, you can live like a king for six figures. Right. And it doesn't have to be low. Like you can take a membership. If you have something you can charge $50 a month for, and you have a thousand people paying you $50,000 a month, that's pretty good. You can live like a king in like almost all the country. That's 50 grand a month. And that's just one, one thing you can also have your YouTube channel. Like I don't know, I'm getting distracted. That's what happens. There's so many Opportunities
Bradley Sutton:
Something you mentioned earlier I wanted to touch on, you know, we've been talking a lot about, you know, making your own actual, you know, books and hard copy, but I believe you mentioned in passing towards the beginning of this episode that, you know, actual Private Label can have this and then have it as like an add-on to their product or something that maybe, you know, for example, let's say they use Helium 10 Portals, you know, which is like our landing page thing where they have a opt-in under product. Like, Hey guys, scan this QR code and get a free book or get the free recipe, you know, like maybe you're selling a specialized Tupperware set for, for roasted asparagus. And then it's like, all right, guys, with this, you know, you advertise, you also get a free recipe book and, and then, you know, sure. I can print a recipe book and then like mail it to them. But maybe after they scan we give them a link to like a, a free download of a Kindle or something like that. Like talk us through that scenario. Like, like what you meant when you were talking about like bundling with an actual Amazon product.
Chris:
All right. So there are multiple ways to do it. So if you could get a customer to scan a barcode, scan a QR code, because you're offering them the free Kindle version. Kindle gives authors the ability to, I mean, obviously, you set the price so you could set the price at a minimum. And so this is all covered in the book. But it's fairly new. I don't think anybody's actually talking about this. So you could have your asparagus book. It's $24.99 as a paperback on Amazon to say it's $9.99. As Kindle as the author, you could go in and drop the price to 99 cents. Or actually, you just run a promotion. You can run a one hour promotion for 99 cents. And then you, as the buyer go in and you buy a thousand copies of your own book for 99 cents each. So you spent 990 bucks right now.
Chris:
Now you have 1000 individual unique redemption codes that when a buyer clicks on it, they're gonna get your Kindle book, right? So you have this kind of in the bank over on the side. So you run this promo, whatever you're doing, and you can say, Hey, get, buy this product, get this free Kindle book. So they buy the product you give 'em the free Kindle book. So they scan your thing. You have like a little form or whatever, and you send them back an individual redemption code, which if they don't redeem, you can either give it to somebody else. Or within 60 days get a completely full refund. So none of this money is ever wasted, but it's a minimum that you can do. Now, of course, you could give away the PDF. I think it comes across better to free Kindle version because when they go to look at the Kindle version, the price is back up to $9.99.
Chris:
So you're like, oh, I get this $10 book that has great reviews. Okay, sure. I'll do that. And then you say, Hey, if you would like to have a paperback book, we have a special, because $24.99 right here, but you can have it for just $4.99 or $9.99. And another thing that people aren't talking about is KDP has something called author copies. Now I can buy an author copy of my book as the author, you can't do this. This is only through my KDP account at cost, and I can ship it to anybody in eight different countries, US, Canada, Australia, UK, Italy, Spain, and Germany. What's the last one. France. Did I say France? Eight different countries at cost. So I've run the numbers on this. You can do a 108-page book. That's the maximum page count, the thickest book.
Chris:
The most content that you can send at the base cost of $2.15 cents. Now they're gonna add on fulfillment fees and shipping. It's a flat $3.59 shipping within the us. It's $5.59 to Alaska and Hawaii. So for under $6, you at, at Helium 10 could dropship, basically dropship a copy of your book anywhere in the US for under $6. So again, you've already got this order before you send it out, right? You're not buying these. You can certainly buy them and ship 'em out if you want, but now you're spending money, but you don't have to spend any money. You can just have Amazon do it. And the costs are very similar in all of the eight different countries. They're just at cost. So my book, which is $6.61 cents, because it's a lot more pages than 108 it's about $10 to $11, whatever exchange rate you wanna have, whether it's Euro or the pound, whatever.
Chris:
And I don't have to ship. I don't have to fill out documents to ship to the UK. So I'm gonna come back to the seller, that's doing this, right? these are the tools you have available to you. And you're able to leverage them against the anchor price on Amazon, right? So the free Kindle version, which can cost you 99 cents to actually give away or you can certainly give away the PDF for free, if you want to, is anchored at $10 on Amazon. So the buyer's like, this is a good deal. I appreciate this. And what happens like with the buyer mentality is like, Hey, I'm getting this for free. So I'll spend a little bit more money, right? It's like, when you buy something off clearance at Home Depot or Walmart mentally, you're like, Hey, I just saved a hundred dollars on this product and they go buy something else right now, if you just buy clearance and walk out the door.
Chris:
Yeah. And Walmart's gonna lose money, but they're hoping you buy something else when you buy something off of clearance. And the same thing for the $24.99 recipe book, anchor price, they're like, huh, I can get that for like $7.99 through this special offer instead of going to Amazon for $24.99. Yeah, sure. I'll do that. And PayPal button or Stripe or whatever it is. And you just process it. You could have a VA do it, or I've made some automated tools for myself to do this and that Amazon will ship it. And Amazon will give you a tracking number and you, there's so many cool things you could, I mean, Helium 10 do this, follow up with that customer, cuz now you have their contact information, right? This is a direct purchase from you. Track that order as soon as it gets there, follow up with them, think, Hey, just wanna let you know, hope you got the package.
Chris:
If not, it's probably out by your front door. You know, we hope that you like it. And did you know that we also have this recipe group on Facebook or this mailing list and you could have these kinda like side little companies for your recipe business, for your, whatever it might be and build these customer lists. And, and like these email lists that you own and control, which you must have several episodes about the black hole of Amazon marketing where like, yeah, you sold all this stuff, but like you don't have an email list. How do you go back to them? If, if you get terminated or suspended? What do you do now kind of thing. You know, you can build that list by using, by leveraging KDP products with your existing Amazon business, to where yeah. If something bad does happen, you could still go back and say, Hey, all you guys bought this recipe book.
Chris:
Do you know that we have a second version with even better recipes about this specific product? Or if you like asparagus, you're gonna love our roast of potatoes. I don't know. Like just make it up as you go do the, do the research in Helium 10 and be like, this is so easy. I don't even like cooking, but I got this humongous, you know, recipe empire over here, cuz you know how to use KDP and you know how to use Helium 10, you know how to do research, you know how to use Amazon, you know how customers work, you know how to do marketing, you know how to do lead generation, you know how to do lead magnets. There's a lot to it again, why the book is so big. But if, if you're already an Amazon seller, you know, some of this stuff already and you just have to kind of like, okay, how am I gonna structure this?
Chris:
And I know, I think the longest time to answer your questions, but I'm convinced that the free Kindle bait is just so powerful. Like the Kindle version of my book is $200, $200. And do that on purpose. I don't want you to buy it for $200. I mean you can, if you want. Yeah. But I want you to come to my website where it's like, Hey, I'll give you the Kindle version for free. Now that only costs me as the author 99 cents. Because as the author, I have this, these like superpowers that aren't really available through Seller Central. You can't do some of these things through seller central. And I didn't tell you, I put it in the message. I was sending you, but I put it up authorpreneur.com/ssp. You can get this book kindle version for free.
Bradley Sutton:
Spell that author authorpreneur.
Chris:
Author A U T H O R P R E N E U R.com. Super psyched that I got that domain, of course slash S S P and yeah, you can have the Kindle book for free.
Bradley Sutton:
Nice, nice.
Chris:
I'm gonna go behind the scenes. I'm gonna go behind the scenes. I might give you an offer where you can buy the physical book at a significant discount and you can take it or leave it, right? It's not, it's not a hard sales pitch, but if you wanna know what this is all about, I will give you the Kindle book for free and anybody. This is a seller's podcast. So any seller, just like I see. Okay. I see like you're like what they call it, funnel hacking. Like you kinda see behind the scenes, like I see the marketing potential in this. I'm like, yes, exactly. Like I just give away all the secrets, right? Like I, it's hard to like speak to authors and speak to sellers and then like, you know, just be the seller myself, like, cuz they're all kind of different conversations depending on what they're interested in, but I'm more than happy to go behind the scenes on the marketing where people can say like, cause it's sellers like, oh wait a minute. I'm gonna do exactly what Chris Green did. I'm gonna take the time to create a passive income asset. I'm gonna put it on Amazon as a Kindle product. I'm gonna use these redemption links as like a lead magnet to my business. And now I have all these other options of things that I can sell. And I'm so glad I listened to this episode of Serious Seller Podcast, right? Like,
Bradley Sutton:
Well, Hey you're a veteran on this podcast. So you know what we do at the end, you know, you've been giving us tips and strategies, but this is hard for, for people like you and me who talk a lot. But we have the 30-second tip. So let's try and hit two different strategies here that you can say in like 30 seconds or less about KDP or you could just complete switch gears and do a random merch by Amazon or something else tip. But, but you know, think it through, but what are a couple of quick hitting strategies that can help the listeners out there.
Chris:
One is just kind of, you know, be open, keep your mindset open to these opportunities. And when, when you see self-publishing, don't write it off as like, I can't write a book, right? Like that's too hard. It is not too hard. I promise I've helped people publish books. People publishing say no books in coloring books and blank pages. Okay. Having that book on Amazon, anybody here is who's an Amazon seller knows the power of Amazon and being on Amazon. But the power that you have, especially when you turn it into like a Kindle lead magnet kind of source for your Amazon business is unbelievable and people are sleeping on it.
Bradley Sutton:
What's another quick hitter that you can give out there.
Chris:
I don't think you can do this through sponsored products, but through KDP you can advertise at an ASIN level, not necessarily keyword level, but if I put in keyword entrepreneur and find the number one result on Amazon for entrepreneur, I can say, you know what? I just wrote a book about entrepreneurship. And I would like to advertise against that specific as of you can do that, right? Put in a keyword here's the top 10 ASINs and just paste them in and advertise against them. You can run like several different advertising campaigns against these top 10 ASINs for this keyword, these top 10 ASINs there's best sellers. Like it's, it's almost it's again, too easy, like too good to be true kind of thing. So no matter what niche you're in, you don't have to like kind of guess the keywords and all this stuff. No, at ASIN level you can advertise, I guess, a single ASIN, if you want to, could you do that through sponsored products? I don't think you can.
Bradley Sutton:
You cannot. Well that there's product targeting or sponsor display. If you have Brand Registry, you know, I'm not sure, I think you're talking about something else, but, but that you could do, but I think that's a little bit different than what you're talking about. So but either way, I guarantee there's a lot of people out there who didn't even realize there's like a PPC for the book side that you have. And actually, you know what I think it actually does sync with Adtomic by Helium 10. You'll have to talk with our, our team about that. But anyway, this is something I like doing this show because I, I don't just interview people where I know the subject in and out, you know, I learned stuff along with you guys. So this has been a learning experience for me. So, Chris, again let people know how to reach you on the interwebs and how to get that book. If they wanted to get that $200 book for free
Chris:
200 book for free, you can look it up on Amazon. It will cost you $200 on Kindle. You go to authorprenuer.com, similar spelling to entrepreneur, which everybody here should be able to spell by now. I know it's sometimes a hard word to spell, but you should be able to spell it, authorprenuer.com/ssp. If you want me for personal reasons, of course, it's chrisgreen.com. That's the easy way to find me facebook.com/chris is another way to find me. I'm easy to find like you just Google me. Find all my past episodes here on SSP
Bradley Sutton:
You and I have never met in person. We've known each other, actually probably like going on five years, you know, virtually. So if you don't know about our show yet, look it up, Chris, Sell and Scale Summit in Vegas in September. It'd be great to meet you out there. You mentioned Gary Vee, he's gonna be one of our keynote speakers there for the rest of you guys. Try and push Chris to come. And so we can meet him in person h10.me/s3. Guys, if you want more information about that, h10.me/s3. For all years, '90s and 2000 kids. We've got Nelly performing there. So it's gonna be a huge event.
Chris:
Dude, I didn't even know about this. I'll be there.
Bradley Sutton:
There we go. All right. You heard it right now on the podcast. Chris Green will be there. Anyways, thanks a lot, Chris, for coming on. And you know, I look forward to reaching out to you maybe in 2023, 2024. Let's see what you're working on and what unique strategies can bring us in. But we'll be seeing you in a few months in Vegas.
Chris:
Definitely.
---
Enjoy this episode? Be sure to check out our previous episodes for even more content to propel you to Amazon FBA Seller success! And don't forget to "Like" our Facebook page and subscribe to the podcast on iTunes, Spotify, or wherever you listen to our podcast.
Get snippets from all episodes by following us on Instagram at @SeriousSellersPodcast
Want to absolutely start crushing it on Amazon? Here are few carefully curated resources to get you started:
Achieve More Results in Less Time
Accelerate the Growth of Your Business, Brand or Agency
Maximize your results and drive success faster with Helium 10's full suite of Amazon and Walmart solutions.