#193 – Infographics, Using Alibaba to Find Suppliers, the 5K Case Study, Newegg, and a Seller Spotlight
Using Alibaba to find suppliers, Newegg as a sales channel, the latest on Merch by Amazon, infographics, and a new seller spotlight interview
Updated on: November 12, 2020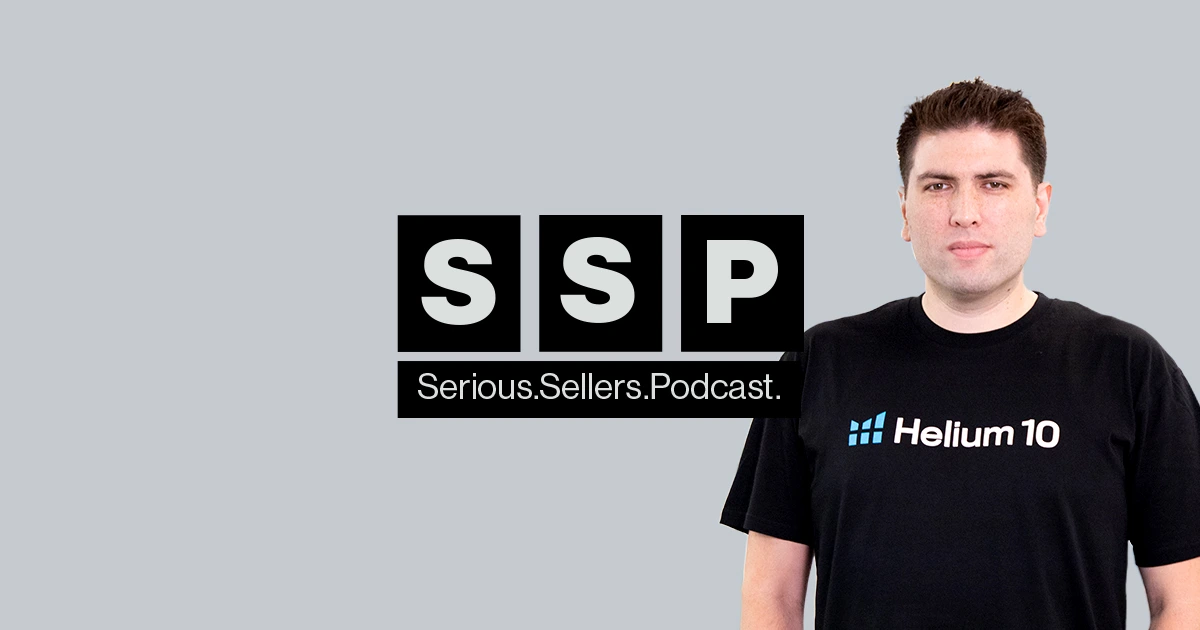 We're all busier these days. Maybe it just feels that way because many of us are living our lives so differently now. Still, it seems that at the end of the day, there's a growing list of things that remain to be accomplished.
If one of those things that you haven't quite accomplished happens to be listening to or reading the best of Helium 10's most recent content pieces, we've got you covered.
Today on the Serious Sellers Podcast, Helium 10's Director of Training and Chief Brand Evangelist, Bradley Sutton presents another "Best of Everything" episode. In it, we've assembled 10 different clips that cover trending topics that affect Amazon's selling ecosystem.
This is a quick way to make sure that you don't miss out on what's happening at the moment and know exactly where to go if you'd like to dive deeper into a subject.
In episode 193 of the Serious Sellers Podcast, Bradley presents the latest "Best of Everything"
03:00 – Going from Construction to Selling on Amazon
05:00 – No Inventory or Upfront Costs – It's Merch by Amazon
07:30 – Brick and Mortar is Still Relevant
10:30 – Lines Outside of Stores Speak to Engagement and Brand Loyalty
12:30 – How to Get Brand Registry in 10 Days
14:30 – An Infographics Checklist
16:15 – Using Alibaba to Source Suppliers
19:00 – Establishing Relationships with WeChat
21:30 – Tough Times Call for a Strong Offense
24:00 – Newegg's "FBA" Model
26:00 – How to Get Started with Newegg
28:30 – Project 5K Keyword Strategies
31:30 – How Thaina Found Her Amazon Product
33:00 – A PPC-Focused Launch Strategy Made It Happen
Enjoy this episode? Be sure to check out our previous episodes for even more content to propel you to Amazon FBA Seller success! And don't forget to "Like" our Facebook page and subscribe to the podcast on iTunes, Google Play or wherever you listen to our podcast.
Want to absolutely start crushing it on Amazon? Here are few carefully curated resources to get you started:
Transcript
Bradley Sutton: On this week's best of episode, we're going to talk to a paratrooper who became an Amazon seller. We're also going to learn all about merch by Amazon and the opportunity that is. As well as how to get brand registry in under two weeks. How cool is that? Pretty cool, I think.
Speaker 1: Hello everybody. And welcome to another episode of the Serious Sellers Podcast by Helium 10, I am your host Bradley Sutton, and this is the show that today's going to be one of our best of episodes, combining different clips from the best and most favorite podcasts of the last couple of months on the Serious Sellers Podcast, as well as the AM/PM Podcast and some great actionable clips from some of our top blogs recently. Now coming up, we've got a former paratrooper who went from zero to a hundred thousand dollars per month selling on Amazon. We're going to talk about expert strategies for sourcing and Alibaba, a cool new sales channel, digital marketing, and e-commerce advice from a brick and mortar pro. This episode is also going to feature a seller spotlight interview, merch by Amazon and the latest on using Amazon infographics. So, we've got tons of actionable strategies prepared for you today in this episode. Now, one of the greatest things about selling on Amazon, I'm sure you guys can agree is how sellers come from all walks of life. As you guys know, I usually try and start off the podcast that we have with guests asking them about their backstory, because everybody's always so different yet we all ended up kind of in the similar ecosystem. Now the Amazon ecosystem or selling space is so large that it seems there's room for almost everyone. E-commerce business professionals transitioning from brick and mortar, people using it as a high powered side hustle, entrepreneurial moms, and even young Lamborghini flashing influencers. But there's one type of seller that always seems to stand out. For me, at least that's an every day hardworking person who surprise themselves with a rapid success. There are sellers that haven't spent time in finer universities or grown up in families that encourage entrepreneurship at a young age. They just work hard, pay attention and crush it. Now in our first episode from the Serious Sellers Podcast, number 175, I'm going to speak with Ronald Bell, a former paratrooper who rolled up his sleeves and made a new career for himself on Amazon.
Ronald Bell: I actually opened up my own construction company down in Texas, which is where I was station for a long time, got married down there, opened up a construction company because we started having kids needed to make good money right away. And that was a field that I knew really well. So, went into that.
Bradley Sutton: Okay. Okay. I'm sure you did various things over the years. Now you started in e-commerce with Amazon. If I'm not mistaken, that was just last year, right?
Ronald Bell: Correct. Listed my first– I started looking into it about May of last year, list of my first product in October of last year.
Bradley Sutton: Okay. How does somebody go from studying electrical engineering to having a construction business to, Hey, I think I want to sell on Amazon. Take me through that segue there. How did that transition happen?
Ronald Bell: So the construction company went really well at one point. So, when I was in the military, I was an airborne paratrooper. When I was doing the construction company, I was making really good money. I kind of picked up skydiving as a hobby, ended up turning that into a career. That's what I've done for the last 20 years. And skydiving, you kind of have a shelf life. Your body can only handle that kind of abuse for so long. So I was looking in 10 years when I turned 60, what am I going to be doing? And so I started looking for something that would allow me to travel work remotely. And I came across Amazon FBA and I was like, Hey, this looks like something I could do. And it took me about five, six months to get something listed on Amazon and been doing really well with it since then.
Bradley Sutton: You say you've been just reinvesting now, even with 50% profit margins. I mean, that's a lot of money over, I mean, if you're making 50 or if you're grossing 50 grand, a hundred grand a month, it's still a hundred percent has just gone back into the business. You're not taking any money out for yourself.?
Ronald Bell: It's crazy. I haven't really taken much money out for myself. Just recently had bought a new car and put money down on a house, but that's about 40,000.
Bradley Sutton: What kind of car?
Ronald Bell: I actually bought my girlfriend a new car. And it's the Volkswagen Jetta.
Bradley Sutton: You making payments or did you pay cash?
Ronald Bell: Pay cash for it.
Bradley Sutton: Next up, we've got a blog post by Brian about a cool way to make money on Amazon with zero investment in zero inventory. In a blog post titled how to sell with merch by Amazon it's time for sellers to get the royalty treatment. Brian writes about why this is a sales channel that's worth waiting in line for.
Speaker 3: With Merch by Amazon, simply upload do all work, choose a product type and color and add a product description. Amazon will create a product page on Amazon. And when customers buy your product, Amazon will handle the production, shipping, and customer service. All with no upfront costs. As many of you have figured out by now, FBA has made it easier than ever to start your own brand, source your own products and generate a side income. Sometimes even a primary income all while being your own boss. Merch by Amazon, Texas a step further by effectively eliminating the need to manufacture your products at all. Merch by Amazon is primarily for three groups of people. Those who have already been selling on Amazon who want to augment their brand with merchandise driven royalties. Those who are hesitant to take the plunge to find and source their own product to sell on Amazon and inventory-less business experience and graphic designers who want to start or expand an existing apparel line with their own unique design skills. Yay creatives. If you fall within any of these three camps, merch by Amazon is worth at the very least a glance. Step one, go to merch.amazon.com/landing and click request invitation. Step two, sign into your regular shop at Amazon account. Then click begin application. Step three, fill out your account page. Step four, input tax info. Step five, this should bring you to the request invitation form, input your industry, novelty t-shirts at developers school, et cetera, business, or brand name, short description. And then step six, now you wait seven to 14 days before you'll hopefully receive an approval letter. If you don't accomplish what you want. Don't worry. Merch by Amazon is forgiving. Upload a new design and try again, although it is poised for big additions in the future, there is one consistent thing about this merch platform. People are always uploading new products and trying new things. If you could make a couple of hundred bucks a month, not doing anything you should.
Bradley Sutton: It's easy for all of us in the e-commerce space to forget that there's still a large brick and mortar retail world out there. 10 years ago, e-commerce made up approximately 5% of all retail sales. Now it's over 15%. That's impressive growth. Still, another way to look at these numbers is that 85% of sales don't involve e-commerce. That's a pretty big potential market. In this next episode of the AM/PM Podcast titled did e-comm kill retail. This retail expert says no and explains the overlap between the two platforms. Tim speaks with Nicole, a well-respected retail industry expert. She's a frequent guest and contributor to various media outlets that include the Today Show, Forbes and even entrepreneur.com. Now, Nicole talks at Tim to help us understand why there's less of a divide and more overlap between the two selling platforms than we might realize.
Nicole Leinbach: Straight to the point, brick and mortar is not dying. Historically, retail has always changed. And if we're in the middle of December, 2019, looking into 2020 and all the conversation was in fact about brick and mortar dying, it was not then, it is not now. It simply is evolving and it will continue to evolve consumers at their core. They want human experiences. They want connectivity to something that excites them and brick and mortar has the opportunity to deliver on that. Is there room for expanded opportunities and ways in which customers might want to have choices? Of course, absolutely. We've seen that already, but brick and mortar at its core is definitely not dying.
Bradley Sutton: Nicole says that a big upside of the traditional retail shopping experience can create an exciting environment for buyers.
Nicole Leinbach: When I look at shopping in general, I look at as an opportunity to be engaged, whether it's through convenience, such as many grocery stores offer or through entertainment, in fact, good buddies of mine, Kizer and Bender they're in the retail space. They do a lot of speaking and consulting. They refer to that as a shoppertainment. And I think that's spot on. Shoppertainment is a very important way for our brick and mortar retailers to approach their business because as humans is that as consumers ourselves. So, even though many of us listening and myself included are within the retail category and making decisions that are influencing the business of retail, we are also consumers and we want to go places that give us what we want from that experience, whether it is convenience or whether it is engagement, whether it's entertainment is ultimately something that is responsive to consumer behavior. And right now in 2020, consumer behavior actually has heightened expectations, right? So, even in December 2019, customers had high priorities and expectations, but now in 2020, we've heightened them. We're more particular than ever. We're more decisive than ever. We're taking in many communities and globally, we're taking actions that are more proactive to make choices on where we shop. And so, this have a huge responsibility to make sure that their customers are engaged and it's not just delivering on that inventory, but it's delivering on the actual experience of their store.
Bradley Sutton: Already lines outside of popular stores are becoming common. And Nicole doesn't think that it's all due to COVID.
Nicole Leinbach: Well, there's ready lines outside of Lulu lemons and Apple stores that people are waiting 30, 45 minutes just to get inside. Now, certainly that's partly in response to limited capacity in the stores, but it does speak to their brand loyalty. It does speak to that consumer saying I'm investing in waiting to physically go into this environment versus order online, right? So, I think that speaks volumes to how consumers really do crave these engaging physical environment.
Bradley Sutton: This next post is a blog that I actually wrote entitled why you need brand registry and how I got it in 10 days.
Bradley Sutton: More and more, we see the advantages of having brand registry in the Amazon ecosystem. First of all, you get access to great analytical tools that Amazon provides such as brand analytics. You can also get so many different avenues for advertising your products, such as sponsored brand campaigns, sponsored display campaigns, and more. Now in this blog, I talk about exactly what brand registry is. And I go over a little bit more into the benefits of brand registry. One of my favorite benefits is the brand analytics where like, for example, I can take the Project X coffin shelf. And I'm just wondering, maybe in July of this year, what were the keywords where the Manny's mysterious oddities coffin shelf was one of the top three that were clicked on after a search for coffin shelf. I mean, the possibilities are endless with what you can do with this information. You also have things such as item comparison and alternate purchase behavior on your brand registered products, as well as demographics and access to Amazon attribution. Now sponsored brand campaigns is something that used to be only available to people who have vendor central. Big brands, right? But now anybody with brand registry can also have sponsored brand ads. So the question is, how can I get brand registry? Why talk about in this blog, how I got it in 10 days using the Helium 10 company's sellertrademarks.com. I went and I got an expedited German trademark that I got in only nine days. And then I submitted it to Amazon. And on the 10th day, they gave me full access to brand registry on this certain brand. So, if you guys want to find out more details about brand registry and how I got it in under two week timeframe, make sure to check out that blog.
Bradley Sutton: It's pretty much impossible to discuss selling on Amazon and not talk about listing optimization. Sellers aren't alone out there and differentiation is crucial. In the next blog post by Lailama Hasan titled the art of Amazon infographics. She makes sure that we're not forgetting about the single most important part of the listings; the images.
Speaker 5: Infographics use a visual representation of data with skillfully condensed information in a neat package. This encourages Amazon shoppers to absorb information fast and make a quick, but well-informed decision. In short, information now is visual condensed. And most of all, easier to grasp. You can take a variety of infographic angles in your Amazon listing images, feature, zoom-in, dimensions, package includes, and icon infographics, but like any beautiful creation, infographics require knowledge and a certain flare of art to track your audience masterfully. Every image has a story to tell, consider what kind of story you're trying to portray and what summarizes your product best. Your listing images should be sequenced in the order of questions that customers will have when selecting a product.
New Speaker: To create such a roadmap for your images, you must first find answers to some basic questions such as number one, who is your target audience, knowing who you are targeting is crucial for deciding what information to include. Number two, what are you trying to achieve? Ultimately making infographics because they are training is not adequate. You need to find out how it can help you establish your audience, gain better confidence and increase your conversions. Number three, how do you give your audience a brick and mortar experience? Putting yourself in the buyer's shoes is the best way to do this. Imagine if you are to see your product for the first time online, what would be the questions that would come to mind, put together all answers to those questions and include them in your infographics. This could be dimensions, material details, installation method, et cetera. When designing infographics, choose a captivating feature heading to bring out the very essence of your infographic. Identify the relevant font for your product category and your brand message. Your selection icon should not only visually pop, but also be visibly clear with the intended meaning. A relevant setting or prop in the background image can help you highlight the features better or make the benefits more prominent. The most important of all, balance. Avoid cluttering too many elements on one side or in contrast, leaving a lot of empty space on one side.
Bradley Sutton: Kian is one of the world's leading product development and sourcing experts. And in this Serious Sellers Podcast episode, he speaks about using micro influencers and Alibaba sourcing tactics to help set yourself apart. Kian says that Amazon sellers who are looking to source in China need to take a close look at Alibaba.
Kian Golzari: It's most likely some time before we can go back to China. So I feel like the sellers, which are going to be very successful are the ones who make the best use of Alibaba because Alibaba was kind of like the only real good solid platform that we have for sourcing products. There are other websites like made in China in 1688, which I'm not a fan of global sources, which is okay. But Alibaba is kind of the best platform and it's really like no, who can utilize a platform in the best way. And from the sellers that I've spoken to, I've actually realized that there's actually not a lot of people who use Alibaba in the right way. And like, for example, like a lot of people just sort of search a product type in a product that they're looking for. But well, I always use Alibaba for, is it like, and I use it a lot more often now because I never used to use it that much. I was always going to China and I lived there for an extended period of time as well. And I was spending like three or four months a year in China, but now I have to use Alibaba. If I'm looking for new products, which you don't have a supplier for. And it's like, when you go to Alibaba, right. And you type in what you're looking for, it defaults under the search to like products. But as soon as the products, there's a dropdown menu and you can change that product is supplier. So, I always use Alibaba to find the best supplier on the platform, because if you're just looking for a product or a price, like you'll get it. Because you'll find really low products and sort of look on Alibaba, but it's going to come with low quality. So, ideally you just want to find the best suppliers. And once you find the best suppliers, then you're going to negotiate your price and all that and MOQ and things like that. So, the first thing I do is type in a product that you're looking for, but select it by product, sorry. It's likely by supplier rather than product. And then you filter out all the junk suppliers by using the verified suppliers and using trade assurance.
Bradley Sutton: I want to do this while we're talking, I'm going to open it on my computer. So, I can picture this because I haven't done this. So I'm just hear in Alibaba.com. And let's say, I want you to give me something to search for.
Kian Golzari: Blue light blocking glasses, right?
Bradley Sutton: Blue light blocking glasses.
Kian Golzari: Yeah. So, then if you just type it in and click search, like under products, you'll have like, I don't know, 10,000. 5,000 products up here. Now switch products to suppliers.
Bradley Sutton: Under the search?
Kian Golzari: Yeah. On the search, you'll have products.
Bradley Sutton: I didn't even know. So I see products, wholesaler and supplier. So you're saying, select suppliers?
Kian Golzari: Yeah. So select suppliers and now click search again.
Bradley Sutton: And then do the search again. Okay.
Kian Golzari: And then now you're going to have like a lot less suppliers. Right. And rather than products.
Bradley Sutton: Ah, so how's the algorithm working here? Do people have hashtags in their bio or something the suppliers, or how is Alibaba doing this?
Kian Golzari: This is super important because like one supplier can list 20 products. And when you search blue light blocking glasses, it's like tens 20,000 listings might come up, but you just want to align with the right manufacturer, not just like the typical product. So, the first thing you should do is be searching by suppliers. And then after that, now your job is to filter out all the junk suppliers and get to the real suppliers.
Bradley Sutton: One of the most popular parts of the Serious Sellers Podcast is the TST, or the 30-second tip. Here's Kian's.
Kian Golzari: I always stress the importance of building your relationship with your manufacturer, right? Because your relationship is going to give you better terms, better credit or prices, better products, all that sort of stuff. But right now we're not really in a position to go to China, but I'm sure a lot of you have heard of the app called We chat right. So I would say right now, if you don't have we chat, download the app, we chat, add your manufacturer there. And you keep all the important terms of the order in terms of like your price and your delivery date, all that sort of stuff should be on email. But your informal conversation of like, Hey, this is when me and my buddies went out drinking this weekend or, Hey, this is my kid's birthday. Here's some photos from what I did this weekend. You want to send those pictures to your supplier on We Chat. You want to build that personal relationship, because when you get very very close, we want to build that relationship. But it's very hard to do that with not being able to go to China, but using the we chat app, you can now build that relationship. So if you have the app, definitely engage more often, at least like once a week, call your supplier, check that they're okay. Send them photos and just do all of that using We Chat and watch how you get better service, better terms, all that sort of stuff. Just by building that communication.
Bradley Sutton: Next up at AM/PM Podcast episode, in which Tim Jordan talks to Erik, a marketing genius that's worked with brands like Alibaba, Pepsi, and Nike. Erik is an expert in Amazon centric digital marketing. And though he's got a very impressive a list of clients. He says that his tactics are as effective for a single seller, just getting started as they are for major brands. The company that he founded now has over 150 employees in multiple countries and is valued at more than $75 million. Still though, he says his first year of sales told only $350. When asked about when it's time to hire an outside agency. Erik says that it's not necessarily an either or decision.
Erik Huberman: I'd say it's not binary is actually my answer. It's sometimes you do like, it depends on the stage of your company. It depends what your needs are, but they're in, that's why you have to understand the benefits and drawbacks of both. And don't get emotional about it. That is the biggest failure I see in brands is they get emotionally charged by the idea of owning it. And so they decide to hire mediocre people, but they own it. I'm dealing with this with a client right now that is brought someone in house. It's like a junior marketer that is now firing a team of five experts because this junior marketer is going to supposedly handle everything. And it's like, things are working really well. You're now breaking. And this has happened over and over again. We hear, Oh, we'll come back. When you know, things don't work. We can always come back. And I try to explain like, no, that's when it's too larte.
Bradley Sutton: Of course COVID has forced many businesses to make changes. Erik's included.
Erik Huberman: In a situation like this, the strong survive in the sense of like, you have to go on the offense, you can't get defensive and pull back and get play scared and run away. You got to pivot, adapt change. There's some very large companies that can afford to just hold off for a little while. But most businesses can't afford to just go dark for six months. So you have to find an alternative. And we, in the beginning of this return to the idea of like the three week, three month, three-year model where it's like, COVID is going to last three weeks, three months or three years. So, let's just assume those are the buckets because we have no idea at three weeks, nothing's going to happen. It doesn't matter. It doesn't even, we don't even have that discussion. So, let's assume it's three months at three months, you've got to probably make some of– you have to adapt a little bit, to make some money, to figure out how you're going to get through three months. Three years, I was like, if this thing like shuts down the road for three years, the whole world's changing.
Bradley Sutton: We're all spending more time in front of our screens these days. There are side-effects.
Erik Huberman: In terms of like webinars, zoom meetings. That kind of stuff is starting to there's a lot of fatigue and zoom fatigue is like a term I've heard a hundred times now, which is valid. I have it like I've started taking less video calls and just getting on my phone. And even if I'm just pacing around my living room and our laptops right here, it's like, I don't need you to be staring at me, but I know I'm like, it's even subconscious. Because I'm like the least insecure person on the planet, but I'm sitting in front of my computer, staring at my camera and I can't move because– and I normally do pace when I talk. So I think that even subtle things like that cause it, and so what we're talking about is like going past the idea of broadcast into the idea of true engagement and interaction.
Bradley Sutton: Amazon has such a large presence in e-commerce that like the sun it's sometimes blocks out everything else. If you look carefully, you'll see that there's a surprising number of sales channels that you might have overlooked. In this story, I look at a company that since 2001 has been fulfilling orders for some of e-commerce is rising stars. Now, they're giving Amazon sellers yet another way to diversify. New egg was founded as a retailer of electronics, computer parts and gaming products, but it now has expanded its offerings to include health and beauty, automotive, apparel, and more. Daniel and Greg from new egg are here to talk about how the company has now evolved to become an interesting sales channel or e-commerce sellers. Not surprisingly New egg has a sales model that mirrors FBA.
Daniel: There's also a shipped by new egg, SBN. So close, but not quite the FBN. And that is basically where it's very similar where sellers can ship their inventory to one of our warehouses, either a couple of our warehouses in California, either in New Jersey or in Indiana, and then the orders come through and they will be very similar to FBA, fulfilled through those warehouses.
Bradley Sutton: The online selling landscape is constantly changing. What is new egg see on the horizon?
Daniel: One of the things that we are seeing is that home living, so let's say like vacuums, cordless, vacuums, air purifiers, small appliances. These are things that really have growth potential that we've been seeing start to pick up steam, especially in this last year. And additionally, of course, taking a step outside of the real hardcore, components element, consumer electronics are big on new egg and continually growing in terms of like TVs or headphones and things like that. But really when at some of the trends we're seeing are like those home living supplies, massage chairs and personal health and grooming, and those kinds of things are growing as well.
Greg: Yeah. I think you'll see a trend, especially with new and what's happening with the world right now at COVID. New egg has been strong over with tech electronics and systems. So, we are seeing the continuous growth, but we're seeing it in this space where though now in a different space, so traditionally has been PC gaming or work-related now. Now because everybody is at home. So the tech there's a lot of emerging tech that's coming on that is trying to make our at home living or at home working more comfortable. And those are the items that are constantly growing right now that we think will be the growth category for at least the next few months or until we have a solution for COVID.
Bradley Sutton: Okay. Let's say that new egg looks interesting. How do I get started?
Greg: We have actually prepared a little bit of something for our Helium 10 listeners. So, just go on newegg.com/sellers/helium10, and you will be able to look at the offers that we have prepared for them as well as the application. So once you sign up, we'll definitely reach out to you, understand the sellers go and how we can help them. We can onboard you as a new egg seller.
Bradley Sutton: The next blog is entitled Project 5k, a real case study on how to get started on Amazon with $5,000.
Bradley Sutton: Now, Project 5k is not to be confused with Project X, all right, Project 5k is something I started last year, kind of behind the scenes. And the first iteration of it is I launched 12 different products for a total of only $5,000. A lot of these were kind of very cheap products, right? So, what I decided to do as I continue with Project 5k, that original one is I also started another few products each with $5,000 as a budget to try to show how you can scale faster. Now those original 5k products were still doing well. Those straws, there's a lot of cheaper products I had done over from June to September grow sales were almost $15,000. So, those products were still doing well, but I wanted to kind of start something new to prove that, Hey, when you put it all into like one or two products, you can actually scale a lot faster. So, one of the products that I did, it seemed to have a lot of demand. This is something that I had found where there's only one established competitor on Amazon in the niche, but it was fundamentally a different kind of product. So I was using black box and brand analytics, and I could see that there was a seller selling something similar to what I had in mind, but he hadn't been in stock in a while. Now, looking at the BSR in sales estimate history and Helium 10 x-ray. I could see that when he was in stock, he was a decent seller. And he was selling it in the field $40 to $50 price range, which to me was pretty much desirable. So, I ended up getting a quote from the sourcing agent in China on this product. And then I plugged in all of that information into the profitability calculator I put in, Hey, I want to sell this almost exact same product. And I want it to be like about $41 in price. And I'd also like it to, or I also consider it's going to cost this much as ship, et cetera, et cetera. And it came out to say that, Hey, it was going to be about 30% profit on this 13 to $14 per unit. So I'm like, Hey, let's do this. I went ahead and ordered 500 of it. And I launched it using this Maldives honeymoon thing that I'm about to say in another broadcast, I'm going to be giving this to you guys in another podcast. We're going to talk all about what exactly is the Maldives honeymoon. But anyways, I had a chosen the main keyword was about 4,000 searches. And now the CPR for that keyword was about 100. CPR is a number in Helium 10 that says how many units you have to do to get to page one.
Bradley Sutton: But I had faith in my strategy and I only did eight units for a 4,000 search volume keyword. And by day five hours at the top page one, position one. Anyways, guys, this blog goes a lot more in depth onto how I launch this products and give you guys some probably pretty astonishing facts and figures as far as the numbers and how I got to page one on this. But if you guys want to check out the rest of that article, make sure to do so. It's at helium10.com/blog.
Bradley Sutton: Now we've got a story. We have an Amazon seller that did so well with PPC. She sold out of her product in less than a month. If you're just starting out on Amazon, you might be concerned about what your first launch will be like. You've heard of many people talk about failing with their first product. At Helium 10, we feel it's never the case. Even if you don't make money with your first product or your sales don't go the way that you had hoped. Everything that you learned by actually starting to sell on Amazon is invaluable. Karyn Thomas, a brand evangelist here at Helium 10, had the opportunity to speak with Thyna an Amazon FBA seller who just launched her first Amazon product. Here's part of their conversation.
Karyn Thomas: Hello, everyone. I am so excited to be here today. My name is Karyn Thomas and I am a brand evangelist here at Helium 10. I am so excited to talk to you. I mean, you are such a big deal and it is an honor that I get a chance to interview you and learn about your Amazon journey. So, thank you so much for joining me today. This is so fun. So Thyna. Can you tell me a little bit more about how you got into this fun world of selling on Amazon?
Thyna: So it was accident. I wasn't aware about the FBA universe and I worked with a lot of people. So for me, I was kind of like looking for something that I could do on my own and not having to rely and wait on anyone else. So I accidentally found a YouTube video and it caught my attention. I stopped the to watch it. I was like, Ooh, this is interesting. Maybe I can create my own label, my own brand and getting to this FBA universe.
Karyn Thomas: So, can you tell me a little bit more about how you found a product? Because I think for a lot of people jumping into selling on Amazon, that's the scariest part. How do I find a product and how do I know what's going to be a good one. So, can you tell me a little bit more about your process and how you found a good product?
Thyna: I knew I couldn't be like emotionally attached to something like, Oh, I think I can sell, I don't know, dog collar, and then just think about, Oh, that's what I want to do. I want to hit the dog path market and sell dog collars. I knew from the get-go I couldn't have these attachments, so it was all data. So, I created an Excel sheet with maybe a hundred products. The X-ray on Helium 10 and collected the data. And then I analyzed which one had less competition and most potential for profit. So that's how I found my project.
Karyn Thomas: So we finally got your product on Amazon. And then can you tell me about like your launch and how your launch went and how you're doing right now with sales.
Thyna: So for my launch, this is my first baby, right? So, I'm just like learning throughout the process. So, I didn't want to get myself too overwhelmed either because this is the first time that I work on sales. So, the first time I'm selling anything like product Y and so I was like, okay, let me, I know a lot of people want to launch fast and do everything fast. And for me, I didn't want to get overwhelmed with my first product. So, I decided to do a very basic launch, which was basically at PPC and coupons. So, it didn't do any giveaways. I didn't do any outside marketing, like Facebook campaigns or anything like that. I wanted to really focus on PPC mainly and master that side of the business. Everything for me is a lesson learned right with my first product. Yeah, I know I'm going to like learn a lot. And like you said, if you want to answer when the FBA and thinking that it's going to be a side job side hosts, so he'll make a lot of books. That's not true. You got to take it as a serious business and dedicate yourself everyday to it at least one hour a day if you have another job, but I try to do that one hour a day at least. So, unfortunately I'm not quite sure what my TACOs are, but as soon as I'm not out of stock again, and my inventory gets into Amazon, I'm going to keep track out of that too.
Karyn Thomas: So, I mean, you mentioned that you went out of stock, which is so cool and so crazy. I know it's like, you wish it didn't happen. Right. But it's like, it's pretty impressive when that happens. Because it's like, you didn't even anticipate like how much you would sell, like, because it just went way better than even anticipated. Right. So can you tell me, like you said, it was a month, is that correct that your inventory went out of stock? Amazing. So how do you mind if I asked it's kind of a personal question. So you can say no, but do you mind if I ask, like how much revenue you did in sales over that month?
Thyna: I did. Because it's my first product, I didn't order a whole lot of product. So, it was 17,000.
Karyn Thomas: That's amazing. Thyna your first month? 17,000. Oh my gosh. That is seriously incredible. And that's only from doing, like you mentioned, you gave away 25, the first 25 people got to keep on for $5 off. And then the rest was just launching with PPC, using Helium 10's add tools.
Thyna: That's correct.
Karyn Thomas: We'll Thyna, thank you so much for coming on today and giving us your valuable time to share your wisdom and your experience.
Thyna: Thank you, you guys, if it wasn't for Helium 10 honestly, like I would probably have him giving up on it, but my advice is don't give up, like there's always a solution and you are going to get really happy when you're able to solve that problem on your own.
Bradley Sutton: All right guys. Well, there, you have it. There is another episode of the best of Helium 10's written content and also audio content. We went over some great episodes of the Serious Sellers Podcast, whatever you're listening to right now, you can actually go back and find those episodes here on your Spotify or Apple podcast player. You can also see the AM/PM Podcast that we went over today at ampmpodcast.com or again, whatever podcast player you have. Of the written content that we were able to give you guys snippets of, you could see those at helium10.com/blog. Well, we thank you guys for tuning in and we'll see you in the next episode.