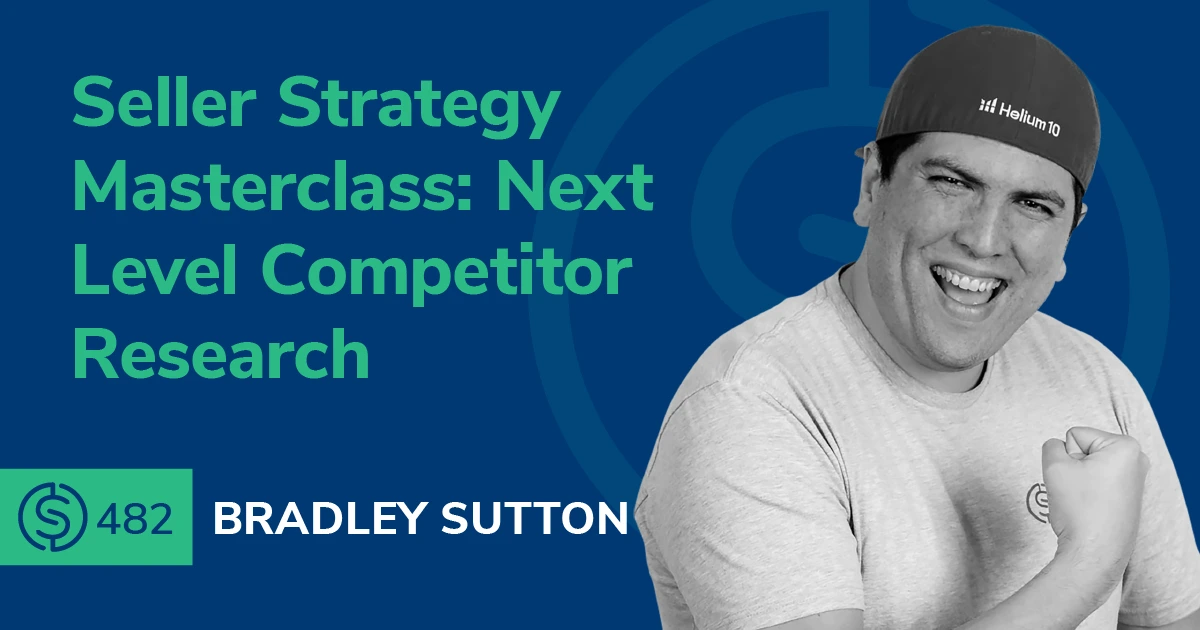 #482 – Seller Strategy Masterclass: Next Level Competitor Research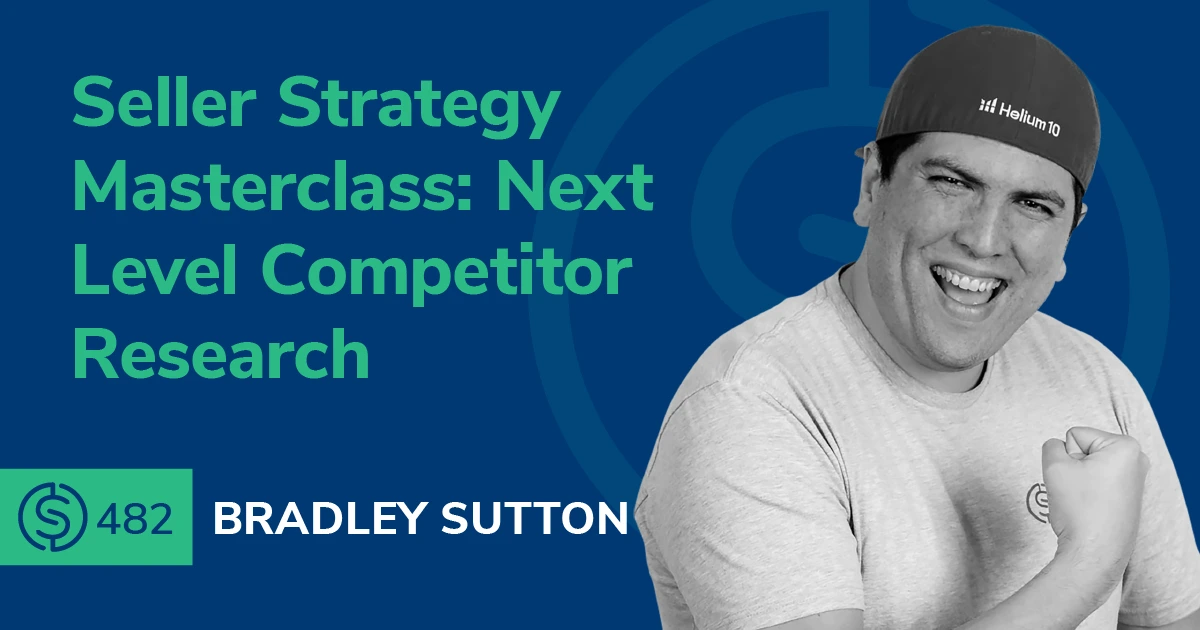 Video of the episode at the bottom
In this information-packed Seller Strategy Masterclass episode, Bradley dives into the world of advanced competitor research and alerts using Helium 10's powerful features. From unlocking historical keyword insights for seasonal products to harnessing the trend-tracking prowess of the "Show Historical Trend" button inside Cerebro. Discover the strategic advantages of the Cerebro "Time Machine" and uncover hidden opportunities by examining significant drops in your competitor's BSR. Bradley unveils the true value of these features, guiding you to reverse-engineer your competitors' success on a month-to-month basis and offering insights into top-level competitor information.

Bradley also teaches your, how to set up tailored alerts from competitors' listings, customize your notifications, and gain priceless insights into pricing and coupon strategies. Join us to grasp the immense potential of these new features and create an unfair advantage against your competitors with your own suggested insights. Let's learn how to elevate your Amazon game today!
In episode 482 of the Serious Sellers Podcast, Bradley discusses:
01:31 – What You Will Learn In This Episode
03:00 – Using Cerebro History For Seasonal Products
07:31 – The Cerebro Show Historical Trend Button
11:51 – How To Use The Cerebro "Time Machine"
13:25 – Look At Big Dips In BSR
14:29 – Why Are These Features So Valuable
20:43 – Reverse Engineer Your Competitor's Success On A Month To Month Basis
23:54 – How To See Top-Level Information For Your Competitors
25:19 – Getting Alerts From Competitors Listings
27:04 – How To Customize Your Competitor Alerts
28:07 – Getting Insights On Pricing And Coupon
29:21 – How Valuable Are These New Features?
32:36 – Suggest Insights That You Want To See In Helium 10
Transcript
Bradley Sutton:
Today in our monthly Seller Strategies Masterclass, we're gonna be going over some amazing features that you should be using that's gonna help you see what your competitors are doing on keywords on a month to month basis, going back to yours, and allow you to get notifications on if they change their price or add a coupon to their listing and much more. How cool is that? Pretty cool. I think
Bradley Sutton:
You wanna know what keywords are driving the most sales for listings on Amazon. To do that, you need to know what highly searched for keywords the product is ranking for. Maybe at the top of page one, you can actually find that out in seconds by using helium ten's keyword research tool, Cerebro. Now, that's just one of the many, many functions that make this tool my favorite tool in the whole suite, and it's the most powerful keyword research tool ever created for e-commerce sellers. For more information, go to h10.me/cerebro. Don't forget to use the Serious Sellers Podcast, discount coupon SSP10. Hello everybody, and welcome to another episode of the Series Sellers podcast by Helium 10. I'm your host, Bradley Sutton, and this is the show that's a completely BS free, unscripted and unrehearsed organic conversation about serious strategies for serious sellers of any level in the e-commerce world.
Bradley Sutton:
And today, we are going to be going over some kind of like game changing features of Helium 10 here, where these are strategies that you should, guys, should be using, whether you're using Helium 10 today, or maybe you, you're using another tool that might have the, these strategies. I'm not sure if anybody else can do what I'm about to show you today, but for some of you who aren't elite members, a lot of this will be game changing for you because you've never had access to this. But I'm gonna be showing you guys how to look at the history of where somebody was ranking in a certain month. There's a plethora of applications for it. We're gonna be going over that today. You're gonna be able to see what was like their Cerebro, or where were they ranking organically?
Bradley Sutton:
Where were they ranking in sponsored ads of a certain month of any time in the last couple of years? You know, where were they showing up in Amazon? Recommended what was the search volume of those keywords when they're ranking for it? And this is going to be great if you've got a seasonal product that you're just about to launch. It'll be great to just look at your current products, to look at your competitors, what they've been doing in the past, just there's a never ending list of, of kind of cool things that can come from this that you cannot get anywhere else in Seller Central. This is not something that you can get in Search Query Performance because it's for your competitor's products. And then I'm also gonna be showing you some ways to track your competitors that you've never been able to do before or that you had to do manually.
Bradley Sutton:
So let's go ahead and hop into it. Now, the first the first kind of use case I want to give is, let's just say you've got a seasonal product, like something related to holidays or maybe it's, you know, like a Valentine's Day product or Christmas or something like that. Now, let's go ahead and just use something. Let's pretend that we are gonna do Christmas straws. I used to do a lot of straws on, on Amazon for Project 5k. I still do a lot of straws. So let's just say I wanted to relaunch on Christmas straws. So if I were just to type in Christmas straws here, I spelling this, right? Yeah, Christmas straws. You know, I'm not sure these products are not selling well, you know, like these two aren't even selling like 50. Because, you know, here in, in August, people are not exactly ordering Christmas draws unless they're really trying to get ahead of the curb.
Bradley Sutton:
So if I were to choose this and run cerebral on it, you know, would I know a lot of the main keywords? You know, probably, but, but they're probably not even ranking for that many keywords. Let's just take a look at some of the estimated sales here, but the, these products are probably not doing many sales at all. And so the keywords that they're getting sales from, the keywords that they're ranking for also will not be the kind of true keywords that they are getting their sales from during Christmas time, right? So what is the way that we can find out? Well, first of all, are these Christmas straws even in stock? Like I, am I even looking at the bestseller just because it's page one, you know, position one and two and three and four and five are they the best seller?
Bradley Sutton:
So let me just show you how to do that. And yeah, look at this. A couple of them are only doing 109 hundred units of sales, but this is across the whole, across all of their variations, which they've got tons of variations in this listing, but these are not the best sellers necessarily at Christmas. So what you can do is you go to brand analytics, And I am going to look at, as you can see here, I'm gonna look at brand analytics, top search terms, and I'm going to go to reporting range monthly and select year 2022, and then I'm going to go to December of 2022, and then I'm gonna type here under search term Christmas straws. Now take a look. The number one keyword for Christmas straws was Christmas straws. And the, the rest of 'em are just long tail keywords that have Christmas draws in it.
Bradley Sutton:
And let's just take a look at the second one here. Let's see, how did they do? They had 6% of the click share and 6% of the conversions. This was the number two listing for all Christmas draws in December during Christmas time of last year. So let's look at this listing now on Amazon. And look at this guys. It's unavailable. This product is not even in stock. So if I was just looking at Cerebro on the top products right now, I wouldn't have even seen this product on Amazon, right? And if I were to run Cerebro on this product, now it's not gonna show me anything useful because it's not even in stock. So it's not even ranking right, right now, right? So this is what you can do. I'm going to take this and go ahead and, and I'm gonna go ahead and put it in cerebral, okay?
Bradley Sutton:
It's gonna run cerebral. I can click on keywords right here inside of the actual Amazon listing. It looks like it actually was in stock recently. Just went out of stock a few weeks ago. But let's go ahead and run Cerebro on this. And you'll see probably not that many keywords are going to show up now because it hasn't been in stock in a couple weeks. So we still have the history. It wasn't stock within 30 days ago, so there's still a lot of keywords here, but almost none of these have any significant search volume you guys see here. Almost all of these are like, you know, 200, 150, some of them zero search volume. So this is not really gonna tell me what the best keywords are, but watch this. What I'm going to do is I'm gonna hit this button.
Bradley Sutton:
Now, this is something that you guys who are diamond members and above now have access to Elite members have had this for a year. This is something that I, I've always wanted for years and years. We were able to launch it last year for Elite, but now it's available for Diamonds. So you Diamond members. I mean, lemme just kind of preface this with, with how amazing I think this is. I would've paid for Elite membership just to get this. I would've paid the $400 for Elite just to get this feature. That's how powerful. It's now it's available to Diamond members, you know, and you only have to pay like $150 more for it. More than worth it just for this feature, let alone everything else that the Diamond has. And you guys know me, I'm not like some software salesman where I'm, I'm gonna tell it to you straight.
Bradley Sutton:
That's how valuable this is. Now, why? Let me explain, watch what happens when I hit show historical trend here, which is now the new thing that you d members have available. It's gonna show me the history of this asin. And as a matter of fact, I wanna make, you know what? I wanna make sure that only this listing is th this might have had other variations in this. So I'm gonna hit exclude variations. That's something important that you guys should do. Now, it might, it might, it might just come out with the same information. But whenever you're in cerebral, if you are in a variation listing, and the listings are very different, like there are in the Christmas category here, or in the straw category, I should say hit exclude variations to make sure you're only analyzing this ace. And sure enough, the number was different here.
Bradley Sutton:
But anyways, I'm gonna look at this show historical trend. And, and look at this guys, you could see how many keywords they were ranking for in history, In July, June, may, April. Obviously they, they weren't even ranking for any keywords and they probably weren't even showing up in the search results for many products. They probably weren't even in stock. But then look here in December, you could see that they had 613 organic keywords and 618 sponsored keywords. So what you do is you then hit this month of December. 'cause Obviously that's when they probably sold the most for this product. And then I'm gonna hit apply filters. Now, here's where the magic happens. Now all of a sudden I am looking at Cerebro as of December of 2022. In other words, Christmas of last year. So now this top selling product per brand analytics for this keyword and this niche, I can now look at why were they the top selling product?
Bradley Sutton:
What keywords were they getting sales from? And so you can just take a look here. Let's go ahead and search for anything that's over like 300 search volume, where maybe their organic rank was between one and 15. Let's go ahead and apply. And then right here I could see the top keywords for this product. Christmas straws paper, looks like they were even getting some action on Halloween straws for some reason. That's kind of interesting. So yeah, I wouldn't have expected that. Paper, Christmas straws, paper straws, there are one of the top ones. So they were getting a lot of sales just from regular paper straw keywords Christmas, plastic straws, Grinch straws, holiday straws, all of these keywords that probably have no search volume now or very little Now I can see which ones they were getting sales from. And now I know which keywords that if I am going to make Christmas straws, what are the keywords that I need to start ranking for now in August to get ready for December?
Bradley Sutton:
Alright, so there's one use case. I hope you guys can see the value in that is if you got a seasonal product and, and you're wanting to make sure that you have some special PPC campaigns, oh, by the way, speaking of PPC, I could see what, what, what were they putting their money in as far as PPC goes. I could go to sponsored rank one to 10 and just see what keywords they were paying for top of search placement. Let's actually go one to five, so that's more towards the top of the page and take a look. Now I could see which keywords that they were showing up for in sponsored results are very high, right? But that's the first use case. You gotta, like I said, you've got a seasonal product. It's, maybe it's a summer product, maybe it has nothing to do with holiday, but it's maybe something that's only for summer or only for winter, and you are not in that time period.
Bradley Sutton:
You know, like, let's say it's a St. Patrick's Day, or let's say it's spring decorations. Well, people are not usually buying spring decorations in August. So whatever's showing up in Amazon right now is not going to be the best, the indicative of which products were the top ones and what their performance is, what keywords they're ranking for in springtime, right? So any ASIN at all, even your own ASINs, you put into Cerebro and then hit the historical trend and now you can see Cerebro as of those days. Now, I could also do this for a multi ASIN search as well. The same way that you guys do multi ace in searches in cerebral. So I could see, hey, where is everybody kind of like ranking for overall? Alright, now that's one use case. Now for another use case of how you can use this Cerebro historical data.
Bradley Sutton:
I call this time machine, cerebral time machine, how we can use it in order to analyze what the competitors have excelled on. Let's go ahead and, and go into the niche of egg trace. That's something that Project X has a lot of. And so maybe I want to take a look at one of the competitors here who have been selling for a while. Let's go ahead and run. I'm gonna run X-ray right on this page, and I wanna find somebody who has been selling products for a while on here. Let's take a look. So I'm gonna look for somebody who's been selling for a while, at least like a year or two. And then let's go ahead and see if I can find something that will show some kind of seasonality with their, with their keywords. So first of all, let's go ahead and say at least estimated sales.
Bradley Sutton:
I want somebody who's been selling at least a hundred units a month, okay? So of the ones who have sold from at least a hundred units a month we see here, here's one that was made in 2021. So let's just take a look at his listing, see if it's relevant. It's a egg tray stackable. All right, this is cool. So, so this guy's been selling for a while. So what I might wanna do is I'm going to look at his BSR chart because I want to see when it, or if he had any kind of like really peak times of sale. So I'm gonna go to all time on his BSR chart, and then let's take a look here at when he was selling really well. And there's not too much, like this guy is not that his sales don't seem that seasonal, all right?
Bradley Sutton:
But however, look here, there is kind of a dip here in a couple of BSR dips. So I'm looking here, let's just say that he had a bigger dip here in March of 2023. So how I can use that information is I would go to, again, hitches this keywords button and now it's gonna open up cerebral for what's going on right now, which of course is, is valuable in itself, but what I'm gonna be looking for is how to tie in his increase or decrease in sales to keywords. Now, I, you couldn't really see it. I'm just doing this live guys, so you know, I didn't pick a great one right there, but you'd especially be mindful of your competitors who have big dips in their BSR or big increases in their BSR, meaning that their sales go way down.
Bradley Sutton:
So what you do is you run Cerebro, and then I'm gonna hit again the show historical trend. And let me look back at that month where he was doing a lot. Now look at this, I said March. Look, all of a sudden he went from 48 sponsored keywords to 401 sponsored keywords from February to March. So that's in interesting in itself. So what I would do is I would go here and I would choose this month, and I would now look at his keywords that were from March of 2023, and then I would take note of what he is ranking for organically high. Now, what I would do in another window, let me just show you guys here, and now I, I probably download this there, there's other ways too, I could do it. But what I would do is I would look at, I would open up another window and I would look at the month where he wasn't really doing much.
Bradley Sutton:
Like in February, like let's say that his, his keywords, his sales went up in March. So I would go ahead and open it up. Let me go ahead and do that right now. So I would open up another window of cerebral and let me look at their previous month where maybe their sales weren't as much. And then I'm going to compare what is going on here between these two months. So here I have March, I'm gonna go ahead and put minimum, let's just say 500 search volume and let's go organic rank one through 10 for March. And let's do the same thing. Minimum 500 search volume now that I'm looking at February and look at organic rank one through 10. Okay? Now let's just take a look here at their main keywords would an egg holder, counter egg holder, et cetera.
Bradley Sutton:
And what I'm looking for is something that went up from February to March. So let's see, wooden an egg holder, he was number one in March, but in February he was number one too. So we know that he didn't get extra sales from that keyword counter egg holder, he was number four, he was number two before. But look, look here, there's a couple of keywords I can tell already that is not even on here. And as you can see here, in March, he was ranking position six for this keyword egg storage for countertop. Let's see where he was ranking in February, because I don't even see that keyword here. So let's just open this up to maybe rank 50. And then let's look for egg storage for countertop. I don't even see he was not even ranking guys in the top 50. So guess what?
Bradley Sutton:
If there was an increase in sales in February to March, which there was, we now know that we can tie some of that increase in sales to the fact that he was now at the top of the page for egg storage for countertop, wherein in February he was not even ranking in the first 50 positions for this keyword. So you guys see the power here you would do it the opposite way. Let's say that somebody, one of your competitors had a really bad month of sales, you saw that from his BSR, like he normally gets around, you know, 5,000 B S R and then the next month his B S R was like 15,000 or 20,000, right? So his sales obviously went down. Well, now what I would do is I would do the same search that I just did right here, but I'd be looking at where did he lose keyword rank and now what does this do?
Bradley Sutton:
This is going to show me what are the keywords that I really need to maintain my rank on. You know, like sometimes we have this idea, hey, I need to be at the top of the, the search results for all these keywords, but you really want to be top of the search results for the keywords that have the best chance to bring you sales. So what can we learn from this, this lesson here? Look at your competitor's listings or even yours. You know, if you don't have Search Query Performance, you know, this might be the only way you can do this, but look at your competitor's sales history on when they had super great months or super bad months, and then look at the previous month and compare it to the month that they did super good or super bad. And now see if you can tie certain keyword ranks going up or down, tie that to their sales going up or down.
Bradley Sutton:
And now you know, like, hey, if my competitor lost sales because he went from the top of page one to page two for this keyword, well, guess what? I better make sure that I don't lose the top of page one for this keyword. I'm gonna make sure I, I bid heavily on sponsor ads or the opposite way. Now you know that, hey, during this month, this competitor increase in sales and it's because they got to page one for this egg holder countertop keyword that I wasn't even paying attention to. Now, you know, that's an important keyword. So that's another way that this is super, super valuable, this Cerebro time machine or historical trend feature. Now, let's just say that you're doing a multi ASIN search. Like for example, maybe I'm I'm back on that egg tray page. I'm gonna say, Hey I wanna run all of these stackable egg trays all together at the same time in Cerebro.
Bradley Sutton:
So I just select them all and then I hit run Cerebro. And now what I can do is, again, going back to the show historical trend, I can actually see at a very granular level this whole niche, like, look at this, these products weren't even doing that much back in 2022, but I can see overall these products have gotten stronger on their organic placements. All right, if I hit this button products, I could see at the product level how many keywords they're showing up for organically, right? Let's go back to this keyword type. And what I can do is I can see, I can click on each of these ASINs, I could see that this product has only been around for three months, and then I could see how are they doing and sponsored and organic. So take a look at this one here.
Bradley Sutton:
I just clicked on this one ASIN, I could see that in December, for whatever reason in April, they actually don't run any sponsored ads at all. So there's another insight I can get like, hey, if my competitor turns off their sponsored ads in December and February, well now I know that I can go ahead and crush them on sponsored ads during, during this time. Here is another product that I clicked on. And as I'm looking over time, I can actually see that he is turning down his sponsored ads because of it. He's actually losing his organic placement. Like look at this from July to August, I can actually see that his organic keywords have gone down and you could tie it directly to maybe a decrease in his PPC spend. I mean the, the, the possibilities go on and on guys.
Bradley Sutton:
The reason why I always wanted this tool was because I love Cerebro as is, you know, like I love to be able to look at where a product's been ranking for somewhere in the last 30 days, but so many times I want to see what their situation was in a certain month of the year, like going back maybe two years, maybe I wanna look back at the last two Christmas seasons how they did. And now this is going to allow you to reverse engineer your competitor's success on a monthly basis throughout the year. And also spot trends like maybe you see that your competitors, they're increasing in the keywords that they are showing up for in search results. Maybe it's decreasing. Maybe you could see are they spending more money on PPC? Are they spending less money on PPC?
Bradley Sutton:
There's so much things that you can do. So again, if you have a diamond account, hop into cerebral and look at the historical trends ASAP. If you do not have diamond, you just have platinum. Trust me guys, the value you can get from this, I cannot even put into dollars how much value you can get. I mean, imagine if I was selling those Christmas straws how much money I can get by making sure I start ranking for the right keywords in August and September when it's super, super cheap as opposed to waiting until December and then let me run Cerebro and see where my competitors are ranking for. I mean, you can't even put a dollar value on that, you know, because it's gonna cost so much less to get ranked for these keywords when the search volume is low because I have the visibility on it and not having to wait for this year's information.
Bradley Sutton:
So guys, if you don't have Diamond you can use one of our discount codes like SSP10 to upgrade and get a 10% off discount if you haven't used a coupon in the last couple of years. So SSP10 will get you that discount, but guys, get this right away. Alright, the next thing we're gonna be talking about today, we are going to go into Insights Dashboard, speaking of competitors for something that I think is really gonna help you monitoring what is going on in the competition. And again, this is something that you know, Diamond members can get full access to you Platinum, you have limited access to this, but you can also get some information here and enter some competitors. So if you look on your dashboard you have the, my product table, right? And I, I have all of my, my product families here.
Bradley Sutton:
You can see me. Here's my coffin shelf and my coffin egg tray, my stackable egg rack and some egg trays here. But what I want you guys to do, and you might see this for some of your products, is click this down button and then click on competitors. And this is a section where you need to put your top five competitors who you think are the most, like your product that you are battling sales for. Now, some of you might have this already, and that's because Helium 10 might have put some competitors here. But what I want you guys to do is, you know better than Helium 10 what, who your competitors are. So you can edit your list here and, and pick which ones are your top competitors. You know, maybe just drop the ASINs in here or, or just, you know, do a, a quick search for them.
Bradley Sutton:
But what I want you to do right now, you know, you can even pause this episode and do this and do this and pick this up later, is for all of your top products to put your competitors here. Now let me just show you the kind of fire that comes from this. If you do this, the very first thing is now anytime I can just click here and I can see some top level information for the comparison. Like what's their current price, what's their current sales, what's their current revenue for the last 30 days, what's their listing quality score? For the buy box, is it FB A or FBM? Does it have variations? Coupon this guy is running a 5% coupon. All right, this, this has never been available inside of Helium 10 before. Let's take a look.
Bradley Sutton:
If he is running a coupon, lemme just take a look at this coffin shelf right here. There it is right there. You see he's got a 5% coupon, right? So you can just see that instantly right in here inside of, of your competitor dashboard. The other thing I'm going to be able to do is if I have all of them selected, I can go ahead and run them all in Cerebro or I can one by one run them in Listing Analyzer. Or maybe I want to see, hey, for this product here what is showing up in the frequently bought together for this coffin shelf competitor, I hit analyze and then I hit product targeting in black box and it's going to go ahead and open it up right here. And I could say, Hey, show me everything that has been show that is showing up in frequently bought together.
Bradley Sutton:
And now I have the full list of products that are frequently bought together with my competitor products. Those are great for product targeting ads, et cetera. Right now, that's just, this is just the beginning guys. This is what you're gonna start to be able to do. So what you're gonna start seeing is you're gonna start getting these insights and alerts for when competitors do things like, for example, I got one here that a competitor has updated their listing. So I'm gonna take a look at this and see what they actually did. And I can see here that, you know, this is obviously not my competitor, this is a shoe here, but we just threw in some random competitors. Oh, I can see that my competitor changed their title and now I'm gonna go see, well, what did they change it from? Two.
Bradley Sutton:
All right, so maybe there's something going on there. I wanna look at that. Maybe they changed their image, maybe they changed their bullet point. You are gonna start to get these insights or alerts on your competitors' products. I mean, we've always been able to do that on our own products, in, in alerts, the Helium 10 tool alerts. But now if you have specified your competitors in your Insights dashboard, you are gonna get alerts on what your competitors are doing. And this is something that hopefully you are checking on on your own, but maybe you had to hire somebody to go look at all of your competitors listings every day and say, Hey, who changed their their image, who changed their title? What's going on? Now you are gonna get those insights. Other things you might get insights or alerts on is, for example, look at this, five competitors, BSR sales or review counts have drastically changed.
Bradley Sutton:
So let's just take a look at that and let me go ahead and open it up here and then I can see, all right, well look at this. B S R they went from their BSR in one day changed by 5,000. Good grief. Alright their sales went to went down. So you can see these little like little magic buttons right here. That means that there was something that changed. Now here's the thing. Maybe you don't care if somebody's BSR goes down by 25,000 because it's not that big if they were at 277. So you can actually go in and customize how you want to get these alerts. Like maybe, hey, I only want to get BSR insights if their BSR gets better than myself. Or maybe their BSR increases by 20%, or maybe it decreases by 20%, or I just wanna know if the review count increases by a certain number percentage or decreases by a certain percentage, that's what you want to get inside.
Bradley Sutton:
You know, maybe the reviews you know, Amazon takes away the reviews and you want to capitalize on that by going harder on your PPC. Like, you know, sometimes Amazon might take away all the reviews of a competitor, right? You know, and just, and they'll give it back. But maybe that during that time you want to, you know, capitalize and pounce on it and, and go a little bit harder in PPC. Well now you can know when your competitors reviews are taken away. Maybe you want to get a notification if their sales drastically increase or decrease in a day. 'cause Maybe you know, something is going on. Another thing you are gonna start getting insights on is your, their pricing, right? This is super, super important for a lot of you is what are your competitors doing with pricing and coupons?
Bradley Sutton:
So you're gonna be able to specify what kind of insights you get and when. So for example, for these coffin shelves, I see, oh, this one sourpuss Coffin Shelf, they raise their price. Oh, now this goth vanity, they had a coupon and now they don't have a coupon, right? They don't have a coupon going on. So you can get notifications, and again, these are customizable. So hey, a coupon was offered or it's no longer offered. If the price increases by a certain amount or a certain dollar amount, or the price or the price decreases by a certain amount, all of this, you are going to be able to specify and say, Hey, I want to get notifications or insights on this. Guys, this is really powerful because hopefully you were checking some of these things before, but you probably, it was probably a very manual process to monitor when your competitors are changing their title, their image, when they have big peaks in sales if they start running a coupon that you are not and you are not running a coupon.
Bradley Sutton:
I mean, a lot of us, we like to match our competitor coupons, like, Hey, my competitor's gonna run a 5% coupon for this week. Well I wanna do a 5% coupon. So this is gonna be powerful for you to stay ahead of the game so that you are not having to kind of play catch up or make some really long manual process to monitor what your competitors are doing. Now, this is just the beginning guys of the Insights Dashboard for competitors. Like I said before, what's coming is we're gonna start letting you know, hey, your competitor is getting sales from this keyword and you don't even have this keyword in your listing, right? Your competitor is ranking high on, on sponsored for this product or for this keyword, and you're not even bidding on this keyword in P P C. Would you like to add it?
Bradley Sutton:
Pretty much anything you could possibly imagine that you are doing now, either manually in Seller Central or Amazon to monitor competitors you are gonna be able to do without doing it because helium ten's gonna do it for you and we'll just give you insights or alerts on when these things happen. So what I want you guys to be thinking about right now, I just told you what's definitely coming, that keyword one, a lot of those keyword ones, but you let me know or not let, don't let me know that you have no way to contact me. Let Helium 10 know what kind of competitor insights are you looking forward to or do you want help on? I just told you a whole bunch that we are currently doing right now, like, you know, when the competitor changes their price and, and things like that.
Bradley Sutton:
I told you what's coming as far as when competitors are ranking highly for certain keywords that they're not May, maybe it's a, a keyword rank. Hey, you want to know when your competitor drops or inorganic rank for a certain keyword. But what I want you guys is think of your best competitor insights that we could help you out on. Something that you are having to tediously manually do right now. But we can automate it for you. And then what I want you to do is on your dashboard at the very top, under send feedback, hit this button and then go ahead and answer this survey that comes up so that you can offer insight into what insights you want to get as far as the competitors go. Again, some of this stuff is not game changing in the fact that oh, nobody has ever thought to monitor your coupons, your competitor coupons.
Bradley Sutton:
It's something that you're probably doing, but it's a manual process. We're just trying to automate automate it. So let us know, help us help you, but in the meantime, all of your products that you're currently selling, go in there and add your competitors. Now, one question I get is, Hey, I've got a lot of variations right now you can only add competitors at the parent level and it populates the variation Later on, you're gonna be able to take like, Hey, here's my five competitors for my black coffin shelf and I want five pink competitors for my pink coffin shelf, et cetera. So right now you have to select the competitors at the parent level, ASIN level or the parent ASIN level inside of insides dashboard. But don't worry that's, it's coming soon where you're gonna be able to do it one-to-one.
Bradley Sutton:
So all of your all of your child items have their own competitors, right? Really exciting stuff guys. This is just the two things that we went over today in Cerebro, the historical thing, and also these insights and notifications on what is happening with the competitors. This is stuff that does not exist in the industry today and stuff that you can start getting the leg up on your competition. A lot of it is maybe stuff you're already doing, but instead of you taking five hours to do this stuff or paying somebody to do it, now we're just gonna do it for you and deliver the results. So make sure you Diamond members are using this. And again, both of these things I mentioned are only on the Diamond plan. So if you want to test it out, see if it's right for you, just use a discount code SSP10 and try out the diamond plan for a couple months.
Bradley Sutton:
And if you don't find the value in it, go ahead and go back to the Platinum plan. But trust me guys, if you are not finding the value in it, you're not using it in the right way because you cannot not get value out of these things and have it not be worth the $150 more that the Diamond plan is cost because these are super, super valuable. So let us know, give us feedback on these tools. How would you like it to be changed, both the Cerebro one and Insights Dashboard. Let us know what we can do and I hope you guys have a great time playing with these new tools and we'll see you in the next episode.
---
Enjoy this episode? Be sure to check out our previous episodes for even more content to propel you to Amazon FBA Seller success! And don't forget to "Like" our Facebook page and subscribe to the podcast on iTunes, Spotify, or wherever you listen to our podcast.
Get snippets from all episodes by following us on Instagram at @SeriousSellersPodcast
Want to absolutely start crushing it on Amazon? Here are few carefully curated resources to get you started:
Achieve More Results in Less Time
Accelerate the Growth of Your Business, Brand or Agency
Maximize your results and drive success faster with Helium 10's full suite of Amazon and Walmart solutions.