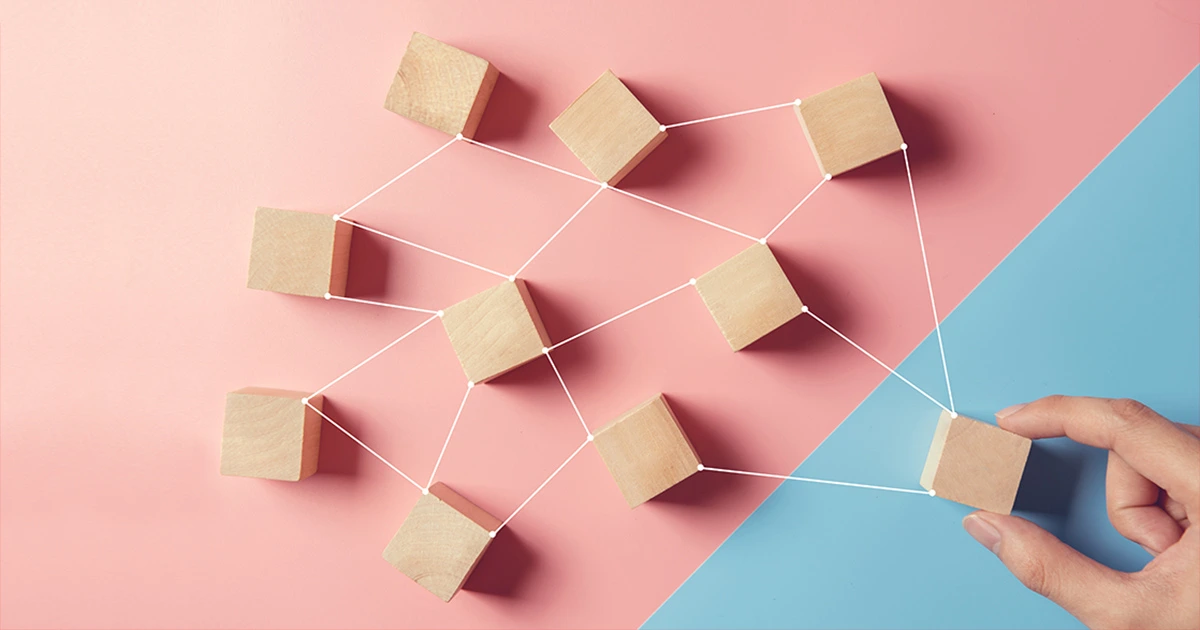 Posted on: July 17, 2020, By: Brian Wisniach
Finding Profitable Products to Sell on Amazon is Easier Than You Think…
Don't know what to sell on Amazon? Curious how to find profit in a sea of products? Finding the best product to sell on Amazon is easier than you think.
I want to sell on Amazon but how do I make a profit?
Wouldn't it be great if there was a one sentence answer to this? Or if there was a single tool dedicated to finding products to sell on Amazon? Well in the spirit of being a true writer, I can't give you a one-sentence answer. But, I can make good on that second question. More on that later…
Some of you may have been selling with Amazon FBA Business for years and are looking for your next big score. Some of you may be dipping their entrepreneurial toes in the water for the first time as a new Amazon seller and don't know where to start. Helium 10 is here to bring these groups together, as we believe both groups ultimately strive for the same goal: profit.
If you're a nature-loving hiker, you may live by the creed, "It's the journey, not the destination!" This is inspiring on the trail, but let's be honest… for an Amazon seller, that would be like saying, "It's about struggling to rank, not the money!" 
In this article we will breakdown:
What it takes for a private label product to be profitable
What should I sell on Amazon by giving you examples of some of the most successful product listings and categories on Amazon
Some of the tools and strategies you can start using today to make money selling on Amazon
Making the decision to start an Amazon business (at any level) is a feat unto itself. If you are reading this, chances are you've already or have almost mustered the courage to do so – for that, we congratulate you. Your next step, concocting the right product idea and choosing a profitable product to sell on Amazon, is perhaps your most important. So, if you don't know what to sell on Amazon, we are here to help. 
Nike says "Just do it." Helium 10 says, "Just do it right."
Below are some of our top tips on finding the best things to sell on Amazon. 
What Makes a Profitable Product?
If a profitable product was a cake you wanted to bake, you would need to know the ingredients first. So, let's bust out the cookbook to understand which are the best products to sell on Amazon. 
Need
Problems require solutions. Therefore, a profitable product requires a problem that needs solving. Ask yourself the following questions so you'll be able to choose the right product for your Amazon store:
Is there a gap in the market for a product that remedies a popular problem? Once you've chosen your niche/category, create a list of the top issues within the industry (hint hint: negative Amazon reviews are a great place to start… we'll cover this shortly).
If a product category is already saturated with enough "good" products, take a look at the average cost. Are they pricing out a significant amount of their customers? Is there a cheaper way to manufacture the same product to sell at a more affordable price point? 
Is there a niche that's not properly satisfied by a winning product? Sure, these may be smaller ponds to fish in – but collect enough ponds and you'll eventually have a lake. A good place to start when niche-hunting is within some of your own unique interests and passions. What would you buy if you were searching for a new product?
Reviews
We mentioned finding market gaps as a great entry point for finding the best products to sell on Amazon. One of the best ways to do this is through product research, with a focus on product reviews specifically. You can achieve this data several ways – I am going to show you an example using our Amazon product research tool, Black Box.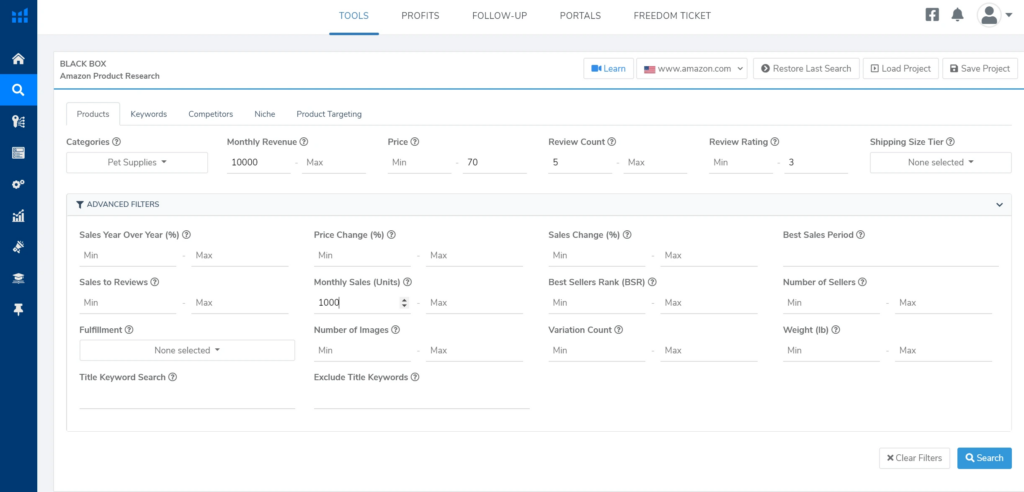 Searching within the category of "pet supplies," I specified filters to only display product listings on Amazon with the following:
Minimum monthly revenue of $10,000
Maximum selling price of $70
Minimum of 5 reviews
1,000 monthly sales (units)
Maximum review rating of 3 stars
Here's our results…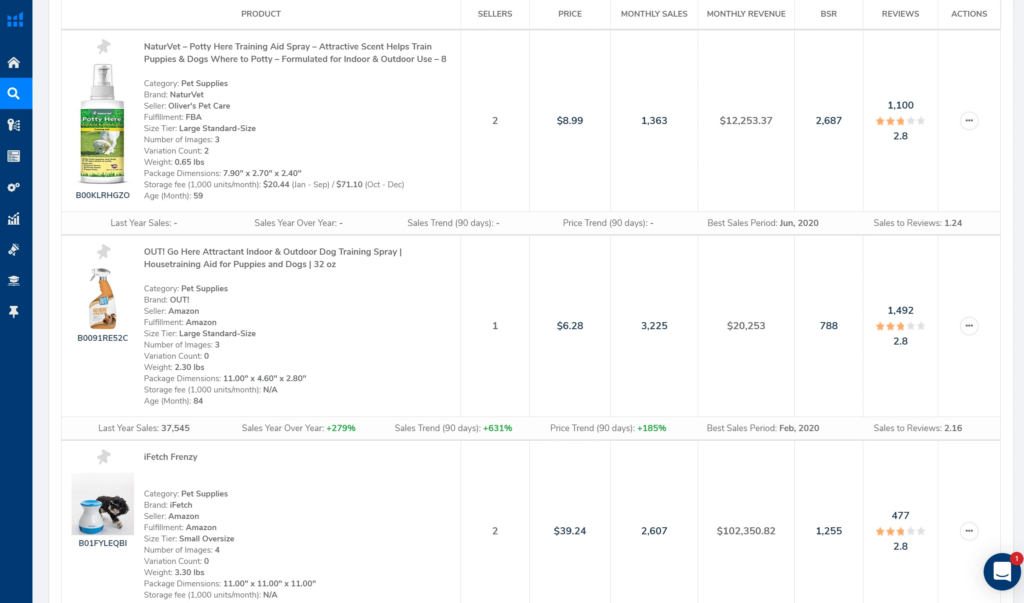 Now we have a snapshot of trending products that are selling relatively well, but with customers who are a little less than ecstatic. This is your market gap. Visit these product pages and start going through their negative reviews. Take note of any patterns.
As an example, it looks like this fetch game for dogs may have a problem with its tennis balls, particularly being too small. 
These review results are courtesy of Review Insights, part of our free Amazon chrome extension.
Since you now know this is a potentially profitable space within Amazon, ask yourself:
"How can I take what these products are doing wrong and do them right?"

Traffic
A profitable product begins with a high traffic keyword – scratch that – multiple high traffic keywords.
This traffic will help you three-fold:
Rank Higher in Amazon search results
Streamline PPC ad campaign efficiency
Drive Amazon sales
Great – but how do you find those tantalizing keywords? At Helium 10 we never condone cheating, but I'd be lying if I said using a keyword research tool like Magnet didn't feel like cheating. Simply plug in a starting keyword and click "Get Keywords." Conversely, use Cerebro to perform an ASIN search to get much of the same data.
It's like getting the answers to the test before you walk into the classroom.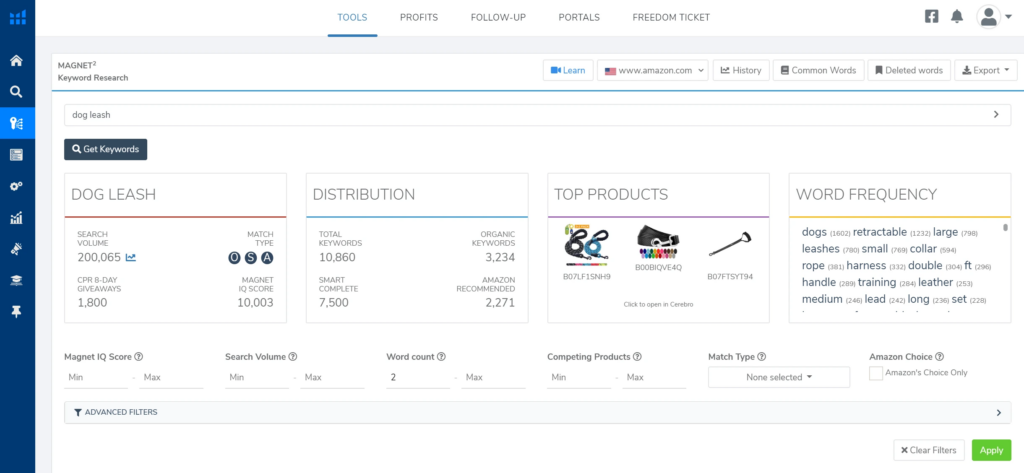 One instant search gives you access to valuable insights such including:
Monthly search volume
Total related keywords
Top trending products for the given keyword
Most frequently used words in similar key phrases
Competing products for each keyword variation
An exclusive "Magnet IQ" score for each and every keyword (ratio of est. search volume to number of competing products)
Using Amazon tools like Magnet gives you an automatic leg up on the competition, giving you data that would normally take weeks to gather in a matter of seconds.

There is more than one road to profit, but all of them are paved with the same concrete: concrete data. 
Fulfillment (Amazon FBA)
The last ingredient of a successful private label product is taking full advantage of Amazon FBA (fulfilled by Amazon). This isn't to say you can't be successful selling via FBM (fulfillment by merchant, aka you). However, the Amazon FBA business is specifically designed for the Amazon seller who doesn't have the capital or resources to pack, ship, and store their own products. Fulfillment by Amazon is perfect for the Amazon seller who is new to the game. Just keep in mind, this extra service comes with Amazon FBA fees. 
The Amazon FBA process works as follows:
You send your product from your source/manufacturer to Amazon's warehouse.
The Amazon fulfillment center stores your product for a seller fee.
Amazon distributes and ships your product when one is sold on your behalf.
As you can see, FBA eliminates the biggest logistical hurdles associated with starting your own online business. If you can afford the fees, this is a great way to focus on product profits rather than wrestling with independent storage planning and shipping hiccups.
If you're interested in Amazon's expansive shipping capabilities but have figured out how to affordably store your products on your own, you're in luck. Amazon Onsite serves a flexible middleground between FBA and FBM. This is a relatively recent initiative aimed at saving sellers hefty Amazon storage fees while still giving them the ability to ship through Amazon.
Amazon Onsite allows sellers to:
Save money by removing Amazon storage fees (reducing inbound shipping costs by 70%).
Have more control over their inventory. Store your products in the most cost efficient way for you.
Provides a direct line of responsibility (to Amazon) for shipping mishaps.
When looking for the most profitable products to sell on Amazon, don't overlook your fulfillment system. You could have the most profitable product on the internet, but it can be all for nothing if you're spending a fortune to ship it. 
We have our ingredients for profit – now comes the fun part. Let's look at some examples of success on the Amazon marketplace.
Amazon Best Sellers (by % of sales)
Electronics (44%)
Clothing/Jewelry (43%)
Home & Kitchen (39%)
Beauty/Personal Care (36%)
Books (33%)
Cell Phones/Accessories (28%)
Movies & TV (25%)
Pet Supplies (20%)
Sports/Outdoors (17%)
Groceries (15%)
Let's break this down further to get a better sense of what is selling well within each category. Note, I am only going to include categories that are accessible for most amateur to intermediate sellers. If you are interested in going head to head with Roku in the Electronics department well… we will save that for another blog.
Clothing/Jewelry
Home & Kitchen
Beauty & Personal Products
Books
Cell Phone & Accessories
Pet Supplies
Sports/Outdoors
Don't forget to browse Alibaba when looking for the most popular products to sell on Amazon. Alibaba is the most popular product research and sourcing site in the world with valuable product information such as:
Price per order amount
Material/sizing costs
Customization options
Sample order quantities and prices
Shipping time and Lead time from international manufacturers
The Last Tool You Need Before You Build Your Ark
Other than Black Box and Magnet, using an Amazon chrome extension is hands down the easiest way to take a peek behind the curtain of the Amazon Prime marketplace stage. With Helium 10's chrome extension you have access to the Profitability Calculator. 
Here's how it works:
Go to amazon.com
Find any product 
Open Profitability Calculator
Enjoy insights like estimated shipping cost, FBA fee, profit margin, estimated time in storage, and ROI.
So you want to be an FBA seller?
Finding the right products to sell on Amazon is not always a quick process. If it was, everyone and their golden retriever would have a successful line of branded workout accessories with Amazon Prime. However, it is still easier than many think.
Too many people start the journey of passion to profit only to quit because the barriers to entry were seemingly too steep. With the above tools and strategies, we encourage the hobbyist – the everyday entrepreneur, to dedicate one week to product hunting. You don't have to manufacture anything. You don't need an Amazon seller account. You don't even have to leave your house. Take one week to identify if there is a space on Amazon that sells well, has a need for better quality products, and can be easily produced on a budget.
You may be surprised by what you find.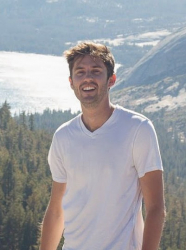 Latest posts by Brian Wisniach
(see all)