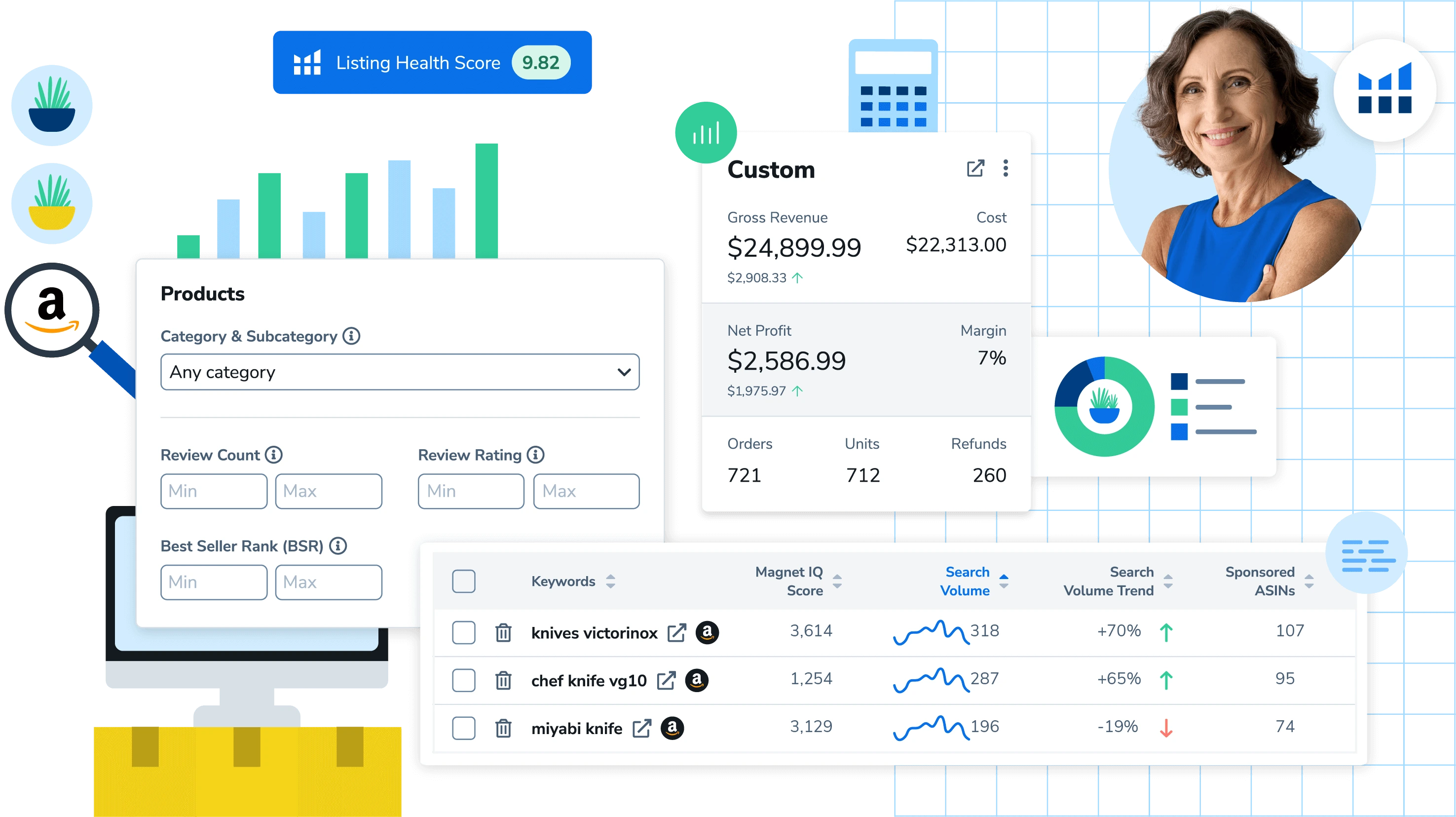 Amazon Seller Tools
Over 30 powerful Amazon FBA tools that make selling on Amazon a whole lot easier.
Get Started with Helium 10
Our tools have you covered no matter your level of experience
Sign Up
Find profitable products
Rank higher in searches
Supercharge your conversions
FAQs
Amazon seller tools are third-party SaaS platforms that streamline every aspect of your FBA business: product research, keyword research, listing optimization, operations, analytics, marketing, & more.

Examples of Amazon seller tools include software to help calculate Amazon fees, search engine tools to help you conduct product and keyword research, and inventory management systems.
Simply put, tools for Amazon sellers like Helium 10 eliminates many of the most challenging components of Amazon FBA. There has never been a better time to get into the Amazon selling space, however there are still key challenges to private label selling. For example, It's getting increasingly more difficult to find low-competition, high-demand products. If you want to stand out, you need to leverage tools that give you pertinent, actionable data.

Helium 10's keyword and product research tools allow you to instantly gauge demand and competition levels for keywords and products. These tools will ultimately end up saving you many hours of manual work so that you may focus on running your business. Without the assistance of a powerful tool that covers product research, keyword research, listing optimization, operations, analytics, and marketing, it will be essentially impossible to compete in today's highly competitive landscape. Helium 10 solves all of these challenges for you.
No software is technically required to sell on Amazon other than Amazon Seller Central (which is free), yet third-party Amazon FBA tools can enhance your ability to run and optimize your overall efforts. The best tools for Amazon sellers will help you identify viable products, target the right keywords, optimize your listing, automate user feedback outreach, automate PPC campaigns, analyze product performance, automate refund management, and much more.
To be successful, you'll need tools that help you identify viable products, identify keywords to optimize your listing with, a listing builder tool, a tool to verify your listing is optimized, a refund manager, an inventory manager, email outreach, a keyword and market tracker, a sales estimator and FBA profitability calculator, an Amazon PPC automation tool, and much more. Fortunately Helium 10 provides all of this functionality for you at the lowest price we can possibly offer.
Amazon tools can range anywhere from $0-300 dollars depending on the functionality of the tool you're looking for, and whether you want a full suite of tools or just independent features. Review our suite of free tools and sign up for a free account to start exploring!
Helium 10 is one of the most comprehensive and affordable software solutions for Amazon sellers on the market. At it's core, Helium 10 is truly an all-in-one platform, meaning you save money and time by removing the need for multiple software tools and ecosystems. From product and keyword research to listing optimization, analytics, marketing, operations, and more, Helium 10's tools have you covered no matter where you are in your selling journey.
Helium 10's Full Suite Pricing
A plan for every seller's experience level
13,688
People signed up last week.
Start Using Helium 10's Amazon Seller Tools Today!
If you'd like to try out our Amazon seller tools for yourself, sign up to check it out today!
Sign Up
The Details
What Are 3rd Party Amazon Seller Tools?
Third-party Amazon seller tools are software applications or services developed by companies outside of Amazon's ecosystem to assist sellers in managing, optimizing, and growing their Amazon business. These tools offer a wide range of features and functionalities to help sellers streamline their operations, improve their product listings, monitor their performance, and ultimately increase sales and profitability on the Amazon platform
What Are the Benefits of Amazon Seller Tools?
Amazon seller tools offer numerous advantages for sellers aiming to enhance their operations and boost sales on the platform. These tools streamline product research, helping sellers identify lucrative opportunities by analyzing sales trends and competition. They also aid in optimizing product listings through keyword research and relevant content and facilitate competitor analysis for informed pricing and marketing decisions. Sellers benefit from improved visibility and conversion rates due to SEO optimization based on relevant keywords. Inventory management features prevent stockouts or excess inventory. Automated marketing tools optimize advertising campaigns, while feedback and review management functionalities enhance seller reputation. Performance analytics, time savings, scalability support, and market intelligence contribute to strategic decision-making.
These tools mitigate risks by monitoring unauthorized activities and policy compliance. Overall, Amazon seller tools serve as invaluable resources for sellers seeking efficiency, growth, and success on the platform.
What Features Should an Amazon Seller Tool Have?
Product Research
A robust Amazon seller tool should include a comprehensive product research tool, offering insights and data-driven guidance to sellers. Product research is essential to any sellers' success as you first need to find a product that will be profitable. It is important that the product research tools has data on metrics such as a products price, revenue, historical sales (in units), and more. The more data that the product research tool provides, the better so you can feel confident in the product/s you choose to sell.
Helium 10's Black Box is arguably the best Amazon product research tool in terms of accuracy, number of products indexed, and filtering capabilities for narrowing down your selection of products to sell. With direct access to a database of 450+ million Amazon products, the information you get from Black Box is reliable, effective, and proven to offer sellers a major advantage when it comes to discovering products that deliver powerful returns on investment.
Keyword Research
An effective Amazon keyword research tool should be a complete solution that goes beyond basic keyword suggestions. It should provide in-depth insights into search trends, search volume, and keyword competition, allowing sellers to identify high-potential keywords that align with their products. Additionally, such a tool should offer the capability to track keyword performance over time, enabling sellers to adapt to changing market dynamics.
Integration with Amazon's advertising platform is crucial, enabling sellers to seamlessly incorporate chosen keywords into their advertising campaigns. Real-time data updates and the ability to analyze competitor keywords are also valuable features, helping sellers stay ahead in the highly competitive Amazon marketplace.
Helium 10's Magnet and Cerebro, are both two of the top keyword research tools available to sellers. Magnet allows you to perform in-depth keyword research using various filters like Search Volume, Number of Competing Products, and Title Density, combined with multiple data points such as Keyword Sales, Search Volume Trend, and more. Cerebro is a great tool for analyzing what keywords your competitors are ranking for.
Keyword Tracking
An effective Amazon keyword tracker tool should offer features to assist sellers in optimizing their product listings and PPC campaigns. It should allow users to monitor keyword rankings over time, enabling them to assess the impact of their optimization efforts. Additionally, real-time data updates are crucial for staying current with Amazon's ever-changing search algorithms. A robust Amazon keyword tracker should provide the necessary data and insights for sellers to refine their strategies and boost their product visibility and sales on the platform.
Helium 10's Keyword Tracker provides insights into keyword performance, including search volume, click-through rates, and conversion rates, allowing sellers to identify which keywords are driving the most traffic and sales. Its competitor tracking capabilities are equally important, as it allows users to keep an eye on their competitors' keyword strategies and adjust their own accordingly.
Listing Optimization
An effective Amazon listing optimization tool should include features that help sellers create compelling and high-converting product listings. It should offer robust keyword research capabilities so sellers can identify relevant, high-volume keywords that resonate with their target audience. This ensures that the product listing is optimized for search visibility, helping it appear in relevant search results.
The tool should provide on-page optimization guidance. This includes suggestions for optimizing the product title, bullet points, product description, and backend keywords. It should help sellers craft persuasive and informative content that not only appeals to search algorithms but also convinces potential buyers to make a purchase. Another important feature is image optimization, as the tool should allow sellers to efficiently manage and enhance their product images, ensuring they meet Amazon's image guidelines for quality and relevance.
The tool should offer performance tracking and insights into how the listing is performing, including click-through rates, conversion rates, and keyword ranking changes. This data helps sellers make data-driven adjustments and continually refine their product listings for better results.
Analytics
An Amazon analytics tool should provide sellers with comprehensive insights into their business performance on the platform. This includes detailed reports on sales, revenue, and profit margins, allowing sellers to track their financial health accurately. It should also offer data on customer behavior, such as conversion rates, repeat purchase rates, and customer demographics, helping sellers understand their target audience better.
Overall, an effective Amazon analytics tool combines financial reporting, customer insights, competitive analysis, and customization options to provide sellers with a holistic view of their business performance, enabling them to make data-driven decisions that drive growth and profitability.
Competitive Analysis
An Amazon competitive analysis tool should offer in-depth insights into competitors' strategies and performance metrics. It should track competitor product listings, including pricing, inventory levels, and customer reviews, allowing sellers to identify opportunities and threats in the marketplace. Additionally, it should provide data on competitors' keyword rankings, ad campaigns, and customer engagement metrics to help sellers refine their own strategies. A user-friendly interface and customizable alerts for significant changes in competitors' activities should also be included, enabling sellers to stay agile in response to market dynamics and outperform their rivals.
Inventory Management
An Amazon inventory management tool should offer extensive control over a seller's inventory. It should allow for real-time monitoring of stock levels across various Amazon marketplaces and provide automated reorder alerts to prevent stockouts or overstock situations. The tool should integrate with fulfillment centers, enabling efficient order processing and shipment tracking. Additionally, it should offer forecasting capabilities based on historical sales data to help sellers optimize their inventory levels and reduce storage costs. Ultimately, the tool should streamline inventory operations, ensuring that products are always available to meet customer demand while minimizing storage expenses.
Review Management
An Amazon review management tool should offer sellers the ability to track and manage customer reviews across their product listings. This includes real-time notifications of new reviews, the ability to respond to customer feedback promptly, and the option to request reviews from satisfied customers in compliance with Amazon's policies. It should provide analytics and sentiment analysis to help sellers gauge customer satisfaction, and identify areas for improvement. A review management tool should empower sellers to maintain a positive brand reputation, enhance customer relationships, and drive higher sales through effective review management.
PPC Management
An Amazon PPC management tool should include bid management tools for automated bid adjustments, comprehensive reporting and analytics for data-driven decision-making. It is important that it can integrate with Amazon's advertising platform, and provide real-time campaign monitoring and adjustment capabilities so sellers can effectively manage their PPC budget.
Helium 10's PPC tool, Adtomic, helps sellers manage their Amazon PPC campaign seamlessly. It provides big picture data and allows you to automate a lot of the work, saving you time and improving ROI.
Do I Need an Amazon Seller Tool?
Whether you need an Amazon seller tool depends on your business goals, resources, and level of expertise. While these tools offer various benefits, their necessity can vary based on individual circumstances. If you're new to selling on Amazon, a seller tool could provide valuable assistance with product research, listing optimization, and managing feedback. For experienced sellers with multiple products, these tools can help streamline operations and provide insights for scaling your business efficiently. If you're comfortable with tasks like keyword research, inventory management, and marketing optimization, you might manage without a tool initially.
Which Tool Is Best for Amazon Sellers?
Helium 10 stands out as the ultimate Amazon seller tool for a multitude of reasons, making it the top choice for sellers looking to excel in the highly competitive Amazon marketplace. Its comprehensive suite of tools cover every aspect of the seller journey, from product research, keyword research, listing optimization, inventory management, competitor analysis, and more. This all-in-one approach streamlines workflows, allowing sellers to efficiently manage their Amazon business within a single platform.
The software's ability to adapt to the ever-changing Amazon ecosystem and its commitment to helping sellers succeed makes it the go-to tool for both newcomers and experienced Amazon sellers. Helium 10's comprehensive toolset, innovative features, and commitment to seller success establish it as the best Amazon seller tool in the market.
---