How to Use Life Hack Blogs to Find Private Label Product Ideas
To wrap up our Goldmine series on social platforms from which to find private label product ideas, life hack blogs can provide a plethora of unique and useful product ideas that can take an unconventional use of products and transform them into solution-based products with clear intention.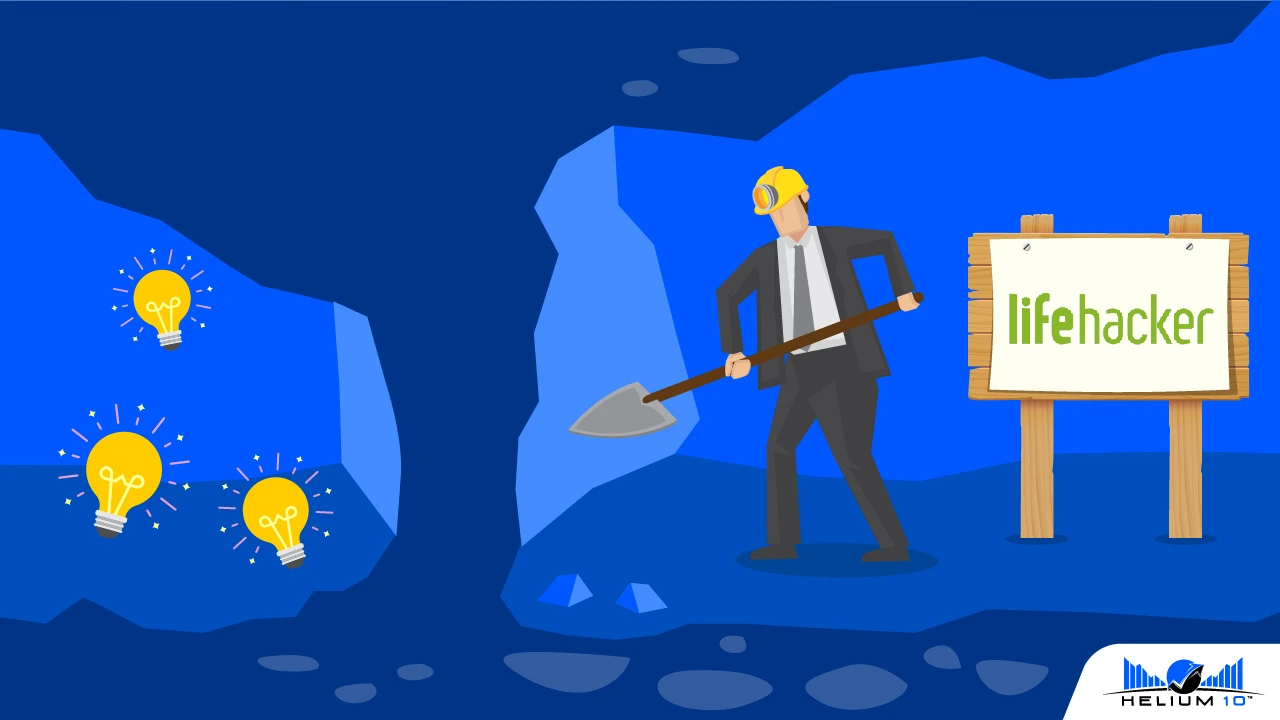 Life Hack Blogs provide a unique opportunity for sellers to find private label product ideas through the unconventional uses of other things to create solution-based products with a purpose.
Our next resource, life hack blogs, offers ideas in a noticeably different way than other social platforms discussed earlier in this series.
The Internet is filled with novel ideas for private label products if you know where to look. So far, we've discussed Pinterest, Etsy, Kickstarter, and Subscription Boxes as some undiscovered reservoirs of product ideas. They're all more or less designed to curate products that have already been made or are waiting to be launched on a larger scale. Life hack blogs depart from that trend.
What Are Life Hack Blogs?
You may have come across pins on Pinterest that show you a trick to keep a pair of socks together in the laundry or a neat way to keep your Converse waterproof. When you click on the pin, you're often taken to a website that either describes the hack which hooked you in the first place or a list of other hacks.
These websites are the last goldmine for private label product ideas we want you to have in your product research arsenal.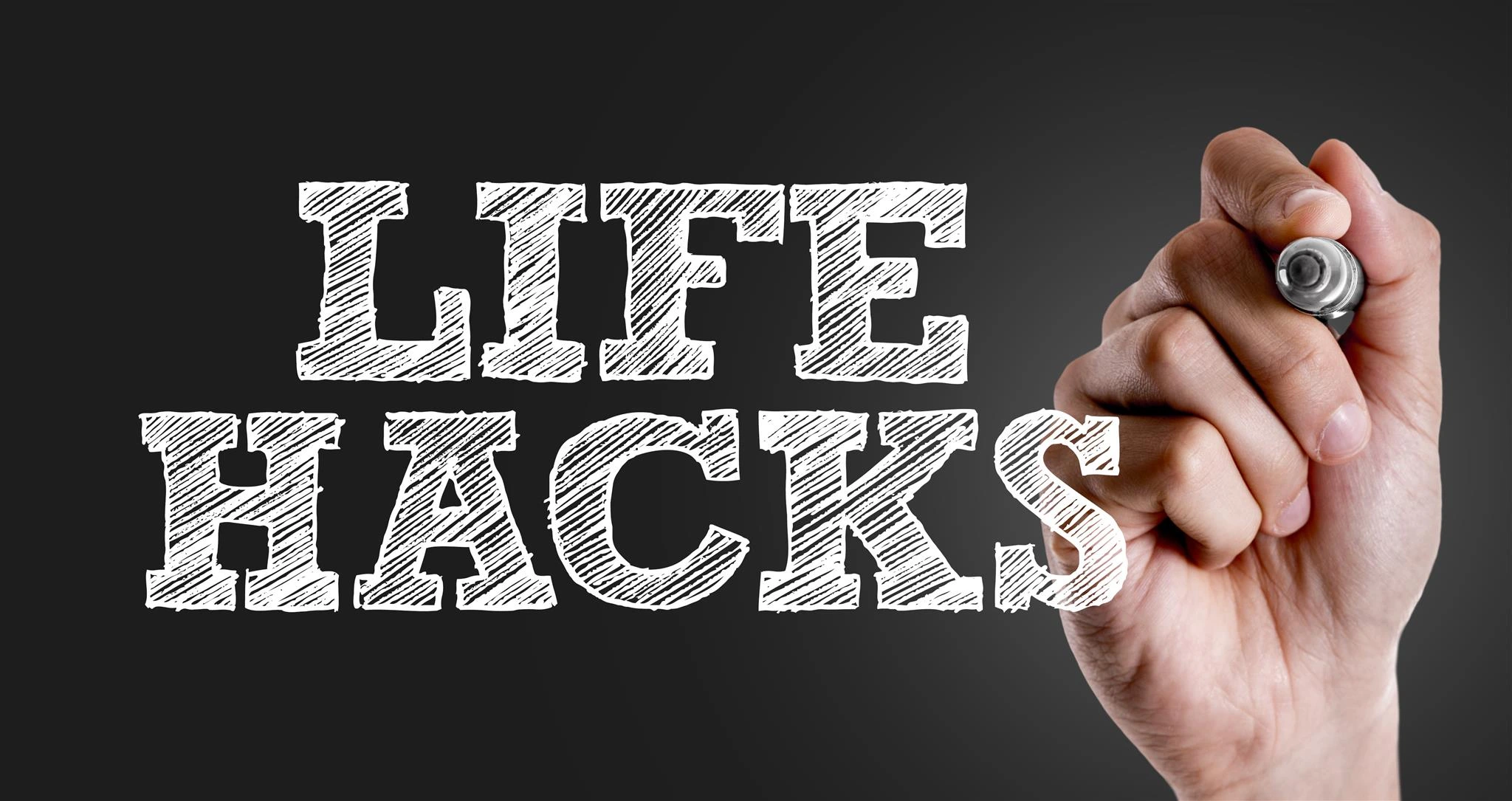 Life hack blogs are essentially websites that provide solutions for life's problems through strategies, suggestions, advice, and products.
Our focus, of course, is on blogs that list products. Unlike the other platforms, these sites create listings of products that are used for more than what they're intended to do.
Colored ribbons in place of luggage tags are another excellent example of a life hack.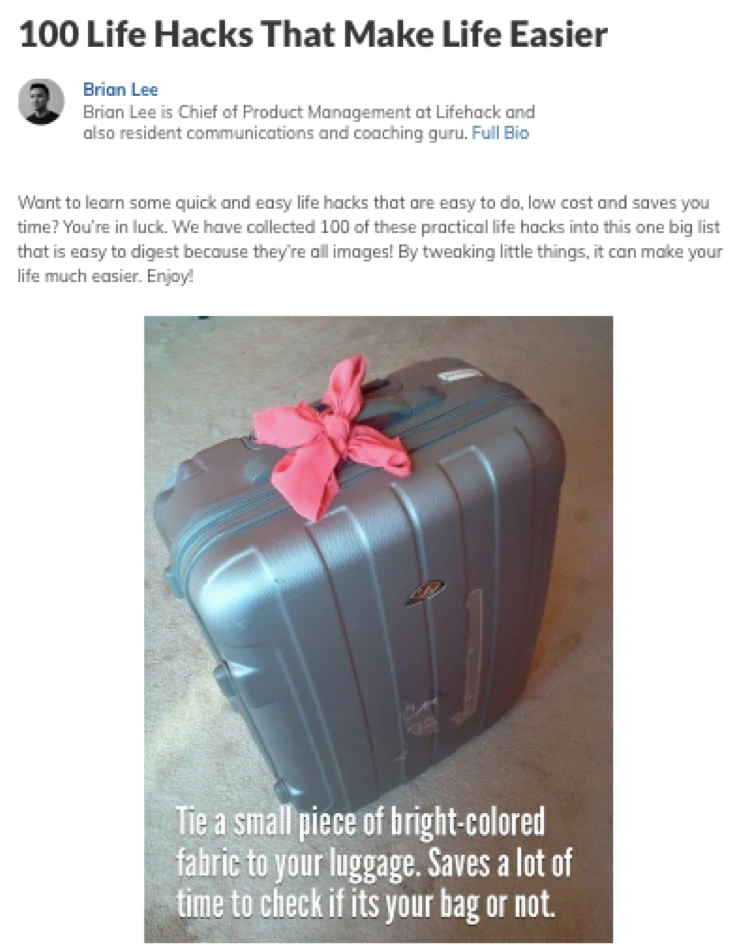 The problem here is that luggage can go missing at the airport sometimes and you need a way to make sure your suitcases are easy to spot in the conveyor belt pileup. The solution presented here lies in using the colored ribbons as luggage tags to identify your luggage, so it doesn't get lost or stolen.
If you google "life hacks," you'll come across plenty of websites with listings of solution-based products. The blogs usually have images and descriptions to accompany the explanation of how each product addresses a particular issue.
Occasionally the images will link to YouTube for a proper demonstration.
Where Are the Ideas Buried?

Most life hack blogs display product images on the homepage, and it's just a matter of scouring the lists of products that solve a problem you can solve better with your product.
If it's a website created solely for this purpose, it may even separate listings into categories to help you narrow your search. Sometimes the "How To" elements of the blogs can also present interesting ideas for solution-based products.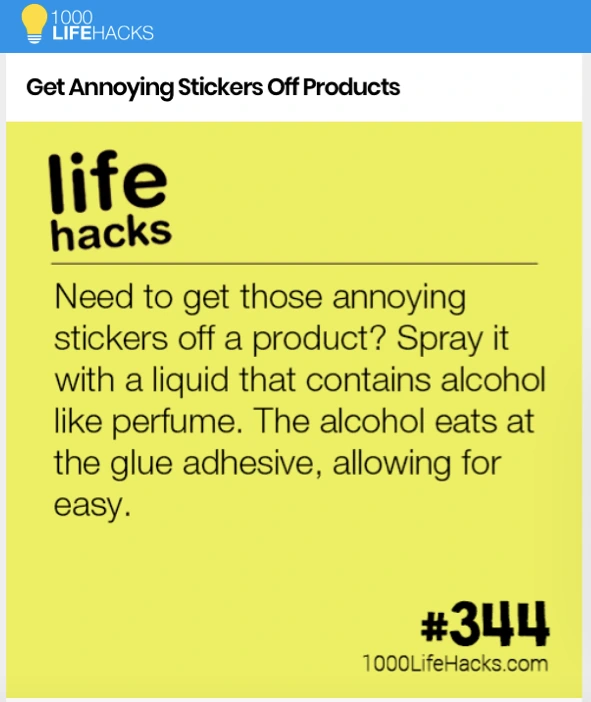 So, if you take the ribbon luggage tag idea mentioned earlier, you can either create a unique luggage tag that has more features to identify your suitcases or something else to keep your traveling contents safe during travel.
Another option for idea generation is to join the Facebook groups for life hackers or follow their Instagram feeds to glean product ideas from there. If there's conversation around the posts, you get even more insight into the demand or may get other byproduct ideas.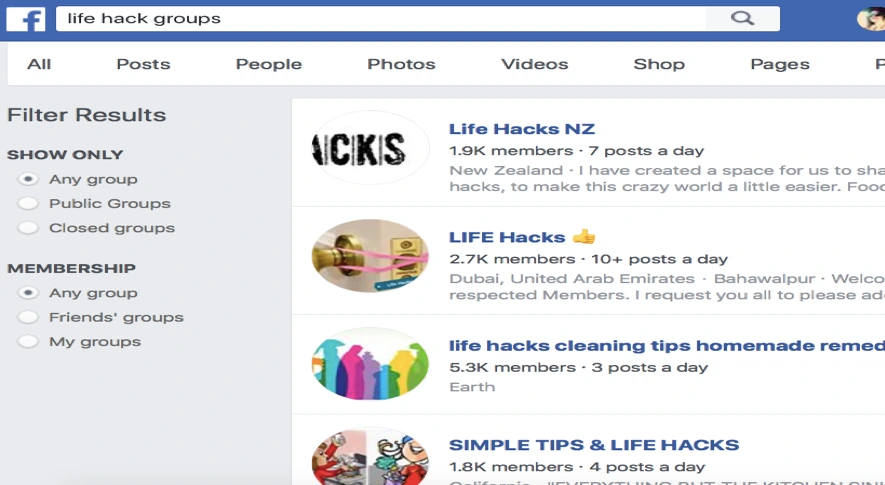 Keep in mind that if the problem is identified on these blogs consistently with similar or different ideas to solve it, there's a demand for the solution. You just have to make sure the product you create or modify meets that demand in a better way than the life hacks propose.
The Benefits of Life Hack Blogs
Life hack blogs are a great timesaver — even if you may not find a solution you want to use to create your own product.
The things or items listed are often simple, useful, and well-researched, and most of the legwork has already been done for you.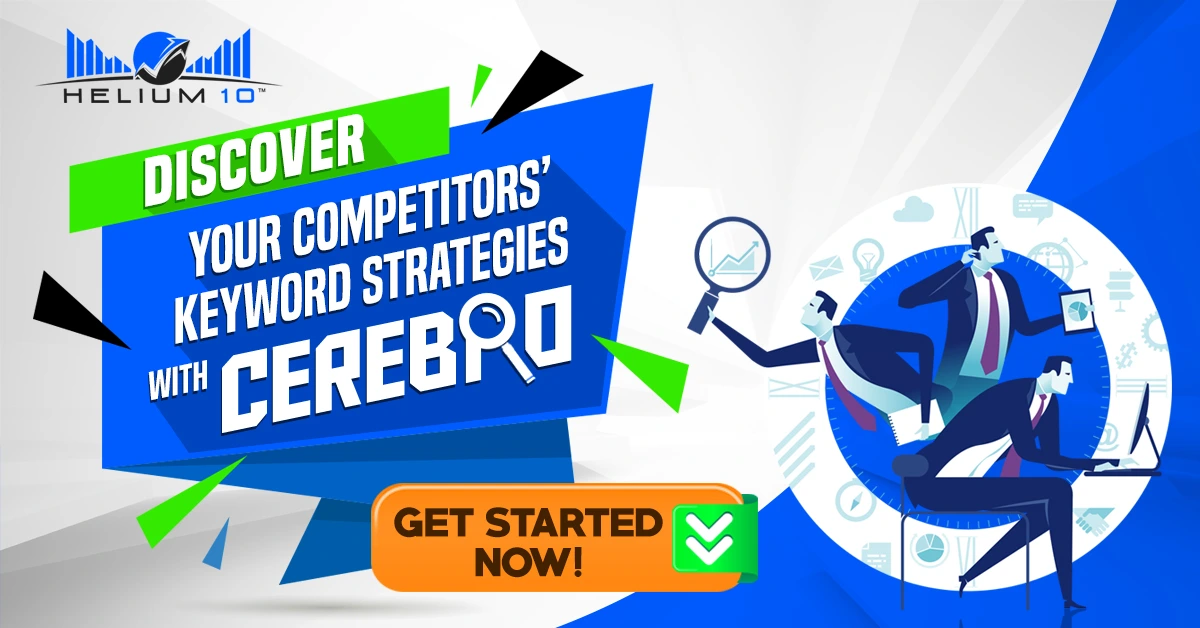 The bloggers listing these items have already identified the problems, the demand for solutions, and found the objects or workarounds that provide those solutions. They know how many people are looking for ways to fix the problem, which is why they've found a cheap and easy solution for them.
They've even consolidated these solutions for you in one place.
One of the best things about this platform is that you don't have competition because the people who put up these listings aren't making money from these ideas necessarily. They aren't creating a new product to meet the demand they see.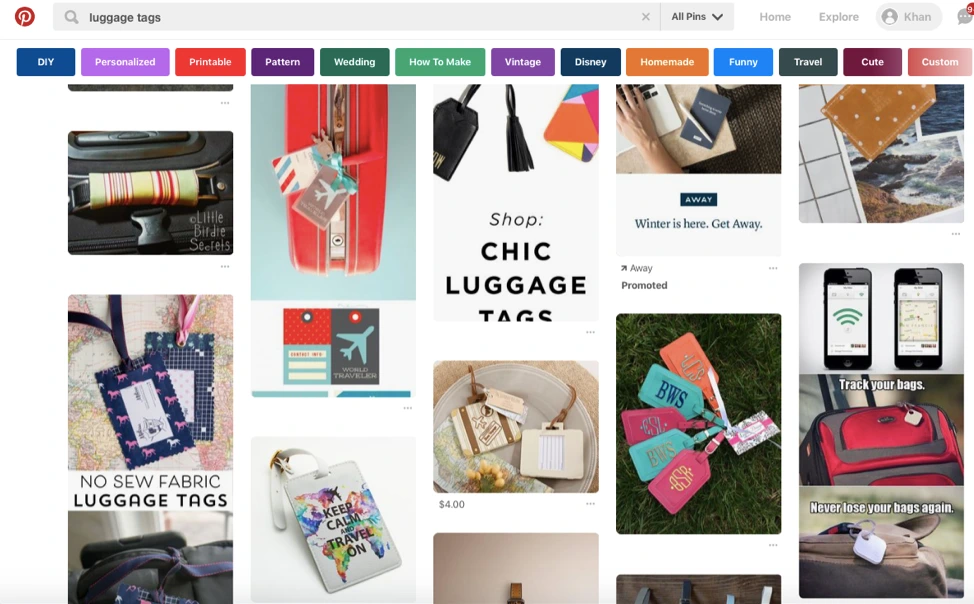 All that's left for sellers to do is to filter those listings and find an idea that can be used to create a specific product designed to address the intended problem or fix that particular issue.
In essence, your product should be used for what it's actually intended to do (see image above).
Where Do You Go After You've Got Your Product Idea?
After you've got a good sense of your private label product idea, you can either continue market research or look into sourcing the product then work towards creating an Amazon listing for it. We'll discuss this more in the next article.
Caveats
While there's no opportunity to rip off trademarked products since the products don't exist, it's still important to know the blogs' copyright laws regarding replicating content to market your own product and any other unforeseen need that may arise.

Stay tuned for a quick recap and a taste of the market research and manufacturing options for our Goldmine social platforms.
Read about our other platforms discussed in our Goldmine series below:
Have you had success finding private label product ideas using life hack blogs? Let us know in the comments below!