How Important are Amazon Reviews to Your Business?
Are Amazon reviews important if you just started selling on Amazon? We've compiled what you need to know about getting Amazon reviews in 2021.
Originally published on: March 5, 2021
Updated on: March 15, 2022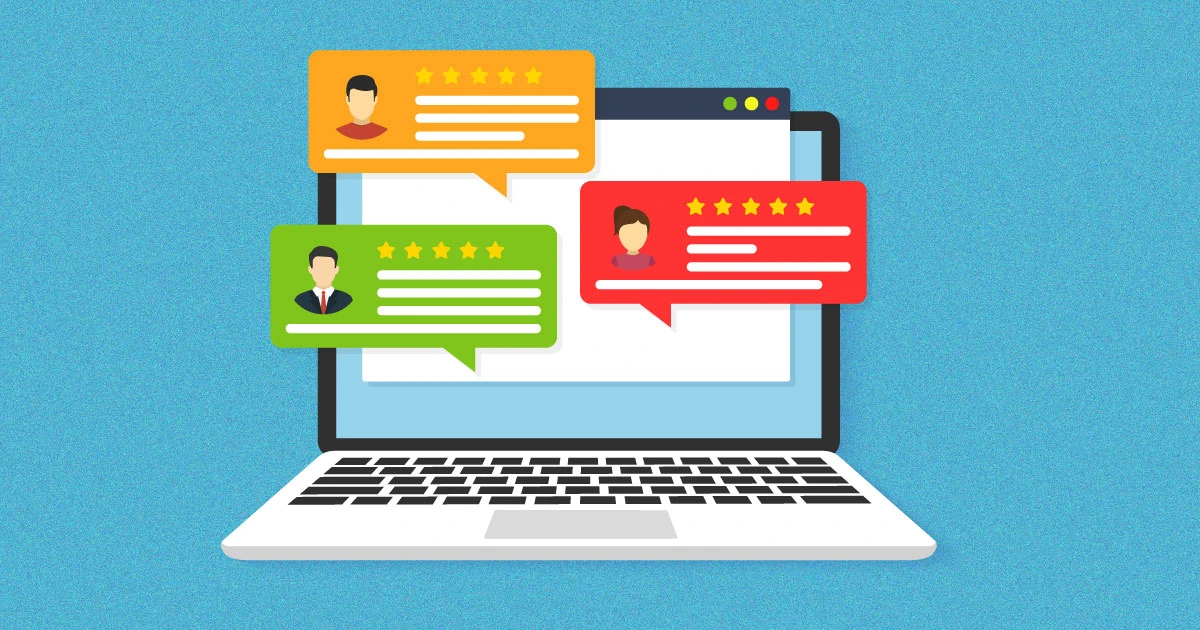 Ah, the Amazon review section. A smorgasbord of satisfied customers, perplexing complaints, legitimate criticism, and suspicions of legitimacy. 
Where to begin?
Let's get this out of the way now, despite what you've heard – Yes, Amazon reviews are not only important, but often a critical component to a thriving private label Amazon brand.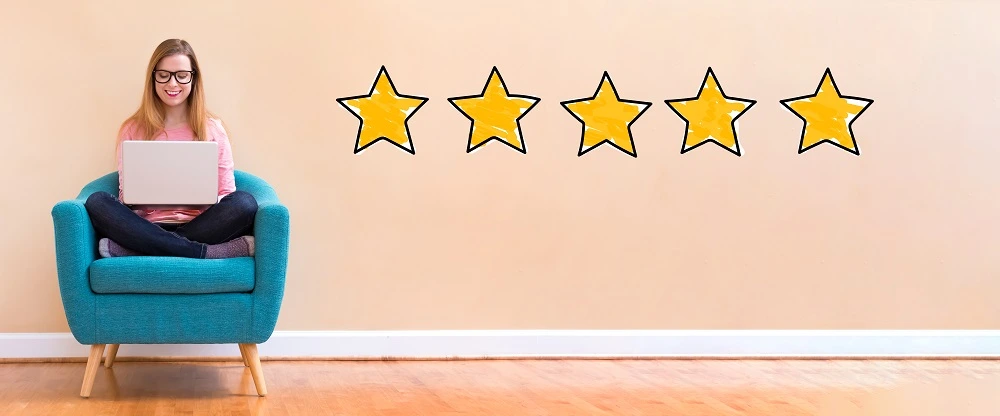 That being said, how much of your Amazon business should you tailor to maximizing social proof? Are negative reviews something to be ignored or dealt with? Is there a way to save time managing customer feedback with the other (several) hats you wear as an e-commerce seller?
If you just started selling on Amazon and are ready for the crash course on Amazon reviews, you came to the right place.
Why are Amazon Reviews Important?
Despite Amazon being the most convenient and cost-effective marketplace for products in 2021, there is unfortunately no workaround to one major consumer hurdle: buyer's remorse. Better yet, the fear of buyer's remorse. While there are a small number of Amazon shoppers who go from log-in to check-out in only a few clicks, the vast majority of Amazon shoppers want to know their purchase won't disappoint them. 
Not only are Amazon reviews a prerequisite for purchase, but positive Amazon reviews generally lead to a healthier brand reputation, greater customer confidence, and more favor with the Amazon search algorithm. Though it's certainly possible for a product to have high sales numbers and poor reviews, more often than not, positive consumer reviews (and a lot of them) are the foundation of a sustainable e-commerce brand and statistically higher conversion rate. 
More on that in a bit.
How Many Amazon Reviews Do You Need?
Think back to the last time you made a mid-level ($30-50) purchase on Amazon. How many reviews did you look at before bringing your finger down on that mouse button with the righteous fury of a judge's gavel, rendering the almighty verdict… BUY!
While there might not be a magic number, we can see some interesting trends between customer age and number of expected Amazon reviews.

Find more statistics at  Statista
As you can see, younger shoppers generally expect more reviews for a given product (150-200) than older shoppers who may be content purchasing a product with under 100 reviews. 
While this may be more of an interesting generational case study, it still demonstrates that there is a "credibility floor" to what Amazon shoppers consider purchase worthy.
Do Amazon Reviews Affect Sales?
Amazon reviews (and seller feedback) have been shown, time and time again, to affect sales.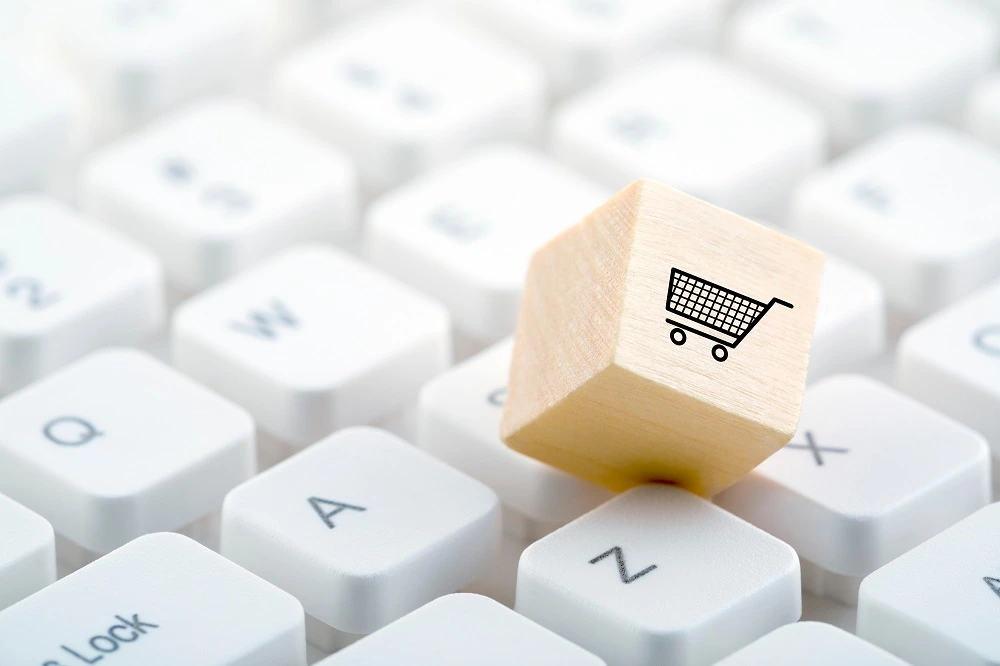 Considering your product reviews offer a (hopefully) objective/critical summary of your offerings, it's no surprise that more people buy from brands with more positive reviews than from brands with fewer or negative ones.
A few key stats worth noting:
The purchase likelihood of a product skyrockets 270% when it has at least five consumer reviews.
If shoppers come across two similar products, both with similar online review ratings, they are much more likely to purchase from the product page with more reviews.
Though reviews can help boost products at any price point, higher-priced items experience a higher jump in conversion rates (380% increase) than lower-priced items (190% increase).
A Note on Ratings vs. Reviews
In the fall of 2019, Amazon made a slight change to their vocabulary as it relates to product reviews. They introduced "Ratings" which allowed customers to simply leave a star rating, whereas previously, everyone that left a rating needed to also leave a written review. This change not only made it easier for Amazon shoppers to leave reviews but also helped mitigate the "negativity bias" that comes with online product reviews. 
The end goal was to make it easier for new Amazon sellers to gain momentum with customer feedback… and it looks like it worked.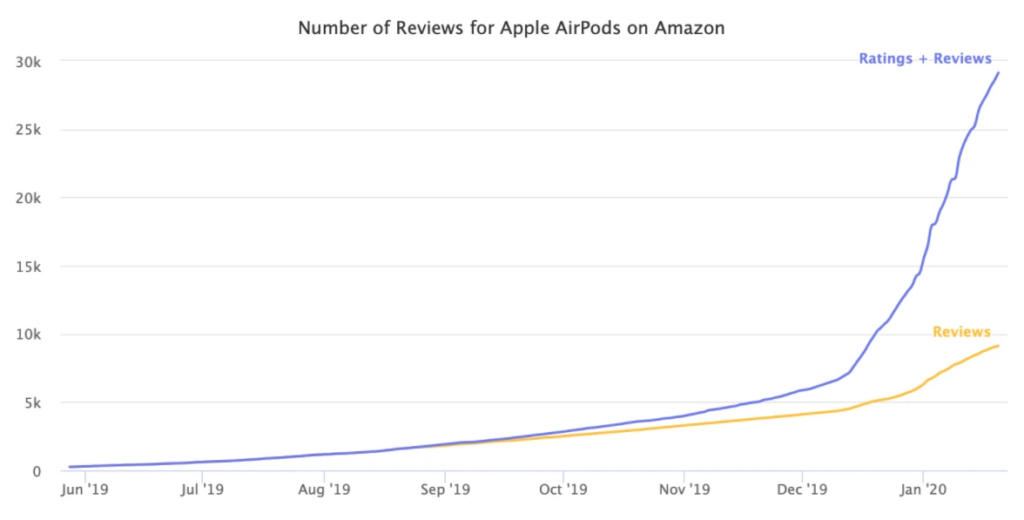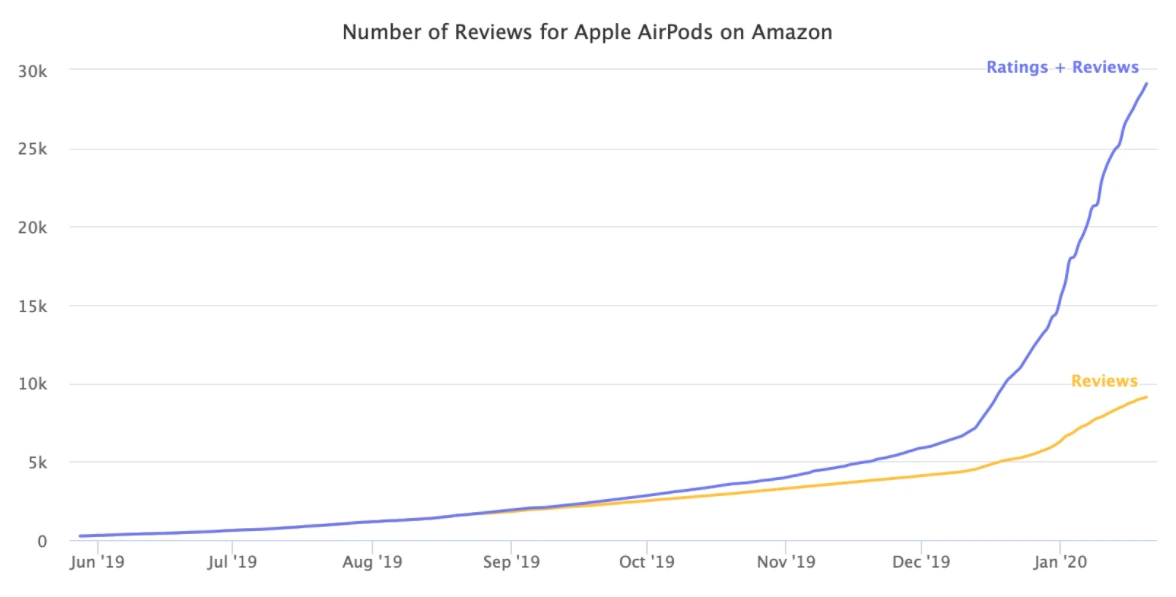 Can More Reviews Help You Rank Higher on Amazon?
There is a whole science behind Amazon keyword research and how to rank on Amazon… seriously, it's kind of our thing.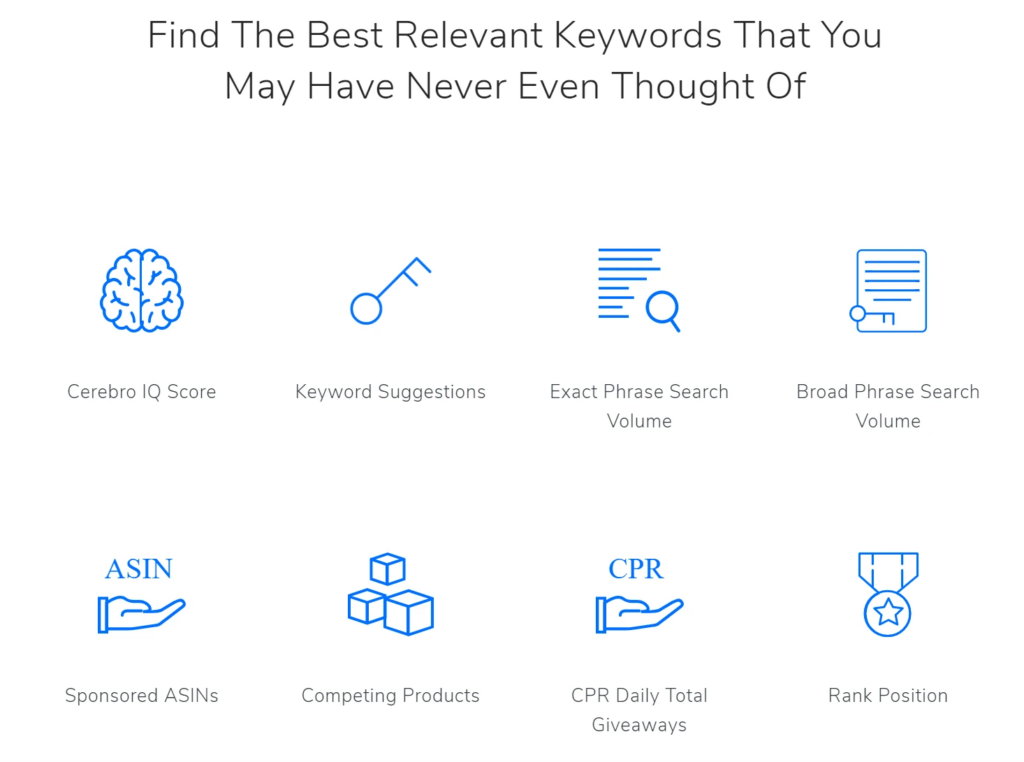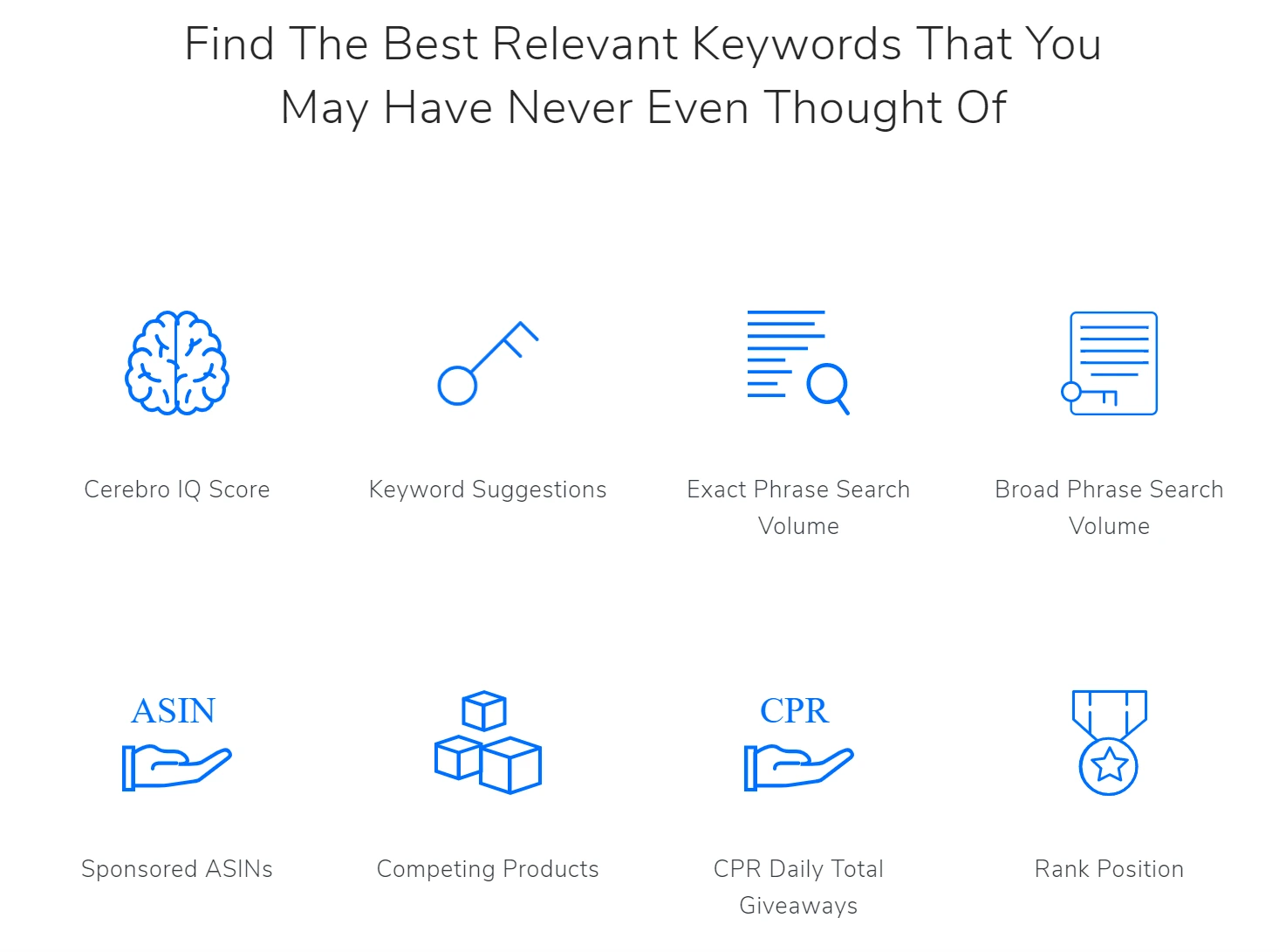 While your Amazon ranking won't directly hinge on a bunch of glowing Amazon reviews, product reviews (and a healthy star rating) almost always lead to stronger sales. 
And strong sales are like rocket fuel for Amazon product rankings. 
The fastest way to illustrate this is by using Helium 10's free Amazon chrome extension to paint an instant picture of estimated sales and BSR (best sellers rank).
I ran an Amazon search for "kitchen drawer organizer," a keyword that, as you would imagine, is pretty popular with buyers and sellers… 

Not only that, but notice most of these products are more or less, functionally the same (and for around the same price).
Upon opening up Helium 10's Xray, I sorted the entire first page of search results by Review Count (from least to most). This is the rightmost column with the red box.
The other highlighted columns represent estimated monthly Amazon sales, revenue, and BSR ranking for each product on page one.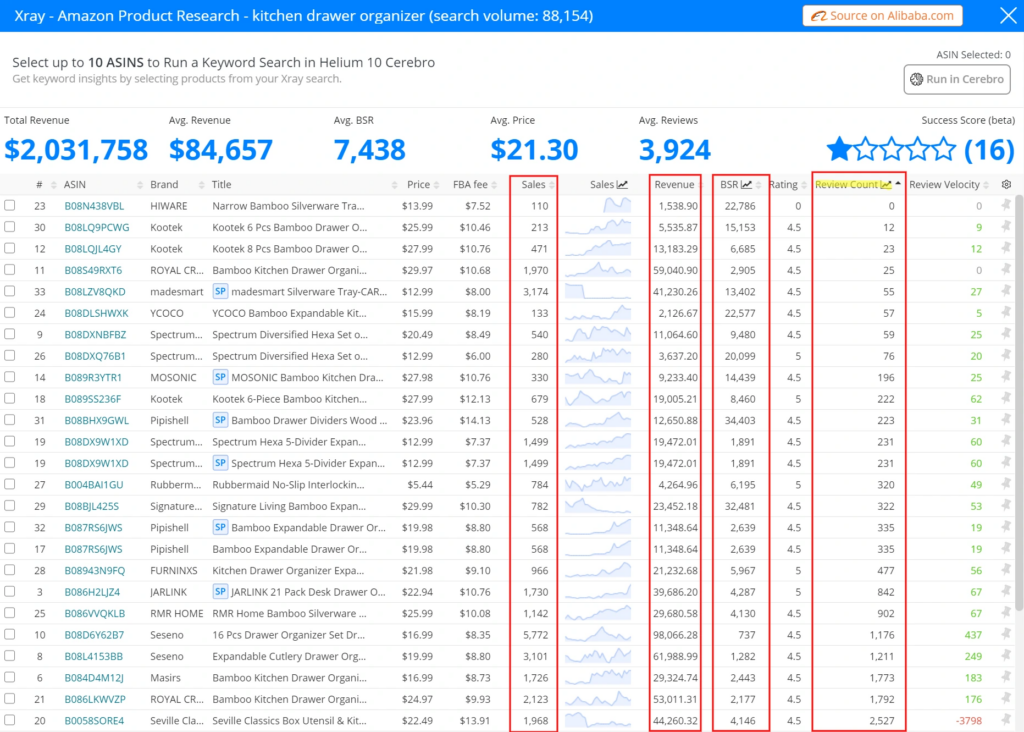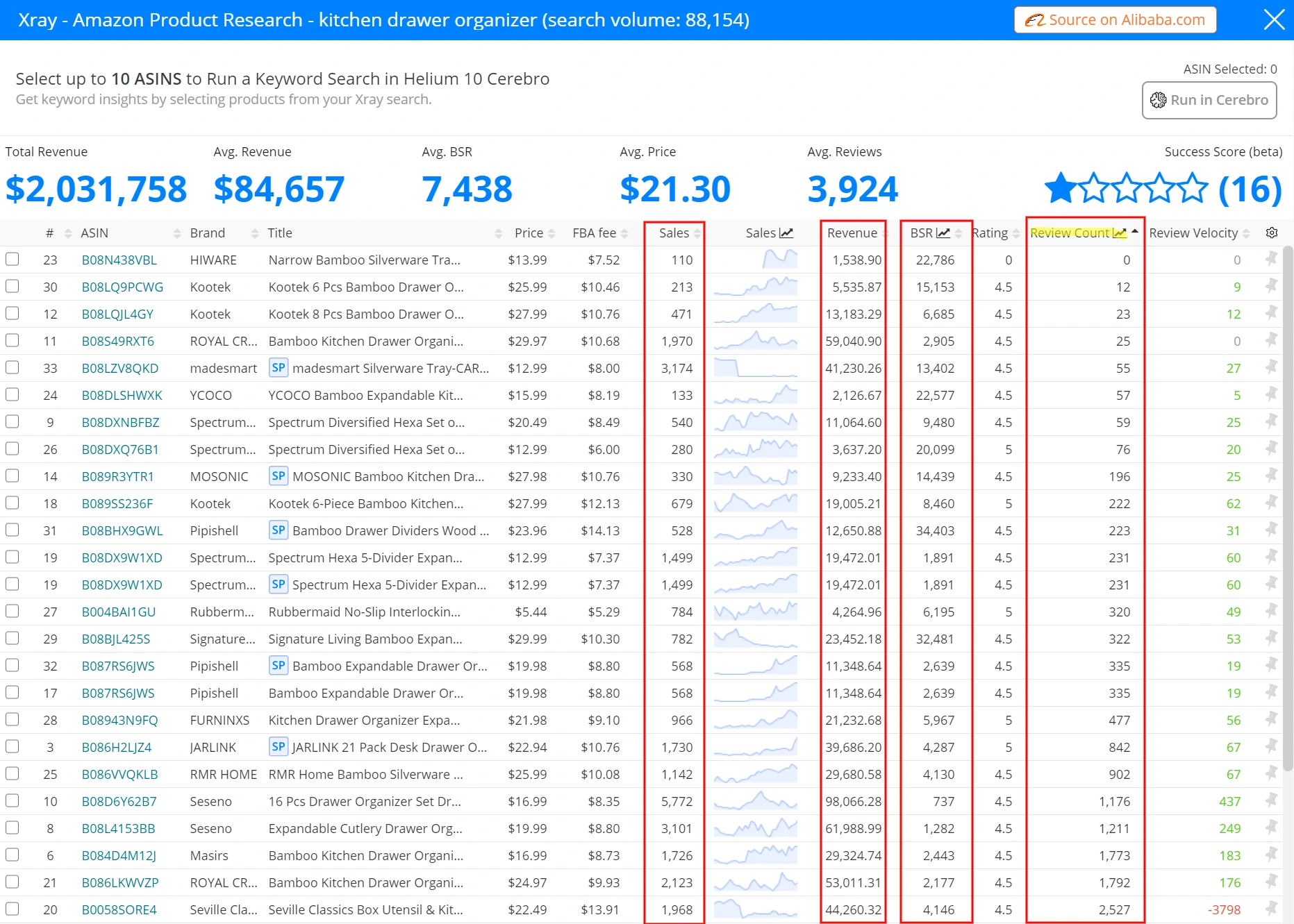 Notice the pattern of all four columns as we move down the list.
It's not a flawless correlation, but what we can see is a relatively clear and consistent trend:

The products with more reviews tend to have:
A higher BSR (remember, the lower the number, the higher the ranking)
Dramatically higher revenue
Consistently more sales
Keep in mind, a few of these products have sponsored ads running on them, meaning those sellers are paying to have their products promoted. However, even without these sponsored products, the trend still remains intact.
A couple of other things to remember…
You know those keywords that you load your product title and description with? Chances are, a good chunk of product reviews will inadvertently mention those keywords, which… you guessed it – will only help your Amazon product listing rank higher. 
The Amazon algorithm also rewards sellers who are engaged with their consumers, actively respond to reviews, and constantly answer questions.
If that sounds like a lot, it's because it is. We have a shortcut for you.
Customer Service Automation with Helium 10 Follow-Up
If you're a seller in the Amazon marketplace, customers are great. Happy customers are best.
The Amazon email automation tool Follow-Up from Helium 10 allows you a convenient new way to streamline customer interaction, post-purchase. With Follow-Up, create a one of a kind dashboard with easy access to:
View recent orders
Set email follow-up automations
Create custom email templates
Manage products
With automated Amazon customer outreach, you no longer have to worry about juggling your marketing efforts and staying on top of personalized relationship-building.
Don't forget, Amazon Terms of Service prohibits soliciting a positive customer review or offering customers special promotions in exchange for five stars. Encourage your customers to leave honest/objective feedback. Let your product speak for itself.
How Do You Deal With Negative Amazon Reviews?
The sooner you accept that your product will have critics, the better. It's unfortunate, but the fact of the matter is… people are hard to please (especially online). When those bad reviews do roll in, don't panic.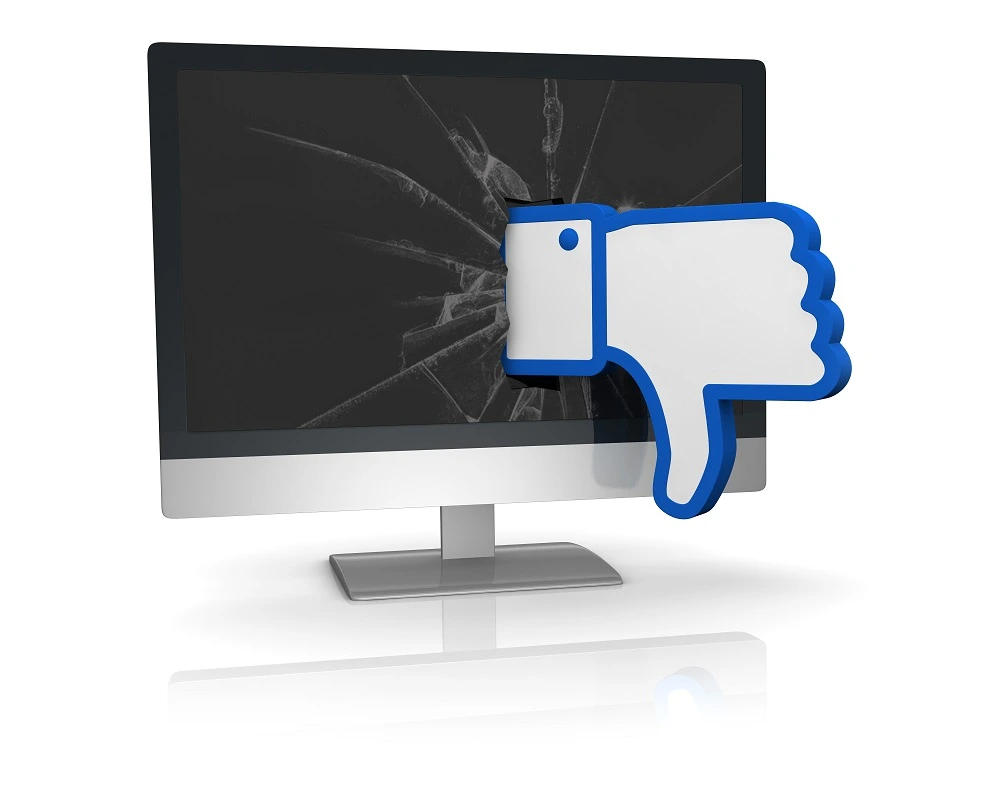 We mentioned before that Amazon loves to see their sellers engage with customer reviews – this is crucial for negative reviews. Respond to negative reviews in a timely and polite manner. Addressing the issue directly shows future customers that you are aware of the "problem" and care enough to communicate about it. It also drastically increases the chance that the original, negative reviewer may update/change the review. If you're willing to work with your customers (within reason), you can often salvage what would otherwise be "just a bunch of mean words." 
Remember, more than anything, people like to feel heard. 
Can You Refute Negative Reviews on Amazon?
If you have received a negative product review that violates Amazon's Review Guidelines, you may try to "Report Abuse" within your Seller Central dashboard. It's not a guarantee, but it's a good way to get the negative product review in question in front of the right eyes. 
However, know that each person is entitled to review your product as an "objective" customer. Will you always agree or think it's fair feedback? Nope. Part of being an Amazon seller is learning how to roll with the punches, and negative Amazon reviews are just part of the game. 
Another thing worth noting – there has been recent concern over fake Amazon reviews the last few years. Whatever you do, do not employ fake or dishonest reviews on your product page. Not only will this land you in trouble with Amazon – the massive foot on your gas pedal (or brake pedal) – but customers are more savvy than ever in 2021. It's getting easier and easier to spot a fake review from a mile away.
What's Up With the "Verified Purchase" Badge on Some Reviews, But Not Others?
If you've browsed the Amazon reviews section lately, you may have noticed a "Verified Purchase" badge on certain reviews, but not on others.


This badge simply means that Amazon confirms the customer in question did in fact purchase the product and did not do so at any kind of steep (or incentivized) discount. Reviews without this badge are still valid (and most likely legitimate), but the "verified purchase" badge can go a long way for peace of mind.
You may also have noticed a second badge in the above screenshot… the "Early Reviewer Rewards" badge. 
The Early Reviewer Rewards Program is designed to help products with few (or no) reviews gain momentum quicker by encouraging customers who have already purchased the product to write an honest review within a given promotional window. Customers who complete their review within the window are eligible for a $1-3 Amazon gift card.

Note: this is different from the "incentivized/discounted" reviews we mentioned earlier. Participants in the Early Reviewer Rewards program are 1) chosen/curated by Amazon and 2) given their "reward" regardless of whether the review is 1-star or 5-star.
This is meant to be an encouragement for authentic customer reviews to get the ball rolling for some of those newer products on Amazon (you may very well benefit from the Early Reviewer Reward Program!).
Reviews Mean Purchase Security in the Buyers' Mind
No matter how you slice it, your Amazon business cannot thrive (or survive) without customer reviews – and a lot of them. This is probably something that will take time to build momentum with, so be patient. But be proactive.
Here are a few tips to get more reviews on Amazon in 2021:
1. Be honest about your high quality product and go out of your way to describe your product accurately in your listing. Too many poor reviews are a result of mismanaged expectations and a poorly written product description. 
Need help optimizing your Amazon listing? We have free resources for you…
2. Stay on top of your follow-up emails. Don't rely on generic customer outreach tools. Find something you can personalize and automate like Follow-Up by Helium 10. Combining personal follow-up emails with active social media engagement is key to all customer service, Amazon or otherwise.
3. Take advantage of the programs that Amazon has created like the Early Reviewer Program or Amazon Vine. Amazon Vine is a more selective, invite-only program that taps the most prolific Amazon reviewers to leave unbiased feedback in exchange for free products. You can access Vine through the "advertising" section in Amazon Seller Central. Keep in mind, you may only submit newer products to Amazon Vine with less than 30 reviews.
4. Make ranking on Amazon a priority. Assuming you already have a great product, the #1 best way to get more Amazon reviews is to get more Amazon eyeballs! Invest in Amazon keyword research, learn how the Amazon search algorithm works, and most importantly… trust the data!


At the end of the day, your business is only as credible as it is legitimized by your customers. In a landscape where consumer perception drives sales, your job as an Amazon seller becomes a lot more than just "selling a product." 
You are selling a solution to somebody's problem. Make sure you solve it!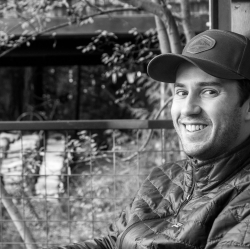 Latest posts by Brian Wisniach
(see all)