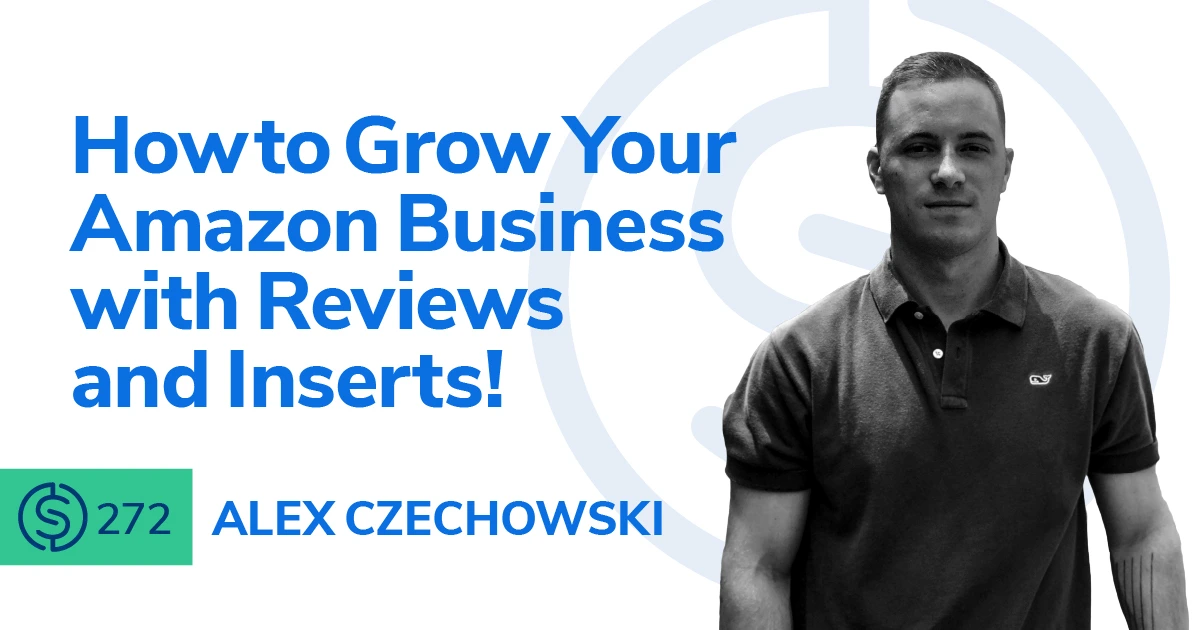 #272 – How to Grow Your Amazon Business with Reviews and Inserts!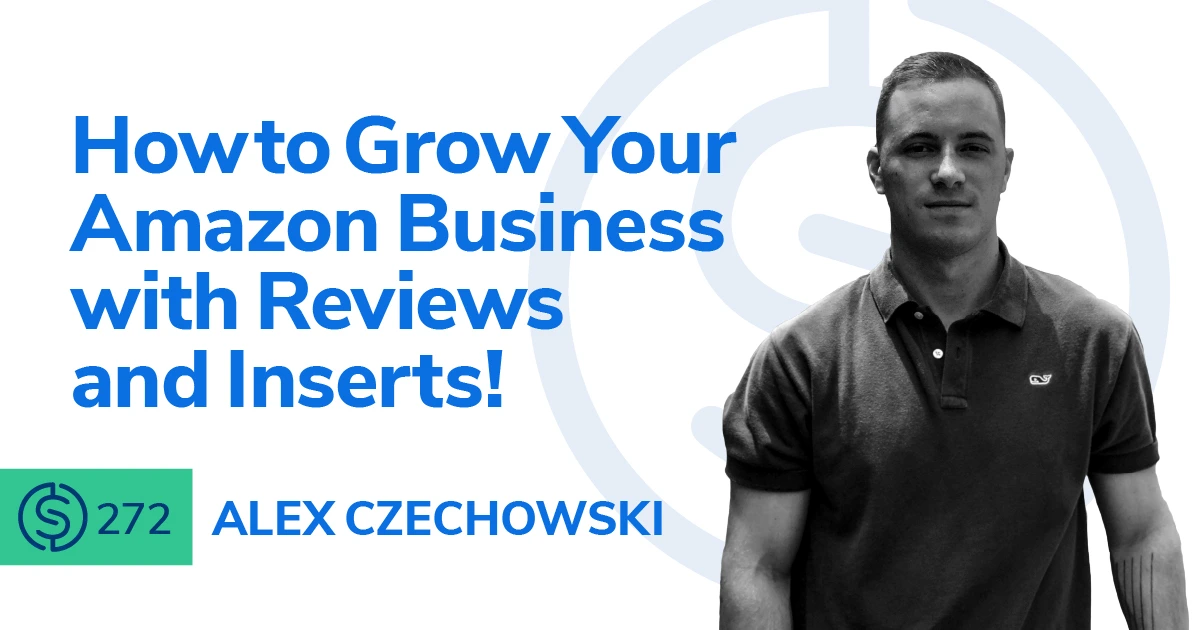 The subject of asking for Amazon reviews is one that can elicit many different emotions for e-commerce sellers. Still, the number one emotion might be fear. Many Amazon sellers aren't quite sure how to safely go about the process or might not think that it's allowed at all.
That's why in this episode of the Serious Sellers Podcast, Helium 10's Director of Training and Chief Evangelist, Bradley Sutton welcomes our own resident customer review and product insert wizard to gives us the latest. Alex Czechowski is Helium 10's Product Manager for Portals and Follow-Up. He's been behind many of the new tool features that over the last year have made life easier (and more profitable) for e-commerce sellers.
Are you still wondering if insert cards and asking for reviews are OK with Amazon? Alex has the latest strategies (and tool updates) that will help you create momentum behind your own brand. Lastly, he will reveal a cool new tool for Amazon sellers who are using FBA. Bradley is excited about this one. I bet you will be as well!
In episode 272 of the Serious Sellers Podcast, Bradley and Alex discuss:
04:30 – Flipping Textbooks and Needing Data
06:30 – How to Stay in Amazon's Good Graces
09:30 – Is There a Foolproof Way to Stay Out of Trouble?
11:00 – How Follow-Up Can Automate the Review Request Process
13:00 – Follow-Up Can Be as Simple or Advanced as You Like
14:40 – Here's How to Get Started with Follow-Up
15:45 – Are Insert Cards Really OK?
17:45 – Insert Cards Best Practices
19:30 – Using Portals Landing Pages
22:45 – The Power of Featured Product Inserts
24:30 – The Portals Blueprints Feature
26:30 – How to Put the New QR Tool to Work
30:00 – Putting Your Brand in Front of Potential Customers
32:45 – Helium 10's New Amazon Bar Code Labels
34:00 – How Amazon Bar Code Labels Will Help Sellers
39:00 – Setting Up an Automated Email Collection Process
Enjoy this episode? Be sure to check out our previous episodes for even more content to propel you to Amazon FBA Seller success! And don't forget to "Like" our Facebook page and subscribe to the podcast on iTunes, Google Podcast or wherever you listen to our podcast.
Want to absolutely start crushing it on Amazon? Here are few carefully curated resources to get you started:
Transcript
Bradley Sutton: What's the easiest way to ask customers for a review? What kind of links can we have on our Amazon product insert cards? We're going to talk about this as well as introduce a brand new tool that's going to help Amazon sellers who use FBA, whether you're private label, wholesale, or arbitrage. How cool is that? Pretty cool, I think.
Bradley Sutton: Hey guys, we've had a few guests here on the podcast that worked for Thrasio. Thrasio is a company that acquires leading FBA brands from small business owners, just like you. They've got the experience of acquiring over 125 Amazon businesses. So they've seen it all when it comes to managing and growing an Amazon brand. So, if you are thinking about selling your FBA business, visit thrasio.com/helium10 to connect with the Thrasio's deal team. That's thrasio.com/helium10. For more information on if your brand is a good fit for Thrasio.
Bradley Sutton: Hello, everybody. Welcome to another episode of the Serious Sellers Podcast by Helium 10. I am your host, Bradley Sutton, and this is the show that's a completely BS-free, unscripted and unrehearsed organic conversation about serious strategies for serious sellers of any level in the Amazon world. Back in the day, guys, I used to know every single tool at Helium 10, like the back of my head. I was kind of like the almost unofficial product manager, even though I really wasn't even part of their product team. You could ask me anything about any tool. I was just like, this is exactly how it works. But then we started growing so fast and going into lanes that weren't exactly mine. I was just like, you know what? I can't even take this. This is like too much stuff to learn. And a few, a couple of those tools that I never really completely mastered were Portals and Follow-Up. I'm bringing somebody on to help me out here to give me some education on some of this stuff. We've got our product manager here at Helium 10 for the Follow-up and Portals tools. Alex, how's it going?
Alex: Hi, Bradley. It's going great. Thank you for having me on.
Bradley Sutton: Thank you for coming on. You are in charge of a couple of tools like Follow- Up and Portals, which I'm a total newbie in. We have added so much stuff it's really exciting to see. I wanted to get the lowdown from you on how this stuff works and how Amazon sellers have been using it. Before we get into that, since this is your first time on the show, you are actually calling in from Walmart Ville, right?
Alex: Yes. You are correct. I'm located here in Bentonville, Arkansas.
Bradley Sutton: That's the place where pretty much most of the population works for Walmart there. That's where Walmart headquarters are. I used to travel to Walmart headquarters and go there. When I worked at other companies, did you yourself ever work for Walmart?
Alex: Yeah. I spent about two and a half, almost three years at Walmart technology. So Walmart tech, global tech, both as a software engineer and a product manager at Walmart.
Bradley Sutton: Interesting. That's pretty cool. How's the transition been to a company that's helping Amazon sellers?
Alex: It's been great; going from fortune one, Walmart, to a startup in the Amazon space where we can move very quickly. I get to talk to customers all the time. It's been a great transition.
Bradley Sutton: Cool. What attracted you to try this different lane for yourself? Kind of like I'm trying to go a different lane and trying to learn how to do landing pages today with you, but like, how do you go from Walmart and say, you know what, let me try something I have zero experience because I'm assuming you've never sold on Amazon yourself, right.
Alex: Actually, the way I got introduced to Helium 10 is that I was flipping used college textbooks on Amazon. So I was– from friends or even here in the area at the university of Arkansas buying used textbooks and reselling them myself, FBM on Amazon. There were certain pieces of data that I needed to run successfully. I got those mostly using Xray and the Chrome extension. I got exposed to Helium 10 well, before I joined Helium 10, and then, when I got the call saying, "Hey, this company is interested in you and you probably have never heard of them." I in fact had been a subscriber at the time.
Bradley Sutton: That I had no idea. That's pretty cool. Let's just talk about the advancement of Follow-up over the last couple of years now. I think that everybody understands that this is one of the stickiest points in the Amazon world. You know, like everybody understands the need for more reviews. Like everybody knows, "Hey, social proof is necessary." We want to get more reviews, especially when we're starting out. And sometimes your success can be tied to how fast you can get those reviews up in a reasonable amount. Obviously, you don't want 500 reviews to show up overnight or anything, but on the flip side, people have to be careful. I mean, what are we seeing in the news lately? Like all of these eight and nine figure companies, a lot of them out of China have been caught manipulating reviews by sending out things that incentivize them and offer gift cards and had fake review groups. So this is something that Amazon is very sensitive to. We at Helium 10 have had to be very careful in order to make sure that what we are offering customers is obviously in compliance. So, let's just talk about that. First of all, like what are some of the roadblocks or some of the tippy toeing around you have had to do to make sure that we as Helium 10 are providing our customers with something that's in compliance?
Alex: Right. Let me start by saying you're definitely correct. Amazon is trying to crack down on this and we'd be kidding ourselves if we weren't admitting that there's still a lot of bad actors that are incentivizing reviews, things like that, and that are successfully getting away with it. Now, how long will that go on for how scalable is that in some cases, not at all. In other cases, they can stay under the radar, right? But as you said, we don't want to advise that because we're in a position where we want to make sure that you're growing your business and talking to your customers and doing things the right way. So, there are other tactics, but for the most part, we want to go by the book and there's creative ways to do that, right? And so, what we want to do is give sellers the best tools and the best chance to be successful with the lowest amount of risk. The long standing thing that we always preach is when requesting reviews, the two rules are, do not in any form incentivize a positive review. So, if you're asking, even dancing around the subject, you can get in trouble for saying please leave me a positive review. Right? All you want to do is ask for a review at all, just give me a rating. Now, there's people that have gotten in trouble.
Bradley Sutton: It's not just that though, right? I mean, like you see, the amazing thing about Amazon is, first of all, they don't say specifically what gets you in trouble or the exact verbiage, but we've had cases where so many people think that, oh yeah, I didn't ask. I didn't do what Alex just said, but what are some of those things that you've seen people get like that slap on the wrist for where it wasn't even blatant.
Bradley Sutton: Right. So, yeah, there is the bluntness of just saying, we'll give you a gift card if you give us a positive review. That's obvious, but you're right. There's a lot of nuances in the intent of how you– the messaging or what you're saying to your customer. We see sometimes where it says, if you have any problems at all, please reach out to us, don't have any problems, feel free to leave us a review. And that may sound great. And it doesn't sound like you're asking for a positive review, but that can be seen as you trying to deter a negative review. Right. So, even though we've seen people get in trouble for, so a lot of it is, you never want to say, if this happens, do this, if this happens, do this. Anything that's going to be some sort of like almost conditional statement of leaving a review can get you in trouble in some cases.
Bradley Sutton: For those people who are just so nervous, they're like, you know what, I don't trust myself to write this email and have Amazon not get mad at me. What is the one foolproof way that they can request reviews without having to worry about Amazon thinking that they're borderline or not?
Alex: So, the best way would be just sending Amazon's request to review and what this usually looks like for new sellers or people that don't have a system to automate this for them is just you go to your orders page in seller central, the order and you click request to review, right. And it's just clicking that button that's going to send out the review request message to that buyer. Now that's going to be Amazon's template. Like you said, there's a lot of benefits to doing this method. You're going to be compliant. So, it's kind of a risk-free, worry-free option. They will translate it to the buyer's language of preference. So, you know it's going to be– they can read it, it's legible to them. They can understand the message and what they're asking for. And with things like Follow-up, we can now automate this process. So, you're doing the custom messages. You want to build a creative email copy and the email template and schedule those to be sent out. That's great. And that works well. But like you said, the people that don't want to worry about that, or want something quicker, right? Some people are just– let me just turn it on, let me set it and forget it and not have to worry about this. I know even if the landscape changes or the rules change, I would think that Amazon will update that request to review and that's always going to be compliant. So in that case, you go into Follow up and you can create an automation that's going to send out Amazon's email template.
Bradley Sutton: It's so much better for guys to use that because now you can have those specifications, like not sending it to people who got a refund or not sending that out to people who maybe got a discount, like people who are using discount promotions and things. Sometimes people are worried like, man, will Amazon look at that as almost like an incentivized view that could give them a promotion and there I'm asking them for a review. So, if you're worried about that, well, you'd have to figure that out one by one, if you're using Amazon's request to review, but in Helium 10, you can actually edit those out. Guys, another thing. This is separate from what Alex has been talking about, but that deep dive I did, I showed facts and figures about review velocity these days and how high it is compared to the old days, things like the one-click reviews. And if you're wondering how it looks on the buyer side, like how does it look when Amazon requests to review on their own? How does it look when you use buyer-seller messaging? How does it look when you use the request review? If you're curious about that, just go to our helium10.com/blog and type in. I think it's called the state of Amazon reviews 2021, just type that into the search. And you'll see a deep dive with a whole bunch of screenshots that obviously it's kind of hard to describe here on an audio podcast, but check that out guys if you are interested in more information. Any last things about Follow-up like either some experiences with customers you've talked to, or something about Follow-up that you feel like not everybody knows that we even have, or Amazon communications in general.
Alex: The only other thing that I'll say is that Follow up can be as advanced or as basic as you'd like it to be. So we've seen customers that want to have very complex automations with a lot of different filters and different messaging, depending on the filter. So, a different message for a first time buyer versus a repeat buyer, a different message for someone that's bought on one marketplace versus another, and some are translating it. So we have, you can tag the email template that you've created and create it in multiple different languages to go out at which will detect for you. But just know that you can still have a fair amount of success. I would say a lot of success, just doing the basic thing. So, we have basic automation and email templates for a refunded or returned order. You can automate requests to review with really just a click of a button. We have an onboarding checklist in Follow-up when you first go into the tool. And part of that is just, do you want to automate review requests using Amazon's template and with the click of a button, you can turn it on. Now, if you want to only do it for certain products or try that out for some, and then try out custom messaging. You can beef it up or make it more advanced, but know that you can get started with Follow-up with just a couple of minutes, a couple of clicks and see how it works for you.
Bradley Sutton: Yeah. Alright, guys, if you want a little bit more information on that, go to h10.me/follow-up, but give it a try. I mean, it really works well. I've been using it for every single one of my product launches lately, and it's definitely helped me get those review velocities at a place I want to be when I'm at a launch, and some of them are really incredible. Some of them, I've had even upwards of 15% reviews to orders, which is like, three years ago, or four years ago would have been unheard of. But nowadays with how easy Amazon makes it to actually give a review, the one click review, everyone's review velocities are way up. Now let's switch gears to something I'm a little, or not a little bit, a lot less familiar about. And that's the whole thing about landing pages and insert cards. And these are things that I never used even when I was a consultant back in the day. And so, we wanted to really start integrating that into the Helium 10 suite. And that's why you were tasked to kind of launch the whole Portals program here. But my first question to you, first of all, I think the question that is on everybody's mind, let's skip the Portals part of the landing page part, and let's go right to insert cards. And I would say, especially newer sellers, at least 50% of sellers will say the very first thing, when you start talking about insert cards is, wait a minute. Is that really okay with Amazon? Like if I have a link to go to a social media or something else, like I thought insert cards are not allowed. So, what would you say to that?
Alex: The kind of understanding or sentiment that we see from sellers that look at these types of strategies, like the product insert cards, a lot of times they equate the communication guidelines that Amazon has put out there to include product inserts in those communication guidelines saying, you cannot have an external link or all these other things, a product image, right? All of these things that– you have to have an order ID, right. It would be a very daunting task to apply all of those to product inserts, which is why they in fact do not apply. So, there are some, just staple rules to follow that apply everywhere. But that's the main thing that we see is people think that the communication guidelines extend to product insert cards. When in fact, it's a very different game with a somewhat different set of rules. And the main point is that you can use them. There's a lot of big brands that are using them. You can see a lot of expert sellers using them very successfully, without risk or worry, because we can confidently say that we've seen enough of them we've tested and used enough of them to know that they are allowed.
Bradley Sutton: What's the no-no though. So, I mean, just like with reviews, people are like, wait, can I ask for reviews? Yes. You can absolutely ask for reviews. There's nothing wrong with that, but there is a line that you can't cross. So, what are a few of the things that you can not do when you're talking about insert cards?
Alex: Yeah. The biggest two– you hit on one already the review requests. So the same goes for incentivizing positive reviews or deterring negative reviews. You don't want to have any type of messaging that is going to be suggestive in that way. So, just if you are going to ask for a review, just leave it at that, but don't talk about a positive experience if you experienced this, contact us here and don't leave a review, right. Don't play around with that at all. And then number two is, do not divert sales, traffic away from Amazon. So, you don't want to put in your product insert, let's say you have your own e-commerce storefront, maybe you have, or you're selling on another channel or something. You have your own Shopify store. Don't say here's a coupon code to use on our website and purchase their next time or even just have that link there. I would say avoid doing that because you don't want to divert sales traffic away from Amazon. They'll see that as you trying to convert or steal one of their customers and they usually don't look highly upon that.
Bradley Sutton: Yeah. Okay, Good. Now, the original focus of Portals was what I was talking about those landing pages. And so, if somebody has not thought about the benefit of that, in a minute or two, what are the main benefits of being able to use a landing page before sending outside traffic to your Amazon products or Amazon store? Like why would you even want to do that?
Alex: That's one of the buckets pre-sale landing pages, or some sort of sales funnel. And then there's, we have like a second bucket that would be more a post sales strategy. And that would be more of warranty activation or some sort of post-sale giveaway or something like that, subscribe to our newsletter, something along those lines. Now, on the presale side, there's some benefits here as well. So, we see a lot of people do it in some sort of product launch where they just want to get more traffic and sales on their products. But what this typically looks like a lot of folks decide to offer coupon codes. So it may look like, let me drive traffic to my landing page. Let me upload a set of either a single use coupon code that I've gotten– is connected to my seller account as well. So, I have the coupon codes in my seller account, or a group coupon code. So it's just a multi-use coupon code. And what you do is you collect the customer's information in exchange for a discount, and then now you've collected that customer information, whether they decide to finish there and complete their purchase or not. Now you have someone that is at least somewhat interested in your product. And if they do complete the sale, then great, I've gotten a sale. Maybe I've given a discount in order to get that sale, but I've also captured that customer's information. And that there's a lot of valuable things that you can do with that, both in terms of retargeting those people, or if you are one of the sellers that likes to run ads, now you can either retarget them via ads as well, or find people that look like them look like audiences. Let me find other people that are like this person that engaged with my landing page or my ad, or purchased my product.
Bradley Sutton: Yes, exactly. I think people, if you're starting brand new from day one, like, Hey, I didn't use a landing page. I wouldn't call you a failure at Amazon, but it's something that you can start considering early on. It's not something that you need guys to be million dollar sellers before landing pages can be useful for you. Don't forget that. Remember you don't own your customer, you can't really communicate with them. We talked about buyer seller communication. Sure. You can ask her to review, but you can't go and say, Hey, here's a coupon on my new product offering, check it out. Or, Hey guys, like the product you bought, we got a sale on it. You want to buy some or, Hey, why don't you share this? I mean, you can't do communications like that with buyers. However, if you have their email address, because you acquired them off of Amazon, you can communicate with them all you want outside of Amazon buyer-seller messaging. Now, of course, there's standard practice. You don't want to be bombarding customers with emails, but the fact is that you can communicate with your customers if you have their own information. So, that is very, very valuable. Now, going back to the insert cards, we're going to talk about something that we were able to get some kind of like templates and blueprints and things like that here. But the reason we have that is because there were some influencers out there like Norm Farrar, Paul Barron, Tom Yang, who gave us their best performing insert cards. What else have we been adding other than just the plain creating a landing page and being able to create an insert card. We got plenty more stuff in Portals that you've launched over the last six months.
Alex: Right. So, we talked about featured product inserts. So, the product inserts feature has some product inserts that we've come up with ourselves here at Helium 10, which was just collecting a bunch of inserts from products that we purchased and figuring out, well, what are the trends? What are the things that are working? What are the things that are compliant? And non-compliant, we saw a lot that were not, that were clearly incentivizing reviews. Now that's not something we would build into our tool or recommend that you do. But the featured product inserts I'll call it a big hit because as you pointed out, these are expert sellers that spent a lot of time and money to develop an appealing and high converting product insert. And so that's been a very high value feature to add into Portals. But I think the big thing that makes all of these things that we've added into Portals easier to use in tandem. So, using all these things together in a successful way would be our blueprints feature. And a great example of this would be, we have a warranty activation kind of sales funnel or customer collecting funnel. And what this would look like is kind of marrying all these things together. So, you design a product insert that has the goal of having your buyer activate a warranty. And we've got templates that are designed to do this. And the templates also include QR codes and short links as a shortened URL, that is pre-configured to go to your warranty activation Portal landing page. And so kind of out of the box, you can create this warranty activation strategy that we've actually kind of borrowed or just seen other sellers use, and box this strategy up for other sellers to try out. And so, when a customer gets your product inserted, they see– claim your one year extended product warranty and be entered to win in this contest. And so they scan the QR code, they go to your Portal, and you collect their customer information. We have– if you want to enable order ID verification, you can connect your account data so that we can verify that it's a real order. And once we've done that, you've collected that customer information. And then you can, again, you can do all these types of things with that valuable customer information that you've collected.
Bradley Sutton: Cool. If you're like me and you were starting from zero, as far as how to create some of these things, like absolutely take advantage of that. Another thing that launched recently was the QR codes. And so what are some scenarios where QR codes, I mean, like two years ago, most people might not even understand what QR codes, but thanks to COVID. I think the entire world has used QR codes for menus and things like that. So how would an Amazon seller use QR codes in their Amazon business?
Alex: So, the main way we see them being used is in the product inserts. So, you can obviously give someone a link or a shortened link, which we also have in the QR codes tool in Portals. But the easiest experience for a customer is to just scan a QR code with the photo app on their smartphone, right? So, they just open up the camera. As you said, people are very familiar with how this works nowadays, and that will link them directly to wherever you want to put them to. It doesn't have to be a Portal landing page. It could be another page as well. Now, obviously still keep in mind that you need to be within Amazon's terms of service. So again, don't divert sales traffic, or anything like that, but, you can just put it on your product, insert and scan that. There's other things too, there's in our QR code tool, we track things like, scans and location and things like that too, so that you can see how well are these things performing. So it's not just, you don't just put it out there and don't have an idea of how well it's working for you. You can actually see those statistics there. The other place that we see QR codes used is directly on product packaging. So, some people decide not to do the product inserts, or even if they still are some decide to put QR codes on product packaging, you'll see a lot of bigger brands do this too where it's, you know, maybe you have a, how to assemble video that you've published and you want to just link, say, go to this QR code, to see the video, instead of typing in this really long link on YouTube, it just reduces the friction for a buyer to engage whatever with whatever content you have. And the upside is if you just sent the YouTube link, you could see views and things like that. But maybe whatever source that you're directing your buyers to your customers to, maybe you don't have any analytics into that, which again is just the advantage of having a QR code because you can track those types of things.
Bradley Sutton: I've used it and it's super easy. I like it. One of the cool things is you can even kind of like embed your logo into the QR code. I was like, what? I didn't even know that was possible. This is so cool. Now, along the lines of both of these, like in the past, when we would do QR codes that went to a link or landing pages, we were using kind of our own Helium 10 and Portals URLs, but now, what can people do inside of Portals if they don't want to use the Helium 10 URLs?
Alex: Right. So, this is kind of an important subject. So, if you're using a normal landing page in Portals, or there's a lot of other tools that we've looked at that are available, that all do this similar thing, they have their own domain, their own kind of URLs for their landing pages that you can create. And the same goes for Portals. When you create a landing page in Portals, you see portals.click, and then you've got some random characters that are unique to your landing page. And while that works okay. There's a few reasons why it could work a little bit better. So, as branding becomes much more important for sellers to kind of differentiate or stand out or to be remembered, that's another opportunity to get your brand in front of people. It's a little bit more trusted than some random kind of site link that they see in their browser. And if you're running any sort of traffic to that page, a lot of times when you preview, if you share a link somewhere, you usually see a preview of that page. And in that preview, you typically would also see the URL. And if someone sees this strange looking URL, again, it kind of hurts the trust factor with your customer. And you may see it convert not as highly as it potentially could. So, the way that we solve this issue is to allow you to connect a custom domain to your landing pages, and even your short links for your QR codes, if you'd like as well. And so within Portals, you can now actually search and purchase custom domains and connect them directly to your landing pages so that you can have it be related to your product or your brand, and hopefully convert a little bit higher.
Bradley Sutton: And then, I'm registering this just like if it was GoDaddy. So, if for whatever reason I stopped selling on Amazon, I obviously don't need Helium 10, but maybe I'm doing my Shopify or I'm making my own .com site. Just because I canceled Helium 10, it's not like I lost that domain. I could still go somewhere, I'm assuming, to see all the DNS addresses and all that wonderful technical stuff?
Alex: Yeah. So, there's a few things you can do. You mentioned Shopify, we actually have a connection to Shopify in your domain settings. So, if you want to also use that domain on your Shopify store, maybe you want a separate page there, or some sort of sub domain there. You can go ahead and connect that. And then if at any point, you've registered this domain and you want to take it elsewhere. You can reach out to us and we can help you with the transfer process of actually transferring that domain.
Bradley Sutton: Now, anything else with Portals before we go onto our new reveal here?
Alex: No, I'm excited for it.
Bradley Sutton: So now guys, like I said, in the introduction, we're debuting a brand new, I guess you can call a tool here for Amazon sellers and this really solved a pain point for me. So, Alex took it away. What are we launching now?
Alex: We are launching the ability to create Amazon barcode labels. And so, for those of you who are familiar with the concept, this is your FN SKU barcode, the ability to generate and creatively design, export and print your Amazon barcode labels.
Bradley Sutton: I love that. Guys, this is one of the things I was pushing for, because for years, let me tell you guys what my process is. I have two different processes. One of them is that I do a lot of wholesale products. And like, I obviously come from the wholesale manufacturer, they don't have FN SKU codes. And I don't– I'm a cheapskate, I don't want to pay Amazon 30 cents a piece to label these. So I do it, I label them myself. So like whenever I'm about to do a new replenishment order. I just go to Amazon and I copy the FN SKU. And then I use a barcode generator and I have my own little template, and it's just an annoying process. And then I print it off on my thermal printer. And then I just sticker them one by one. The secondary thing of how I have been using FN SKUs is for my private label products on Project 5k, Project X, I like doing a little bit more graphic labels. I want something printed on the box because instead of then I don't have to sticker them. Like I do with my wholesale products. It already comes from my factory with the FN SKU there. And maybe my logo in some nice little nice color and different things like that if I want to. And then, what I do is I have a graphic designer because I can not draw for anything, I put the FNSKU sticker on a nice graphic logo. And then I give that file to my supplier and then they print it off and they put it on the boxes for me. So, can now this new product handle both of those of what I have been doing?
Alex: Yes, it absolutely can. So, we actually kind of designed this off of your process Bradley, although I think with the other people that we've talked to other sellers that we've talked to, we do see that others have a somewhat similar process to you or some form of that process. And so, effectively yes you can. The current barcode labels that you use and the stickers that you place on your products, you can now create from scratch yourself in our barcode label tool. Now, you mentioned the whole graphic design piece. Now, you may not be able to recreate the graphics. You probably still would have someone else create some cool custom design that you want to include on there. But you can certainly upload that and format it in a way that is ready to be placed on your product.
Bradley Sutton: So guys, this is going to save you some time. It's going to save you, time is money. By itself might save you some money as well, by the way, what's the name of this new tool?
Alex: We are calling it the Amazon barcode label.
Bradley Sutton: I like it. Simple and to the point. So, depending on when you're listening to this episode, it might be already in your dashboard or it might still just be to elite members maybe or diamond members, but eventually, platinum all the way to elite are going to have access to this. So, make sure to check your dashboard if you have it. And then let us know, like Alex said, they base a lot off of my process and some of the others that they interviewed, but if you have some unique use cases for how you guys do your barcodes, maybe it's something that's not even FN SKU. Maybe you guys want something that helps with UPC or EANs or whatever the case is. Let us know. That's what we're here for. We develop things that our sellers ask for. So, let Alex know in the tool suite, guys. Remember the way to do that. If you're on your Helium 10 dashboard, you go to the very top. There's like a question mark hit that question, mark button, and then hit the share your ideas and just say, Hey, this is for Alex here. And then I know he checks all those. Any last words of wisdom for us here before we ask you for your 30-second tip, Alex?
Alex: Yeah. Just maybe to reiterate one more point about the Amazon barcode label feature there. Anyone that's researched this heavily will see that there's a lot of requirements that you need to follow when creating your barcode labels. So, there's things like how big it can be. It's got to be one inch by two inches between two to three for the actual barcode sticker size. There needs to be a certain padding around it. It needs to be placed in a specific spot on your product, all of those types of requirements. We're also building as much as we can into the tool so that you will use it correctly. And it's things like, yeah, on your packaging, you need to say where it's made. Now, maybe you already do that on your packaging, but you have the option to include that here. Bradley, I know that you like the product name that's generated on the barcodes in seller central. Sometimes, it does not look very legible and sometimes you want to change that. So, this gives you the ability to easily do that too, without having to crop a bunch of things and align it in some text editor or something, just do that directly in the tool. You can actually just put in the FN SKU, generate the barcode. We'll pull the product information, and then if you need to edit any of those things, you can easily do that where the format is not going to be messed up in any way.
Bradley Sutton: Cool. Guys, take a look at these things, go to H10.me/portals to find out more about Portals and then h10.me/barcode in order to find out more about this tool. All right, now, we've come to the part of the show we call the TST, 30-second tip. What's something that is actionable for our users out there that they can do? Maybe it has to do with Follow up. Maybe it has to do with Portals. Maybe it has to do with the barcode tool. What can you give us out there?
Alex: I did like a little demo for like a small group of users recently with setting up the whole premise. How can I kind of set up an automated system with my landing page to automatically kind of collect and send emails to new subscribers. And within 15 minutes we set it up, which was creating a MailChimp account. When someone creates a workflow that when there's a new subscriber, they get this email template and then connect it to the Zapier API in Portals. And then we ran through it really quick and sure enough in two seconds, as soon as I subscribed, I got an email in my inbox. And it was all automated.
Bradley Sutton: Okay. I like it. All right. Well, Alex, thank you so much for joining us. I'm super excited about the new barcode tool and I'm going to continue to get more into Portals and Follow up myself. So, guys, I hope you, Helium 10 members out there appreciate this information and start utilizing this stuff. I mean, none of the stuff that we talked about today, guys, you have to pay extra for it. If you already got Helium 10, you'd have full access to these tools. So, make sure to take advantage of it. Alex, let's link up maybe sometime in 2022. And let's talk about all the things that for sure have changed from Amazon requirements, for communication or other things. And let's see what's going on in your part of Helium 10 here.
Alex: Let's do it.
Achieve More Results in Less Time
Accelerate the Growth of Your Business, Brand or Agency
Maximize your results and drive success faster with Helium 10's full suite of Amazon and Walmart solutions.