What Can You Sell on Merch by Amazon?
Merch by Amazon is a royalty-based platform that brings your designs to life without any upfront costs. What can you sell on Merch by Amazon?
Updated on: June 21, 2022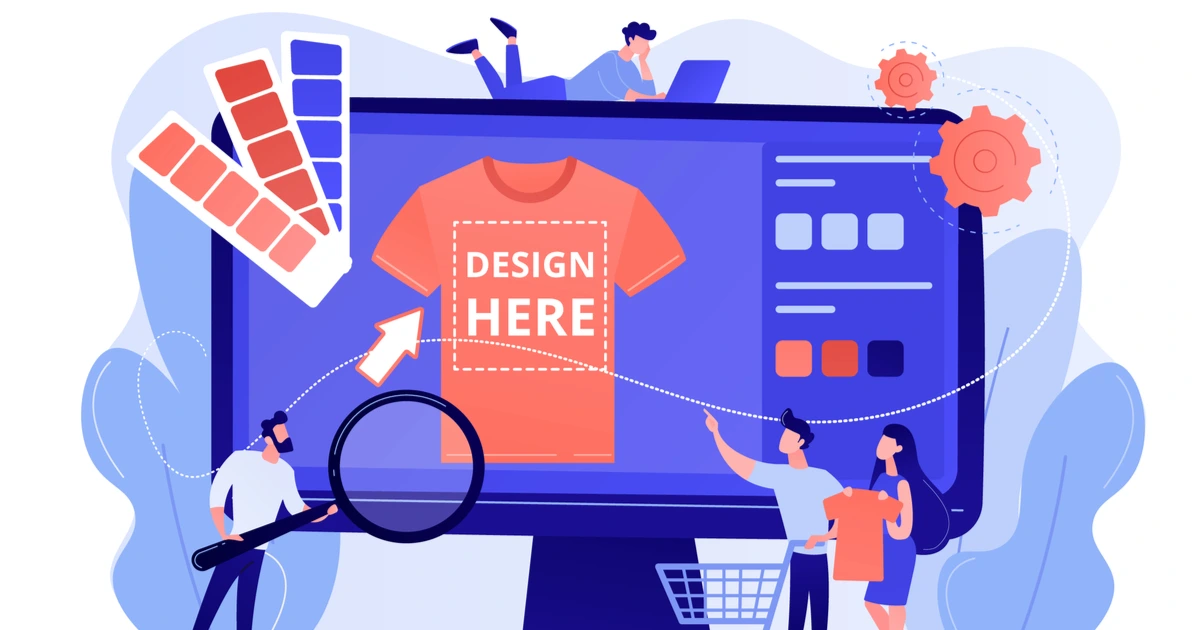 Want to start selling on Amazon but are not quite sure what to sell? First of all, you're not alone. Finding the best product to sell on Amazon is no walk in the park. Even after finding a niche with high demand and low competition, you have to find a factory to produce it (within your budget) and stay on top of quality assurance every step of the way. 
If you like the idea of selling your own branded products without the burdens of dealing with an outside supplier, Merch by Amazon is something you're going to want to check out. 
Oh, and did we mention you'll be collecting royalties from every sale without lifting a finger?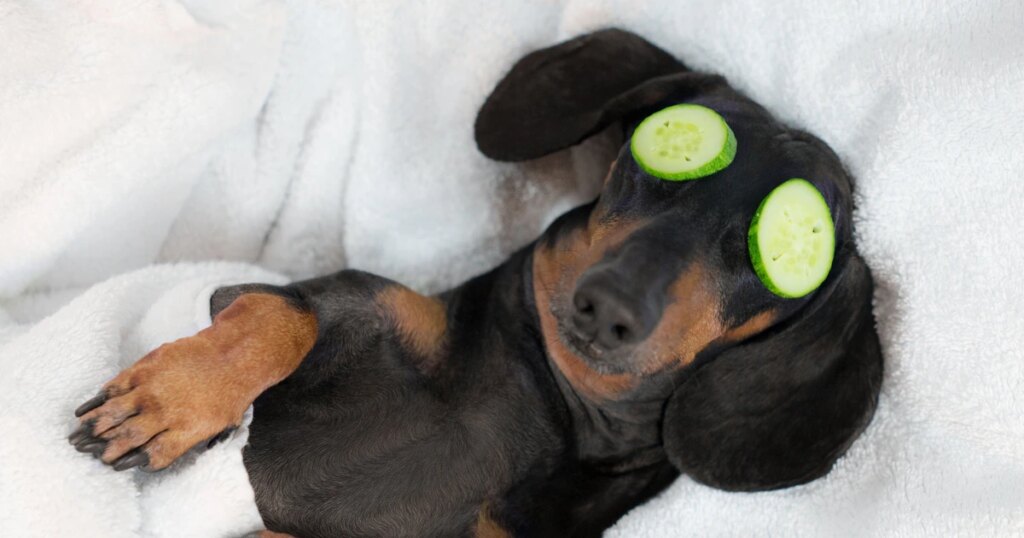 What is Merch by Amazon?
The Merch by Amazon platform allows sellers to sell their own products (with their own designs), while Amazon handles all production and shipping logistics. 
In 2022, it's essentially the best way to dip your toes into ecommerce with no upfront costs whatsoever.
Here's how it works.

You create your design. Using any design software you like (including beginner-friendly, free ones), create your custom branded logo and save the file according to Merch by Amazon's requirements (we'll get to those shortly). Don't worry. You do not have to be a professional graphic designer to succeed on this Amazon platform.


Create your Merch by Amazon seller account. This process is 100% free and takes about 1-2 weeks to be approved. Make sure you have your preferred contact information, bank account/routing number, and SSN available. You will need these for Amazon to properly set up your account (and get you paid!)

Want to see a walkthrough of the Merch by Amazon account set-up process? We did the whole thing for you, so you can see what you're getting into.


Upload your design(s). Once your Merch account is approved, simply log in, choose the products you want to sell, and apply your design. Amazon makes this process painless with simple uploading instructions and plenty of color choices for the products they have available to you.


Write your listing. This includes your Amazon product title, product description, and bullet points – all of which will help the Amazon algorithm determine if your product should be displayed when someone searches for it. The more well-optimized your listing is, the more it will be seen by the general online shopping public.

Why is Amazon listing optimization so important for getting more sales? Learn the ropes here!


Hit publish. Amazon will typically approve your design within a few days. 
Once your listing goes live… that's it. It's ready to sell! 
How Do You Make Money on Merch by Amazon?
Let's say you are selling a custom t-shirt. When someone buys your product, Amazon prints the t-shirt (with your design), packs it, and ships it to your customer.
"But how do I get paid?"

The million-dollar question! During your listing creation, after you've uploaded your design and picked your product, Amazon will give you the option to set your own price.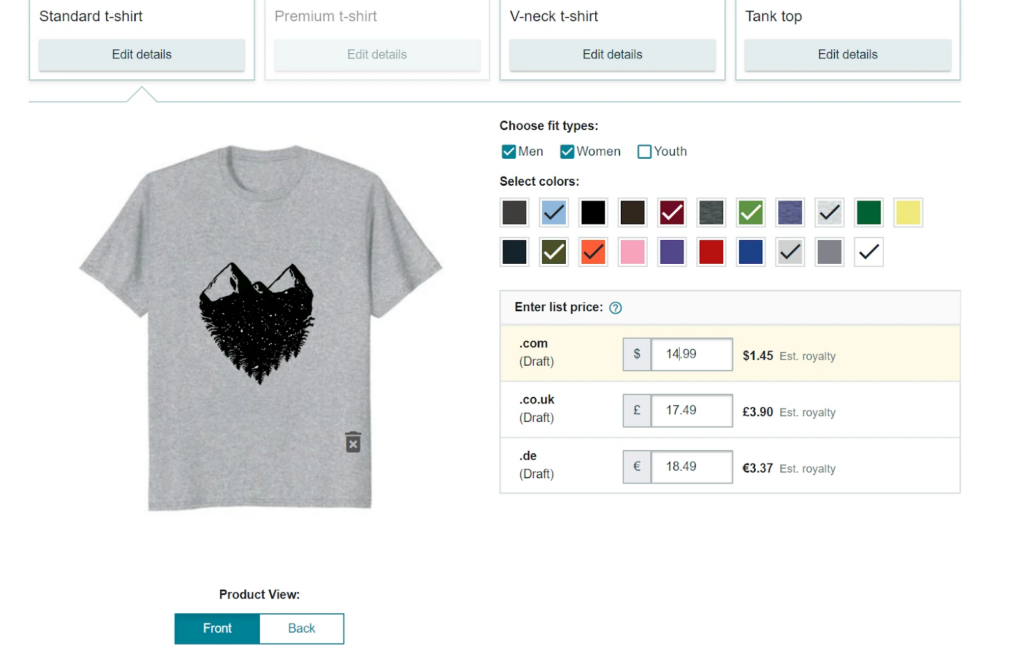 Your listing price will determine your royalty or the price you get paid every time you make a sale. Where does the rest of the money go? Don't forget that Amazon is taking care of production, storing,  and shipping… so most of your sales revenue goes back to Amazon to take care of these costs. 
While Amazon merch won't necessarily give you the largest profit margins, it does carve out some of the easiest profits you're ever going to make in the highly competitive world of ecommerce. And don't be mistaken: if you keep your designs up to date with current trends, ensure your listing is fully optimized, and work hard to promote your brand via social media and paid advertising, the Merch by Amazon platform can be an absolute goldmine.
What Can You Sell on Merch by Amazon?
So just how much can you really do with Amazon merch? Is it exclusively clothing?
Good news… Merch by Amazon is no shirt, no shoes, no problem. 
Though the Amazon program specializes in apparel merchandise, it is expanding its offering more and more every year.
These are currently the products offered by Merch by Amazon (all of which can host your custom design):
Apparel: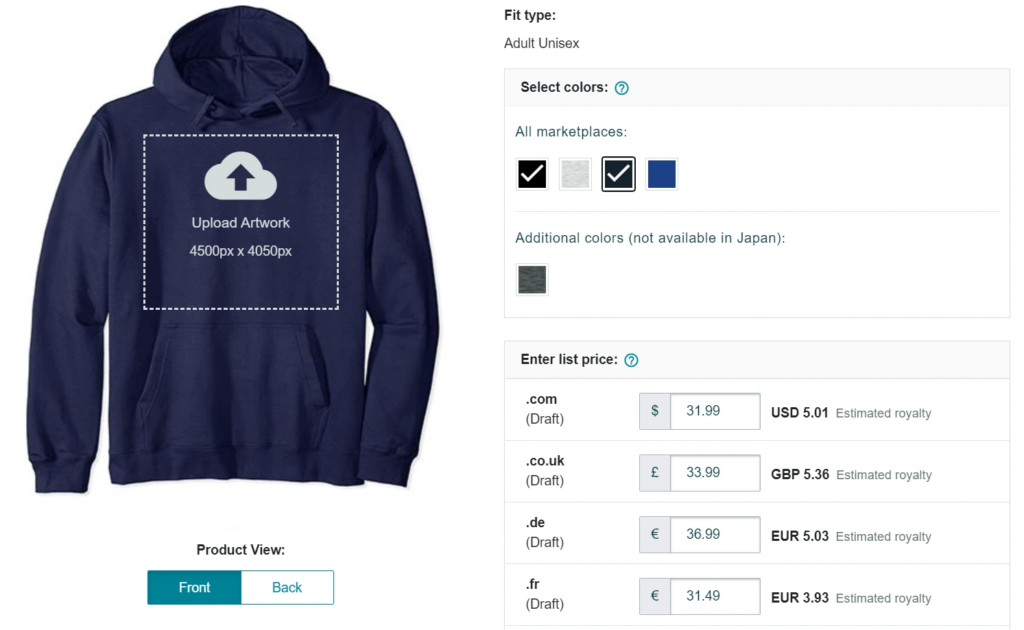 Standard t-shirt
Premium t-shirt
V-neck t-shirt
Tanktop
Longsleeve t-shirt
Raglan shirt 
Pullover sweatshirt
Pullover hoody
Zip hoody


Phone Accessories:
PopSocket grip
iPhone cases (SE/7/8, 7 Plus/8 Plus, XR, X/XS, XS Max, 11, 11 Pro, 11 Pro Max, 12 Mini, 12/12 Pro, 12 Pro Max)
Samsung Galaxy cases (S8, S8+, S9, S9+, S10, S10+, S10e, S20, S20+, S20 Ultra)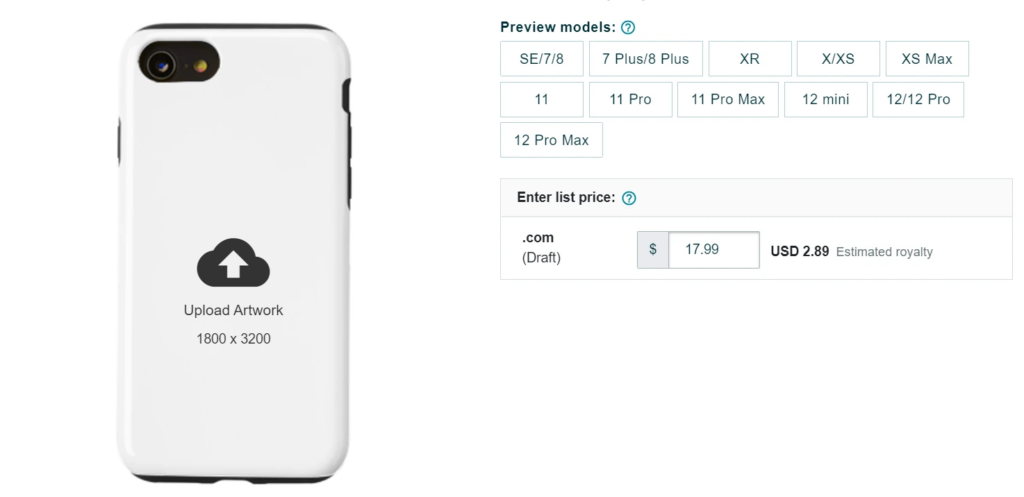 Other: 
Tote bag
Throw pillow (16"x16", 18"x18")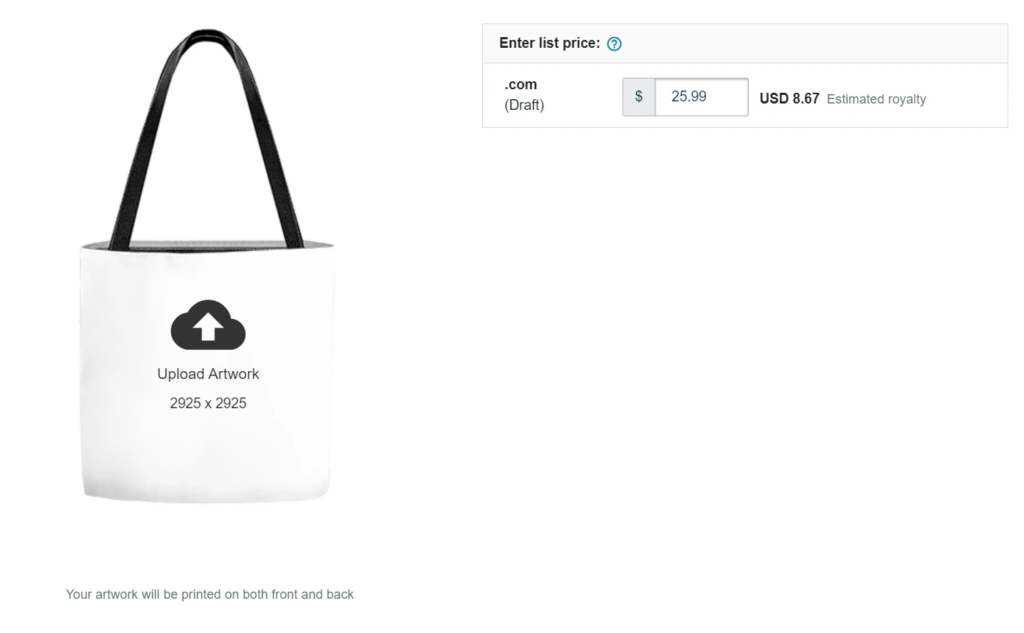 Merch by Amazon Requirements – What do You Need to Get Started?
See something you can envision your masterpiece on? 
These are the things you'll need to get started selling on Merch by Amazon:
A valid bank account, routing number, and proof of identity (SSN or tax information)
A digital design studio or app. There are dozens of these available online from Canva (free and beginner-friendly) to the Adobe graphic design suite (more robust, for designers). Check out a list of free graphic design apps here!
A killer design idea. It's time to get creative and sketch up something that demands Amazon shoppers' attention (and demands that "add to cart" decision!)
It sounds oversimplified, but that's really all you need to get your custom Amazon merch product out there on the Amazon marketplace. 
Resources to Help You Out
To help get the ball rolling and those creative juices flowing, I've also included some helpful resources straight from Amazon to help make sure your merch product lives up to its highest potential. 
Information on royalty rates for every country that Merch by Amazon is available 
Not only is Merch by Amazon a great place to begin your ecommerce journey with no overhead, but it's also a fantastic tool for existing sellers to help augment their brand or products on the traditional Amazon marketplace. Whether you start now or after you've already found the most profitable product to sell on Amazon… make sure you're collecting that passive income.
Make it Merch! 
Frequently Asked Questions
Everything for your business on Amazon.
Find out more about our products by signing up or speaking with one of our
Customer Success representatives today. With us in your corner, you can enjoy
more sales and increased engagement from your Amazon business.
Chat with a Support Specialist