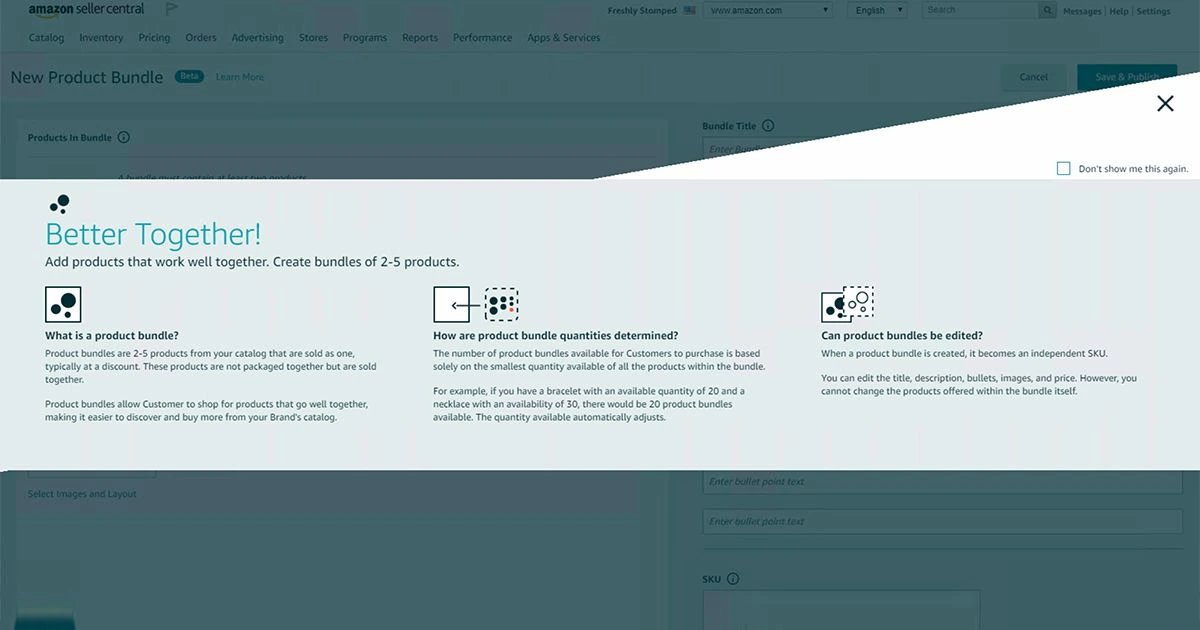 Everything You Need To Know About The New Amazon Virtual Product Bundle Tool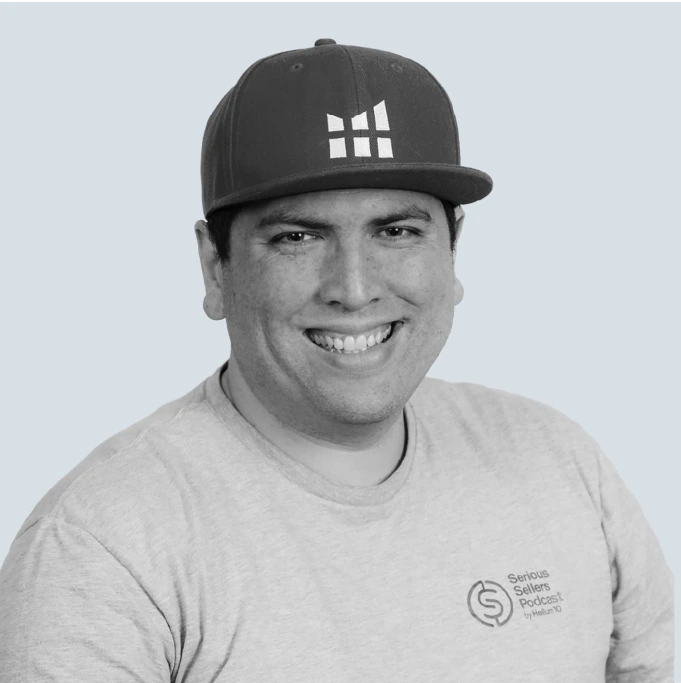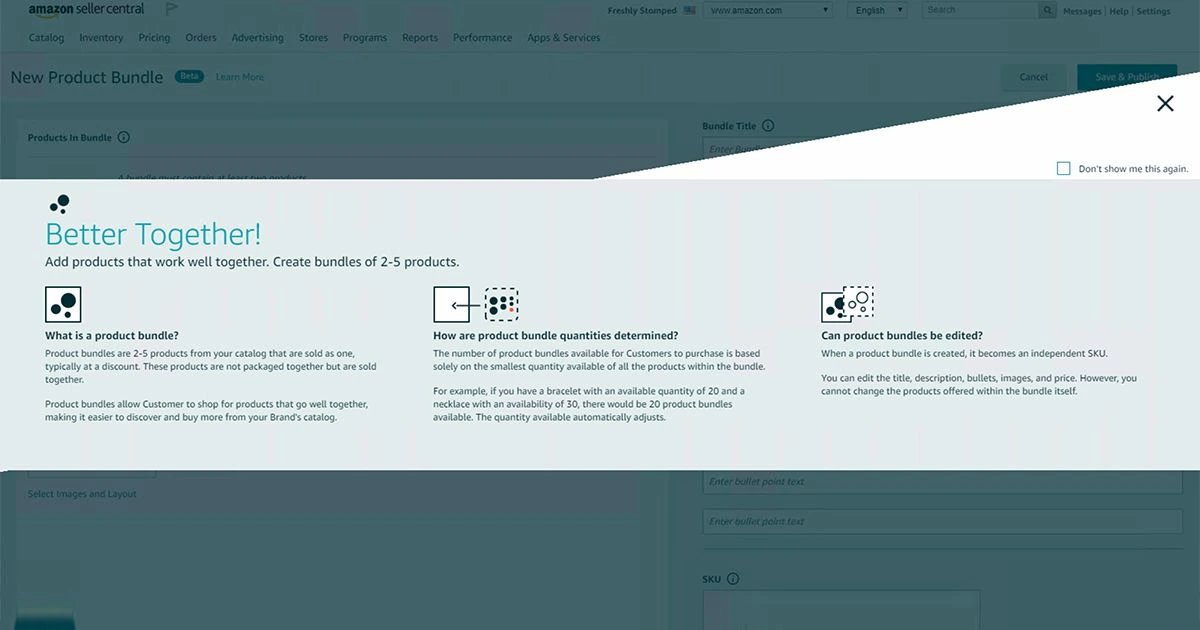 Amazon virtual bundling has been a hot trending topic in the Amazon interwebs lately. I wanted to give everyone a heads-up on what we know so far about the Amazon "Virtual Product Bundles" tool, and offer you a step-by-step guide on how to set up your first virtual product bundle.
Technically still in Beta, a handful of Amazon sellers have been using Virtual Product Bundling since the end of last year as a Beta test group. For now, it is only open to those with Brand Registry 2.0. If you'd like to see if you have access to it, click here.
OK, What Does It Do?
This is how Amazon describes what the tool does:
"The Virtual Product Bundles tool for FBA lets brand owners create 'virtual' bundles made up of two to five complementary ASINs which are purchased together from a single detail page. A bundled ASIN allows brand owners to offer bundles without packaging items together or changing FBA inbound inventory."
For example, let's say an Amazon seller had a wooden egg tray as one ASIN for your brand, and a wooden salad bowl as another ASIN. This tool allows them to make a separate ASIN that is basically a package deal of both of those items. If a customer lands on that page and purchases it, Amazon is shipping those two items from your inventory. Previously, If you had wanted to sell those two products on the same ASIN, it would have required that you have a separate product with both of them packaged together, and separately send the individual products to Amazon.
Why Is Amazon Doing This?
Let's talk about the advantages. First of all, as mentioned above, creating an Amazon virtual bundle allows you to make combinations of your products without having to send in prepackaged, separate inventory to Amazon. Not to mention that you don't have to create a new UPC for the bundles.
With an Amazon product bundle, it allows you to promote your FBA inventory in an even more "up front" way than hoping you can get the "frequently bought together" box. Once a product is part of an Amazon bundle, the "main component" or main product in the bundle will get a prominent widget on the page right under the main image that directs people to the bundle, and is above the Frequently Bought Together section. The following is an example of a bundle ASIN that was shared on LinkedIn by Molly Garris: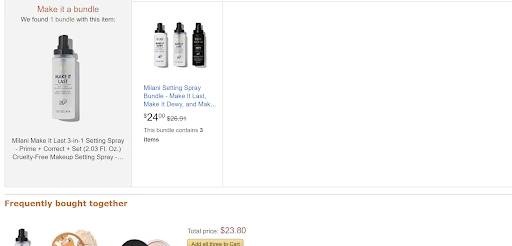 Here's another advantage. In the past, if a seller had wanted to promote the sales of multiple products, it would have required first creating a promotion. On the product page, the copy describing the item would be in tiny, difficult to read text, and occasionally the buyer would have to enter in complicated codes to access the listing. With the Amazon virtual product bundle, all of that is gone.
Give Those Keywords Room to Breathe
Now, there's the potential to get more real estate for your keywords. Since the new bundle is a stand-alone ASIN, you can run promotions to the product using Search Find Buy, or other tactics like using Helium 10's Portals in order to increase the page ranking.
I have found that sometimes you'll receive additional Amazon "love" in your rankings as soon as it's launched if one of the individual components is doing well for the keyword.
I created a bundle recently in one of my test accounts. The main product in the bundle, for a keyword that has 1300 estimated searches is page one, position two. As SOON as I uploaded the new bundle, Helium 10's Keyword Tracker showed that it was on page one, position 20.
An hour later, it climbed to number 17!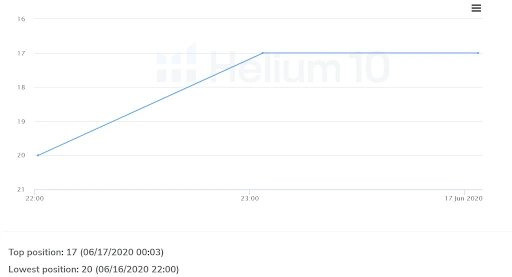 It's Not All Rainbows and Unicorns
Some things to keep in mind: First of all, you have to have brand registry to be eligible, and not all accounts have been invited yet. Currently, you cannot run regular PPC (sponsored product ads) to these ASINs. You can run sponsored brand ads to it however.
There is no reporting yet for sales attributed to the bundle ASIN. The sales are still reported to the component ASINs. Furthermore, there is no FBA fee or shipping discount for the bundles. Whatever you would have had to pay to ship each component product separately, you will pay even though the customer buys the products together.
The "make it a bundle" widget that was pictured above is only available on desktop right now. It does not show on the mobile app. It also only shows up on the "main component" product page, not on the other bundled product pages.
And you need to offer some kind of discount (or be priced the same). The bundle cannot be higher priced than the total of someone buying the products separately. Bundles cannot yet be part of variation families.
Each component ASIN must be buyable on its own. Thus, multipacks and "multi-box" items (single ASINs that ship in parts in multiple boxes) cannot be created with this tool.
The bundle has a separate review and rating from the component ASINs and individual components can be returned separately by the customer. The quantity available of the bundle ASIN that will display is based on the remaining inventory of the ASIN in the bundle that has the least amount of units left.
There are no backend search terms for the new bundle, however you can enter your own title, bullet points, and description. The bundle ASIN will automatically inherit the search keywords from its main component ASIN.
And last, for the time being, it's only available for Amazon USA.
I used Index Checker by Helium 10 and checked the Bundle ASIN against keywords that were NOT in the new bundle listing, but were in the main component listing, and sure enough, they were indexed. So make sure to focus on getting your other component ASIN keywords into the bundle listing to be sure you are searchable.
For Amazon Sellers, the Potential Is Huge
The jury is still out whether this can be considered a "game changer" for Amazon Sellers. However at face value, it has enormous potential to increase your Amazon business. With time, it's most likely that a lot of the "disadvantages" above, will be reversed, making it even more attractive to sellers. As it is now, it's something that seems to be a risk-free way to get more exposure for your products. I recommend giving it a spin if you have access to it.
Here is how you can set up your bundle. Go to: https://sellercentral.amazon.com/bundles/create
To start, choosing from your brand registered products, select two to five ASINs that you want to make up this bundle.

Next, upload up to 9 images for the listing. The component products you have entered in step one will automatically populate the images, so you can select those for the additional 8 images. It's suggested that you upload an original image for the main image; one that shows the entire bundle.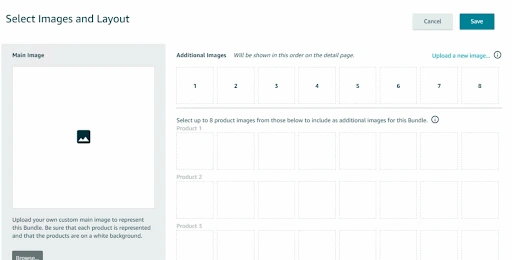 Next, you will want to enter your new bundle's title, price, and description. The title field has a maximum of 200 characters you can use. As a reminder, the price needs to equal to or be less than what the customer would pay if they bought everything separately.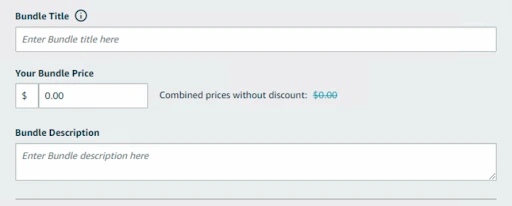 When you enter the bundle price, the section to the right will tell you how much of a discount it is from the main price.
Last, you will want to enter in the bullet points and set your seller SKU for the product. Since you only have the front end of the listing to work with, and because you'll be trying to cram the keywords from four or five different listings into there, it's suggested that you use Frankenstein and Scribbles together to help you get as many of your important keywords as possible into this bundle.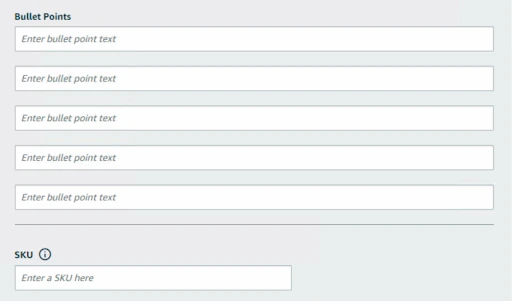 Delivering What Amazon Sellers Really Need
Over the last couple of years, Amazon has really made a big effort to provide third party sellers with new tools and analytics that can help sellers including, Brand Analytics, Sponsored Brand Ads, DSP, Sponsored Videos, and more. A bundling capability is something that sellers have been wanting for a long time, so Amazon is delivering once again.
Have you tried creating an Amazon virtual bundle yet? How is it performing? Let us know in the comments below. Don't forget to share this article with anyone in your network who is looking to create their first bundle too!
Happy bundling!
Achieve More Results in Less Time
Accelerate the Growth of Your Business, Brand or Agency
Maximize your results and drive success faster with Helium 10's full suite of Amazon and Walmart solutions.