The Ultimate Guide To Amazon Seller Central
Everything you need to know about Amazon Seller Central to succeed as an Amazon seller!
Updated on: September 30, 2022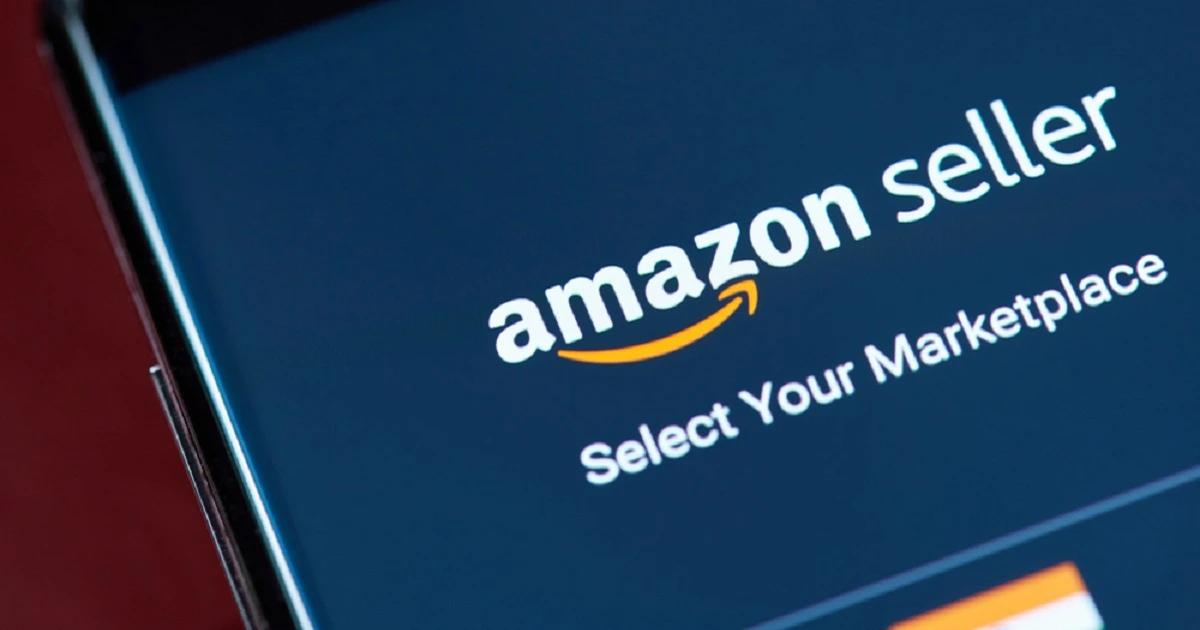 If you want to succeed as an Amazon seller, you need to know how to use the tools and resources that are available for sellers. Amazon Seller Central is your headquarters to manage, market, and sell your products on Amazon, so understanding the basics of Amazon Seller Central is a vital part of growing as a seller and reaching a wider audience. If you want to maximize your sales and profits with Amazon, here's what you need to know about Amazon Seller Central.

What Is Amazon Seller Central?
Amazon Seller Central is one of several available Amazon seller resources. Amazon Seller Central is the platform you use to perform all the important functions of an Amazon seller. When you create a seller account and log in to look at your listings and other data, you need to navigate to Amazon Seller Central first.
When you create an Amazon seller account, you have your choice between an individual account or a professional account. Choosing the right type of Amazon seller account is critical if you need advanced features as an experienced seller or want to minimize your risk as a new seller. Make sure you compare these two types of Amazon seller plans.
Within Amazon Seller Central, you can manage inventory, set pricing, view orders, communicate with your customers, and more. There are a total of nine tabs in Amazon Seller Central:
Catalog: This tab allows you to add new items to sell or create new private label items.
Inventory: You can use this tab to update your inventory, including both your FBA and FMB inventory. This is especially important for Fulfillment by Amazon.
Orders: The "Orders" tab is primarily for FBM sellers to manage orders since Amazon takes care of that for FBA sellers.
Advertising: In this tab, you can use ad campaigns to promote items in your catalog.
Stores: In the "Stores" tab, you can create a page for your store to help drive traffic and boost your brand.
Growth: This tab shows recommendations that can help you grow your business.
Reports: Here, you can view stats about ad campaigns, payments, and more, so you can make changes as needed.
Performance: This tab allows you to keep an eye on your account, customer feedback, chargebacks, and anything else that might affect the current standing of your account.
Apps & Services: "Apps & Services" consists of apps that you can download to help manage your store, which includes several helpful tools.
How Do You Create An Amazon Seller Account?
If you want to create an Amazon seller account, the good news is that it's a fairly simple process! Here are the basic steps to creating a seller account and starting an Amazon business:
Navigate to the Amazon Seller Central page.
Click the "Sign Up" button if you want to create a Professional account, or click "Learn More" and scroll down and click "Sign up to become an individual seller" to create an Individual account with no monthly fees.
Make sure you have your banking and tax information handy during the signup process and follow the instructions to create an account.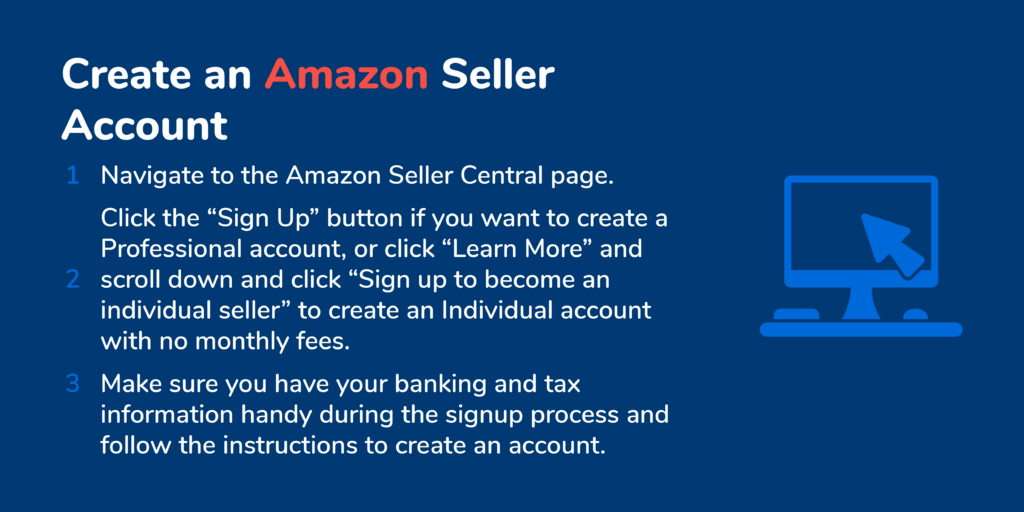 How Does Amazon Seller Central Work?
At first glance, the Amazon Seller Central login and navigation may seem overwhelming if you don't know what to look for. Fortunately, understanding some of the basics of how to use Amazon Seller Central can help you get the most out of your Amazon seller account.
Listing products
Listing new products is one of the simplest and most important processes you need to understand as an Amazon seller. First, hover over the "Inventory" tab, then click "Add a Product." If you're selling a product that's already sold on Amazon, you can search for it. Otherwise, click "I'm adding a product not sold on Amazon" and follow the instructions to add a new listing.
Advertising
Marketing your products is an important part of driving traffic and succeeding as an Amazon seller. Once you're signed in to your Amazon Seller Central USA account, hover over the "Advertising" tab and click on "Campaign Manager." Here, you can create new ads and see how your current ads are performing.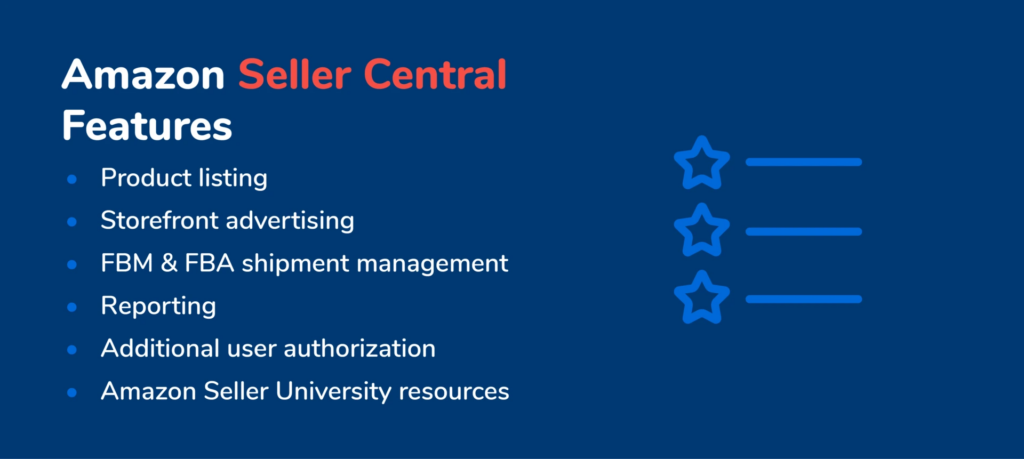 Manage FBM & FBA shipments
If you're fulfilling your own orders, go to the "Orders" tab and click "Manage Orders." Here, you'll be able to manage any orders you haven't fulfilled yet.
For Fulfillment by Amazon (FBA) sellers, you'll need to find the item you want to manage on the "Manage Orders" page. Click the dropdown arrow, then click "Send/Replenish Inventory" to send more inventory to Amazon for future orders.
Keep in mind that there are certain steps you have to take to send new inventory to an Amazon Fulfillment Center, so make sure you read those guidelines before sending inventory.
View reports
Business reports help you make sure your business is on track and you're spending your money wisely. To view these reports, hover over the "Reports" tab and click "Business Reports." These reports give you in-depth details about how your products are performing, which helps you decide if you need to make any changes.
Amazon recently rolled out a new feature known as Amazon Opportunity Explorer, which can help you understand the search and purchasing behavior of customers. You can check out our Amazon Opportunity Explorer guide to learn more about how to use this new tool as an Amazon seller.
Authorize additional users
If you have employees or assistants who help you run your Amazon seller business, you can give them access to your seller account using your settings. Go to "Settings" in the top right corner, then click "User Permissions." Simply click "Add a User," type the information of the user you want to add, and send them an invitation.
Access Amazon Seller University
As a new Amazon seller, it can be tough to figure out how to grow your business and maximize profits. Luckily, Amazon provides resources that can help you make the most of your Amazon seller account, with the most important tool being the Amazon Seller University. The Amazon Seller University is a collection of resources that help you learn how to be a better Amazon seller, and you get access to this information as an Amazon seller.
Once you've finished the Amazon Seller Central sign-in, you should see a section on the homepage that says "Tutorials and Training." At the bottom of this section, there's a button that says "Visit Seller University" — simply click that button to check out the Amazon Seller University.
Every new Amazon seller should check out the Amazon Seller University to learn the basics of navigating Amazon as a seller and building the best business possible.
Frequently Asked Questions
Everything for your business on Amazon.
Find out more about our products by signing up or speaking with one of our
Customer Success representatives today. With us in your corner, you can enjoy
more sales and increased engagement from your Amazon business.
Chat with a Support Specialist