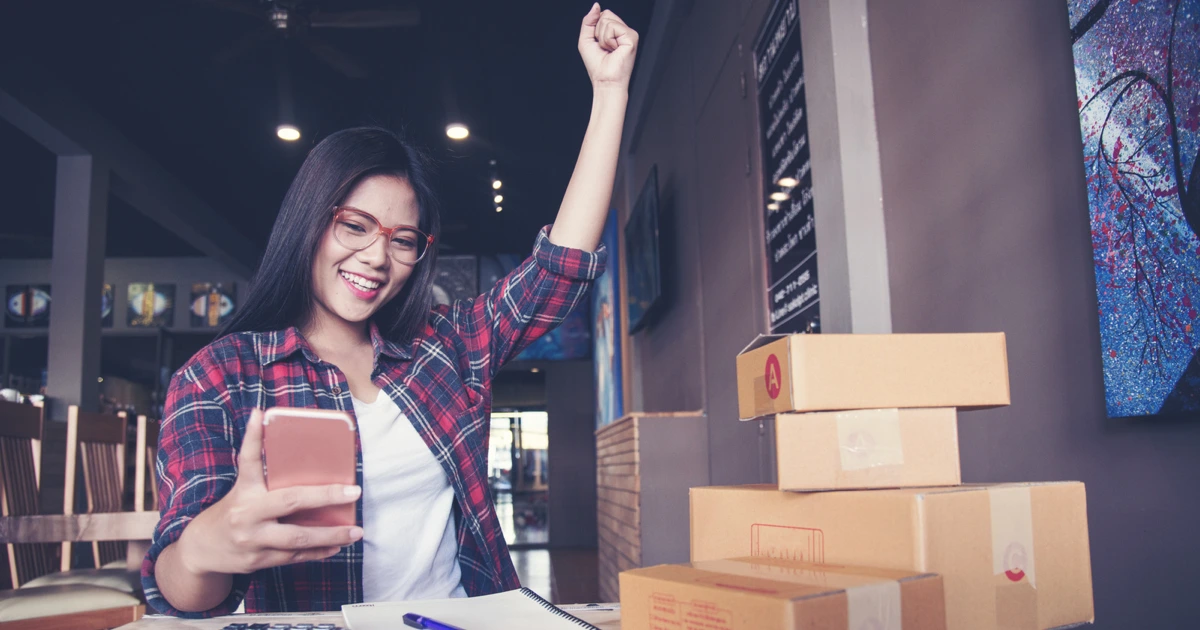 How Much Money Do Amazon Sellers Make?

How Much Money Do Amazon Sellers Make?
Almost half of Amazon sellers earn somewhere between $1,000 and $2,500 per month, with some sellers reporting earnings of up to $45k per year. Amazon allows you to put your products on display for everyone to see, which means more sales and ultimately more profit.
Remember, while using conservative estimates is great for maintaining realistic expectations at the start, new sellers should also be aware of how high the ceiling goes. Just as brand success relies on "breaking from the pack," rising above the minimum effort of most Amazon sellers has been known to reap revenue in the 6, 7, and 8-figure range. Whether you've been following a 6-figure case study or pining for a community of serious sellers, rest assured, big opportunity on Amazon is yours for the taking.
Of course, there are several factors that determine how much you can profit as an Amazon seller. There are also pros and cons you might want to consider before you start selling on Amazon rather than using another website. If you want the answer to the question of how much do sellers on Amazon make, what the benefits are, and how it works, we've got all the info you need to know.
Why You Should Sell on Amazon
If you're looking at the benefits of selling on Amazon vs. eBay, there are almost too many to name. Over the years, Amazon has grown to become an all-encompassing retailer that just about everybody relies on at least once or twice a month. One of the biggest benefits of selling on Amazon is the amount of traffic the website gets as a whole. Believe it or not, more than 60% of consumers who are searching for a product online start by searching for that product on Amazon. During the month of June 2021, Amazon received a total of 2.7 billion visits from all over the globe, and it's currently the largest online marketplace in the world.

Compared to a regular storefront, getting started with Amazon is considerably easier. You don't have to worry about stocking shelves with all your inventory or renting a commercial building where you can set up a storefront. With Amazon, all you have to do is create a seller account, set everything up, and list your products online.
Amazon also helps take the hassle out of selling products thanks to Fulfillment by Amazon (commonly referred to as FBA). With Fulfillment by Amazon, Amazon takes care of everything from storage and packing to shipping and returns, which means all you have to do is store your products in an Amazon fulfillment center and let them take care of the rest.
People who shop at Amazon don't tend to shop around a lot to compare prices. Amazon is known for having some of the lowest prices on the internet, and that reputation has led to a legion of loyal customers for the world's largest online retailer.
How Long Does It Take To Profit On Amazon?
It is most common for Amazon sellers to start seeing profits within the first year of selling on Amazon. Profits will vary amongst sellers on Amazon due to many factors like strategy, supply chain delays, seasonality, and optimizing your listings. Prioritizing the back end of your product listing will help fast-track you to success.
What Can You Make as an Amazon Seller in 2022?
So, how much profit do Amazon sellers make? Your profit has a lot to do with what you're selling, the quality of your listings, and your price point. However, almost half of all Amazon sellers make somewhere between $1,000 and $2,500 per month, so it can be a very lucrative business opportunity.

Marketing is one of the most important things you can do to increase your chances of succeeding as an Amazon seller. You need to write quality product descriptions that include the right keywords so your products show up first in search results. Your product title is also an important part of showing up in search results and encouraging shoppers to click on your product instead of another one.
Not sure where to start with finding the right keywords? This Amazon keyword research tool may just change the game for you.
If you want to make more money as an Amazon seller, you need to choose the right product. What does the "right product" look like? While the answer depends on a variety of factors (demand, price point, seasonality, etc.), generally, the "right product" is a product people are already looking for on Amazon. If you want to make more money as an Amazon seller, make sure you choose a popular product to sell.
For example, some of the more expensive, niche items may offer more profit per sale but not a large enough audience to sustain a business. On the other side of the coin, if you sell a product in heavy demand, you take less profit per item, but net more sales in the long run. If it sounds like a tightrope walk, that's because it is. Your goal as a new seller on Amazon should be to find the product with the following traits:
High demand
Low competition
A sustainable profit margin (can you produce the product for significantly less than you sell it?)
When trying to figure out how to find the best product to sell on Amazon, the sweet spot isn't always obvious, but putting in the effort to find it is well worth the work. Remember, if it was easy everyone would be a millionaire!
How much do Amazon FBA sellers make?
When you list a product on Amazon, you can list it as Fulfilled by Amazon (FBA) or Fulfilled by Merchant (FBM). While FBA is a simpler alternative to storing and shipping products yourself, it does cost more money.
FBA fees depend on the size and weight of the items you're selling, so smaller, lighter items typically come with lower fees. If you're not sure whether FBA or FBM is right for you, consider what it would cost you to store your own products, ship them and handle returns and exchanges.
Read up on the advantages of selling with Amazon FBA vs. FBM to help inform your decision!
Are there fees for Amazon sellers?
Because Amazon takes so much of the hassle out of selling your products, you might ask "How much does Amazon take from sellers", which there are fees for Amazon sellers. Amazon seller fees depend on the plan you choose, so choosing the right plan for your needs is important.
When you're just getting started, an individual plan is the simplest route. You can't sell more than 40 items, and you'll have to pay $0.99 per item sold, but this is the most affordable route for beginners. The individual plan also means you don't get access to all the advanced seller tools Amazon offers.
If you're going to sell more than 40 items per month or you want more control over advertising and product pages, a professional membership is the best choice. With a professional membership, you can sell more than 40 items per month for a monthly fee of $39.99.
In addition to the membership fees you pay, you'll also have to pay additional seller fees. The referral fee is a small fee you pay for each item you sell, which is essentially Amazon taking a cut for connecting you with a buyer. There are also fulfillment fees if you choose to store and ship products through an Amazon fulfillment center.
Amazon Seller Success Stories
Perhaps the biggest success story when it comes to Amazon sellers is Anker. Anker is a Chinese electronics company that started as a third-party Amazon seller in 2011, offering everything from phone chargers to headphones. As Amazon sales increased and people started to recognize the Anker brand name for quality, it grew rapidly and eventually went public with a nearly $10B market cap.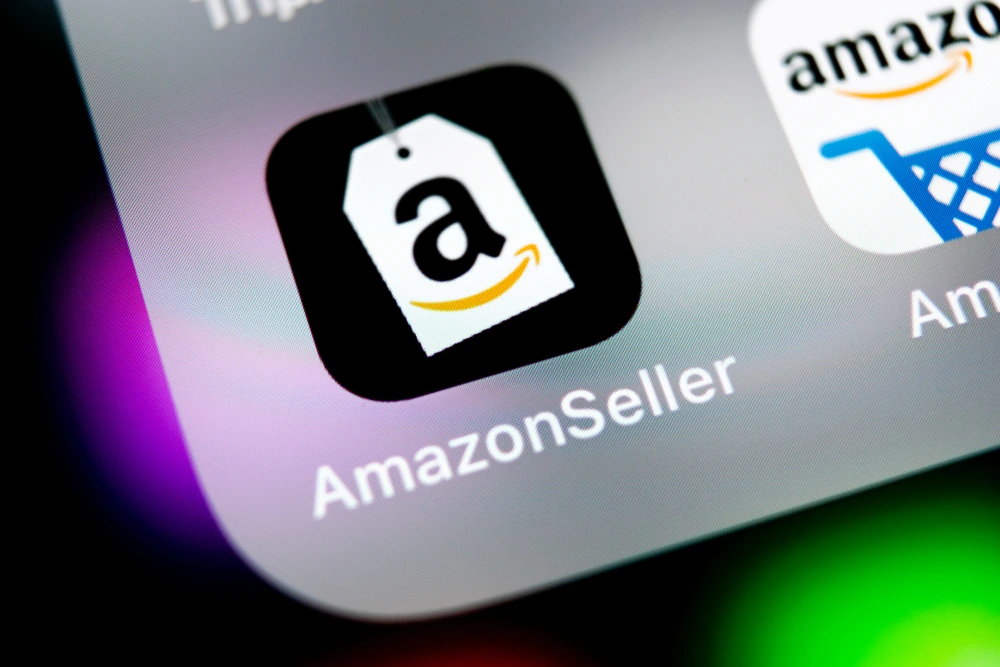 What are the Best-Selling Products on Amazon?
We talked about how important it is to find popular products to sell, but how do you actually do that and make money selling on Amazon? If you want to start your own Amazon business, you need to do your research and figure out what's selling well on Amazon and on the internet in general. The most popular categories on Amazon are Toys & Games, Electronics, Camera & Photo, Video Games, Books, Clothing, and Shoes & Jewelry. These categories are a good place to start if you're looking for products that are in high demand.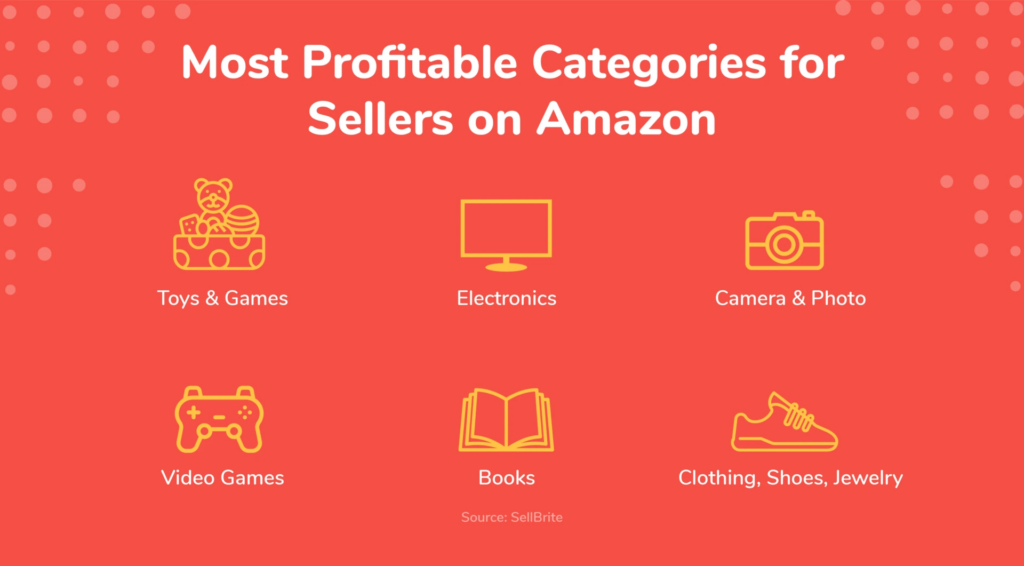 Most of the best-selling products on Amazon are items that people need all the time, rather than just "one and done." In the baby section, diapers and baby wipes make up most of the best-sellers, while batteries, toilet paper and paper towels are some of the most popular items in the household section. As far as tech goes, consumers are all about the latest in home security, with a few telescopes also making an appearance.
The important thing to remember when it comes to choosing the right products to sell is that it's not all about popularity. As a matter of fact, choosing a product that's too popular means you're going to have significant competition, which makes your job harder. Look for products that are fairly popular but don't have too much competition. Amazon publishes a trend report each year that gives you a look at some of the year's hottest trends, which can be a good way to make sure you're choosing products that people want to buy.
How to Maximize Profits as an Amazon Seller
Everyone obviously wants to maximize their Amazon seller profits, but there are important steps to achieving that! Your products, listings, and marketing are all critical ingredients to your success on Amazon. Choose a product that's popular but not too competitive, and make sure you're writing quality listings with informative, simple titles. Don't forget to allocate a portion of your budget to Amazon advertising! A comprehensive PPC campaign is key to product visibility, more sales, and soaring profits.
If you want to maximize profits as an Amazon seller, you need to take advantage of the best Amazon seller resources. Lucky for you, Helium 10 can help you find the right product and a reliable supplier, create the perfect listing and start making money on Amazon. You get to enjoy all the benefits of selling on Amazon without the hassle. If you want to start your career as an Amazon seller today, click here to get started with Helium 10's products and community today.
Frequently Asked Questions
Achieve More Results in Less Time
Accelerate the Growth of Your Business, Brand or Agency
Maximize your results and drive success faster with Helium 10's full suite of Amazon and Walmart solutions.