Catching Amazon's "Glitches" With The Helium 10 Anomaly Tracker
Noticed any strange Amazon ranking glitches recently? The new Helium 10 Anomaly Tracker helps sellers gauge de-indexing issues as they arise!
Originally published on: December 17, 2021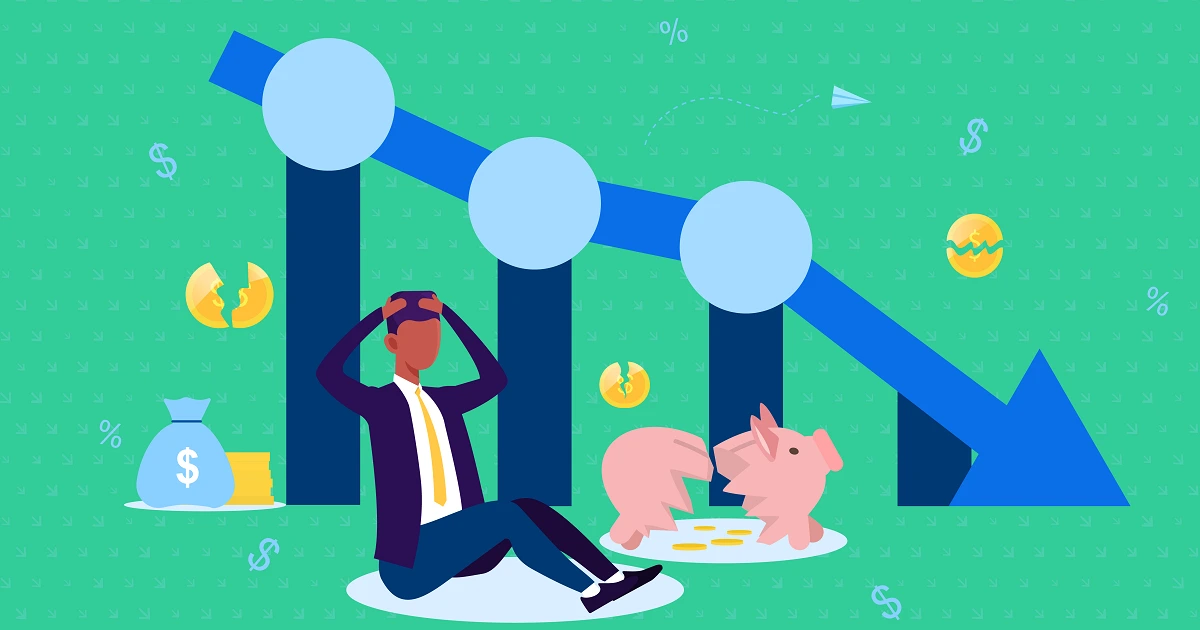 Have you noticed any unexplainable Amazon ranking behavior recently? Don't panic, we're not quite ready to don our tinfoil hats yet. But like many of you, we ARE well aware of certain, strange… anomalies regarding the Amazon ranking algorithm.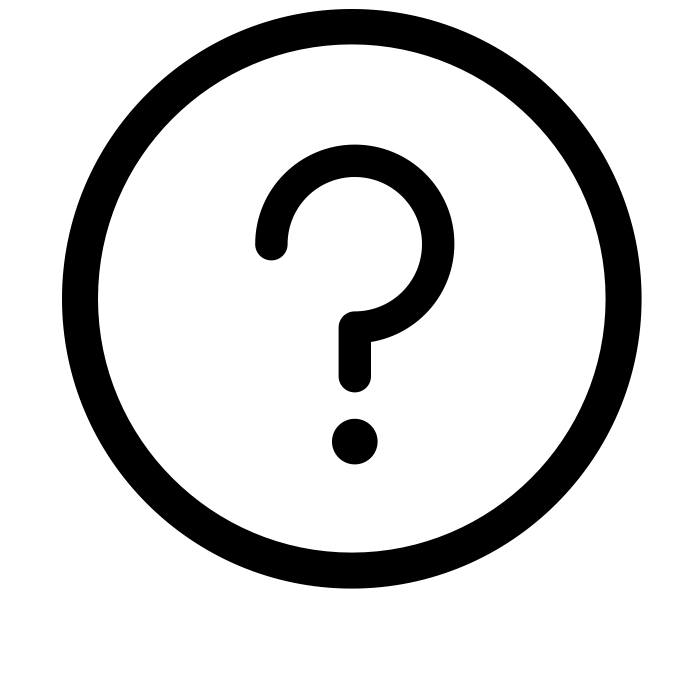 Unexplained de-indexing, disappearing keyword progress, mysterious ranking fluctuations? Your eyes don't deceive you, sometimes there is in fact a glitch in The Matrix. We have a new way to help catch them.
What Is An Amazon Anomaly?
Although not an official Amazon term, Amazon anomalies describe any unexpected or peculiar behavior regarding the Amazon search algorithm over the last few years.
Check out Bradley's deep dive, exploring some of the recent Amazon ranking glitches for more details. He mainly discusses two primary issues.
The Amazon Search Shuffle
When an abnormal number of listings are significantly fluctuating. We're talking large, hour-to-hour ranking changes across keyword charts with no discernable pattern.
The Amazon Search Glitch
The unexplained de-indexing of an Amazon product that is currently in stock. Normally, this may happen if your listing is suppressed, your category is changed, or your product has been given the "adult" classification.
Typically, if your product was de-indexed you could reach out to Amazon directly and tell them, "Hey! My product is not in X category, it's in Y category! Get your act together!" Problem solved.
Last year this wasn't the case. Many listings were de-indexed for their main keyword with no logical explanation.
So, What Does This Have To Do With Helium 10?
We've developed an algorithm that detects when these bizarre little things happen! Think of it as your own Amazon Richter Scale… or Paranormal Ranking Detector, depending on how weird you want to get with it.
We want sellers to be able to distinguish the "normal behavior" of finicky search results and where these baselines lie so that they can use them to detect when something is truly off.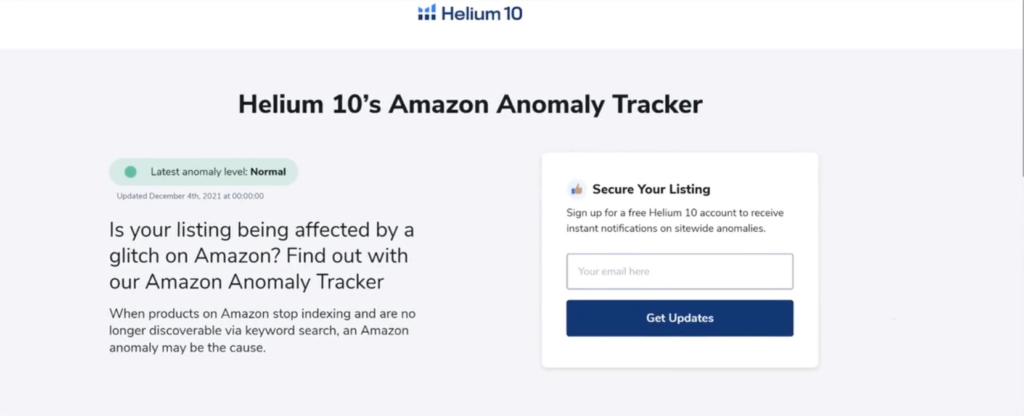 You don't need a Helium 10 account to access this. However, If you do have a Helium 10 account, make sure to input your email and click "get updates."
The anomaly data graph is where you'll get all the most important insights. This is only available for the US marketplace, for now. Time range presets include:
Past 7 days
Past 30 days
Past 90 days
Past 180 days
Full-year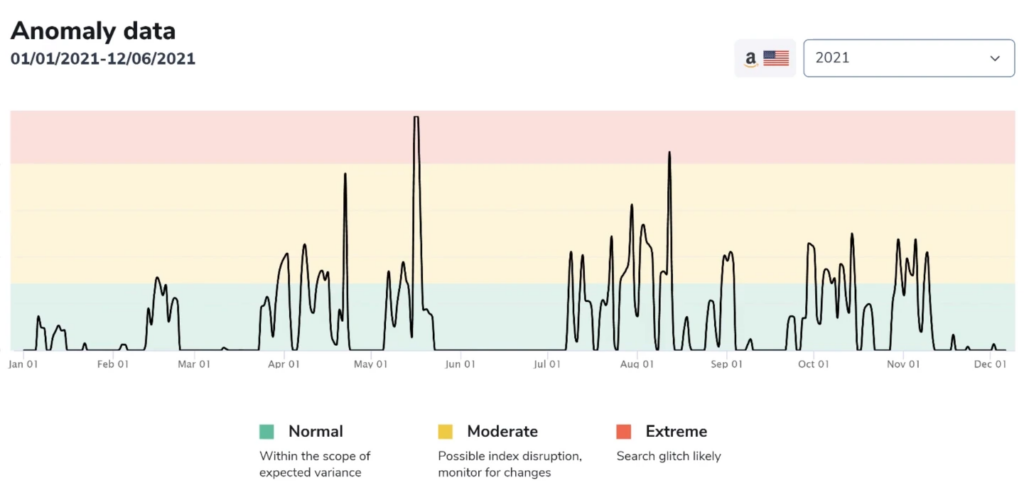 You'll also notice three distinct color zones within the graph.
Green – Describes anomalies within the "expected variance" range. Simply put, normal fluctuations.
Yellow – Describes anomalies causing possible index disruption. This is the zone where you may want to be monitoring your listing with a watchful eye.
Red – Describes anomalies with very abnormal behavior. A likely search glitch.
What Does A Search Glitch Look Like?
Using Helium 10's Keyword Tracker, you may notice something like this: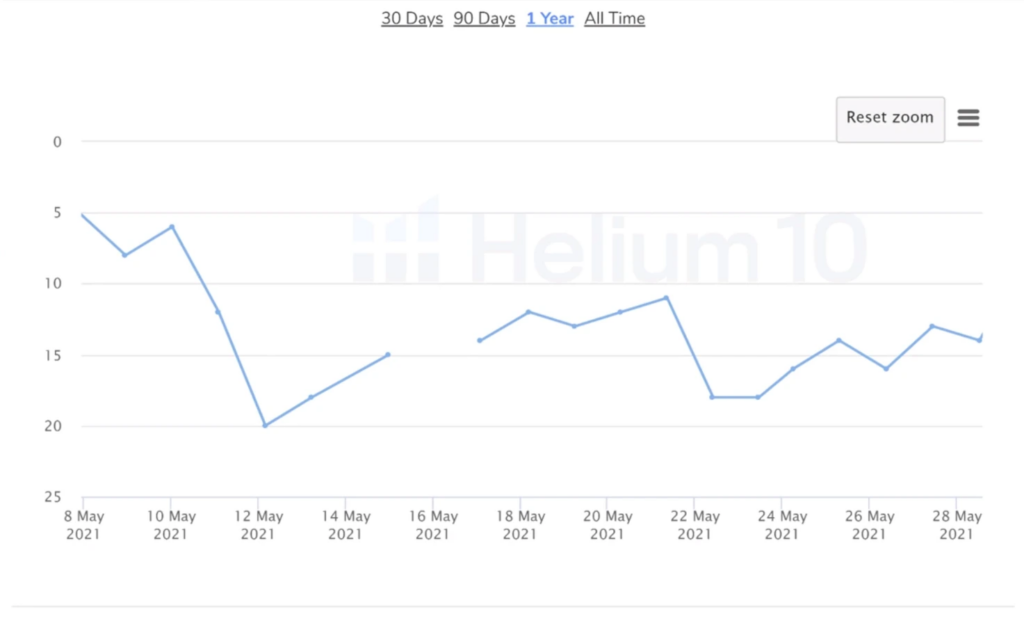 If you dropped in ranking for typical reasons, you would notice a decline in the graph. However, a gap in your keyword tracking most likely means temporary de-indexing. It is not normal for the line to be broken altogether.
Keep in mind, just because you are de-indexed does not mean it is an Amazon search glitch 100% of the time. Plenty of sellers become de-indexed for many other reasons.
Make sure to bookmark this page so that next time something mysterious happens, you can consult the Anomaly Tracker!