#400 – Maldives Honeymoon Launch Strategy Version 3.0
Bradley is back with another Maldives Honeymoon episode. For this episode, we're not only talking about launching methods but also some next-level hacks for you to get ahead.
Updated on: December 2, 2022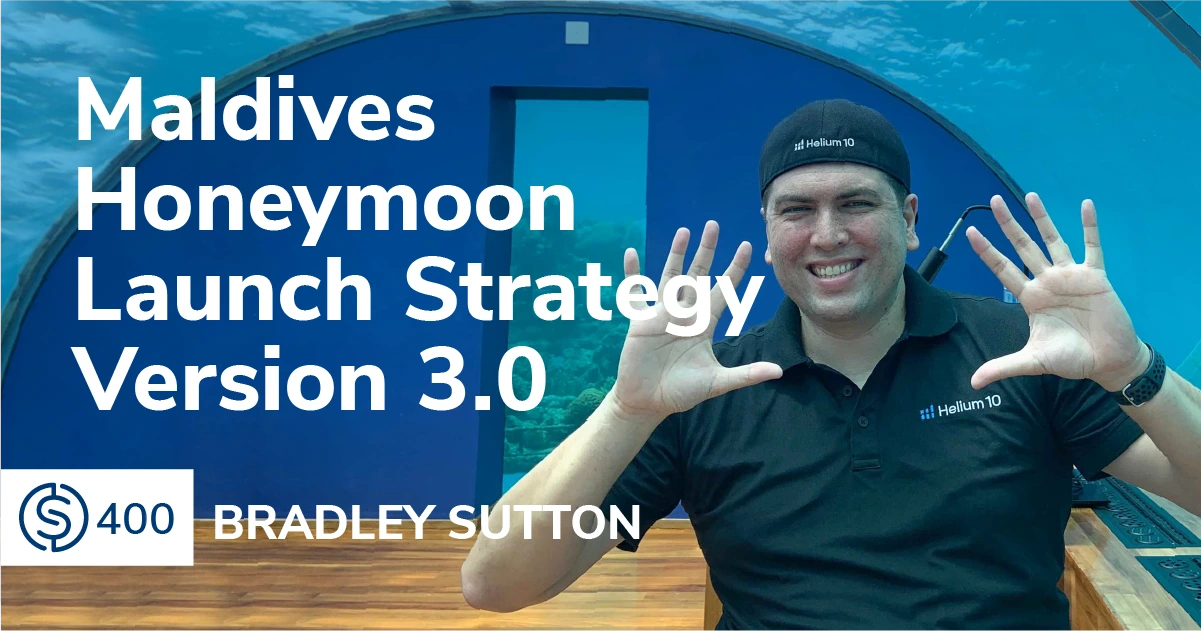 Guess what, guys? It's episode 400 of the Serious Sellers Podcast, and you know what that means. Our host Bradley Sutton is back with another Maldives Honeymoon launch method episode! Not only are we going to talk about the newest methods in Amazon product launches we're also going to talk about the best mindset hacks that any entrepreneur can apply to get ahead of their competition. We'll cover why mindset matters, how to stay motivated with daunting tasks, the newest features inside Helium 10 to help you execute the Maldives Honeymoon launch method to perfection, the role of Amazon PPC in today's launches (plus tips), and Bradley also shares his newest tests and experiments. So make sure to listen until the very end!
In episode 400 of the Serious Sellers Podcast, Bradley talks about:
02:00 – How The Maldives Honeymoon Method Got Started
04:10 – Does Mindset Even Matter?
04:30 – Johnny's Basketball Story
06:40 – Mindset Matters: How To Apply It In Your E-commerce Business?
07:30 – Crushing The Odds: Achieving In Life And Business
07:50 – #1: Develop A Passion And Love For The Game
11:00 – #2: Use Your Pre-Existing Assets
12:25 – #3: Turning Your Weaknesses Into Strengths
17:15 – #4: Develop A Healthy And Competitive Spirit
17:30 – Gamifying A Ridiculous Task To Stay Motivated
18:30 – Diving Into The Analytics For More Efficient Launches
20:20 – The Steps Of The Maldives Honeymoon Strategy
22:49 – Use The One-Click Filters Inside Cerebro
25:40 – How To Edit The Subject Matter Field For Better Ranking And Indexing
29:50 – The Role Of Amazon PPC In Launches, Plus Tips
31:19 – Setup Your Canonical URL For Your Most Important Keywords
31:50 – The Advantages Of Setting Up Your Virtual Bundles
33:30 – Make Sure To Get Sales On Day 1
33:50 – Check Your Inventory Heat Maps
34:44 – Using Amazon and Google PPC During Launches
36:00 – Bradley Shares His New Tests And Experiments
41:30 – Keep Implementing These Strategies And Reach Out!
Transcript
Bradley Sutton:
Guess what guys? It's episode 400 of podcasts, and you know what that means? Another Maldives Honeymoon episode. Today we're not only gonna talk about launching but also some next-level mindset hacks that any entrepreneur can use to get ahead. How cool is that? Pretty cool I think.
Bradley Sutton:
Do you wanna be able to sync the listings that you create in Helium 10 to your Amazon account in one click, including being able to sync subject matter, which you're not able to even edit? Now, in most listings on Amazon, you're gonna want to use Helium 10 Listing Builder. Make sure to find out how to use Listing Builder by going to h10.me/listingbuilder. That's h10.me/listingbuilder. Hello everybody, and welcome to another episode of the serious seller's podcast by Helium 10. I am your host Bradley Sutton, and this is the show that's a completely BS-free unscripted, and unrehearsed organic conversation about serious strategies for serious sellers of any level in the e-commerce world. And I'm coming at you from under the water, at least. I think this is the first-ever podcast, maybe recorded in an underwater room. I'm in the Muraka room here at the Conrad Maldives for episode 400.
Bradley Sutton:
Wanted to do something really big and special for this episode. As you guys know, every 50 episodes I try and film from the Maldives and call it the Maldives Honeymoon Launch Episodes. But over time, what we call the Maldives has kind of gotten bigger and expanded its meaning. Again, this is not something that comes from Amazon. This is just something I made up as a word to describe something super cool, like a big-time effect. In the past, we talked about Honeymoon launches and the Honeymoon Period on Amazon. And how this got started was years ago I discovered accidentally certain things were happening that put like the Honeymoon Period on steroids, right? And so I was like, okay, what, what should I call this? it's not just the regular Honeymoon Period.
Bradley Sutton:
So I was like, let me call this the Maldives Honeymoon, and that's how it got started. First talked about episode 200, and then ever since then, 200, 250, 300, 350, and now 400 I come over here to the Maldives on my own dime. Remember guys I don't have healing 10 pay for this. That would be ridiculous. I pay for these myself with points. And if you guys wanna check out travel hacks on how I'm able to do this, how I'm able to stay in a $ 17,000-a-night place. Mr. Beast was just here last week, right in this very room. Paris Hilton stays here. This is like the crate, one of the top 10 most expensive rooms in the whole wide world. I'm not paying for this. If you guys wanna find out some of my travel hacks, make sure I did an episode a little while back on Travel Hacks, so make sure to look up.
Bradley Sutton:
But anyways, I'm here in the Maldives and we're gonna talk a little bit about what's been working with launches, but not too much this episode. I'm gonna do a little bit different and at the end of this episode, definitely gonna be talking about what's been working with launches and what's been going on with listing optimization and how the Amazon algorithm kind of reacts to different things in the listings and, and maybe validating or debunking certain theories. Lately, I've been doing a lot of testing on the Project X account. There are some new fields we've talked about previously in the podcast. Gonna talk a little bit more this episode to make sure everything's still working. But a lot of this episode, what I'm gonna be doing is I'm gonna be talking about like a Maldives mindset, not just when it comes to launching, but in e-commerce.
Bradley Sutton:
And it's important that we first all get and then stay motivated in our e-commerce journey. So this is very important. We're also gonna talk about how to turn your weaknesses into assets/ We're gonna talk about Amazon launches, as we always do on all these episodes. We're gonna talk about the latest of how the Amazon algorithm views different parts of your listings how to set yourself up for the best launch choose the best launch keywords, and show you some tests I've done just, just in the past few weeks here as well that we can talk about. Now, the first thing is, does a mindset even matter? I've never been one of those existential "haha" like mind over matter and manifest this and that, like that kind of like touchy, touchy-feely kind of person.
Bradley Sutton:
But when I think about it things have happened in my e-commerce career that definitely can attribute to mindset. And here's another just real-world experience. This is just a couple of years ago. This is my son, I think he was a sophomore in high school at this time now, but he was playing against this school called Chula Vista Learning School. Now he ended that game, guys with 2 points, 4 rebounds, and his team lost 47-18. All right? Pretty, pretty ridiculous. Now let's fast forward. One year he played against the same exact team. So this is the same exact team, Chula Vista. Now he's a junior in high school. Now, this game guy against the same exact team. He had 32 points, 9 rebounds, and his team won 49-27.
Bradley Sutton:
All right? So that begged the question, what changed? What was different? He didn't get bigger he didn't get stronger. He actually stopped growing at the same time as me when he was a sophomore. But here's the thing that was different. He developed a love for basketball between his junior and senior years. He was just kind of growing through the motions as it were before, like, pretty much, cuz I made my kids do sports. Cuz nowadays PE is kind of ridiculous and kids just are not athletic at all and don't have any sense of teamwork or anything. So I'm like, all right, you guys are gonna play a one varsity sport. And so it was basketball. So he didn't really love it. He didn't have a favorite team or anything, but then over that summer, he became a fan of basketball on his own and started watching the Clippers.
Bradley Sutton:
And then he would now all of a sudden be completely curious as to how they're doing, watching the newspaper every day, watching all their games, recording it, like obsessed with basketball. He developed a love for the game. We had a basketball court at my house all of a sudden, without me telling him he was playing out there every day. He totally had a good attitude about getting some personal training but, he just developed a love for the game. He wanted to be better, right? It was a mindset shift. His skills by themselves, like he didn't all of a sudden have any more natural skills in just that one year. But all due to the way his mindset was, he was able to go from becoming a scrub player to a 30-point player at the high school level.
Bradley Sutton:
Now since then, he even got better in his senior year. Now he's graduated. But still, the point is that mindset matters. So the question is how do we apply this to e-commerce? Can this be applied to e-commerce? So again, as I said, I never was one of those touchy-feely persons, but once I got older, I realized that I could definitely attribute a lot of successes that I had to the way I set myself up as far as my mind goes. And so I wanna make sure that you guys have that same experience too. Now, in addition to my son's experience, we're gonna be talking today about my own experiences from when I worked in the food industry when I was a nationally ranked Sumo wrestler, even though I never had done even any sports in high school.
Bradley Sutton:
When I despite not even knowing how to dance, got over 30 million views on YouTube. Traveled the world, doing master classes as a Zumba fitness instructor, again, without even knowing really how to dance. And then my Amazon, and of course, Helium 10 career that came out of nowhere. My son beat the odds that were stacked against him. And time it again, despite not being hashtag blessed with innate special abilities, was able to crush the odds and achieve ridiculous things in life and in business. So step number one guys is to develop a passion and love for the game. I talked about before how my son had developed a love for the game of basketball and it transformed how he approached the sport. Now, when I first started getting interested in Amazon, I just obsessed with it.
Bradley Sutton:
You know, I made myself love every aspect of it, especially things having to do with the launch. I laser-focused my studies on launching. You can see my first post there from 2017 when I was talking about having launched 25 products in three weeks. I even gave a shout-out to Helium 10 there. That was almost a year before I worked for the company. I was a passionate user of the software. Summer of 2018, you could see me in the Helium 10 members group. Now going off on people who are spreading misinformation. Now I wasn't trying to get clients. I, I wasn't one of those people that you hate in the scene in the Facebook groups. Guys, never once did I get a client from a Facebook post like, you see some people do, all right, I was just passionate about things and I couldn't hold it in.
Bradley Sutton:
Now, do you see who had the first, like on that post right there that you see there? Yep. Manny Coates the founder of Helium 10. Now, shortly thereafter, you see a copy of a DM, a private message that Manny sent me there on Facebook. Now, I had DMed Manny before because I was a fanboy on, on the pod, the original AM/PM Podcast, and of Helium 10. And to be honest, he ghosted me, right? He kept seeing my posts, but, but he kept seeing my posts, and then he went to find me. He went to find me. He apologized for not replying to me early, and then he said that they were looking for a product ambassador. And a few weeks later, I was working for Helium 10. So there's a situation again in e-commerce now, where I just had this mindset where I loved the game.
Bradley Sutton:
I loved everything about it, and my actions kind of like reflected that. And what happened because of that, I was kind of discovered by the founder of Helium 10. And the rest is history as far as that goes. Now this picture, well, when you guys see this those of you watching on YouTube this is the Project X coffin shelf and egg tray. Now, now think about it. Do you think I was passionate about coffin shelves and egg trays when I first started doing this project when rediscovered those products? Of course not. Like who can be passionate about that kind of stuff, right? But guess what guys? I, I mean, like, not only was I not passionate about, I hate eggs, like eggs make me sick. So like, how would I ever be passionate about like a wooden egg tray?
Bradley Sutton:
Like, didn't, didn't make any sense. I'm like, why in the world would somebody even want to display their eggs in their kitchen on a wooden tray? Like, how facetious is that? Like, what, or not facetious. How pretentious is that for you to want to do that? I didn't get it. But guess what guys? I became passionate about these things and I studied everything there was about them. Like who would buy a shelf shaped, like a coffin? What are they interested in? Who would buy a tray for eggs and want to display it in their kitchen? What other things would they buy? What are their passions? what are they interested in? I made myself a student of that game. So super important to get passionate about what you are selling on Amazon or wherever you're selling.
Bradley Sutton:
Now, the second part of the Maldives mindset is to make sure to use your pre-existing assets, all right? Pre-Existing assets. What do we mean by that? Well, going back to my history I was doing public speaking in front of crowds since I was four years old. I barely turned four years old. I had never done a podcast or a webinar before, but I used that speaking ability experience to do that in Helium 10, from day one. There you see, in the original Helium 10 office, probably doing one of the first-ever Serious Sellers Podcast. My son, was 6'2" in high school, which was fairly tall for his age, as you see there in the pitcher. So he used that as his advantage.
Bradley Sutton:
You know, all of us have advantages whether we know it or not, and it's important that we double down on it. So what are you good at when it comes to e-commerce? I guarantee you're good at something are you good at numbers? Are you good at marketing? Do you have existing assets like a warehouse that maybe other people don't have? For example, I had a warehouse behind my house from another business I used to run. So when I started selling on Amazon, I was able to do fulfilled by the merchant in addition to fulfilled by Amazon. And that gave me a little leg up on my competition. Little things here, guys, I guarantee you guys have assets going for you. You guys have advantages over the competition that you personally have. Make sure you identify those and double down on them. Make sure that you're using it.
Bradley Sutton:
Number three, we're gonna take a little time on this. It's about turning your weaknesses into strengths. This is like huge, huge, huge for me, right? I probably have more weaknesses than the average person, but the thing is, I never let them hinder me. not only that, I actually turned them into some positives. For example, in Zumba Fitness, like I told you, I was never a dancer. I was not a good, great dancer. I was decent. But then I thought when I saw the Master Zumba instructors doing classes, it was cool and alright. But I never felt that I could become that. Like, when I watched it, it was just kind of like, for the spectacle. Like, I never got that feeling like, oh, this could be me one day, right?
Bradley Sutton:
So then I realized, wait a minute people could relate to me or then these professional Zumba dancing instructors because I was just an average Joe, an ex-sumo wrestler. speaking of Sumo my body type was a disadvantage in Sumo. I was tall, and skinny back in the old days. But then I realized, hey, you know what? This is a weakness. I have longer arms though than most people who are short and stocky, right? So I can use this as an advantage to like, keep my opponents away from me or grab their belt, which is important in Sumo. Another thing, so there are the weaknesses so far. So number one, I wasn't a professional dancer. I was able to flip that into an advantage in Zumba. Number two, I didn't have a typical sumo body.
Bradley Sutton:
I was able to flip that and discover something that actually could become an asset. Number three, I don't have great organizational and prep skills not, not my thing. Now, that might sound like a problem for being a podcaster, right? But no, I turned it to my advantage by making the motto, what is my motto over here on the podcast? Unscripted, unrehearsed organic conversation. This is not meant to be some professionally professional-sounding thing. I put the focus of the episodes on the guest and sometimes I stutter, whatever, doesn't matter. I want people to kind of relate to me and to relate to my guest more than hearing some like a super polished professional sounding person. All of these things, are weaknesses. Now, what weaknesses do you have though are you more of a people person instead of a numbers person?
Bradley Sutton:
I bet you got an advantage over the typical analytical person by being able to understand your customer avatar. Most people at first didn't like how small the coffin shelf was. So let's talk about products there, the coffin shelf, there were a few reviews, like, man, this is kind of small. Guess what? I turned that into a positive by changing the bullet points. And I made something and say, Hey guys. This, unlike our competitors, you know coffin shelves, can actually does not take much space on the wall or on your shelf so you could be able to fit your small trinkets in it. Same thing, with the egg tray. People sometimes complained that it was a little bit too small, right? So on the egg tray, what do I do? I changed the bullet points and I change an image, and I said, Hey, unlike our competitors, our egg tray is so compact that it will actually fit into the refrigerator.
Bradley Sutton:
What is that called? Like a refrigerator egg holder, right? So there are two cases there where I was able to flip product negatives into positives. Now, guys, we all got weaknesses, but it's cliche to say, oh, don't let your weaknesses stop you. I want you guys to take it a step further. Don't, not only not let them stop you, but can you take some of your weaknesses and actually flip it and make it an asset? That's something that I would say 98% of people in the e-commerce space don't even think about. Now, don't get me wrong. If something is seriously wrong with your product like it sucks or you have a big defect, it's very rare that you can turn that into a positive, right? I'm not saying you can turn every single weakness or negative thing into a positive one.
Bradley Sutton:
That's definitely not the case. But even, even in that situation, I think I actually did that once. There was one we had done some kind of coffin shelf or some kind of shelf in that niche, and we launched it, and it was terrible. Like the paint was dripping off of it. It was just really bad. I couldn't sell it. So I was like, I'm not gonna sell this on Amazon, but I was like, I got my money back from the warehouse or from the factory. What can I do with this? I put them up on Etsy as a bad batch, a bad paint batch, and sold them for like $15 plus shipping instead of $30. Like they were on Amazon. And I sold out of 200 units in probably three or four weeks. So even in extreme situations, I was able to turn a negative positive.
Bradley Sutton:
But again, not every time are things going to work out that way. But again, try and flip the script when you can. The next step of getting in the Maldives mentality here is to develop a healthy competitive spirit. This is another one that I think is important, and I say healthy competitive spirit because there's an unhealthy competitive spirit. Like if you get too competitive and get obsessed completely over things that could actually be a hindrance. But how can you gamify things? I want you to ask yourself that. Can you gamify something? Now, when I worked for that food company, one of the things I had to do in the food company was schedule trucks. It was so mundane, such a ridiculous task for me to think that I was doing this, but I had no experience doing this.
Bradley Sutton:
But what I did was I was like, right, how do I gamify this? I was like, I became mini obsessed with how many stops can I get out of these trucks every day. For like, I had to schedule our semi trucks to go out to different places in LA and San Diego to do pickups and deliveries. I was like, how can I do it with Google Maps where I can get the most bang for our buck? It didn't do anything for my salary or anything like that, but it was my way of staying motivated over a ridiculous, in my opinion, task. I had a bad attitude about it at first, but when I gamified it and laid it a challenge to myself, how many miles did I get out of those drivers today? And how many stops were we able to get out of it?
Bradley Sutton:
It became a fun task for me. Now, when I first started launching products on Amazon for clients, I dove into analytics, Keyword Tracker, and Cerebro. I wanted to see how efficiently I can make launches. Like how could I get ranked for the least amount of spend? That's also how I tackle PPC. Now, remember that one game when my son scored 32 points in it, he got obsessed with his stats as well for that game. He actually realized he needed 30 points in order to win the scoring title for the whole league for that year. That was one of the last games of the year. So he was like, how many do I need to get until 32? As soon as he hit after 30, he took himself out of the game. But again, he was interested in the stats.
Bradley Sutton:
It was a game, it was a competition with him for himself. Now, for podcasts at Helium 10, I'm like checking metrics every day. We have four podcasts here, the AM/PM Podcast, Serious Sellers Podcast, and we have the German one, and the Spanish, and I'm like looking at the metrics every day and checking out the engagement and seeing what countries we're in. Again, I'm gamifying it. Like, I'm just obsessed with the stats and how we can do better for this is me being somebody who doesn't like numbers and doesn't like organization and things, but I've been able to get over that by trying to get obsessed over the stats and seeing if I can make a competition, a mini competition with myself. Now there's this book that helped me and my team at Helium 10 called The 4 Disciplines of Execution. Really great book.
Bradley Sutton:
If you're looking into like, ideas on how you can gamify things for you and your team, now get competitive guys with your competition. use Market Tracker, use Cerebro to see how you stack up with them, and then get obsessed to beat them in everything. And so these are some of the things that have helped me, and we can call this the Maldives Mentality. Now, let's talk a little bit about Amazon launches. Now again, what are the steps of Amazon to launch Maldives Honeymoon Strategy that so-called Maldives Honeymoon Strategy? The first step of what we've been talking about before in the previous episodes of Maldive's Honeymoon Launch strategy actually starts before you even have a product, right? It's checking a Title Density, right? If you want the best bang for your buck with your launch you need to make sure that the keyword you're launching on almost nobody else has that keyword in the title from page one.
Bradley Sutton:
So you can do that by looking at Cerebro, looking at Magnet can be able to see the Title Density for keywords. So this is critical. Now, it doesn't mean that if there's a Title Density of like 40 or 30, that, oh my goodness you'll never get to page one in the history of your life. No, it just means that is not the Maldives Honeymoon, right? Maldives Honeymoon is when you get more bang for your buck or like something that's next level. And again, if you are targeting a keyword that may be only one or two or three listings on the entirety of page one, have that exact keyword in phrase form in their listing or in their title, I should say, and you actually do have it, you're one of them, it's gonna be a lot easier for you to get to a page one.
Bradley Sutton:
Step number two is to check the strength of the competition with Listing Analyzer and Cerebro. Now with one click in Listing Analyzer, if I have multiple ASINs selected in Listing Analyzer, I'm gonna able to be able to see a niche. How strong is weak the competition, how many of them the main keywords are ranking high for it? How many top 10 keywords do the top competitors have? What's the search volume of all of their top 10 keywords? Usually, you're not gonna go want to go into a niche where the top five or top 10 competitors, they're pretty much all on page one for all their keywords. It might be very difficult for you to launch there. Now if you see a niche where there are only a couple of products that are dominating with the keywords, that's when I usually try and get excited about launching a certain category.
Bradley Sutton:
Another thing is step number three, identify your top five to 10 keywords to start. Now, to do that you can do One Click Filters in Cerebro put all the top players in a niche, all the ASINs, and then you put it right there in Cerebro and then hit the One Click Filter called opportunity keywords or top keywords. All right? So these are important because you wanna see, number one, where are the keywords that most of the top players are getting their sales from. But then number two, find those Opportunity Keywords. Again, these are One Click Filters inside of Cerebro. You don't have to do fancy filters in order to find these. It's one click and you'll find them. But the opportunity keywords are key sometimes because these are keywords where maybe only one or two competitors are crushing it, but your other seven or eight main competitors, maybe they don't even have that in there, in their listing, but at the very least, they are not on page one for the reason why these are valuable is that it's going to be a, a lot easier for you to get that initial traction initial ranking if you're only competing with one or two of your main compares.
Bradley Sutton:
Now, to illustrate why this is important sometimes there might be keywords that are not completely hyper-relevant to you. Like, let's say there's a keyword like I don't know, a coffin decor and you've got a coffin shelf. Now, is coffin decor one of the top keywords that every single coffin shelf should be ranked for? No, one of the top keywords that every single coffin shelf should be ranked for is coffin shelf. that's like if you're not ranked for a coffin shelf and you are a coffin shelf and you're screwed, right? But coffin decor, it's kind of iffy. But there are some people maybe who are searching for coffin decor, and maybe they have in mind a coffin shelf. And let's say there are only two out of your top 10 competitors on page one. It doesn't mean there are only two products on page one of coffin decor.
Bradley Sutton:
There are probably a whole bunch of different coffin-related products. But for those customers who typed in coffin decor and were possibly in the back of their mind or their subconscious or whatever, thinking that they would want a coffin shelf if you get on page one, you are now only one of three listings on page one with the exact product that a certain number of people are looking for, right? So it's very important to find these opportunity keywords, One Click Filter in Cerebro guys, make sure that you're using it. Step number four is to understand how the Amazon algorithm works when it comes to listing optimization. The listing field's importance has changed over the years. Now there are two aspects I wanna talk about. One is for indexing, right? So for indexing, that means getting searchable. So this doesn't mean ranking.
Bradley Sutton:
Some people will get it mixed up and they confuse you. But when we talk about indexing, that means are you searchable for a keyword. Maybe you're not ranking for it, but does Amazon relate you? Are you like one of the ones that Amazon has in its index for a certain keyword, right? So for indexing, the number one most important thing now or field is something that wasn't even on our list a year ago because it didn't exist. And that is the special features category or listing field number two is title three, subject matter. Four are generic keywords. This is the artist formally known as search terms five bullet points and six descriptions. Now for ranking, ranking means that you are visible in the search results that you're one of the top seven pages. Usually, Amazon only shows seven pages of search results 300 to 350 listings, and then the rest you can't even like go to page eight and page nine, et cetera, right?
Bradley Sutton:
So when I say ranking, that means showing up in the top seven pages. Now and also what gives you the most juice for getting to page one? So in this context, the ones that are most important, number one is the title, and number two, is subject matter. Number three, generic keywords, number four, bullet points, number five, special features, and number six, description. So I did some tests on this, USB streaming podcast, PC microphone. This was a, a keyword for one of our helium 10 microphones, and it was ranking in the two hundred just by adding it to the subject matter, it jumped to a peak of 103 within hours, it jumped up a hundred basis, it's not gonna get me sales, it's not gonna get me to page one, but remember, this is just to prove what's important to the algorithm as far as ranking or indexing.
Bradley Sutton:
This was something that obviously shows that the subject matter is important to ranking. Remember, the only way you can get subject matter in your listing nowadays if you have Helium 10 and you have a diamond account you're able to use listing builder and sync your subject matter even if you don't see subject matter in your listing. Now, on the right of this screen that you're looking at, you're gonna see a wooden egg holder countertop. That was a keyword. Now, just by adding it to the subject matter, again, it jumped immediately as well. Now on the bottom left, you see special features, which is what I call a super indexing field. It shows on the front end. It shows on the front end, almost like above the bullet points. Look at that right there. It's highlighted whatever I put in the back end special features, it actually shows in the front of a listing above the bullet points on our microphone listing, right?
Bradley Sutton:
Super, super interesting that, but this actually shows you can't just keyword stuff this field like subject matter search terms, generic keywords. You can throw whatever keywords you want, but you can't really do that with special features because it's going to show on the front of the page. Now, I've done a lot of testing on these special features right now. This one just kind of came outta nowhere for me. all of us usually have had trouble ranking for a keyword that we have in a listing, right? But with special features on average, I can get any keyword I've tried to index in about a minute and a half faster than anything I've seen. For example, you might have a keyword that you actually have in your bullet points. Are you having your description? Are you having your generic keywords?
Bradley Sutton:
But when you use Index Checker for whatever reason, Amazon doesn't index you for it. You're not indexed even though it's in your listing. Those keywords that I've had like that, I put it in special features, and boom, 90 seconds later, I am indexing 100% of the time. Now, of course, I didn't try to do any like forbidding keywords or drug-related things or something like that, but all normal keywords that I thought I should have indexed for I did once I put them into special features. Now, a couple of other things that are important with listing optimizations to make sure you've got your target keywords in phrase form, and yes, you should duplicate it in the back end. I've tested that many times before where even though it's in the front end as far as bullet points or something, once I put it into the back end and generic keywords, or if I put it into the subject matter, I will get a little bump by putting it there.
Bradley Sutton:
Now, you shouldn't put it two times in one field like don't put it twice in search terms or twice in subject matter, but if it's in the front end, you want a little bump, make sure that Amazon knows you're relevant, and yes it does still work to, to make sure that keyword is in the back end. Now, is PPC gonna play a big role in your launch outside of just your main keywords? Or maybe you want to use sponsor display or product-targeting ads from the get-go? Make sure your listening is optimized. Then for the main keywords of other top products, including some complimentary products as opposed to just direct competitors, if you're optimized for five of their top sales-generating keywords, your auto campaigns and product targeting campaigns have more reach from day one. So for example, if I'm launching a coffin shelf, of course, I'm gonna have all my main coffin shelf keywords in my listing and I'm optimized for there.
Bradley Sutton:
But maybe a complimentary product might be a coffin tray or a coffin egg tray or some gothic decor product that I know I have a history that people are buying coffin shelves with these products. I'm gonna take those products and I'm gonna get their top five keywords, like the ones that get them the most sales not everything. I'm not gonna go for their opportunity keywords, no, I'm only going for their top keywords, the ones that I know are generating sales. And I'm gonna get those somewhere in my listening praise form because then from day one, Amazon is gonna relate me to those products. And then if I start an auto campaign, broad campaign, or product targeting campaigns, et cetera, it, Amazon is gonna be much more willing to show me for those products and keywords related to those products as opposed to if my listing was not optimized in that way.
Bradley Sutton:
Lastly, guys, don't forget to try and set up your Canonical URL with your most important keywords or two. You can do that by putting five keywords followed by a dash, but if that doesn't work, you can open a case of seller central to get it updated. Number five in the Maldives Honeymoon launch strategy. Make sure to set up defensive ads or placements. a lot of people set up defensive product targeting ads where they target their own products, especially if they have multiple products in a brand. Totally fine to do. But one other thing I had this idea recently, and it was validated by Antonio who was on the podcast a couple of months ago, is if you set up virtual bundles, this takes up huge real estate on the page. It also pushes all those products targeting ads way below.
Bradley Sutton:
It pushes even the frequently bought together all the way down. You can see those you watch on YouTube is collagen peptides. Listing the product targeting. They only filled out two of them, but you don't even see without scrolling anymore, the product targeting ads because of the virtual bundles that they have. And you can see they're frequently bought together, and got pushed down below. Now, remember, when you do virtual bundles this is completely free. If somebody clicks on it and actually buys it, you are not getting charged PPC. You're not getting charged extra commissions in addition to what the regular commission is. No. So this is in effect, better than even product-targeting defensive ads because it pushes everything else down. And if somebody actually makes a purchase to it or, or clicks on it to view your other products, you are not getting charged.
Bradley Sutton:
So make sure guys, if you have multiple products in a brand set up virtual bundles for all of the products, like one-to-one, all of the products in the brand, it's gonna take up a lot of real estates currently. maybe Amazon will change this in the future, but right now something to take advantage of. Step number six in the Maldives Honeymoon launch strategy is don't start your listing early. set the launch date in the future. I don't even make my listening until I have my products on hand and it's on the way to Amazon. that's just cuz I have my own warehouse, so I can do that. But if you don't do that, make sure to set the launch date in the future so that you can preserve that Honeymoon Period.
Bradley Sutton:
Next one, get sales from day one, right? So this is important whenever you do make your listing live, make sure you have aggressive PPC going to try and get sales from day one. If you're only doing FBA, that means keeping your listing closed until it's distributed, you know more are on hand and available. Now you can do that in Seller Central, but if you have Helium 10, just go to your inventory heat maps and you'll see as soon as once, once you send your inventory to Amazon, day by day, you're gonna see how it distribute distributes among the FC warehouses. And when you're confident you have enough distribution nationally, then that's when you'd want to go ahead and turn your listing on to make sure that everybody has the same experience. Like, for example, if you just send your inventory in. Say you're in Southern California and you send your inventory to a southern California dc well, it'll probably be available like the next day, right?
Bradley Sutton:
But somebody in New York, when they go to your listing, they're gonna see like a crazy delivery day, probably like two weeks from now because Amazon still hasn't put it to the warehouses on the East Coast. So you don't wanna make your listing live until all your inventory is kind of distributed somewhat, you know nationally. The last step guys launch with Amazon and Google PPC. I've talked about how I launched in episodes 350 and 301, where it's not doing a search, find, buy, but I make sure that on my five to 10 most important keywords, I'm doing a super high bid. I'm, I'm checking to make sure that I'm the first or second or third listing that comes up on that page. And then I set my product at a price that people cannot afford to overlook, right?
Bradley Sutton:
So that's super important to set it at a price that even though you have no reviews or only have a couple of reviews people are like, you know what? I'm gonna take a chance on this product because it is a ridiculous deal. to do that, you have to put a sales price as opposed to like making your price less. Or you could use a really extensive coupon and then just be monitoring your sales day by day, looking at the CPR number in Helium 10, if the CPR number for a keyword is 80 over eight days I wanna try and I'm monitoring my PPC daily, seeing if I can get 10 orders a day for that, you know in PPC for that keyword. And then if I can do that over eight days, I know then that I'm gonna have a really good chance of getting on page one for that.
Bradley Sutton:
So some other tests I've been doing lately are a little bit about the launch and a little bit just about what's working. So there have been some theories going around that people say this Amazon death spiral that happens sometimes to older products where you can't seem to get to the top of page one, it's because you, your titles are over 150 characters, or maybe you need to move the keyword or to the beginning of the title instead of your brand. So what I did was in the coffin shelf, I actually changed the title to under 150 characters and I took away Manny's Mysterious Oddities at the beginning. I I moved it to the left a little bit and or to the right. And then Coffin Shelf is now the first word that comes up. And so as you can see, there might have been a slight, I don't know, it's kind of debatable, but we were ranking between 10 and 20 for it, and then for like three days, two or three days, it's like, Amazon's like, Hey, what happened here?
Bradley Sutton:
When I put the coffin shelf in the title and or into the beginning of the title, and then we were like between five and 10, but after that it went like, just two days later it went back to normal. And then actually it's been going down to even worse, almost worse than before between 10 and 20. So no notable permanent increase there by me making the title less than 150 characters, nor by making it at the beginning of the search phrase, another keyword that I had coffin decor, it was not in the title. So Coffin Decor was not in the title, and then I added it to the title and yeah, it actually helped increase my ranking a little bit before I was not even ranking sometimes, and I was kind of around the 100 mark.
Bradley Sutton:
But by adding it to the title now, I was consistently between like 50 and 75, and sometimes I even had peaks of being on page one for this keyword. So again, sometimes adding to your title, which you didn't have it in the title does help you. Another keyword was the Goth shelf, and I added that one to the title as well. On October 3rd I did. And so I have some history here. I was ranking kind of like on 39, 40, and 33 before. And then once I added it to the title it put me into the top 25. And there was kind of some Amazon search shuffle happening. It's going back and forth a lot, but for the most part, I can see my ranking has increased since I added it to the title on that day. Now, there was a keyword for grunge room decor.
Bradley Sutton:
I was not really ranking for it. I added it to the subject matter and it, it actually did not help my ranking, right? So grunge room decor, if you try and put something that is probably not relevant, so grunge room decor is not exactly coffin shelf material. Just by putting it into one of your these special indexing fields like subject matter, it's not gonna immediately get you ranking for without some more activity happening. I didn't do any search, find, buy, or PPC sales for this keyword. So don't think that you can get ranked or semi-non-relevant keywords just because you stick it in subject matter or search terms. That's what happened there. Another keyword is coffin mirror. I added it to the subject matter at the beginning of October, and I actually was not ranking at all for it.
Bradley Sutton:
I was indexed for it but was not ranking at all for a few days. I was ranking top 100 and then it kind of fell off. So one thing that, yes you can, if there is a more relevant keyword coffin mirror might be more relevant to coffin shelves than grunge room decor. Amazon will kind of show you just randomly kind of like give you a, a slight bump, but if you don't start getting traction on that keyword during that time, you're not gonna stay ranking for that key. Another keyword, this is an interesting one, is trinket shelf. Not only was I not ranking for this keyword I was not even indexed for this keyword. I did not have this keyword anywhere in my listings. I added it to the subject matter, right?
Bradley Sutton:
I added it to the subject matter. This is a 2000 search volume keyword. Nobody has it like in their title. And instantly from the moment I put it into the subject matter, there are just so few relevant, relevant products to Trinket Shelf. I was not only on page one, I got on the top 10. This is old, listen, guys, this is an old coffin shelf listening. Been around for, what, three years now? It has had me ranked in the top 10 to top 20 ever since I added it to the subject matter, I must be getting clicks and stuff for it. So very interesting. If it's slim pickings that have to do with Title Density as well, that has a very low title entity. I didn't even put it in my title, but just by putting it in the subject matter, Amazon is showing me some kind of like Maldives love there.
Bradley Sutton:
The last one is coffin shelves. I added it in the title. So this is kind of iffy, I had a coffin shelf in the title. What happens if I add coffin shelves to the title? And the answer is it didn't really help me too much as a matter, it can almost be argued that it actually helped or hurt some of my rankings on that. So there you have it guys. like I do a lot of testing on my Amazon listings so that you guys don't have to and to see what's working. If there's something you guys want me to test or some theories you want me to take a look at, let me know. I'll be happy to take a look and, and see if I can do it without ruining our Project X listings.
Bradley Sutton:
But I hope you guys enjoyed this episode. I film here in the Maldives for kind of dramatic effect just to kind of like make it more noticeable. But the point is that there you've heard of the Kobe Bryant Mamba Mentality. Well, I like to call it Maldives Mentality. That's how I want you guys to approach e-commerce and approaching your product launches. as you learn from the first part of this episode that I talked about at Sell and Scale Summit is that there are different mindset things that you might be overlooking as an e-commerce person. Like you probably never thought about turning in some of your weaknesses and some of your mistakes. Not only not letting it stop you, but actually turning those things into assets. And maybe you didn't think too much about gamifying things to make it more interesting or make yourself more engaged.
Bradley Sutton:
But why don't you guys go back and listen to this episode, again, taking down some notes? You don't have to implement every single thing in this episode, but maybe take a couple of things and ask yourself what can you do and change the way you approach the business that might help you. I mean, the things I've accomplished, guys, it's just ridiculous considering where I came from, right? It's not like I became a billionaire or some bill Gates or something like that, and I don't have any crazy story like that. But the fact that somebody who doesn't even know how to dance became YouTube influencer with 30 million views traveling the world for it, it's ridiculous. the fact that somebody who had never done a podcast and is, is kind of like, not that society has a podcast that's listened to over a hundred thousand times a month, it's ridiculous, right?
Bradley Sutton:
So, how did I do those things? A lot of it was mindset and certain mental exercises that I put myself through. And I hope that you guys can maybe do that a little bit too and get some success in what you're doing. And then lastly, we talked about what's working nowadays with the Maldives Honeymoon Launch strategy. I want you guys to make sure that you are implementing these strategies in your businesses. And then keep sending me messages on how they've worked out for you. Love to hear it. And hope guys, if you ever come to the mal leaves, Conrad mal leaves right here is amazing. This is the Muraka. Maybe if you get to like seven or eight figures, if you're not a travel hacker like me, you can stay in this place, or you can start implementing some of my travel hack strategies that I gave in the previous episode, and you could maybe stay here for free as well. But anyways, guys, hope you enjoyed this episode or a hundred I thank you all for your continued support. If it wasn't for you guys, I wouldn't be doing this podcast. And if you guys weren't listening there'd be no point to do this. But I hope you've enjoyed these last 400 episodes and here's to 400 more. See you guys later. Bye-Bye.
---
Enjoy this episode? Be sure to check out our previous episodes for even more content to propel you to Amazon FBA Seller success! And don't forget to "Like" our Facebook page and subscribe to the podcast on iTunes, Spotify, or wherever you listen to our podcast.
Get snippets from all episodes by following us on Instagram at @SeriousSellersPodcast
Want to absolutely start crushing it on Amazon? Here are few carefully curated resources to get you started:
Everything for your business on Amazon.
Find out more about our products by signing up or speaking with one of our
Customer Success representatives today. With us in your corner, you can enjoy
more sales and increased engagement from your Amazon business.
Chat with a Support Specialist