How To See Competitor Reviews On Amazon
Learn how to view competitor reviews on Amazon and how you can leverage this information to boost your business.
Updated on: March 3, 2022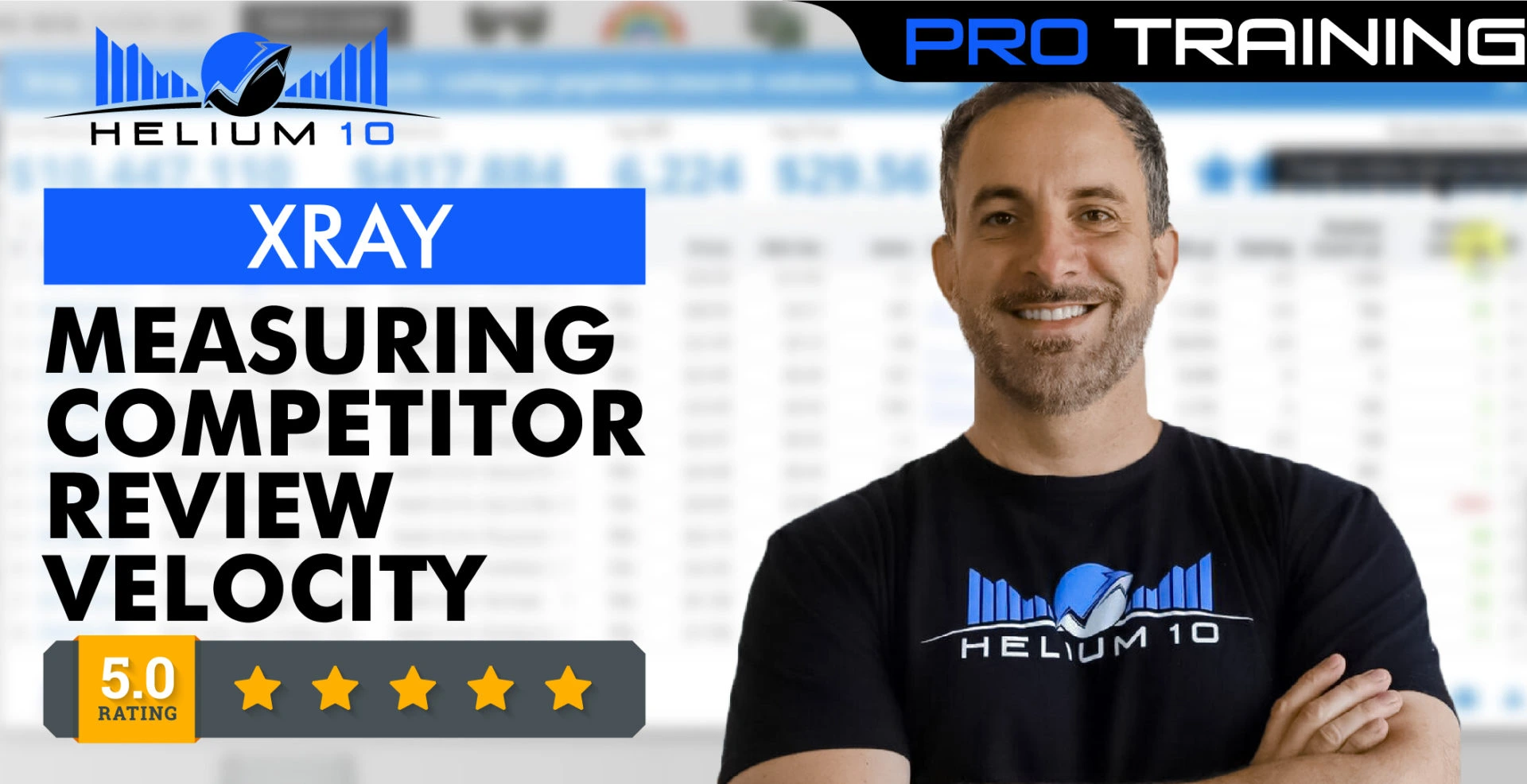 Competitor review velocity measures when a product gets new reviews, and Xray has added a column that shows the change in review count in the last 30 days.
In trying to find new product niches to target for selling on Amazon, many sellers will look at competitor review numbers to measure the opportunities. Keeping an eye on competitor reviews can help with competitive pricing, promotional campaigns, and more. In this blog post, you will get to learn why you should spy on competitor reviews as an Amazon seller and how to do it the right way!
Why Spy On Competitor Reviews? 
Analyzing your competition is the name of the game if you wish to become a successful Amazon seller. The competition on Amazon continues to increase daily, so it's a good idea to know what your competition is up to if you want to stay ahead. You need to see how many reviews they are getting, where they are sourcing from, the prices of the items they have up for sale, their marketing strategy, and a lot more.
A vital metric when it comes to determining how well a competitor is doing is by reading the reviews they receive as well as the number of reviews against the sold units.
You should consider spying on competitor reviews for the following benefits:
Spot Weaknesses: Valid reviews can let you know where a competitor's item is failing.
Improve Yourself: If your competitor isn't able to satisfy a target audience, you can ensure that your item doesn't have the weaknesses the customers complained about in their reviews.
Pricing Structure: By looking at the prices of your competitors' items, you can learn about the perfect pricing for similar items that can help attract more buyers.
Keyword Insight: You can compare listings to get an idea of the keywords your competitors use and how you can get your listings in front of the target audience.
Learn From Mistakes: Whether the issues are in the pricing, poor customer service, products failures, and more, you can learn from the mistakes of your competitors to become a more successful Amazon seller.
How To View Competitor Reviews
Viewing competitor reviews is an easy process if you know how to do it the right way. You can find competitor reviews manually or through a reliable software.
Find Competitor Reviews Manually
You can find reviews by looking up products sold by competitors. Trying to research manually in such a manner will demand a lot of time as you comb through each review. Not only that, you will need to do a manual search regularly in case new reviews pop up.
The process works. But it requires a lot of time and effort, which could be more useful in other areas involved in running your Amazon business.
Find Competitor Reviews With Xray
You can make the process easier by using Helium 10's Xray program. There are tons of features offered by Xray. It will not only collect competitor reviews, but it will also present you with keyword research, a profitability calculator, and review insights. You will be able to sort and export customer reviews from the product listings in no time to help learn about product issues and customer pain points.
Xray delivers hidden data on any product in our 450 million+ databases of Amazon products, now including when they receive new reviews. Additionally, users will be able to see when reviews are removed in the form of negative numbers, typically due to action taken against that seller by Amazon.
If you click on the review counters for any Amazon product in the Xray list, you can see how the review count for that product has changed over time in a clean graph for your reference.
Additionally, if you are curious about your own new review ratio, you can research your own ASIN in Xray via the Helium 10 Extension. 
What is review velocity?
Review velocity is the rate at which a product accumulates new reviews, and Xray has added a new column to its results page that shows the change in review count in the last 30 days.
Competitor Reviews On Amazon: FAQs
How do I find my competitors on Amazon?
There are two ways for you to find competitors on Amazon. You can manually browse Amazon to search for competitors in a particular niche and begin combing through their reviews. Or you can use Helium 10's Xray tool to automate the process.
Helium 10's Xray will identify your competitors, help with keyword research strategies, provide valuable review insight, and a lot more to give you the data to become a better Amazon seller.
What's the benefit of viewing competitor reviews on Amazon?
You can learn a lot by viewing competitor reviews on Amazon. Amazon sellers can learn about customer issues and complaints to ensure they can offer the target audience something better. You can also determine the best price range and advertising strategies to boost sales. Analyzing competitor reviews also helps with keyword research to improve listings.
How do you analyze Amazon competitors?
While reviews are an important part of analyzing Amazon competitors, there's a lot more that goes into an effective analyzing strategy. Along with reviews, you will also need to analyze and compare competitor keywords, inventory review, pricing analysis, and more.
You can accomplish all of this and more by using Helium 10's Xray to take expertise as an Amazon seller to the next level.
Wrapping Up
Amazon sellers should always be on the lookout for lucrative opportunities and not hesitate to spy on competitors. The right kind of competitor review strategy can bring forth numerous benefits. You can learn how to address customer issues and decide on competitive pricing. Not only that, but identifying high selling items with low review counts can aid with pinpointing a profitable niche ripe for the picking.
Helium 10's Xray has everything that Amazon sellers, old and new, require to gain a competitive edge. Try it today and see how it can give your business a profitable boost.
If you are not this far along in, or maybe you haven't started your Amazon business journey, do not worry! Helium 10 is here to help with every step of the way. Take a look at our Amazon product search tool to determine what product/s have the greatest sales potential!