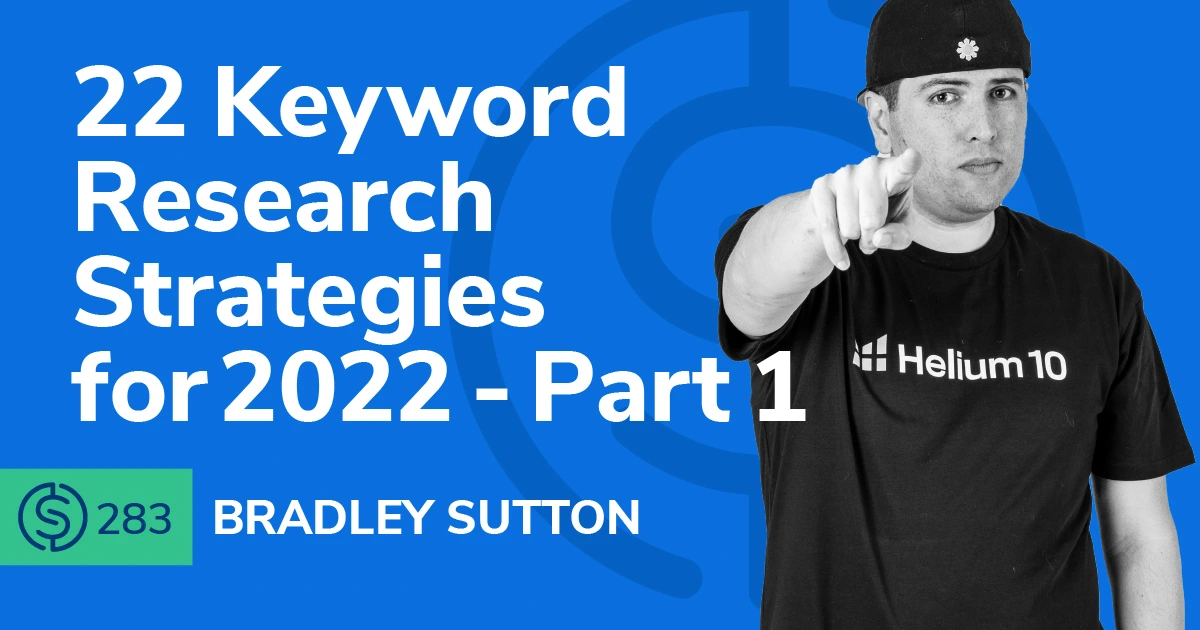 Posted on: September 25, 2021, By: Helium 10
#283 – 22 Keyword Research Strategies for 2022 – Part 1
Bradley is back with 22 Amazon keyword research strategies to help your 2022 blow 2021 out of the water. Welcome to the keyword research masterclass.
The only thing that compares to how slow 2020 crawled by is how fast 2021 has gone! In the spirit of prepping for 2022, Bradley is back with 22 Amazon keyword research strategies in a very special edition of The Serious Sellers Podcast. Title density, mining Etsy for keywords, advanced Helium 10 tool filters… grab your pen and paper, Bradley is delivering the goods!
In episode 283 of the Serious Sellers Podcast, Bradley discusses:
02:00 – Bradley Is Retiring… From Saving His Best Stuff For Events
03:50 – Why Title Density Is Important For Keyword Research
05:40 – How To Find Keywords From Etsy
08:00 – Get New Trending Keywords From Pinterest!
08:50 – Helium 10's Demand Analyzer is a Powerful Keyword Research Tool
09:40 – Keep Keyword Seasonality In Mind While Doing Your Research
14:40 – Find Top Keywords From Multiple Products Using Advanced Filters 
20:40 – Utilizing The Related Searches Section on Amazon
22:40 – More Advanced Filters From Cerebro To Help You Crush It
28:20 – Getting More Valuable Keywords By Checking the Top 10 Sponsored Ranks       
Enjoy this episode? Be sure to check out our previous episodes for even more content to propel you to Amazon FBA Seller success! And don't forget to "Like" our Facebook page and subscribe to the podcast on iTunes, Google Play, or wherever you listen to our podcast.
Want to absolutely start crushing it on Amazon? Here are few carefully curated resources to get you started:

Latest posts by Helium 10
(see all)