Two-Minute Toolbox: Why You Can't Spy on Your Competitors Enough
Stay ahead of your competitors by spying on their keyword ranking. Here's a quick lesson on using Cerebro to get ahead on Amazon.
Updated on: February 23, 2021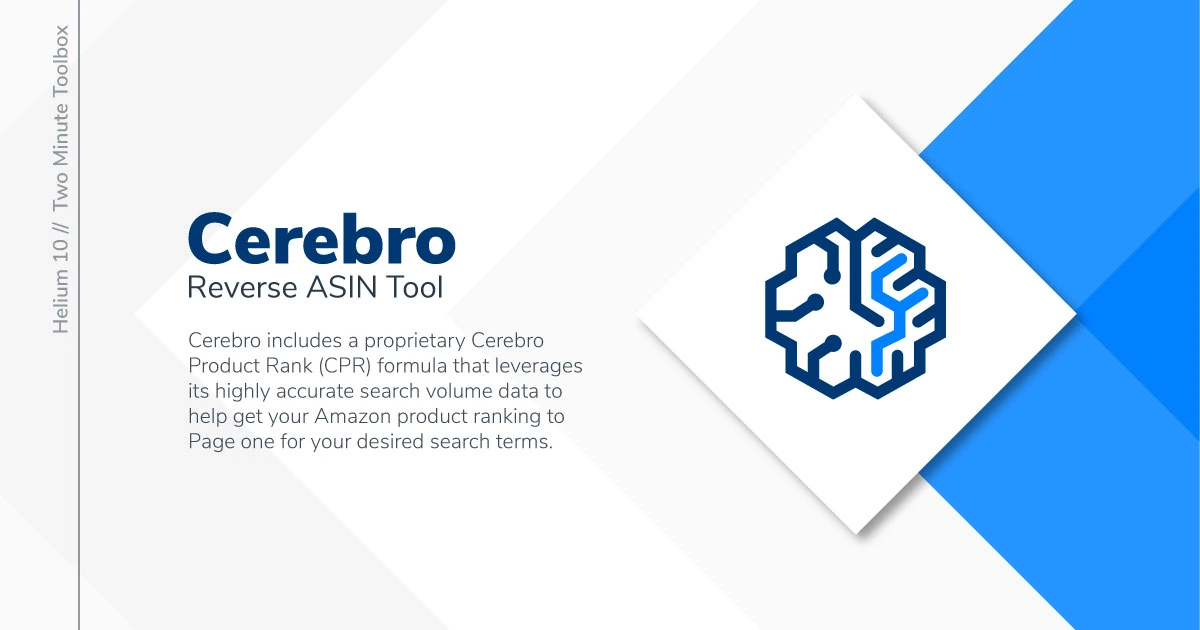 If you don't want to read all of my entertaining exposition below (though I hope you do), the short answer to the title's question is:
Your competitors are always moving, so that means you need to be too.
We'll keep this short by going into one very important strategy: comparing your Amazon keyword rankings against your competitors.
With that out of the way, let's expand.
Product launches are like weddings
Because no matter how grand and beautiful and successful they are … well, they're not going to automatically buy you 50+ years of a strong marriage.
(Disclaimer: I've never been married so I'm speaking more from statistics than from personal experience. Though if you're married or have been, feel free to drop your own anecdotal comparisons between marriage and Amazon sales in the comments).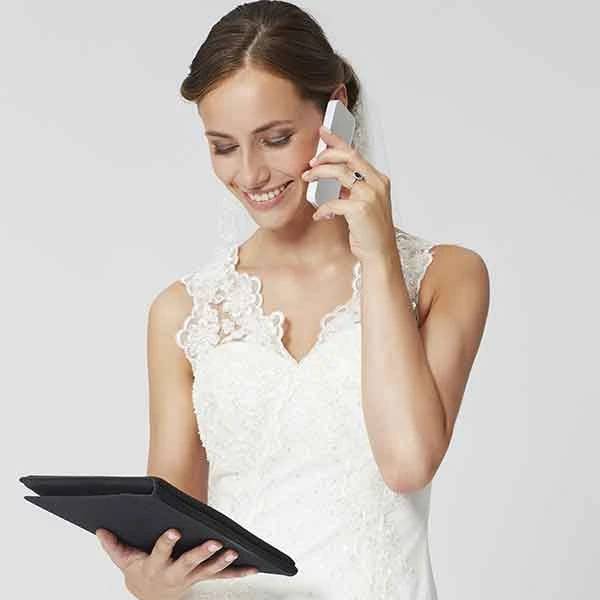 Product launches are like your Big Day. You spend weeks (or months, or more) researching, comparing, sourcing, and so on. Sometimes it's hard to see past the Big Day, because it feels like your life basically is leading up to that point and everything after is consequential.
Au contraire, mes amis.
Your product launch, just like your wedding, is only the start. Fingers crossed that both go well for you, but when the momentum starts to level out after your honeymoon period (both for the launch and for the wedding), the magic of the Big Day isn't enough to sustain you anymore.
Here's where the real work begins.
This holds true for product launches. Your work is far from over; you have to constantly hustle to keep things going.
Compare your keyword rankings against your competitors'
If that sounds boring, pretend you're a PI (private investigator) or a spy in a mystery novel or police drama series. You should be doing surveillance regularly – once a week is a good benchmark, though your mileage may vary.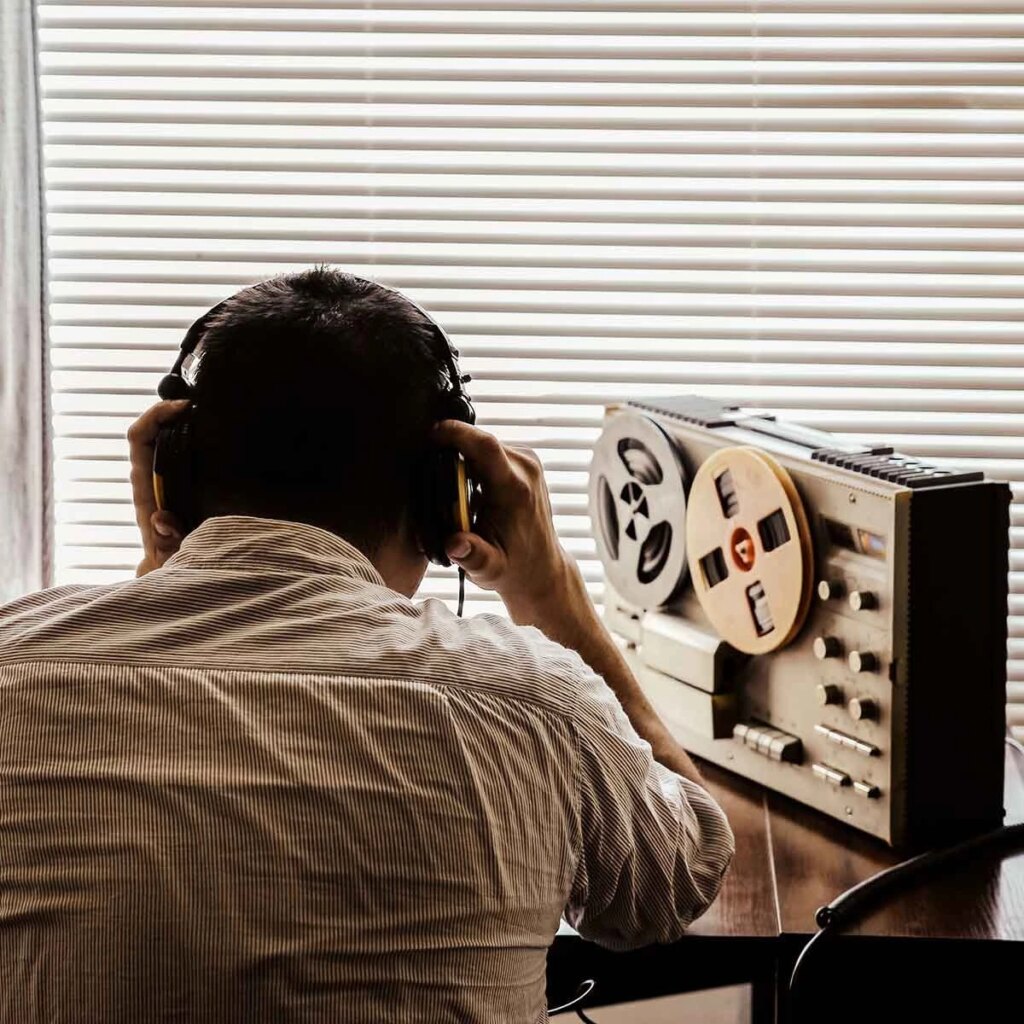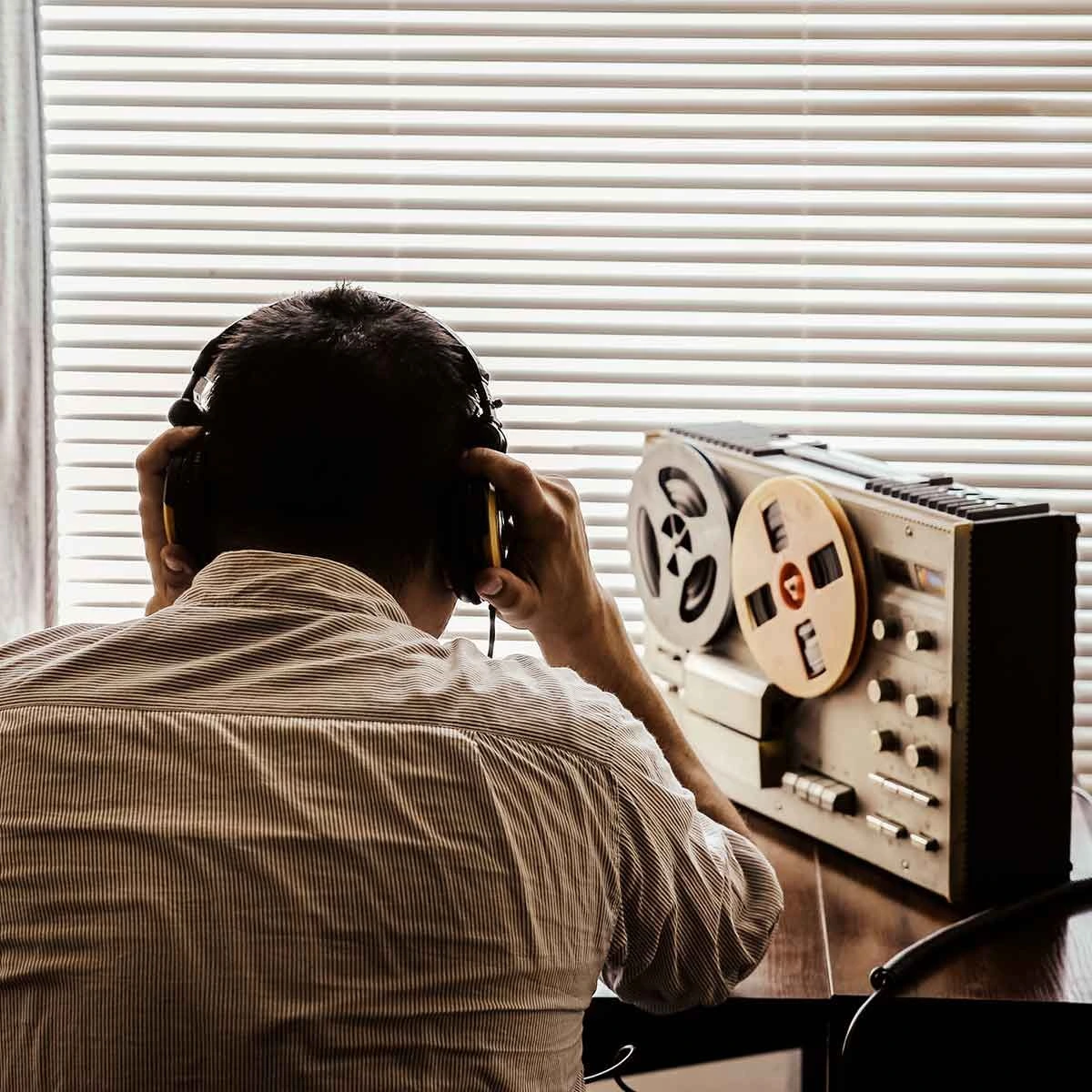 I recommend hopping on our Cerebro tool to check.
With Cerebro, all you have to do is plug in your product's ASIN followed by the ASINs of your top competitors, and Cerebro will show you where you stand compared to them.
This is a quick and reliable strategy for staying on top of your Amazon keyword ranking.
In the below example, I'm using dog crates as the demo product, mainly because I want an excuse to look at cute dogs during work.
I'll grab this first ASIN below.
(By the way, as you can see below, the Helium 10 Chrome extension shows the ASINs in the search results so I don't have to individually go into each page).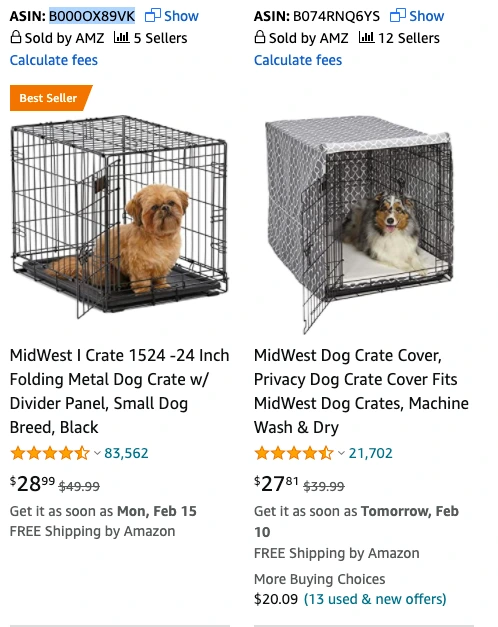 I dropped the ASIN into Cerebro's search box – this is your seed ASIN, the one to which you're comparing all other ASINs – then ran back to Amazon.
On Amazon, you'll search for the longtail keyword that you want to study. In this example, I'm using "crate for small dogs."
Once you're on the Amazon search results page for your keyword, go ahead and open up Xray (found in the free Helium 10 Chrome Extension) and sort the results by the sales column.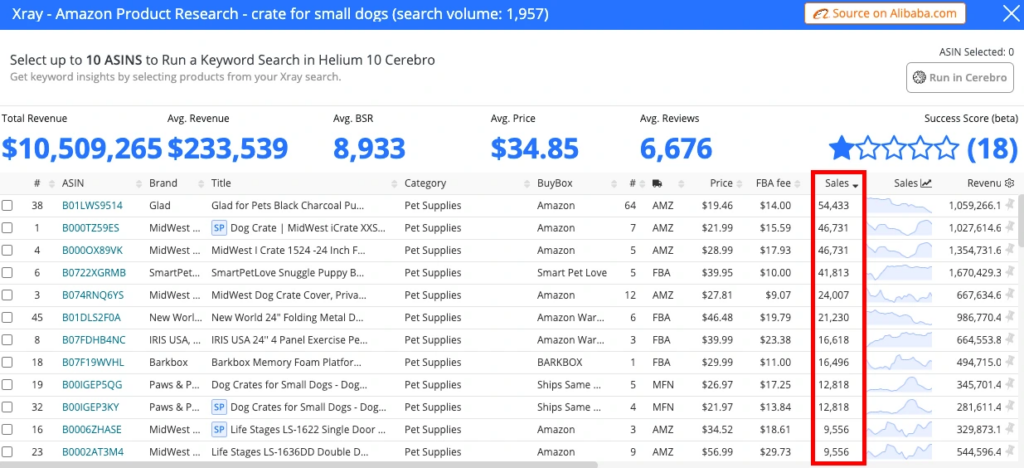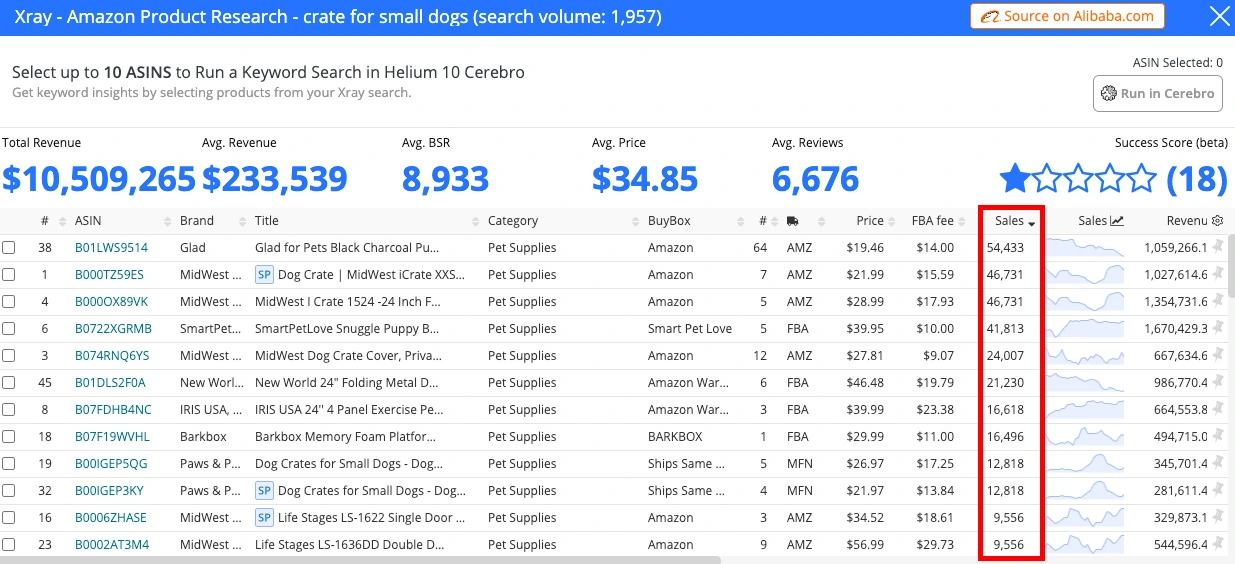 After sorting your results, mouse over each product and find the ASINs of products that are closely related to yours.
In this example, the below product – dog training pads – are the top selling item on this page, but this is totally irrelevant to our dog crate, so that's a hard pass.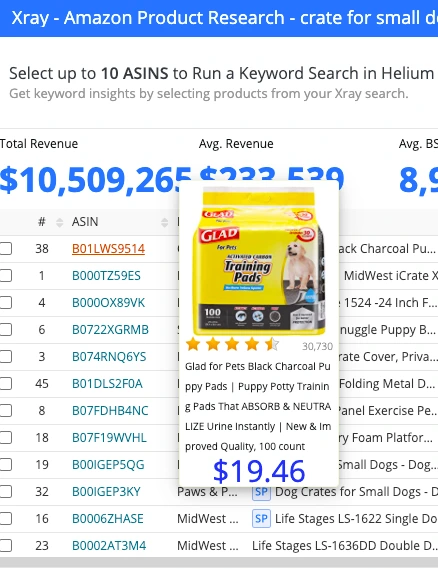 Gather a few ASINs (you can have up to 10 including your "seed" ASIN) and paste them back into Cerebro, then hit "get keywords."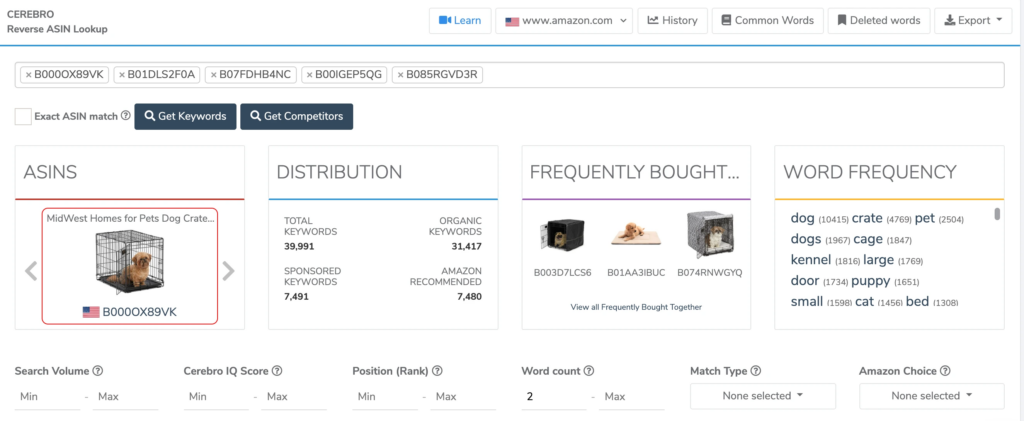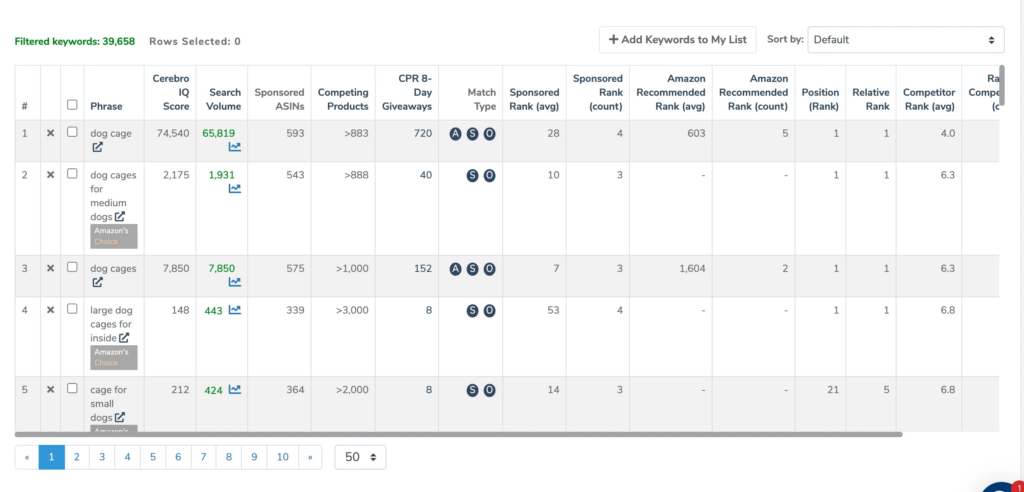 This is a great way to find longtail keywords that you're not indexed for (even if you have it in your listing), or even to find keywords you didn't think of. You can also see how you're doing compared to your direct competitors.
You can play with the filters to narrow your Cerebro search results further if you'd like. Setting a minimum search volume, for example, will limit your results to keywords people are actually searching for several times per month.
(Not using filters might give you too much information, like the nearly 40k keyword results above.)
From here, we recommend looking at the Relative Rank and Competitive Rank columns. These will both show you how you're ranking compared to your competitors. Mousing over these columns will show the rankings of all of the ASINs you entered, with your "seed" ASIN in bold.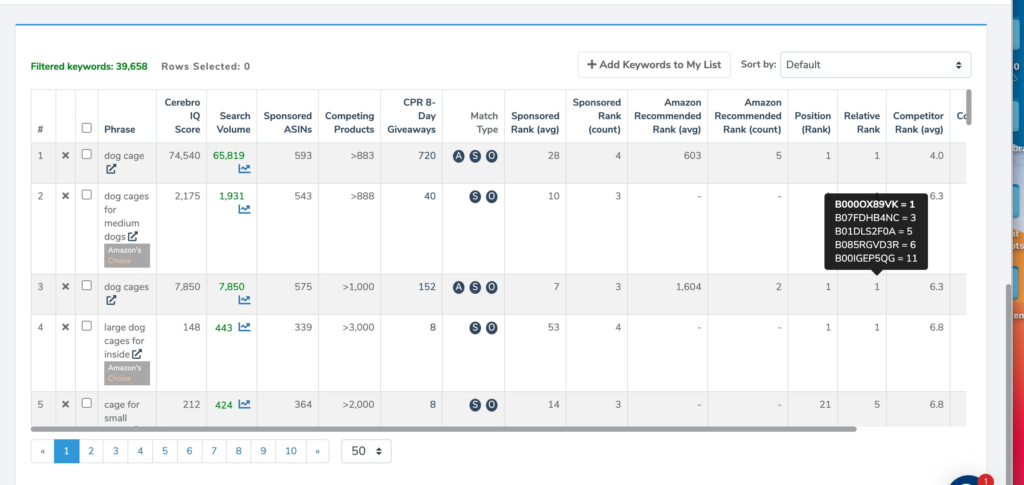 Remember that every time you check, the results are representative of that moment in time, hence why you need to make sure to check these every week or so.
From there, you can assume that lower rankings means you probably should improve your listing – copy and images, and backend keywords are always a good place to start.
Easy, right?
Don't let the wall of screenshots intimidate you; this is easier than it looks.
If this isn't something you're already doing, give it a quick try. Open up Cerebro and test out one of your ASINs against maybe three or four of your competitors' to see where you currently stand.
Then, you can track these stats over time to see if your rankings are rising or falling.
And now you have another strategy to add to your tool belt. Don't worry: you can thank me later.
Speaking of tool belts, if Cerebro's search results show you keywords you need to add to your listing, there's no better time to sit down and optimize your listing copy – and the Scribbles tool is great for that. You might want to check that out next.