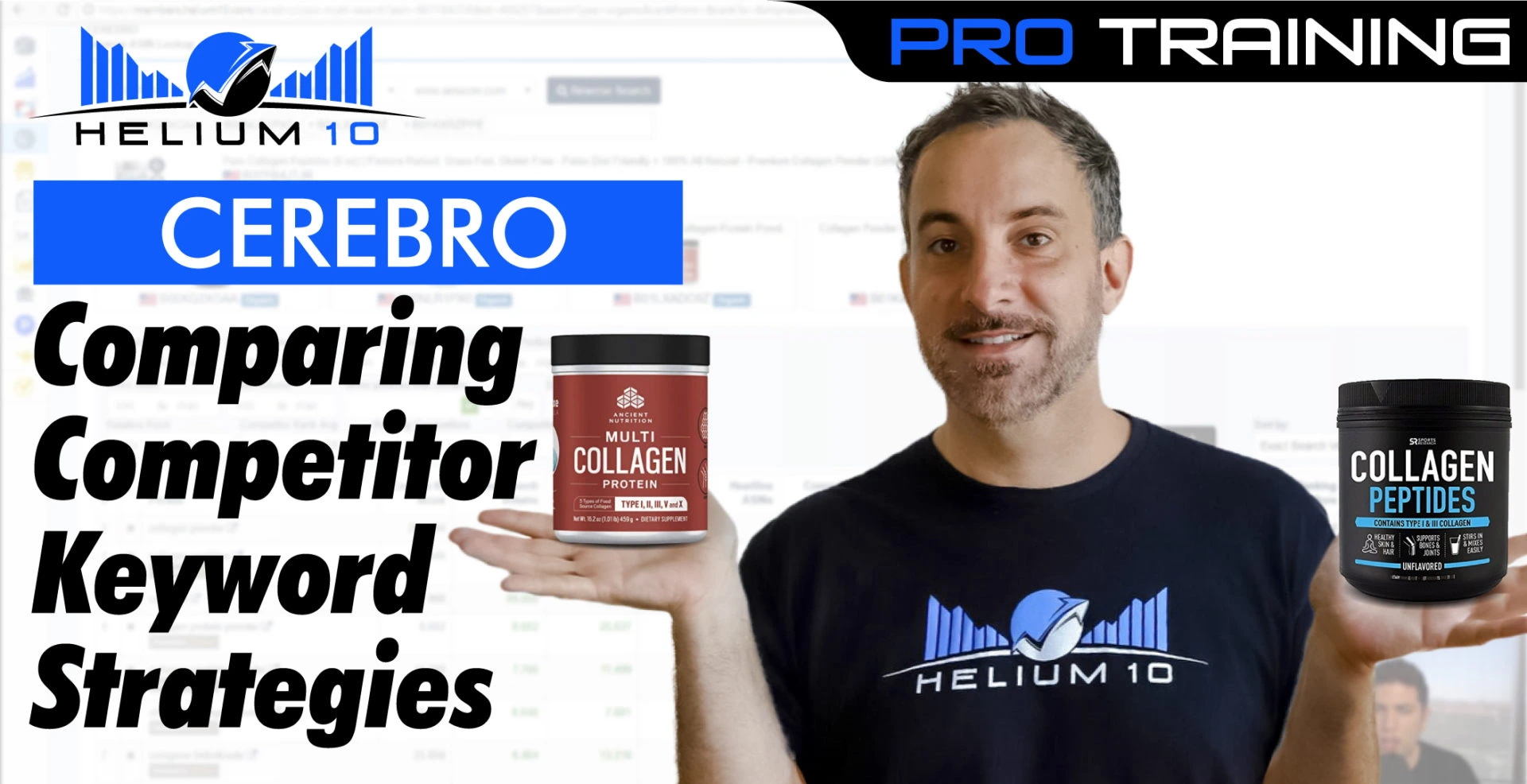 Compare Competitor Keywords for More Accurate Results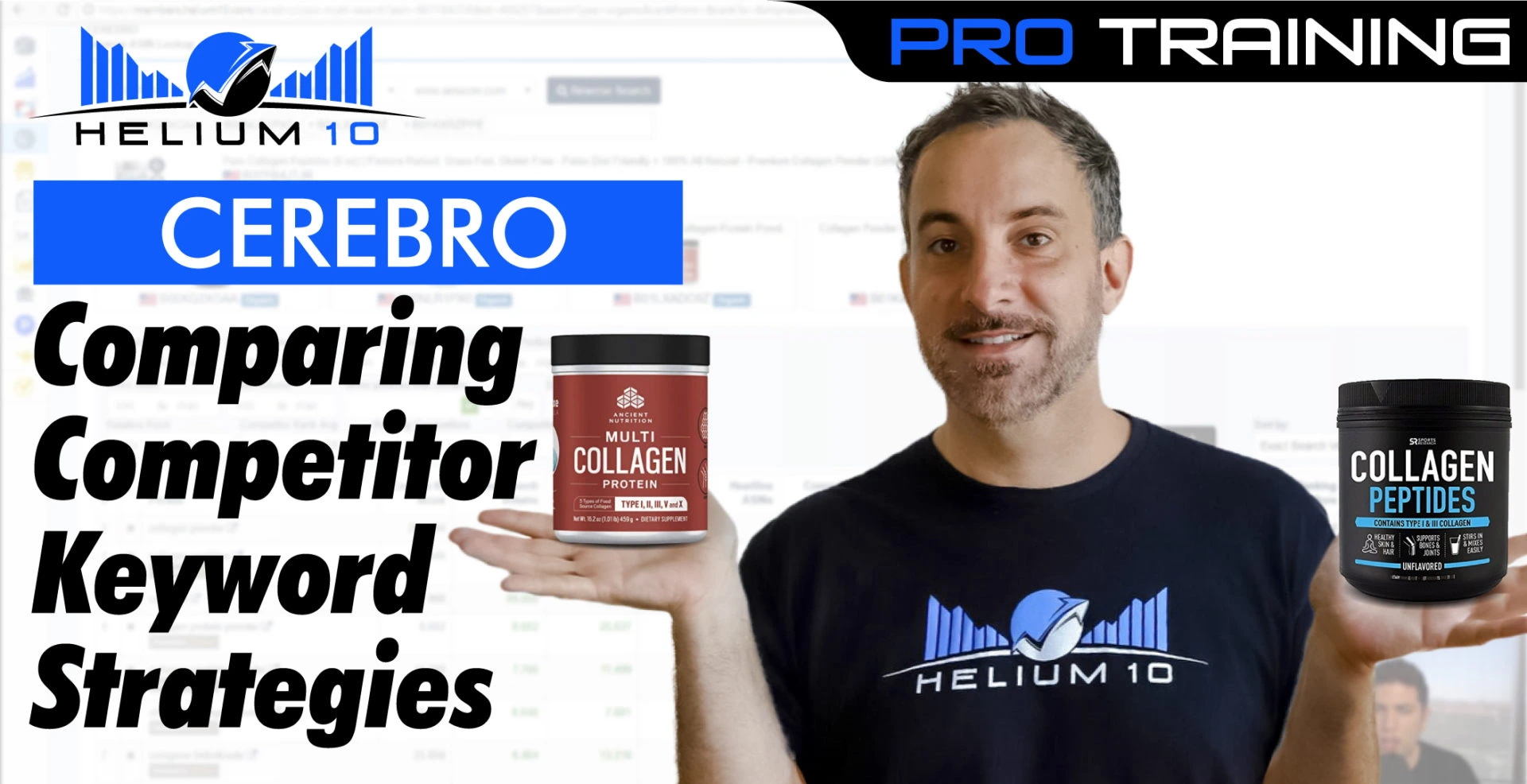 Cerebro has been vastly improved to make your keyword research efforts much easier by adding the option to compare competitor keywords to your own ASIN!
We've been tinkering with Cerebro, our popular reverse ASIN lookup tool in the Helium 10 suite and have added a feature that we know you will love! With the new Competing ASINs option in Cerebro, users can directly compare their keyword targeting efforts with their strongest competitor ASINs.
The benefit of using this new reverse ASIN strategy allows you to find trends among top keywords and your competitors, then use their strategies to your advantage.
For example, if you notice that many of your top competitors are all ranking highly for a particular keyword and are all on page one, you may want to target said keyword yourself.
Check out our explanation of how to compare competitor keywords using Cerebro here:
This new strategy can be used by both new and existing sellers, and be can be used to perform initial keyword research or compare competitor keywords to your own existing ASIN.
To research a new ASIN you have found using Xray or through your own research, copy and paste the ASIN in the "Product ASIN" field as you normally would with Cerebro. If you want to compare your existing ASIN to others using the new tool feature, enter your ASIN instead.

To compare competitor ASIN keywords, find your top competitors in your product niche by performing a search using Xray and then enter the competing ASINs into the "Competing ASINs" to tell Cerebro you want a comparison between two or more ASINs.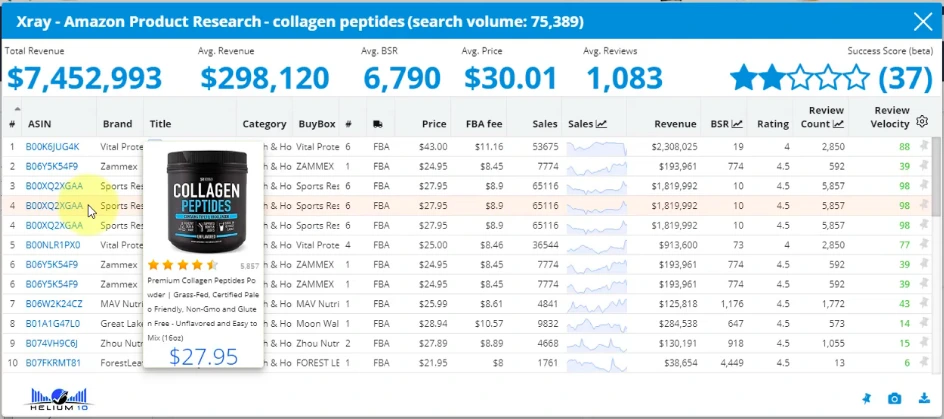 You can add multiple ASINs to the "Competing ASINs" search box by entering an ASIN and pressing the space bar to expand the box for multiple ASIN searches. Once you have entered all the ASINs you want for keyword research, select "Reverse Search" to generate your list to begin comparing competitor keywords.

Upon generating your new keyword list, you can see that we have added new columns to Cerebro as well as a new filter.
The new filter allows users to compare competitor ranking for keywords in comparison to the first or existing ASIN you entered earlier. In this example, we have chosen a range of 1 to 15 for "Competitor Rank Average (Avg.)" filter to see only the keywords our selections rank for on the first page.
Additional columns that are now quite useful in comparing competitor keywords are the following columns:
Position (Rank)
Relative Rank – Where you rank among your selections
Competitor Rank Average – Where your selected competitors rank collectively
Ranking Competitors – Number of your selected competitors that are ranking in the range you have set in the filters
Competitor Performance Score – How well your competitors are doing overall for particular keywords
Once you have your keyword list all sorted, be sure to use Helium 10's Amazon keyword ranking tool so you can track how you are ranking for each keyword!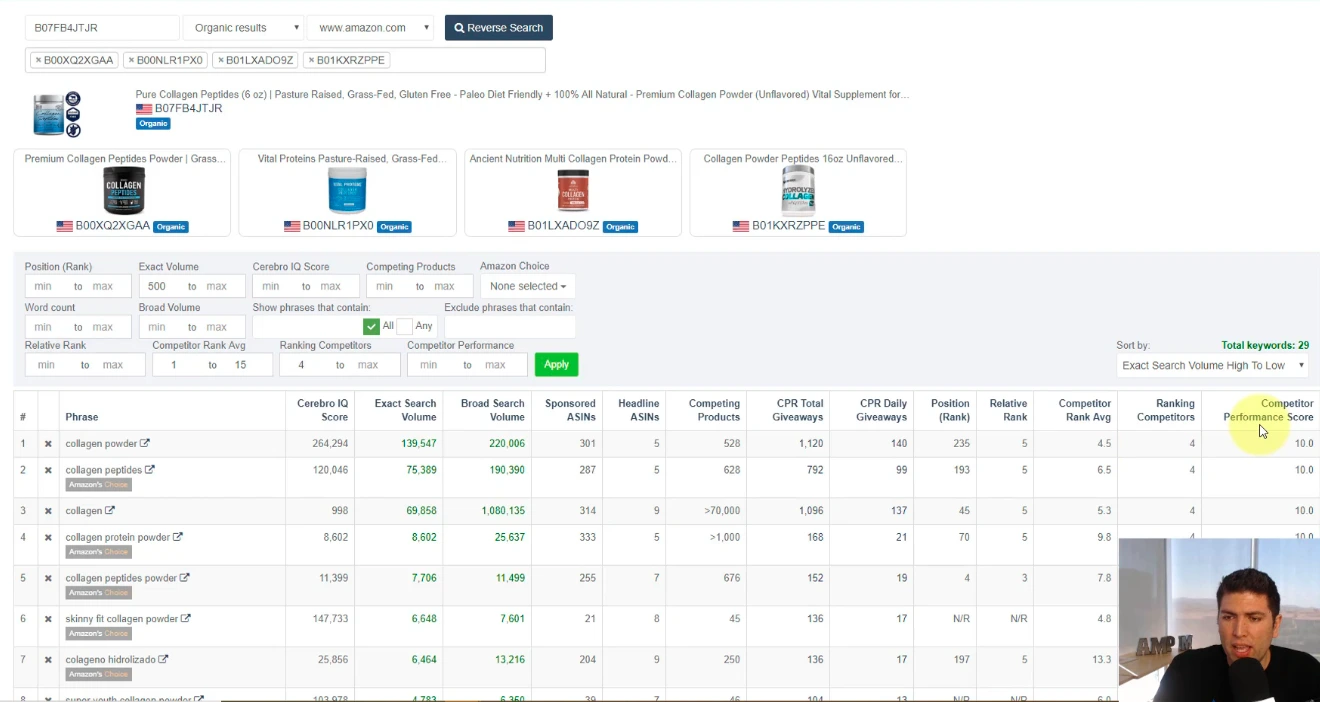 Want to absolutely start crushing it on Amazon and make more money? Follow these steps for helpful resources to get started:
Get the Ultimate Resource Guide from Manny Coats for tools and services that he uses every day to dominate on Amazon!
New to Selling on Amazon? Freedom Ticket offers the best tips, tricks, and strategies for beginners just starting out! Sign up for Freedom Ticket.
Trying to Find a New Product? Get the most powerful Amazon product research tool in Black Box, available only at Helium 10! Start researching with Black Box.
Want to Verify Your Product Idea? Use Xray in our Chrome extension to check how lucrative your next product idea is with over a dozen metrics of data! Download the Helium 10 Chrome Extension.
The Ultimate Software Tool Suite for Amazon Sellers! Get more Helium 10 tools that can help you to optimize your listings and increase sales for a low price! Sign up today!
Protect Your Amazon Brand with a Trademark! Protecting your brand from hijackers is vital. SellerTradmarks.com provides a streamlined process for obtaining a trademark for your business and shielding your products from fraud!
Ready to Get Serious About Your Amazon FBA game? The Helium 10 Elite offers cutting edge training for advanced Amazon sellers who are ready to grow their business and take it to the next level. Click here to join Helium 10 Elite.
Does Amazon Owe YOU Money? Find Out for FREE! If you have been selling for over a year on Amazon, you may be owed money for lost or damaged inventory and not even know it. Get a FREE refund report to see how much you're owed!
Have questions or comments about the new Cerebro system to compare competitor keywords? Let us know in the comments!
Achieve More Results in Less Time
Accelerate the Growth of Your Business, Brand or Agency
Maximize your results and drive success faster with Helium 10's full suite of Amazon and Walmart solutions.